Death Valley National Park is one of those national parks that you may want to visit, but getting there can be a pain because it's practically in the middle of nowhere. If you are visiting Las Vegas, you are in luck, as the park is only about a two-hour drive.
You could take a Death Valley day trip or enjoy a three-day Death Valley itinerary that allows you to see more of the park, hike a few of the trails, watch the sunrise and the sunset, and not feel like you are rushing in and out of the park in under 12 hours.
Follow along as we help plan your Death Valley National Park itinerary, which hotel to book, when you will want a rental car, where to eat in Death Valley, and how to spend your time in the park, whether you are traveling with friends or kids in the national park.
Why plan a Death Valley Road Trip
Planning a national park road trip is one of the most American things you can do in the United States. After all, we love our parks! When you want to plan a Death Valley road trip, though, you will be in for a treat, as it offers some of the most unique and intriguing landscapes in the country. While most may think it is a desert wasteland, Death Valley is bursting with life, especially if we have a super bloom in California after heavy winter rains.
You will see more colors across rocks and hills than ever before, as well as the random coyote, lizard and snake. And, although you may never see them, Death Valley is also home to the Badwater snail, an endemic salt marsh snail found in Badwater Basin.
Death Valley Planning Guide
Flying to Death Valley?
You will want to fly into Las Vegas, which is the closest major airport to Death Valley (and Zion National Park if you plan to go there too). We love to track flights via Expedia.com. Not only do we find great rates, but we earn points to use on future travel too.
You can also keep an eye on GOING deals, which is how we got to Ireland roundtrip from LAX for under $500 each. The free version is good, but the paid subscription will save you way more than the cost of the actual subscription.
Need a Rental Car?
We use DiscoverCars.com to get the best rates and availability on rental cars. Find your car HERE, along with all of the extras you may need (insurance, car seats, ski racks, etc.).
Gas Stations in Death Valley
Always enter the park with a full tank of gas. Don't worry if you start to run low while in the park, though, as there is a gas station in the park at Furnace Creek and Stovepipe Wells Village.
Our Favorite Hotels in Death Valley
Both of these hotels are right inside of the national park park, and we love them for different reasons. Each offers swimming pools and dining onsite, but they're at a at different price points and varying amenities if you are traveling with kids.
Travel Insurance
Do NOT forget to buy travel insurance for your trip, even if you booked through a travel agent. Yes, even if you aren't flying internationally, travel insurance is worth it. Most plans will cover any hiccups that happen 100 miles or more from your home.
Things do and will happen and it's cheaper to buy travel insurance ahead of time instead of paying out-of-pocket later.
Check out Travelex for rates on a single trip or an annual plan that could be right for you if you take more than one or two trips a year.
Don't Forget about Your Vacation Photos!
Don't forget to book your Flytographer session to capture awesome memories from your trip. We do it as often as we can because sometimes this mom just wants to be in a few photos with her kiddos.
While there are no photographers currently based in Death Valley, you can hire a Las Vegas Flytographer to photograph your family in the city, in a nearby park, or sometimes pay an added fee for the photographer to travel into the park for a few hours to photograph you.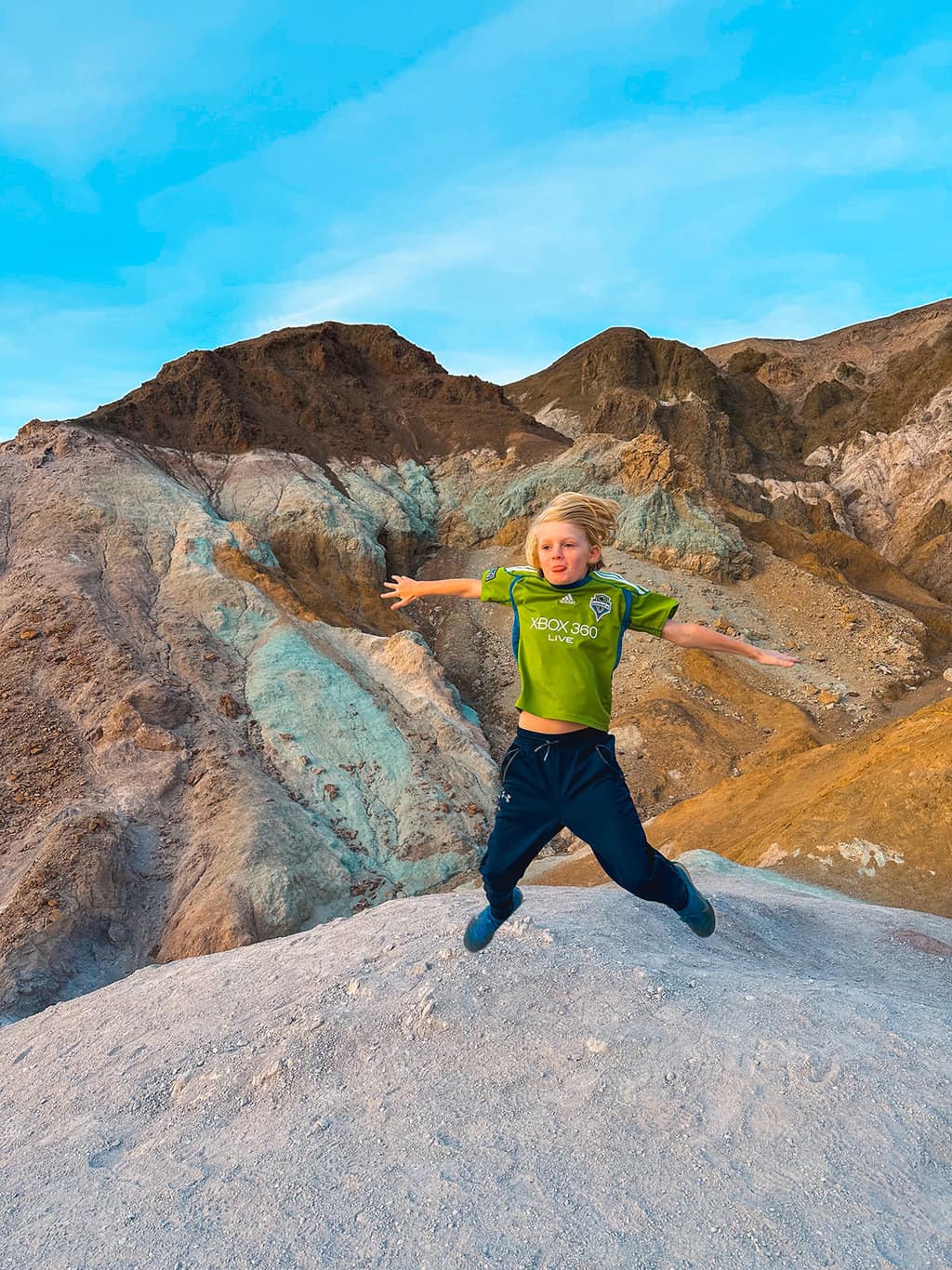 Death Valley Packing List
Insulated water bottles
Water cooler (like this one) or a few gallons of fresh water to refill bottles in your car
Protein-rich Snacks (we pack these granola bars, these fig bars and these soy-free protein bars)
Small trash bags (pack in/pack out all trash on the trail!)
Light layers (you will get hot during the day but it can be chilly at night in the desert)
Hiking shoes
Hiking poles (if needed)
UV shirt with a hood (I use this one)
Sunscreen (no matter how much you want to tan, sunscreen is essential and will not stop you from getting color–just skin cancer)
Light-weight daypack
How to get to Death Valley
There are numerous ways to get to Death Valley with kids, whether you want to drive or fly (or, I guess, walk or bike). Your three main hubs for driving into Death Valley will be Los Angeles, Las Vegas and San Francisco. Las Vegas is the closest major airport to Death Valley, so if you are already flying to California from another state, you might as well just fly into Nevada.
Los Angeles to Death Valley
Most drives from LA to Death Valley will take you about five hours. If you are traveling on a weekend (Friday-Sunday), it will take longer as you hit all of the traffic coming in and out of Las Vegas. If you have to drive on Friday or Sunday, try to leave earlier in the day, well before hotel check-out times and rush hour. (We've sat for hours on I-15 trying to get back home!)
The drive is pretty straightforward, though: Head out of LA until you connect up with I-15. In Baker, CA, home of the world's largest thermometer, you will go onto Route 127. From there, it's pretty much a straight shot to Death Valley Junction, where you will turn left to enter the park just after the tiny town.
Stops along the way
Eddie's
Stop at Eddie's, the largest gas station in California, and the Liberty Sculpture Park for a little kitchy break and photo ops. It's fun and kitschy, and reminded us a little bit of "South of the Border" down in the Carolinas on the East Coast. There are plenty of billboards heralding in the arrival of Eddie's, so it's pretty hard to miss.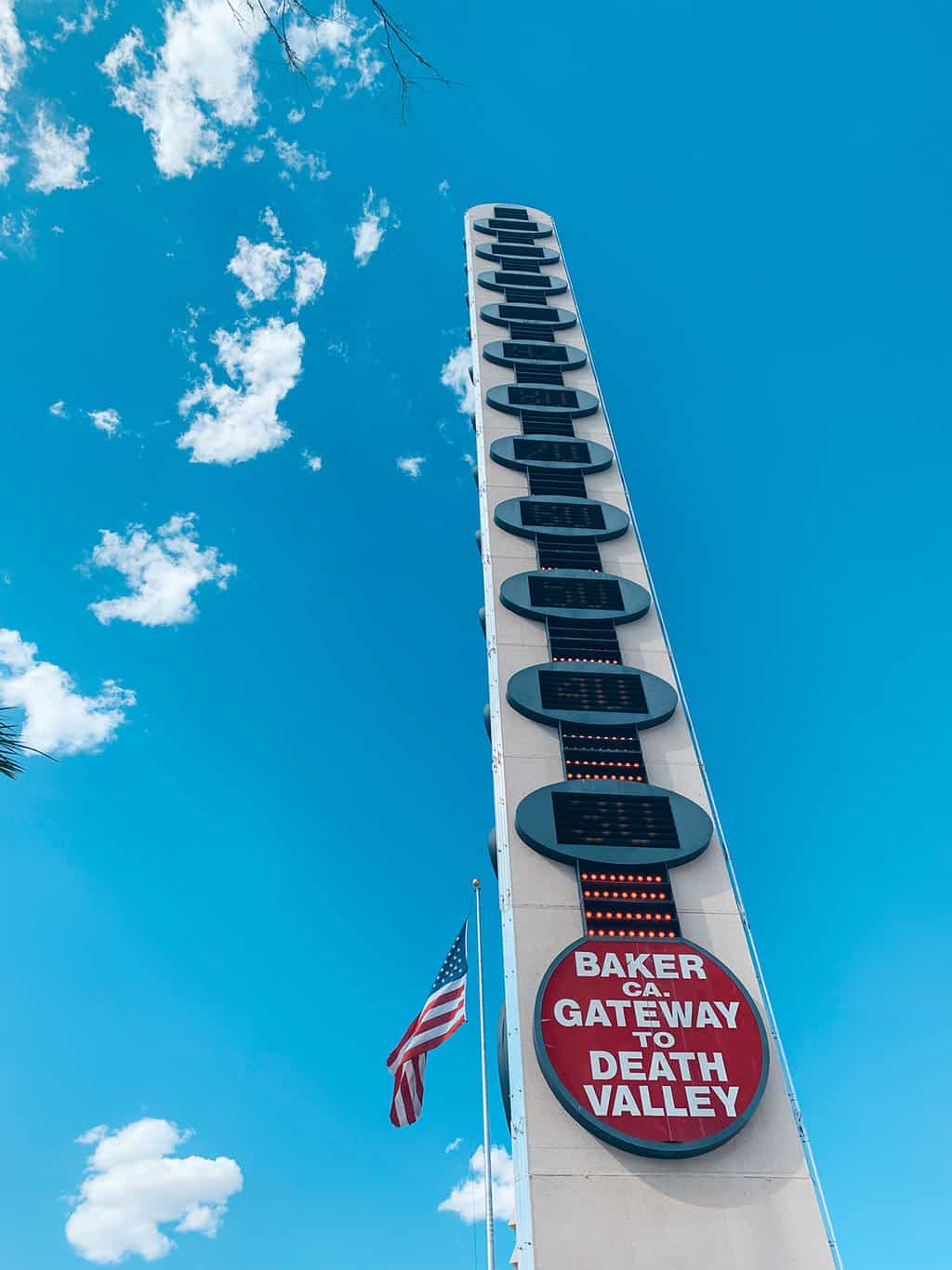 World's Largest Thermometer in Baker, CA
I'm not going to lie… there isn't a ton to do in Baker, CA. But they do have one BIG attraction worth stopping to see: the World's Largest Thermometer. You can simply pull into the parking lot and marvel at this temperature-tracking wonder, or pop inside for a few souvenirs and to use the toilet.
One thing that has changed in recent years is that Baker has at least two electric-vehicle charging stations with multiple ports for cars to pull into and charge up. We didn't want to drive our electric car to Death Valley for fear that we would run out of power, but we should have known better. California is on a mission to make electric vehicles more accessible, which includes charging stations to stay juiced up no matter where you travel.
Dumont Dunes Recreational Area
The Dumont Dunes Off-Highway Vehicle (OHV) Area is a wonderland for anyone who loves to ride ATVs, dirt bikes and other off-road vehicles. These sand dunes are constantly changing as the wind shifts, making it a spot that OHV drivers can return to again and again.
Camping is permitted, but it is very primitive. You must bring in your own water and take any trash home with you. There are no trash cans. There are a few vaulted toilets, though, so at least you won't have to dig a hole.
Just remember: You do need to purchase a park pass from Recreation.gov before you enjoy the area.
Death Valley Junction
Most people skip Death Valley Junction, thinking it is a rundown ghost town. This would be a mistake. While it is tiny, there are a few things of note worth stopping to check out.
Amargosa Valley Opera House and Amargosa Hotel
Built as part of the Pacific Coast Borax Company's civic town center in the mid-1920s, the Spanish Colonial–style complex consists of a performing arts center that is still used to this day, as well as a 16-room hotel. (I was going to fix this link but wasn't sure about the site you linked to. But the "x" is not highlighted, which I think is distracting.)
Book your stay at the Amargosa Hotel HERE.
Amargosa Valley is just 30 miles from Death Valley National Park, making it a great place to stop for a bite or set up camp if you aren't staying inside of the park.
There is a casual, retro-style cafe (open seasonally), and all hotel rooms have air conditioning and wi-fi.
Last Gas Stop
Shoshone is your last gas stop coming from the south before you enter the park, unless you want to continue straight on Route 127 to Nevada. Gas will not be cheap in Shoshone, but if you need a fill up, it's a spot that will get you to Furnace Creek (inside of the park). The cheapest gas we have found in the park is up at Stovepipe Wells Village, which was comparable to LA gas prices.
EV Charging Stations
Behind the largest thermometer building in Baker, CA, and at the Shell station, there are tons of Tesla and EV chargers. This is the best spot to charge up before you get to Death Valley. Once you are in Death Valley, The Inn at the Oasis and the Ranch at Death Valley both offer charging stations for visitors and guests.
Las Vegas to Death Valley
The drive from Death Valley to Las Vegas is about two hours, making it the shortest drive time from a major airport in the area. You can take Route 95 to Route 373, which drops you in Death Valley Junction. You can also take Route 160, which also meets up in Death Valley Junction to turn into Route 190 into the park.
Last Gas Stop and EV Charging
Amargosa Valley is the best stop for EV charging and getting gas on 95 before you get to Death Valley Junction. Keep in mind that most EV charging stations are in RV parks, so check your favorite charger app to make sure you are allowed to charge up without staying there.
Pahrump is your best bet for gas and EV charging between Vegas and Death Valley along Route 160.
San Francisco to Death Valley
Longer Scenic Route
Death Valley to San Francisco is going to be your longest drive time at just under 10 hours. If you want to make a true California road trip, you can hit a few national parks, including Yosemite National Park, on your way to Death Valley from San Francisco. You'll also pass south of Lake Tahoe if you want to stop to do some skiing or swimming, depending on when you visit. Wander south toward Mammoth Lakes, Kings Canyon National Park and into Death Valley from the western entrance.
Shorter Drive Via Bakersfield CA
Alternately, and about an hour quicker, you can head south on I-5 toward Bakersfield, where you will start heading northeast on I-395 to the western entrance of Death Valley National Park.
Gas Stops and EV Charging
Shorter Drive via Bakersfield
While you are on I-5, you will have plenty of places to stop for gas and EV charging. But make sure you have a full tank of gas once you head out of Bakersfield. As you get closer to the park, if you are getting below half a tank, fill up wherever you find gas.
Longer Scenic Route
You will be passing enough major tourist areas that gas shouldn't be a problem. AS EV Charging stations become the norm in California, you will find more and more charging stations at gas stations and stand-alone EV charging centers, making it even easier to road trip with an electric vehicle.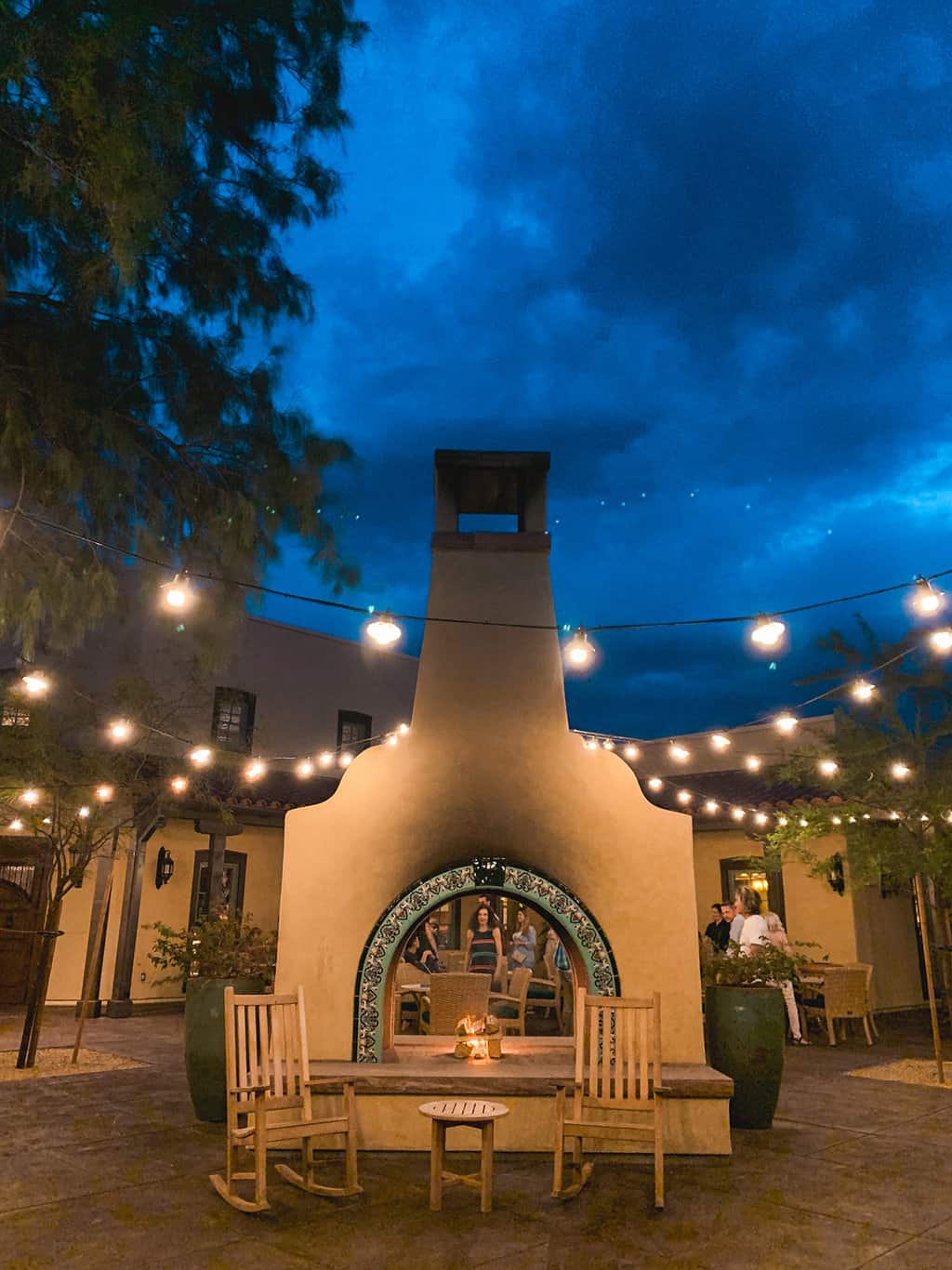 Hotels in Death Valley National Park
There are actually a few hotels in Death Valley National Park that are situated in the park, the most popular in Furnace Creek. The historic Inn at the Oasis at Death Valley, which is more high-end, and The Ranch at Death Valley, which is a tad more budget friendly and geared toward families, are what you will see most in advertising.
However, just a bit north in the park in Stovepipe Wells Village, there is another motel with restaurants, a general store and cheap(er) gas.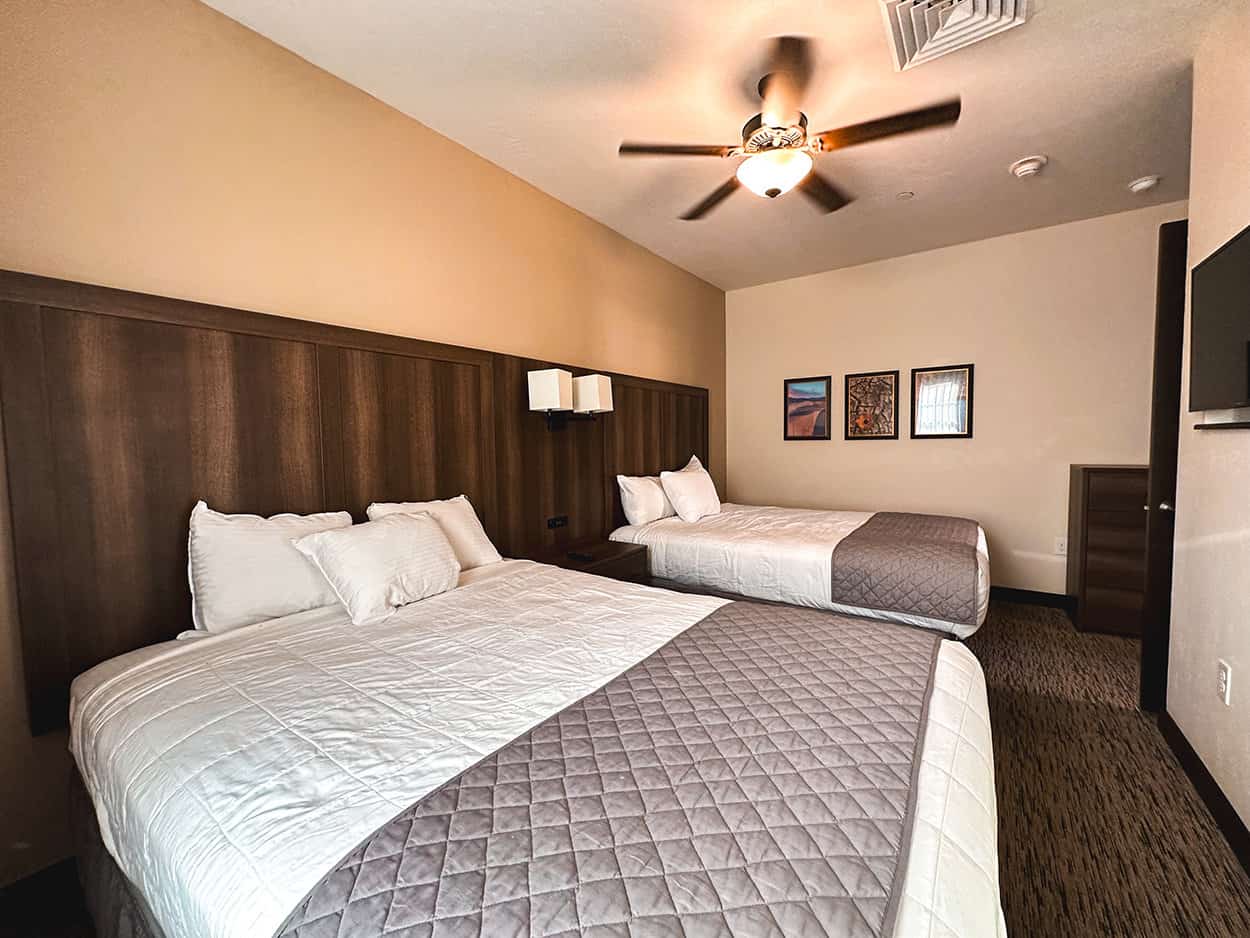 Hotels in Furnace Creek
The Ranch at Death Valley
The Ranch at Death Valley is the more economical hotel option in Death Valley. I wouldn't say it's a budget hotel, as that would imply it's cheap. While rates can be decent during the shoulder season, rooms are still pricey, as are the cottages.
The Ranch has a town vibe with multiple shops, restaurants, a coffee store and an ice cream parlor. There is even a post office and horse stables for those who fancy a ride.
The hotel rooms are basic, as are the cottages, all including a bathroom with shower, TV and comfy beds. The cottages are large enough for at least a family of four, but could fit more if the kids don't mind sharing a bed, while more kids could sleep on the pull-out sofa.
We always pack a camp pad and sleeping bag (these are super small, and great for flying too) in case we need to make a kid sleep on the floor.
And yes, kids, there is a pool on site. It's a bit chilly in winter but a welcome relief from the spring, summer and heat of early fall.
Find more options for adding hotel beds to a room.
Inn at the Oasis
The inn at the Oasis is the luxury accommodations in Death Valley, sitting on a hill overlooking the basin. The property is truly an oasis, filled with palm trees and even grass on the golf course.
Guests can book rooms or a casita, which is more of a cottage-like experience. Rooms are spacious and comfortable, with great pillows and mattresses, full bath and sometimes a little seating area.
The hotel boasts a secluded pool, golf course, fantastic spa, a pool cafe, plus a lounge with a full menu and bar. There is also the hotel restaurant, the Inn Dining Room, which is open from breakfast, lunch and by reservation only for dinner.
Hotels in Stovepipe Wells Village
Death Valley Lodging Company in Stovepipe Wells Village
The Death Valley Lodging Company offers a motel-style accommodation with a pool, saloon and restaurant onsite, along with a general store and gas station, where we found the cheapest gas in the park.
The food is also about half the price of what you will find in Furnace Creek, so if you are on a budget, head north to watch the sunset at the sand dunes and then go to the Toll Road Restaurant and Saloon for dinner.
Hotels near Death Valley National Park
You don't HAVE to stay at a hotel in Death Valley NPS, but if you can swing it, do try as it saves you a ton of driving time. It is also just a unique place to be as the sun sets and the stars start shining.
If you do need to stay outside of the park, here are a few decent options to check out:
Find more Death Valley hotels HERE.
Vacation Rentals near Death Valley
Death Valley Restaurants
The Ranch at Death Valley Restaurants
The Ranch 1849 Buffet
The 1849 is a buffet restaurant serving breakfast, lunch and dinner, where you pay a set price for all-you-can eat. (Check out the menu for each meal before you commit, though). They tend to do themed nights, so if you don't like tacos or whatever else they are serving, and don't fancy hitting up the salad bar again, you might want to check elsewhere for a meal.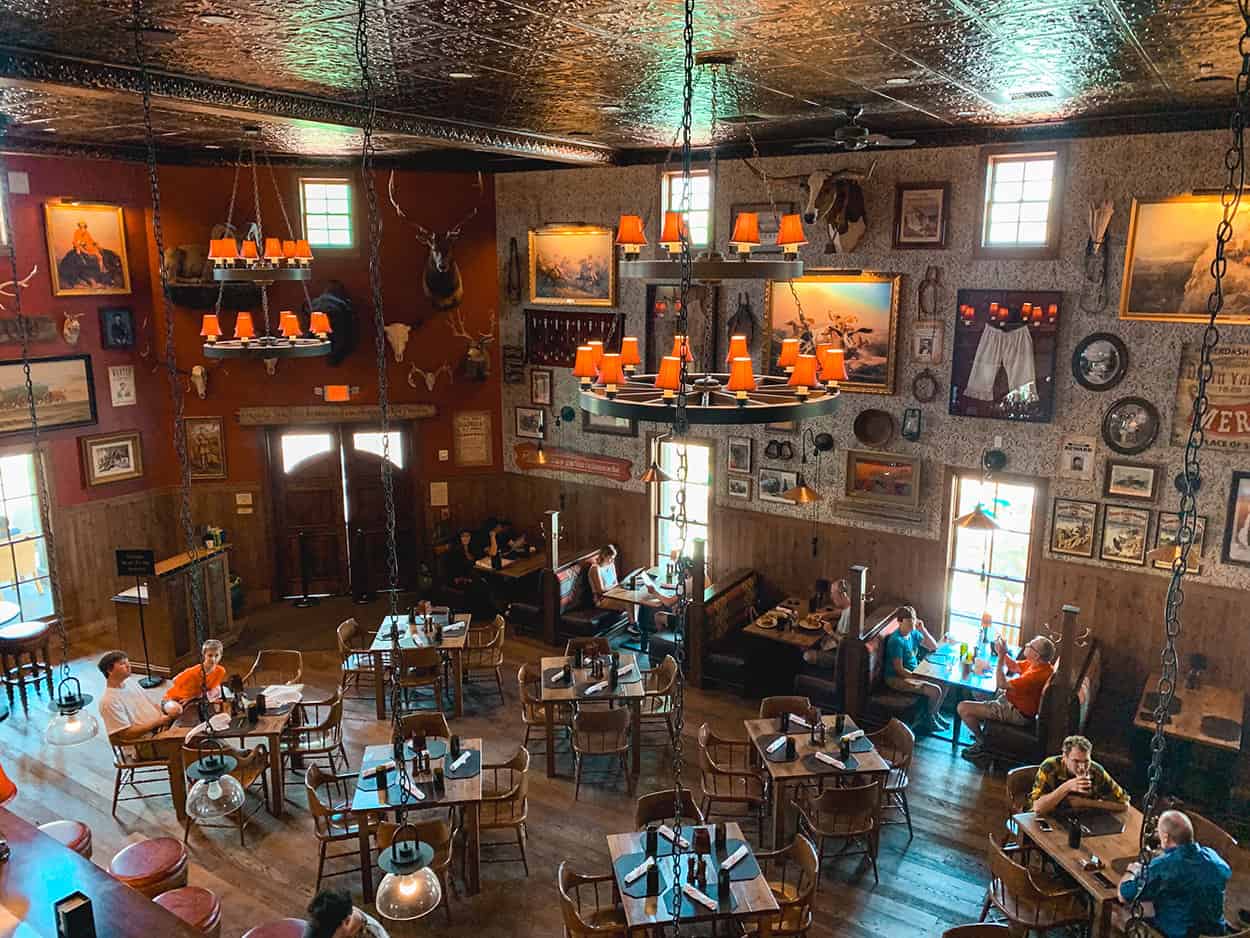 The Last Kind Words Saloon
High-priced entrees feature steaks, prime rib, salmon and pasta, as well as reasonably priced salads that are big enough to share. The chili is something they are known for, located on the appetizer menu, so dig into this cheap(er) dish if you are pinching pennies.
The kids' menu is reasonable and offers the usual cheeseburger, chicken nuggets, butter noodles and grilled cheese, so your "beige" eater will be thrilled.
19th Hole at the Furnace Creek Golf Course at Death Valley
I am not a golfer, but I do have golfers in the family. So I know how important a golf club cafe can be to these sportsmen and women.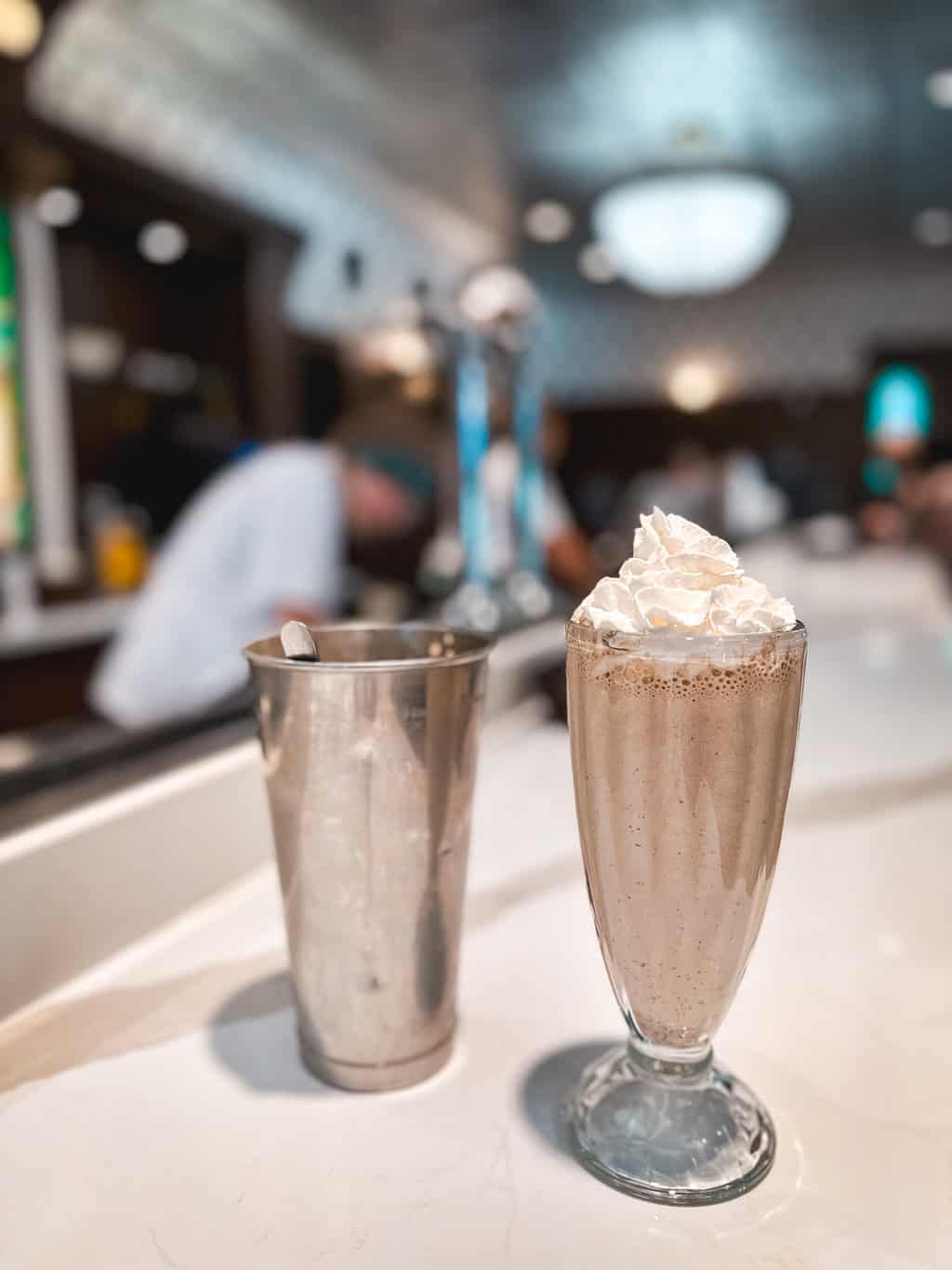 Ice Cream Parlor
The best bribe in the world when you are hiking with kids is a treat after a long hike, and the Ice Cream Parlor at The Ranch makes it extra special and sweet. This old-fashion ice cream parlor serves up massive cones and delicious shakes. The prices are a little steep, but a single cone is basically a full waffle cone, which softens the blow a bit.
Their milkshake flavors like Rudolph's Nose and Nutty Goodness bring a lighthearted feel to your favorite mint chocolate chip fudge shake and Reese's peanut butter cup shakes. The sundaes are just as fun, with several fun combos, or you can make your own. When in doubt, just go for the classic banana split. Your kids might even share with you. Ha!
General Store
The General Store at The Ranch features tons of food for campers and guests of The Ranch to stock up their snack bags and mini-fridges.
They have a microwave in the grocery section of the shop, so you can buy frozen mac n' cheese, burritos, chicken bowls, etc. to heat up and eat at an outside table or back at your room. They also have milk, creamer, fresh produce, cereal, bread and the usual necessities for families traveling to a national park.
For us, we like to feed the kids with the groceries and then run off to the Inn at the Oasis for at least one nice sit-down meal at the lounge (or restaurant).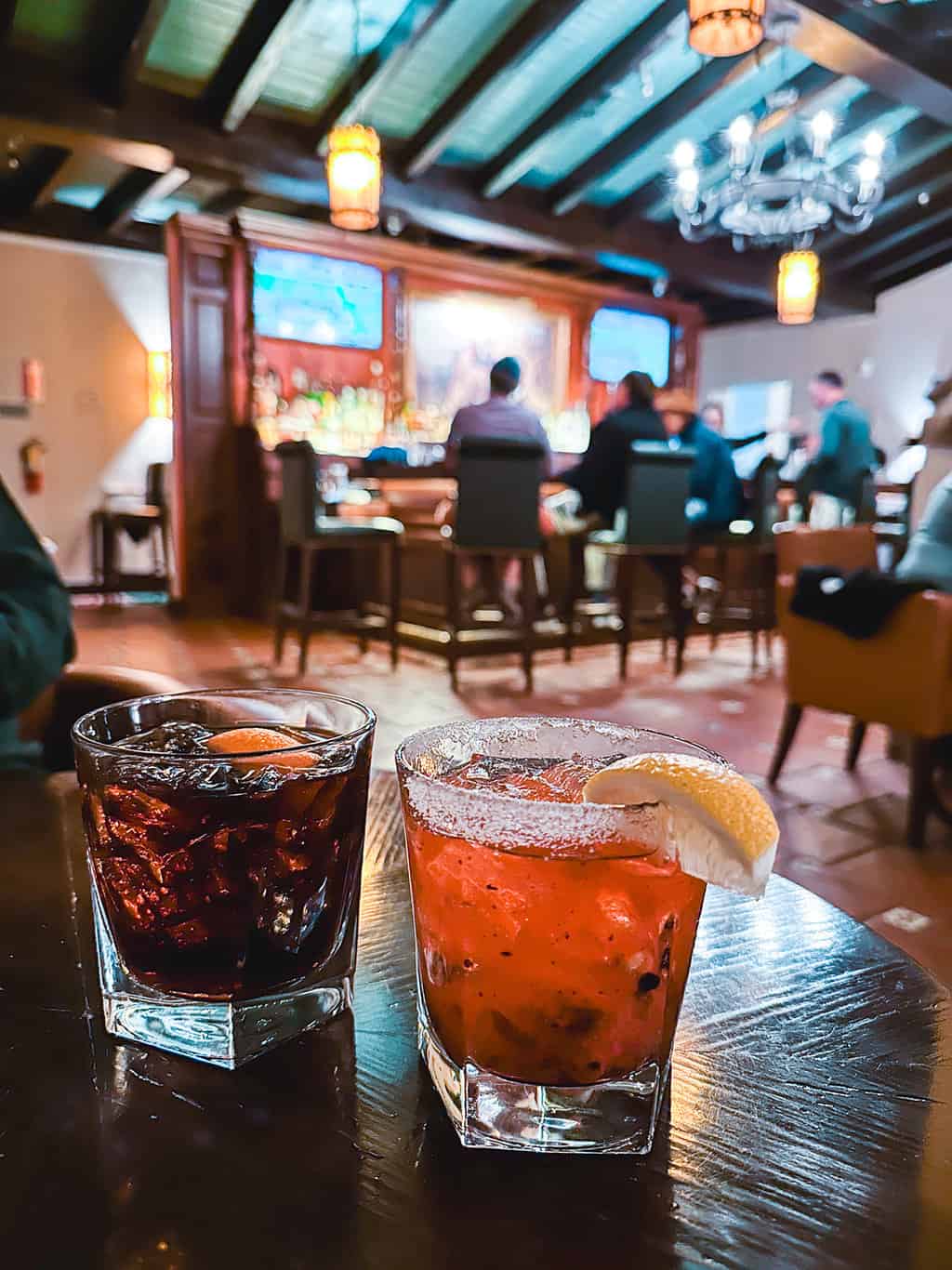 The Oasis at Death Valley
The Oasis Lounge
We love the more casual lounge at The Oasis at Death Valley because we don't need a reservation. My husband and I usually grab a table for two (normally bar-style seating with hightops and lower tables with upholstered chairs), then order drinks and a few appetizers.
Their dill pickles are a must, as are the tacos. You can also order off of the restaurant menu so you don't have to miss out on a steak or larger meal. We mix it up with salads from the The Inn Dining Room menu and appetizers from the lounge menu. Truly, it's the best of both worlds.
And, yes, kids are welcome at the lounge but aren't allowed to sit at the bar.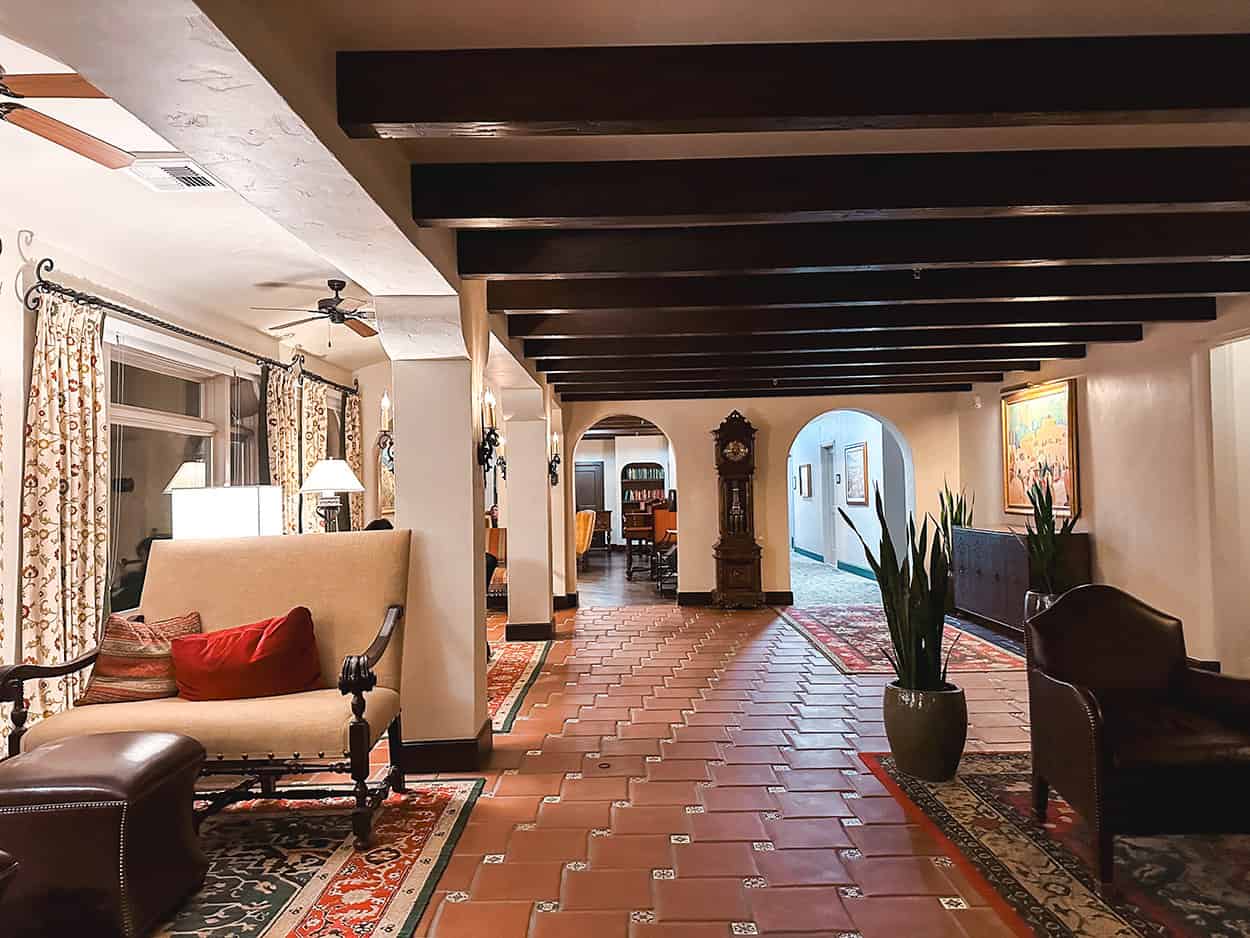 The Inn Dining Room
Reservations are required, and there is a dress code (no t-shirts or tank tops). The food is pricey, but delicious and perfect for a special occasion. The menu features steaks, salmon, pasta, salads, and a nice selection of desserts. The restaurant offers a full breakfast menu and dinner (no lunch service).
If you forget to make a reservation, you can still enjoy most of the menu in the Oasis Lounge.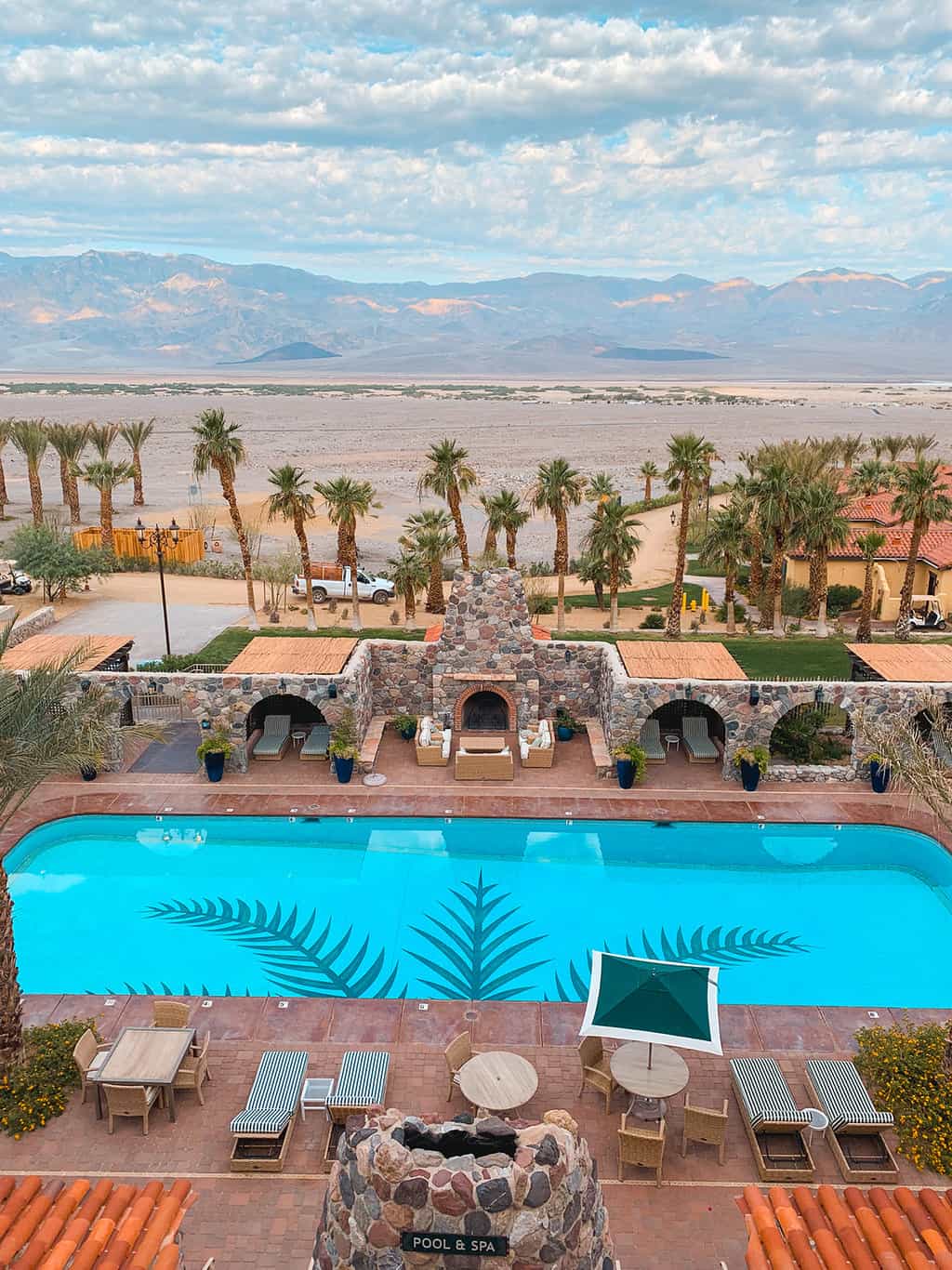 The Inn Pool Cafe
If you (or your kids) don't want to leave the 87 F spring-fed pool at the Oasis, you can simply order at the pool cafe. The menu is limited but features sandwiches, a cheese board, a vegetable platter, chips and salsa, and a fruit plate.
You can also order alcoholic beverages that are perfect for a day at the pool. We love the mellow mojito (with melon) and the prickly pear mojito (featuring prickly pear), but you can grab wine, beer, soda, lemonade and ice tea as well.
Stovepipe Wells Village Restaurants
Toll Road Restaurant and Saloon
For anyone going to the sand dunes for sunset, the Toll Road Restaurant and Saloon is the perfect spot to grab dinner before heading back to your hotel. The kids' meals included basic burger, chicken tenders, etc. while the regular menu offered salads, grilled salmon, specialty burgers and a full bar with local beers on tap.
Fun Facts about Death Valley National Park
Hottest Place on Earth
Death Valley holds the record for the highest air temperature ever recorded on Earth. On July 10, 1913, the temperature soared to 134 F (56.7 C) at Furnace Creek Ranch.
Lowest Point in North America
Badwater Basin, located in Death Valley, is the lowest point in North America, sitting at 282 feet (86 meters) below sea level.
Extensive Desert Wilderness
Death Valley National Park covers an area of over 3.4 million acres, making it the largest national park in the contiguous United States.
Unique Geology
The park features unique geological formations, including the colorful Artist's Palette, the mysterious sliding rocks at Racetrack Playa, and the Ubehebe Crater, a massive volcanic crater.
Diverse Ecosystem
Despite its harsh conditions, Death Valley is home to a surprising variety of plant and animal species, including desert tortoises, bighorn sheep, and rare pupfish that inhabit some of the park's springs and streams.
Starry Skies
Death Valley is known for its incredibly dark and clear night skies, making it a designated International Dark Sky Park. Stargazers flock to the park to witness breathtaking celestial displays.
Joshua Trees
While Joshua Tree National Park to the south is famous for its Joshua trees, Death Valley has its own stand of these unique trees in the Panamint Springs area.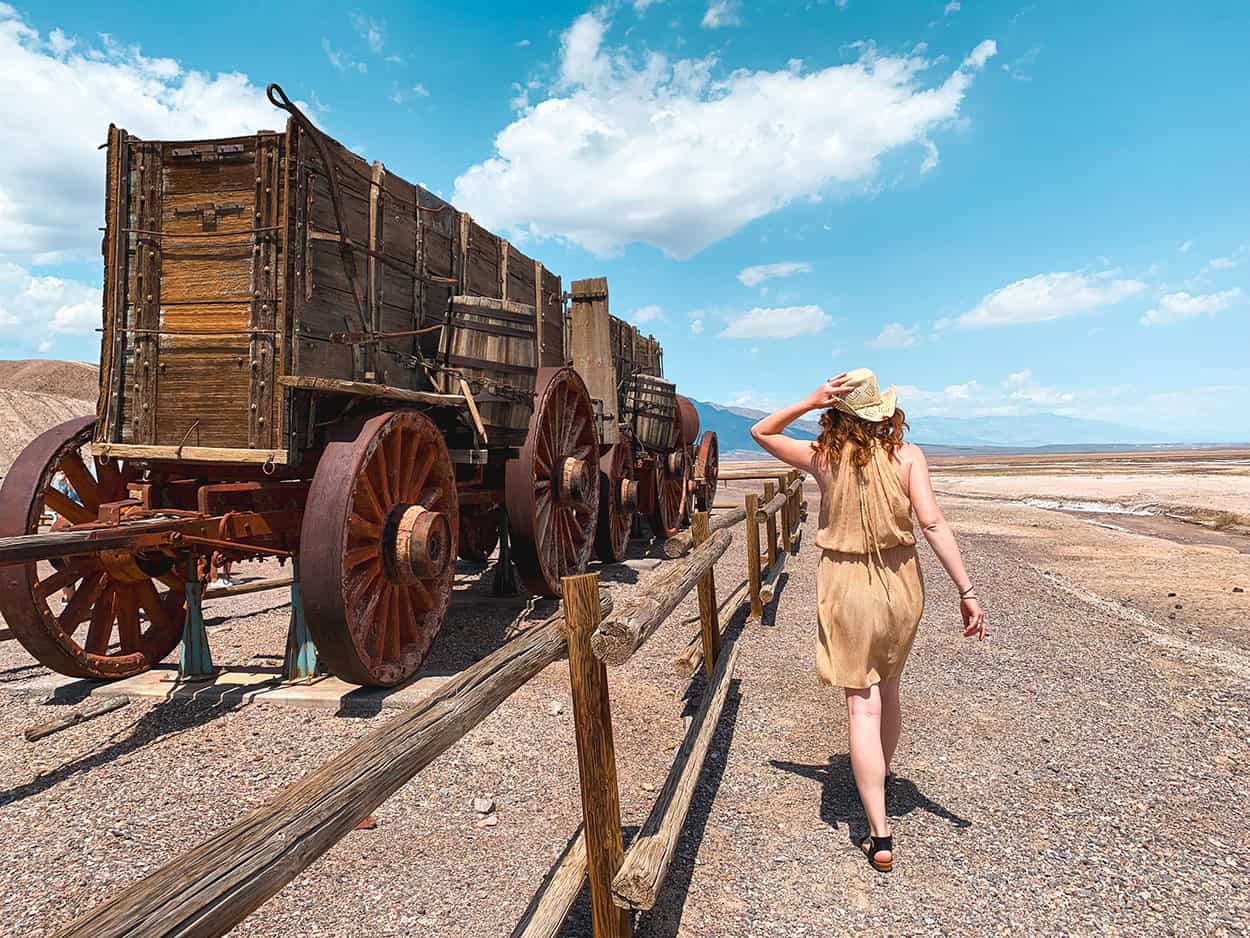 Historic Sites in Death Valley
The park contains numerous historic sites, including the Harmony Borax Works, which played a significant role in the borax mining industry in the late 19th century.
Wildflower Superblooms
In rare years with the right conditions, Death Valley experiences superblooms, where the desert floor erupts in a riot of colorful wildflowers.
Exploration and Filmmaking
Death Valley has been the backdrop for many films, including parts of "Star Wars" and "Mad Max: Fury Road." It also served as a location for military training during World War II.
Mysterious Sailing Stones
At Racetrack Playa, large stones seem to move across the dry lake bed, leaving trails behind them. The exact cause of this phenomenon remained a mystery for years until researchers eventually realized it's a combination of ice and wind that move the stones.
Diverse Terrain
The park's terrain includes salt flats, sand dunes, canyons, mountains, and even a segment of the Panamint Range known as the Panamint City Peaks.
Things to do in Death Valley
Visit Badwater Basin, the lowest point in North America.
Explore Zabriskie Point for stunning desert views.
Hike in Golden Canyon, known for its colorful rock formations.
Witness the beauty of Artist's Palette's multicolored hills. (Sunset is the best time to see the colors of the hills.)
Photograph the Mesquite Flat Sand Dunes at sunrise or sunset.
Take in the panoramic views from Dante's View.
Drive along the scenic, 9-mile Artists Drive loop.
Experience the unique sailing stones at Racetrack Playa.
Explore the historic Harmony Borax Works site.
Hike through Mosaic Canyon's polished narrows.
Visit the Scotty's Castle historic district (currently closed for repairs).
Stargaze in one of the darkest skies in the U.S. at night.
Discover the geologic wonders of Ubehebe Crater and Little Hebe Crater.
Birdwatch and spot wildlife like bighorn sheep and coyotes.
Enjoy a scenic drive on the unpaved Titus Canyon Road.
Camp at one of the park's campgrounds or backcountry campsites.
Take a ranger-led tour to learn more about the park's natural and cultural history.
Visit the Furnace Creek Visitor Center for park information and exhibits.
Explore the Charcoal Kilns, historic structures in Wildrose Canyon.
Witness the unique desert wildflowers during spring blooms.
Experience the stark beauty of Eureka Dunes in the Eureka Valley.
Photograph the play of light and shadow at the Devil's Golf Course.
Drive through the colorful canyons of Twenty Mule Team Canyon.
Explore the ghost town of Rhyolite just outside the park's eastern border.
Relax and soak in the natural hot springs at Saline Valley.
Drive along the unpaved and rugged road to Aguereberry Point for panoramic views.
Check out our full guide to the best things to do in Death Valley National Park
Star Wars Filming Locations in Death Valley
Yes, two of the Star Wars movies feature desert scenes that were filmed in Death Valley National Park.
Star Wars (Episode IV – A New Hope)
Several scenes from the original Star Wars film were shot in Death Valley. Most notably, the scenes on the desert planet Tatooine, where Luke Skywalker's home was filmed, took place in the park.
Star Wars (Episode VI – Return of the Jedi)
Some scenes from this Star Wars installment were also filmed in Death Valley. The scenes set on the planet Tatooine, including the Sarlacc Pit sequence, were filmed in the sand dunes near Buttercup Valley.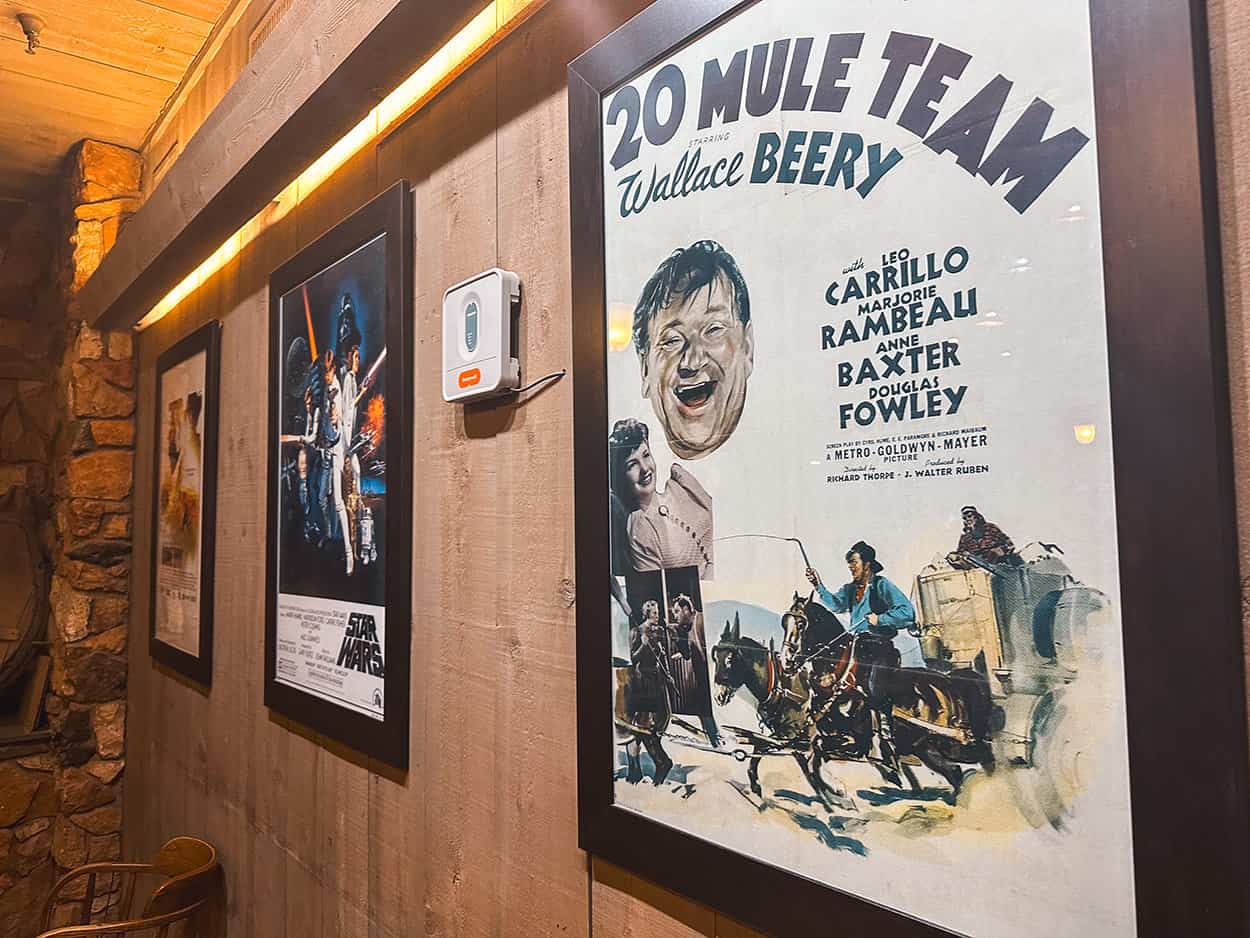 More movies filmed in Death Valley National Park (or close by)
Mad Max: Fury Road: The post-apocalyptic action film Mad Max: Fury Road used the park's unique desert landscapes to create the desolate world of the film. Scenes were shot in various locations within the park.
Twentynine Palms: This independent film, directed by Bruno Dumont, was shot in the desert areas around Death Valley. It tells the story of a French couple traveling through the American desert.
Zabriskie Point: While not a blockbuster, this 1970 film by Italian director Michelangelo Antonioni used Death Valley's iconic Zabriskie Point for a memorable scene.
Transformers: Revenge of the Fallen: Some scenes from this action-packed sequel were filmed in the park, including sequences in Egypt, which were actually shot in the desert landscapes of Death Valley.
The Hitcher (2007): This thriller, starring Sean Bean, features scenes filmed on the park's desert roads, providing a desolate and isolated backdrop for the film's tension.
The Island (1980): A science fiction film starring Michael Caine and David Warner, parts of "The Island" were shot in Death Valley, taking advantage of its unique terrain.
Kill Bill: Vol. 2: While most of the "Kill Bill" films were shot in various locations, some scenes involving Daryl Hannah's character were filmed in the Trona Pinnacles, a unique geological feature near Death Valley.
Can you still film in Death Valley?
No, these movies were either filmed outside of the park or before Death Valley was designated a national park in 1994. You cannot fly drones in the park or conduct any sort of commercial filming without prior authorization and permits from the National Park Service.
Death Valley National Park Itinerary
Two- Night Hotel Stay
Since your Death Valley itinerary only covers three days and two nights, you won't want to hop around to different hotels. Pick one spot to stay for your trip so you have a place to relax, get out of the heat, and enjoy your time in the park.
Death Valley Itinerary Day 1
Check into The Ranch at Death Valley (or the Inn at the Oasis for a more luxury experience) by lunch on your first day in the national park. If your room isn't ready yet, don't fret: You can leave your bags in the car (as long as it's not boiling hot), and get out to take a few hikes.
But first, grab lunch at the Last Kind Words Saloon at the Ranch at the Oasis. You'll be able to grab burgers, salads, and their famous chili, plus the kids' menu is decent if you are in Death Valley with kids.
Time to hit the park. Since the sun is still high in the sky, you will want to stick to trails that are in the shade. We love Golden Canyon and Natural Bridge, as the sides of the canyon naturally shade you from the harsh rays of the sun, even in the winter months.
NOTE: The road to Natural Bridge is rough and mostly gravel roads, which are better suited to high-clearance vehicles. Stick to Golden Canyon if you aren't sure yours can handle the route.
You can easily complete portions of both hikes in one afternoon, unless you want to do the full trail, in which case you will want to stick to one trail. I'd pick the Golden Canyon hike that hooks up to Zabriskie Point, or you can circle around to Gower Gulch.
Make sure you are out before the sun sets, as it will be hard to navigate the Golden Canyon Trail in the dark. There are also nocturnal animals like bats that come out at night, which you may want to avoid.
If you want to catch the sunset, head up to Zabriskie's Point or Dante's View for the best views over the valley. Don't worry: You will have time for another sunset tomorrow night.
Head back to your hotel for dinner, either at the Inn Dining Room or Oasis Lounge. Whether you are flying solo, with your partner or traveling with the kids, both have great options for delicious dining.
Death Valley Itinerary Day 2
Get an early start this morning, eating breakfast in your room (we always carry oatmeal packets), or grab some food to go at the hotel restaurant or from the General Store at The Ranch.
If you want a one day Death Valley itinerary, this is the one to follow.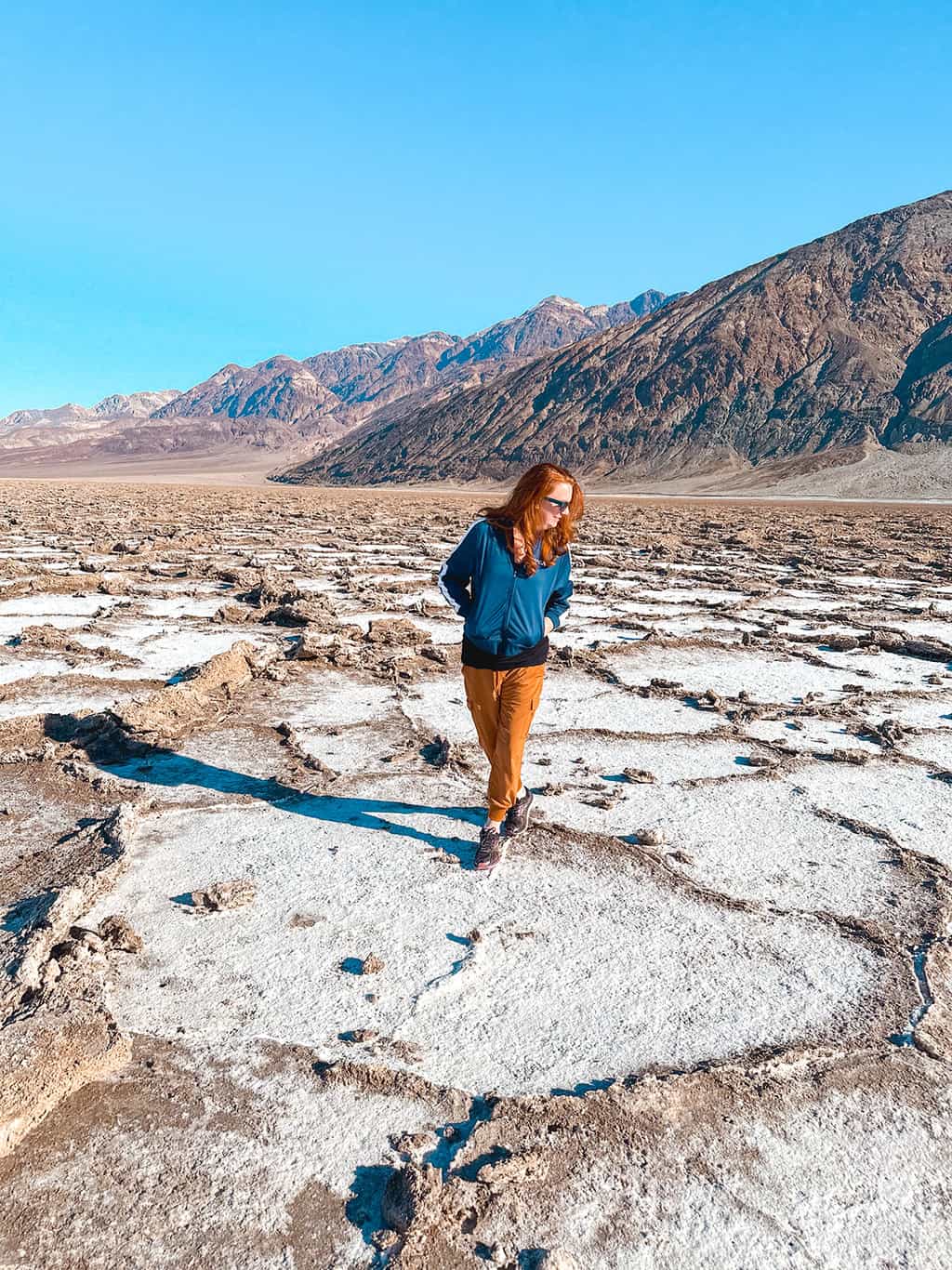 Leaving from Furnace Creek, head to Badwater Basin on Badwater Road (one of the main roads in Death Valley, about 15.5 miles long). There is a parking area at the entrance to the Badwater Basin, which stays in the shade until mid-morning.
It's not a long drive (about 20-30 minutes), but it is one of the best places in the country to see one of the largest salt flats in the world (about 200 square miles).
You won't be able to hike all that, but it's a great spot to see the crystalized salt. Just be gentle, as these salt crystals are delicate wonders. Never, ever try to drive on the salt flats or off road, as the ecosystem is very fragile. The Badwaters can be a short hike or a farther one as you traverse through the lowest point in North America.
Just keep in mind that it gets very hot and dry in this endorheic (retains water and allows no outflow to external bodies of water) basin. Bring plenty of water, wear sunscreen and UV shirts (I always travel with this one) and get to shade before noon.
Once you have been to the basin, head back to your car, eat a snack and take the short drive over to the Devil's Golf Course. Listen to the popping of the salt crystals as they expand and contract. No, you can not play golf here, but it is a nice quick stop as you wander back down Badwater Road.
Make your way to Zabriskie Point, where you can either enjoy the spectacular views from the very short trail off of the parking lot. Or you can take one of the best hikes in the park between the hills and across the rock formations that connect Zabriskie Point, Manly Beacon, Golden Canyon, and Red Cathedral, one of our boys' favorite parts of the park.
If you have kids, make sure you take the trail. They can scramble around rocks, hike up hills, attempt to find water in the desert, and even see some wildflowers if we have gotten enough rain in California that year.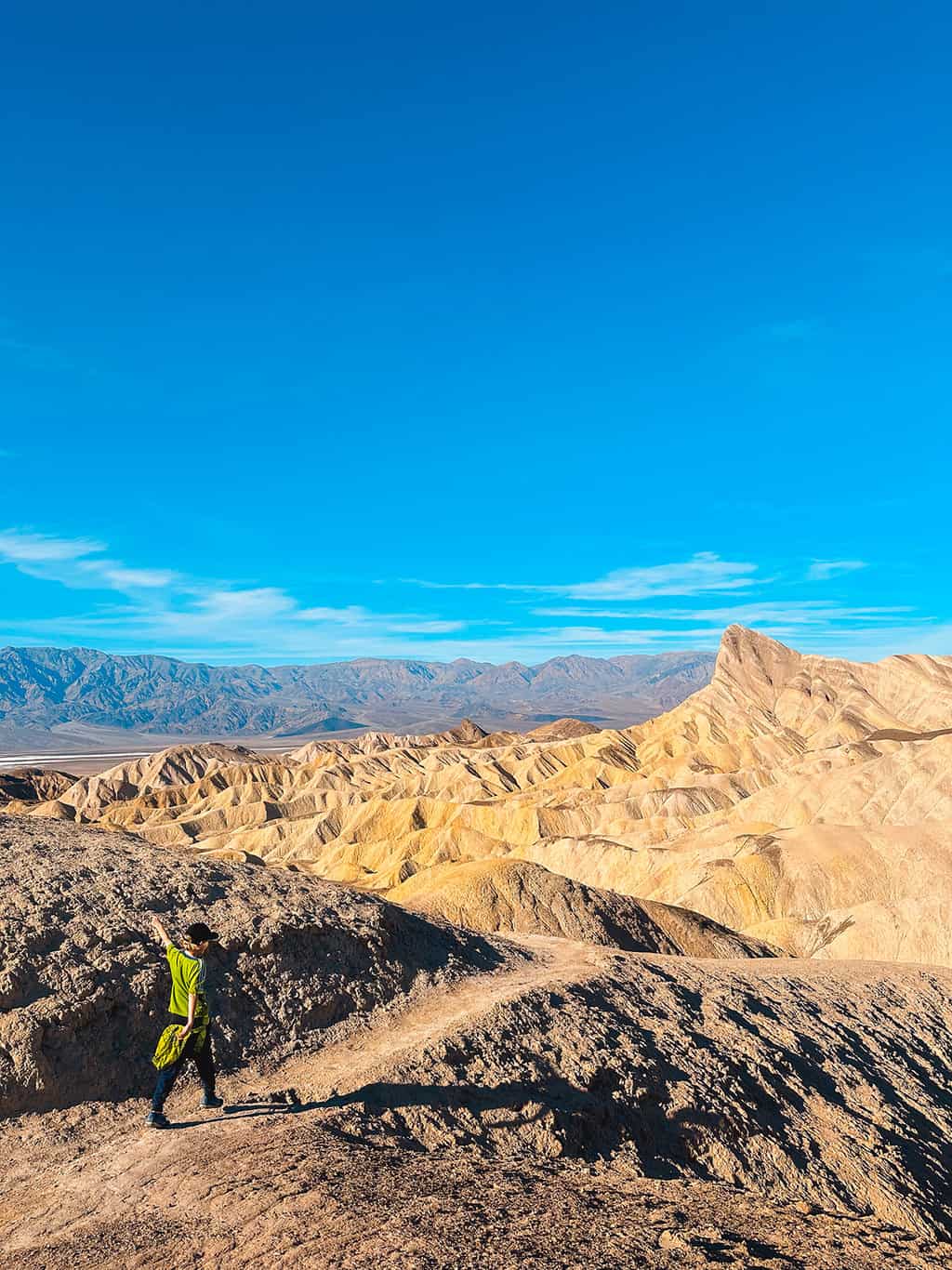 This hike will take up a large portion of your day. You can set a timer for 90 minutes so you only hike three hours in and back, or you can try to make it to Golden Canyon and hike your way out.
The only problem with this is that you car is back at Zabriskie Point, so unless you can get a ride back with someone else, you will be walking on the valley floor and cresting a few hills on your way back.
By now you are thirsty and hungry, having eaten up all of the snacks you had in your daypack. Head back to your hotel for a swim, nap or just a shower.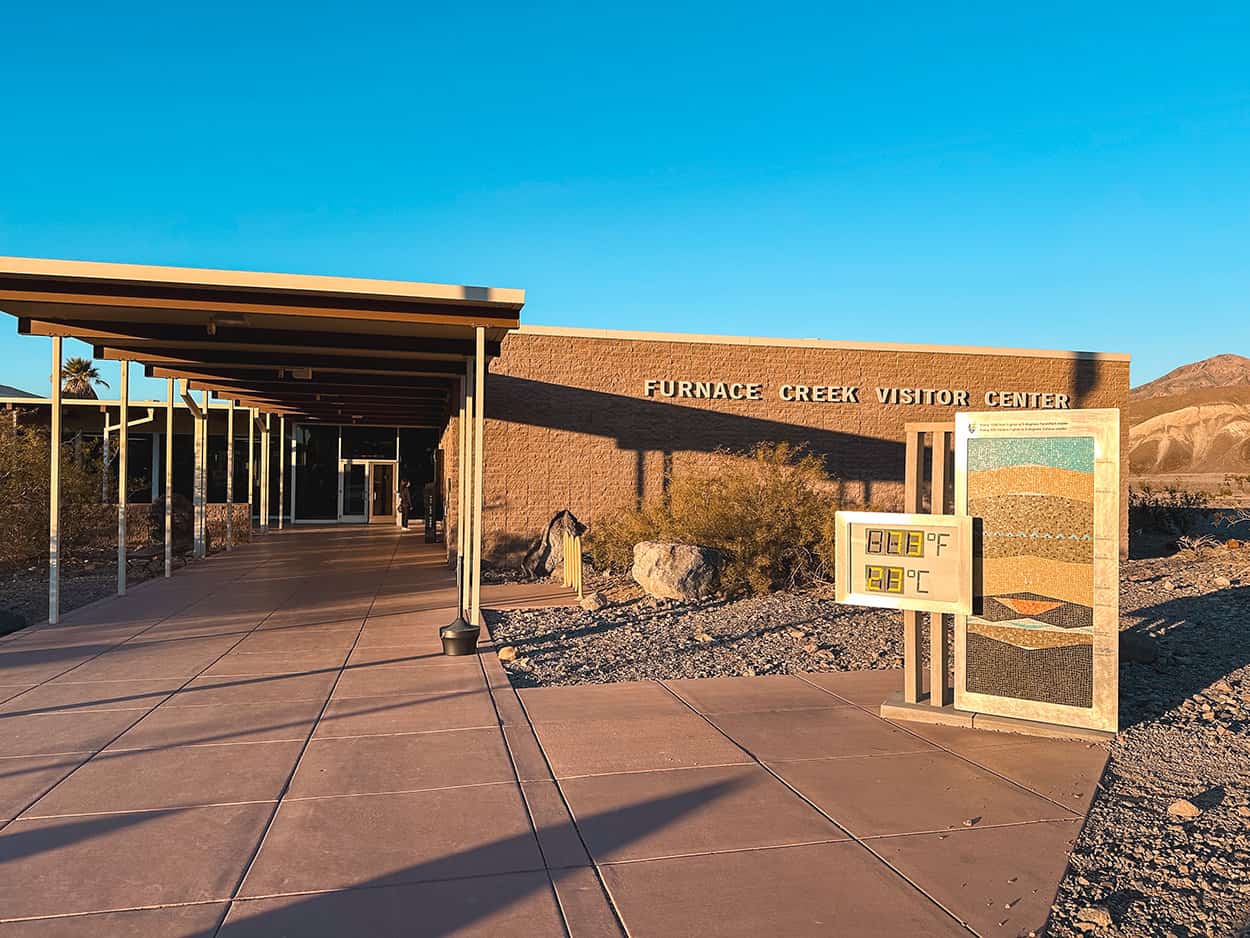 If you are still motivated to explore, head toward the Furnace Creek Campground to the Furnace Creek Visitors Center to chat with the park rangers, find out when and where their evening stargazing talk will begin, and figure out the best way to spend the rest of your afternoon and/or that night in Death Valley.
Before dinner, you will want to make sure you get to the Artists Palette or the Mesquite Sand Dunes in time for sunset. It happens quickly, so get there earlier than you think.
If it's after Daylight Saving Time in late fall or early spring (November-March), you will want to be at the trail by 4 p.m. at the latest. The sun sets EARLY in Death Valley since it is so low in elevation. So if you don't want to go early, hit the viewpoints with higher elevations, like Dante's View and Zabriskie's Point.
The Artists Palette along the one-way road of Artists Drive is definitely worth visiting, as the colors of the minerals on the rocks start to change colors as the sun sets, making the pinks, blues, greens, yellows and purples of the rocks more saturated and easier to see than it would be midday.
Remember that this can be a popular spot, so grab your parking space, and give yourself some extra time to find a spot to sit and watch the sun go down over the hills and mountains.
By the time the sun has set over the mountains surrounding Death Valley, it will be getting too dark to hike more trails. Now is the best time to grab dinner back at your hotel so you're all ready to go stargazing with the park rangers.
Most stargazing experiences with the park rangers are free and take place at the Harmony Borax Works Interpretive Trail in Furnace Creek. You will see red lights guiding you into the parking lot and along the trail to meet up with the other stargazers eager to get a peek of the Milky Way.
The park rangers sometimes have telescopes and always have stories about how the stars would guide Native Americans in the area, as well as early settlers headed to Southern California through the Mojave desert. A little Greek mythology will also come into play, as many of the constellations got their current names during the time of Ancient Greeks, Romans and tribes of the Middle East.
Rangers are happy to answer questions, especially from inquisitive children, and always leave enough time for questions at the end of their talk (about one hour).
You've had a very long day. Head back to your hotel so you can get up early again tomorrow for a spectacular sunrise in the desert.
Death Valley Itinerary Day 3
It's your last day in Death Valley. I know you are tired and getting up in the early morning is not your thing, but trust me, it will be worth it.
Since you probably listened to us and went to the Artists Palette last night for sunset, this morning you will want to go to the Mesquite Flat Sand Dunes to watch the sunrise. I've been for sunset and it can be a tad lackluster, so I prefer to either go by myself in the morning while my husband and kids sleep in, or drag everyone out of bed to one of the best spots for sunrise in the park.
Give yourself plenty of time (at least 30 minutes) to get from Furnace Creek to the Mesquite Flat Sand Dunes. You will want about 15 minutes to walk out across the sand dunes for the perfect spot to take photos.
You will think you are in Morocco as you wander across the sand dunes that seem to go on for miles, but, really, you could do a round-trip hike in about two hours.
After you have taken your photos and greeted the sun for the day, it's time to find some breakfast. Pop into the nearby Toll Road Restaurant and Saloon at Stovepipe Wells Village, or head back to your hotel for a nice sit-down meal. You have earned it.
Once you are fed and your bags are packed, you can start to drive home or back to Las Vegas to fly home. You will be able to stop at a few key viewpoints and hiking trails along the way.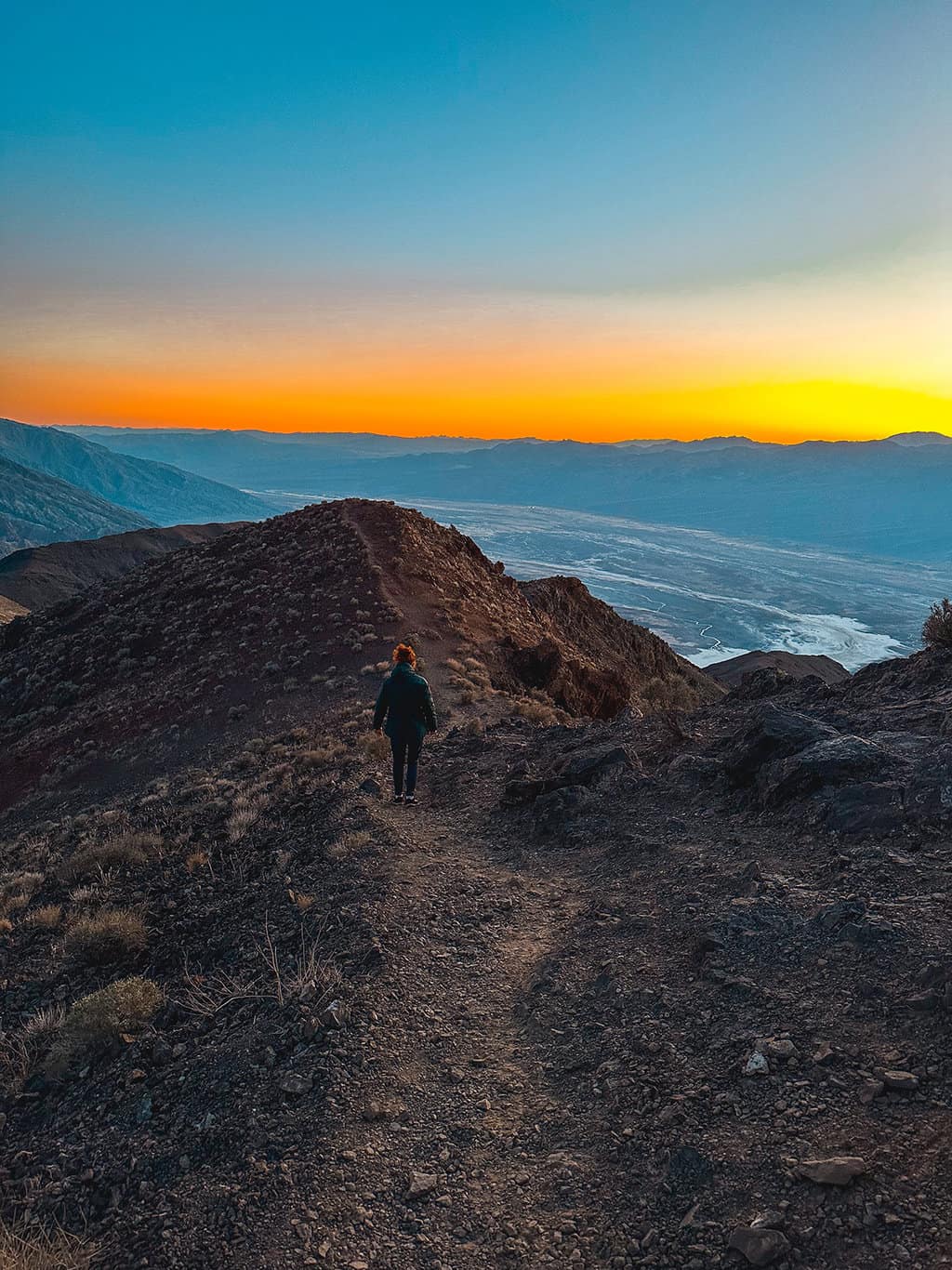 Things to do in Death Valley as you leave the park
Red Cathedral
Zabriskie's Point
Twenty Mule Team Canyon
Dante's View
Things to do in Nevada Near Death Valley
Death Valley Junction
Amargosa Opera House
Ash Meadows National Wildlife Refuge
Red Rock Canyon National Park
Mt Charleston
Sloan Canyon National Conservation Area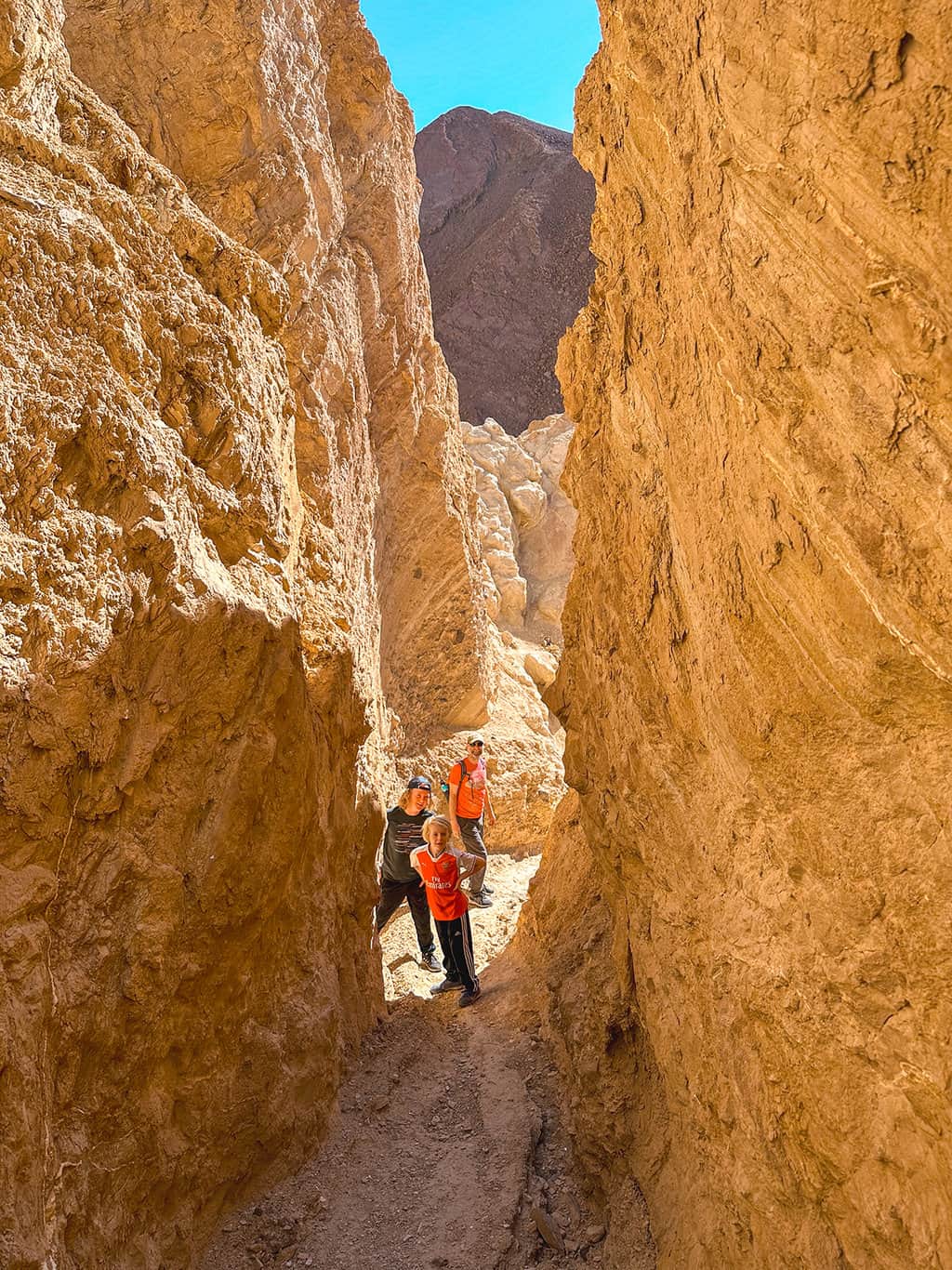 Frequently Asked Questions About Death Valley National Park (FAQ)
What is Death Valley National Park?
Death Valley National Park is a vast desert park located in eastern California near the border with Nevada. It's known for its extreme desert landscapes, including salt flats, sand dunes, canyons, and unique geological formations.
How did Death Valley get its name?
Death Valley earned its ominous name from the pioneers who struggled to cross the inhospitable terrain during the Gold Rush era. The harsh conditions and extreme temperatures led to the name "Death Valley."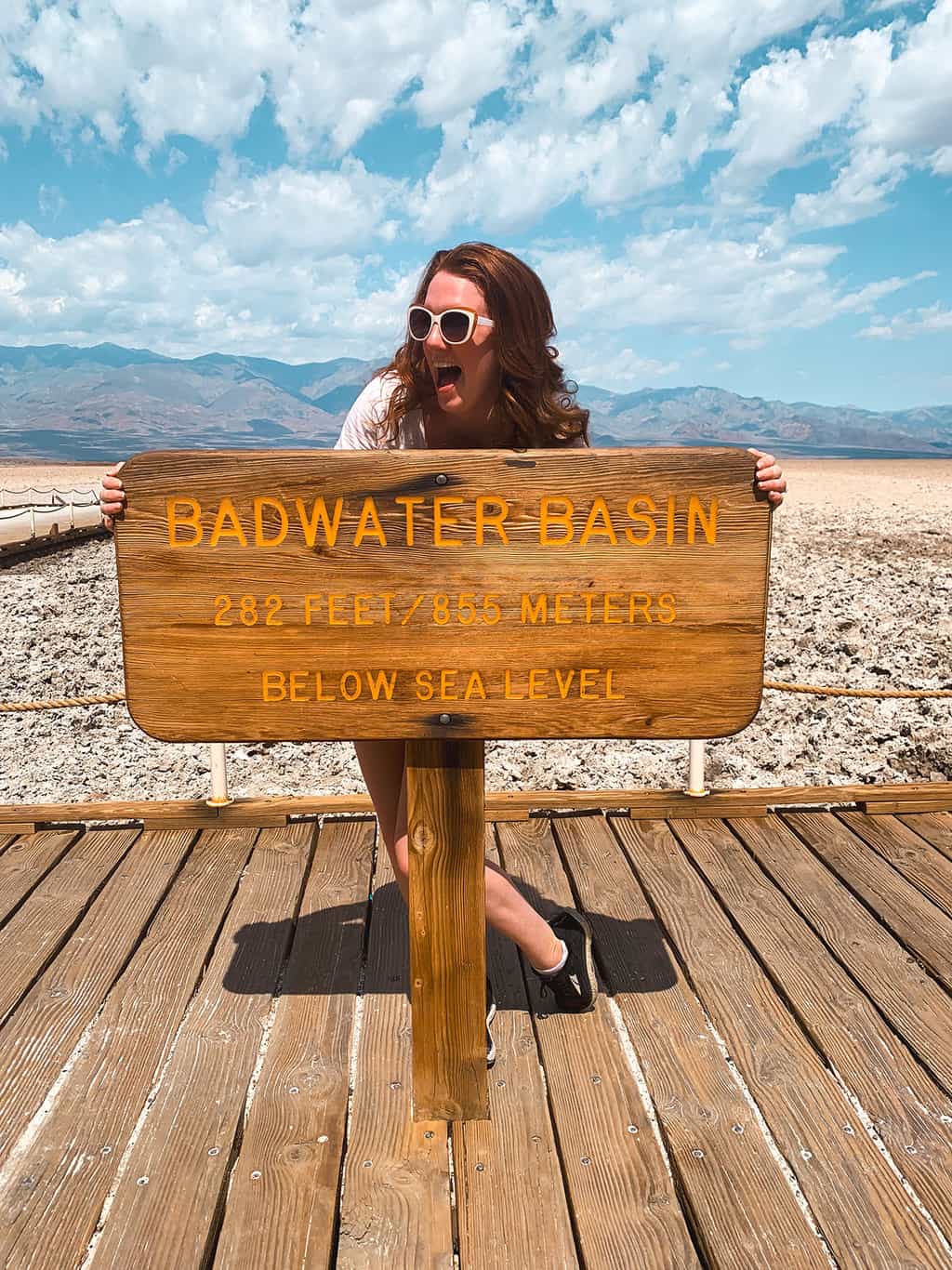 When is the best time to visit Death Valley National Park?
The best time to visit is during the fall and spring when temperatures are milder, typically from October to April. Summers are extremely hot, with temperatures often exceeding 100 F (38 C).
What are the must-see attractions in Death Valley?
Some must-see attractions include Badwater Basin (the lowest point in North America), Zabriskie Point, Artists Palette, Mesquite Flat Sand Dunes, Dante's View, and the Racetrack Playa.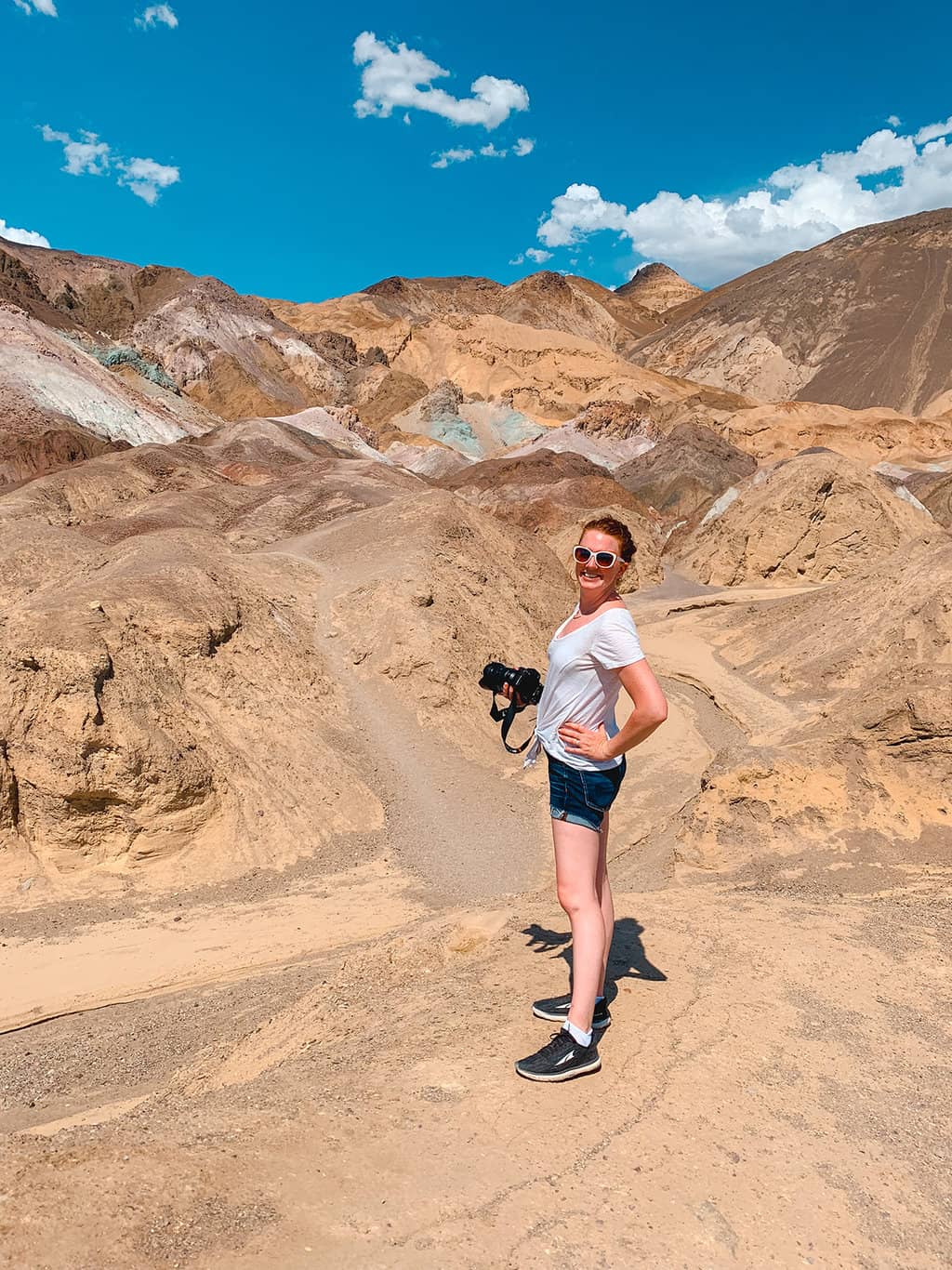 Are there any hiking trails in the park?
Yes, there are several hiking trails of varying lengths and difficulty levels. Some popular trails include Golden Canyon, Mosaic Canyon and the Telescope Peak Trail.
What's the highest point in Death Valley?
Telescope Peak is the highest peak in Death Valley at 11,049 feet (3,368m). You can pretty easily take the road from Mahogany Flat campground to the summit.
Can I camp in Death Valley National Park?
Yes, there are campgrounds available in the park, both developed and primitive. It's advisable to make reservations, especially during the peak season, as campgrounds can fill up quickly.
Is it safe to visit Death Valley during the summer months?
Summer temperatures in Death Valley can be dangerously high, making it a risky time to visit. If you do visit during the summer, take extreme precautions, stay hydrated, and be prepared for the heat.
Are there any wildlife-viewing opportunities in the park?
Yes, Death Valley is home to a variety of wildlife, including bighorn sheep, coyotes, and desert tortoises. Birdwatchers can also spot various bird species.
Can I bring my pet to Death Valley National Park?
Pets are allowed in the park but must be kept on a leash at all times. Be mindful of the extreme temperatures, especially in the summer, which can be dangerous for pets.
Are there visitor centers in the park?
Yes, there are visitor centers at Furnace Creek, Stovepipe Wells, and the Beatty Museum & Visitor Center, where you can get information, maps, and learn about the park's history and geology.
Is there an entrance fee for Death Valley National Park?
Yes, there is an entrance fee for the park, which helps support conservation efforts and park maintenance. You can check the current fees on the official National Park Service website.
Are there accommodations near the park?
Yes, there are accommodations available in the nearby towns of Furnace Creek, Stovepipe Wells and Beatty. These include hotels, motels and campgrounds.
What safety precautions should I take when visiting Death Valley?
When visiting Death Valley, it's crucial to carry plenty of water, dress appropriately for the weather, and let someone know your itinerary. Be prepared for sudden weather changes, and follow park rules and regulations.