Hidden in the northwest corner of Ireland, many who travel to Ireland forget about County Donegal. Some even mistake it for being part of Northern Ireland (though they're both in the Ulster province) and omit it completely from their Irish road trip itinerary.
But there are so many amazing sights and things to do in Donegal that it's worth the extra effort it takes to get there.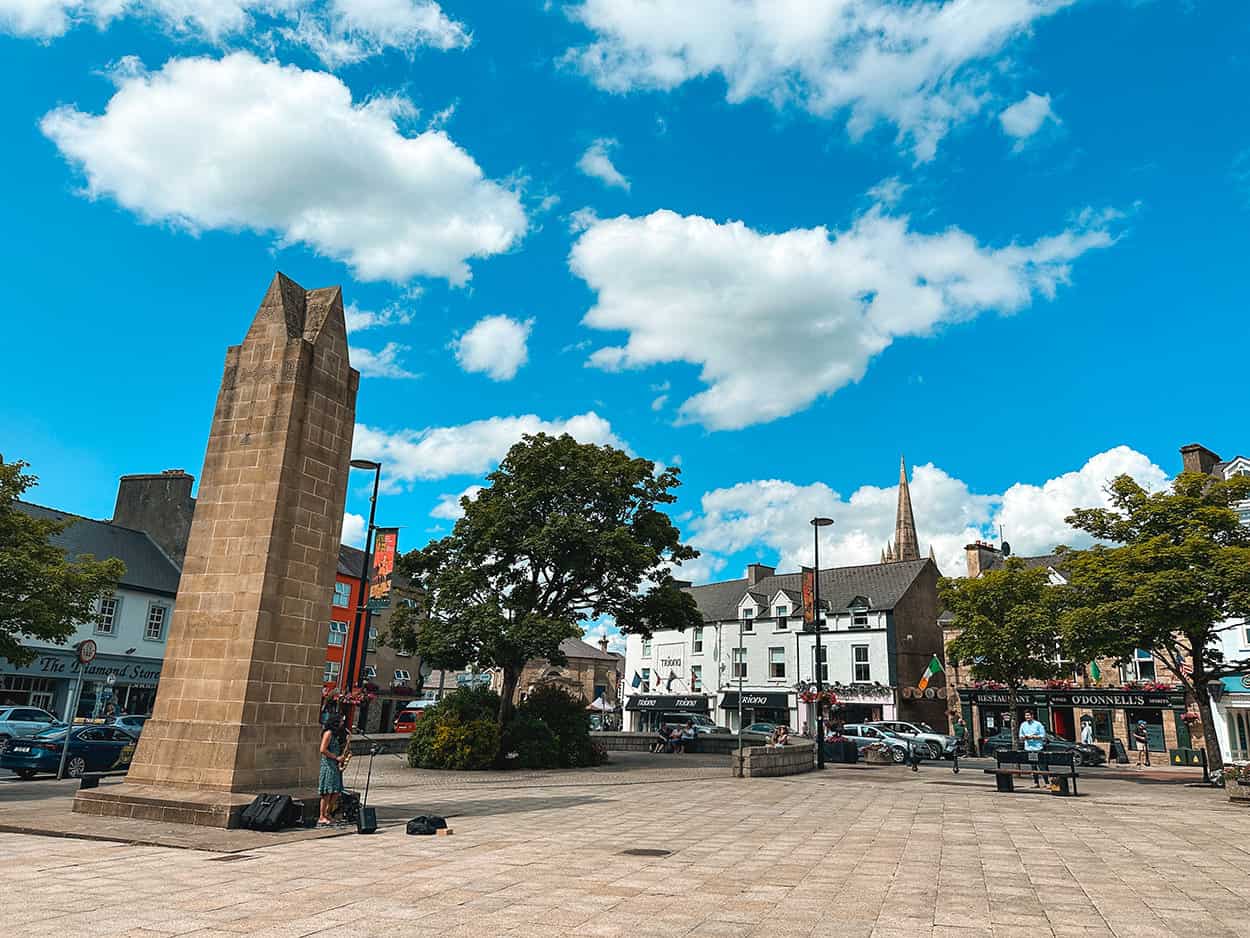 Why you should visit Donegal Ireland
Donegal, Ireland is known for being one of the more remote places in the country, considering the international airports of Belfast, Dublin, and Shannon are at least two hours' drive. Those embarking on the epic Wild Atlantic Way road trip route will either start or end in County Donegal on the scenic Inishowen Peninsula.
Its quieter beaches, secluded islands, dramatic cliffs, and other natural and historic sites are just some of the reasons to visit here.
Few people regret making the effort to travel further north to Donegal County, in fact, a shopkeeper in Doolin said it had her favorite beaches on the entire island and wished she could visit more.
So, let's dig into planning a trip to Donegal, including this county and the town of Donegal in your Irish road trip, and why you will want to make sure you don't miss this northern area when you visit Ireland.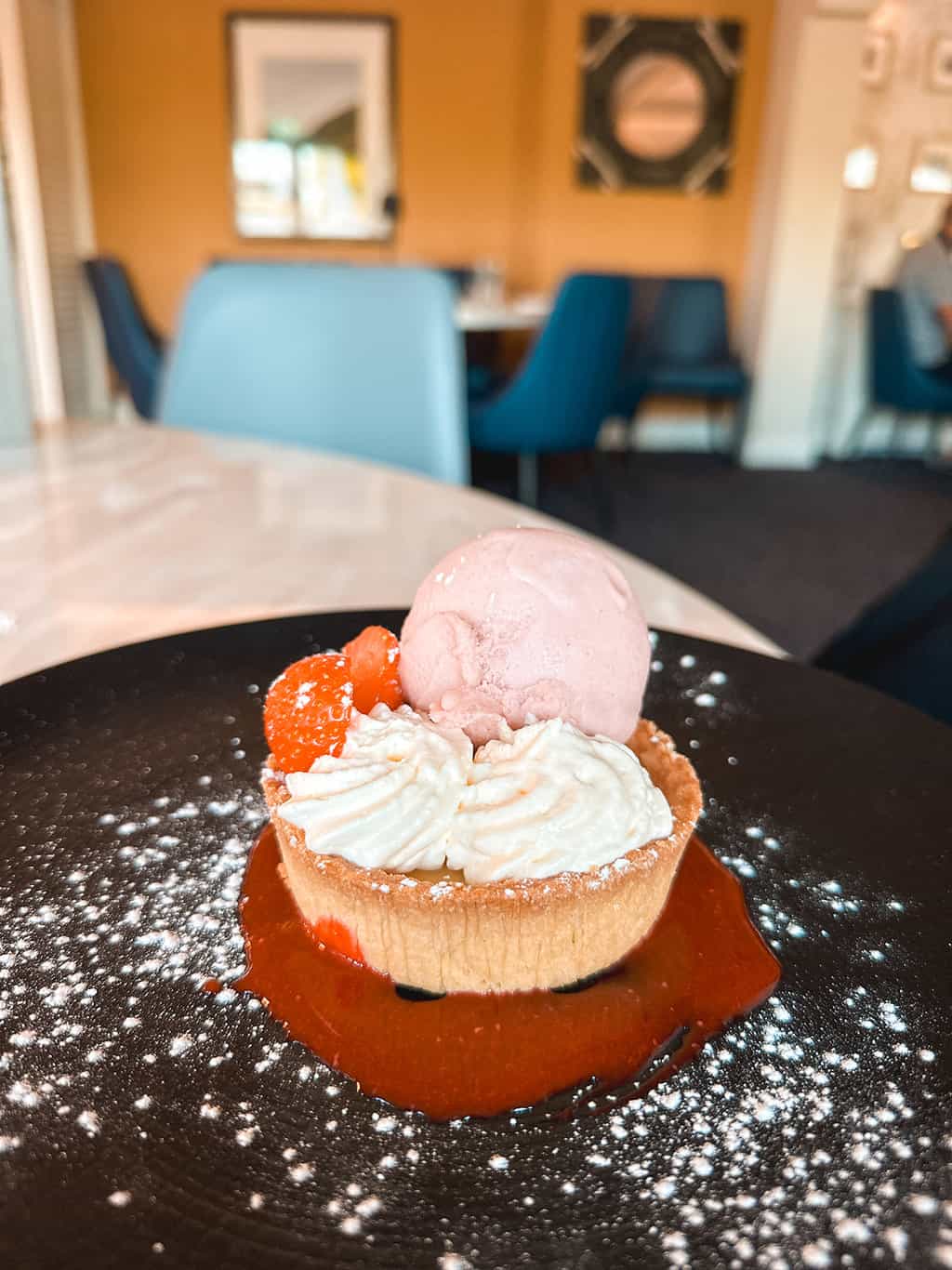 Donegal Ireland Planning Guide
This post contains affiliate links, which means we may earn a small commission from your purchase. This adds NO extra cost to you.
Hotels in Donegal
You can stay in the heart of Donegal town, or just a mile or so out (but still walkable) for a little more luxury. Either way you go, you will have easy access to Donegal restaurants, attractions and shops around town.
See all of your Donegal hotel options HERE.
PIN IT AND START PLANNING YOUR EPIC TRIP TO IRELAND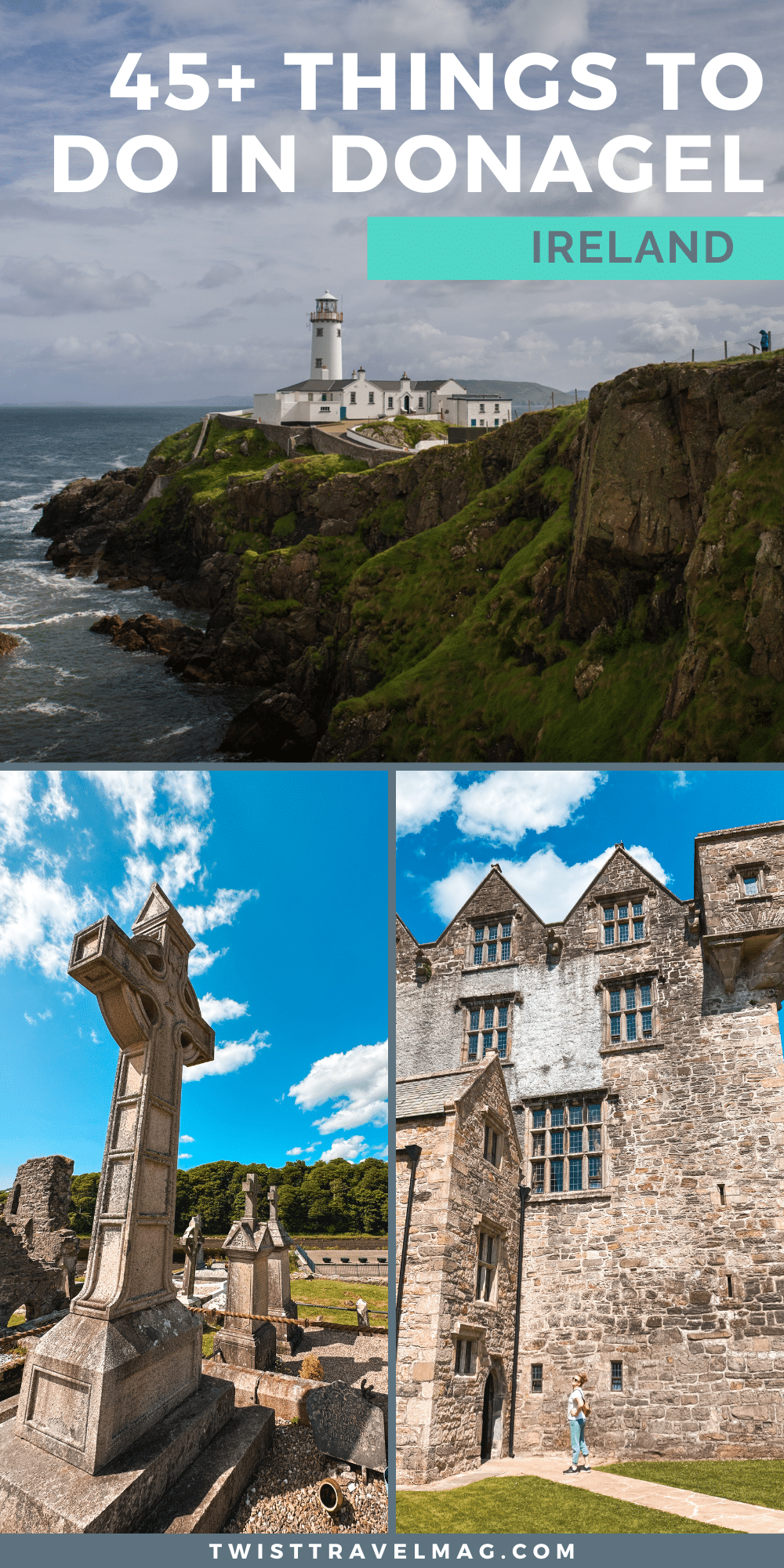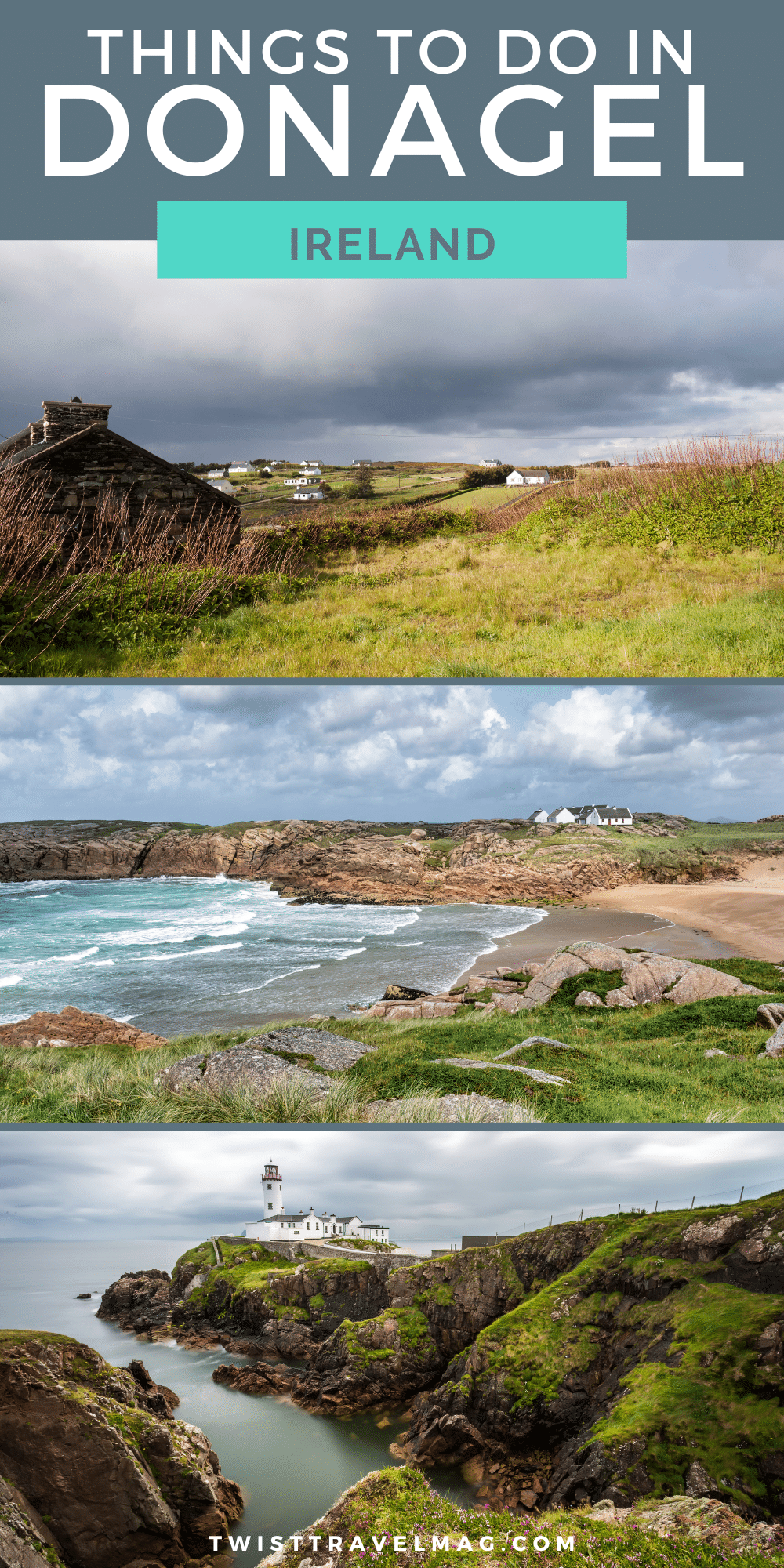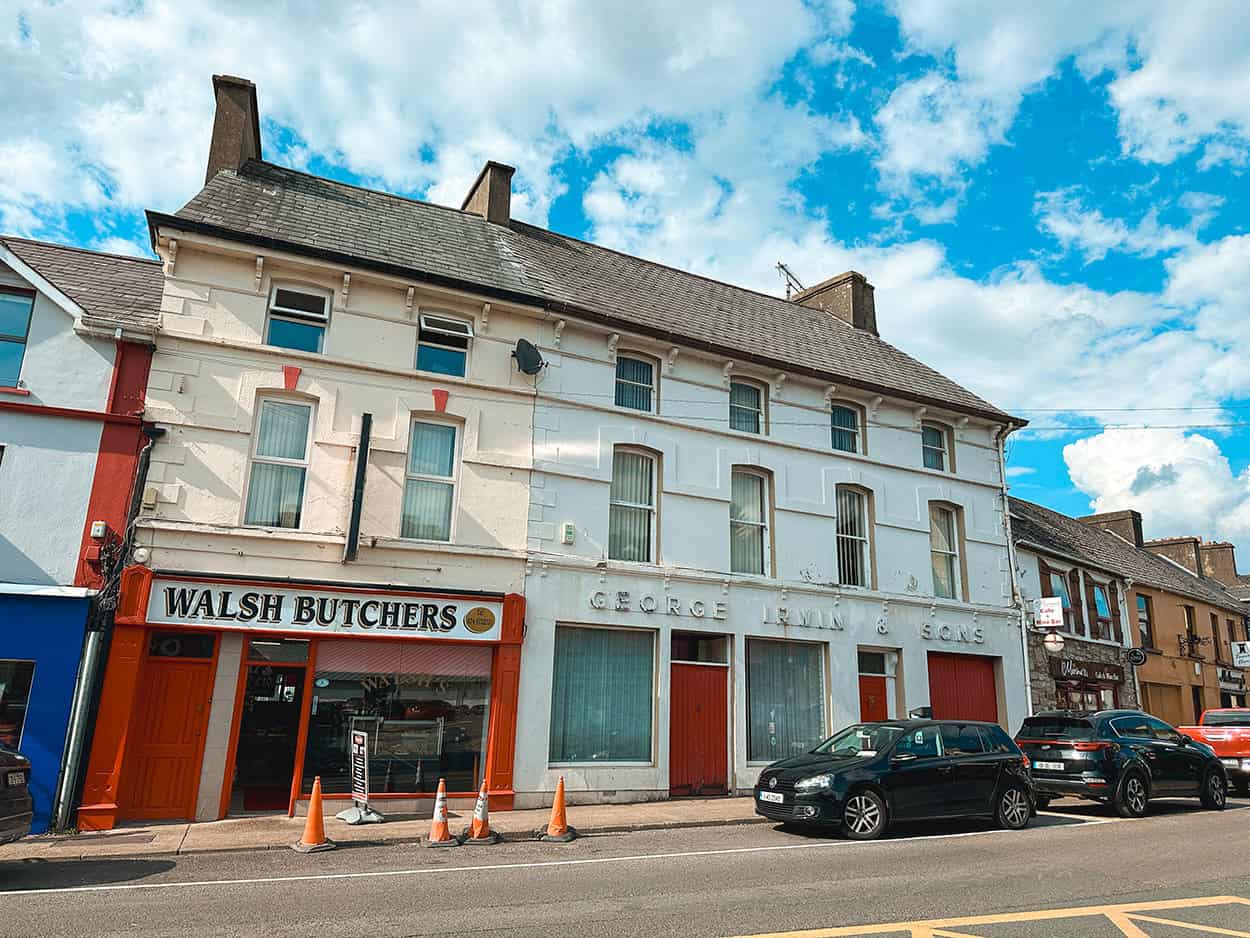 How to get to Donegal
There are several ways to get to Donegal, Ireland, depending on where you start.
How to fly to Donegal
Donegal has its own regional airport, Donegal Airport (Carrickfinn Airport), located near Kincasslagh. It offers flights to and from Dublin Airport, with connections to other Irish cities and international destinations.
From Donegal Airport, you can rent a car or take a taxi to your destination within the county.
How to get to Donegal by Car
If you prefer to drive, you can reach Donegal by car from various locations in Ireland. From Dublin, take the N2 or M1 to Northern Ireland, then cross the border into County Donegal.
From Belfast, take the M2 and A6 to Derry/Londonderry, and then continue westward on the A2 and N13/N15 to Donegal.
The journey time and routes may vary depending on your starting point and where you are headed within Donegal County.
How to get to Donegal by Train
Donegal does not have a train station, but you can take a train to nearby towns and then continue by bus or taxi. The closest train stations are Sligo Station and Derry/Londonderry Station.
From Sligo, you can take a bus or hire a taxi to reach Donegal.
From Derry/Londonderry, you can take a bus or taxi to various destinations in Donegal.
How to get to Donegal By Bus
Bus Éireann operates routes to Donegal from Dublin, Galway, Sligo, Derry/Londonderry, and other locations across the country.
There are also private bus companies, such as John McGinley Coaches and Patrick Gallagher, offering services to Donegal.
Check the schedules and book your tickets in advance to make sure you make it onboard.
How to get to Donegal By Ferry
If you are traveling from the UK, you can take a ferry to Northern Ireland and then drive or take public transportation to Donegal.
Ferry services operate between various ports in the UK (Holyhead, Liverpool, and Cairnryan) and ports in Northern Ireland Belfast and Larne).
Best way to explore Donegal
Once you arrive in Donegal, you will need a rental car or a bike to explore the county at your own pace.
Public transportation options within Donegal include local bus services and taxis, but they may have limited schedules and routes, especially in more remote areas, so you are better off renting a car.
Read our full guide to renting a car in Ireland.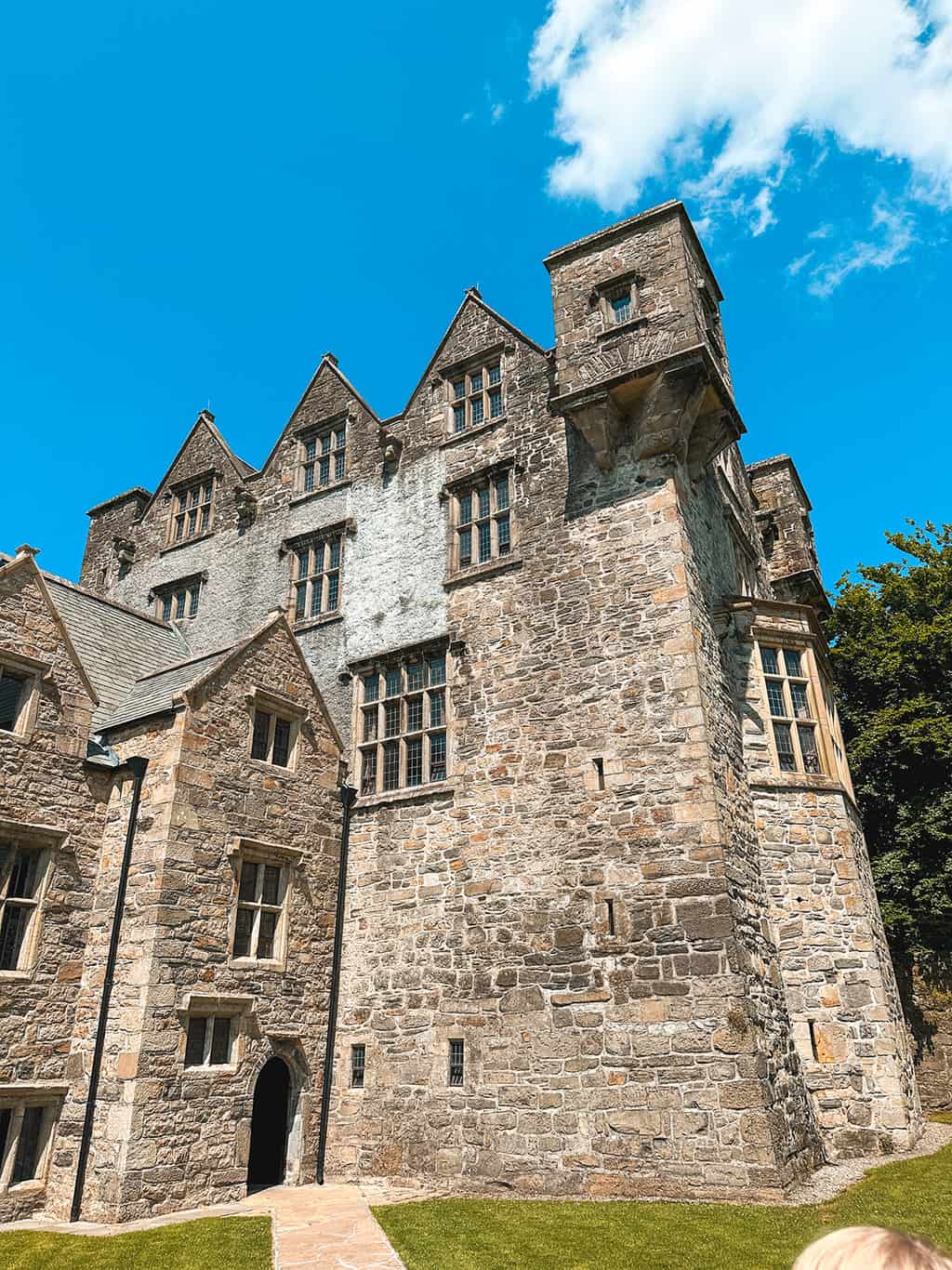 Brief History of Donegal Ireland
From ancient settlements to Viking invasions and turbulent political struggles, the county of Donegal has experienced a rich and diverse past.
Let's dig into a (VERY) brief overview of the history of Donegal:
Ancient Times
Archaeological evidence suggests that humans have inhabited the region of Donegal for over 9,000 years (the Mesolithic Age). The earliest known settlers were Mesolithic hunter-gatherers who left behind artifacts and shell middens along the coast.
Later, during the Neolithic period, farming communities emerged, and megalithic tombs, such as the Grianan of Aileach in Inishowen (1700 BC), were constructed.
Celtic Influence
In the Iron Age (about 500 BC–AD 400 in Ireland), Celtic tribes arrived in Ireland, including the Goidelic-speaking people who became known as the Gaels.
Donegal was part of the Kingdom of Ulster, ruled by powerful Celtic chieftains.
The most prominent among them was the Clann Dálaigh (and would later take on the surname of Ó Domhnaill'), who established their stronghold in Donegal Town and became the dominant force in the region.
Viking Invasions
During the 8th and 9th centuries, Viking raiders began to target the coasts of Ireland, including Donegal. They established trading posts and settlements, leading to a period of cultural exchange and conflict.
The Vikings were eventually expelled, but their influence can still be seen in place names and local traditions, as well as that red hair Ireland is so known for.
Norman and English Rule
In the 12th century, the Normans arrived in Ireland and initiated a period of English influence. They constructed castles and introduced feudal systems of governance.
However, the O'Donnell clan retained their power in Donegal, often resisting attempts at English control.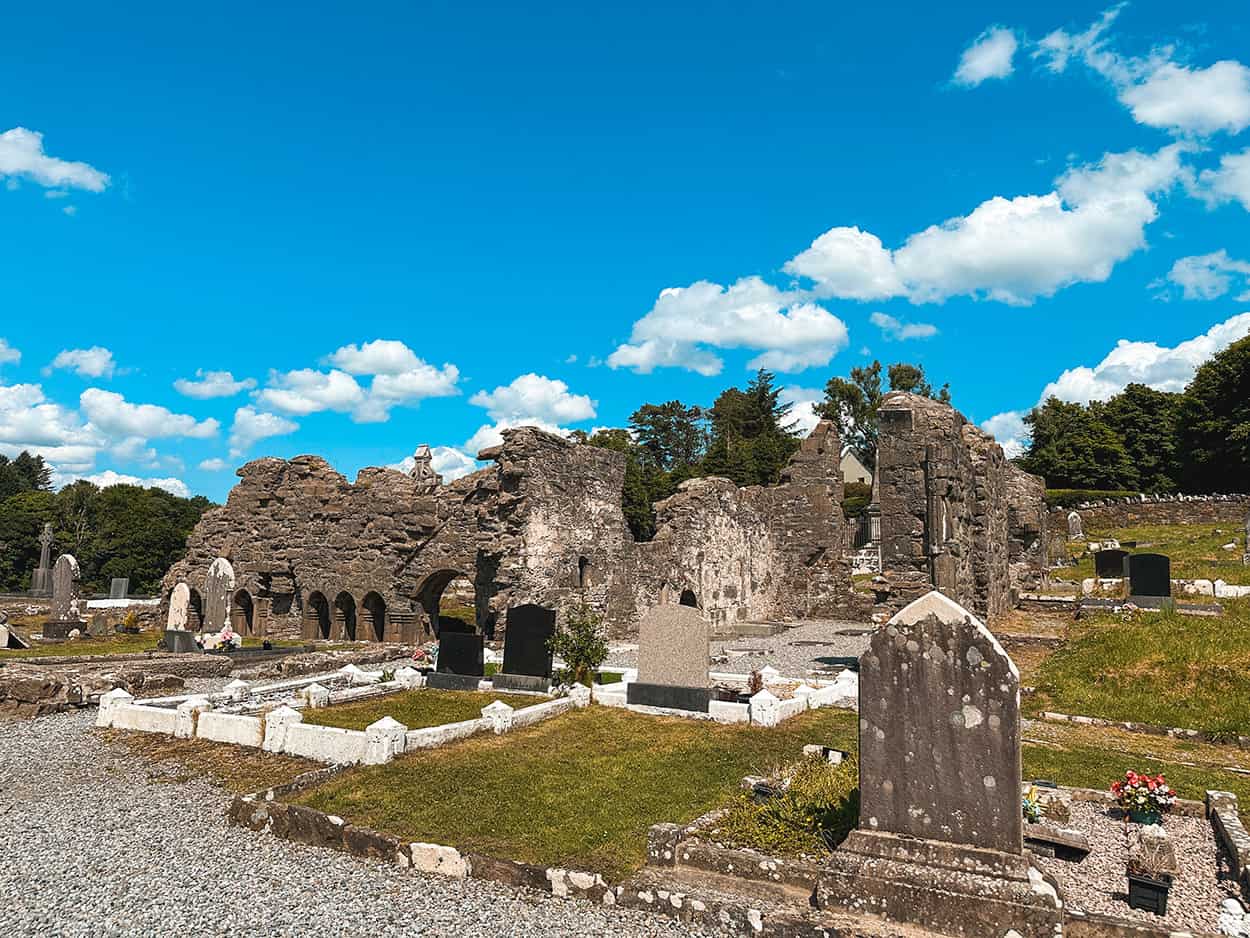 Plantation and Rebellion
In the 16th and 17th centuries, English and Scottish settlers arrived in large numbers as part of the Plantation of Ulster. This period saw significant changes in landownership and the displacement of many native Irish families.
The native Irish, including the O'Donnell and O'Neill clans, resisted English rule, leading to frequent rebellions and conflicts, such as the Nine Years' War.
The Great Famine
The mid-19th century brought one of the darkest periods in Irish history, the Great Famine. Donegal, like the rest of Ireland, suffered greatly from mass starvation, disease, and emigration.
The population declined significantly during this time, and the effects of the famine were felt for generations.
Independence and Modern Era
Donegal played its part in the struggle for Irish independence in the early 20th century. The county witnessed key events during the Irish War of Independence and the subsequent Irish Civil War.
In 1922, Ireland achieved independence from Britain, and Donegal became part of the newly formed Irish Free State (later the Republic of Ireland).
TOP THINGS TO DO IN COUNTY DONEGAL
GLENVEAGH NATIONAL PARK
Established in 1984, Glenveagh National Park is Ireland's second-largest national park after the Wicklow Mountains. It's a one-hour drive north of Donegal and absolutely one of the best things to do in Donegal County.
It's home to a forest where deer roam freely as well as several loughs, including the spectacular Lough Beagh.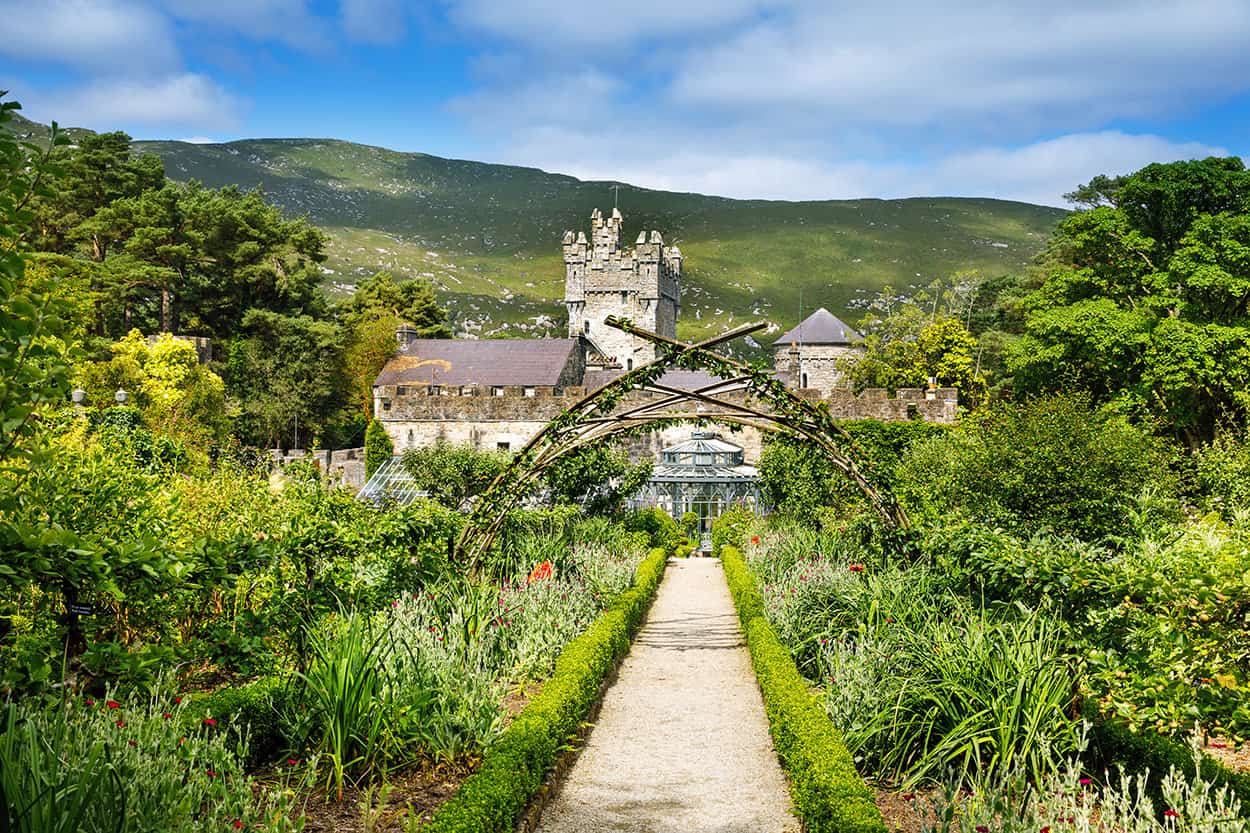 Glenveagh Castle, a 19th-century castle built to resemble those found in the Scottish Highlands, sits on the banks of this lough at the heart of Glenveagh National Park.
This national park is the perfect place to go hiking and see natural wonders like the Astelleen Burn Waterfall and Mullangore Wood.
Depending on how much you like hiking, you may want to spend more than just one day exploring Glenveagh National Park.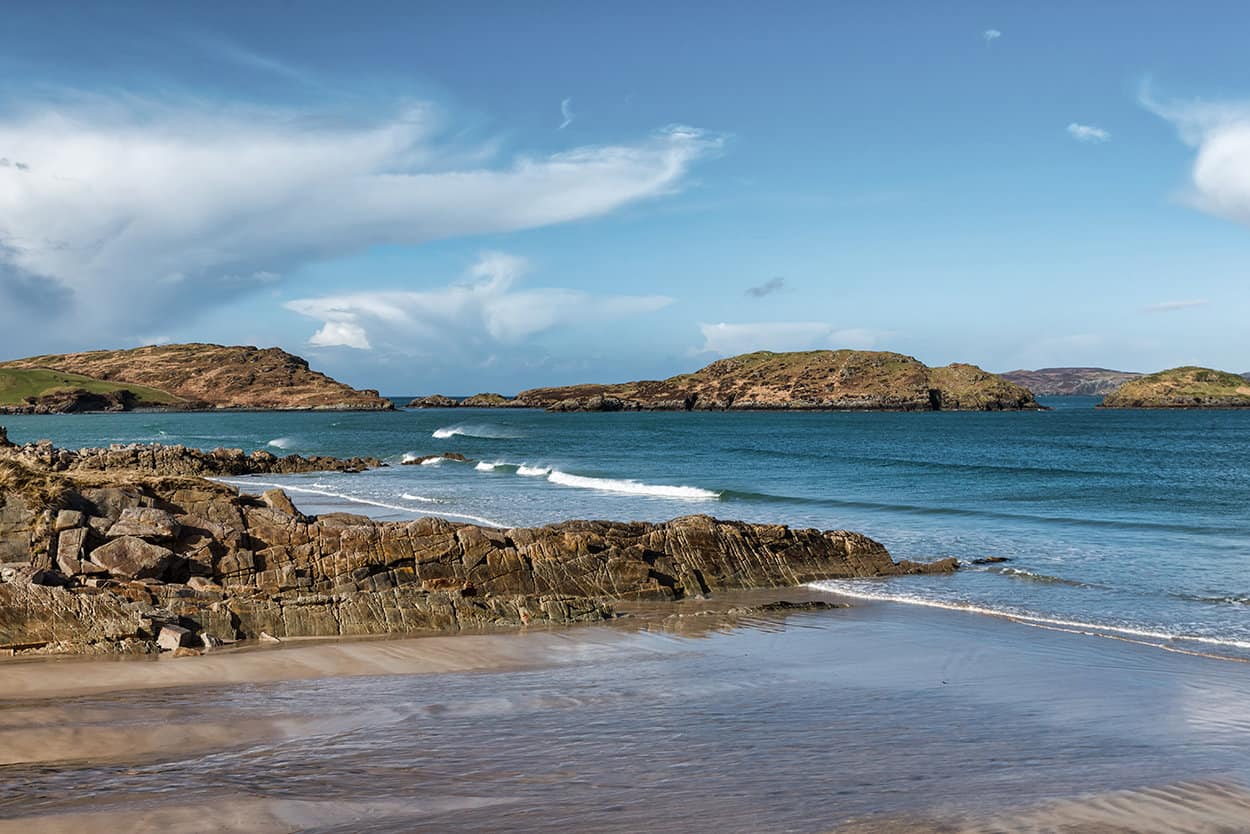 ARDS FOREST PARK
There are more places of natural beauty to explore near Donegal, Ireland and the Ards Forest Park is just one of many.
It's hidden in one of the many inlets of the northern coast where County Donegal meets the Northern Atlantic Ocean. This 481-hectare park boasts beaches, ancient ruins, medieval ruins, hiking trails, and scenic viewpoints galore.
Ards Forest Park even offers some accessible paths through woodland areas, but otherwise looks untouched and pristine.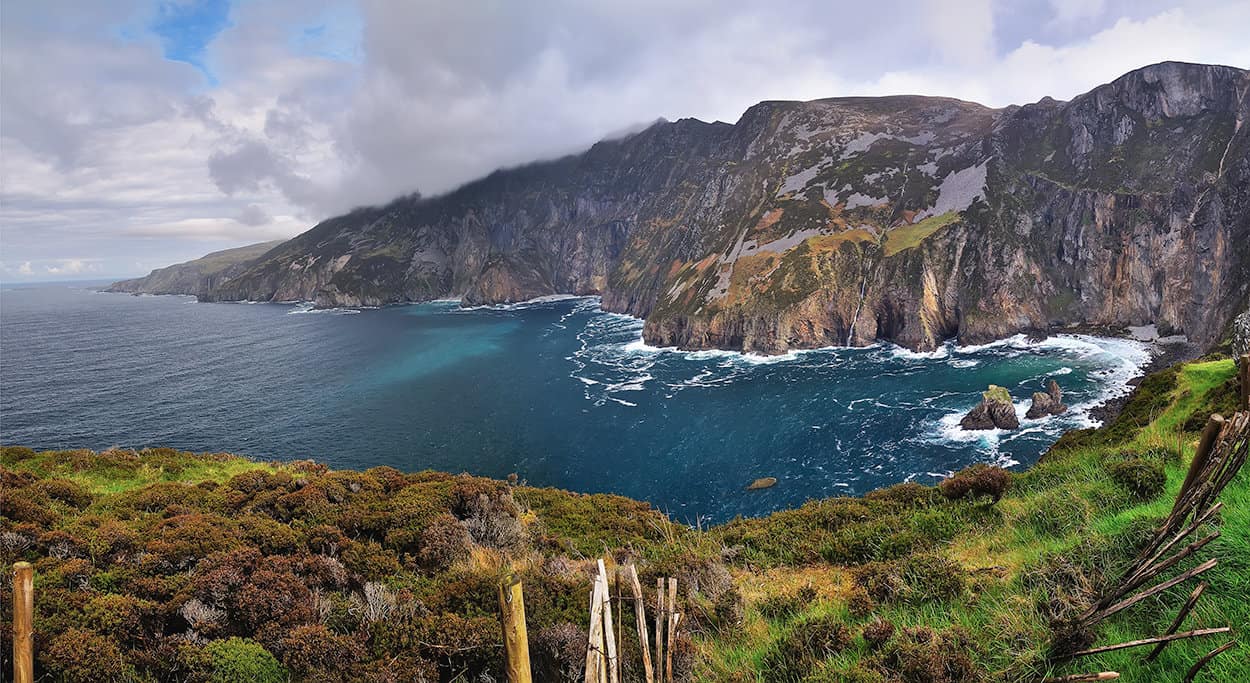 SLIEVE LEAGUE CLIFFS
Sliabh Liag in the Irish language, the Slieve League Cliffs are one of the best things you can do in South Donegal. They are Ireland's highest sea cliffs and they're best admired from the Slieve League Viewing Platform to the east down the coastline which you can reach by the Sliabh Liag Walk.
Bring a hat and a good coat because it's windy in this part of County Donegal no matter what time of year you want to visit the Slieve League Cliffs (Sliabh Liag Cliffs).
Check out this tour to the Sliabh Liag Cliffs out of Killybegs Harbor to see breathetaking views from Donegal Bay.
LOUGH ESKE CASTLE
Lough Eske Castle might be a five-star hotel, but you can still visit or eat at the restaurant without being an overnight guest.
Plus, this castle has a fascinating history that will make you want to check it out during your trip. It's only a 10-minute drive from Donegal town.
The castle was built at the end of the 19th century to replace the 15th-century ruined castle on the same site. Lough Eske Castle again fell into ruin in the 1930s after a fire but reopened in 2007 as a hotel.
The Lough (Irish word for lake which is pronounced 'lock') offers a gorgeous backdrop to this stately Elizabethean-style castle.
DOAGH FAMINE VILLAGE
If you're not a fan of regular museums then the Doagh Famine Village on the Inishowen Peninsula of Donegal, Ireland is for you.
It's an open-air museum with realistic cottages and guides in authentic outfits who will give you a tour of this replica 19th-century village.
As you may already know, Ireland suffered a potato famine from 1845 – 1852. The Doagh Famine Village depicts what a typical village at that time would have looked like and features lots of informative exhibits that you can read and learn from.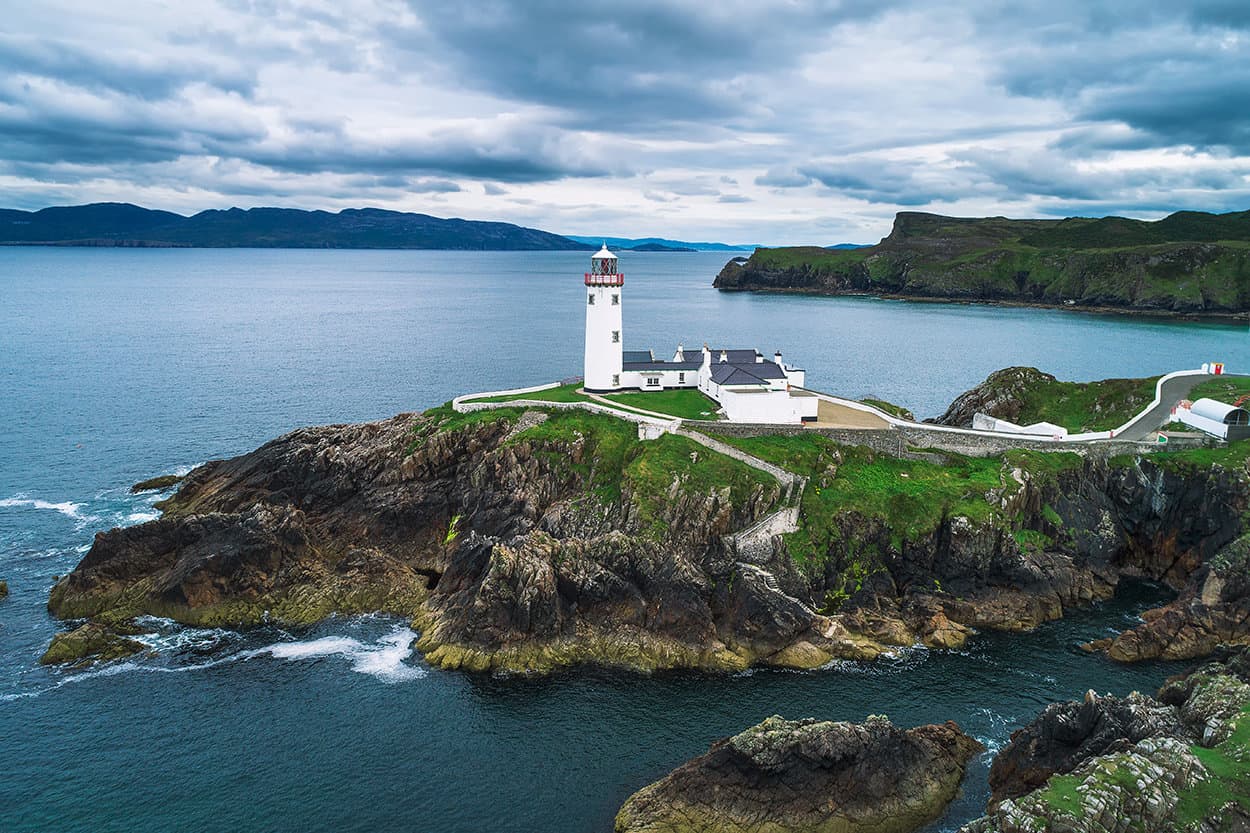 FANAD HEAD LIGHTHOUSE
County Donegal has eleven lighthouses remaining on its Atlantic coast ,but the Fanad Head Lighthouse is one of the most visited.
Built during the early 19th century, Fanad Head offers dramatic views and you can even climb to the top.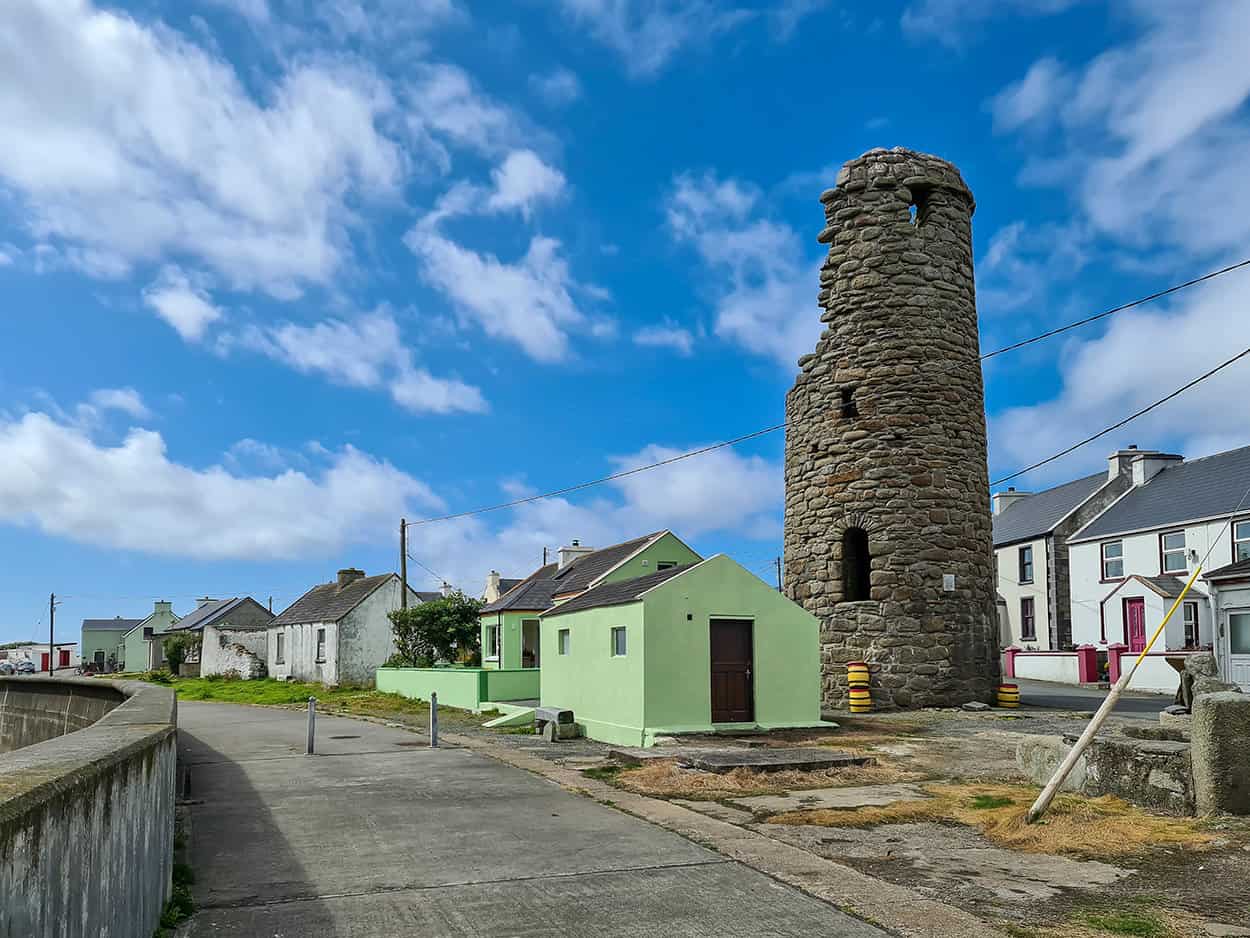 TORY ISLAND
Ireland has 20 inhabited islands in the Atlantic Ocean and Tory Island is perhaps the quietest and most remote.
Luckily, it only takes about 40 minutes to sail there on a ferry from Bunbeg or Magheraroarty, which usually depart every day.
This island, like many places dotted around Ireland, has ruins of both religious and military buildings. The Tory Island Lighthouse is also adorable and it's pretty cool standing there knowing that the next piece of land in that direction is Iceland!
GLENCOLUMBKILLE FOLK VILLAGE
Around 50 minutes west of Donegal Town is Glencolumbkille Folk Village, an open-air museum similar to the Doagh Famine Village. But unlike the Famine Village, it showcases what villages looked like in this part of Ireland over a range of eras.
At Glencolumbkille, you can explore replicas of cottages, schools, and other notable buildings from the 17th, 18th, and 19th centuries.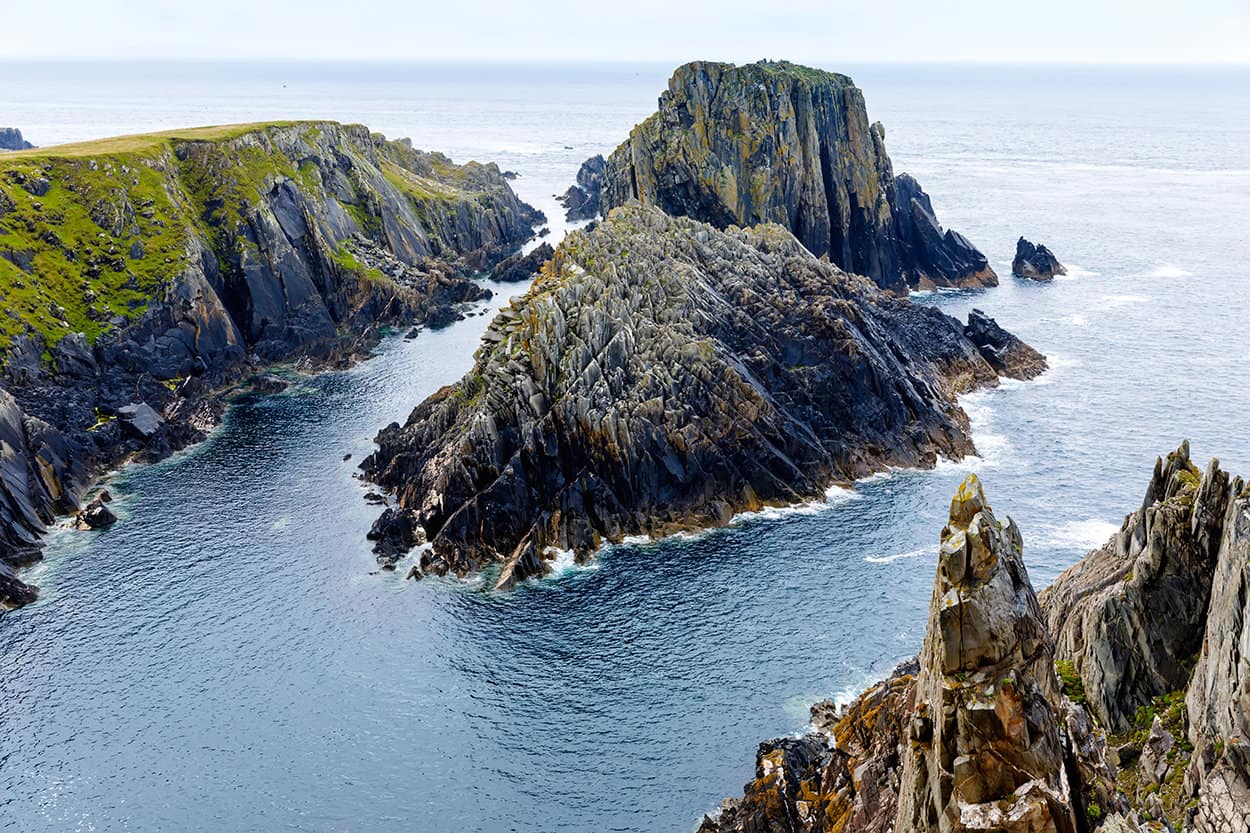 MALIN HEAD
One of the top things to do in Donegal has to be visiting Malin Head on the Inishowen Peninsula. Not only is it the start of the great Wild Atlantic Way road trip, but it's also the most northerly point of mainland Ireland.
Malin Head has exceptional views over the coastline, especially at sunset.
MOUNT ERRIGAL
Just west of Glenveagh National Park is Mount Errigal, the tallest peak in County Donegal. It might not seem too challenging a hike standing at only 2,464 ft, but some of the climbs are steep and the ridges are narrow.
Still, if you are a keen hiker then you have to add Mount Errigal to your list of things to do in Donegal.
BALLYMASTOCKER BAY BEACH
County Donegal has 12 Blue Flag-certified beaches. This means they meet exceptionally high quality and environmental standards.
While you might not want to sunbathe on a beach in Ireland (unless you visit on a rare sunny day!), you should still visit one or two. They're mostly untouched and stunning.
One recommendation is Ballymastocker Bay Beach, which is sometimes known as Portsalon Beach. With two headlands bookending this beach, you can enjoy lovely views.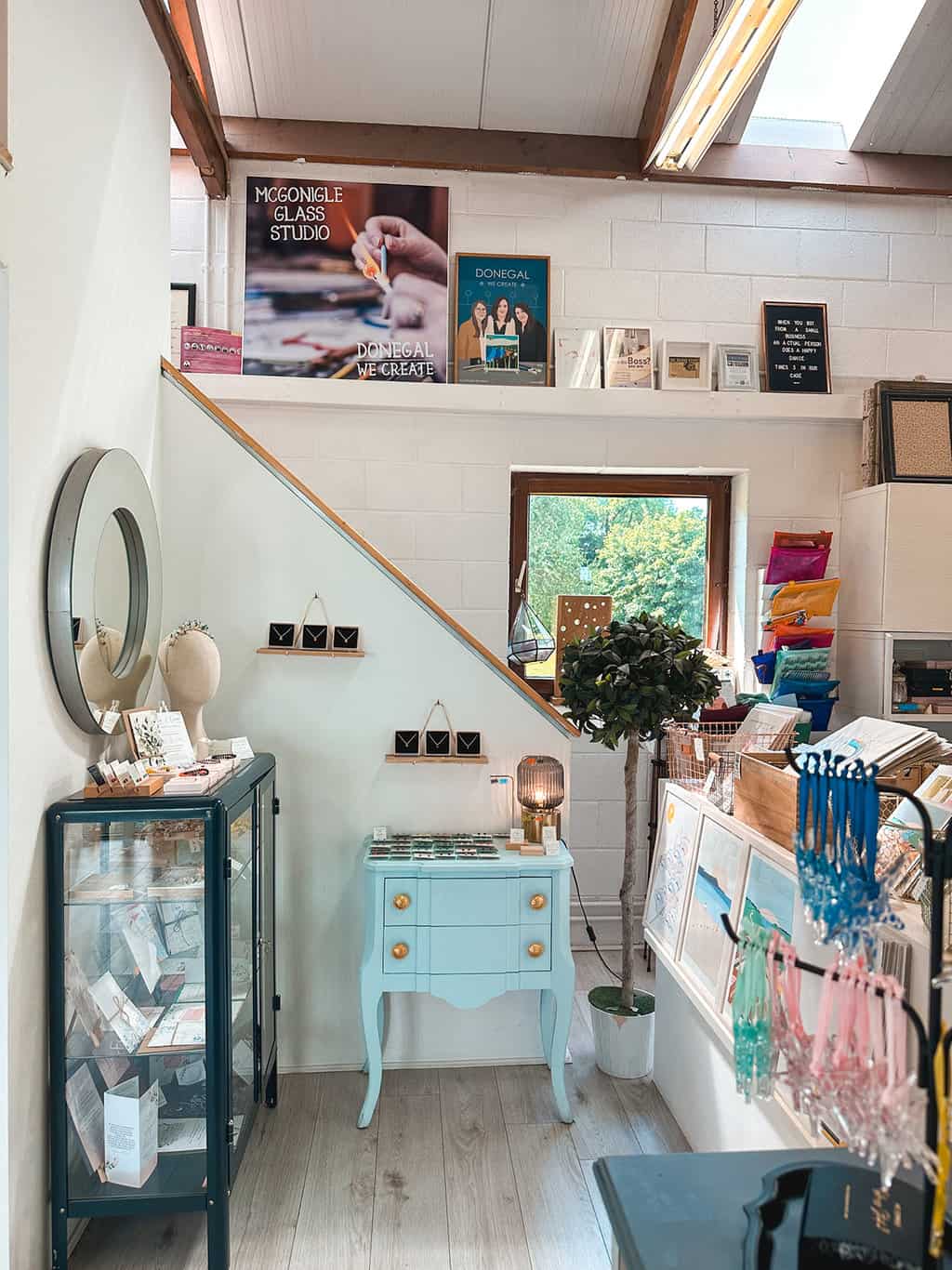 THINGS TO DO IN DONEGAL TOWN
While most of the top things to do in Donegal are outside of the town itself, the town of Donegal is a great place to base yourself to explore the wider area. Plus, it's a convenient stop if you're wandering along the Wild Atlantic Way.
Here are a couple of things to do in Donegal Town Centre while you're there.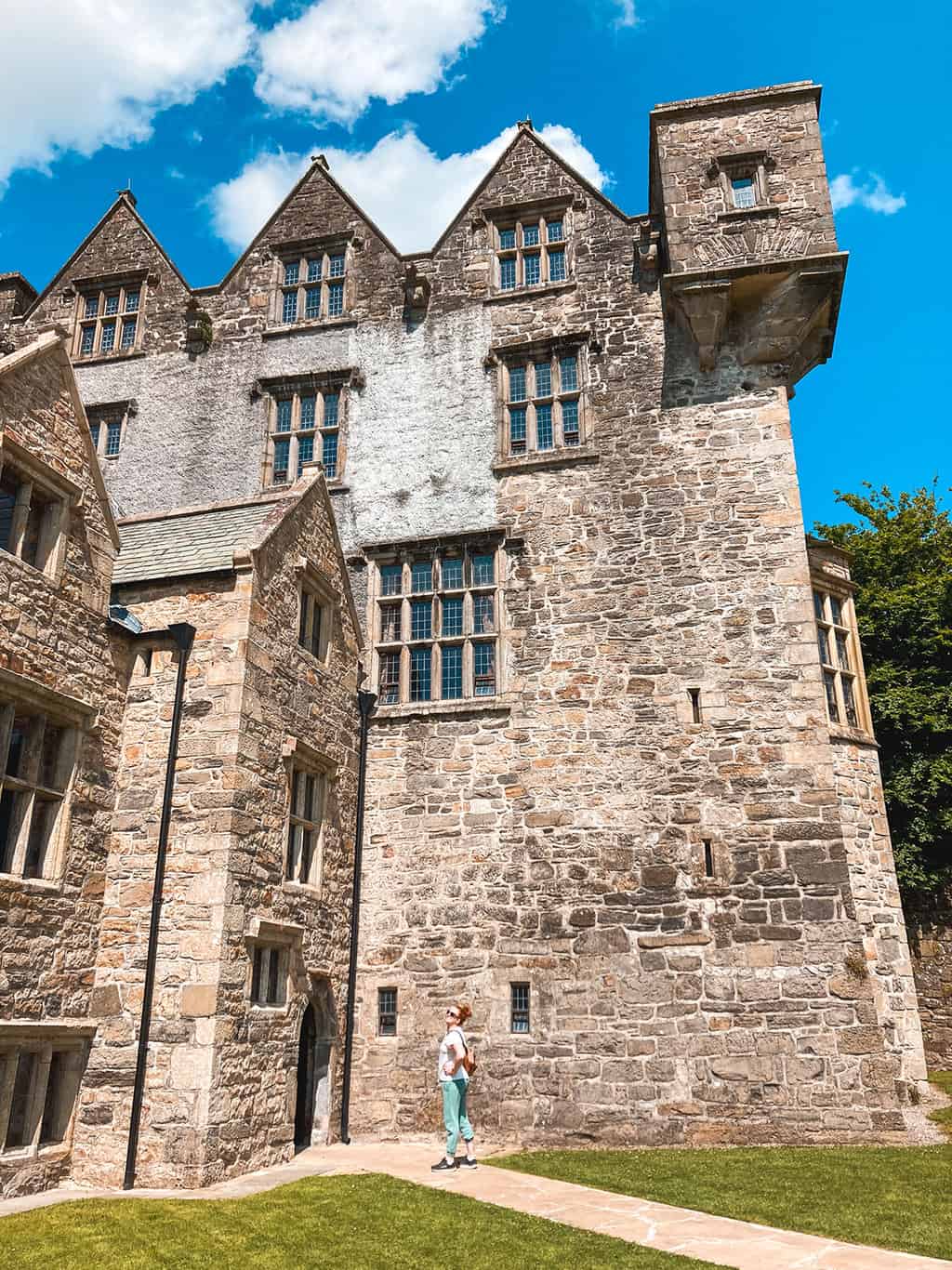 DONEGAL CASTLE
In the center of Donegal by the River Eske is the town's most striking building, Donegal Castle. It's a mish-mash of styles due to restorations and additions from the 15th and 17th centuries.
Some rooms look stately and well-appointed, while others have fallen completely to ruin. You can book guided tours of this well-worn and beloved castle, or explore on your own.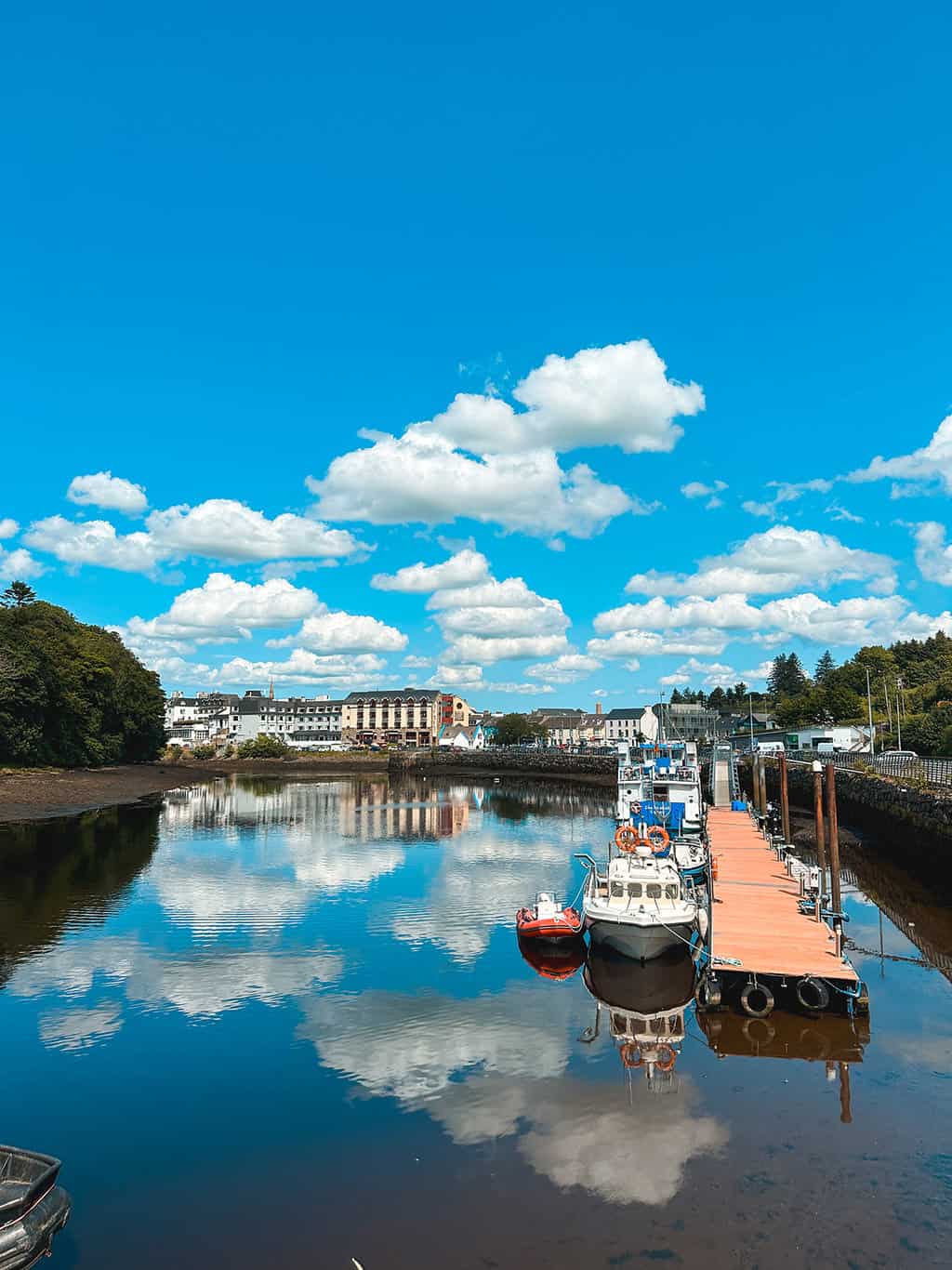 DONEGAL BAY WATERBUS
You cannot dock at any islands in Donegal Bay as they're small and uninhabited, but you can enjoy a scenic sail around them via the Donegal Bay Waterbus.
Hopping aboard this open-top passenger boat is one of our favorite things to do in Donegal on a summer's day.
FAMINE GRAVEYARD
Ireland lost around 20-25% of its population during the potato famine in the mid-19th century. Some of those emigrated to the UK or the US, but most perished.
The Famine Graveyard is the final resting place of only a small number of those lost and it really puts the tragedy into perspective.
LIVE MUSIC AT REEL INN
You won't have any trouble finding great traditional Irish music to listen to every day of the week no matter where you are in Ireland, and Donegal is no exception!
The Reel Inn has performers playing well-known songs or improvised and spontaneous sessions every evening. If you're lucky, you'll even see Irish dancers raise the roof of this old, cozy pub.
GREAT DAY TRIPS FROM DONEGAL
One of the best things about visiting Donegal County is that you're only a stone's throw away from Northern Ireland too. Here are some of the best cities and beautiful areas of countryside that are close to County Donegal on both sides of the Irish border that are perfect for a day trip.
DERRY
Reclaimed from the Brit-centric name 'Londonderry', Derry is Northern Ireland's second city and it rests almost on the Irish border. It's just over one hour's drive from Donegal Town so it's ideal for a day trip.
There are many remnants of Derry's role during The Troubles, the almost 30-year conflict in Northern Ireland that ended in 1998, which are fascinating to see on a history tour. The Peace Bridge over the River Foyle, the 17th-century city walls, and the Museum of Free Derry are all top things to do in Derry.
The Museum of Free Derry was one of our favorite spots, as my oldest had a LOT of questions about The Troubles. The staff were able to recommend a book that was teenager appropriate, which he spent the rest of our trip reading.
SPERRIN AONB
Northern Ireland doesn't have any national parks, but the Sperrin Area of Outstanding Natural Beauty (yes, we giggle at this designation too) is just as beautiful as any other part of the lush countryside on both sides of the border.
It's also only a 70-minute drive away from Donegal, making it an easy day trip.
Sperrin AONB is special because of its high peaks and the diversity of landscapes in such a small area.
Sperrin is also a designated Dark Sky Park, so if you can stay until the evening on a clear night then you should see a blanket of twinkling stars above you.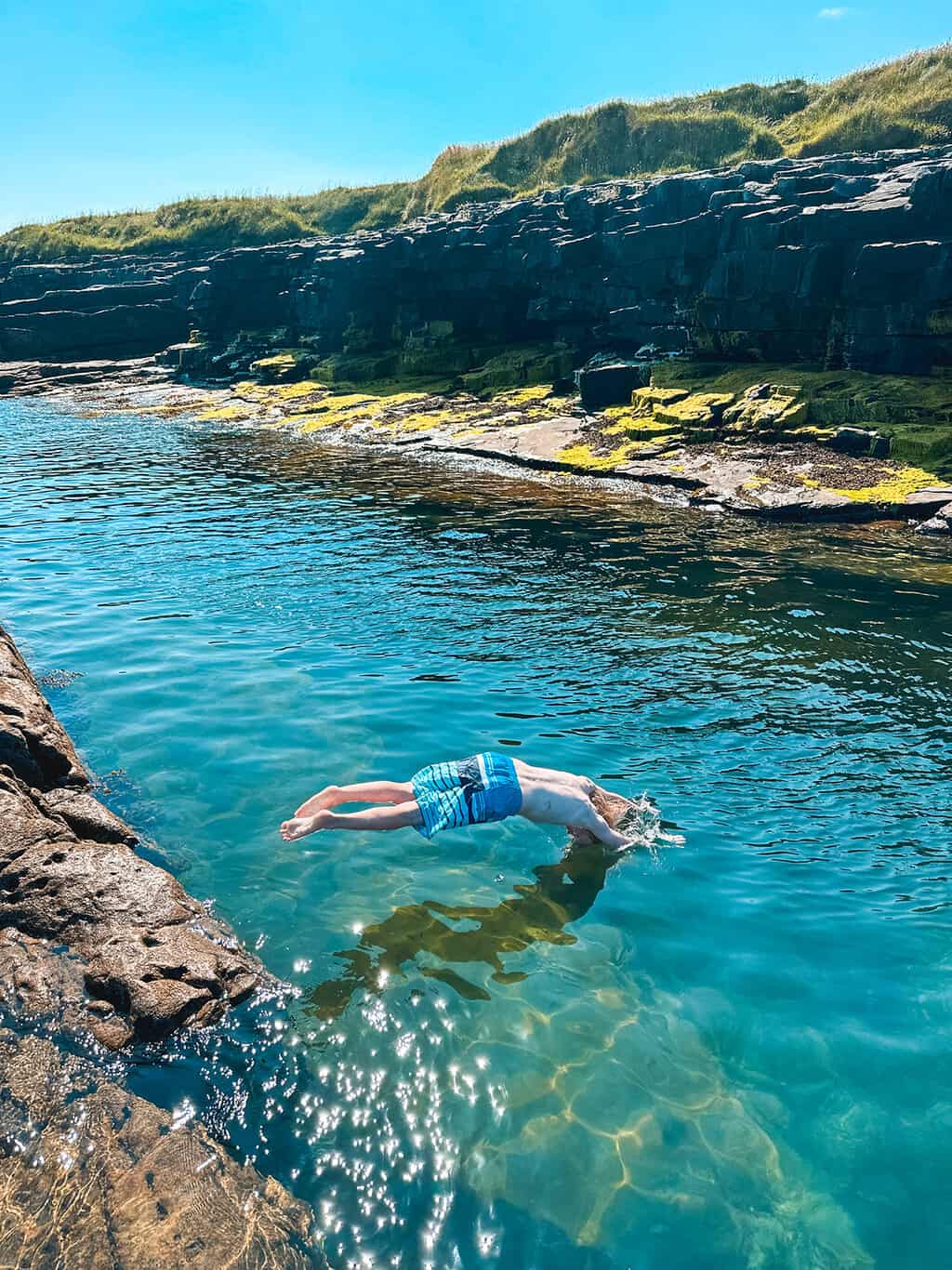 SLIGO
Like Donegal, Sligo is another underrated town in the northern part of the Republic of Ireland. It's a stop on the Wild Atlantic Way that many will skip which means they miss out on learning about Sligo's historic and artistic heritage.
Sligo is the former home of the poet W.B. Yeats, as well as the modern art museum, The Model, which displays works by prominent artists of the 20th century.
Sligo Abbey dates back to the 13th century and there are several castle ruins and remains from the megalithic period on the outskirts of town.
There are so many cool things to do in Sligo, even if you are traveling with kids in Ireland, so add this town to your Wild Atlantic Way road trip!
Read our full guide to the best things to do in Sligo
ANNUAL EVENTS IN DONEGAL
Aside from St Patrick's Day, which nearly every town in Ireland celebrates, you'll find plenty of arts festivals in Donegal. The county comes alive every summer with music festivals galore, and here are the top events you should check out during your trip.
St Patrick's Day (March 17th)
Easter Celebrations (March/April)
Rory Gallagher International Festival (June)
Celtic Media Festival (June)
Buncrana Music Festival (July)
Donegal Town Music Festival (July)
Ballyshannon Folk & Traditional Music Festival (August)
Frances Browne Literary Festival (October)
RESTAURANTS IN DONEGAL
Donegal is a fantastic base for your trip not just because of the fantastic accommodation options, but because the restaurants and bars are great too. Here are some places to visit in Donegal for a traditional fried Irish breakfast, cozy old pubs, and more.
IRISH BREAKFASTS IN DONEGAL
Furey's Diner
Oscar's Café Bar & Restaurant
The Poppyseed Bakery
The Kitchen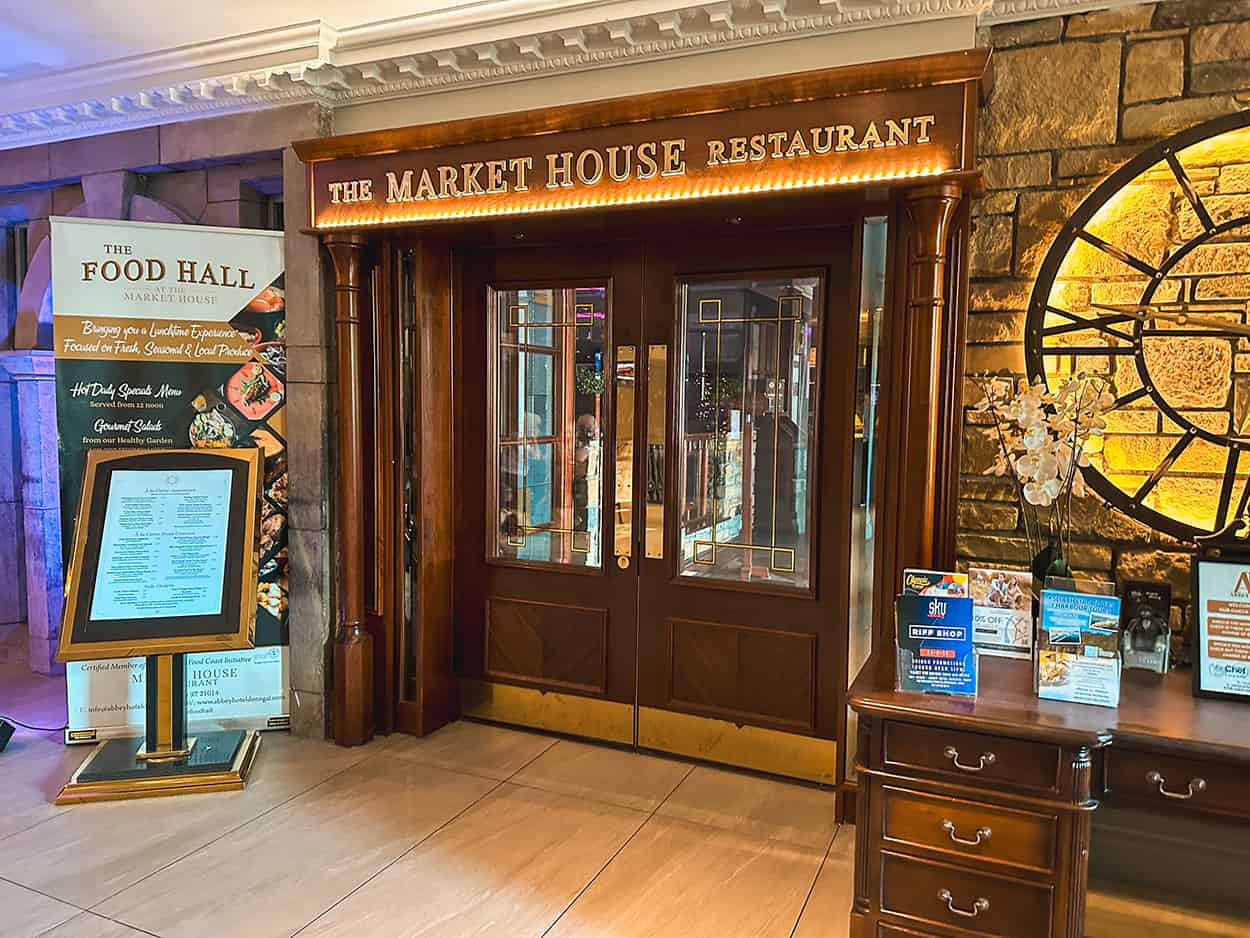 LUNCH SPOTS
Proper Street Food
The Food Hall at The Market House
Little Mac's Chipper
The 'Weaver's Loft' Bistro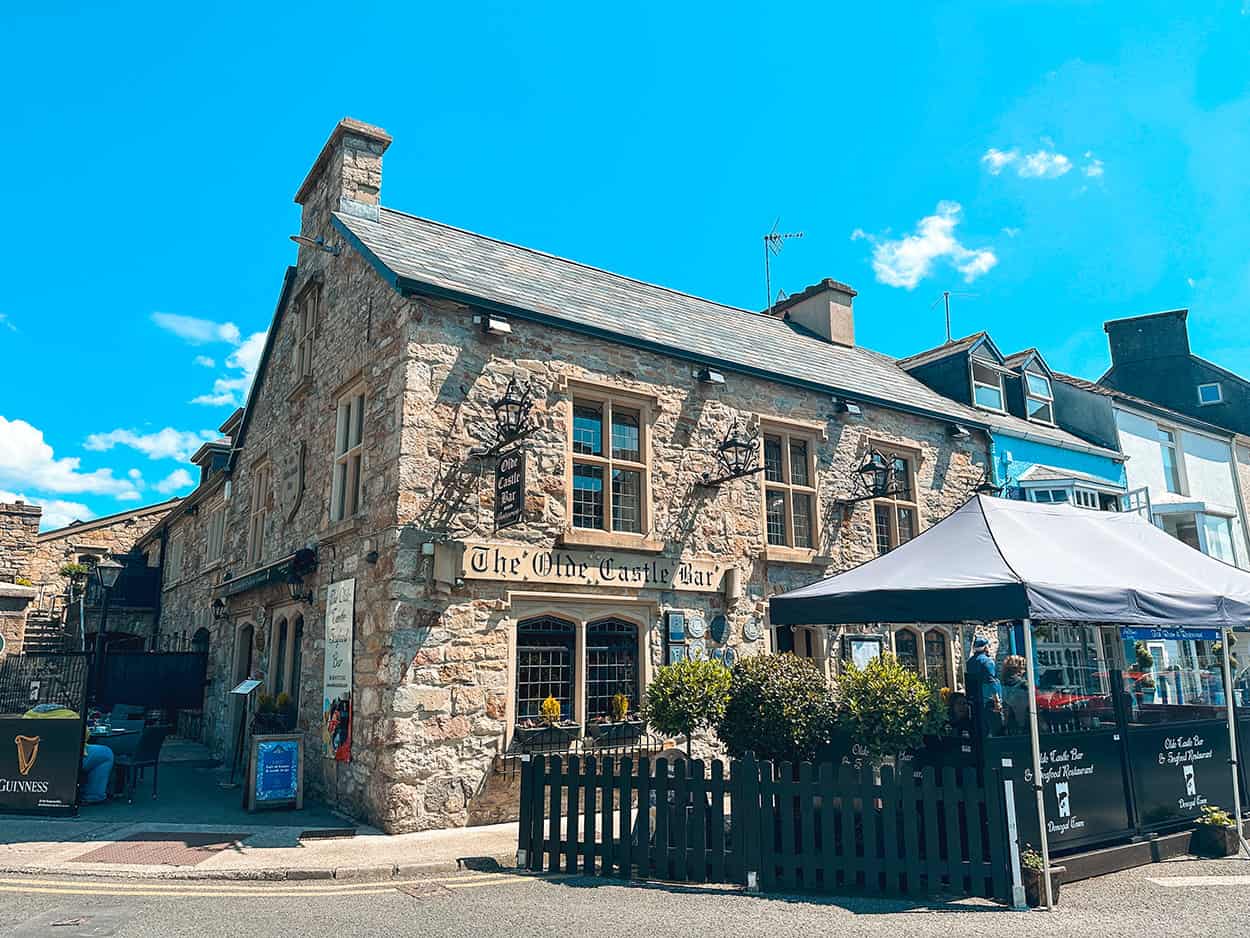 DINNER RESTAURANTS
Olde Castle Bar
The Harbour Restaurant & Bar
Quay West Restaurant
Doms Pier 1
SWEET TREATS IN DONEGAL
Little Mamma's
Cool Creamery & Coffee Dock
Aroma Coffee Shop & Mini Bakery
O'Hehirs Bakery & Cafe Shop
IRISH PUBS & BARS IN DONEGAL
McCafferty's Bar
The Forge
Annie Lynn's
O'Donnells Bar & Restaurant
Donegal Ireland FAQ
Where is Donegal located in Ireland?
Donegal is a county located in the northwest of Ireland, forming part of the province of Ulster. It is situated on the Atlantic coast and shares borders with Northern Ireland.
The town of Donegal is located within County Donegal in the province of Ulster.
How do I get to Donegal?
Donegal has its own regional airport, Donegal Airport, which offers flights to and from Dublin and other Irish cities.
Alternatively, you can reach Donegal by train or bus from major cities like Dublin, Belfast, and Galway.
What are some popular attractions in Donegal?
Donegal is known for its stunning natural landscapes and rich cultural heritage, which include Slieve League Cliffs, Glenveagh National Park, Malin Head (the northernmost point in Ireland), Donegal Castle, and the Wild Atlantic Way coastal route.
Are there any beautiful beaches in Donegal?
Yes, Donegal is blessed with numerous picturesque beaches. A few you will want to check out include Rossnowlagh Beach, Marble Hill Beach, Portsalon Beach, and Tramore Beach.
What outdoor activities can I enjoy in Donegal?
You can go hiking in the breathtaking mountains of the county, such as the Bluestack Mountains and Errigal Mountain, or you can go surfing, fishing, cycling, golfing, and exploring the many walking trails and scenic drives in Donegal.
Are there any historical sites in Donegal?
Yes, Donegal has a rich history, and there are several historical sites worth visiting.
Donegal Castle, built by the O'Donnell clan in the 15th century, is a popular attraction.
Other historical sites include Grianan of Aileach, a ring fort dating back to 1700 BC, and the Famine Village in Inishowen, which depicts life during the Great Famine.
What festivals or events take place in Donegal?
Donegal hosts traditional music festivals, agricultural shows, and sporting events throughout the year, but here are a couple of the more popular ones to check out.
The Earagail Arts Festival, held in July, showcases local and international music, theater, and visual arts.
The Mary From Dungloe International Festival celebrates Irish culture and heritage.
Is Donegal a good destination for outdoor enthusiasts?
Absolutely! With its rugged coastline, mountains, lakes, and forests, the county offers ample opportunities for hiking, biking, kayaking, and other outdoor adventures.
The diverse landscape caters to all skill levels, from beginners to experienced adventurers.
Are there any unique experiences to try in Donegal?
Donegal offers several unique experiences. You can take a boat trip to explore the spectacular cliffs of Slieve League or visit the remote and mystical Glenveagh National Park.
Donegal is also known for its traditional music, so attending a lively session in one of the local pubs is a must for music lovers.
What are some traditional dishes or food specialties in Donegal?
Donegal has a rich culinary heritage with traditional dishes like seafood chowder, Donegal lamb, boxty (a potato pancake), and colcannon (mashed potatoes with cabbage or kale).
Donegal is also renowned for its fresh seafood, particularly its Atlantic salmon and mussels.
Can I visit Donegal as a day trip from Dublin?
While it is possible to visit Donegal on a day trip from Dublin, it is recommended to spend at least a couple of days to fully experience the beauty and attractions of the county.
The journey from Dublin to Donegal takes around 3-4 hours by car, and there are several scenic stops along the way, so give yourself at least two nights in County Donegal to get a taste of the region.
Are there accommodations available in Donegal?
Yes, Donegal offers a range of accommodations to suit different budgets and preferences. You can find hotels, guesthouses, bed and breakfasts, self-catering cottages, and camping sites throughout the county.
We always use Stay22 to search for the best hotels from sites like Expedia.com and Booking.com, as well as Sligo vacation rentals on VRBO.com. Check out the interactive map below to find your perfect accommodations in Donegal
Is the weather in Donegal unpredictable?
Donegal, like the rest of Ireland, is known for its changeable weather. It is advisable to pack layers and be prepared for rain even during the summer months.
However, the weather can be pleasantly mild, and on clear days, you can enjoy breathtaking views of the landscapes. Bring your bathing suit in summer if you want to hit the beach, loca swimming holes or splash around in lakes and rivers.
Are there any nearby islands worth visiting?
Yes, Donegal has several stunning islands nearby. Arranmore Island, Tory Island, and Inishtrahull Island are perfect for day trips. These islands offer a glimpse into traditional Irish culture, with their unique history, rugged landscapes, and welcoming communities.
Can I explore the Northern Ireland border region from Donegal?
Yes, Donegal shares a border with Northern Ireland, allowing easy access to the neighboring region. You can visit places like Derry/Londonderry, the Giant's Causeway, and the Causeway Coastal Route, which are within a reasonable driving distance from Donegal.
Is there a border crossing between Ireland and Northern Ireland?
Not that we saw! In fact, we didn't even realize we had crossed into Northern Ireland until we were suddenly in Derry, so bounce back and forth as much as you want.
Although, as England embraces Brexit, there is a chance that could change, so always keep an eye out for any border patrols.