It may sound weird, but a lot of people find themselves traveling to County Sligo unintentionally. If you're driving the Wild Atlantic Way road trip along the west coast of Ireland, it's along the rout.
Or maybe you found a cheaper flight to the Ireland West Airport near Sligo rather than Dublin or Shannon.
No matter how you found yourself in Sligo, there are plenty of things to do in Sligo that will guarantee you have a fantastic trip.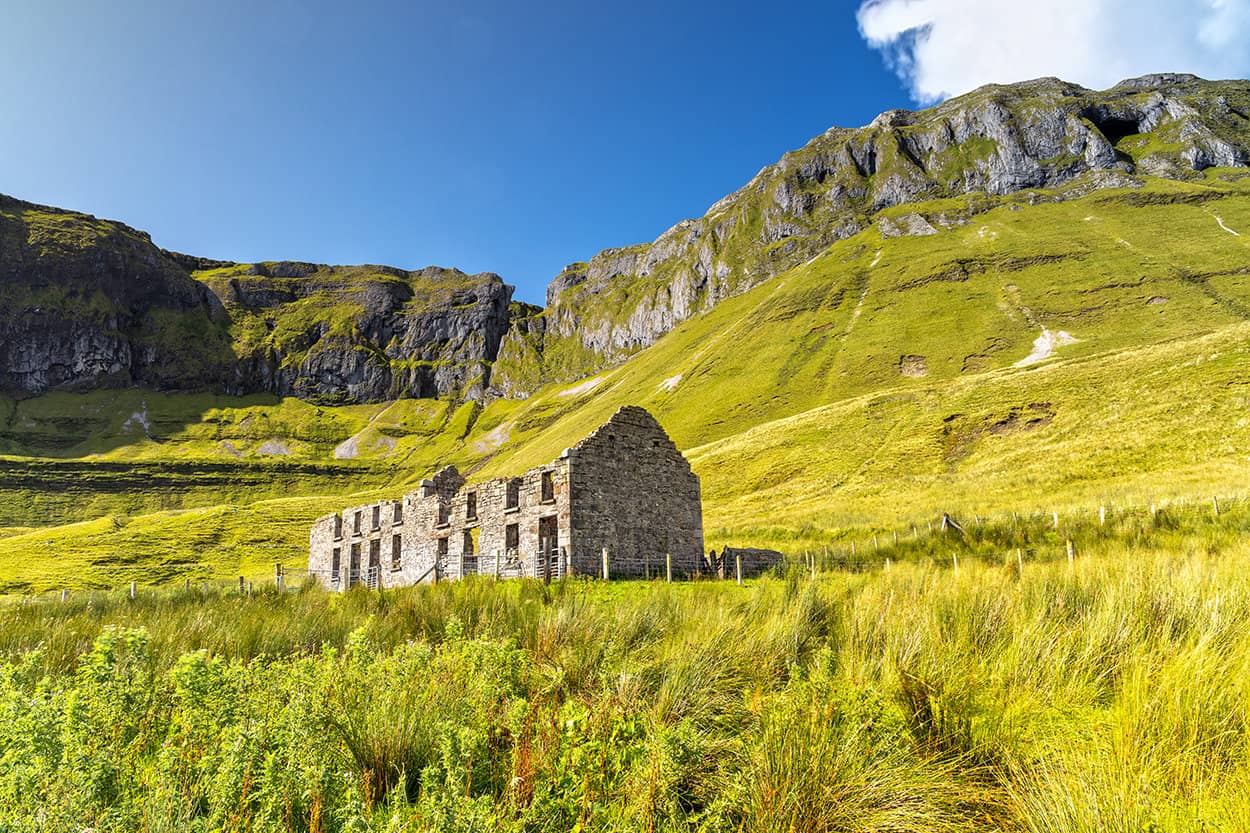 Why you need to visit Sligo Ireland
If you are already familiar with Sligo County, you probably also know it as Yeats Country. Yes, the 19th-century Irish poet W.B. Yeats spent his childhood in Sligo and is buried there.
He wrote about lakes, waterfalls, and other dramatically beautiful places dotted around County Sligo. There are displays of his works and exhibitions about his life in several museums around the city.
Aside from the Yeats attractions, Sligo offers remote islands, historic castles and churches, incredible windswept beaches, and dense forest. So, let's dig into your Sligo travel guide with travel tips and recommendations you need to make the most of your time in Sligo, Ireland.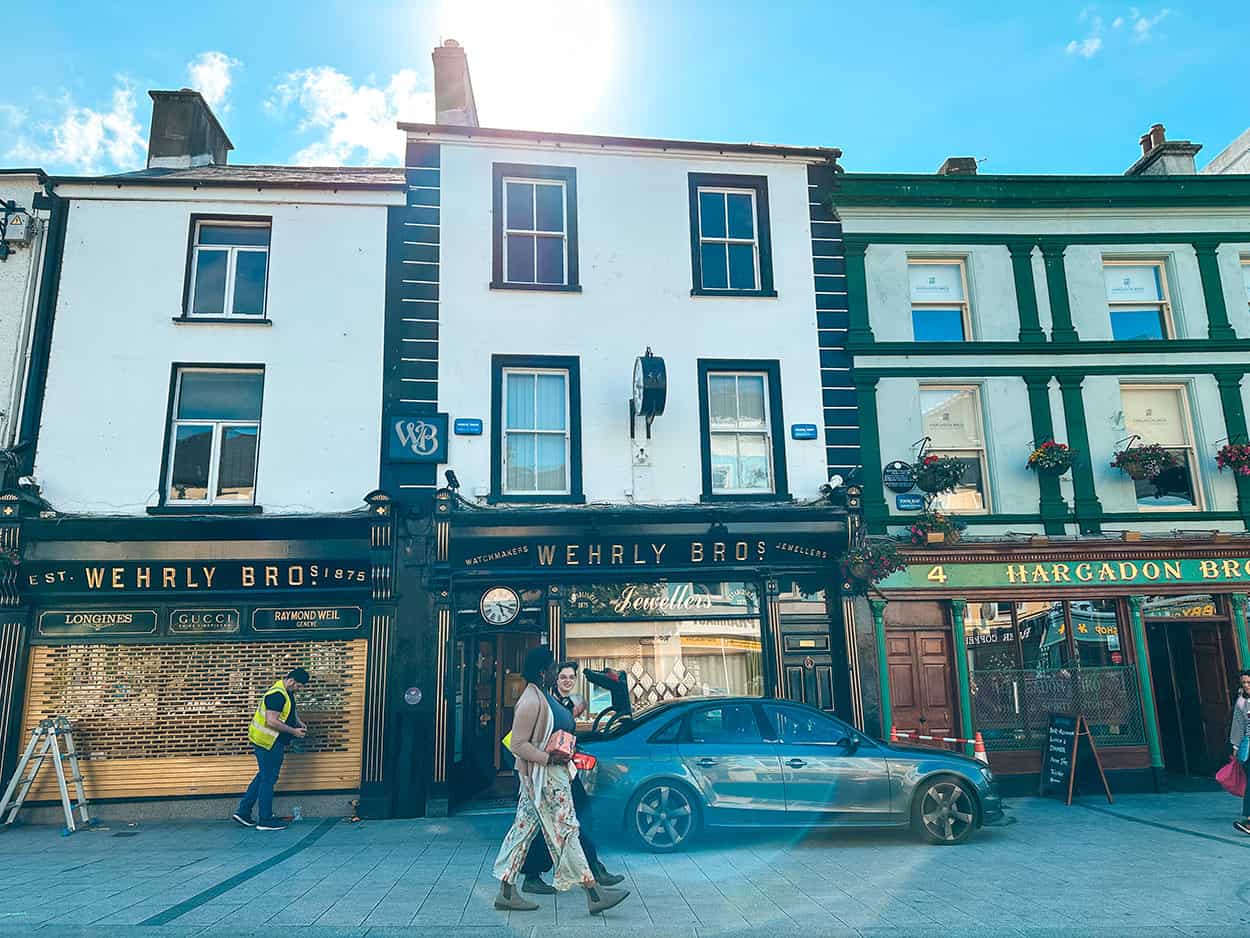 Sligo Trip Guide
Flying to Ireland?
Looking for the best flights to Ireland? We love to track flights via Expedia.com. Not only do we find great rates, but we earn points to use on future travel too.
You can also keep an eye on GOING deals, which is how we got to Ireland roundtrip from LAX for under $500 each. The free version is good, but the paid subscription will save you way more than the cost per year.
DON'T FORGET YOUR ESIM CARD!
We all love our smartphones, but we don't love those international roaming charges. Even if you have a travel pass, you could max out your service, which is why we always grab an eSIM card to pop into our phones. It's especially great for the kids, as it limits what they can do and how much data they can use, but still allows them to text friends back home.
Check out Airalo, our preferred eSIM card store for the best prices on eSIM cards and international data plans.
NEED A RENTAL CAR?
We use DiscoverCars.com to get the best rates and availability on rental cars. Find your car HERE, along with all of the extras you may need (insurance, car seats, ski racks, etc.)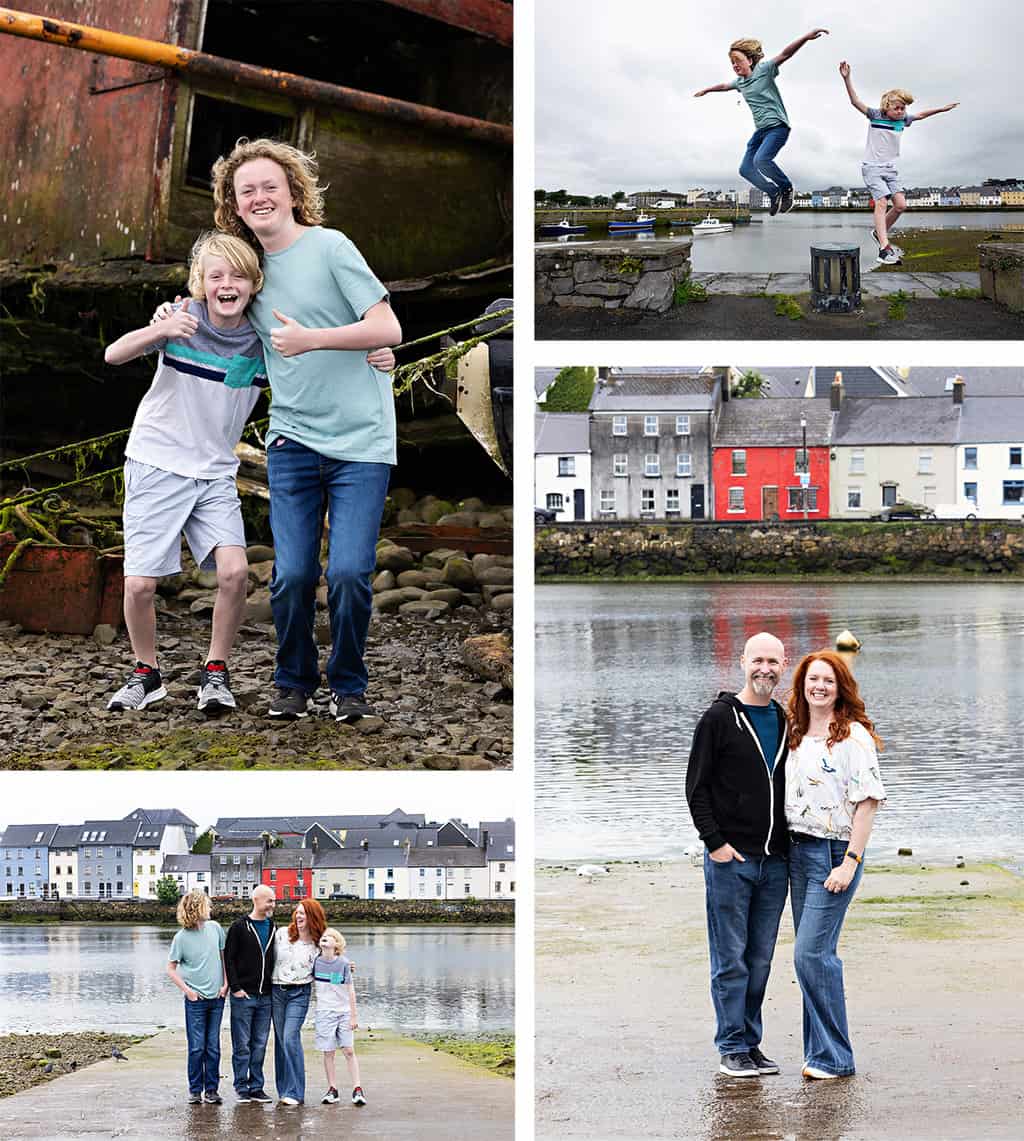 VACATION PHOTOS
Don't forget to book your Flytographer session to capture awesome memories from your trip. We do it as often as we can, even though I'm a photographer. Sometimes, this mom just wants to be in a few photos with her kiddos.
TRAVEL INSURANCE
Do NOT forget to buy travel insurance for your cruise, even if you booked through a travel agent. Things do and will happen and it's cheaper to buy travel insurance ahead of time instead of paying out of pocket later.
Check out Travelex for rates on a single trip or an annual plan that could be right for you if you take more than one or two trips a year. 
Hotels in Sligo
When it comes to finding a hotel in Sligo town, you will want to stay in town, preferably along the river. The town of Sligo is compact and staying in the town center makes it easier to explore on foot. Here's a few of the Sligo accommodations we recommend, but you can see all of your Sligo hotel options HERE.
PIN IT AND START PLANNING YOUR EPIC TRIP TO IRELAND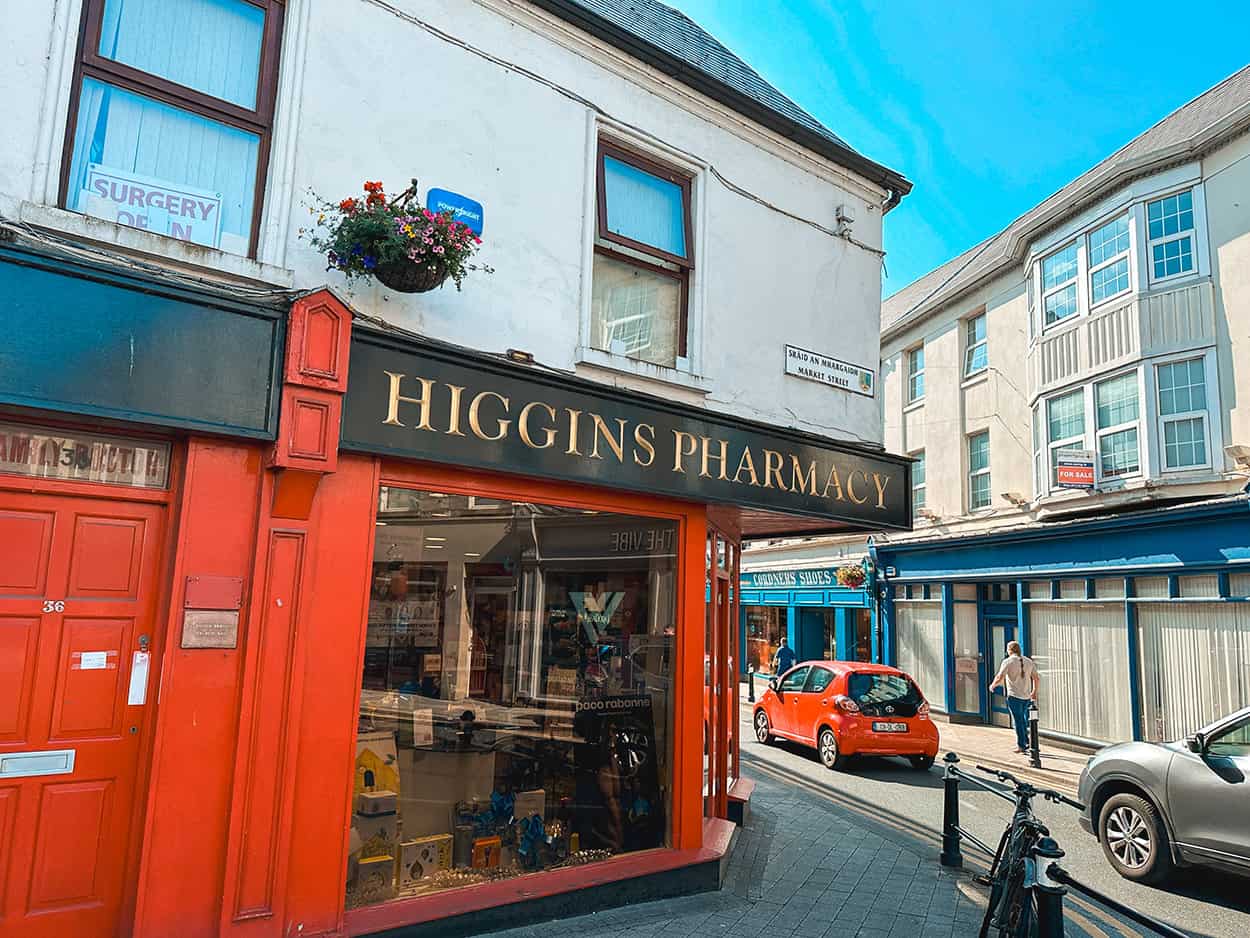 How to get to Sligo Ireland
Sligo By Air
The nearest airport to Sligo is Ireland West Airport Knock (NOC), located approximately 50 kilometers south of Sligo town. The airport offers domestic and international flights, connecting to destinations such as Dublin, London, Manchester, and more. From the airport, you can reach the town of Sligo by bus, taxi, or car rental.
Sligo By Train
Irish Rail operates train services to Sligo town. There are regular nonstop trains from Dublin Connolly Station to Sligo, or you can take a slower route with stops at various towns along the way.
The journey takes approximately 3 to 3.5 hours, depending on the train service. Trains also run from other major cities like Galway and Belfast to Sligo.
Sligo By Bus:
Bus Eireann, the national bus service provider, operates frequent bus services to Sligo from various locations in Ireland. There are direct buses from Dublin, Galway, and other major cities.
The journey duration varies depending on the starting point, but it usually takes around 3 to 4 hours from Dublin and 2 to 3 hours from Galway.
Sligo By Car:
Sligo is well-connected by road networks. If you have access to a car, you can reach Sligo by driving from Dublin, Galway, or other nearby towns. The N4 and N17 are the main roads leading to Sligo, offering scenic drives through the countryside.
If you are already driving the Wild Atlantic Way, it's easy to access Sligo even for just a few hours to see the historical sites.
Sligo By Ferry:
If you prefer to travel by sea, you can take a ferry to Ireland and then make your way to Sligo. The closest ferry ports to Sligo are Dublin Port and Belfast Port. From there, you can continue your journey by train, bus, or car to reach Sligo.
Once you arrive in Sligo, the town is relatively compact and can be easily explored on foot. Local bus services and taxis are also available for getting around the town and its surrounding areas.
A Brief History of County Sligo Ireland
The history of County Sligo, Ireland is rich and varied, spanning thousands of years, so lets take a quick look at what formed this region into a place with so many wonderful things to see and add to your Sligo itinerary.
Early History
Archaeological evidence suggests that the region was inhabited as early as 7,000 BC. The megalithic tombs at Carrowmore, dating back to around 3,800 BC, indicate a significant Neolithic presence in the area as well. This largest cemetery of megalithic tombs are some of the oldest and most extensive in Ireland, and a main attraction in the area.
Celtic Influence
With the arrival of the Celts in Ireland around 500 BC, Sligo became part of the Celtic culture and experienced the influence of Gaelic traditions. The Celts established tribal kingdoms, and Sligo was divided between the powerful tribes of the Fir Bolg and the Tuatha Dé Danann.
Medieval Period
During the early medieval period, Sligo was part of the Kingdom of Connacht. In the 12th century, the region came under Norman control with the arrival of the Anglo-Normans, and Sligo Castle, constructed by Maurice Fitzgerald, became a prominent stronghold.
The region witnessed several power struggles between Gaelic clans, Norman lords, and the English crown throughout the medieval period. The O'Connor clan, in particular, played a significant role in the history of Sligo. They held control over the area for centuries, resisting English attempts to assert dominance.
Plantation and Cromwellian Era
In the 16th and 17th centuries, during the Tudor and Stuart reigns in England, efforts were made to establish English control over Ireland. The plantation system was introduced, and English and Scottish settlers were encouraged to colonize the land. Sligo saw an influx of settlers during this period, leading to a significant change in the demographics and social structure of the county.
In the mid-17th century, Oliver Cromwell's forces invaded Ireland, including Sligo. Cromwell's campaigns were brutal, resulting in the displacement and suffering of the local population. Many Irish people were forced into exile, while others faced harsh penalties and restrictions on their way of life.
Great Famine and 19th Century
The 19th century brought significant challenges to Sligo, including the devastating Great Famine (1845-1852). The potato blight led to widespread famine and death, causing immense suffering and mass emigration from the region to the USA and England.
However, Sligo would later experienced economic growth with the development of industries such as coal mining, shipbuilding, and textiles. The town of Sligo became an important center for trade and commerce, contributing to its growth and prosperity.
20th Century and Independence
County Sligo, like the rest of Ireland, played a crucial role in the fight for independence from British rule in the early 20th century. Sligo-born Countess Constance Markievicz, a prominent Irish nationalist and suffragette, played a significant role in the independence movement.
Being so close to Northern Ireland, The Easter Rising of 1916 and the subsequent War of Independence effected many in the region, and in 1921, the Anglo-Irish Treaty was signed, leading to the establishment of the Irish Free State.
Sligo became part of the new state, marking a significant milestone in the county's history.
Modern Era
Today, County Sligo has developed as a popular tourist destination, known for its stunning landscapes, cultural heritage, and connection to the famous poet William Butler Yeats.
The county continues to thrive with a mix of traditional industries, agriculture, and a growing emphasis on tourism and cultural heritage. Today, the county embraces its past while looking towards a promising future, offering visitors a unique blend of natural beauty and historical significance.
Sligo and Dracula
OK, stay with me as this one gets a bit weird. Bram Stoker's mother was from County Sligo and survived one of the worst cholera epidemic of the time. He was raised hearing stories of the dead, which effected Stoker's mother Catherine a great deal. It's also said that the outbreak happened just after a freak storm hit, which is also how Dracula first arrives in England looking for fresh blood. Many even believe that the character of Dracula is based on the Celtic chieftain Abhartach.
While research still continues on the subject of Dracula being Irish, it's still fun to think about the historical effects on literature we still read and revere (and make movies about) today.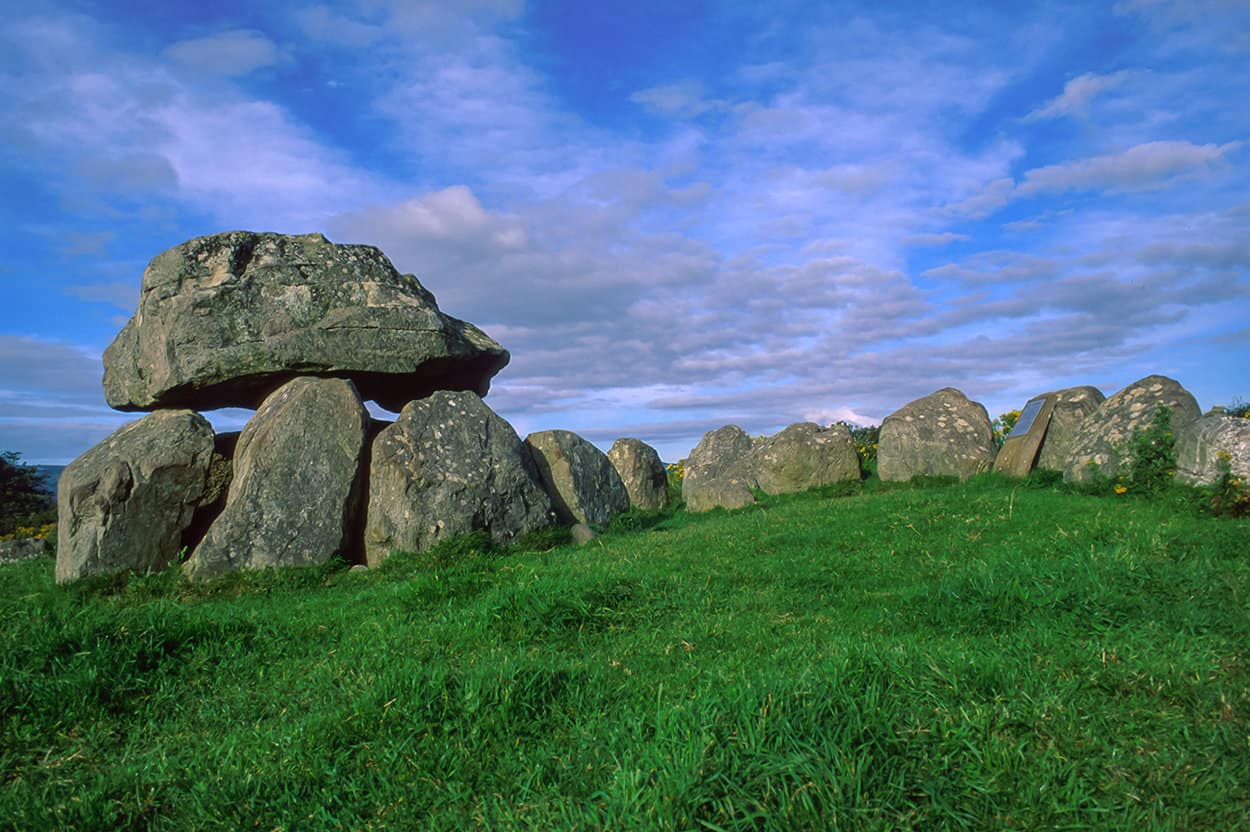 TOP THINGS TO DO IN SLIGO COUNTY
CARROWMORE MEGALITHIC CEMETERY
Ireland is full of prehistoric burial sites, stone circles, and ruins, but the Carrowmore Megalithic Cemetery in the county of Sligo is one of the best. It's the largest megalithic cemetery in the country with neolithic tombs dating back to the Stone Age.
You can book guided tours of the sprawling Carrowmore Megalithic Cemetery complex. Or, walk around by yourself, taking in the view of these stone monuments that are thousands of years old.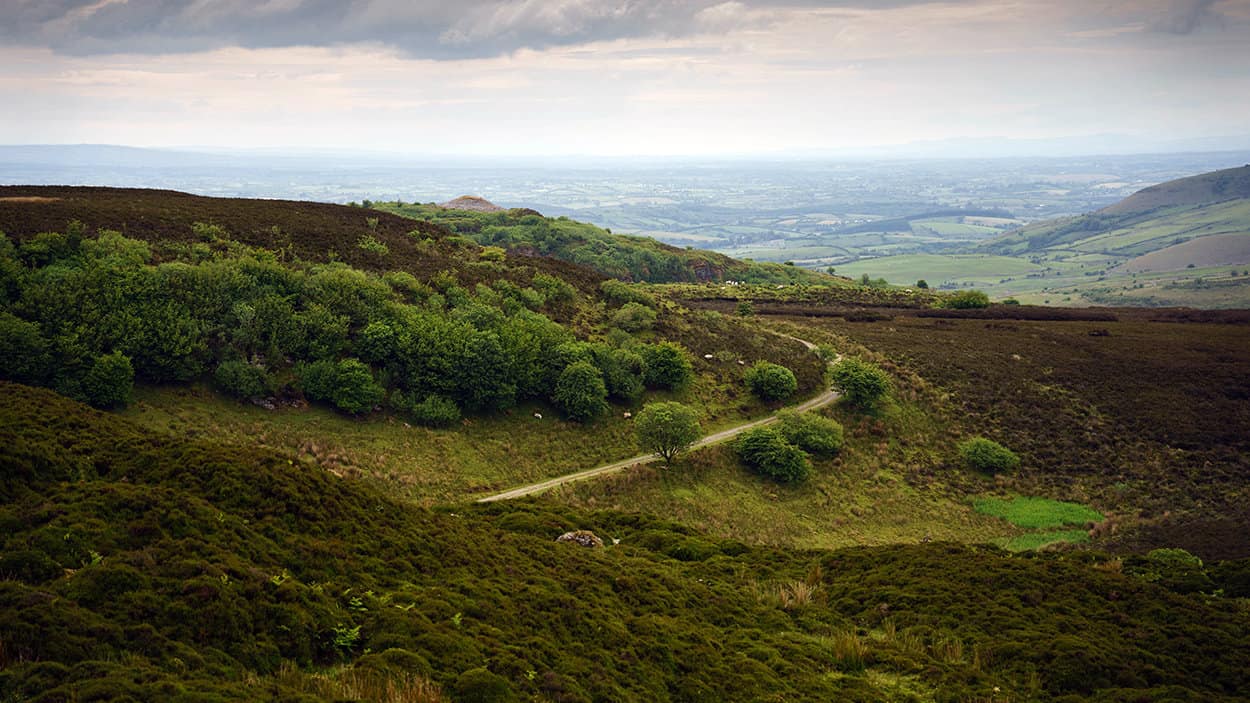 CARROWKEEL PASSAGE TOMBS
Fascinated by pre-history and want to see more sites than just the Carrowmore Megalithic Cemetery? The Carrowkeel Passage Tombs are just a 35-minute drive south of Sligo Town near Lough Arrow.
This is a different type of megalithic burial site that dates back to the Stone Age as they look more like rocky houses than graves. The tombs are set a short walk up some hills, so this site is much more secluded than the other megalithic cemetery.
BENBULBEN FOREST WALK
One of the best things to do in Sligo County is to do the Belbulben Forest Walk in the area of Ben Bulben. It's a national forest around the standalone mountain of Benbulben, which has a distinct ridge shape.
Benbulben Mountain will look really steep and impossible to climb as you gaze at it from a distance, but the Benbulben Forest Walk is deceptive.
Not only will you be able to enjoy the lush green woodland from your pleasant walk, but you'll be able to enjoy photo-perfect views across the county from the top of the hill.
ROSSES POINT BEACH
Sligo is on the west coast of Ireland, which is where you'll find all the most dramatic, rugged beaches carved into the coastline by the winds of the Atlantic. Rosses Point Beach is only a 15-minute drive from the town of Sligo and it's a can't-miss spot on your trip.
Rosses Point Beach is where you can enjoy incredible views of Coney Island (no, not the one in New York unless your eyesight is unbelievably strong). You'll also be able to see The Metal Man (you'll know him when you see him) and gaze over the rest of the coastline.
On a hot summer's day, this is the only place you should be! It's an award-winning, Blue Flag beach, which means it is of high environmental quality.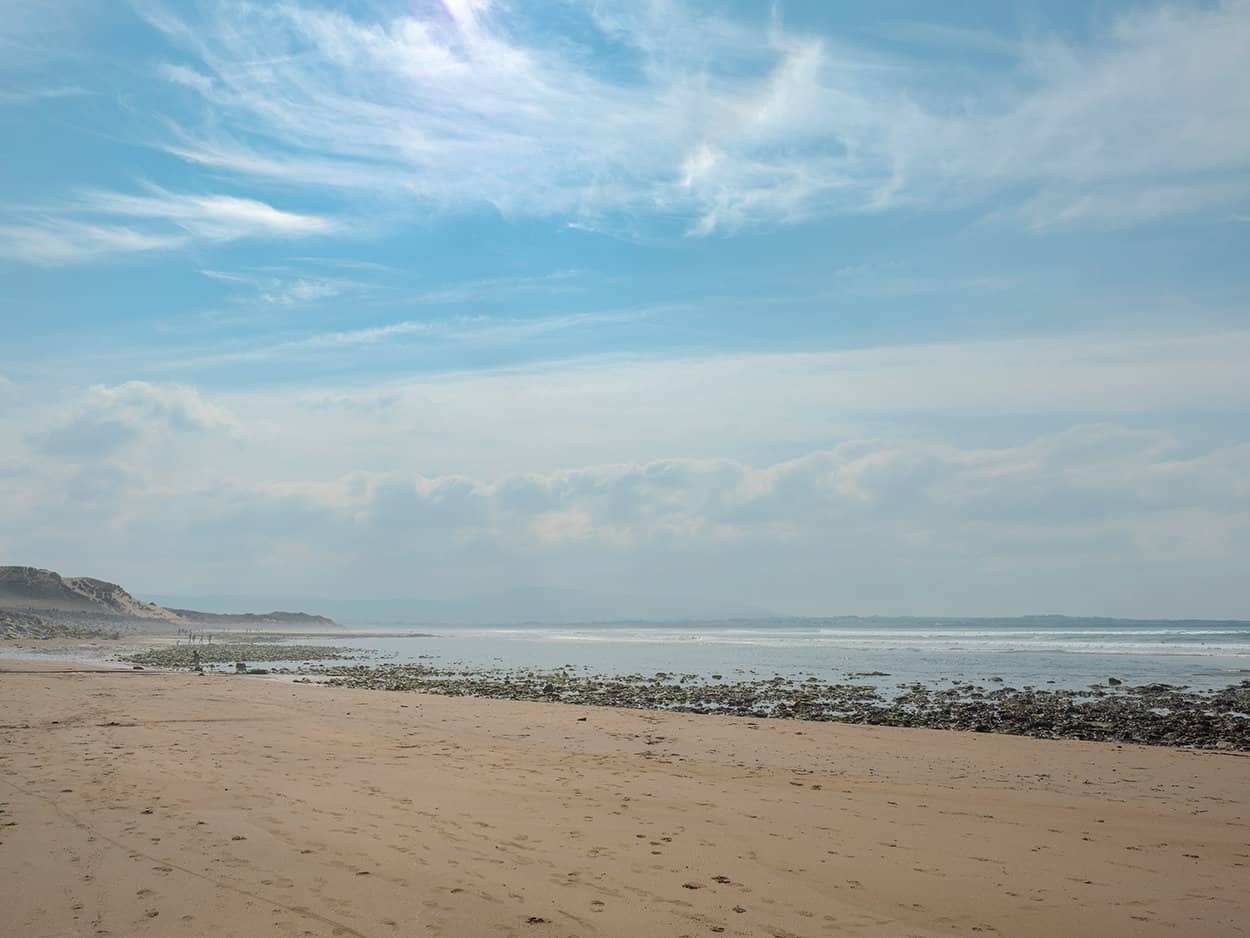 STRANDHILL BEACH
Whereas Rosses Point Beach is a 15-minute drive north along the coast from Sligo, Strandhill Beach is a 15-minute drive along the coast southward. It's popular with locals and tourists alike because this is a wide, sandy beach with all the amenities you could need for a fun beach day.
It's the perfect place to visit at sunset on a clear evening too.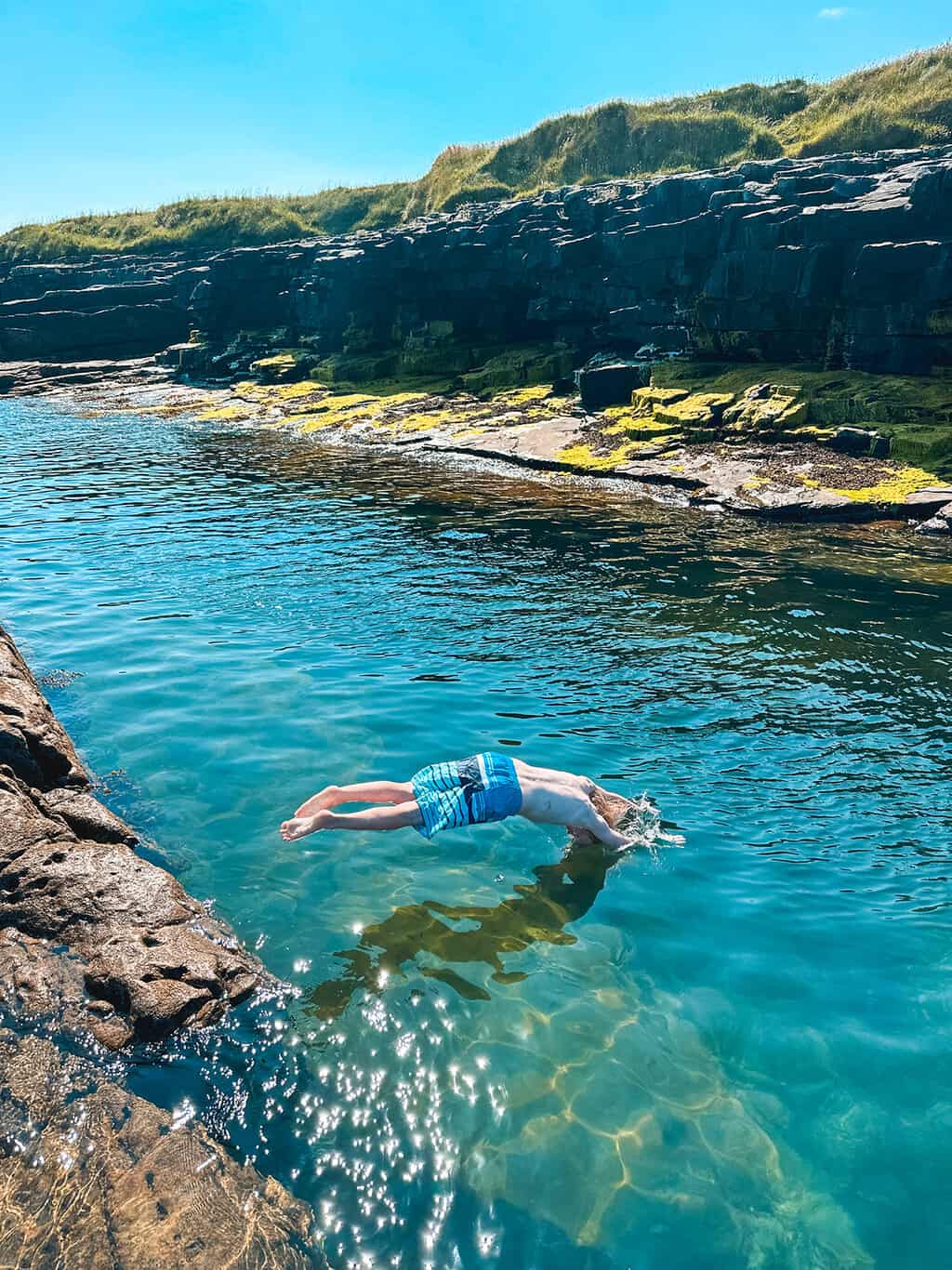 Bishop's Pool
One of the best places to swim with kids in Sligo County is at Bishop's Pool. While babies and toddlers might not do well here, my teen and tween never wanted to leave.
This natural swimming hole is protected by rocks on three sides, with a small opening on the east end. It's deep enough to jump into, with plenty of flat rocks to sit on if you don't feel like going all the way in.
Keep in mind that the water is CHILLY, so a wetsuit will be needed… unless you are my boys, who apparently don't feel the cold and are basically nuts.
​Bishop's Pool is also the perfect spot to pop in with your kayak to explore the coastline.
Bishop's Pool can be easy to miss as there isn't a very clear parking lot or signage, but if you can find the Castle Classiebawn Viewpoint, you just need to keep gong a few minutes and you will find it.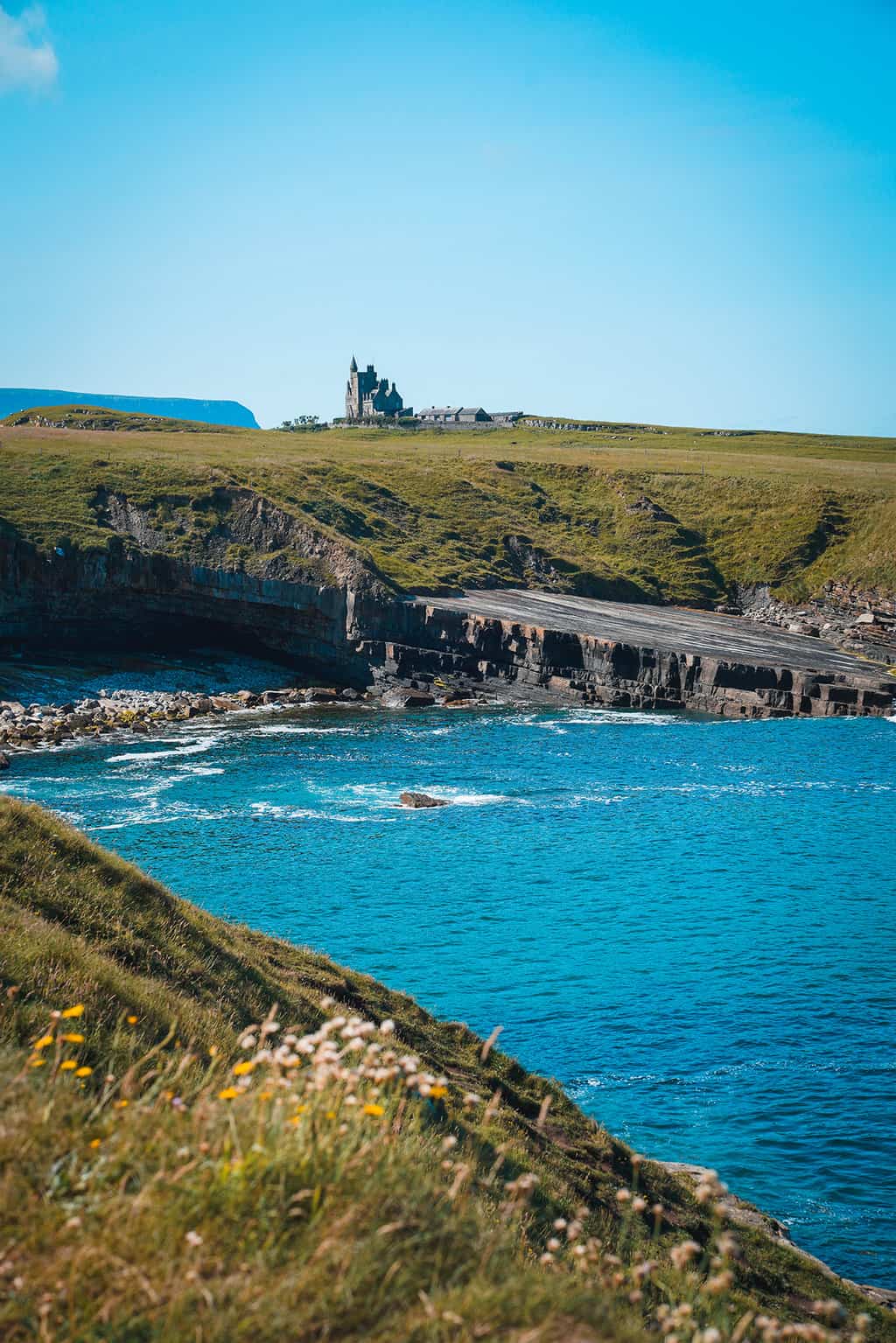 Castle Classiebawn Viewpoint
Speaking of Classiebawn Castle, while you can't visit this privately-owned castle, you can stop at the viewing point to take photos, hike down the rocks for spectacular views of the sea, and even spot a whale or two from the cliffs overlooking the coast.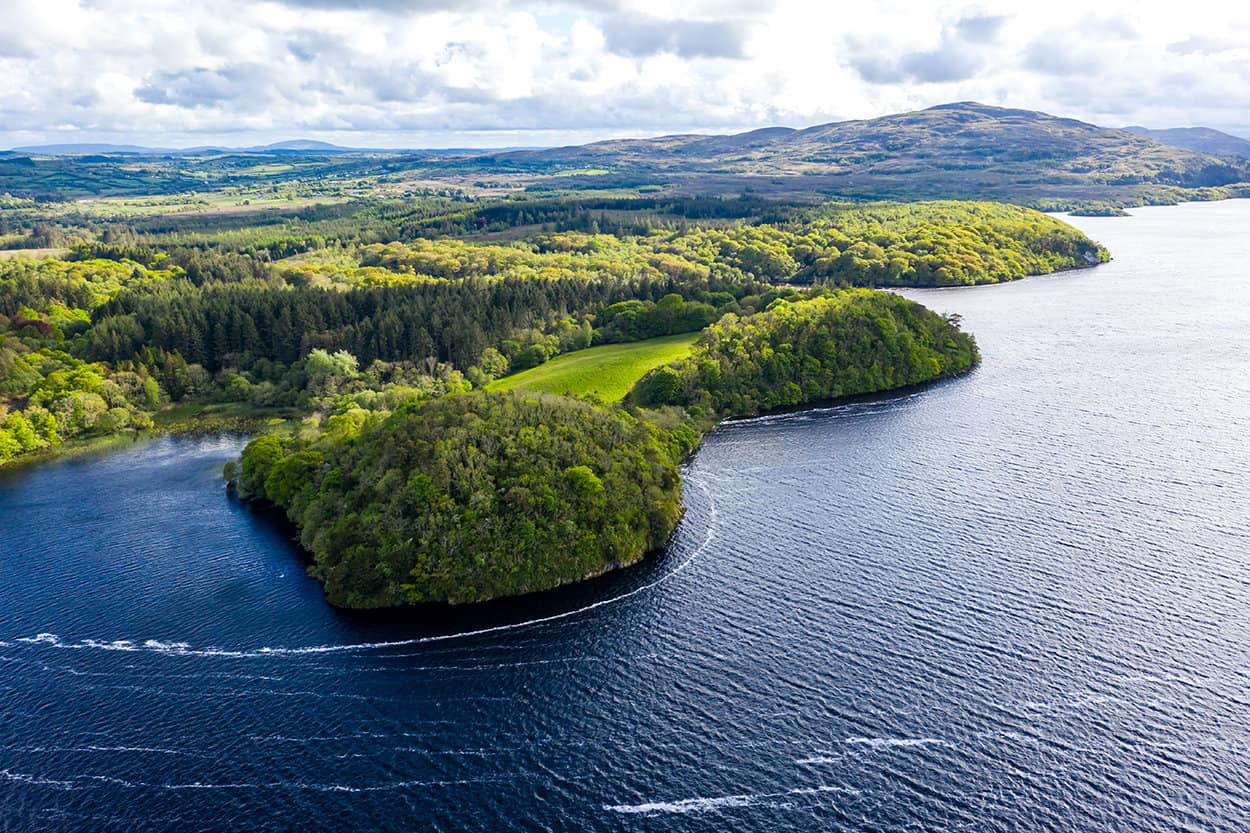 LOUGH GILL
'Loughs' (pronounced 'locks') is the Irish Gaelic word for 'lake' and there are well over 12,000 in Ireland. One of the biggest and best loughs in County Sligo is Lough Gill.
With its many little islands, jetties, small ruined castles, and woodland, it's a beautiful place to go kayaking or even swimming if you can brave the cold.
PARKE'S CASTLE
Okay, so Parke's Castle is technically just over the border into County Leitrim. But it's on the banks of Lough Gill and still only a 15-minute drive from Sligo Town. This castle is a 17th-century estate that was also a plantation. It's been recently restored so you can wander around the entire building at your leisure.
CONEY ISLAND
During your trip to Sligo, take a boat trip to sail from the mouth of the Garavogue River and out into Sligo Bay. If you want to visit an island in the bay, Coney Island is the best choice.
Hop on the ferry over from Rosses Point, which only takes a few minutes. When the causeway is open, you can even walk or drive. Coney Island has abandoned forts, remote beaches, and everything you need for a totally secluded trip.
EAGLES FLYING ZOO
The Irish Raptor Research Centre/ Eagles Flying isn't your average zoo. You won't find elephants, zebras, or flamingos here. It is Ireland's largest sanctuary, specializing in birds of prey like eagles, hawks, falcons, and owls with flight demonstrations and public feedings. There are opportunities to hold the birds, as well as a small petting zoo with lots of kids activities and full of farmyard animals like goats and miniature horses.
LISSADELL HOUSE AND GARDENS
Approximately 20 minutes north of Sligo is Lissadell House and Gardens. This stately home sits on the Atlantic coast and was built during the 1800s in the fashionable Greek Revival architectural style. It's also the former home of Constance Markievicz, the first female Member of Parliament and a childhood friend of the poet W.B. Yeats.
According to the website, Lissadell House is only open in the summer, but you should absolutely visit if it's open during your trip. Unlike other stately homes, it feels lived in and like you're really stepping back in time.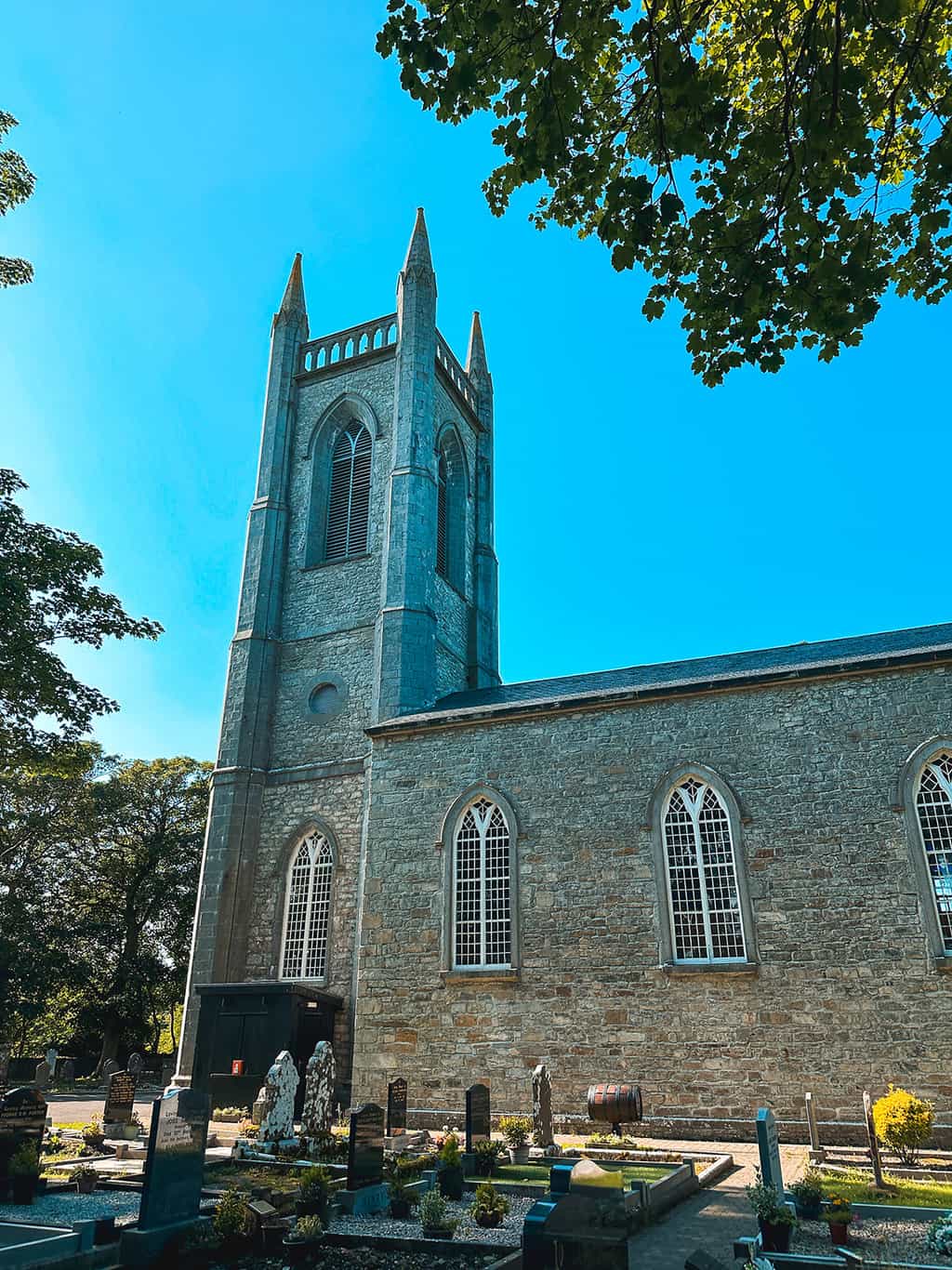 DRUMCLIFFE CHURCH & W.B. YEATS GRAVE
Speaking of W.B. Yeats, fans of his work or Irish literature in general, would probably love to visit the location of his final resting place which is in County Sligo. You'll finr Yeats grave to the left of Drumcliffe Church (if you are looking at the front door of the church), a modest, small-town church not far from Lissadell House.
Because it has a small graveyard, it's not difficult to find W.B. Yeats's grave. If you're struggling to read his epitaph, it says "cast a cold eye on life, on death, horseman, pass by" which he wrote himself.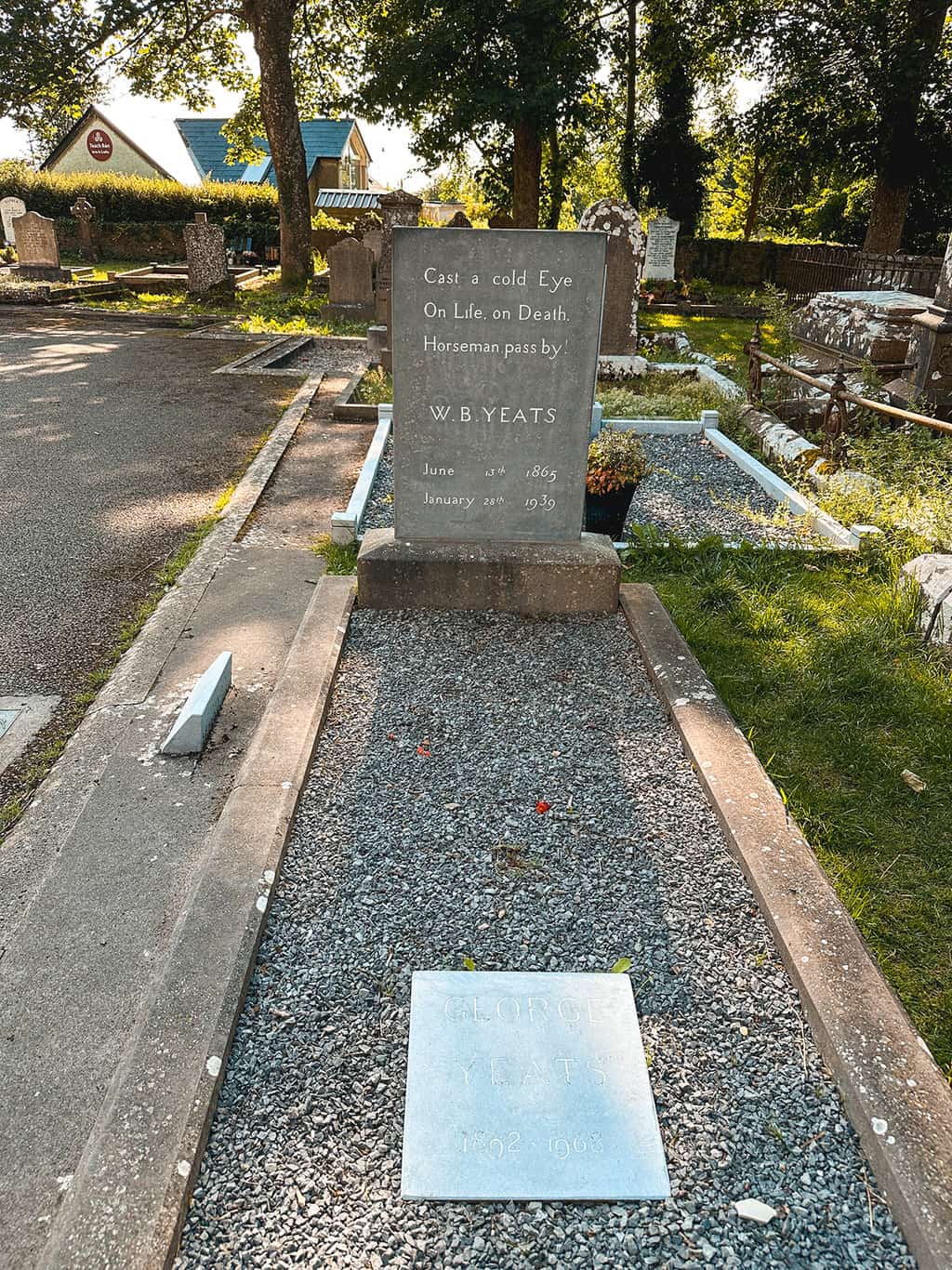 There has been much speculation over the years as to whether the remains of Yeats are actually in there, but at least you have a place to go pay your respects and remember a great poet.
And if you are looking for his brother, Jack B. Yeats (best-known Irish painter of the 20th century and olympian), he's buried over in Dublin.
Knocknarea Cairn
Lovingly referred to as Sligo's ultimate rock pile, Knocknarea Cairn (Irish: Cnoc na Riabh) is one of Ireland's many ancient sites and believed to have been the gravesite of Queen Maive (aka Queen Mab), a popular figure in Irish mythology and the story of King Arthur. WB Yeats even wrote about Knocknarea in Red Hanrahan's Song about Ireland.
Knocknarea, the largest cairn in Ireland after Brú na Bóinne in County Meath, sits on the Cúil Irra peninsula with limestone cliffs and exceptional views of the Atlantic ocean.And while we would never call it Knocknarea mountain, as it's only measured at 327 meters high, walking up to explore the cairn is one of those unique experiences you will only find in Ireland.
Surfing in Sligo
If you have visited any other beach towns in Ireland, you might already know that surfing in Ireland is a big deal. Sligo's surf coast boasts multiple beaches and surf shops and surf schools ready to take you out.
Summer is the best time for surfers to hit the coast, but big wave surfers love the large swells that come with autumn and winter storms. According to Nomadsurfers.com, some of the best beaches to surf include:
Ardtermon Stand
Easkey Left and Right
Dunmoran Strand
Enniscrone
Pollacheeny Harbour
Strandhill Strand
Yellow Strand​
And if you are looking for surf schools so you can claim that you learned how to surf in Ireland, check out these local vendors:
Strandhill Surf School | Sligo
Sligo Surf Experience | Strandhill
Atlantic Surf School, Strandhill
You can also book this 2.5 hour surf experience with Rebelle HQ or the 3+ Hour Yellow Surf Experience for the ultimate exhilaration (plus you will impress friends, kids and grandkids if you book one of these surfing tours). Everything from wet suits to boards and instructors is included.
Sligo Golf Courses
As a gentleman I sat next to on my last flight to Dublin told me, Ireland has some of the most beautiful golf courses in the world. While I don't play golf, if you are on a Sligo road trip and love golf, you will want to book a tee time at one or two of these excellent courses.
The County Sligo Golf Club: top rated and a must when you visit Sligo
Berties Pitch and Putt
Castledargan Golf Course
TOP THINGS TO DO IN SLIGO TOWN
THE MODEL ART GALLERY
One of the top things to do in Sligo Town is to visit the several museums and art galleries there. The Model is one of the best contemporary art galleries in Ireland.
It's home to the Niland Gallery and Collection, which was a private collection of over 300 pieces of Irish artwork. Every year, The Model curates exhibitions from these original works with a strong emphasis on Jack Butler Yeats, W.B. Yeats brother. The gallery also puts together an edit of temporary exhibitions with works by more modern Irish artists.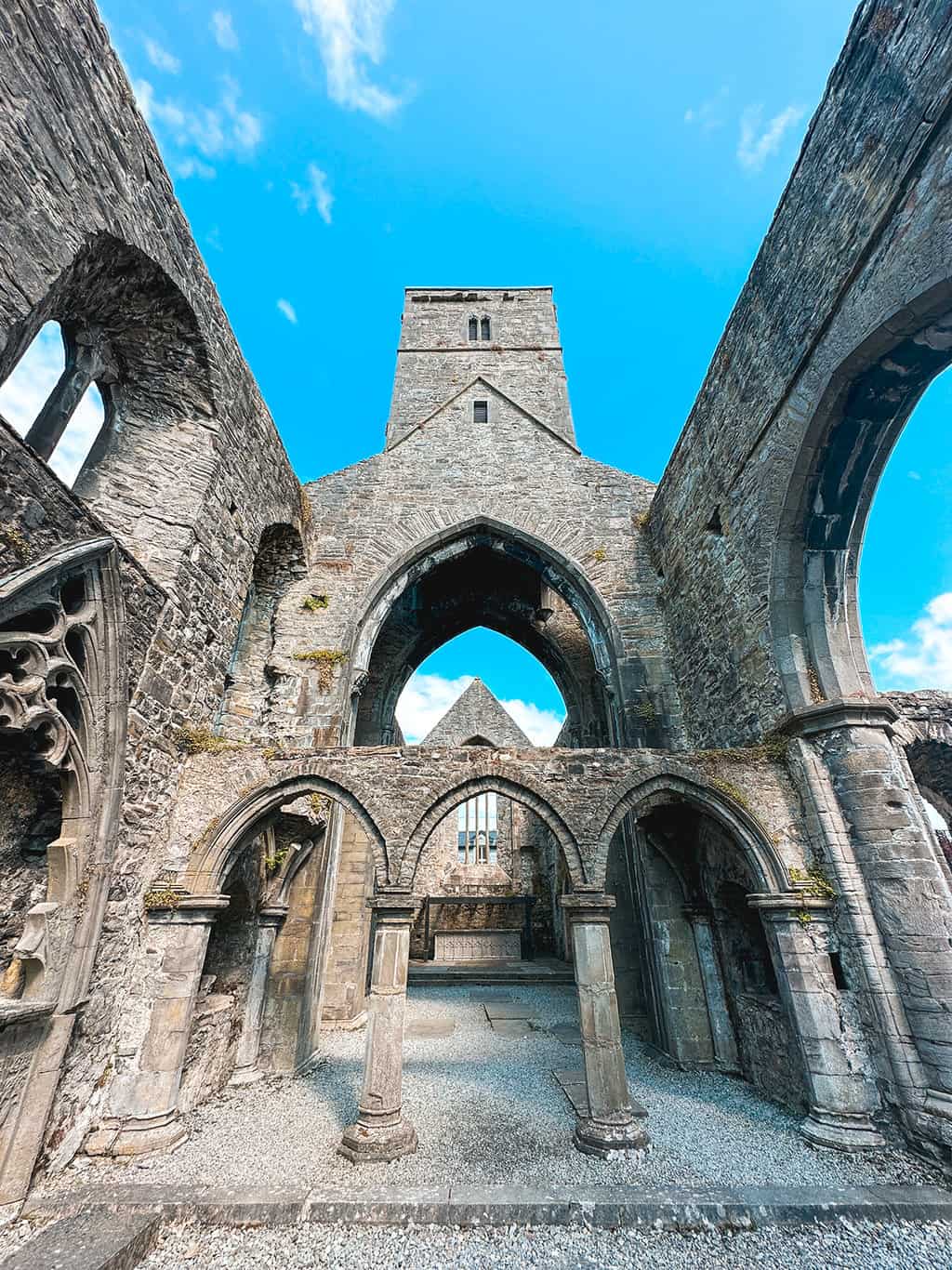 SLIGO ABBEY
Dating back to the 1200s, Sligo Abbey was a Dominican Friary that has fared the test of time much better than other Irish abbeys of a similar age. There's a graveyard and a beautiful altar dating back to the 1400s too.
While renovations are being made, the abbey is free to enter some days, but on days you have to pay it costs less than €5 (Euros), so you shouldn't miss out on wandering around this medieval structure when you're in the city.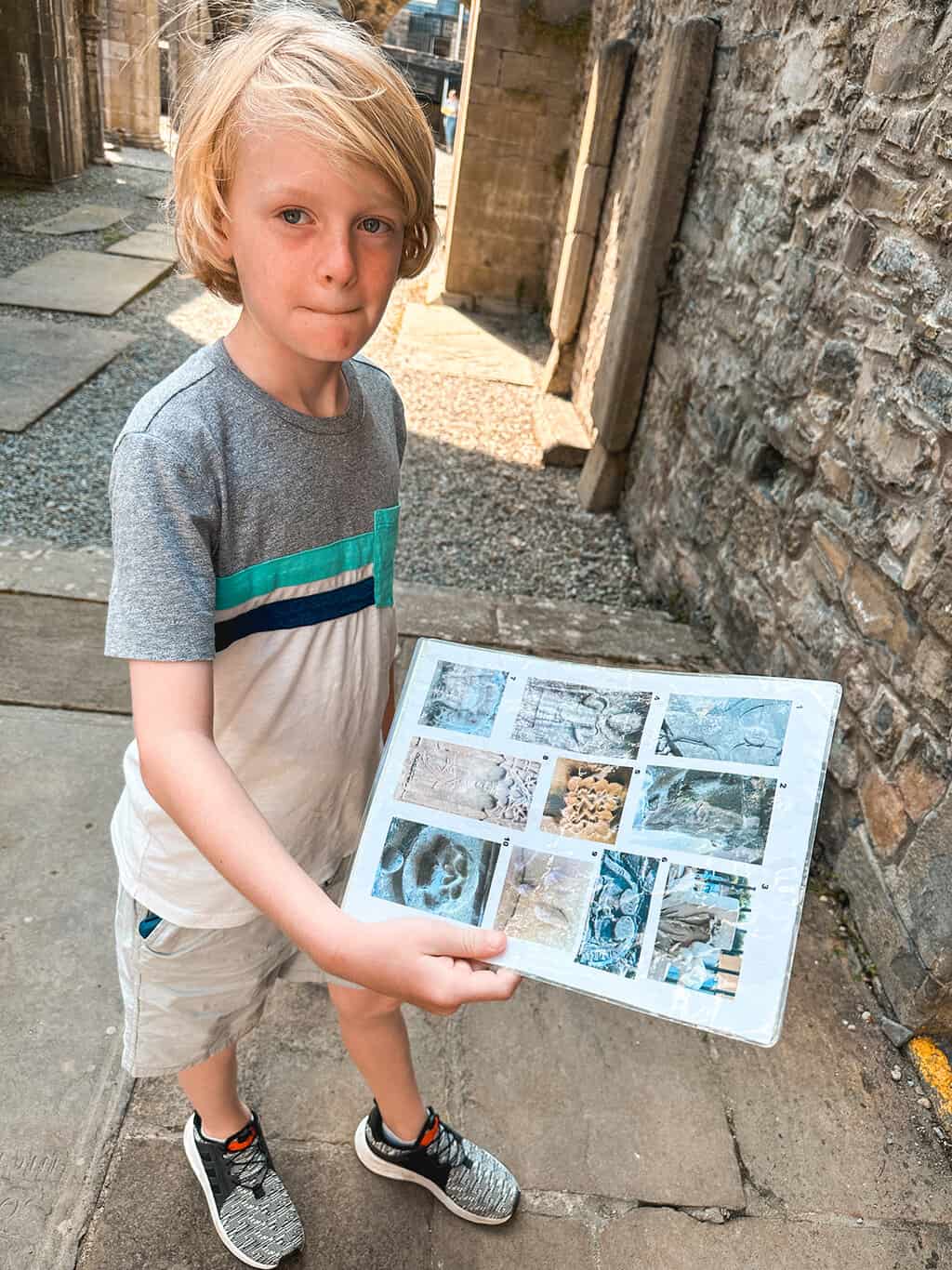 The abbey provides laminated maps and details on what you are looking at, as well as laminated scavenger hunts for kids to get them looking in every "room" for details that will even make parents stop and look longer than they might normally do.
HARGADON BROS IRISH PUB
Every village, town, and city in Ireland boasts historic and centuries-old Irish pubs and Sligo is no different. While staying in Sligo, you have to check out Hargadon Bros Irish pub on O'Connell Street. It dates back to the mid-18th century when it was a grocery store as well as a pub, but now it serves award-winning dishes alongside pints of real ale.
Hargadon's is also a great place to experience live music on Friday nights too.
SLIGO COUNTY MUSEUM
If you've spent a few days traveling around Sligo County and seeing how beautiful the landscapes are, you can dip into the Sligo County Museum to learn more about the history. It's housed in an old church with sports memorabilia, religious relics, and wartime artifacts.
Sligo County Museum is clearly a community-driven spot and the warmth shows in the care and attention of the exhibits. And don't forget, the vast majority of museums and art galleries in Ireland and the UK are free, including this one!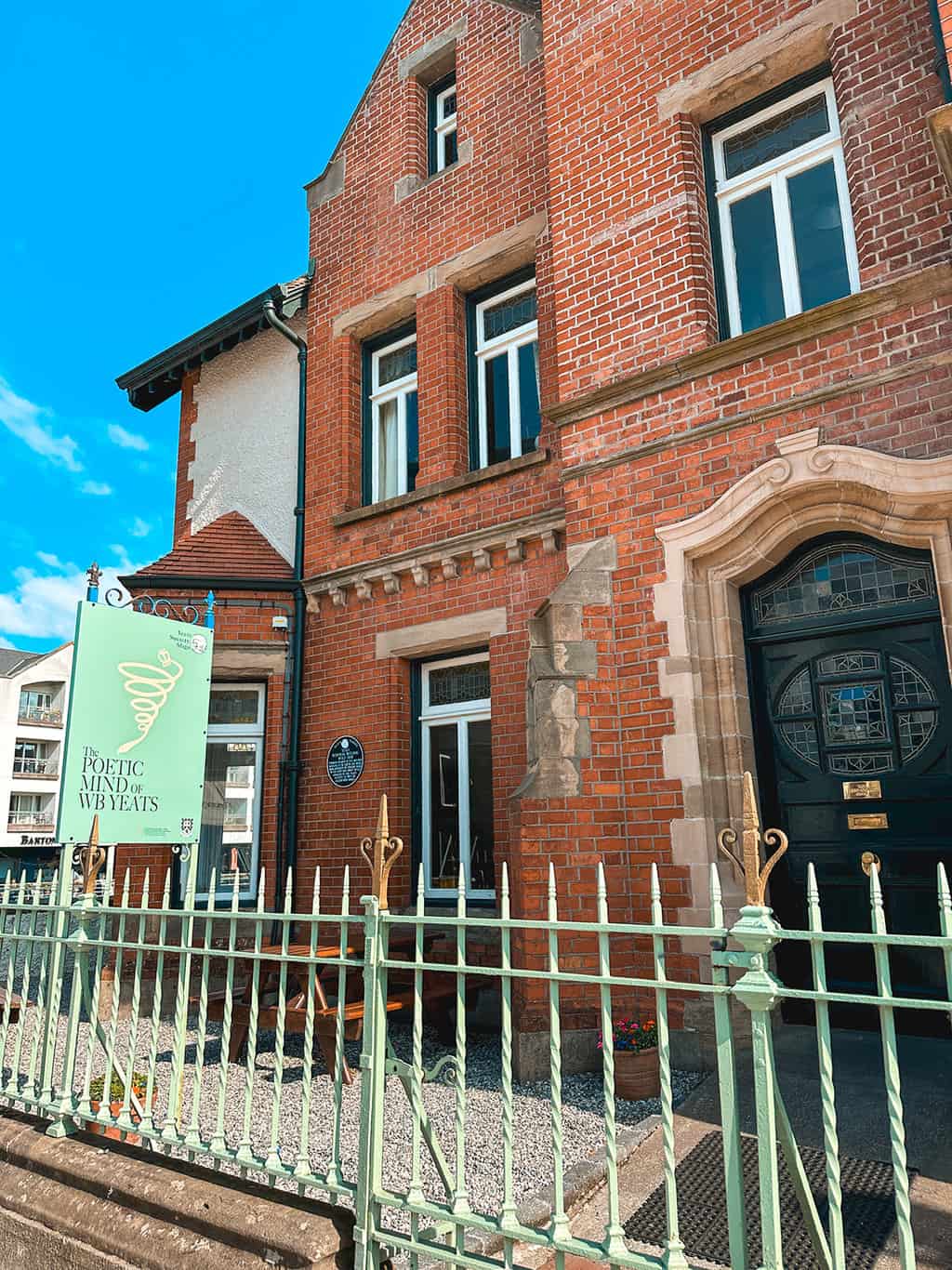 YEATS SOCIETY SLIGO
Book nerds and literature lovers passing through Sligo need to visit the Yeats Building, home of the Yeats Society in Sligo. Located on the banks of the River Garavogue, this institution has a library, gallery, and permanent exhibit documenting Yeats's life. There are original photos and notes that he made as well as sculptures and anecdotes about his childhood.
CATHEDRAL OF THE IMMACULATE CONCEPTION
If you're spending a considerable amount of time traveling through Ireland, you'll soon realize that no matter how small the town is, it will have a stunningly beautiful church. Sligo's Cathedral is especially worth visiting, because its interior design is so unlike the other grey, Gothic churches in Ireland. The walls and ceiling are pastel-colored and the heavy curtains almost make it seem cozy.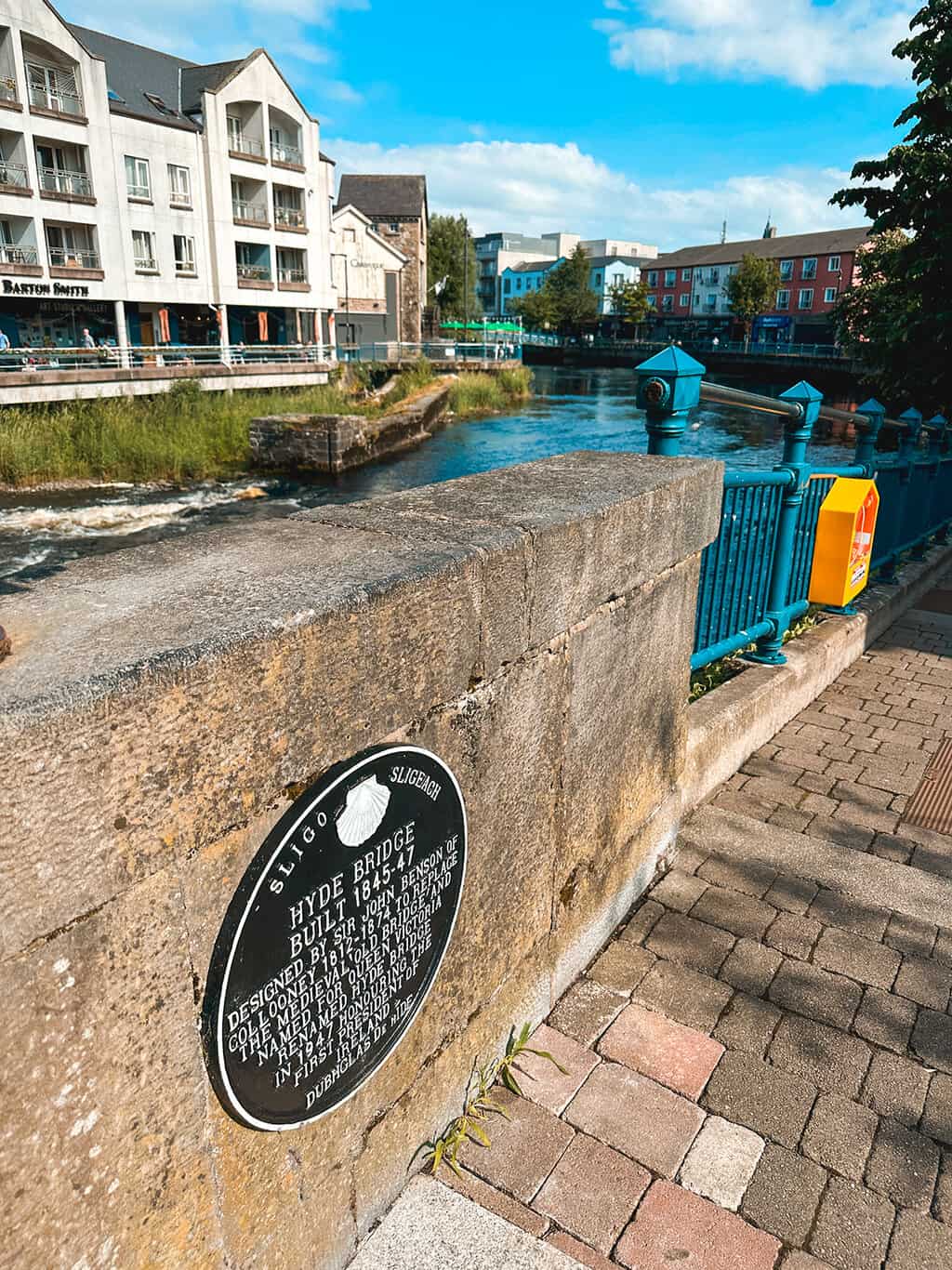 THOMAS CONNOLLY BAR
Hargandon Bros Irish Pub is the best traditional Irish pub for food, but the Thomas Connolly Bar is the best pub in Sligo for live music. It's also the oldest pub in northwest Ireland as the license dates back to the late 18th century.
You feel the age of the pub in its dark wooden walls and low ceiling, which only amplifies the live Irish folk music that plays from 9:30 pm every night. So, if you are looking for traditional Irish music sessions, this is the place you will want to grab a bar stool and camp out until the musicians arrive and start playing.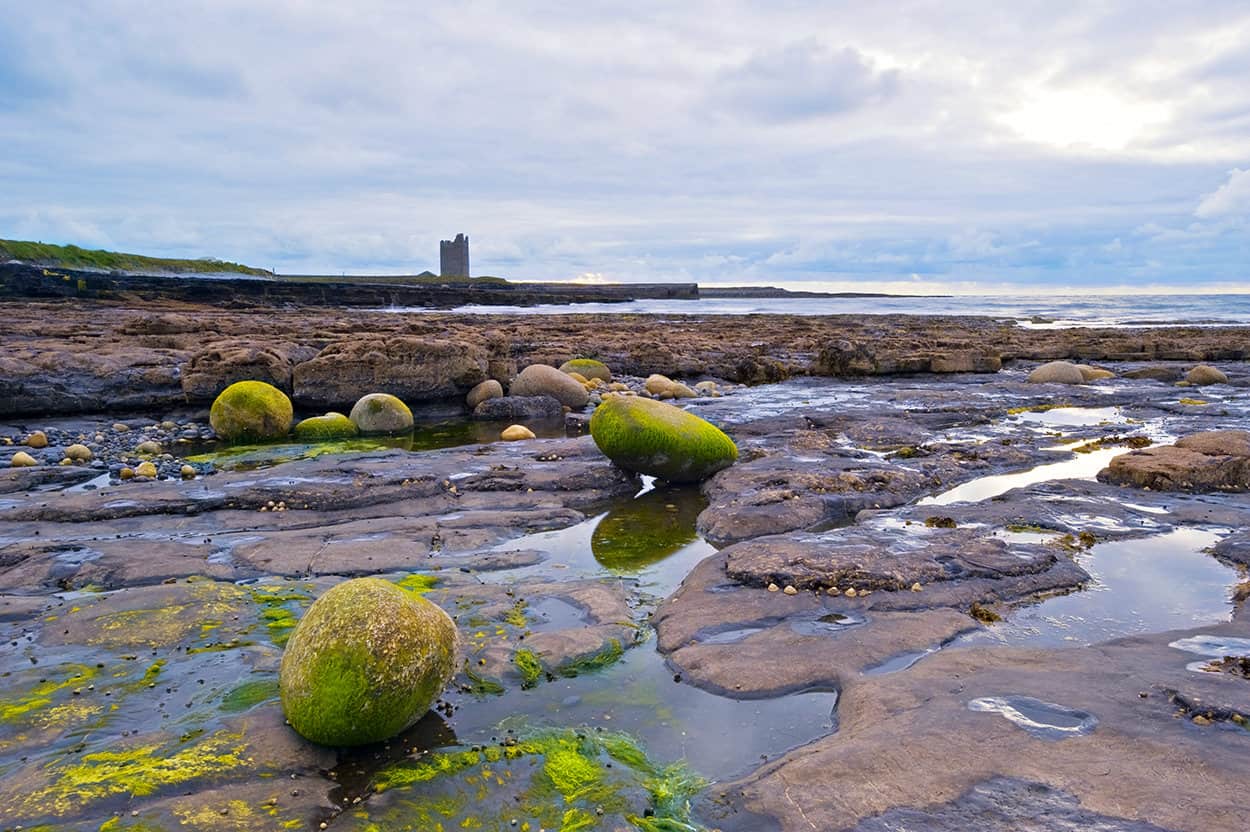 GREAT DAY TRIPS FROM SLIGO
Sligo is in the northwest corner of Ireland and one of the first major stops on the Wild Atlantic Way route if you are starting from the north and working your way south.
While there aren't any large cities nearby, there are other cool towns and areas of the countryside you can visit on a day trip. You could even visit Northern Ireland!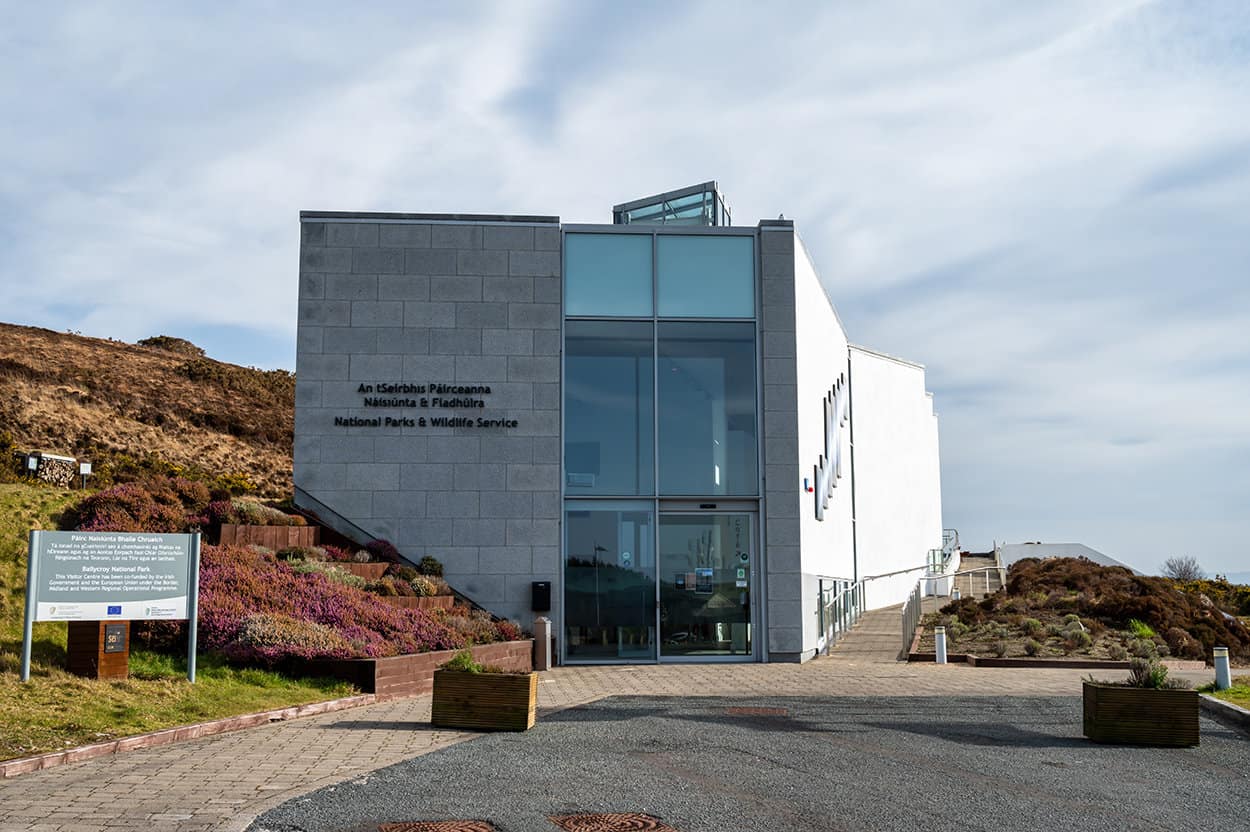 BALLYCROY NATIONAL PARK
Ireland has six national parks and the closest to Sligo is the Ballycroy National Park. It takes around one hour and 45 minutes to drive south of Sligo to the national park, but it's worth the effort if you're not continuing the Wild Atlantic Way route.
It's 15,000 hectares of almost untouched and completely unspoiled wilderness offering only walking trails and phenomenal views. There is a recently built visitor's center and cafe which is the perfect place to refuel after spending all day exploring the nature trail and enjoying an easy walk.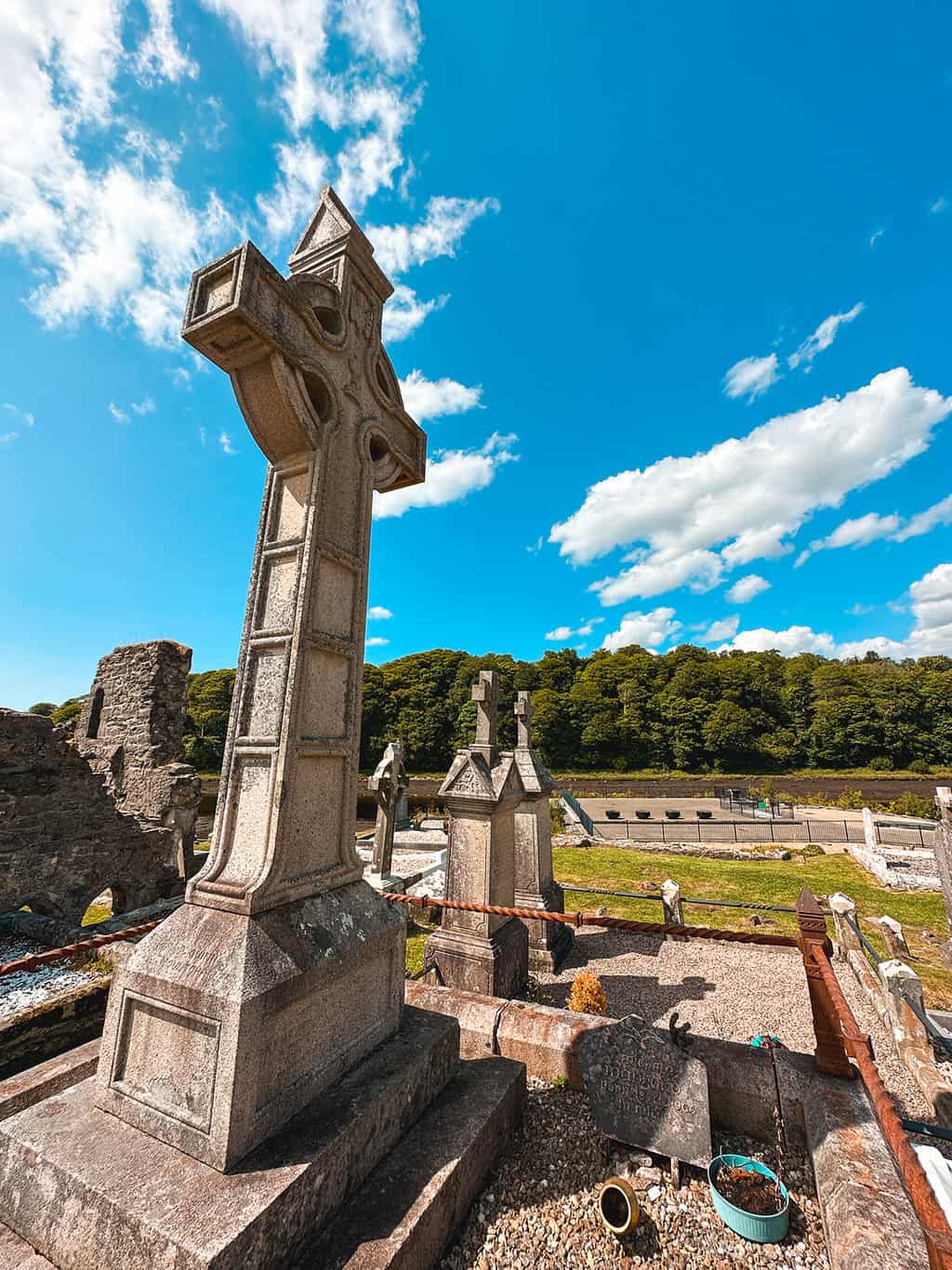 DONEGAL
Want to travel to another town like Sligo? Donegal is less than a one-hour drive north. You can check out Donegal Castle and learn about the local history of the place, sail in Donegal Bay, and tap along to the folk tunes in the cozy traditional pubs there.
Read our full guide to the best things to do in Donegal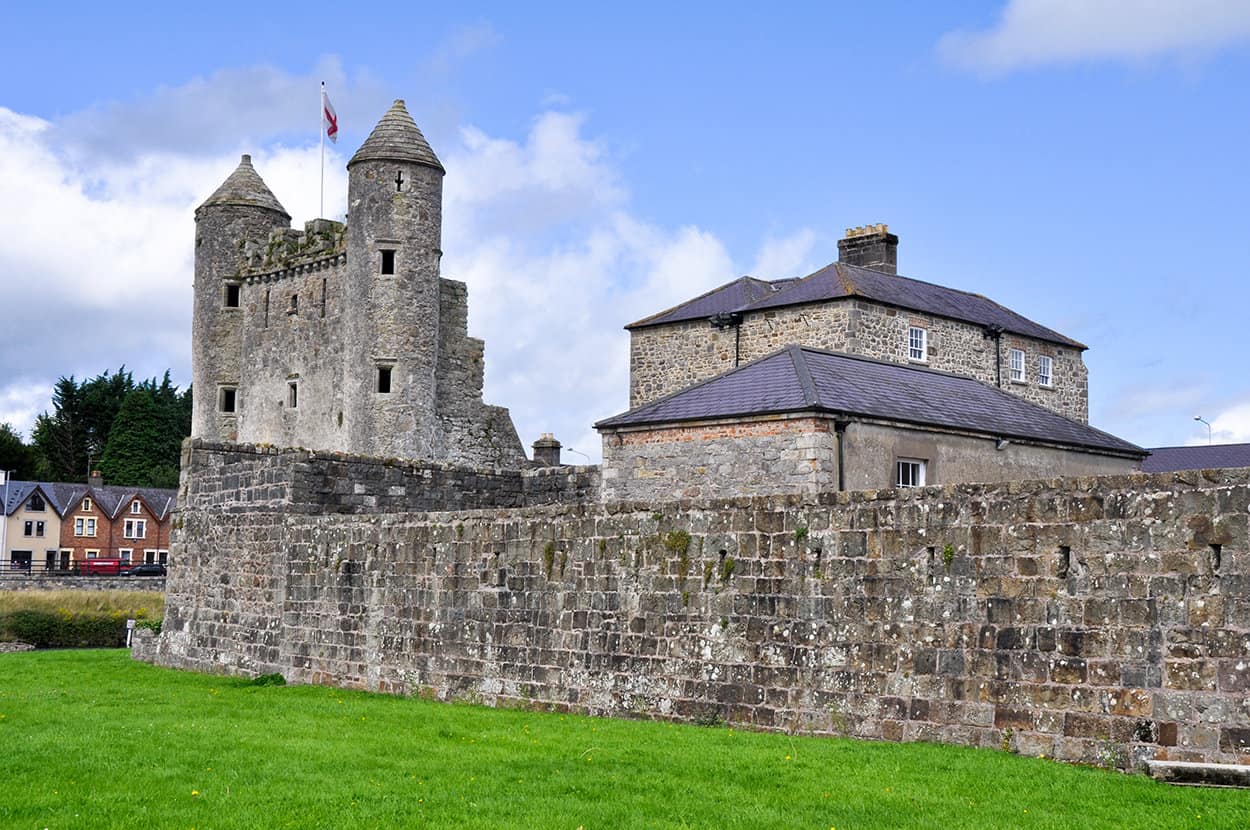 ENNISKILLEN
Some of the top places to visit in Northern Ireland, like the Giant's Causeway, Derry, and Belfast, are just a little too far away for a day trip. But if you do want to pop into the country for a day, the historic town of Enniskillen is a great option.
It's only an hour's drive from Sligo Town and there are tons of things to do in Enniskillen and along the route. You can make a pit stop at the border town of Blacklion and have one foot in each country.
Once you're in Enniskillen, you can kayak on Lough Erne, visit Enniskillen Castle, and check out the luxurious Castle Coole stately home.
ANNUAL EVENTS IN SLIGO
Like every Irish town, Sligo honors the patron saint of Ireland, Saint Patrick, every Marc, but it's not the only big annual event in Sligo! There are loads of festivals and events you might want to plan your trip around.
St Patrick's Day (March 17th)
Easter Celebrations (March/April)
Wild Atlantic Shanty Festival (June)
Fleadh Cheoil Sligo (June)
Cairde Sligo Arts Festival (July)
Yeats International Summer School (August)
Sligo Summer Festival (August)
Tubbercurry Old Fair Day Festival (August)
Sligo Races (August)
Sligo Live (October)
Spilt Milk Festival (November)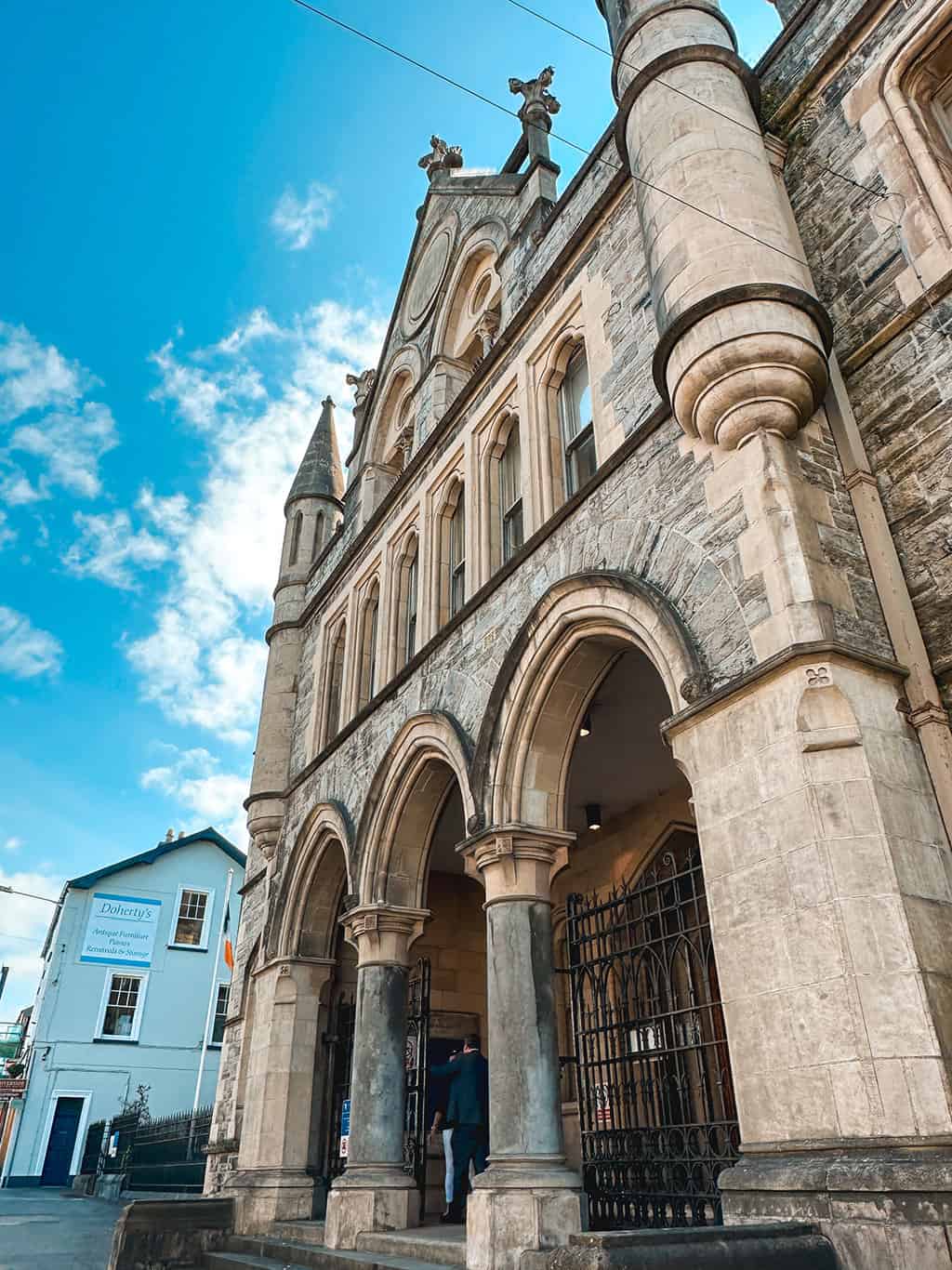 ​FAQ Sligo Ireland
Where is Sligo located?
Sligo is a town located in the northwestern part of Ireland. It is the county town of County Sligo and is situated on the coast of the Atlantic Ocean.
How do I get to Sligo?
Sligo is easily accessible by various means of transportation. You can reach Sligo by air through Ireland West Airport Knock, which is approximately 50 kilometers away. The airport offers domestic and international flights. Sligo is also well-connected by train and bus services from major cities like Dublin, Galway, and Belfast.
What are some popular tourist attractions in Sligo?
Sligo offers a range of attractions for visitors to enjoy. Some popular tourist spots include:
Benbulben: A distinctive tabletop mountain that provides breathtaking views and is popular among hikers.
Sligo Abbey: A medieval monastery with well-preserved ruins and an interesting history.
Lough Gill: A beautiful lake surrounded by scenic landscapes and home to the famous Lake Isle of Innisfree.
Strandhill: A coastal village known for its sandy beach, great surfing, and stunning sunsets.
Yeats Memorial Building: A tribute to the renowned Irish poet W.B. Yeats, housing an exhibition and a reference library.
Is Sligo a good destination for outdoor activities?
Yes, Sligo is a paradise for outdoor enthusiasts. The region offers a wide range of activities such as hiking, surfing, fishing, golfing, cycling, and horse riding, With its diverse landscapes encompassing mountains, lakes, forests, and coastline, Sligo provides ample opportunities to explore the great outdoors whether you are looking for a long walk, lots of activities for all ages or a walking tour of historical sites.
Are there any music or cultural festivals in Sligo?
Sligo has a vibrant cultural scene and hosts several festivals throughout the year. One of the most notable events is the Fleadh Cheoil Sligo, which showcases traditional Irish music, dance, and song. Other festivals include Sligo Live (a music festival), Cairde Sligo Arts Festival (celebrating arts and culture), and the Yeats Summer School (focusing on literature and poetry).
What is the weather like in Sligo?
Sligo experiences a temperate oceanic climate. Summers are typically mild with average temperatures ranging from 15 to 20 degrees Celsius (59 to 68 degrees Fahrenheit). Winters are generally cool, with average temperatures ranging from 5 to 10 degrees Celsius (41 to 50 degrees Fahrenheit).
Rainfall is evenly distributed throughout the year, so it's advisable to pack a waterproof jacket when visiting Sligo (we have several we love listed in our Ireland Packing Guide).
Can I visit nearby attractions from Sligo?
Yes! Sligo is an excellent base for exploring the surrounding areas.
Drumcliffe: The final resting place of W.B. Yeats, where you can visit his grave and enjoy scenic walks.
Rosses Point: A picturesque coastal village known for its beautiful beach and golf course.
Carrowmore Megalithic Cemetery: A prehistoric site with ancient stone tombs, offering insight into Ireland's rich history.
Mullaghmore: A coastal village famous for its dramatic cliffs, stunning views, and outdoor activities like surfing and fishing.
Are there any traditional Irish pubs in Sligo?
Yes, Sligo is home to numerous traditional Irish pubs where you can experience the warm hospitality and enjoy live music sessions. Pubs like Hargadon Bros, Shoot the Crows, and McGarrigles are known for their cozy atmosphere, traditional music, and a wide selection of drinks.
What are some local delicacies or dishes in Sligo?
Sligo, being on the coast, offers a variety of fresh seafood options. You should try:
Sligo Bay oysters: Known for their distinctive flavor and high quality.
Traditional Irish stew: A hearty dish made with lamb, potatoes, and vegetables.
Lissadell mussels: Locally sourced mussels from nearby Lissadell Bay.
Yeats' bread: A type of brown bread made with locally milled stoneground flour.
Are there accommodations available in Sligo?
Yes, Sligo offers a range of accommodations to suit different budgets and preferences. You can find luxury hotels, cozy bed and breakfasts, self-catering cottages, and guesthouses throughout the town and its surroundings.
We always use Stay22 to search for the best hotels from sites like Expedia.com and Booking.com, as well as Sligo vacation rentals on VRBO.com. Check out the interactive map below to find your perfect accommodations in Sligo.