The romanticized Irish road trip feels like something you should do when you visit Ireland, right? You want to wander around the Ring of Kerry. Driving the Wild Atlantic Way up to the Cliffs of Moher, seeing Ireland on your own terms sounds like a great idea.
Making this happen requires you to rent a car in Ireland though. This is unlike most experiences you might have had in Europe renting a car in the past.
Last updated: late 2023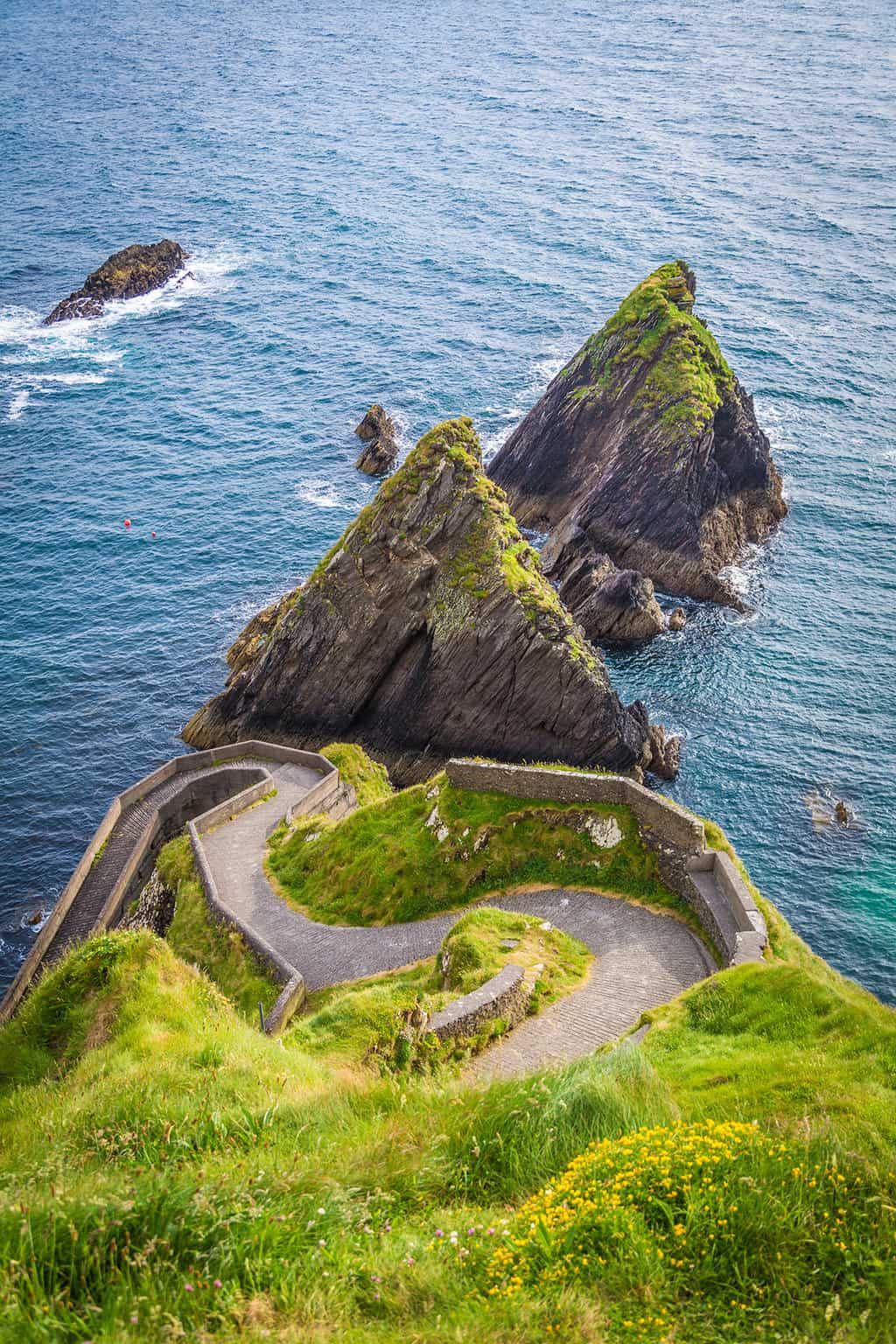 Car Rental in Ireland Can Be Tricky
Renting a car sounds easy enough. Book a rental car online at your favorite rental car company in Ireland and you're done, right? Wrong.
Unlike most European nations, there is so much more to think about when booking a car through a rental company in Ireland, from knowing out if you need a international drivers license, plus a valid driver's license from your home country, to car rental insurance and even the best car rental locations.
Booking A Rental Car In Ireland
This post may contains affiliate links. If you make a purchase after clicking one of those links I will receive a small commission.
If you plan to drive, all trips to Ireland start with the Irish car rental search. First, you visit a site like DiscoverCars.com or Expedia.com to find the cheapest rental cars, and you are given a number of options through a variety of car rental companies, like Hertz, Enterprise, Europcar, Sixt, Avis, AutoEurope, and more.
Next, you have a lot of things to consider before you commit to a car, including whether you actually want to rent a car or drive a car in Ireland.
Irish Rental Car Options to Consider
Manual transmission or automatic transmission
Size of car
Car type (economy, luxury, SUV, etc.)
Pick up and drop off location
Long-term or short-term vehicle rental
Unlimited Miles
Air conditioning
GPS Navigation systems
Baby seats and child seats
Manual Transmission or Automatic Transmission?
If you can drive a stick shift (manual transmission vehicle), book a manual car. I know what you are thinking- how can I shift on the left and sit on the right and drive on the left side of the roda? It's impossible!
Not true. If you are a confident driver, literally the only thing that will change in the car is the side your gear shift is on. The pedals are exactly the same.
Plus, you will still drive on the left, but that has to happen even if you rent an automatic car.
However, the biggest reason to reserve a manual transmission rental car is the price. Manual cars are significantly cheaper to rent across Europe, and Ireland is no exception.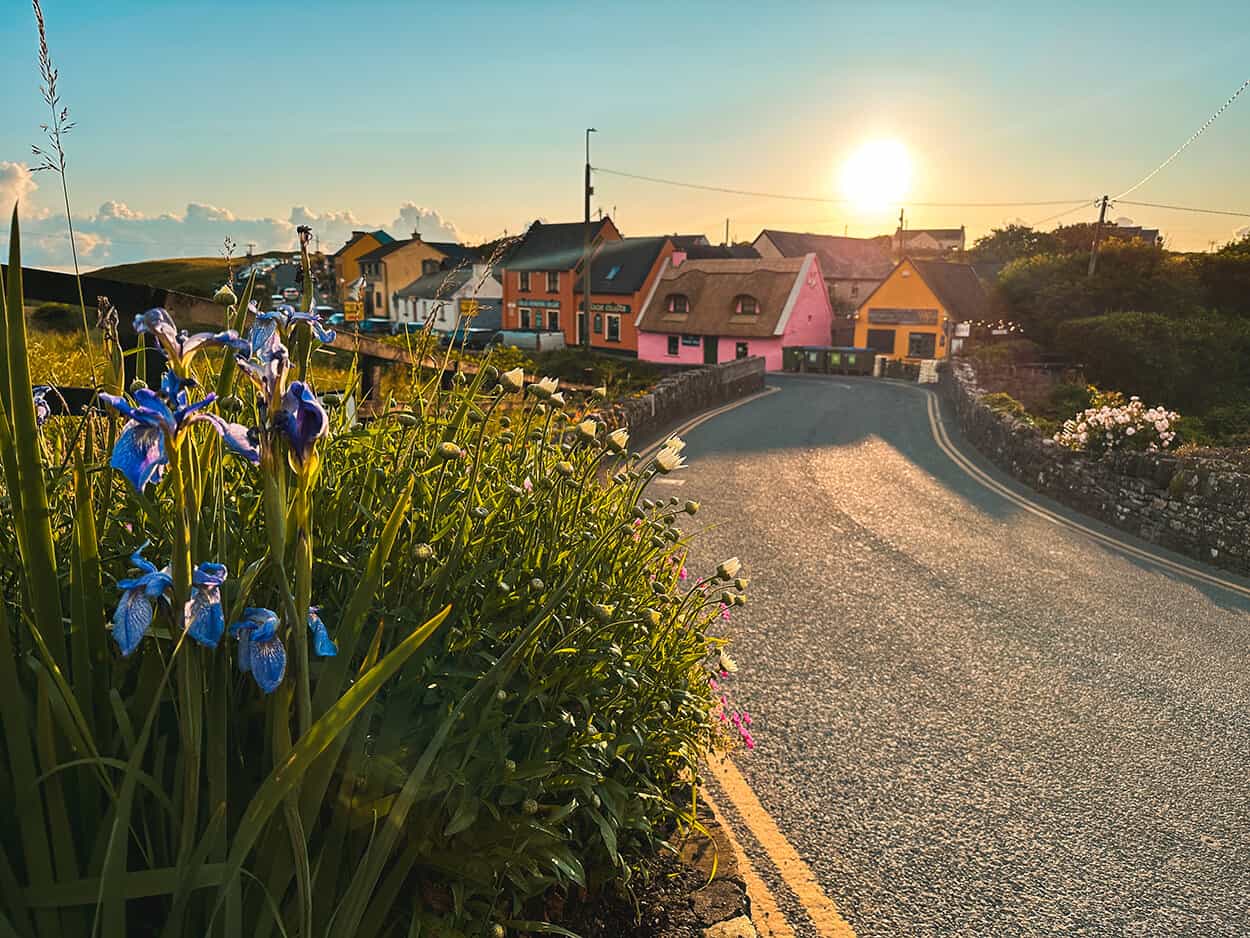 Diesel Fuel or Gasoline?
While many Americans are familiar with gasoline for their cars, a lot of Europe runs on diesel because it is cheaper. Check out the price of fuel before you book a car to save a little money. Most rental cars are diesel, but some are gasoline, especially the smaller cars.
And when you go to the pump, triple check what you are filling your car with gas or diesel. I almost filled my diesel car with gasoline at a teeny tiny gas station somewhere in the middle or Ireland.
Thank goodness the gal at the register ran out to tell me I was using the wrong pump before I started. That would have been a hefty fine from the rental car agency.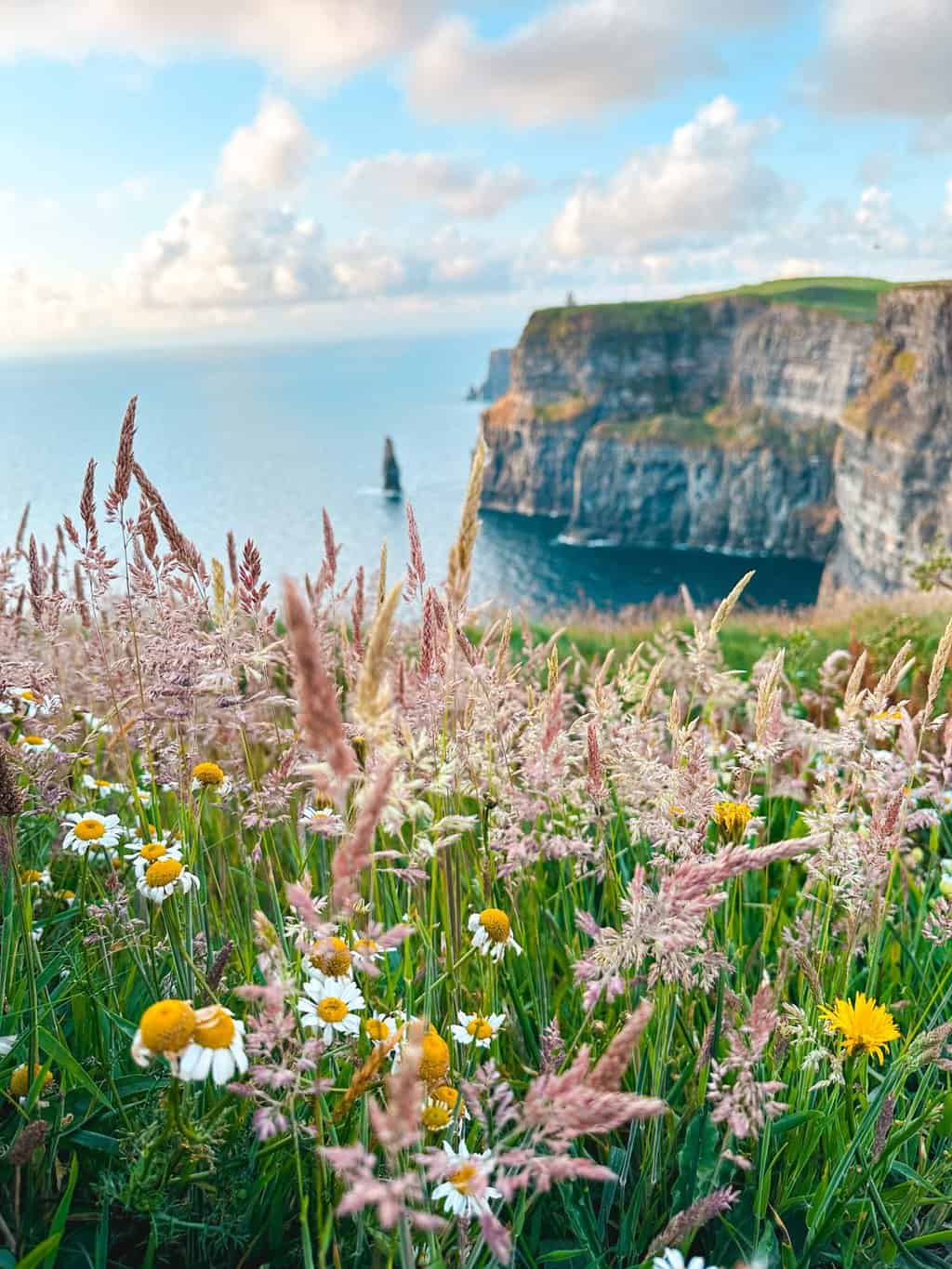 Hybrid Vehicles and Electric Cars in Ireland
On our latest trip to Ireland we were given a hybrid vehicle, which saved us a bundle on fuel costs. This is the first time driving in Europe where it was just given to me (I didn't have to rent it separately), and I have yet to see it as a rental option through most rental car companies.
If you can rent a hybrid, do it. You will save a lot of money. Electric is good too, but until the infrastructure gets a bit better for EV charging, I feel better on those tiny backroads with a little gas in the tank too.
Are there electric charging stations?
While they aren't as prevalent as you might find in California, there are just enough EV Chargers in Ireland to tackle a road trip along the Wild Atlantic Way, as long as you leave enough time to charge. You can download charger apps like ESB Connect, GOcharge, EasyGo and PlugShare to find a charging station near you.
Keep an eye on the electric vehicle and plug-in hybrid situation in Ireland. Saving on fuel could help you travel to Ireland on a budget.
What Size Car and Type of Car Do You Rent In Ireland
This is a very important question to ask before you even book your rental car in Ireland. The size of the roads in Ireland are small, especially those tiny (gorgeous) ones you want to take across the Emerald Isle. There aren't really any wide boulevards like you will find in the U.S. or even Paris. The highways are "normal" size, but to truly do an Ireland road trip, you will want to hit those back roads as soon as possible.
How big of a car should you rent in Ireland?
While you will want a car large enough to hold your luggage, you need to remember that you aren't on three-lane highyways. As you drive around the Ring of Kerry you will be passing tour buses, larger cars, and even jaunty carts.
I was in a standard car (4-doors with a trunk) and I barely squeaked by some cars without having to pull in the side mirrors or pull off the side of the road to squeak past.
In Ireland, bigger is not better when you are on a self-drive road trip around Ireland. Rent the smallest car you can safety fit into so you are comfortable driving on the roads.
You may have to throw a suitcase between the kids and backpacks on the floor, but it's ok because you are in Ireland. You will be outside of the car exploring in no time.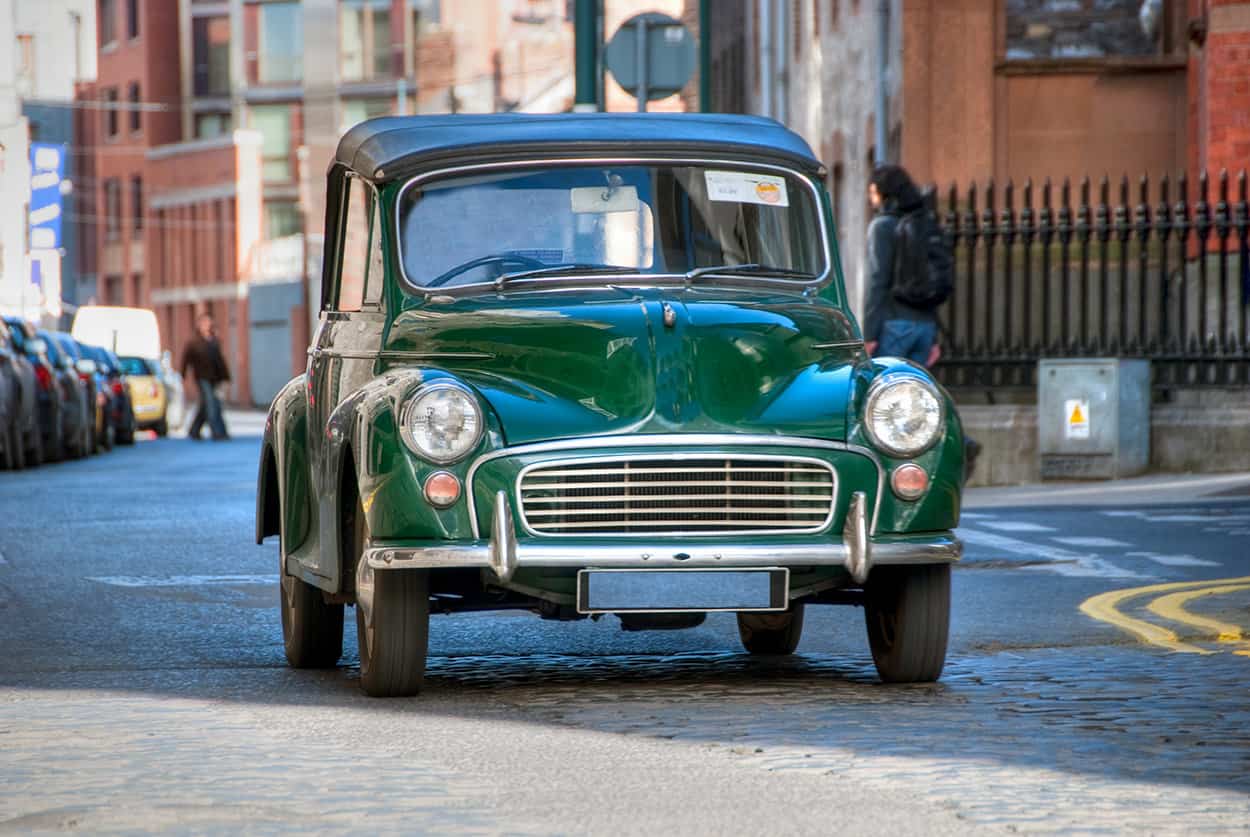 Pick-up locations for your Ireland rental car
While the majority of people fly into Dublin or Shannon, you may want to book a car hire for part of your trip (someone else drives you), and then pick up a car in Cork, Doolen, Donegal, Galway or even up in Belfast.
Drop-Off Location
If you are driving all over Ireland and don't want to have to worry about getting back to the same airport you flew out of, think about which pick up location and drop off location you want to use before you book. Also make sure your Ireland car rental company allows you to pick up and drop off in different locations. Remember- Belfast and the Causeway Coastal Route are in Northern Ireland. There is usually a supplemental fee to bring a rental car across borders.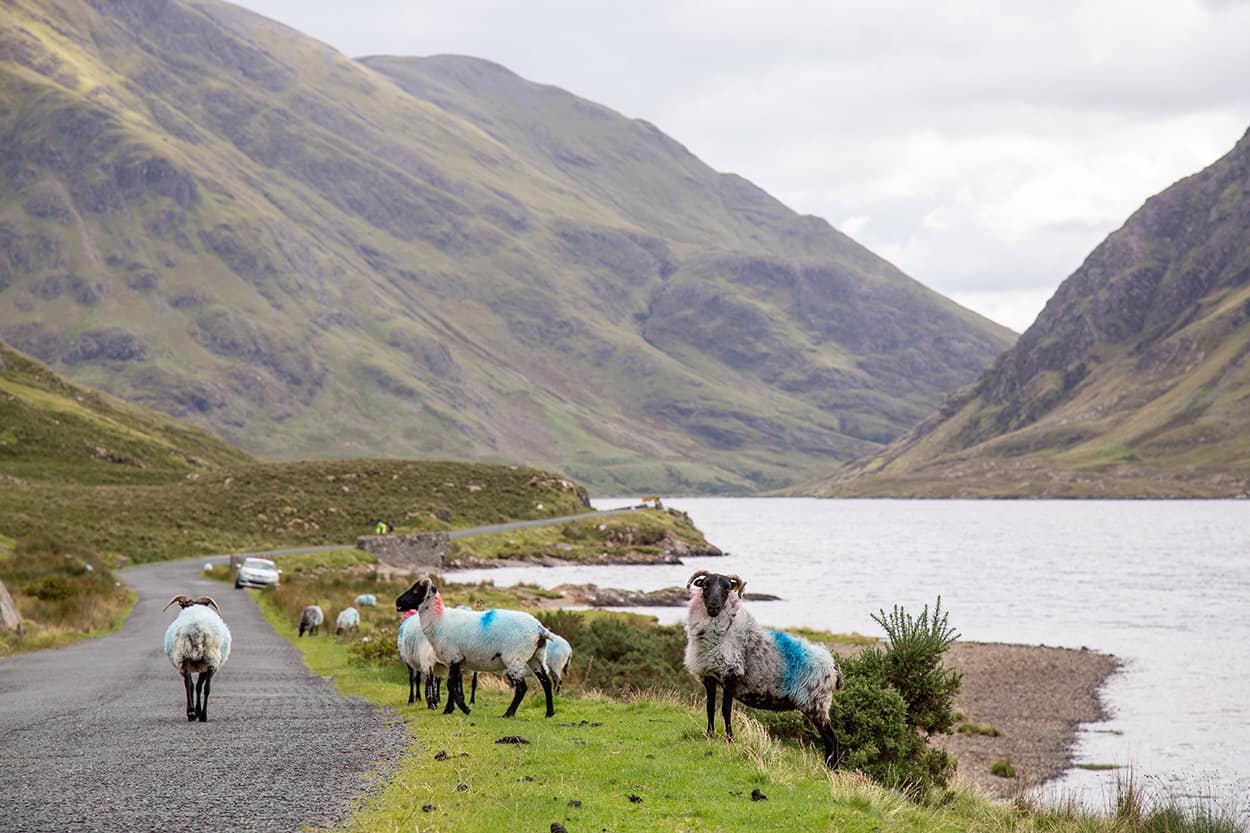 Unlimited Miles
If you aren't given unlimited mileage on your rental car, look elsewhere. There is no reason to ever book a limited mileage car when so many rental providers include it in your agreement at no extra cost.
Air-Conditioning in a Rental Car
It's weird that air-conditioning is a filter when you are looking for a rental car. I thought it was standard in all newer cars, but who knows.
When you are in Ireland, even in the summer months, you usually don't have to worry about air conditioning. The windows will provide more than enough cool air.
If anything, you will want to make sure you have heat in the car. It can get chilly when it rains, as well as in the autumn, winter and spring months.
Car Rental Price
Long-term Rental or Short-term rental
A general rule of thumb is the longer you rent a car the lower the per-day price becomes. This isn't always true, but if you won't you want to be in Ireland on a 10-Day Wild Atlantic Way Itinerary, you will want to book your car for 10-14 days. However, if you are hiring a driver in Ireland for part of your trip and only want a car for a few days, only book the days you will actually use the car.
Whenever we go to Ireland, we normally fly into Ireland. We may stay a few days in Dublin at the beginning or end of our trip, but before we explore the city we will drop off our car (or pick it up on the day we plan on leaving town).
Unless there is a HUGE price difference adding more days, generally you will save more money doing a short-term rental instead of paying to park your rental car for a few days in the city while you aren't using it.
Check for the best rental car prices on DiscoverCars.com
Adding an Additional Driver
Even if it is your spouse, you will have to pay an added fee to add a secondary driver on your car… and they must be at least 25 years of age (unless your rental agency allows 21 and up rentals, which is rare).
Do this in advance to save a little cash and time at pick up. The second driver much be with you and have a valid driver's license with them as well.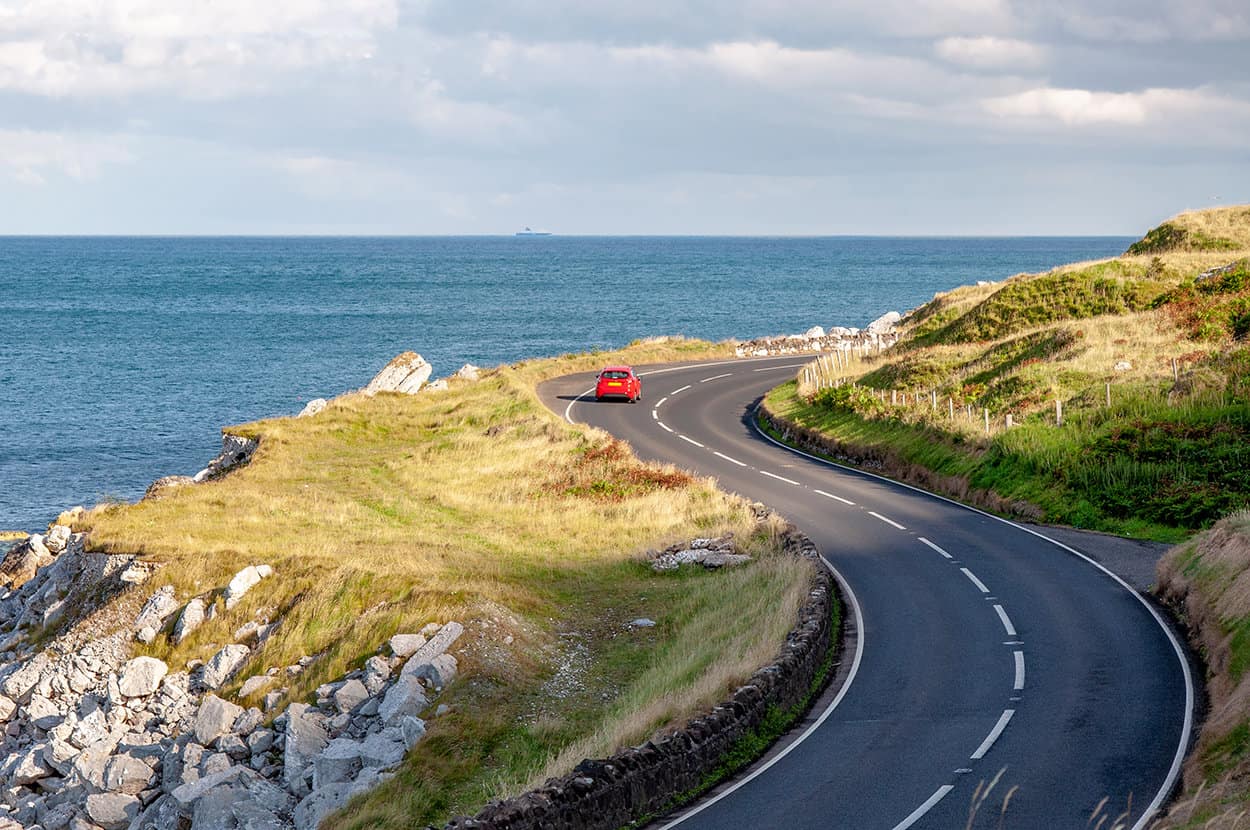 ​Do I need an international driver's permit?
Maybe. If you have a driver's license in English, you are probably OK. Many rental car websites will advice that you have an international driver's license on you at all times, but I have yet to be asked for my permit when I pick up our Irish rental car. My home driver's license works just fine.
If your driver's license is NOT in English, you definitely need an International Driver's Permits, which is a translation on your license. In the United States, we get these at our local AAA office. Check with your hoe country to see where you can obtain an international driver's license for travel.
Should I get a GPS to drive in Ireland?
We all love our Google Maps, and Google certainly works in Ireland, however, you may use up all of your data just trying to drive the Wild Atlantic Way.
Most rental car agencies in Ireland can rent you a GPS for the car at an additional price. These can be pricey though. This is the best way to limit your data usage, unless you want to get an eSIM card for your phone.
We always grab SIM cards from this online shop, which has some of the best options for international travel. Don't worry if you do have to use Google Maps on your phone though. You can download maps, and in reality, Google Maps uses very little data compared to all of the social media apps you are running.
Do I need a car seat for my baby or toddler in Ireland?
The short and very legal answer is YES. Just like in the United States, you will need to have an age appropriate car seat or child restraint for your kids up to 12 years old or 150cm when driving in Ireland (as well as many other European countries. In the UK, which is not part of the Republic of Ireland, kids can stop riding in a booster seat at 135cm).
Ireland Child Car Seat Laws
According to the Road Safety Authority (RSA), an Ireland government agency, all car seats and boosters must "conforms to the UN standard, ECE Regulation 44-03, or a later version of the standard, 44.04, or new i-Size (Regulation 129Open in new browser tab). Always look for the E mark to ensure your child car seat meets these standards"
This can be confusing for parents coming from abroad, especially those with a car seat approved by the United States Department of Transportation (NHTSA). So, that car seat you want to bring from home that is certified FMVSS by the U.S. government might not be certified in Ireland.
Check your car seat to make sure all regulations are met before you bring a car seat on the plane or gate check your car seat.
But don't fret parents- if its between bringing your own car seat and not having a car seat at all, or not bringing your car seat and having to rent one from the Ireland car rental agency, you should just bring your car seat from home. You will be more comfortable getting it in and out of your rental car and you will know your baby is protected. You will also know what your own car seat has been through.
Rental car agency car seats are notoriously bad; many of the car seats have been in accidents, left in the lost and found, and/or installed improperly, and not being current on the latest safety standards.
The best news is that Ireland rental cars will have solid seatbelts and even those metal clippy things in the seats that will secure no matter what car seat or booster you use. Your kid will be safe, but you do need to plan ahead.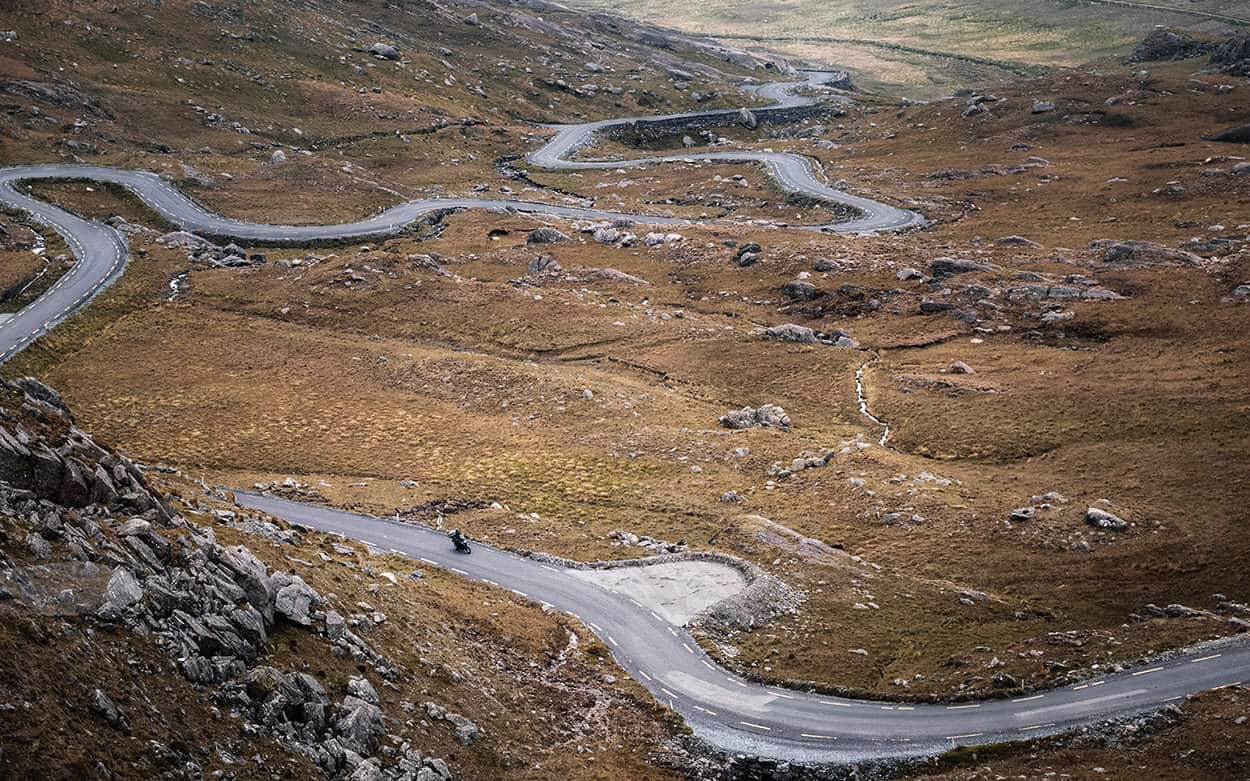 What You Need to Know About Rental Car Agreements
Ok, so youf ound the car you think you want, grab the best price and start clicking through pages of agreements. Read those agreements very carefully. Additional fees and car insurance rules are in there.
The fine print is worth reading when you rent a car in Ireland.
Read the FAQs for the company you are getting your rental car, check for surcharges, make sure you are paying in USD (or your preferred currency) when you look at the price, and read rental car reviews to make sure extras aren't being added on at the pick up desk.
More Rental Agreement Questions
Do they accept debit card payments or only credit cards?
Are there any cancellation fees or a date you have to cancel by for a full refund?
How much does it cost to add additional drivers?
Do you need an international driving permit?
What happens if you break down on the motorways in Ireland?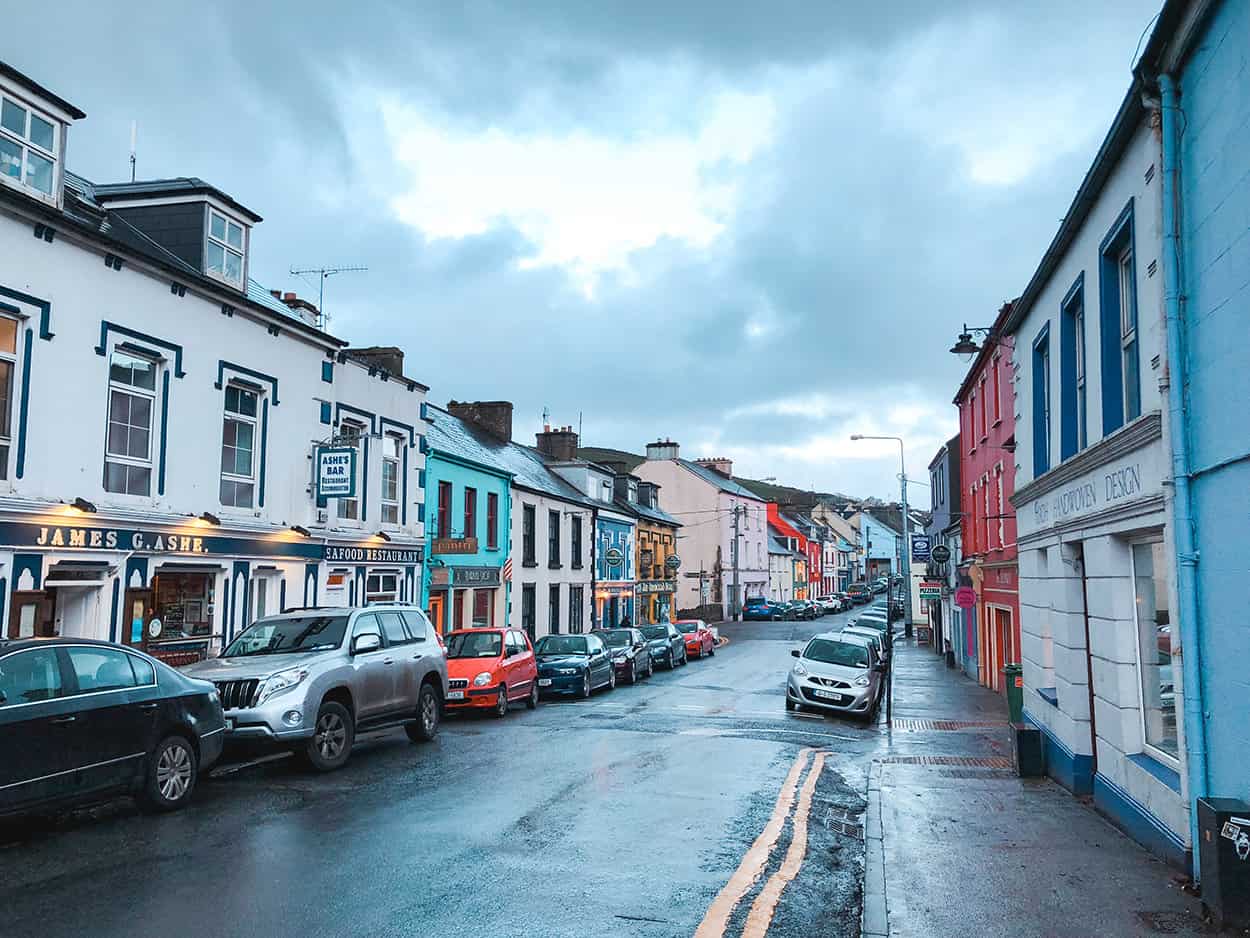 Rental Car Insurance When Renting A Car In Ireland
Mandatory Collision Damage Waiver (CDW) Insurance
Yes, buy the extra insurance when renting a car in Ireland. In fact, you have to have it. No rental car company in Ireland will let you take a car without additional coverage, usually requiring full coverage with a collision damage waiver (CDW).
Rental Car Insurance through Your Credit Card
Call your credit card company. Chances are, they will not cover your rental in Ireland. Your personal auto insurance won't either, but you can check.
The Republic of Ireland is one of the few countries in the world that most credit cards and personal auto companies just won't cover. Your travel insurance may not cover you either.
Rental Car Insurance at the Airport
Do not wait until you get to the Dublin airport or Shannon Airport to buy insurance. This could cost you up to an additional 700 dollars (US) or more.
3rd Party Rental Car Insurance
If you are booking through companies like DiscoverCars.com or Expedia.com, you can buy additional insurance through a 3rd party vendor.
However, call the insurance company BEFORE you buy the added insurance to make sure they cover the Republic of Ireland. Not all insurance being offered will cover you in Ireland.
Triple Check Your Rental Car Coverage
I bought insurance through an Irish rental car company and still had to called them when I arrived at the rental car counter in Dublin so that the rental car agency could confirm that I was fully covered. It never occurred to me that a company would sell me a policy that wouldn't work in the destination I visiting.
If you find yourself in this situation, make sure to ask the insurance company or the rental car agency that sold it to you for a full refund.
Rules of driving in Ireland
Read our full guide on How to Drive in Ireland
Every country has its own quirks when it comes to the rules of the road. Renting a car in Ireland and driving down the highways and local village roads is no different.
To confuse you even more, Northern Ireland has its own set of rules too.
Wear your seatbelt. It's the law.
All children under the age of 12 years old or 150cm must be in a car seat or booster seat (child restraint device).
Drive on the left.
Mind the speed limit! Very few people speed in Ireland.
The left lane is the "slow lane" on the highway (pass on the right).
There are roundabouts on the highways that you use to exit. Some major highways to have the turn off exits we are used to in the United States, but the smaller motorways that are still considered highways may only have a round about for you to go in the direction you want to drive.
Tour buses get the right of way. Always. If it is bigger than you, figure out how to pull over safely and just stay put until you can pass.
Drive during the day; it's dark out there!
A tight white dashed line means it is a two way traffic street.
Sheep have the right of way… especially when they are blocking the road. Have patience.
Traffic cameras are everywhere. If your GPS or Google Maps tells you one is coming up, do not ignore it.
Toll roads do exist. Have small change on hand whenever possible, but when all else fails you can use a credit card or the rental car will charge the toll back to your card as part of your rental. It's not a big deal.
Don't want to get a rental car?
You can easily book day trips from Dublin to see most of the highlights across the country. And heck, you may even meet a few friends. While we love a good road trip, sometimes you are short on time and a day tour is your best option to get the most out of your trip.
Here are a few top-rated day tours that can get you to the best things to do in Ireland.
Pin it and Start Planning Your Ireland Trip!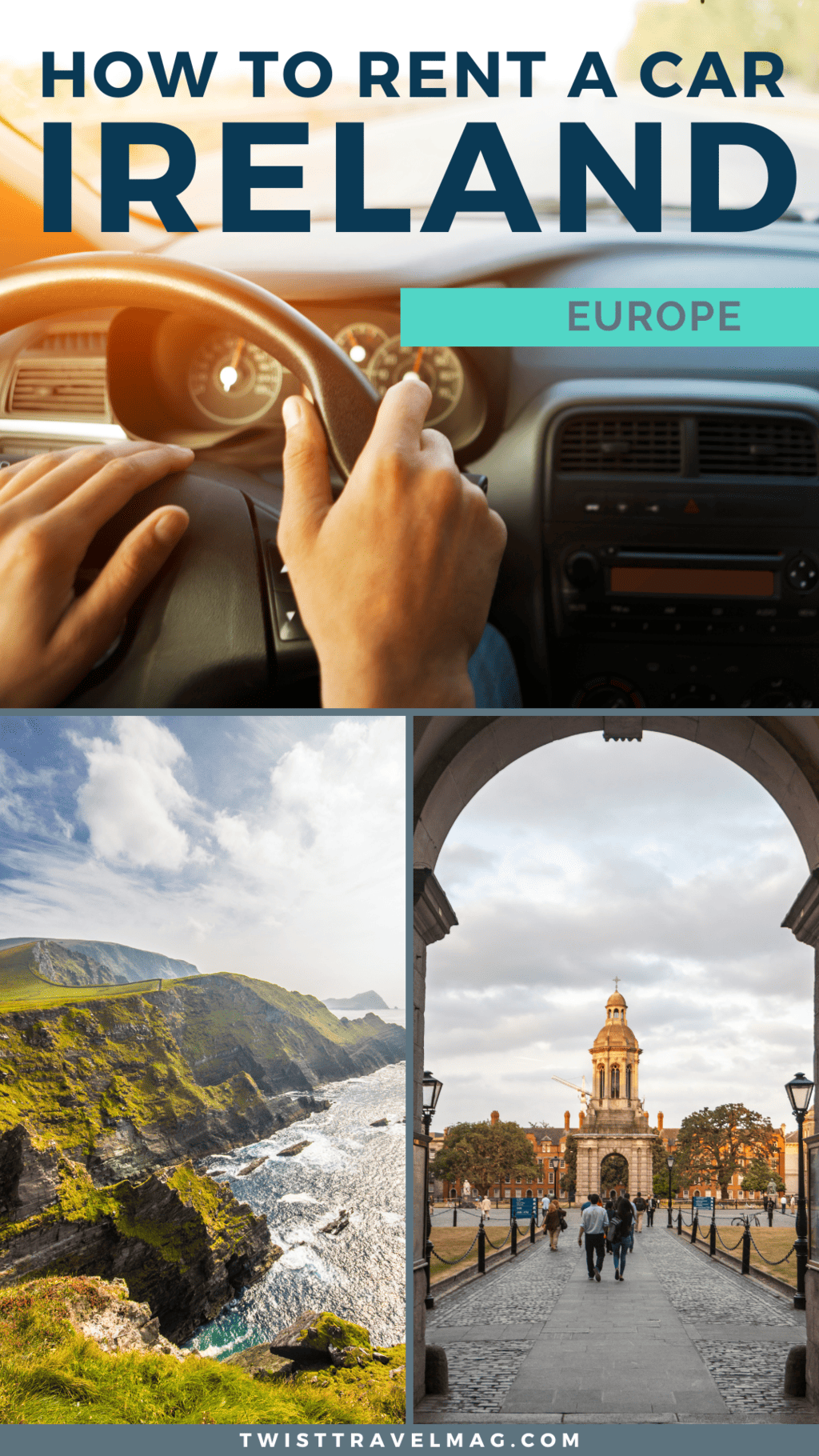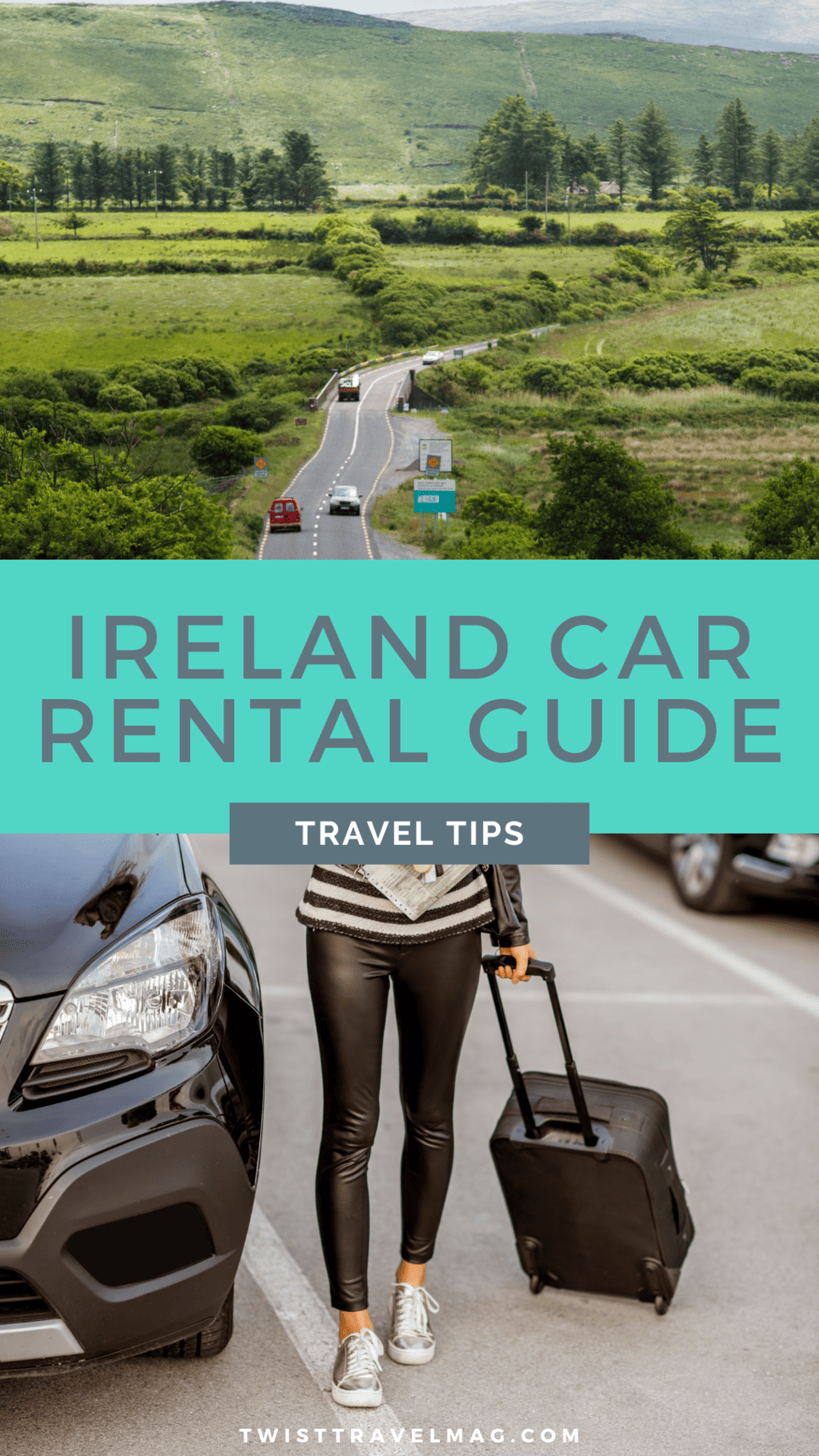 Frequently Asked Questions (FAQ) about Car Rental in Ireland
Do I need an international driver's license to rent a car in Ireland?
This is a confusing one. Some sources will tell you no; others say you need it. While I never have been asked to show an International Driver's License (IDP) when I pick up a rental car (and I have yet to be pulled over by the local police), I still usually have my United States driver's license, which is in English, and an International drivers permit on hand.
What is the minimum age for renting a car in Ireland?
The minimum age to rent a car in Ireland is typically 21 years old. However, some rental companies may require you to be at least 25 years old for certain vehicle categories, and young driver fees may apply for those under 25.
Do I have to pay extra for an additional driver?
Yes, you will need to pay a daily fee for any additional drivers of an Ireland car hire.
Are there any specific requirements for renting a car in Ireland?
Yes, you'll usually need a valid credit card in the primary driver's name, a driver's license, and a passport for identification. Make sure you triple check what kind of car insurance coverage you need.
What side of the road do they drive on in Ireland?
In Ireland, you drive on the left-hand side of the road, and the steering wheel is on the right side of the car. It can be challenging to get used to, but follow the flow of traffic, especially around roundabouts, which Ireland is VERY fond of.
Is it necessary to purchase additional insurance when renting a car in Ireland?
Yes, you must have (collision damage waiver) CDW insurance on any Irish car rentals.
Are tolls common in Ireland, and how do I pay for them?
Yes, there are tolls on some Irish roads, particularly around Dublin and on major motorways. Tolls can be paid in cash or electronically using the eToll system. Some rental cars come equipped with an eToll tag, but you can also pay online within 48 hours of passing a toll booth.
Many of the toll booths also accept credit card, so bring your credit cards with a TAP function to speed through.
What about parking in Ireland's cities and towns?
Parking can be challenging in city centers. Look for designated parking lots or garages, and always check the parking regulations as they can vary by location. Pay attention to "Pay and Display" areas where you need to buy a parking ticket. You will get a ticket in minutes if you aren't parked in the correct spot.
Ask your hotel if they offer any parking discounts with a stay.
Can I pick up my rental car at one location and drop it off at another in Ireland?
Yes, many rental companies offer one-way rentals between different cities and airports, but this may incur an additional fee. Be sure to confirm this with the rental agency at the time of booking.
How do I navigate in Ireland?
GPS navigation systems are widely available with rental cars. You can also use smartphone apps like Google Maps or Waze, but ensure you have a reliable data plan or Wi-Fi connection.
What's the best time to rent a car and explore Ireland?
The best time to visit Ireland and rent a car depends on your preferences. Summer (June to August) offers pleasant weather, while spring (April to May) and autumn (September to October) are less crowded. Be prepared for rain year-round.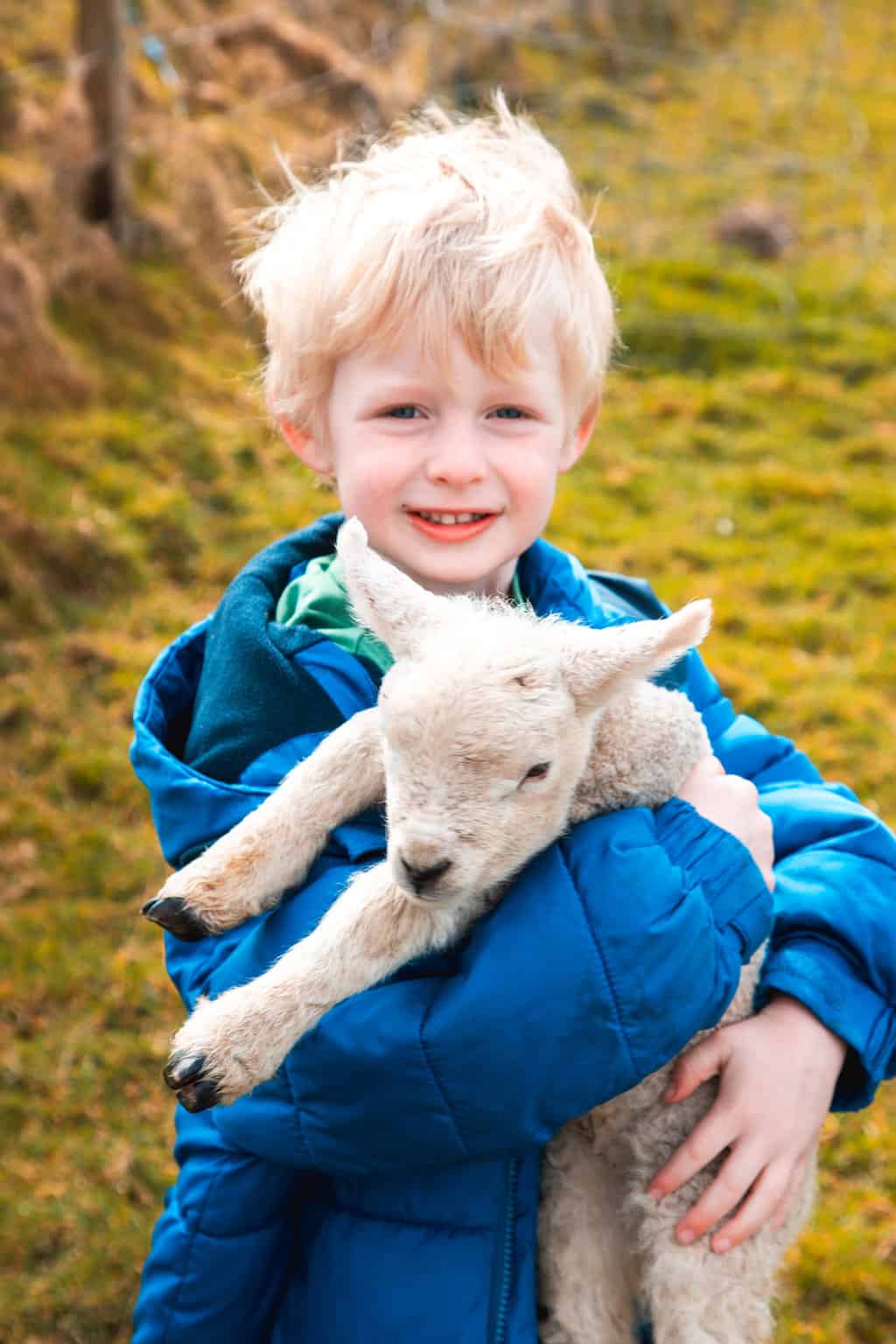 Planning a Trip to Ireland? Use Our Ireland Vacation Planning Guide to Get Started!
FLYING TO IRELAND?
Looking for the best flights to Greece? We love to track flights via Expedia.com. Not only do we find great rates, but we earn points to use on future travel too.
You can also keep an eye on GOING deals, which is how we got to Ireland roundtrip from LAX for under $500 and LAX to Guatemala City for under $200. The free version is good, but the paid subscription will save you way more than the cost per year.
NEED A RENTAL CAR?
We use DiscoverCars.com to get the best rates and availability on rental cars. Find your car HERE, along with all of the extras you may need (insurance, car seats, ski racks, etc.)
VACATION PHOTOS
Don't forget to book your Flytographer session to capture awesome memories from your trip. We do it as often as we can, even though I'm a photographer. Sometimes, this mom just wants to be in a few photos with her kiddos.
TRAVEL INSURANCE
Do NOT forget to buy travel insurance for your cruise, even if you booked through a travel agent. Things do and will happen and it's cheaper to buy travel insurance ahead of time instead of paying out of pocket later.
Check out Travelex for rates on a single trip or an annual plan that could be right for you if you take more than one or two trips a year.
DON'T FORGET YOUR ESIM CARD!
We all love our smartphones, but we don't love those international roaming charges. Even if you have a travel pass, you could max out your service, which is why we always grab an eSIM card to pop into our phones. It's especially great for the kids, as it limits what they can do and how much data they can use, but still allows them to text friends back home.
Check out Airalo, our preferred eSIM card store for the best prices on eSIM cards and international data plans.