Packing has never been one of my strong suits. I have a huge aversion to packing lists. My mother handed lists to my sister and I when we were little– maybe that's why I shied away from making an Ireland packing list at first for my own family.
Making a packing list for Ireland when planning a trip was painful, but necessary.
We had family flying in at different times into Dublin. My husband would meet up with us in Shannon a week after we arrived. He needed to know what to put in his suitcase before heading off to the Emerald Isle.
You know, because he had to bring all of the stuff I didn't want to carry.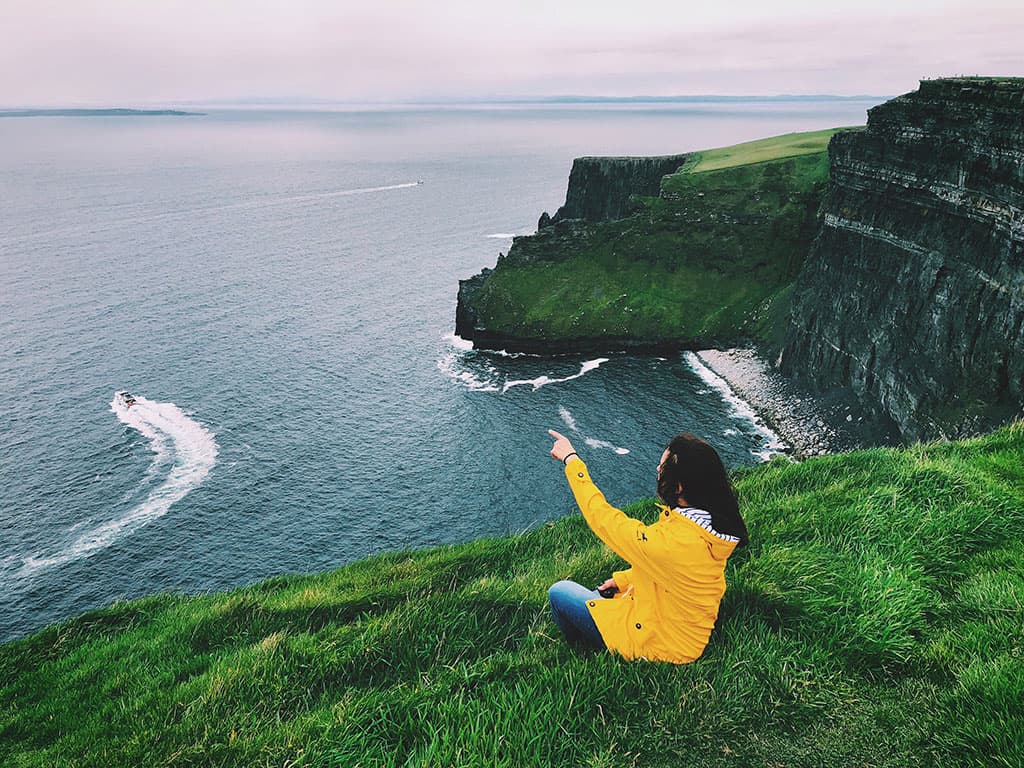 Ultimate Ireland Packing list
But truth be told, I always have our family packing list in my head. I travel so much that I always know what needs to go in our bags, even when packing for Ireland, to stay dry, hydrated and even stay warm in that blustery wind that can sweep across the cliffs in spring.
I have my boys packing down to a science, bringing as little as possible and assuming I'll wash a few pairs of socks and underwear along the way.
Where I typically run into overpacking is with my own clothing and toiletries.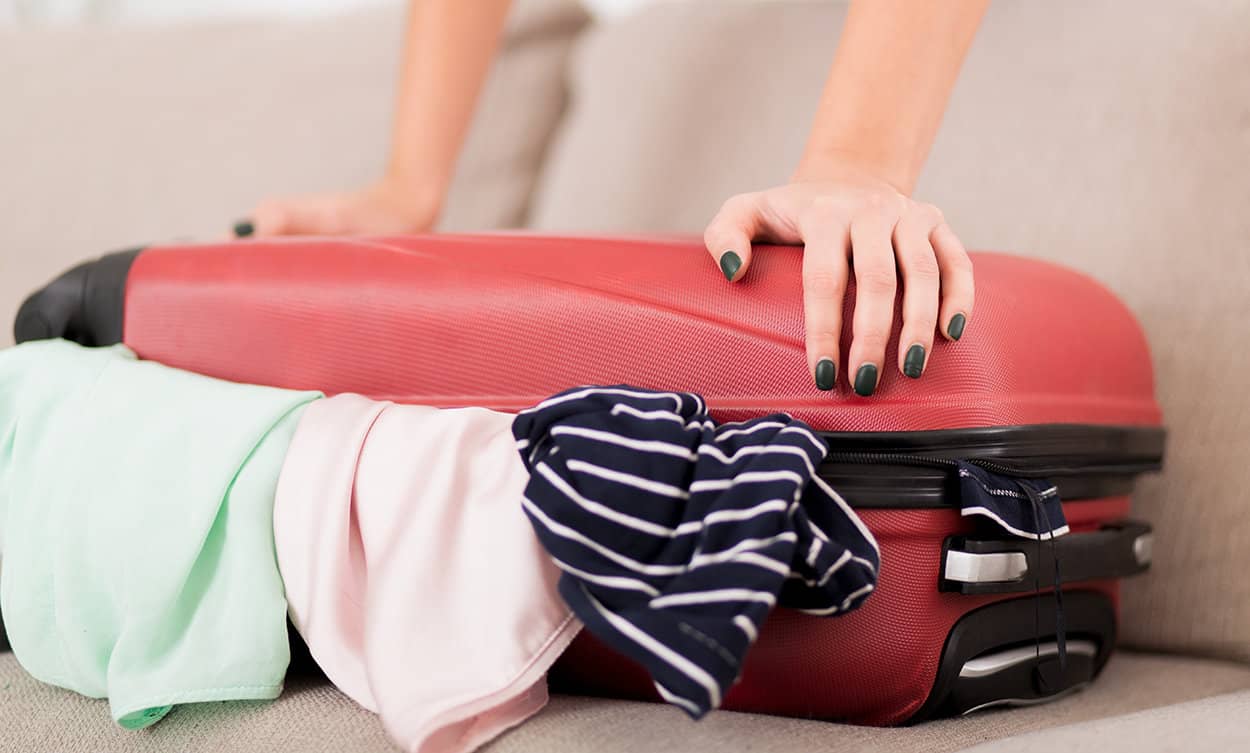 A Warning about Overpacking
Naturally, I want to look cute when I pack for a trip to Ireland. Raincoats (windproof, water-resistant and waterproof jackets are good too), warm coats, waterproof boots, a travel umbrella, light layers, clean underwear and just the right accessories seemed so important before we left.
I mean, I needed my epic photo at the Cliffs of Moher, right?
Want to know something. None of it mattered. Yes, the outer layers were important (undergarments too). My hiking shoes and jackets were essential.
The rest?
I ended up doing laundry halfway through our two week trip and could have packed half as much since you rarely ever saw what I was wearing underneath my coat in photos.
Lesson learned.
So, now onto the good stuff.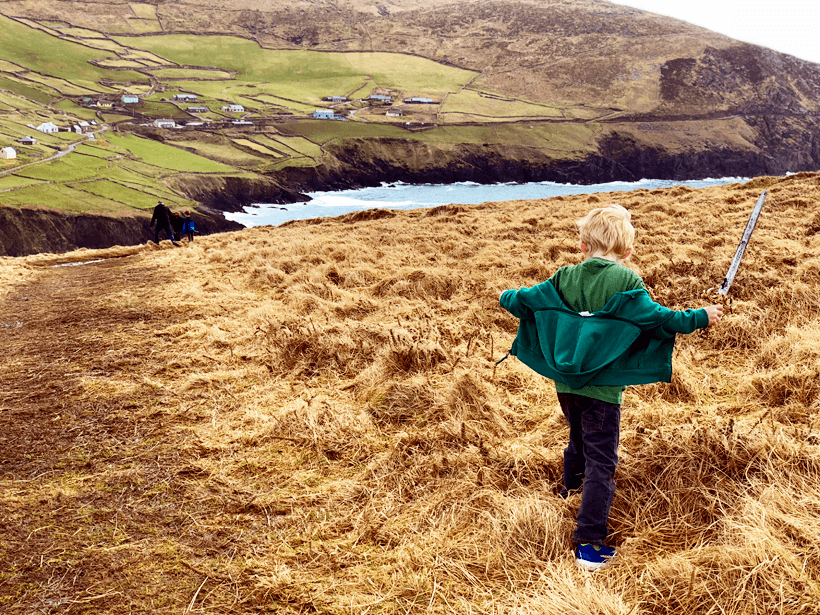 What Month to Visit Ireland
There really is no best time of the year to visit Ireland. Every month has its pros and cons. Summer is when you will see the least amount of rain though, and warmer temperatures.
Winters see temperatures in the mid-high 40s (fahrenheit), while summers stay in the upper 60s during the day. It can be warmer inland where you don't have the winds coming off the coast, but the temperature difference isn't too extreme.
However, the month you visit Ireland is actually very important when it comes to packing tips. Like Scotland, a lot throughout the year, but the summer months (particularly June and down by the coast) may see less rain than winter (December and January can be the worst). Oddly enough, April is one of the driest months in Ireland, which for those of us in the United States is odd, since "April showers bring May flowers."
It's important to note that the Irish weather is a fickle beast though. It may rain in the morning and be sunny the rest of the day, or you could wake up to sun and have clouds by noon.
Layering is essential, as you could feel four seasons all in one day. It can be a big surprise to wake up to rain in Cork and have sun as you road trip around the Ring of Kerry later in the day.
Walking shoes, not flip flops are recommended, even for summer sightseeing excursions. One muddy patch and you could be seeing the Cliffs of Mohor from an angle you really don't want to experience… falling as you head towards the ocean below.
Doing Laundry in Ireland
It was surprisingly easy to do laundry while in Ireland. Most B&Bs, hotels and lodges can point you in the direction of the local launderette.
There are so many backpackers, musical and art festivals throughout Ireland that the locals are used to travelers.
They know that people need to do their laundry, so the larger towns and definitely the cities have laundry facilities available. All you have to do is ask where to bring your dirty clothing.
Travel tips when visiting an Irish Laundry Service
Many places are not self-services; you simply drop off a bag of laundry and pick it up a few hours later. It will be washed, dried and folded for you.
We did laundry in Clifden, Ireland about a week and a half into our trip. One large (and I mean very large) load was thrown all into one washing machine and cost me 10 Euro. I was so excited for clean clothes I gave them another massive bag.
Everything took three hours to be ready for pick up.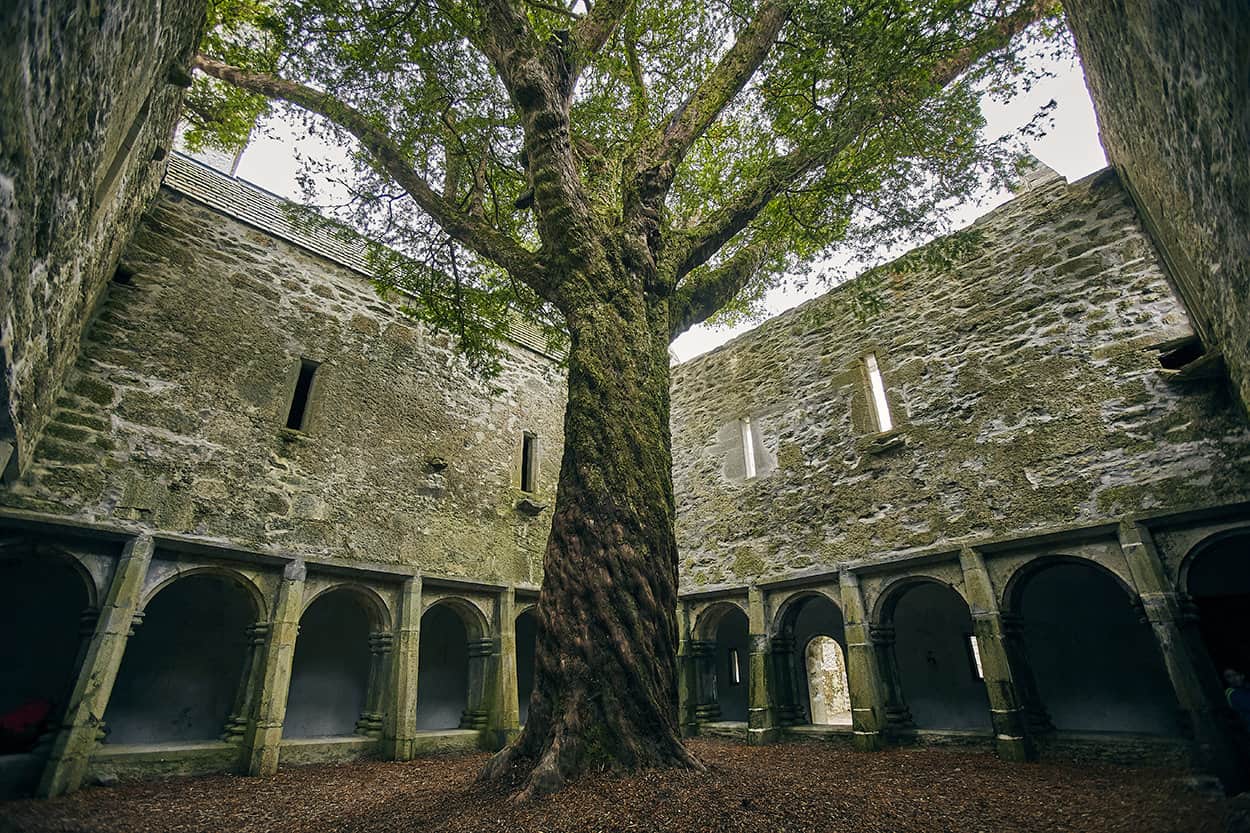 Travel to Ireland is Unique
The bottom line is this, the climate and terrain of Ireland is unique and therefore it requires a packing list to match. To fit some of the larger items (umbrellas, rain and hiking boots) plan to do laundry along the way. And please do yourself a favor and pack comfy waterproof shoes.
This post may contain affiliate links. If you make a purchase after clicking one of those Amazon links for travel gear or travel guides, I will receive a small commission at no added cost to you.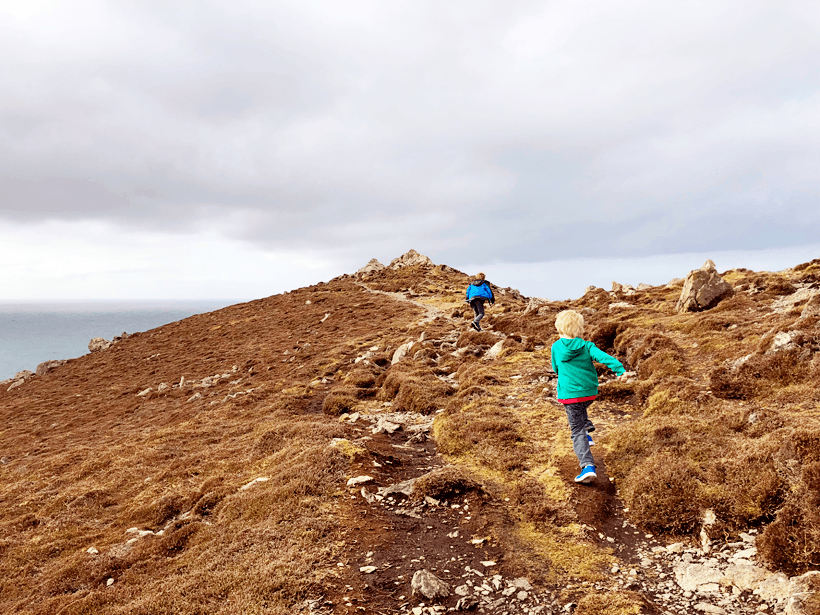 Why You Need to Pack Bright Colors
Ireland is very green, especially in the summer months. The rest of the year, it can also be varying shades of brown, red and yellow… plus green. The key to packing is to bring your bright clothing (this includes all rain gear).
Pack your vibrant blues, yellows, oranges and reds in those packing cubes. White also stands out in this deeply saturated landscape.
If you want to take photos and be in them, be mindful of what you are wearing. If you only pack black, gray, brown, and even most muted greens, you will blend into the background.
Have a little fun and brighten up your normal drab colors when you go away on holiday. Even if you only throw on a colorful scarf, you will be grateful that you did.
Gear
Before we get into our women's packing list for Ireland, along with what men and children should pack, let's get some of the basics out of the way that can apply to everyone.
Luggage
If you aren't backpacking through Ireland, then a roller bag (medium size for checked bags- like this) will do just fine for your luggage needs.
Keep in mind that cars tend to be smaller in Ireland, or at least you should rent a smaller car in Ireland because of the narrow roads. If you can fit everything into a carry-on suitcase like this one, you should be able to fit a family of four into a car with all of your luggage.
We generally stick to a carry-on spinner bag (using compression packing cubes) and a backpack for all of our travels. I may have a sling bag (no! It's not a fanny pack), like this one, for accessing passports and travel docs quickly, but it can always fit in my personal item on the plane.
TIP: get a suitcase in a bright color so that yours stands out from the crowds on the luggage belt. It's also easier to find your travel companions in an airport if you are wheeling a bright orange, neon yellow or hot pink bag.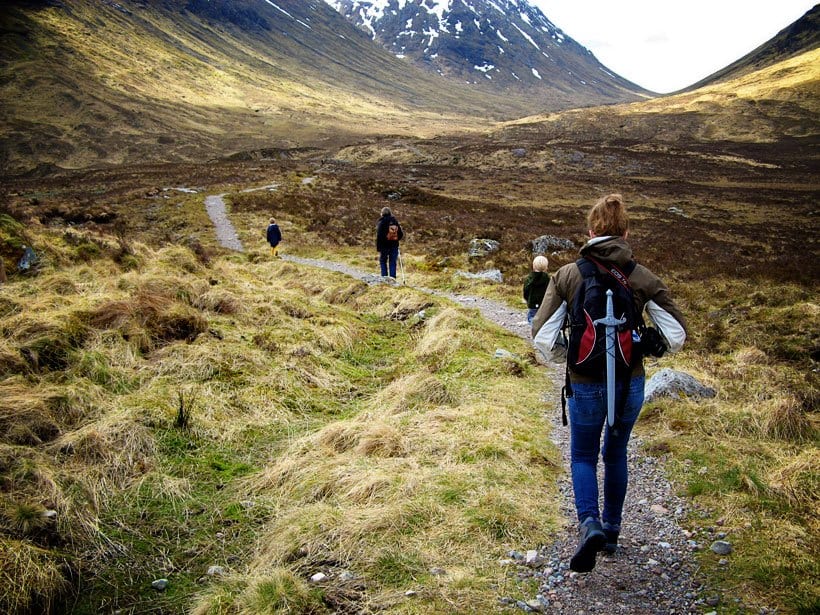 Daypack
All of my gear needs to pull double duty, so our daypack is also our travel backpack for the plane. It fits under the seat and is ready to go on hikes and day trips with us wherever we may wander.
If you want a lightweight daypack that can pack down into a tiny pouch, then this is the daypack for you.
For anyone who requires lightweight, but also a wet pocket for swimsuits, etc. this hiking backpack is perfect and comes in different colors for the whole family. My kids even use it for surf camp.
Camera geeks who need lots of space for gear, should grab this Cabin MAX backpack that can safely go under your seat but also has padded straps for hiking around without the straps digging into your shoulders.
And of course, Osprey is the gold standard in daypacks for any type of adventure you may have in mind when you are traveling in Ireland. They have fun patterns like this as well as solid colors, so no one has to fight over whose backpack is whose.
Wind-Proof Umbrella
While we all own a good umbrella, we have also all had umbrellas break. Ireland is no stranger to rain or wind, which is why I only bring windproof umbrellas with us. It's not a guarantee that the umbrella won't break on our trip, but at least there is a bit more protection from the elements and a destroyed umbrella going straight into the trash on the second day of our trip.
REPEL is known as one of the best wind-proof, compact umbrellas and it comes in some fun colors like yellow and rainbow, which will stand out in the Ireland hills.
A bit more pricey, but claims to be able ot resist winds up to 45mph is the Weatherman, which also comes in fun colors like neon pink and teal.
If you want super compact and cheaper than it's competitors, you can pick up the Goothdurs mini-umbrella, which is windproof and comes in some very fun patterns like pink daisy and sakura.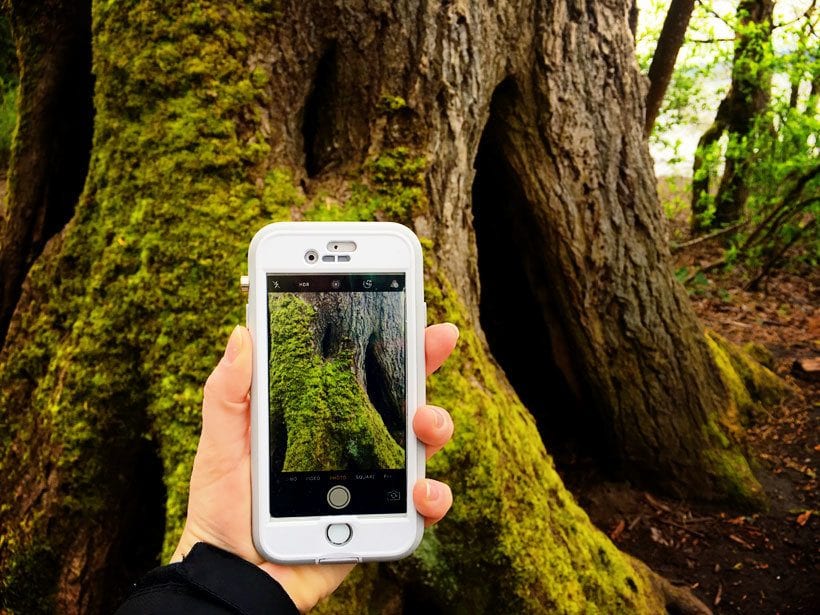 Tech Packing List
While I hope you pack your camera, there are a few essential items you will need to keep your laptop, phone and any other electronics charged while you wander across Killarney National Park, check out the Star Wars sights on the Dingle Peninsula, or sip a pint of Guinness in Dublin while checking boxes off of your Ireland itinerary.
Most of these items can (and should) be packed in your carry-on bag.
Adapter for UK and Ireland outlets (do not assume your hotel, Airbnb or vacation rental will have them!)
Power converter (if you are carry big electronics)
Memory cards
Camera battery charger
Phone charger for each phone (four people = four chargers)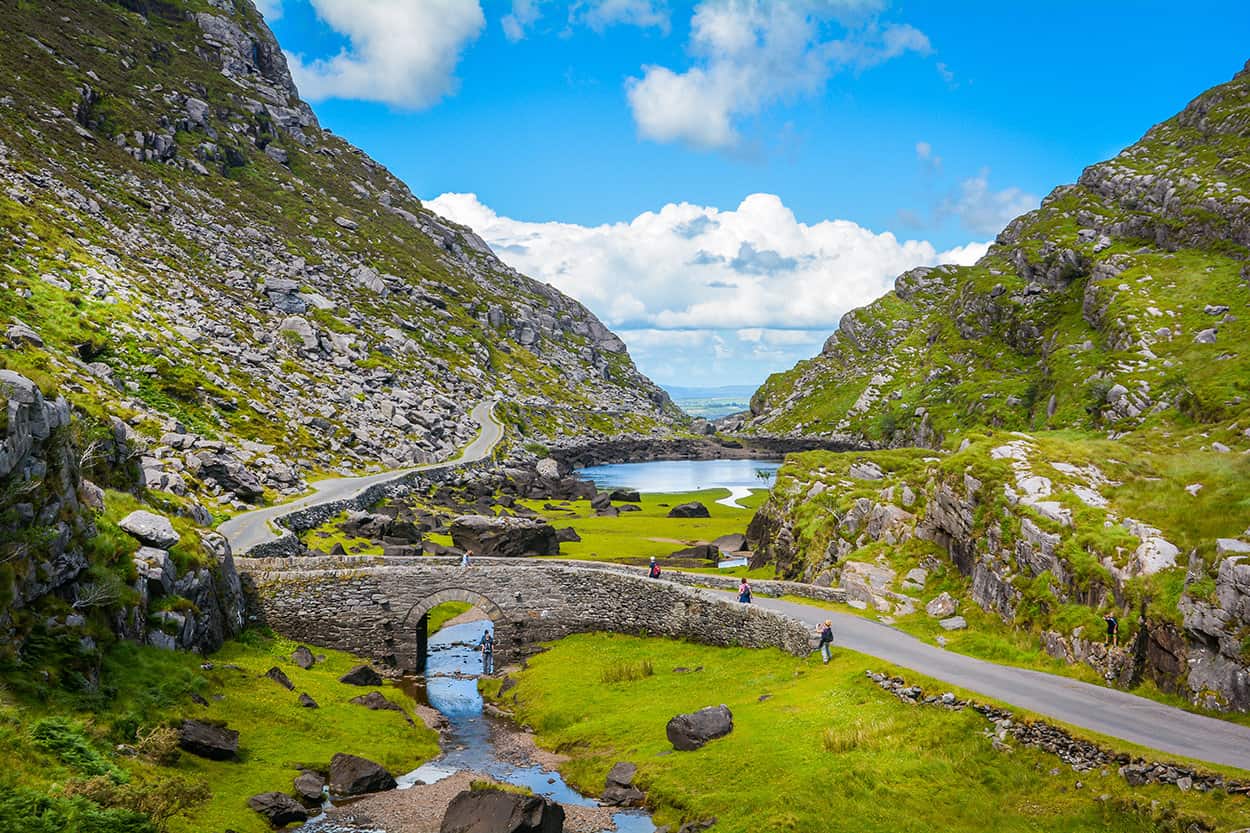 Travel Insurance
Yes, you will need travel insurance on your Ireland vacation. It's probably one of the most important things to pack after so many travel restrictions going into place with new viruses, etc. running around.
You also don't want to get caught unawares. Just like at home, things will and do happen on vacations, so whether you have an annual travel insurance plan, or you buy a one-trip plan as you book your flights, make sure you pack travel insurance.
Get your travel insurance HERE.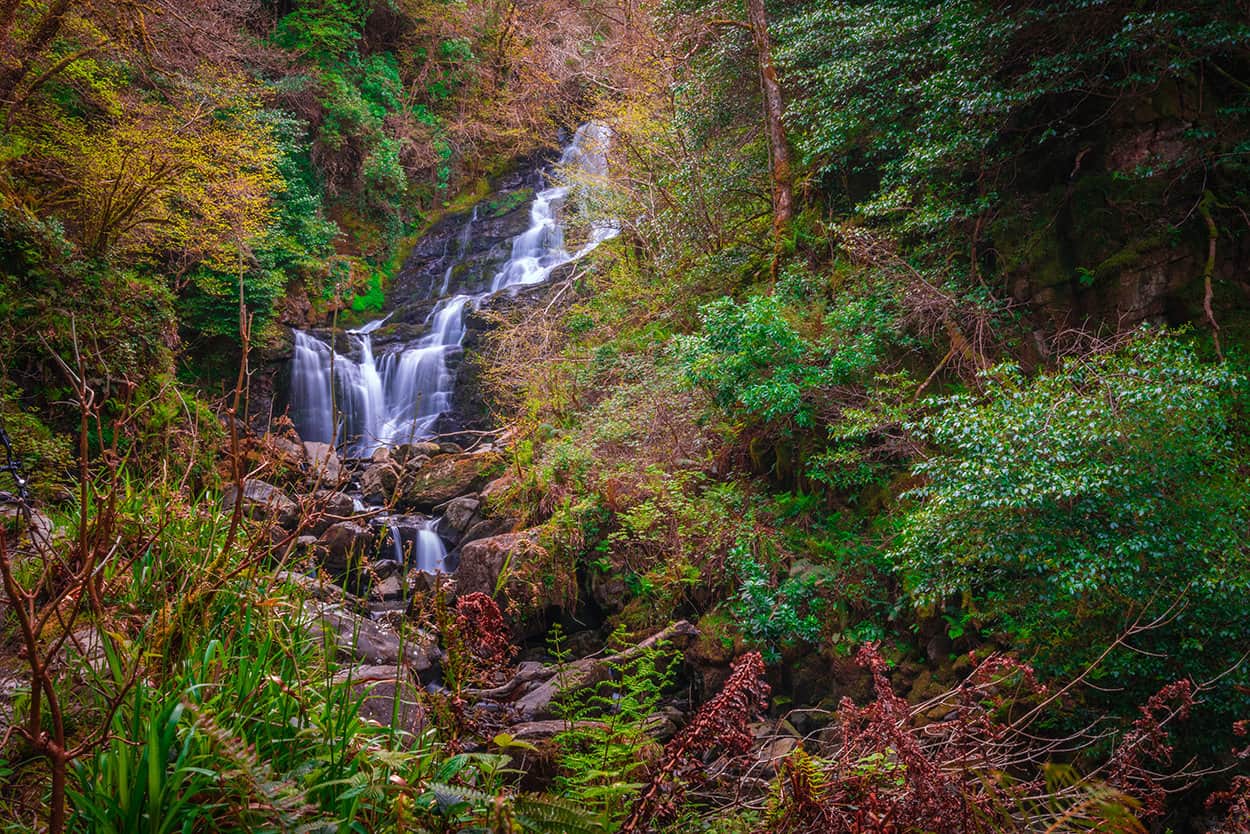 What NOT to wear in Ireland
There aren't a lot of things you can't wear in Ireland, but do keep in mind that this is a religious country. You will not see a lot of skin showing off the beach, especially in the smaller towns and countryside of Ireland.
That being said, here are a few things to keep in mind as you pack your suitcase and plan out some Ireland outfits.
Avoid wearing revealing or skimpy clothing, especially if you plan on visiting churches or other religious sites.
Watch what clothing or accessories you wear that might promote political or religious views, as this may be considered inappropriate in certain settings. Some slogans or graphics might be considered more offensive depending on the country you visit, so don't assume your harmless t-shirt in the USA is harmless in Ireland.
Don't wear impractical footwear, like heels and open-toed sandals, especially when hiking and it is raining or muddy out, as you could slip and fall, and just be uncomfortable.
If you don't want to stand out, avoid wearing dressy clothing, unless you are headed to the ballet or opera.
Avoid wearing large or expensive jewelry, as everyone will know you are a target to get robbed.
Ultimately, it's important to dress appropriately for the weather and occasion, and to be respectful of cultural norms and customs. If you aren't sure, dress down and blend in a bit. You can never go wrong with trousers and a jumper (sweater).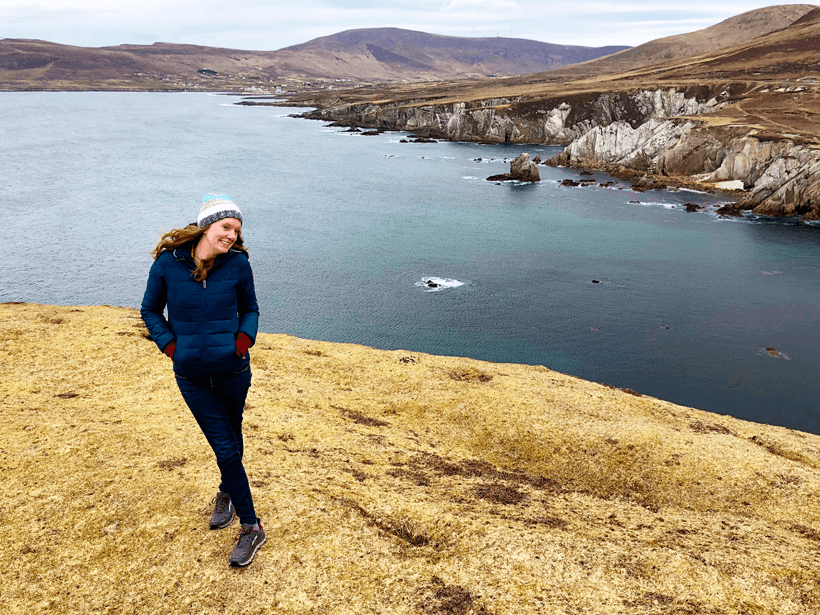 Women's Guide to What to Wear in Ireland
As I've already mentioned, I'm an over packer when it comes to my own suitcase. Having traveled to a lot of rainy places, and also having lived in Seattle for 10 years, I know a thing or two about rain gear at least.
The biggest thing you need to understand about what to wear in Ireland is that it is all about layers. So, let's start from the outside and work our way in.
Jackets for Ireland
Rain Jacket
I can not stress enough how much you will need a rain jacket on your Ireland trip. If it is your first time in Ireland, invest in a good jacket with a hood. A longer jacket that covers your bottom is ideal, as the wind will whip around you as you walk, especially if you go out to the Aran Islands.
That boat trip can spray up some water, let me tell you! This Helly-Hansen raincoat is a godsend,but I could have made due with the shorter jacket I had brought like this. Remember- if it's waterproof WITH a hood, you should be fine most days.
Waterproof Parka
Ireland does get chilly, but who wants to bring two separate coats when you can pack one jacket that does it all. I packed a waterproof parka for our spring trip (I only needed a generic raincoat for spring as long as I had a sweatshirt on hand to wear underneath).
A waterproof ski jacket or puffer also works wonders in Ireland, and you will see many locals who own one walking about.
Yes, parkas are bulky and take up space in your suitcase, but if you are flying, just wear it on the plane (or carry it), and then throw it in the back of your rental car so it's always on hand if you need it.
There are several packable jackets that can squish down into a pouch if you are really concerned about space though.
Irish Footwear
Hiking boots or waterproof shoes are solid investments for any adventure. While rain boots are adorable in pictures, not all, especially those made entirely of rubber, are great for walking in all day.
Find a comfortable hiking boot or shoe you can break in at least a month before your trip to avoid blisters. Do not try to buy boots in Ireland and hit the hiking trails as soon as you get them.
Your heels will thank you for thinking of them in advance.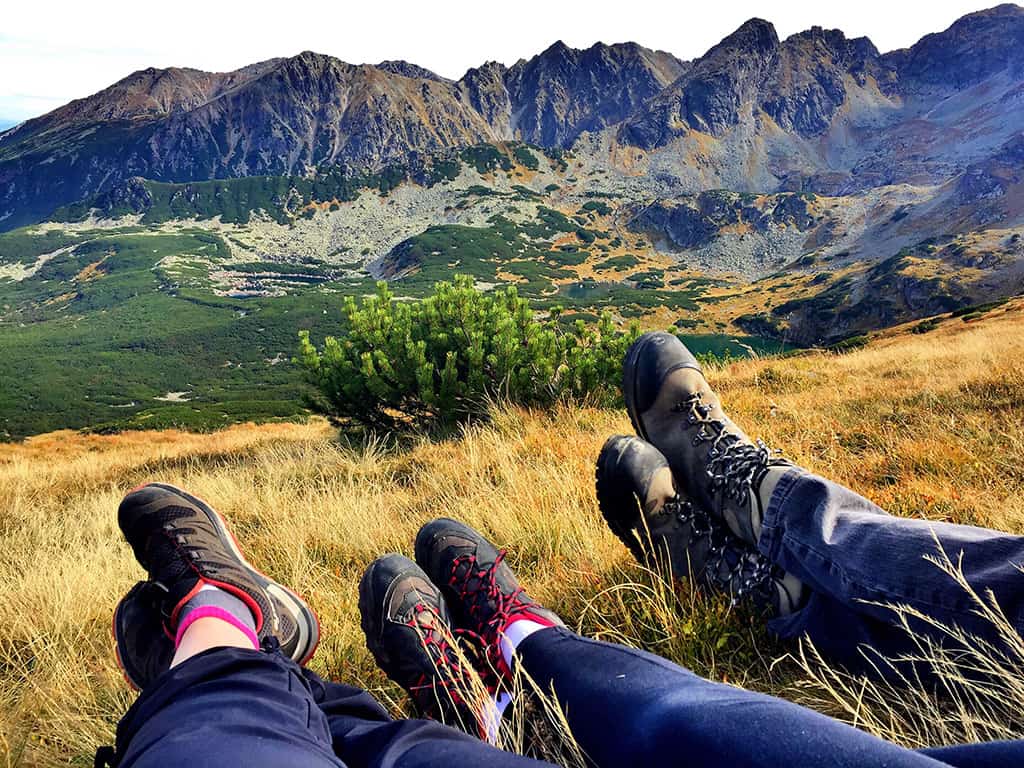 Best Shoes for Ireland
I am all about sneakers or trainers when we travel, but I don't necessarily want them to look like Nike trainers from the 80s. Unless you plan on doing longer hikes, walking in the rain, or need an excuse for new shoes, a simple pair of trainers can get you far.
I'm a huge fan of the ALTRA brand of shoes, as they allow your toes to splay in their natural way, so that you can keep your balance more easily. For everyday, I wear these, but they also have a great waterproof hiking shoe that I pack for Ireland.
Best hiking boots for Ireland
If you are looking for hiking boots for Ireland, these Altra hiking boots are waterproof and cover your ankle (there is also a midi version between a shoe and a high top hiking boot).
Other hiking boots my friends who are avid hikers recommend are this pair and these.
Rain boots
I recently did extensive research on packable rain boots since I needed to replace an old pair that had finally walked its last step. I checked out knee-high rain boots, ankle rain boots, BOGS, HUNTER, London Fog, solid colored and prints.
The best I found were this pair of ankle rain boots by BOGS. They were the only packable rain boots that were comfortable enough for extensive walking around Dingle, Galway, Dublin and Killarney, and I could tuck my jeans into the top of the boot or pull them over the boot to keep my feet dry. 
For foldable knee-high rain boots, I found that these Asgard boots were the most compact (folds down almost flat), although not the cutest. If you have the space, I'd bring these Hunter Rain boots if you can, but add in a sock insert to keep your feet warm.
There are several rain boots with a print on them, from rainbows to flowers, flames and everywhere in between. These rainbow rain boots would have done the trick for me, but they didn't have a smaller size in stock.
And if you didn't know already, your Doc Martin boots are waterproof too, and these are also lined to keep your toes warm on a chilly day.
If you REALLY don't want to pack rain boots, you can grab these waterproof shoe covers to pop on whenever you need to splash through a few puddles.
Women's Pants
Jeans
Yes, you can wear jeans in Ireland. I'm a fan of Democracy jeans since they have a little spandex in them and mama needs some give in her pants as she inhales Irish brown bread and lamb stew. Oh, and scones. Lots of scones.
These jeans are also perfect because they have ab tech that keeps those random bulges tucked in where you want them.
Hiking
If you love to hike, but want to keep the rain from soaking through your legs, check out these hiking joggers, which will look cute whether you are on the Cliffs of Moher or wandering around Galway for the morning in search of breakfast.
Leggings
Water resistant leggings are a great option when you want to stay comfortable on an Ireland road trip. You can hike, nap in the car, pop into the pub and explore the attractions of Ireland. They also work as leggings for your plane outfit.
Rain pants
I didn't think rain pants were a thing until my mother handed me a pair to wear on my first trip to Ireland. She also had pairs for the boys. The rain pants she gave me could be pulled over whatever I was already wearing. It was easy to put them on in the car and to have on hand if it was sunny in the morning and raining in the afternoon.
Since we were in Ireland in spring, when the weather is all over the place, the rain pants, as goofy as they looked, did come in handy.
If you want a pair of rain pants for women that is the only pair of pants you will wear, you can grab these, which are great for hiking, skiing and trekking in the rain.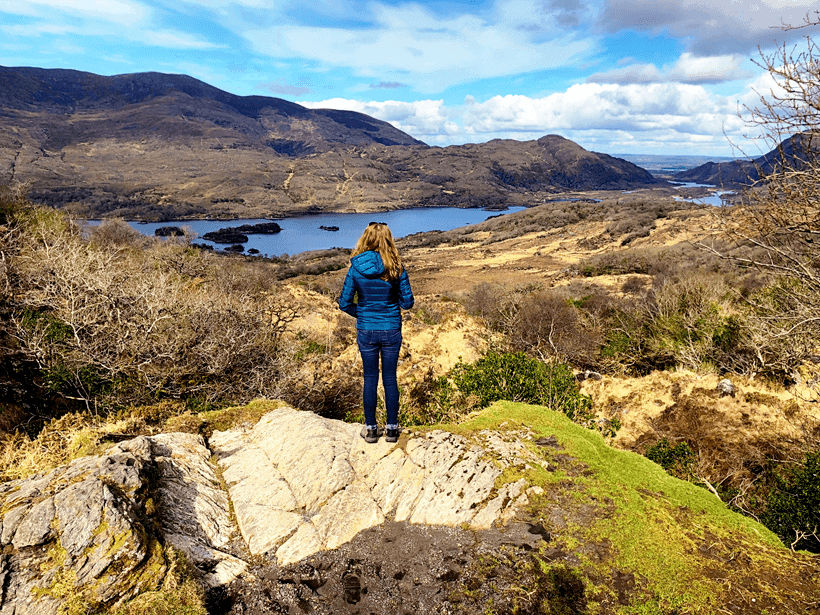 Women's Tops
When it comes to the tops you wear, a good option is to think layers. Tank top, long sleeves, hoodie zip-up sweatshirt. Stay comfy and loose so you can shed layers as the day heats up and then chills back down when the sun starts to set.
If you do want to blend in a bit, bring some sweaters (or as they are called locally- a jumper).
Dresses and skirts are definitely an option, especially on hot days (maybe not in the winter months unless you have some fleece leggings). Bright colors, and midi or maxi dresses, are perfect for those cool winds rolling along the west coast of Ireland.
Mini-dresses, not so much, as that wind could whip you skirt up to show everyone on the Wild Atlantic Way your knickers.
Women's Undergarments
Bras and Underwear
Ladies, you know what shapewear you need, whether it be slimming undergarments, a padded bra or a sports bra, you can handle packing your underwear and bras yourself I believe.
Best Travel Socks
What you don't want to forget is socks. Lots of socks. If you pack for only half of your trip… add back in a few socks. Your feet will get wet and it may take more than a few hours for your socks to dry in your hotel.
Quick dry socks like Darn Tough and Smartwool socks that feature merino wool will block odors and dry fast. These companies are even making no-show and crew socks, not just tall hiking socks these days. The only downside to these brands is that they can be pricey.
For a cheaper, quick-dry sock, look at some of the popular brands like Hanes, Adidas and Tough Land who all offer moisture wicking athletic socks.
Women's Accessories
Now for the fun part– accessories. This is where you can have a lot of fun with colors, from jewelry to scarves, sunglasses to hats.
I always have at least one travel scarf or pashmina with me on every trip. It's the fastest way to add color, even in warmer climates (thin scarves like this are perfect, especially when popping into churches in summer).
Think about scarves with patterns (like this one), satin scarves that pack down small enough to put in your purse (like this), travel scarves with hidden pockets (I'm obsessed with this one right now), infinity scarves, or just a cute blanket scarf (get this one!) that can keep you warm on the plane too.
And although you may think it's always cloudy, you will need sunglasses. Pack at least one pair, if not two in case you loose one.
Note for your Summer Ireland Packing List
Summer is a unique time to be in Ireland. There are opportunities for popping on a pair of shorts and t-shirt, maybe even a pair of flip flops.
Those who are brave enough will want to pack a swimsuit to jump into the ocean, lakes and rivers that make Ireland so lush and green.
My boys love to surf, so we always bring a pair of board shorts, rashguard and zinc sunscreen. We rent a wetsuit and board when we arrive. They may like to surf, but we aren't so into it that I want to pack that much gear just for a chance to surf at Inch Beach on the Dingle Peninsula.
Women's Toiletries
All packing starts with a great toiletries bag. I swear by my Cath Kidson oilcloth bags I picked up in London a few years back, but any oilcloth bags like this would be perfect. Just make sure you love it so you actually use it on every trip.
Deodorant
Not every country in the world is obsessed with deodorant in the same way that people in the USA are obsessed. My husband once forgot his deodorant when we were on a trip to Japan. After looking high and low, he ended up buying what we think was a ladies aerosol deodorant, but really, who knows.
That being said, pack deodorant if you wear it ladies. You don't want to have to spend your trip hunting around for it, although it is much easier to find in Ireland than Asia.
Sunscreen
Even if it's raining, you NEED sunscreen in Ireland. The sun will shine when you least expect it, so at least wear a daily moisturizer with SPF30.
Bug Spray
If you attract bugs like me and my youngest son, well then you might want to bring a few insect repellant wipes. Do keep in mind that Ireland and the UK have great pharmacies, and they will carry bug spray in the areas that require some extra protection against critters.
Curling Iron or Flat Iron
It is SO important to have a dual voltage or European voltage specific curling iron or flat iron (or this combo one), so that you don't blow a circuit on your trip.
While we all want to take our precious hair styling tools, you need to make sure they are compatible. Yes, you can bring plug adapters, but that might not be enough.
Learn more about traveling with hair styling tools in Europe.
Hair Dryer
Conair has a hair dryer that claims to be able to detect voltage changes and adjust automatically. While many vacation rentals and hotels may come with a hairdryer, if you need to make sure you have one, this Conair will probably be your best bet.
If you are addicted to your Revlon round brush hairdryer, DO NOT BRING IT, as it will not convert over to European voltage. This brush dryer has a switch in the back to change from 120v to 220v when you travel to Ireland and other parts of the world.
If all else fails, pick up a hair dryer at the local pharmacy. I bought a curling iron in Ireland when my old one died almost 10 years ago, and I love it to this day.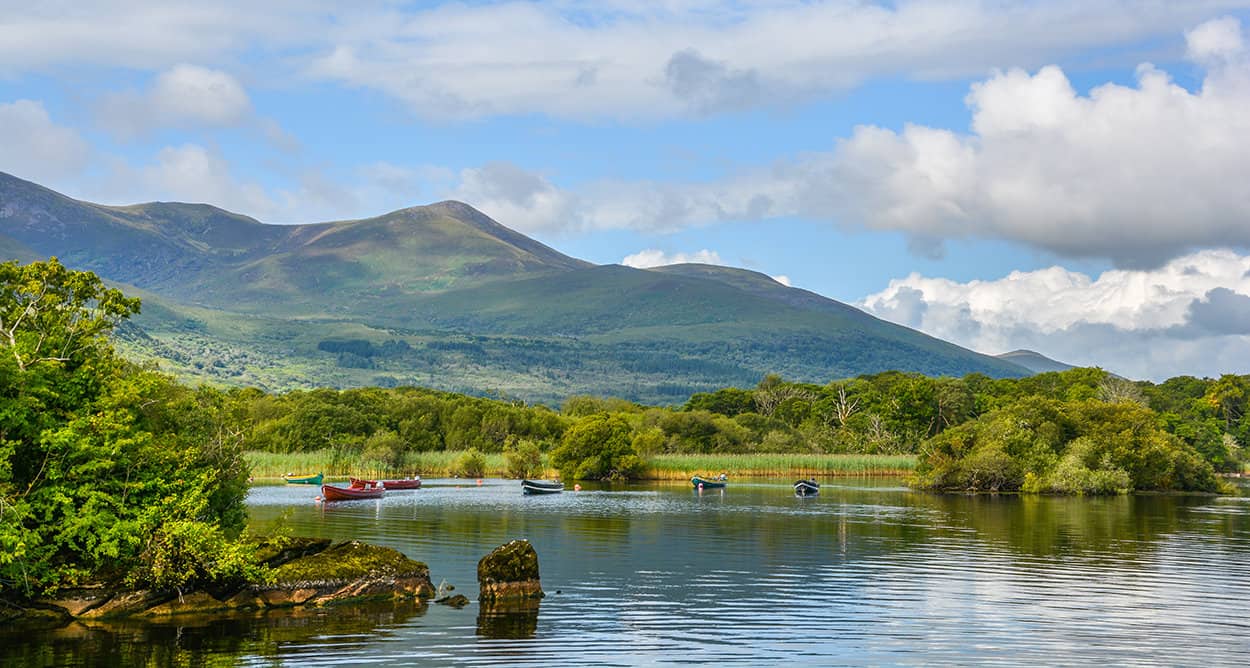 Women's Packing Checklist for Ireland
1 umbrella
Raincoat
1 puffy jacket (can fit under raincoat. We love this one with a hood, which was super warm! A light jacket is also a great option)
3 pair of jeans
1 pair of fleece-lined yoga pants or leggings (doubles as an under layer)
3 T-shirts
4 long-sleeve shirts
1-2 cardigans
1 nice outfit or dress for fancy dinners or events
7 socks (wool or merino wool blend preferred)
7 underwear
1-2 scarves
1 purse with a zipper
1 Daypack (make it a lightweight backpack)
1 pair of street shoes (I pack these on every trip and these boots too!)
1 pair of hiking trail shoes or rain boots (these waterproof ones were a lifesaver! )
1 warm hat
1 pair of fingerless gloves/mittens (like these)
1 set of Pajamas
reusable water bottle
Day pack for day trips
Credit card (at least one)
Toiletries
Copy of your travel plans left at home with a loved one
Men's Guide to What to Wear in Ireland
Men's Jackets for Ireland
Waterproof Parka
We love Colombia parkas because they are lightweight, but super warm thanks to their patented heat reflective technology. And what better jacket to bring to Ireland where rain and wind can wipe around you at any moment than a Helly-Hansen sailing jacket built for the elements.
Rain Jacket
If you are traveling in the warmer months, a men's rain jacket will be enough to protect you from the elements. Bring a few layers just in case the weather gets cold.
Men's Footwear
Hiking boots
Columbia has one of the highest rated men's hiking boots on the market, and for good reason. This hiking boot features durable leather and advanced traction soles for greater stability and protection from the elements.
Other top boot contenders include Merril, Timberland and Salomon, all of which are well known in the outdoor community for having quality shoes that are not only comfortable, but can take a beating no matter what adventure you hop onto this year.
Rain boots
Sadly, men's rain boots don't have quite as many options as women, but you still get some options gents. From totes to HUNTERS and Helly Hansen boots, your basic black rain boots will get you through the wettest days in Ireland.
And just like the ladies- you can always pack a pair of waterproof shoe covers to stash in your bag if you get stuck in a downpour.
Waterproof Sneakers
Like their women's line, we love the men's Altra trail running shoes that are all-weather, breathable and light. It's the perfect shoe for hiking, no matter the terrain.
Keens are also known for their durability and quick-dry features, which is why we love them as water shoes when hiking in the tropics. Their shoes work just as well in the Irish countryside too.
And just like their hiking and climbing boots, Merrell and Salomon both offer a lower hiking shoe for men to toss into your suitcase for your next adventure.
Men's Pants
You don't need any fancy trousers or shorts when you fly to Ireland. If you want quick-dry pants, there are plenty of options. If you plan on hiking, climbing or biking, you may want to grab a pair of waterproof pants, like these, that still look good as you are wandering around town too.
Men's Tops
Like your pants, you don't really need specific tops just for Ireland. Look through your closet and grab what is comfortable for wandering around town, hiking or walking along the beach. Quick-dry shirts are always great for travel, especially in wet climates when you don't want to have to pack wet clothing as you hop from town to town.
Pack at least one long-sleeve nice shirt for dinners in the city, if you plan on eating at anything other than a pub or cafe. It doesn't have to be fancy, but should be more than the t-shirt you have been wearing all day.
Men's Undergarments
Guys- you got this. I don't need to tell you to pack underwear and socks (and if I do, your parents and I need to have a chat).
Men's Accessories
You don't need a lot. If you are traveling to Ireland in January, bring a hat, gloves and scarf. Wool socks are a good idea too, as they dry quicker than cotton socks.
Hat
Gloves or mittens
Scarf
Sunglasses
A note about baseball hats
Some people will tell you that you will stick out as a tourist if you wear a baseball cap. Well, if you wear them regularly, I say "you be you."
My family wears baseball caps all over the world because it's an easy sun hat to protect our faces.
While I like a cute sun hat, the men in my family don't always want to pack a fedora, like this one, no matter how much I try to get them to wear one.
Men's Toiletries
Aftershave (if you wear it)
Razors
Toothbrush
Toothpaste
Soap
Shampoo and conditioner
Sunscreen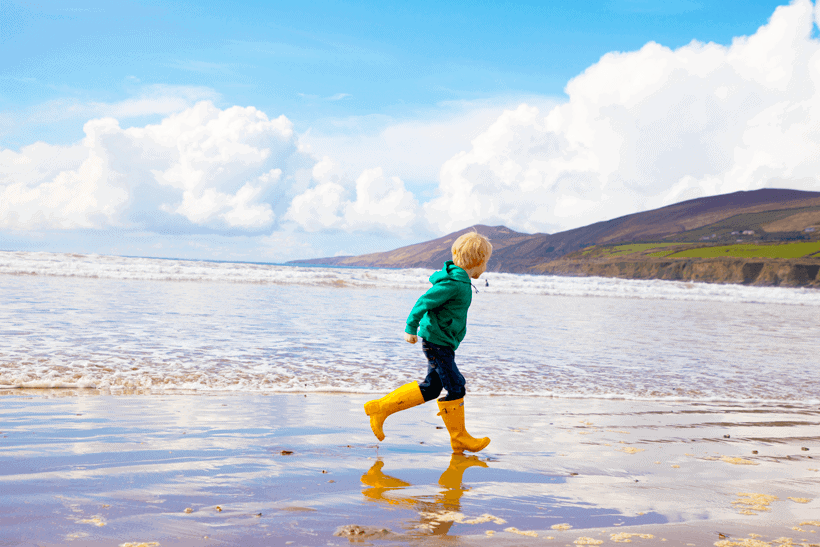 Ireland Packing List for Kids
Kid's Jackets for Ireland
Waterproof Parka
If you are headed to Ireland in the colder months, you will want to bring a waterproof parka for your kids. A ski jacket might be the easiest option, especially for babies, toddlers and younger children. Many ski jackets, like this Under Armour boys jacket, come with a fleece liner that can be removed.
A windproof, breathable ski jacket (like this Helly-Hansen) is perfect for your trip to Ireland too.
If you are a fan of Carter's, you can get a 3-in-1 jacket for your toddler.
For tweens, you should grab the more economical Arctix ski jacket that comes in a variety of fun patterns or a Burton ski jacket that is both durable and cute.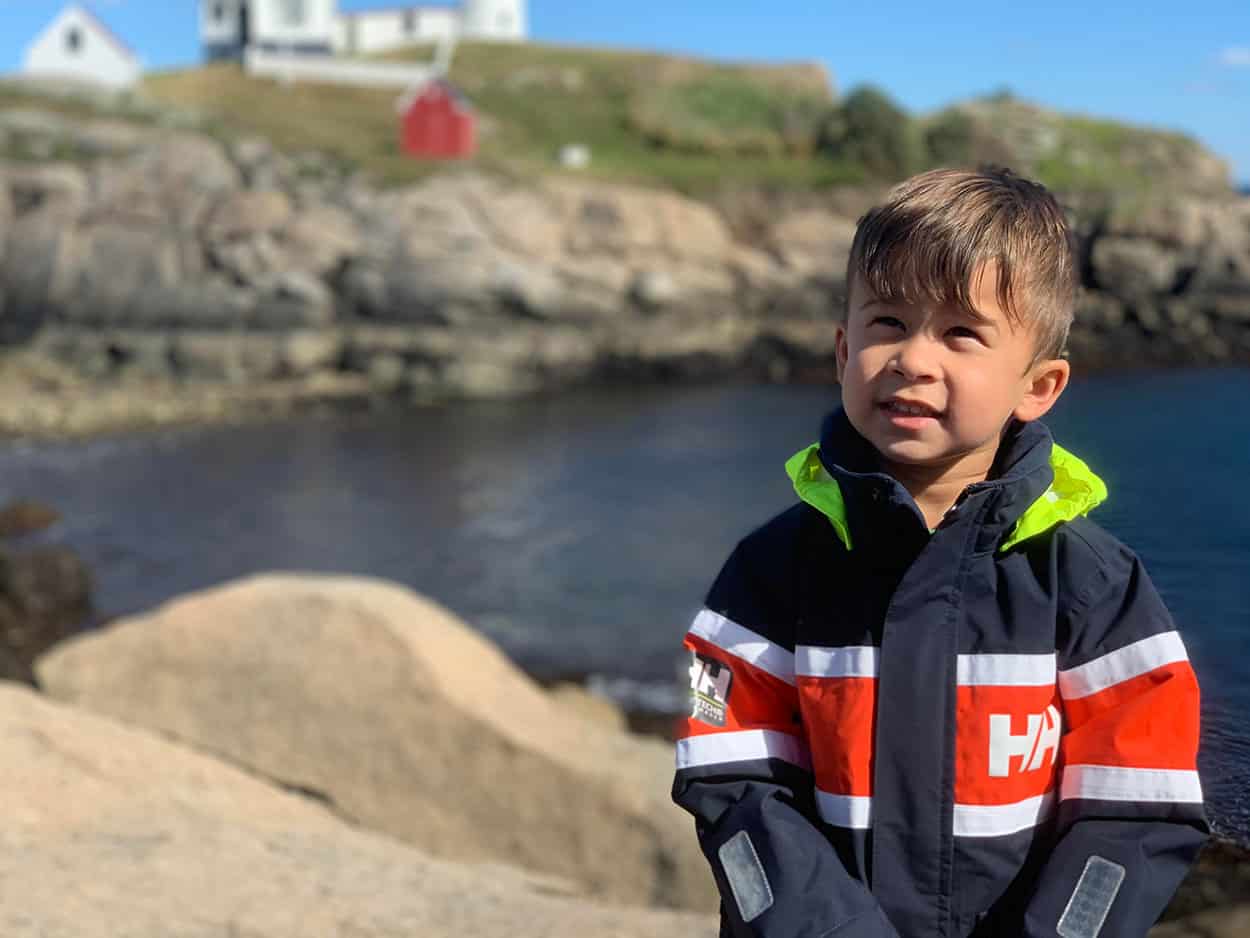 Rain Jacket
You can have so much fun with raincoats on kids, especially toddlers and grade school kids who will still let you dress them. Grab a Hatley raincoat with airplanes, trains, polka dots, or really anything you want to dress your kids in.
Teens and tweens will want a more basic raincoat, but toddlers will let you do patterns, and grade school kids will still let you put them in bright bold colors. Take advantage of it!
But remember, it is the prerogative of your tweens and teens to surprise you. Helly-Hansen has some unique color and pattern combos that might be right up your teen fashionista's alley.
Rain Suits
Like babies, your toddlers and younger children will want to do some puddle jumping. A rainsuit can help you keep your child dry, while also looking adorable as they explore Ireland.
We always had rain suits for our boys when we lived in Seattle, and they were worth their weight in gold when we just wanted to be outside instead of cooped up indoors on yet another rainy day in Seattle.
Kids's Footwear
Rain boots
Kids rain boots are a hard one. There are HUNTERS and BOGS that will fit toddlers through big kids. Not many are packable rain boots though, so I'd suggest finding a waterproof shoe, especially for older kids.
Hiking boots
There are a few activities in Ireland that your kids will need high-top hiking boots in order to participate. One is a cliff hike, so you will want boots like these Merrils or these KEENS, both well-known brands with a great reputation in children's shoes.
Waterproof Sneakers
The best of both rain boots and hiking boots would be waterproof sneakers. If you can only bring one pair of shoes for your kids, pack up a pair of these.
Kids' Pants
Most of the time your kids can get away with the same trousers and shorts they wear at home, but on rainy days, you may want to pack up rain pants to put over their outfit and waterproof pants.
Kids' Tops
Pack layers for your children. Think t-shirts, sweaters, long-sleeved shirts, vests and other layers that your child can take on and off as the weather changes throughout the day.
Kids' Undergarments
Parents- you know what undergarments your kids need. Bring two extra for your trip, no matter how many you pack. ALWAYS have backups.
Kids' Accessories (depending on season)
Sun hat
Ski cap
Mittens
Scarf (if your child will wear it)
Kids' Gear and activities
Daypack
Depending on the age of your child, you may want to give your child a daypack for their journey.
Toddlers can use a small backpack to hold their stuffies, crayons and paper. Older children can carry their own backpack with snacks, or even a hydration backpack like a Camelbak, that can carry not only their water, but cameras, headphones, journal, pens, and any other activities they may want on their trip.
Reusable Water bottle
Every kid needs a water bottle, whether you have a toddler, grade school age child, teen or tween. Insulated bottles will help keep water cold all day while you hike and wander the Irish countryside.
Things to do on the plane
Activities while in Ireland
Kids' Toiletries
Grab one of these toiletries bags for your kids so they know where to find their stuff. Or you can use more generic clear ones like these.
Baby Products in Ireland
Guess what- they have babies in Ireland! So, all of those diapers you just packed up to last two weeks can be taken out. Like all trips, pack enough diapers for 2-3 days so you don't have to rush to the shop when you have jet lagged babies and need to crash. .
The same goes for baby wipes. Pack enough to get you through the flight and first few days, and then pick up more baby wipes as you go about your journey.
Baby Rain Jackets and Rain Suits
When my boys were young we swore by Hatley rain gear. I loved this yellow rain jacket, which always popped in photos, plus kept them dry.
Helly-Hansen also makes quality rain jackets and rain suits for babies and toddlers that we always leaned on when the boys were growing up.
Our friends with babies and toddlers still snap up Helly-Hansen and Hatley rain gear, especially if they can find them on consignment or at thrift shops.
Sample Ireland Packing List for Kids Checklist (7 Day Trip to Ireland)
5 pairs of underwear
7 pairs of socks
3 pairs of pants/trousers
4 tops
2 sweaters or sweatshirts
1 Rain boots or waterproof shoes
1 Raincoat or waterproof parka
Umbrella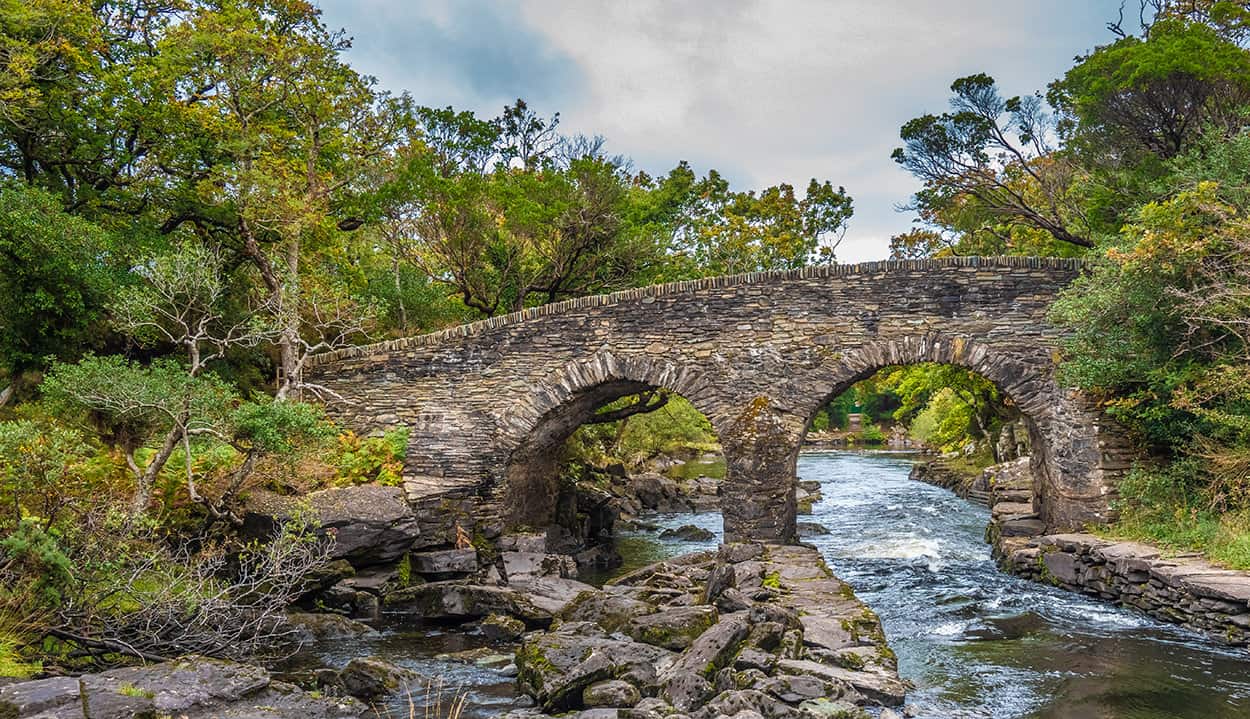 What to wear in Ireland FAQ
Layers
It's always a good idea to dress in layers in Ireland, so you can add or remove clothing as needed. Bring a waterproof jacket and a warm sweater or fleece, even in the summer months.
Waterproof footwear
Ireland is known for its rain, so make sure to bring waterproof shoes.
Scarf and hat
A scarf and hat can help keep you warm and dry, especially on windy days.
Jeans or trousers: Comfortable jeans or trousers are a good choice for everyday wear.
Dress in Smart casuals
In Ireland, smart casual is the norm for most occasions. This includes a dress or nice top and trousers for women, and a collared shirt and trousers for men.
Avoid wearing shorts or beachwear in urban areas.
Summer clothing
If you're visiting in the summer months, pack light clothing such as t-shirts, shorts and light dresses. Again, keep it casual, but still looking good.
What to Wear in Ireland in Spring
Spring in Ireland can be unpredictable, with a mix of sunshine, rain, and cool temperatures. Dressing in layers and being prepared for rain is key for spring in Ireland. Don't forget to check the weather forecast before heading out, and adjust your outfit accordingly.
Layers: Dress in layers so you can add or remove clothing as needed. Bring a light sweater or jacket, and a rain jacket.
Waterproof footwear: Choose waterproof shoes or boots with good traction to prevent slipping on wet or muddy surfaces.
Scarf and hat: Bring a scarf and hat to keep you warm on cooler days, but also add a bit of fun and color to your Ireland outfits.
Jeans or trousers: Wear comfortable trousers or jeans.
If you're planning to do outdoor activities, bring a pair of waterproof pants and a thermal base layer for to stay warm and protected. If you are cold and cranky, no one will have fun on your trip.
What to Wear in Ireland in Summer
Summer in Ireland is usually mild, with occasional rain showers and cool breezes. Dressing comfortably and being prepared for an occasional rain shower is key for packing in summer in Ireland.
Light layers: Bring light layers of clothing that you can add or remove as the temperature changes. Pack a lightweight sweater or cardigan, and a rain jacket or windbreaker.
Comfortable footwear: Choose comfortable walking shoes, such as sneakers or lightweight hiking boots, as you will likely be doing a lot of walking and exploring. Sandals or flip flops are also fine for casual settings and warm weather, but not cliff hikes.
Sunglasses and a hat: It does get sunny in Ireland, so pack sunglasses and a hat to protect your eyes and face.
Summer clothing: T-shirts, shorts, skirts, and dresses are all perfect for an Irish summer. Breathable fabrics, such as cotton or linen, are always great choices.
Swimwear: If you're planning to visit the coast or take a dip in the sea, bring a swimsuit.
Accessories: pack a scarf or pashmina to cover up if the weather gets cooler at night.
What to Wear in Ireland in Fall
Fall in Ireland can be chilly and rainy, with occasional bursts of sunshine. For the most part, you will want to dress in warm layers and always be prepared for rain.
Warm layers: Dress in warm layers to keep you comfortable on cool days. Bring a warm sweater or fleece, and a waterproof parka.
Waterproof footwear: Pack up your waterproof shoes or boots with good insulation and traction to prevent slipping on wet or muddy paths.
Scarf and hat: Bring a scarf and hat to keep you warm, especially when the temperatures dip down at night.
Jeans or trousers: Wear comfortable pants and trousers, including a warm base layer (leggings or thermals) for cold morning hikes.
Lighter clothing: Pack lighter clothing such as t-shirts, long-sleeve shirts, and light jackets for milder days.
What to wear in Ireland in Winter
Winter in Ireland can be chilly, with occasional snow and ice in some parts of the country. Make sure to pack and dress warmly and in layers to stay comfortable outside in winter in Ireland.
Warm Winter coat or ski parka: A warm, waterproof coat is a must for winter in Ireland. Choose a coat that covers your hips and has a hood to protect you from the wind and rain (and possible snow!).
Warm layers: Wear layers of clothing to keep you warm. Start with a base layer of thermal or merino wool underwear, then add a sweater or fleece, and top it off with your winter jacket.
Hat, scarf and gloves: Don't forget about your cold weather accessories for keeping warm in Ireland's winter weather. A warm hat, scarf, and gloves will keep your head, neck, and hands protected from the cold.
Waterproof footwear: Choose sturdy, waterproof boots or shoes, which can include hiking boots or even snow boots that are insulated.
Jeans or trousers: Wear comfortable, warm trousers or jeans, and avoid wearing skirts or dresses without leggings or tights.
Layered socks: Wear thick socks or merino wool socks to keep your feet warm and dry. If you don't have any, Ireland is known for its wool, so grab some when you arrive.
If you're planning to do outdoor activities, definitely pack a thermal base layer, a down jacket, and waterproof trousers to stay protected from the elements.