Packing has never been one of my strong suits. I have a huge aversion to packing lists. My mother handed them to my sister and I since we were little. Maybe that's why I shy away from them.
Making a packing list for Ireland when planning a trip was painful, but necessary.
We had family flying in at different times into Dublin. My husband would meet up with us in Shannon a week after we arrived. He needed to know what to put in his suitcase before heading off the the Emerald Isle.
You know, all of the stuff I didn't want to carry.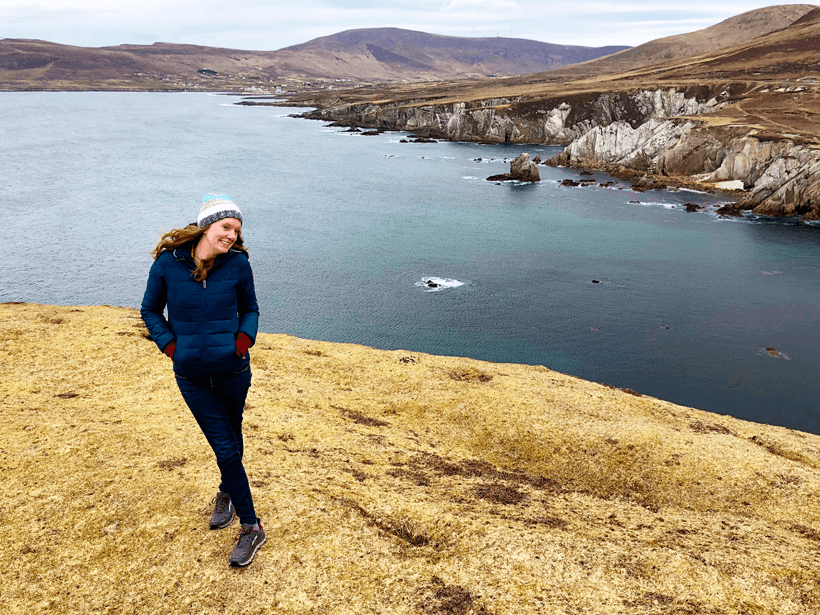 Ireland PACKING LIST
But truth be told, I always have our family packing list in my head. I travel so much that I always know what needs to go in our bags, even when packing for Ireland, to stay dry, hydrated and even stay warm in that blustery wind that can sweep across the cliffs. .
I have my boys packing down to a science, bringing as little as possible and assuming I'll wash a few pairs of socks and underpants along the way.
Where I typically run into overpacking is with my own clothing and toiletries.
Naturally, I want to look cute when I pack for a trip to Ireland. Raincoats (windproof, water-resistant and waterproof jackets are good too), warm coats, waterproof boots, a travel umbrella, light layers, clean underwear and just the right accessories seemed so important before we left. I mean, I needed my epic photo at the Cliffs of Moher, right?
What to Wear in Ireland
Want to know something. None of it mattered. Yes, the outer layers were important (undergarments too). My hiking shoes and jackets were essential.
The rest?
I ended up doing laundry halfway through our two week trip and could have packed half as much.
Lesson learned.
Wear Bright Colors
Ireland is very green, especially in the summer. The rest of the year, it can also be varying shades of brown, red and yellow. The key to packing is to bring your bright clothing (that is also rain gear).
Pack your vibrant blues, yellows, oranges and reds in those packing cubes. White also stands out in this deeply saturated landscape.
If you want to take photos and be in them, be mindful of what you are wearing. If you only pack black, grey, brown, and even most muted greens, you will blend with the background.
Have a little fun and brighten up your normal drab colors when you go away on holiday!
Pack a Rain Jacket
I can not stress enough how much you will need a rain jacket on this trip. If it is your first time to Ireland, invest in a good jacket with a hood. A longer jacket that covers your bottom is ideal, as the wind will whip around you as you walk, especially if you go out to the Aran Islands.
That boat trip can spray up some water, let me tell you! My United by Blue raincoat was a lifesaver.
Best hiking boots for Ireland
Hiking boots or waterproof shoes are also a really good investment. While rain boots are adorable in pictures, not all, especially those made entirely of rubber, are great for walking in all day.
Find a comfortable hiking boot or shoe you can break in at least a month before your trip to avoid blisters. Do not try to buy boots in Ireland and hit the hiking trails as soon as you get them. Your heels will thank you.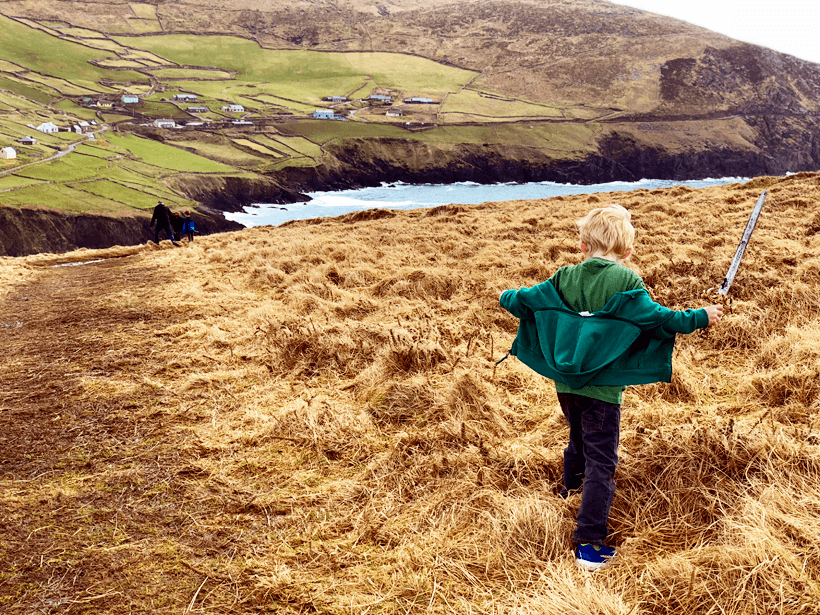 What Month to Visit Ireland
The month you visit Ireland is actually very important when it comes to packing tips. Like Scotland, it rains most of the year, but the summer months may see less rain than winter.
Layering is essential, as you could feel four seasons all in one day. It can a big surprise to wake up to rain in Cork and have sun as you road trip around the Ring of Kerry later in the day.
Walking shoes, not flip flops are recommended, even for summer sightseeing excursions.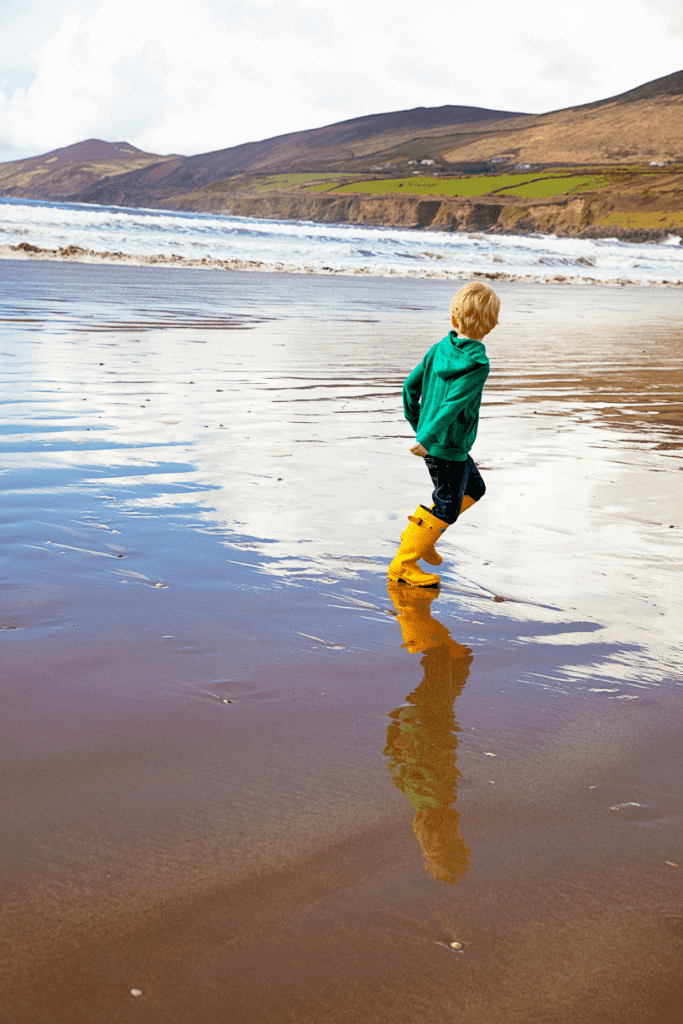 Doing Laundry in Ireland
It was surprisingly easy to do laundry while in Ireland. Most B&Bs, hotels and lodges can point you in the direction of the local launderette.
There are so many backpackers, musical and art festivals throughout Ireland that the locals are used to travelers.
They know that people need to do their laundry, so the larger towns and definitely the cities have laundry facilities available. All you have to do is ask where to bring your dirty clothing.
Travel tips when visiting an Irish Laundry Service
Many places are not self-services; you simply drop off a bag of laundry and pick it up a few hours later. It will be washed, dried and folded for you.
We did laundry in Clifden, Ireland about a week and a half into our trip. One large (and I mean very large) load was thrown all into one washing machine and cost me 10 Euro. I was so excited for clean clothes I gave them another massive bag.
Everything took three hours to be ready for pick up.
Pack List for Ireland
1 umbrella
Raincoat
1 puffy jacket (can fit under raincoat. We love this one with a hood, which was super warm!)
3 pair of jeans
1 pair of fleece-lined yoga pants or leggings (doubles as an under layer)
3 T-shirts
4 long-sleeve shirts
1-2 cardigans
7 socks (wool or merino wool blend preferred)
7 underwear
1-2 scarves
1 purse with a zipper
1 Daypack (make it a light weight backpack)
1 pair of street shoes (I pack these on every trip and these boots too!)
1 pair of hiking trail shoes or rain boots (these waterproof ones were a lifesaver! )
1 warm hat
1 pair of fingerless gloves/mittens (like these)
1 set of Pajamas
Water bottle
Day pack for day trips
Credit cards
Travel insurance (World Nomads or Allianz Travel are my favorite)
Tech Packing List
While I hope you pack your camera, there are a few essential items you will need to keep your laptop, phone and any other electronics charged while you wander across the national park in Killarney, check out the Star Wars sights on the Dingle Peninsula, or sip a pint of Guinness on your Ireland itinerary.
Most of these items can (and should) be packed in your carry-on bag.
Adapter for Europe outlets (do not assume your Airbnb will have them!)
Power converter (if you are carry big electronics)
Memory cards
Camera battery charger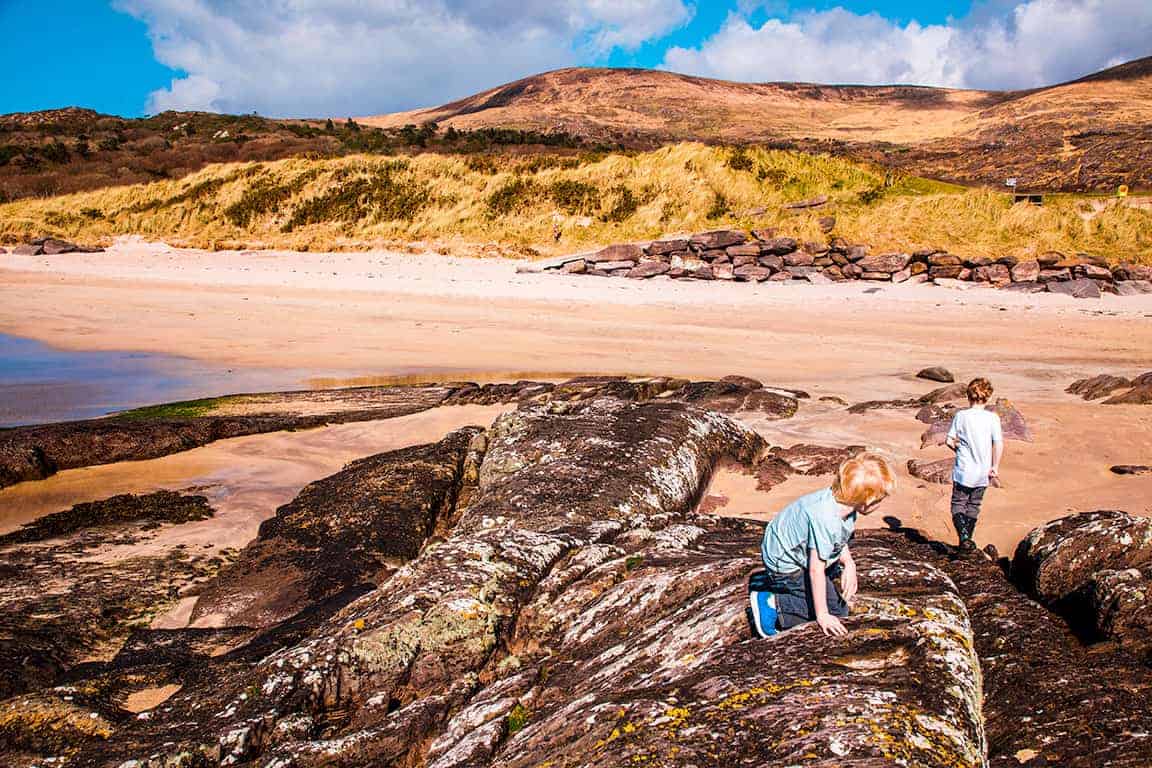 Travel to Ireland is Unique
The bottom line is this, the climate and terrain of Ireland is unique and therefore it requires a packing list to match. To fit some of the larger items (umbrellas, rain and hiking boots) plan to do laundry along the way. And please do yourself a favor and pack comfy waterproof shoes.
This post may contains affiliate links. If you make a purchase after clicking one of those Amazon links for travel gear or travel guides, I will receive a small commission.
Ireland (Dublin) Destination Guide
Dublin Hotels
Dublin Skylon Hotel: A family run hotel situated near many Dublin landmarks. Hotel features free Wi-Fi, paid parking, and a bar/lounge.
The Mayson: Beautiful hotel with pool, free Wi-Fi, and bar/lounge.
The Croke Park: An unforgettable experience. The Croke Park is nestled close to Dublin center and features conference facilities, free parking, and Wi-Fi.
Looking for more? Search for the best Dublin hotel on Expedia.com.
Dublin Vacation Rentals
Pin it and Start planning!