Before having my son, I was extremely active. I was one of those people who hiked every weekend, took my dogs walking, and didn't hesitate to take a cycle or barre class. Once I became pregnant, things were a little more challenging.
Don't get me wrong, I stayed active my entire pregnancy and credited my four-mile-a-day walks for having my son around his due date, but things changed and working out became more complicated.
I knew that even with having my son, I wanted him to enjoy the outdoors just as much as I did. I had a hiking pack on my baby registry and began researching ways to ensure he was safe while doing what I loved. It may seem crazy to take a baby out hiking in the wilderness, but it felt right for me. We went on our first hike at six weeks old, and he loved it. Sure, there were challenges, and I worried the whole time, but he rolled with the punches and today loves being outdoors.
If you want to enjoy hiking with your baby but are worried about equipment and hitting the trails, here's some advice to ease your mind.
Pick the right hiking pack
Start with a good base to carry your baby around so that you both can be comfortable. Yes, there are hiking packs you can buy where your baby rides on your back, but most of those can't be used until your baby is at least six months old and has good core and head control.
LILLEbaby carrier
A friend recommended the LILLEbaby carrier, not necessarily for hiking, but that's what I've used it for. The LILLEbaby has a customizable fit with two-way adjustable straps, an extendable back panel, and the best part, the lumbar support. I love that it can be easily adjusted so my husband and I can wear it without having to do a ton of work to make it fit our different shapes.
The LILLEbaby Complete Airflow is perfect for those in warmer climates as it features breathable mesh to help comfort and cool your baby while in the harness. This is the carrier I used in April for the hike with my six week old. We started with him facing away, and when the wind picked up, I switched his position to face me and used the cover to protect his head. It was perfect.
I also recently used the LILLEbaby LUXE 6-in-1 on a hike. This carrier is similar to my airflow, except it doesn't have mesh. We converted the carrier so his legs could hang out and he spent the entire two-hour hike facing away from me, enjoying the scenery of the redwoods.
These are the two carriers that work for me. Prior to getting them, I tried on a friend's carrier and walked around with it. The lumbar support and ease of taking it on and off were big factors for me. It's simple to put on for a hike but can quickly be removed if the little one needs to be released. We also use it around the house when we want to be hands free.
Don't be afraid to overpack
It sounds insane but when hiking with a baby, bring more than you think you'll need. I typically hike in a climate different from where I live. It could be 80 degrees at 7 am at my house, but where I want to hike, it could be a cool 56 degrees. That's California for you. I always dress my son so he is comfortable and then bring extra layers with me. It could be pants, socks, a blanket, whatever he may need, and then adjust as needed when we get to the trail. You can never be over-prepared when heading out on a trail.
I also always bring a bottle to feed him and spare diapers. There is no shame in stopping on the trail to feed or change your baby. On my last hike, I knew we would be out when he was due to eat. When I stopped at Starbucks, I asked for a cup of hot water and made a bottle before I hit the trail. Since Starbucks is known to have extra hot water, the bottle was the perfect temperature when it came time to feed. I also carry around a small thermos of hot water and mix it with bottled water to get create the ideal on-the-go bottle.
My thought is that I'd rather be that insane mom who has everything than being under prepared and worried.
Don't be afraid to ask for help
When I hike, I typically enlist a friend to go along with me. Don't hesitate to ask for a little help. It can be asking them to carry a spare bottle or hold the baby to give your body a little break. You don't have to be a superhero out on the trail with your little one and a good friend will understand that hiking looks a little different with a babe in tow.
Don't be afraid to say you need to stop for a moment to catch your breath, change the baby, or let them look at trees. It's all new for your child so take it slow.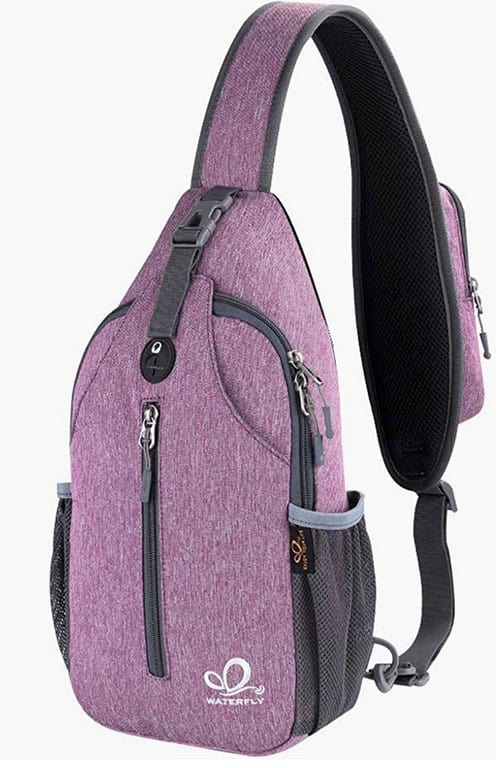 The backpack
You'll need a dependable backpack to carry gear for you and your baby. I wanted something smaller since I am already carrying the baby and didn't want to feel like a freight truck.
Waterfly Crossbody Sling Backpack
The Waterfly Crossbody Sling Backpack is a great pack. It features two water bottle slots on the sides and a clip where you can hang a hat or something with a handle. The front strap has a pouch to help carry keys or smaller items, plus the straps are adjustable. This pack is a cross body, so it needs to be put on prior to the baby carrier and can't come off unless the baby does.
Choose your trail wisely
Before kids, I was one of those hikers that just went with the flow. If a trail was closed, I would jump onto a nearby one with no questions asked. It's a little harder to do that with a baby. I am mindful of the time I will be hiking and the difficulty of the trail.
With my now five-month-old, I avoid trails that are hard, have a massive elevation gain, may be too narrow, or have a not defined path. I don't want the risk of falling, getting lost, or not having enough shade to keep the baby cool and comfortable.
The All Trails app is great to help plan out your hike. You can view distance, elevation gain, route type, and comments from other hikers on any particular hike. This app is great because you can see how well maintained the trail is and if it fits the needs you want while hiking with your baby.
The app also has a map and navigation feature to help prevent getting lost. You can even download the map before your hike in case you wander out of cell range.
Go with your gut
At the end of the day, you know what is right and safe for you and your baby. There will be critics telling you that the baby is too young to hike, it's not safe, or the weather isn't right. Only you can decide what is right for your family.
Yes, there are risks to hiking with a baby but as long as you pack wisely for the both of you, do a little research ahead of time, and know when it's time to turn around on the trail, everyone will be fine.
Don't forget to pack for yourself
As mom's we will always put our children first. When you're getting ready for your hiking trip you might be so enthralled with getting your baby's items ready, that you forget yourself.
Take the time to grab essentials for yourself as well. Items like sunscreen, a hat, water, and snacks are essential items you will need while hiking. Put the same amount of work into yourself that you do your baby so you both can enjoy a happy and comfortable hike.
Pick a time that works in your routine
I am the type of person that enjoys early morning hikes. The weather in California can get hot quickly and I don't want to be stuck on a trail where it becomes too hot for my little one. I do extra planning to see how long it will take to get to the trail and where that falls in my feeding time with the baby.
What works for us is leaving right after my son's morning feed. I make sure to pack and load the car beforehand. During our first hike, my baby was eating every two hours, so I picked a trail closer to my house and fed the baby when we arrived at the trail and again before leaving to go home.
Find what works best with your routine. You might live somewhere with better weather thean California and have the luxury of hiking during the day. My biggest factor is how hot or cold it will be when I am out. If I know I'll be too hot or cold, then my baby will be too.
What if it rains?
I don't have to worry about this since California is in another drought, but some of the best hiking trails are located in climates where it often rains. It's easy to protect ourselves from the rain, but you also need to find something safe and secure to keep the baby dry.
When picking a rain suit for your kids you want something that has an adjustable waist, a warm lining, a hood, and a full-length zipper. All of these options will make your life easier when getting the suit on and off your baby.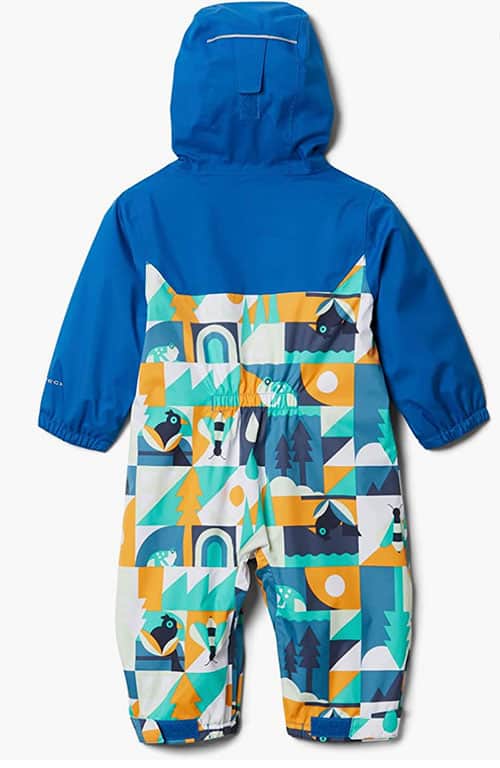 Columbia Infant Critter Jitters Rain Suit
Columbia Infant Critter Jitters Rain Suit is a great option for hiking and keeping the baby out of the weather. The zipper is diagonal and makes changing diapers a breeze. The hood has an elastic and adjustable velcro strap, so your baby has a good fit around their face. The rain suit comes in sizing as small as 0-3 months and as big as 12-24 months.
Hatley's Baby Rain Bundles
If you're hiking with a baby that can crawl or walk, you'll want bootstraps on your suit to keep the pants from riding up. Hatley's Baby Rain Bundles offers just that. Your baby can stay in the suit for diaper changes but there isn't elastic around the waist, so it may be a little big on them. The smallest sizing is 9-12 months and goes to 2-3T.
Luvdbaby Premium Baby Backpack Carrier
Most hiking packs have a shade or guard that protects your child from the elements. The Luvdbaby Premium Baby Backpack Carrier already has a good overhead shade for your baby and you can make it rain proof it by adding a rain cover or even a stroller cover if you have one.
If you find yourself stuck on the trail with no rain gear, you can always bundle your little one up in your jacket or cover them with a blanket if they're in a carrier. This goes back to tip two with packing more then you need.
When I was out hiking this weekend, the sun decided to make a bold appearance and I didn't have a hat for my son. Instead, I used my hat to protect him and used a spare blanket for shade. It worked and both of us were happy hikers.
Hiking Strollers on the trail
You might not want to hike with your kid strapped to you and that's okay. There are some trails that work with strollers. Look for paved or wheelchair accessible trails because usually if a wheelchair can go on the trail, the stroller can too. Most state parks have these options but remember, the trail won't be as difficult as others since it has to be paved.
It's always good to check the All Trail app for the condition of a trail. Usually, the app or other app users will note the type of trail so you can get a little look into what you're dealing with. Also be aware that your stroller might get a little dirty and roughed up on the trail.
Tread carefully on the trail
This is obvious but you want to make sure you walk carefully when hiking with the baby attached to you. Wearing good hiking shoes is a must when carrying the baby on the trail. Hiking boots are made for hiking and give you a better grip and footing when you're out on the trail.
Columbia Women's Newton Ridge Plus
I prefer a waterproof hiking boot with good ankle support. The Columbia Women's Newton Ridge Plus is a great option.
It comes in a variety of sizes and is made with a lightweight cushioned sole and is waterproof. The sole is incredibly grippy to help prevent falls and it's built to last on almost all surfaces including gravel, rocks, and grass.
I also take my hike a lot slower when carrying the baby. I am already a slightly clumsy person and the last thing I want to do is fall with my child strapped to me. I try to pay extra attention to where I am walking, especially on uphill and downhill slopes.
One thing my friends and I already did prior to hiking with a baby was mentioned things like rocks, holes, or roots that are a tripping hazard. We still practice this today to keep everyone safe.
Practice makes perfect
Not every hiking trip is going to be movie worthy. There will be the inevitable meltdowns, inclement weather, and stumbling blocks. Just know that this is a moment in time, and it will pass.
Your first hike probably wasn't the best because it was new. Your baby is experiencing a lot of things for the first time and can get overstimulated, uncomfortable, or just plain cranky.
Don't let those things make you give up your dreams of hiking with your child.
If one bad trip happens, try to brush it off and plan your next adventure. I started hiking on small trails and we've been working our way up to larger ones.
At home we use our LILLEbaby a lot, so he is used to being in it. It takes practice to get a good hiking experience.
I hope this guide makes you feel a little more comfortable when deciding if you want to take your baby out hiking. If you start at a young age, your baby will be sure to love the outdoors just like you!
My biggest and most important piece of advice: wear leggings with pockets. You'll need the easily accessibly storage space.
Happy hiking!
Quick Hiking Packing List
Water bottle
Baby carrier
Backpack
Hiking boots
Baby Bottle and formula (if applicable)
Spare diapers
Wipes
First aid kit
Pair of baby socks
Extra set of clothes for baby
Blanket
Hat if needed
Sunglasses for you and baby
Sunscreen
Snacks for adults and baby alike
Love it? Pin It!