Our two week road trip through Spain was a literal dream come true. Traveling with kids to Spain ended up being less stressful than I had prepared for.
We had the best time in our rental car, exploring the medieval castle of Peniscola, the cobblestone streets of Girona's old town, and devouring mouthwatering pintxos in San Sebastian.
I don't want to toot my own horn but I felt that the timing and pace of our road trip across Spain was nearly perfect. While we didn't get to see everything, we were able to take in so much of this gorgeous country.
Many of you asked for our Spain travel itinerary and I wanted to share our step-by-step (or rather, mile-by-mile) trip so that you can plan your next trip to Spain accordingly. Keep in mind, we were traveling with two very adventurous kiddos who did exceptionally well with long travel days. This might not be the case for everyone.
With this itinerary, you can pick and choose what parts of Spain and the Iberian Peninsula are best for you.
Day 1-3: Alicante
Having never heard of Alicante before, we were thrilled to learn that it's home to one of Spain's international airports that caters to Icelandair. The airport is roughly a 20 minute drive from the city center. Knowing that we had no need for a rental car right away, we took a cab from the airport to our airbnb.
We arrived in the afternoon and vowed to stay awake until at least 8PM. After dropping off our bags at the Airbnb, we went out to explore Alicante, which, if we're being honest, meant scouting out the best tapas and gelato.
Pro Tip: Heladeria Borgonesse is where you want to go. There was a wide assortment of flavors and the gelato was so creamy and delicious. We were desperate to keep the kids awake that we even let them have gelato before dinner.
I was so jet lagged I can't even remember the name of the tapas bar we found but we feasted on patatas bravas, paella, jamon croquettes, and sangria before dragging ourselves back to the Airbnb.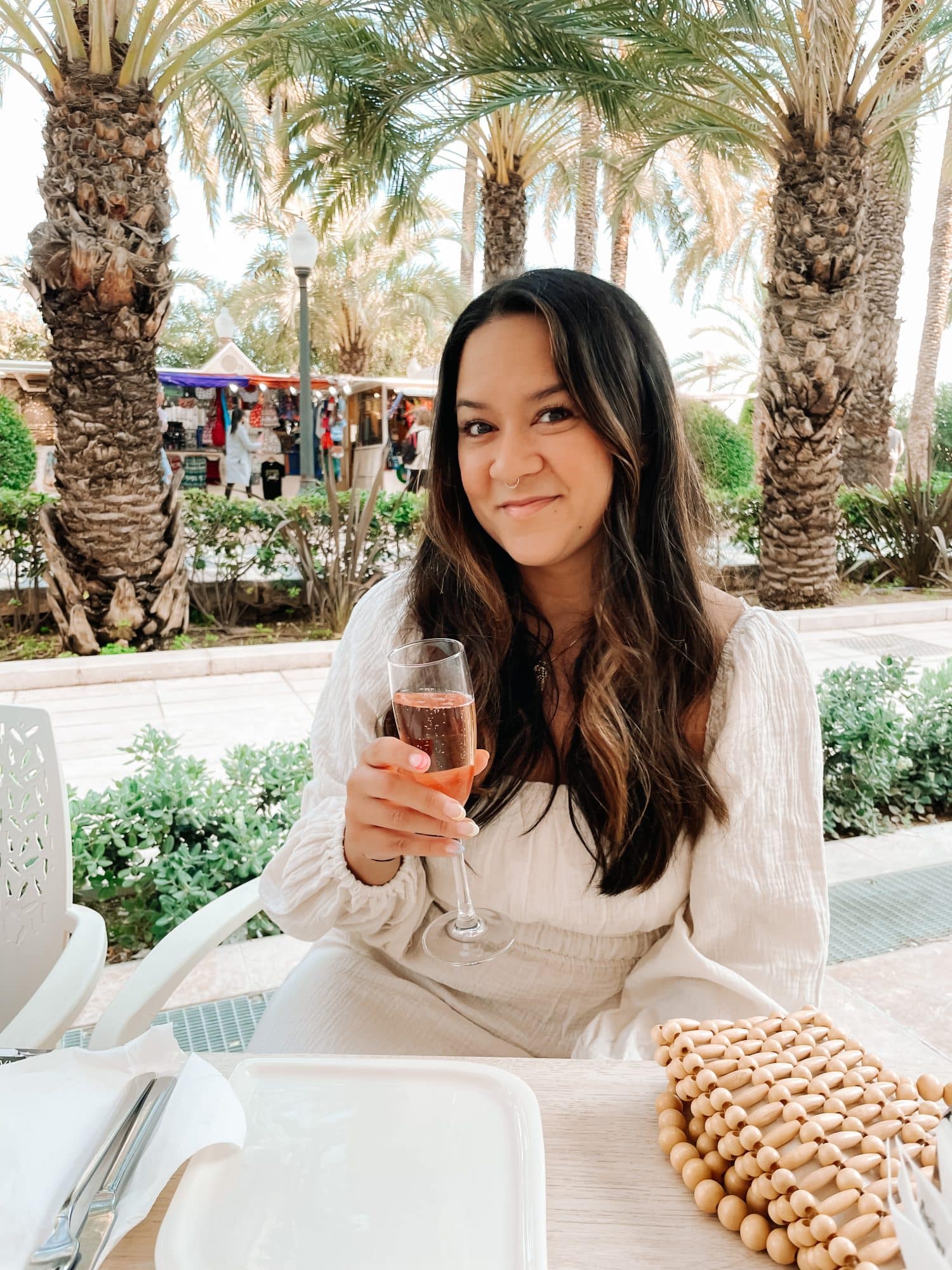 We awoke to our first (and only) full day in Alicante. We managed to make it out for breakfast around 10AM at Sip and Wonder Cafe. The staff spoke Spanish, English, and French and the food was fresh and delicious. As it was our first full day in Spain, we allowed extra down time for the kiddos to nap. The majority of the day was low key but we managed to get out of the house in the afternoon. We spend that time walking along Alicante's beachfront, exploring the Castle of Santa Barbara, and–you guessed it–more gelato.
The Castle Santa Barbara boasts more than 1,000 years of history and is one of Spain's largest medieval fortresses. It looms over the city from its perch atop Mount Benacantil. Its iconic profile can be seen from nearly every part of the city.
Intrepid visitors can trek up the hill to the fortress or opt to take the elevator (located across the street from El Postiguet Beach). The lift costs about three euros per person but worth it if you're traveling with small children or those that need assistance.
The fortress boasts the best views in town and even has a cafe where you can enjoy the sights with a refreshing drink in hand. If visiting during the warmer months, I suggest heading out early before the sun is at its full heat or waiting until the evening when the weather cools.
For our last night in Alicante, we splurged on dinner at Terre. Reviews claimed they had the best jamon croquettes in town but while the food was great, we found the staff slightly cold and aloof. Perhaps they were just having an off night? That being said, the oxtail croquettes were ridiculously delicious and the drink menu wasn't too shabby either.
Knowing we had a three hour drive ahead of us, we woke early the next day so that we could pick up our rental car and hit the road.
ALICANTE Takeaways
I imagine Alicante can be infuriatingly busy (and noisy) during the peak summer season but we found it delightful in May. It might be a good idea to add it to your itinerary if you're traveling during a shoulder season. Due to its international airport, Alicante is a popular destination for European travelers on holiday.
Alicante Restaurants
Alicante Hotels and Vacation Rentals
El Plantio Golf Resort (We stayed here the night before we flew home. It's located a five minute drive from the airport and about ten minutes from downtown Alicante. Our suite was actually a three bedroom apartment with balcony. There were two pools and a restaurant on site. The cost was around $100/night.)
Day 3-6, 8-10: Peñíscola
Don't let the name fool you, Peñíscola is a family friendly resort town with stunning beaches and incredible history.
Our stop in Peñíscola was by sheer luck. My mother-in-law gifted us a week-long stay at a condo in town and we couldn't pass up the opportunity to visit somewhere new.
Peñíscola is an easy three hour drive from Alicante. While our kids are great travelers, we knew we'd need to make at least one stop. Thankfully, Valencia lies right between the two cities. We made Valencia our stopping point for lunch so that the kiddos could get out and run while mom and dad grabbed an espresso. Lunch in Valencia (pizza!) was delicious but we quickly found ourselves overwhelmed by being in a big city and were anxious to get back on the road.
With miles of pristine beaches, it's no wonder Peñíscola made the list as one of Spain's most beautiful towns. The long strip of beach reminded us of the Hamptons. The water was a little too cold in May for this Hawaiian local but it didn't stop my husband or kids from jumping in.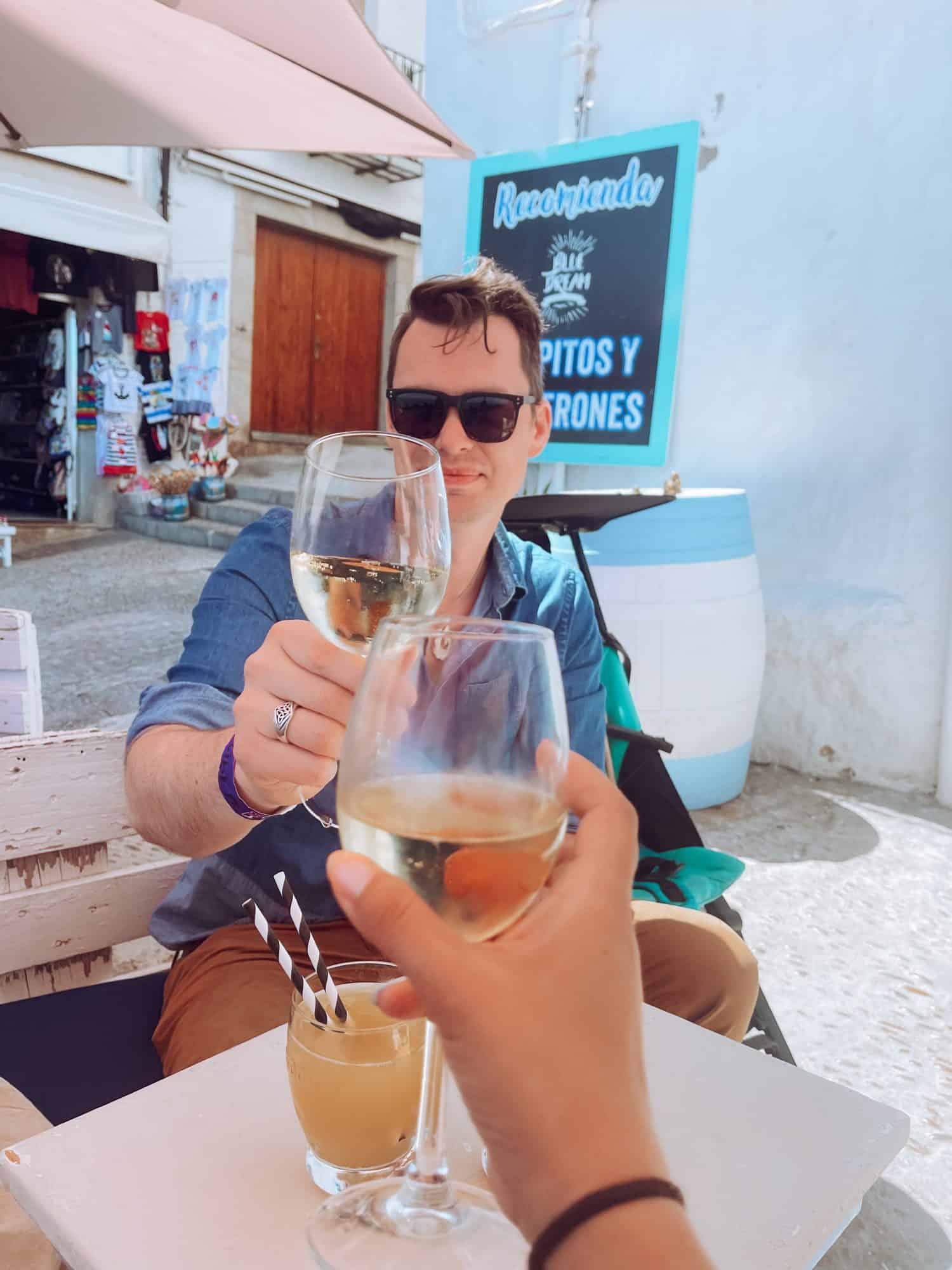 The downside of visiting Peñíscola in a shoulder season is that not all restaurants and attractions are open. Sunday and Monday nights were quiet in historic Old Town but we managed to stumble upon Taberna La Cueva, which ended up being one of our favorite meals of the trip.
In our opinion, the best part of Peñíscola is its historic old town and its castle. The Peñíscola castle sits perched over the sea and is an iconic silhouette from the Peñíscola beaches. It was erected by the Knights Templar between 1294 and 1307.
Game of Thrones fans might spot a few familiar sites as the Old Town was used as a filming location for El Cid and Meereen. Our family loved strolling the cobblestone streets, stopping for sangria and refreshments whenever the sun got too hot. There's ample shopping and fun little sites hidden around every corner.
Don't forget to make a stop by the Bufador de Peñíscola. This blow hole is unique as it's surrounded by a cluster of buildings within the medieval old town. The waters were too calm for us to see the bufador in action but we heard from locals that it makes a loud snort that reverberates through the city's streets.
Takeaways
Although we spend the most time in Peñíscola, I feel like we barely scratched the surface of all that the city has to offer. I would have loved to take advantage of the miles of beautiful beaches and sample more of the local cuisine.
Peñíscola Restaurants
Pizzeria la Bella Napoli
Restaurante Chiki Cocina Mediterranea
Peñíscola Hotels
Peñíscola Vacation Rental Options
Day 6-8: Girona
Girona is hands down one of our favorite cities in the entire world. We would sell everything we own and move to Costa Brava if they would have us. The autonomous region of Catalunya will always hold a special place in our hearts as we fell in love with the people, the food, and the stunning scenery.
Girona wasn't part of our original itinerary but it was impossible to be in Spain and not make a quick visit to the Costa Brava region. This was our fourth visit to Girona and the third time that we arrived in the month of May. One of the Girona's biggest events happens to be held in May and this last trip aligned with the festival perfectly.
The Temps de Flors is held the second weekend of May and is a vibrant floral showcase seen throughout the city. During this time the city is filled with colorful floral art installations that covers churches, gardens, and urban locations.
It's definitely worth visiting as the flower exhibits are truly a work of art and hidden throughout the entire city.
Our full day in Girona was spent wandering around Old Town, stumbling upon various floral art installations, and eating at all of our favorite Girona haunts. For a colorful breakfast and amazing coffee, we recommend a stop at La Fabrica. You also can't visit Girona without trying eclectic gelato from Rocambolesc.
I loved every bit of our time in Girona but a highlight was sneaking out at dusk to walk the city alone. There's something magical about taking time to yourself and I enjoyed strolling along the outer wall and people watching as the sun began to set.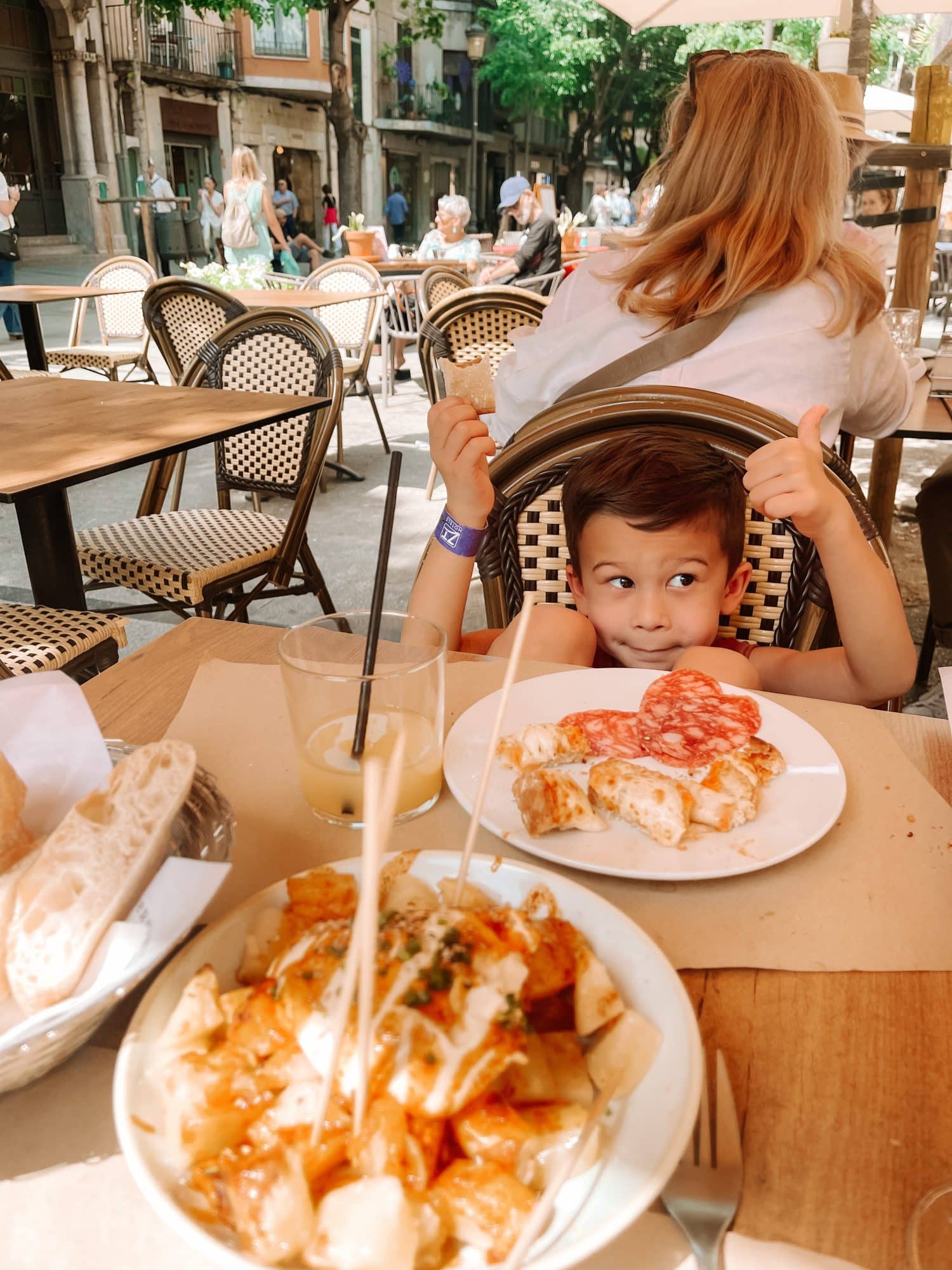 Takeaways
Girona remains one of my favorite places in the entire world. There's something magical about Old Town, as if I can feel its history in my bones. My only regret is that we didn't have enough time to spend in Catalunya. If you plan on visiting Costa Brava, be sure to give yourself at least two full days in Girona.
Girona Restaurants
Girona Hotels and Vacation Rentals
Nord 1901 Hotel: We stayed here on a previous trip to Girona and it was just too good not to list.
Girona Day Trips
I hadn't planned the two stops below but Montserrat was only slightly out of the way of our drive from Girona back to Peñíscola. We noted its close proximity on our way north and knew that we had to stop on our return.
As for Morella, Chris discovered the medieval city while researching Peñíscola. It turns out, the beauty of Peñíscola is only rivaled by that of Morella.
Montserrat
Montserrat is sacred mountain range located near Barcelona. It's most known to visitors for its monastery and famous Escolania. The latter is a world renowned boys choir that welcomes guests from all over the world.
The views from the monastery are breathtaking. This is a sacred spot for most Catalans and we read that most are expected to make the journey on foot at least once in their lifetime.
We kept our time at the monastery short but managed to arrive just in time to hear the beautiful songs from the Escolania emanate from the chapel. When in residence, the Escolania sings at 1PM every day. If you'd like to see them in person, you'll need to reserve your tickets online. As you're in a holy place, we recommend attire suitable for a place so revered.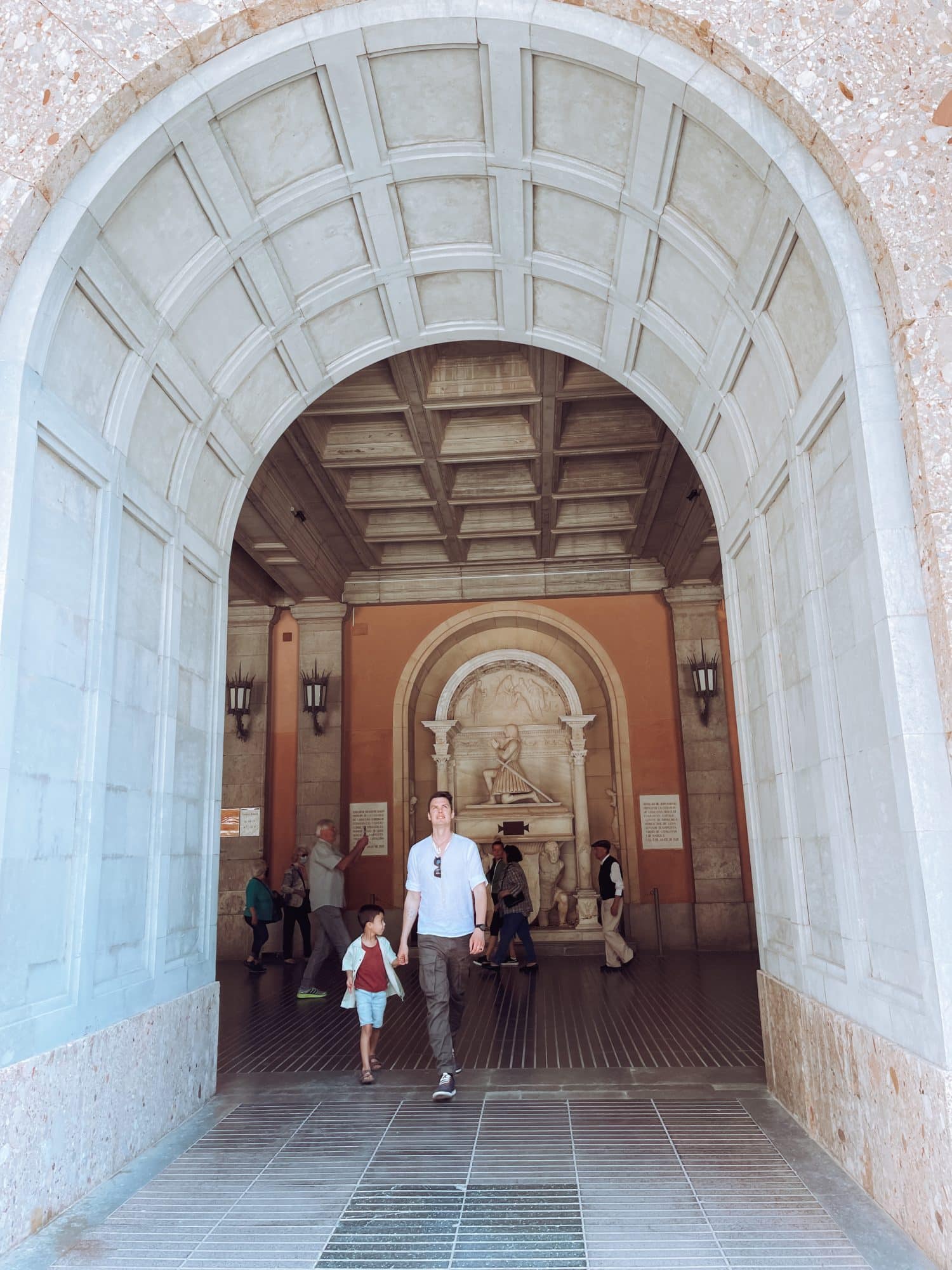 We drove the winding road to the monastery but we noticed that there were paths to hike up (for the adventurous) and a funicular from a parking lot located at the bottom of the mountain.
There is no charge for visiting the basilica and the 12th century statue named the Black Madonna. Tickets for the audio/visual exhibition are €5.50 for adults while tickets to the Montserrat Museum run €8 per adult and €6.50 for students and adults over 60.
Morella
The wonderfully preserved medieval walled city of Morella was a highlight of our trip. Located in the Castellon province, a mere 30-minute drive from Peñíscola, Morella is arguably one of the prettiest cities we've seen.
The rest of the country agrees. Morella was voted one of the most beautiful cities in Spain followed closely by Peñíscola and Vilafamés. And she's an old beauty. Literally. There are cave paintings at Morella la Vella that date back to 4000 BC.
And if you're wondering why there's a dinosaur museum and lifelike dino statues, it's because even the prehistoric creatures found this a place of beauty (nearly 60 million years ago).
The history of Morella deserves a post of its own but the city has had ties to the Greeks, the Romans, and has survived through multiple wars and transitions.
Our day in Morella was spent exploring the nooks and crannies of the city like the lush Poet's Garden and the Santa Maria la Mayor Basílica Church. We spent a frivolous amount of money on local honey and cheese at Guimera and then sent Chris to the top of the fortress (the kids were too hot and exhausted).
The city was exceptionally quiet on our visit. It nearly felt like we had Morella to ourselves and we could easily see ourselves calling this magical place home.
San Sebastián and Donostia
A visit to Basque Country wasn't originally on our list for this trip. It wasn't until we learned that our good friends Gerard and Kieu were going to be there that we altered plans and headed to northern Spain.
Our family drove the five and a half hours from Peñíscola to San Sebastián while the Bao family took a seven hour high-speed train journey from Barcelona. The timing was perfect as we all arrived to San Sebastián within an hour of each other.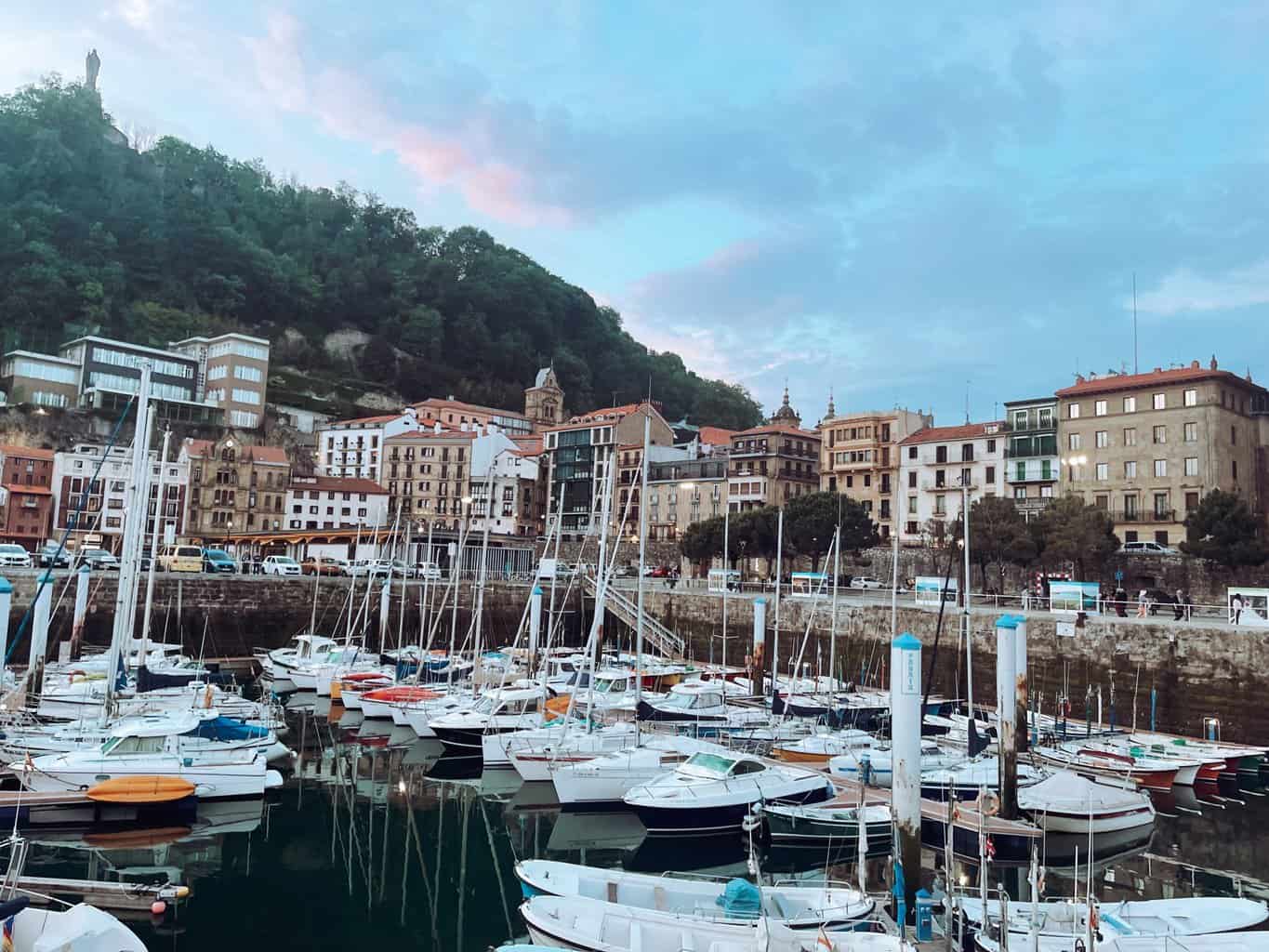 We found a great apartment in the heart of the city's Old Town. The Airbnb was actually two apartments connected by a hallway and was perfect for our two families with small children. Each apartment had two bedrooms and two bathrooms with split living areas.
Our side boasted two comfortable couches and lounge chairs while Gerard and Kieu's apartment had two dining tables (ours had none) and all the kitchen utensils. With this setup, we were able to enjoy meals together at Gerard and Kieu's place and then relax in the comfort of our living room.
We wasted no time getting out and about and did what every visitor to San Sebastián should do: went on a pintxos crawl.
If you're like us, you may be wondering what exactly pintxos are. They're basically Basque-style tapas. Both are small bites made from delicious, locally-sourced ingredients. To the untrained eye, tapas and pintxos might look exactly the same, but one way to tell them apart is by how they're served.
Typically, tapas are served on a plate and are a smaller version of Spanish dishes. Pintxos, however, can usually be found presented on top of a bread base. Tapas are also made to share while pintxos are usually made for a single serving.
Parte Vieja (Old Town) is one of the best places to pintxos hop. We feasted on servings of artisan foie gras, grilled octopus, creamy sea urchin, fresh tomatoes in olive oil, steaks bigger than our hears, skewered prawns, and so much more.
Personally, Atari Gastroteka was my favorite stop. The pintxos were mind blowing but the gin-tonics were the true show stoppers. The best way to enjoy their gin-tonic is to order one made from Nordes gin and then grab a seat on the steps of Santa Maria church. It makes for the best people watching and the attentive Atari servors will even come by to replenish your drinks as needed.
San Sebastián wasn't all pintxos and cocktails. There was also sightseeing that didn't involve our stomachs. We spent a sunny afternoon walking along Concha beach, stopping for cava and aperol spritzes in order to avoid the heat of the day.
Another morning we took the funicular up Monte Igueldo. At the top we were rewarded with stunning views of the bay below. There is also a small fairground at the top with an assortment of rides. They fun fair was not open during our visit but we were assured it would be up and running soon.
While our visit to Donostia was in May, the area was experiencing an exceptional heat wave. One of our favorite ways to beat the heat and delight the kids was a visit to the aquarium. The multi-level facility boasts more than 100 years of history and was one of the first oceanographic museums in Europe.
My favorite was the 360 degree tunnel that allowed you to stand and watch as more than 40 species of fish (including five species of shark) lazily swam above your head. Even if we weren't attempting to escape the heat, I would recommend a visit to the aquarium. It's well suited for all ages of kids and the adults had just as much fun as the littles.
Takeaways
As with every other destination on this trip, we simply needed more time in Donostia. On our next visit I would love to visit Museo San Telmo, Palacio de Miramar, and perhaps explore more of the region outside of Old Town.
For the culinary elites: visit Donostia for the pintxos but stay for the gin. Nordes gin, to be specific. Trust me, you'll thank me later.
Donostia Restaurants
Borda Berri
Atari Gastroteka
Bar Sport
Donostia Hotels and Vacation Rentals
Teruel
Our original plan to was drive the eight and a half hours from San Sebastian to Alicante in one day. It just so happened that that day would be Holden's birthday. Realizing that no one wants to spend half their birthday in a car, we ended up leaving Donostia early and breaking the trek up into two days. We found a halfway stopping point in the town of Teruel.
This small town is often overlooked as it's slightly cut off from main cities. The town is crafted in the style of Mudejar architecture (a melange of Islamic and Gothic influences), resulting in many of the town's landmarks being labeled as a UNESCO World Heritage Site.
For being such a small town, Teruel boasts a rich and contested history. Visitors can't pass through town without hearing of the ill-fated Lovers of Teruel. Diego and Isabel deserve a post for themselves, but you can't miss references to their story carved throughout town.
My favorite memory from Teruel happened as we were gearing up to leave. While Chris and I were attempting to enjoy an espresso in peace at Plaza del Torico, we let the kids wander across the street to a group of euro vending machines.
The kids were begging us for money so they could each purchase a trinket, but knowing that we'd either lose them or have to pack them home (alongside their other souvenirs) we told them no.
The next thing I know, a little old lady is speaking to them. I couldn't make out what she was saying but I know it had to have been Spanish by the somewhat bewildered look on my kids' faces. I was about to investigate when the woman handed each of them a euro coin, patted them on the head, and walked away.
Teruel Restaurants
Truthfully, we only had time for room service dinner and a brief coffee stop before leaving town. That being said, I was thoroughly impressed with the food at Hotel Palacio La Marquesa.
Teruel Hotels and Vacation Rentals
What we missed on this trip
I'm notorious for trying to fit in too much in our travel itinerary. I tried to be mindful of this as I structured out our time in Spain. With two small children, I wanted to provide ample time to explore and rest in each destination.
Originally, I planned to travel to southern Spain to visit Alhambra. I've always wanted to visit Alhambra and due to its close proximity to North Africa, I even grappled with taking the ferry for a quick trip to Morocco. I know, I know. Too much.
In the end, we swapped out our time in Alhambra to go to San Sebastian. Do I regret it? Not one bit.
I also grappled with spending some time in Barcelona. The kids would have loved to visit La Sagrada Familia and sample the many tapas bars that we frequented in the past. Sadly, there just wasn't enough time. If we had an extra day, I might have planned a stop in Barcelona on our way up to Girona.
DESTINATION GUIDES FOR YOUR TRIP TO SPAIN
Stay tuned as we create more in-depth guides on all of the destinations we visited on our epic road trip through Spain. You'll be able to find specific information on:
Alicante
Peñíscola
Girona
Monserrat
Morella
San Sebastián/Donostia
Teruel