Travel brings inspiration in all shapes and forms. If you are looking for a way for your little ones to continue writing while they explore, check out these travel journal ideas and prompts for kids. My own boys helped develop the questions, thinking about what they would want to tell their friends back home.
Each prompt is meant to open up discussion and lead to further writing while they flesh out ideas. It doesn't take much—even a one-sentence answer can say a lot. Your kids can write for themselves or pretend they are writing to a friend or family member, whatever gets them excited to express themselves on the page.
How to get started with your travel journal
First, you need a journal. A travel journal doesn't have to be fancy, but you do need some paper and something to write with, like crayons, colored pencils or markers. My boys like to use a travel notebook with lined pages that are bound and ready to use.
Sometimes my kids steal the leather bound journals with blank pages that I pick up at conferences. You can also make one by folding paper in half and stapling it at the seam. Either way, make sure your child's travel journal has lots of pages to write and scribble on, and glue in ticket stubs, postcards and Polaroids. My youngest has several journals created out of anything and everything he has found along our journeys, even hotel stationery.
Gather your journal supplies
You'll want to bring supplies for your travel journal that make it really fun to use. No one wants to lug one more book around that their kids will never even open. Bring colored pencils and markers, tape, and a glue stick to make recording your child's travel memories as easy as possible.
On every trip, I grab a simple pencil box from our craft shelf and fill it with the following fun art supplies:
Big eraser
Glue stick
Paper clips
You don't need to take all of these craft supplies with you, but definitely bring your child's favorites.
Travel Journal Ideas
It can be hard to get started on a travel journal, which is why you may need a few ideas or prompts to get going. Some pre-made journals have sections where your child can fill in their itinerary, feelings about the day, packing lists or even boxes to draw something they saw.
If you are making your own journal, even if it is just a leather journal you picked up on Uncommon Goods, you can make your own prompts and sections. Your kids will love coming up with travel journal ideas with you.
Use small Post-It notes to create chapter tabs in a blank notebook. Label each tab with a journal idea or prompt. You can also mix and match your papers and materials.
Journal sections can include:
Blank "comic book" squares
Mad-Lib pages for your kids to fill out
Drawing prompts and ideas
Wax paper to press flowers between the pages
Water color paper to paint the colors your kids see and scenes you pass by in the car
5 senses grid: What did your kids see, hear, touch, smell and taste today that made them happy, sad, excited, grossed out, etc.?
Journal prompt headlines on each page for your child to write about (see below)
No matter which way you go with your kids' travel journals, you are sure to be surprised by what they create. Try not to give them too much direction. Don't hover as they write and sort out their feelings. Give them a quiet place at night, during lunch or quiet time to reflect. When you let a child's imagination go wild, they come up with the most amazing things.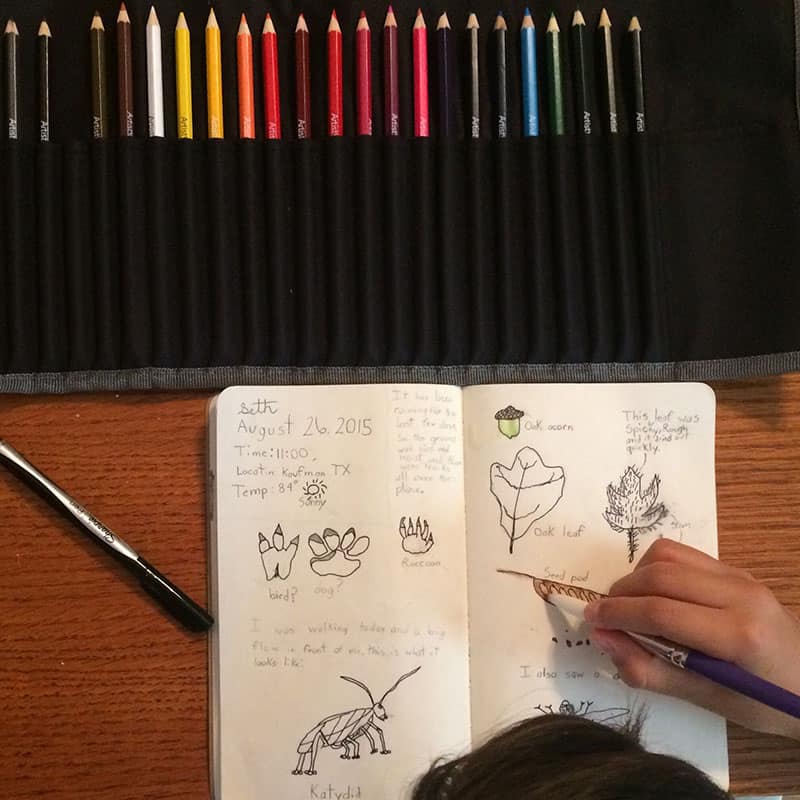 Travel Journal Prompts
What did you pack on the trip?
Where are you going this week?
What's your favorite place you explored today?
What are you looking forward to most about the day?
Write about your daily schedule.
What are your favorite and least favorite parts of the day?
What is one weird thing you ate today?
What kind of transportation did you ride? Have you ever ridden that type before? What did you think?
Did you play any sports? If so, which one and with who?
Did you make any new friends? If so, how? Was it through sports, just introducing yourself, or during a conversation?
How do you think the day could have been better? How would you change it?
What are three things you always pack?
Do you have a favorite stuffed animal that you always travel with? Describe it.
Do you prefer to road trip or fly? Why?
Do you prefer to travel by car, plane or train? Why?
What's one thing you want to bring back from your trip?
What animal did you see today? Can you describe it? Draw it?
If you could add ONE person to your trip, who would it be?
Write a poem about where you are today.
What was the funniest moment on your trip?
What is one interesting thing you learned on your trip?
Did you hear any music on your trip? How did it make you feel?
Describe how the people are dressed around you.
Did you see any other kids? What were they doing?
What's one weird thing you touched?
What other Travel Journal questions would you add?
Not ready to make your own? Craving more of a structured journaling experience? Check out our favorite travel logs and travel journal ideas that include prompts for kids and adults. After all, why should mom and dad miss out on all of the fun?
Kid Travel Journals
JournalS FoR any age
Ready to create a watercolor journal? CLICK here to find out how to make a watercolor journal on your next trip.