Dingle may not be top of mind when visiting Ireland, but Dingle restaurants have exploded in recent years. This city is a must-eat destination for foodies. Dingle, Ireland is a musician's paradise with multiple music festivals throughout the year, and restauranteurs swooped in to answer the call for something other than traditional pub food.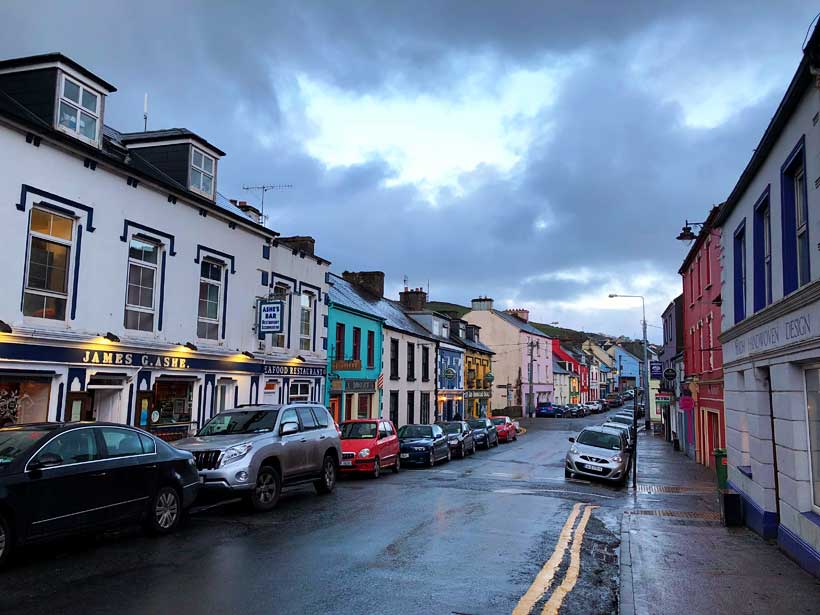 You can still get classic fish and chips, and Irish stew (my favorite) with brown bread, but local chefs are also pairing duck with cherries, and local cheese and pears. The best news of all, they are always coming up with something new to do with the local lamb being raised just down the road.
The culinary scene in Dingle Ireland has exploded and travelers are starting to notice, for better or for worse. While great food has moved in, so have the price increases. Your best bet is to dine early, before the traditional music sessions start, when you can take advantage of the early-bird menu. The prix-fix menus typically offer two courses and a limited number of choices.
Best Dingle Ireland Restaurants With Kids
James G Ashe
Main St, Grove, Dingle, Co. Kerry, Ireland. If you are looking for fresh, local seafood, pop in the door and grab a seat. This restaurant is much larger than it looks. Don't be fooled by the front room.
There are non-fish options for those looking for veggies and red meat. There are usually signature cocktails available, a rarity in Ireland, outside of the larger cities. Make sure you ask about the specials. Many times they are worth it. If you are craving mussels, arrive early. They often sell out.

The Dingle Pub
Main St, Grove, Dingle, Co. Kerry, Ireland. The Dingle Pub is pretty much a staple in town. Year-round you can find music playing. If you are really lucky, local dancing legend David Geaney will be at home.
His family has owned this pub for decades, and yes, he works the bar and waits tables when he is home. He will also do some Irish step dancing when he isn't on tour. So, if you see a young guy taking your order, say hi to David.
He is super nice, will take a photo with your kids, and even joke with you a bit when you don't recognize him… at all (yup, happened to us!) The food is your typical pub fare, but the company is great and the music and dancing is worth the cost of a pint.

Global Village
Main St, Grove, Dingle, Co. Kerry, Ireland. While a bit pricey, the dishes are well portioned and the flavors are beautifully paired. The décor is fancy, which may make you feel uncomfortable bringing your kids in the door, but the staff is very friendly and happy to provide a half portion of anything on the menu for the kids in your group. Go early if you have a rambunctious crowd so you don't have to worry about noisy little ones.

Random Restaurant
Dykegate St, Dingle, Co. Kerry, Ireland. One of the most celebrated restaurants in Dingle and for good reason. Book a reservation no matter how quiet you think the town will be when you visit.
Random serves up delicious food at reasonable prices with a quality you will find in big food cities like London and San Francisco. If duck is on the menu, order it. Picky eater on your hands? Grab some cheesy garlic bread. Local and imported beers and wines are on the menu. The bartender is happy to help you navigate your way to your perfect sip or pour.
My Boy Blue
Holyground, Dingle, Co. Kerry, Ireland. Rumer has it that My Boy Blue has the best grilled cheese sandwich on the planet. While I can't attest to that, a friend swears by this place and her tastebuds are pretty darn good, so I'm prone to agree with her.

Treehouse Café
5 Orchard Ln, Dingle, Co. Kerry, V92 XW24, Ireland. Every town should have a Treehouse Café, that warm breakfast spot that serves eggs, pancakes, scones and perfectly brewed tea until they close mid-afternoon. On a rainy spring day the windows will fog up with steam from the tea and coffee being poured and the lovely chatter coming from the tables.


Our Favorite Restaurants Outside of Dingle
Stonehouse Café and Restaurant
Fahan Ventry Dingle, Fahan, Tralee, Co. Kerry, Ireland. Stonehouse hours and offerings depend on the time of year. What you can always get are clean restrooms if you buy a coffee and scones during a quick stop as you explore Slea Head Drive on the Dingle Peninsula.

South Pole Inn
Main Street Lower Main Street, Annascaul, Co. Kerry, Ireland. A fascinating restaurant worthy of a leisurely lunch. If it is warm, make sure you factor in time for the kids to play by the river while you enjoy a pint sitting on the picnic benches. Order the beef stew if it is on the menu, no matter what time of year you visit.
This restaurant is called the "South Pole Inn" because it holds collectibles and memorabilia of the town hero, Antarctic explorer Tom Crean. There is a cabinet in the pub that even lets you step into the south pole. Make sure your kids find it. They will have a blast… literally.
Outside of the history held on the walls, the staff is friendly and the food is good. There isn't much else to the town of Annscaul, but it is a great place to load up before you head to nearby Inch Beach to play in the sand and try your hand at some Atlantic surfing.