Giant pine cones, Venus Flytraps and kayaking adventures were just the beginning of what we found in Carolina Beach State Park in Carolina Beach, NC with kids.
If I'm being really honest, this state park had me at Venus Flytraps. For some reason, I thought these little guys were extinct in the wild. They seemed like something only scientists could keep alive in test tubes or maybe at Home Depot.
I certainly hadn't been able to keep one alive at home. And yet, here, in this unassuming little state park in North Carolina, Venus Flytraps were thriving. OK, it was partly thanks to the park rangers who protected the plants with a vengeance against poachers and just plain ignorance.

Venus Flytrap Tours at Carolina Beach State Park
Every Saturday morning at 10am in the summer months (11am in winter) park rangers arrive at the Flytrap trailhead to lead whomever wants to join them on a walk that lasts about an hour.
They give the history of the area and why this particular spot is one of the last in the world that has the perfect conditions for the Venus Flytraps to grow (these little devils are very particular).
NOTE: Every few years the forest the Flytraps grow in has to be burned so they can reseed. If you go on the tour, make sure you ask the rangers about this. It's fascinating.

HOW TO FIND VENUS FLYTRAPS IN THE WILD
The Flytraps are very hard to find on your own. These plants are much smaller than you realize and tend to hide under larger plants. Go on the tour.
If your kids get antsy it's OK. Just move at your own pace.
The park rangers don't mind if you wander off down the path. If you're late, just jump onto the tour already in progress.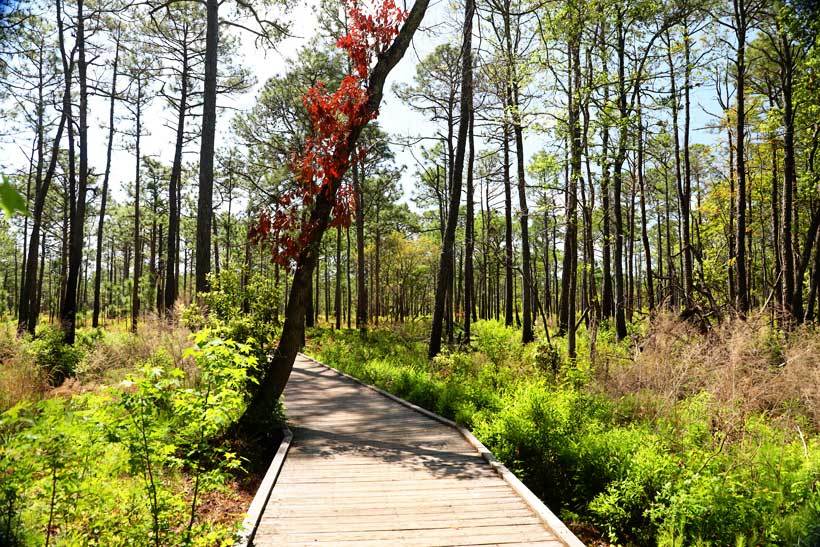 Kids on a Venus Flytrap State Park Tour
I totally forgot about the Saturday tour on our second visit. I was trying to find the Venus Flytraps again to show my husband. We saw a cluster of people. They must have found them! We rushed on over. Low and behold it was the group with the park rangers.
Most of the group consisted of older visitors, who were more than excited to help my little men discover a rare bit of nature.
The rangers happily answered my sons' questions that I'm sure had already been covered and invited us to wrap up the tour with them, which we happily did.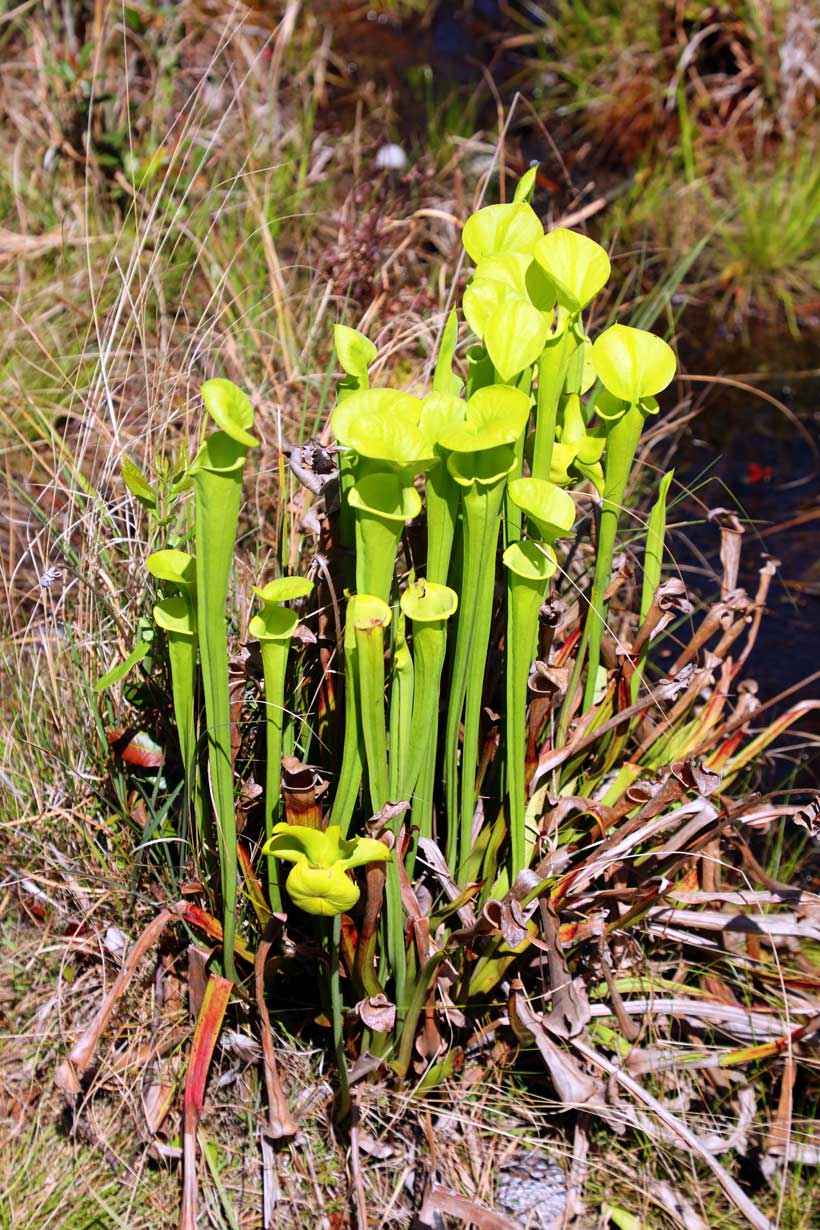 Venus Flytrap Poaching in Carolina Beach State Park
Keep in mind that although Venus flytraps do grow throughout the park, you will only see one spot on the guided tour. The park rangers won't show you all of them.
Plant poaching is a huge problem, so the rangers do keep some spots a secret to protect the plants.
Do not touch the plants. Do not take the plants. Respect these native inhabitants. They are rare.
In fact, this is the only spot in the country where the Venus flytrap still grows. The plant requires a very specific growing condition and Carolina Beach still has it. Let's help the area stay that way.
Carolina Beach State Park with Kids
Carolina Beach State Park has a lot more to do than just hunting for Venus flytraps. We had originally set out to go kayaking that day. Sadly, the weather conditions were not in our favor.
The wind was too strong to take the kids out. We did a little hiking, but with antsy boys, I knew I needed to have a destination in mind.
Having a very rare and amazing plant to look for was the perfect excuse to keep my boys moving.
Carolina Beach with Kids
We eventually went back to the beach after our tour ended, but thankfully we were all a little wiser. Both of my sons had more questions, and naturally wanted their own Venus flytrap at home. We'd already killed several we had bought at Home Depot.
Thanks to the little chat with the park rangers, I was able to convince the boys that maybe these plants were better left growing in the wild than on our windowsill.
I was happy to bring them back anytime for a visit. In fact, Carolina Beach is home to one of my favorite restaurants, Surf House Oyster Bar & Surf Camp.
Between the restaurant and the Venus Flytraps, I could easily be convinced to make the drive down to Carolina Beach very soon.
flytrap via ShutterStock.com