Riding a bike with your kids is one of the most surprising pleasures of being a parent. While I would have thought riding bikes with my kids would be a painful ordeal, especially when they were little, it ended up being the opposite. Traveling to Paris to explore via bike really drove this idea home, especially when we were able to bicycle our way through the grounds of Versailles with kids on a Fat Tire Paris Versailles Bike tour.
Bright and early on a Wednesday morning we headed to the Fat Tire Paris office, curious to see what this day would bring. We knew we would be taking the train to Versailles, biking through the town to pick up the fixings for a picnic lunch, and then heading into the Park of Versailles. My boys were the only children on this day's tour. At three and five years old, this trip could be a disaster, but we had worked through our jet lag, the rain had finally let up, and the boys were eager to get outside.
At the Fat Tire Paris office, right near the Eiffel Tower, we met our guide Claudia. She got right down at my boys' level to say hi and ask if they were ready for an adventure. She then talked to my husband and I to make sure we knew the plan. We told her we would do the best we could, but if the boys got antsy, we would step away from the group where we could still see her, but they wouldn't disrupt the rest of the tour as she gave out information during each stop on our journey. We shouldn't have worried. The boys did better than some of the adults.
Starting the trip off with a train ride got my toddler excited. Anything with wheels and engines made that boy happy. Finally getting to see the historic Palace of Versailles with kids made me happy. This was a palace I had been dreaming about since I was a girl. The fact that I got to share Versailles with my kids made it all the more special.
Book the best tour of Versailles right now!
Fat Tire Paris Versailles bike tour
Grabbing bikes to tour Versailles is easy. Fat Tire Paris has a small storage space in the town of Versailles just a few blocks from the front entrance of the Palace of Versailles. This means you don't have to cart your bike on the train and back. You are also free to stay at Versailles as long as you want, even if the tour guide needs to head home.
Bikes. The bikes are all well maintained and easy to spot with their bright red color and blue text. Adult bikes can be adjusted to fit any height, and there are multiple options for children.
Tandem bikes are available for parents with children old enough to pedal, but not old enough to keep up with the adults for the entire day. The tricycle tandem set up makes it easier to balance both parent and child. There is also a little basket in back to carry bags and picnic supplies.
Baby seats are available for parents with smaller children who aren't ready to pedal their own bike or a tandem. The seat sits on the bike behind the parent and gives plenty of support.
Child carriages are available if you would rather have both kids pulled behind you. This is great for kids who need to nap during the day.
Bike helmets are mandatory for everyone. Child-size helmets are available.
Bike Reservations. When you book your tour, make sure you let the reservation agent know what bike seat you would like so they have it ready in Versailles for you.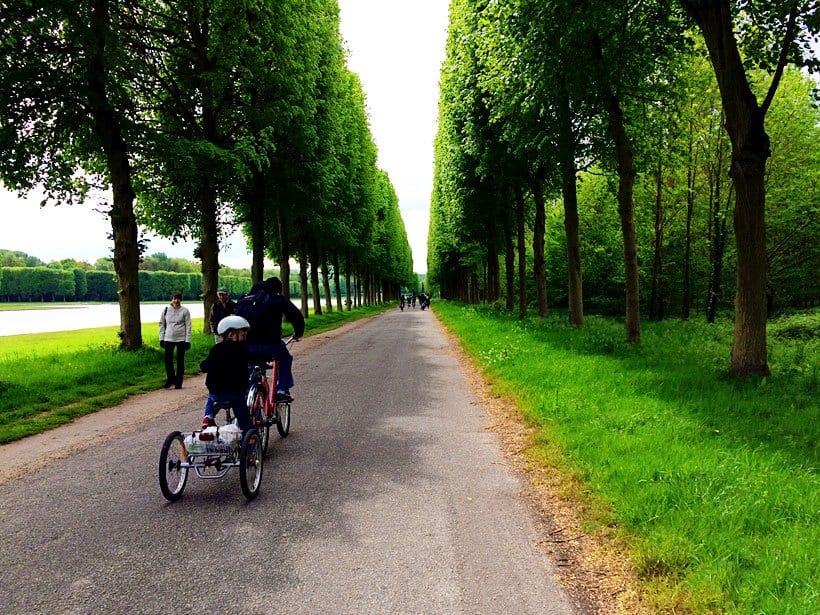 Fat Tire Paris Guides
Our guide was knowledgeable and flexible with the information she gave. If someone was more interested in the life of Marie Antoinette, she could give more information on her life. She let the kids ask plenty of questions, and rolled with the pace the group wanted to set for itself.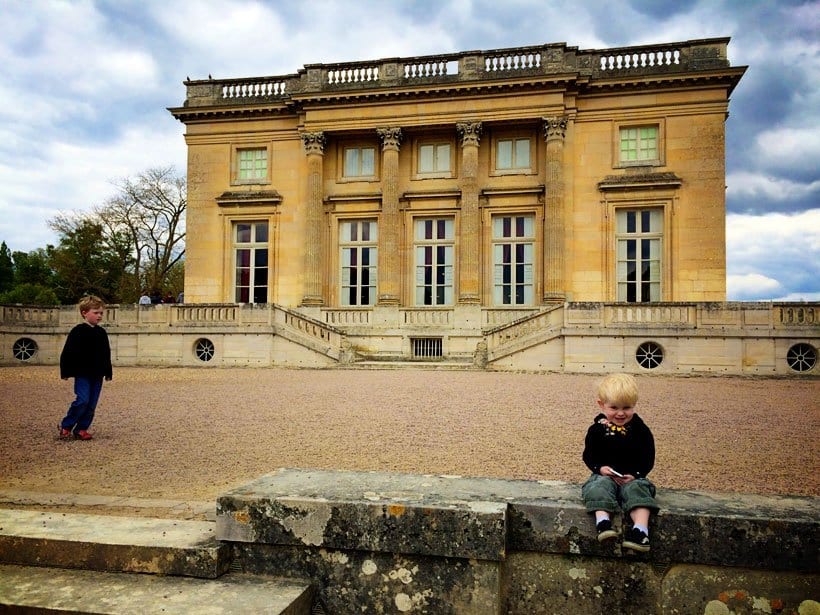 Pace of the Versailles Bike Tour
The pace of the Versailles Bike tour was perfect. We got to see the highlights of the grounds, including the Grand Trianon and the Petit Trianon. Normally we would have seen the Queen's Hamlet, but it was under renovation the day we arrived. Some stops we were able to walk around and explore, while others we just hopped off our bikes to take a few photos. There were ample toilet breaks along the way, which was huge for our family of small children who couldn't always hold it when they really had to go. We enjoyed lunch on the Grand Canal, before ending our tour at the back entrance of the Palace of Versailles. We did have to ride our bikes back to the Fat Tire Paris office before we went into the Palace of Versailles, but our guide walked us back, giving a quick history of the actual palace and then set us loose.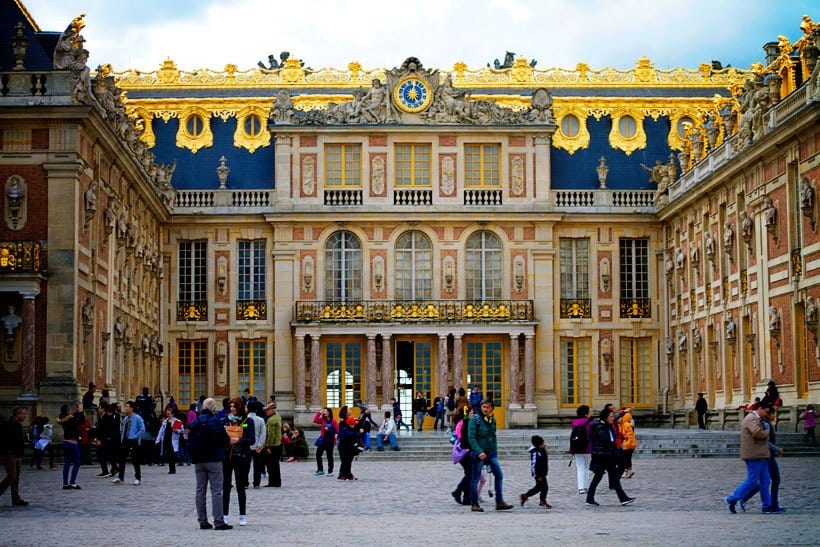 Touring the Palace of Versailles with Kids
Exploring inside the palace after our Versailles bike tour was perfect. The day trip crowds had thinned out and many times we had rooms to ourselves. My boys were starting to lose it, so we did a bit of a sprint through the actual palace of Versailles, and then wandered the gardens closest to the estate. The Orangerie was my favorite stop, even if we did have to climb up and down about two hundred steps to explore, but since we were the only ones in this particular garden, it was worth it.
It's not everyday a childhood wish comes true. Booking the Versailles bike tour so we could experience the grounds of Versailles with kids was by far one of my best decisions during our trip to Paris (the day bike tour of Paris the afternoon we arrived in town while it poured down rain– not the best decision I've ever made). If you want to see as much of Versailles as possible, but you don't want to walk the grounds yourself, check out the Fat Tire Paris Versailles Bike Tour. It is the number one tour I recommend all families do when they visit Paris, and is a day trip worth the time to do.
Last chance to BOOK your Versailles bike tour tickets.
They do sell out!
Many thanks to Fat Tire Paris for hosting on the Versailles Bike Tour. As winners of the Fat Tire Paris annual giveaway we received lodging, unlimited tours and airfare without editorial coverage expectations. As always, my opinions are my own. When they aren't you will be the first to know.