Greece is the birthplace of western civilization. Just go to Athens and you will see how this country has affected other nations across Europe and the Americas.
While Athens does house a lot of the great works of art and architecture, you will find plenty of archaeological sites, historical artifacts and magnificent structures to explore throughout the Aegean Sea.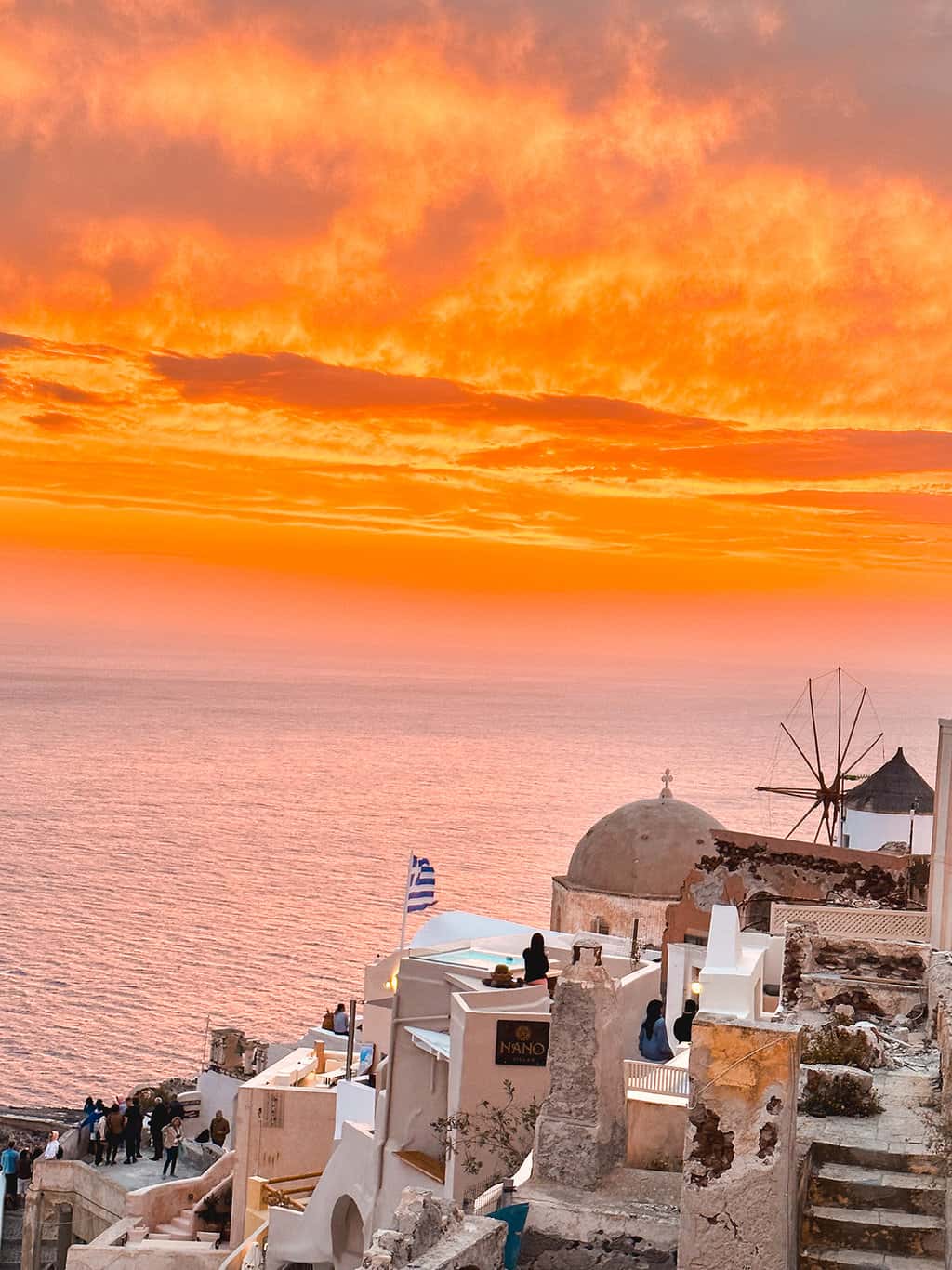 Most importantly– you will get to meet the people who continue to make these islands their home generations after their ancestors built houses and made a life for themselves here. 
And even more important than that– the food varies between islands, so it's your epicurean duty to taste your way through some of the best dishes in the country (dare I say across the Mediterranean?).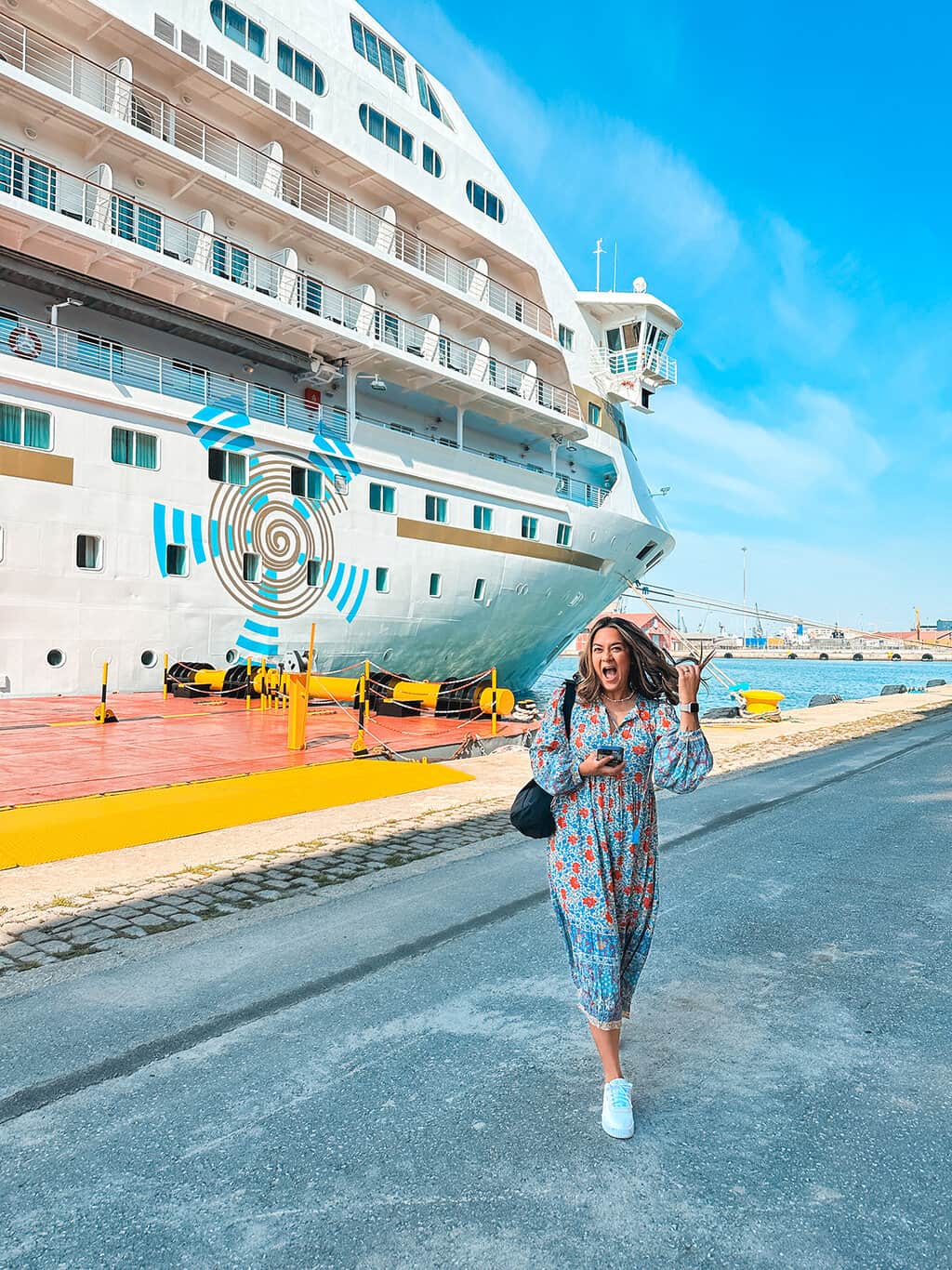 Why go on an Aegean Cruise?
Going on an Aegean cruise is pretty much the easiest way to see the Greek islands without having to put in much effort. Like all cruises- you unpack once and your floating hotel travels with you.
Celestyal Cruises, one of the more affordable cruises in the Aegean and the preeminent cruise line of Greece, gives you something many of the larger cruise lines won't- maximum time on shore.
Every day of your Idyllic Aegean cruise you are getting off the boat and exploring a new island or ancient site. There are zero sea days (full days at sea).
If you can get on an Aegean cruise that takes you to some of the best spots in the Greek isles, why wouldn't you?
You will get a taste of the most famous destinations and places you want to go back to for a longer visit (for us it was Milos!), and since you begin and end in Athens, you will have plenty of time to explore all of the things to do in Athens Greece that are on your bucket list. 
Where does the Celestyal Cruises Idyllic Aegean go? 
Celestyal Cruises goes to a lot of places, but like many ship's itineraries, our Celestyal Cruises Idyllic Aegean (part of the Celestyal fleet) included a 7-day cruise itinerary going to the following ports: 
Thessaloniki Greece
Kuşadası Turkiye
Crete Greece
Santorini Greece
Mykonos Greece
Milos Greece
How to book a Celestyal Cruise
You can book directly through Celestyal Cruises, or with our preferred travel agent, Jennifer Greene (jenn.greene AT mei-travel DOT com).
We love using Jenn because she takes care of EVERYTHING. She will make sure you have flights and a hotel the night you arrive, know how to get to the ship, suggest other things you might want to see in the East Mediterranean before and after your trip, she'll grab any upgrades and extras for you, and can advise you on the best cabin to book and shore excursions to take (she can also ask me about those excursions as Greece is one of my favorite countries!)
If you want to do some of your own planning though, check out our guide below.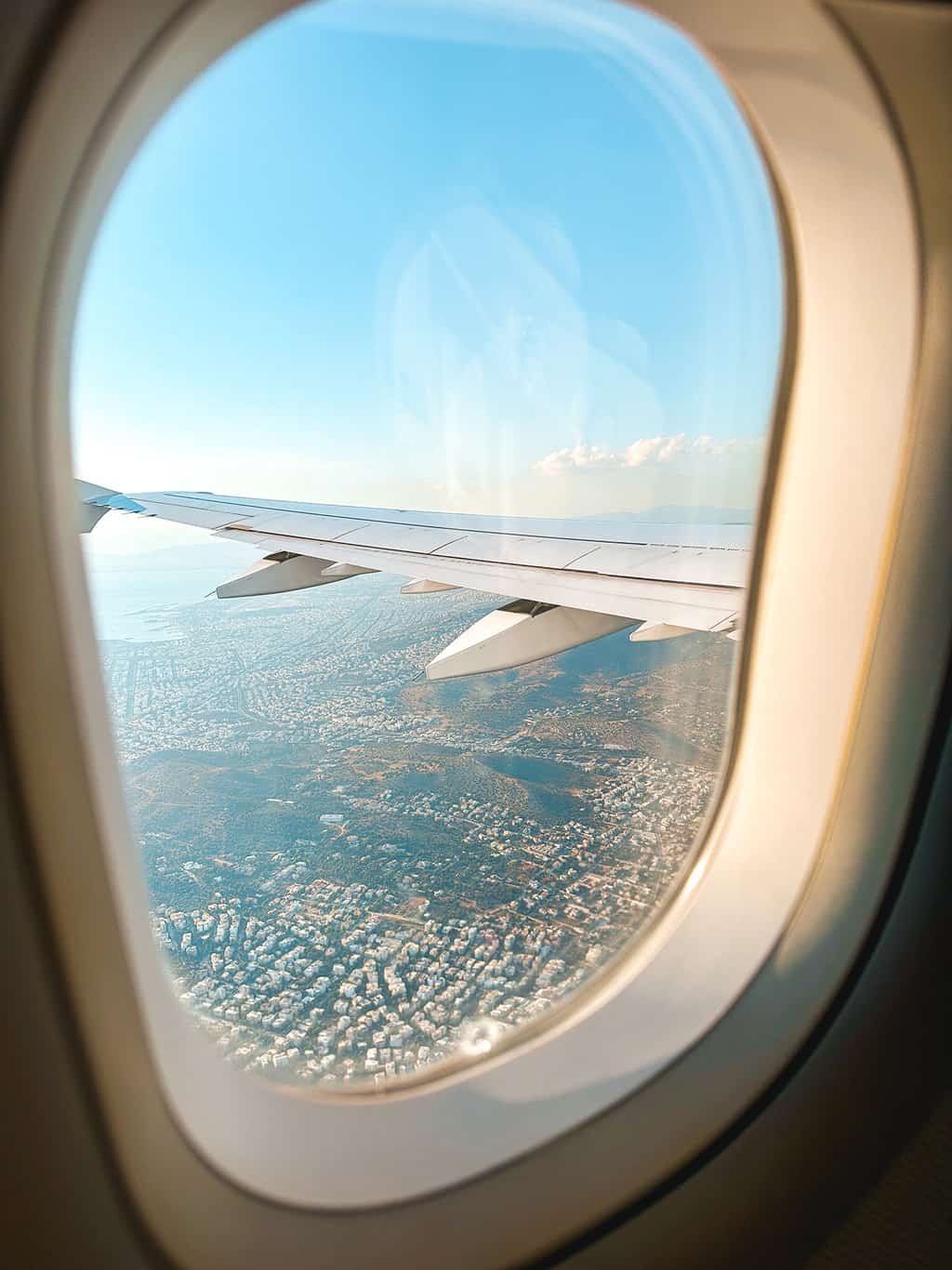 Planning Guide for Your Greece Cruise
This post contains affiliate links, which means we may earn a small commission from your purchase. This adds NO extra cost to you.
Flying to Greece?
Looking for the best flights to Greece? We love to track flights via Expedia.com. Not only do we find great rates, but we earn points to use on future travel too.
You can also keep an eye on GOING deals, which is how we got to Ireland roundtrip from LAX for under $500 and LAX to Guatemala City for under $200. The free version is good, but the paid subscription will save you way more than the cost of your membership each year.
Travel Insurance
Do NOT forget to buy travel insurance for your cruise, even if you booked through a travel agent. Things do and will happen, and it's cheaper to buy travel insurance ahead of time instead of paying out of pocket later.
Check out Travelex for rates on a single trip or an annual plan that could be right for you if you take more than one or two trips a year.
Pin it and Start PLanning your Aegean Cruise
DON'T FORGET YOUR SIM CARD! 
We all love our smartphones, but we don't love those international roaming charges. Even if you have a travel pass on your home phone plan, you could max out your service, which is why we always grab an eSIM card to pop into our phones.
SIM cards are especially great if you are traveling with kids, as it limits what they can do and how much data they can use, but still allows them to text friends back home. 
Check out Airalo, our preferred eSIM card store, for the best prices on eSIM cards and international data plans.
Hotels in Athens Greece to Book Before or After Your Cruise
If you have an early flight out of Athens, consider booking your last night at the Sofitel Athens Airport, which is where we stay the night before we fly home every trip. The airport is directly across the street, so you just have to walk over in the morning to check in.
There is also a bakery with savory items if you arrive late and need dinner before you go to sleep, or breakfast in the morning. 
Find more Athens Greece Hotels HERE
Need a rental car before or after your cruise?
We use DiscoverCars.com to get the best rates and availability on rental cars. Find your car HERE, along with all of the extras you may need (insurance, car seats, ski racks, etc.).
Vacation Photos
Don't forget to book your Flytographer session to capture awesome memories from your trip. We do it as often as we can, even though I'm a photographer.
Sometimes, this mom just wants to be in a few photos with her kiddos, or have a great shot WITH my husband (instead of the hundreds I have of just him wandering around the globe with me). 
What to Expect Onboard a Celestyal Cruise
There may be a lot of cruises out there, but don't fool yourself into thinking they are all alike. Each has its own unique offering, and even a few quirks.
One thing that set Celestyal Cruises apart for me was the amount of time they give their guests to be onshore. Their main goal isn't to keep you on board all day; they want you to get out to see the islands and towns where they make port.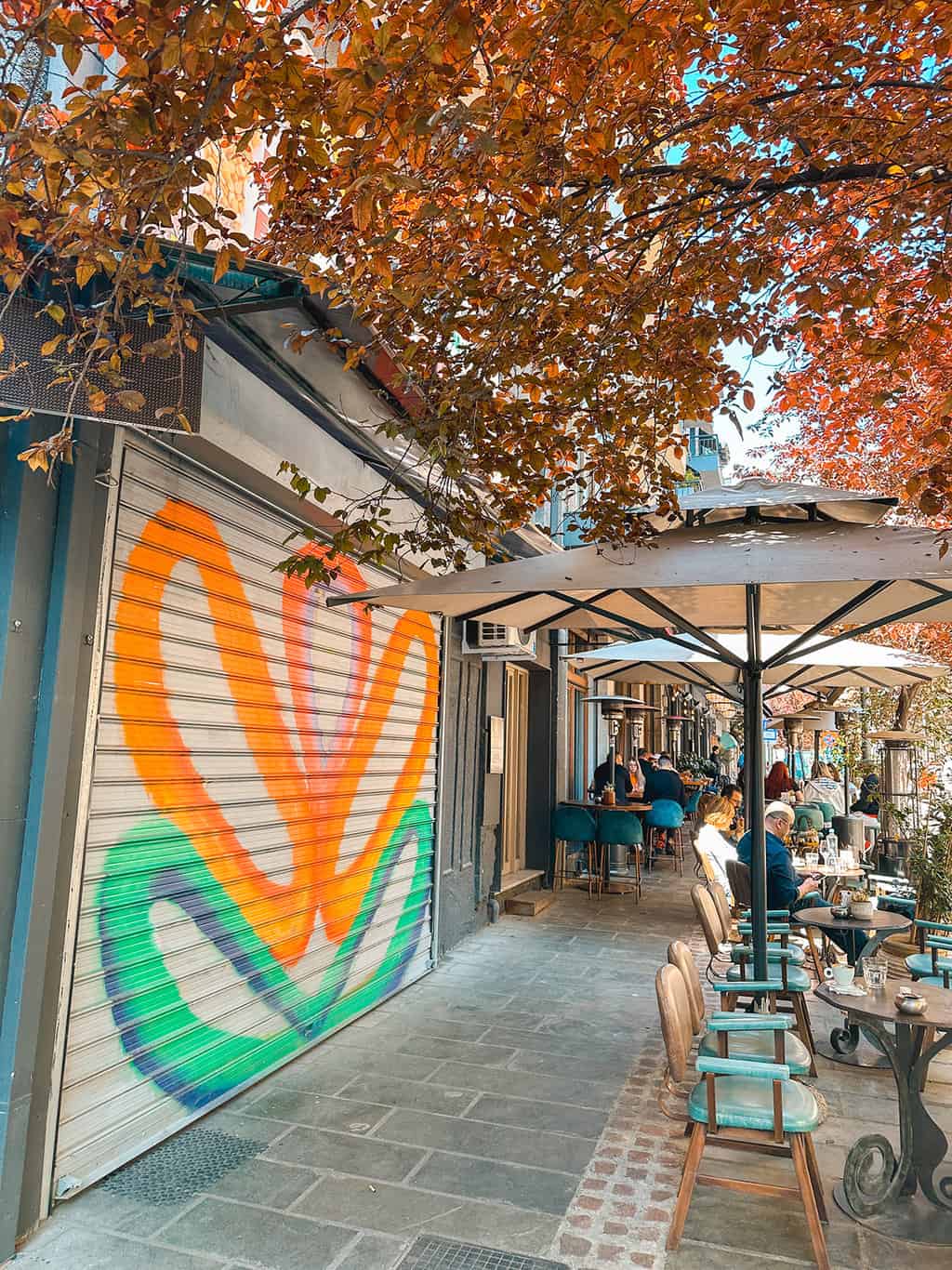 Maybe this is because Celestyal Cruises was started by a Greek family and is still owned by a Greek company who is passionate about sharing their culture and heritage (and food!) with the world.
OR maybe it's because this Greek island cruise company actually listened to their guests and know that the more time people have in their destinations, the more they can experience, whether through a Celestyal Cruises excursion, or exploring on their own. 
No matter the reason, watching every other cruise ship pull out of the port long before our ship left each island had me convinced that this was the best way to do our first island hop around the Aegean Sea.
What's covered in the price of a Celestyal CruiseS Cruise?
Complimentary dining (excludes specialty restaurant, which requires an added fee)
Select drinks with meals in dining rooms or buffet (house wine and beer by the glass, soft drinks, juices, coffee, tea, ice tea and mineral water)
$80 excursion credit (covers the price of about one excursion)
Port charges and gratuities (extra gratuity handed directly to the crew members is always appreciated though)
On-board entertainment
Exercise classes
Arts and crafts
Language lessons
Cooking demonstrations
Dance lessons
Kids Club (only if enough children are onboard)
What stateroom or suite should you book for y our Greek Islands Cruise?
I'm not going to sugar coat it– I can only sleep in rooms with a balcony or at least a window. Interior rooms are suffocating to me, although I saw more than one couple in them and even a young family with a toddler.
If you can only afford an interior room, you will be OK- they are still comfortable cabins.
There are loads of outdoor spaces onboard the Celestyal ships for you to enjoy so you aren't stuck in your room all day.
Lounge chairs and tables are everywhere, and the promenade deck gives you room to take a nice walk to take in that fresh Aegean sea air. 
Interior Staterooms
All interior staterooms are furnished with a bathroom with shower, air conditioning, telephone, hair dryer, safety deposit box and a television. Most have a desk and chair in them as well.
In all of the cabins, the closet offers some storage space, but under the bed has the most space to store your luggage. 
Interior staterooms can fit up to four people, with two sets of bunk beds being utilized. Two single lower beds are on the floor and two single beds fold down from the walls.
Exterior Staterooms
All exterior staterooms feature a window or porthole, and are furnished with a bathroom with shower, air conditioning, telephone, hair dryer, safety deposit box and a television. Many exterior staterooms have a desk and a chair, and can have an extra lounge chair as space provides.
Exterior staterooms can fit up to four people, with two sets of bunk beds being utilized. Two single lower beds are on the floor and two single beds fold down from the walls.
If you only have two people in your cabin (double occupancy) the two twin beds can be pushed together. The upper beds will not be set up either, giving you a bit more head space in your cabin. 
Suites
Onboard our Celestyal cruise, we only saw balconies in the suites (the Celestyal Cruises' fleet new vessel, the Celestyal Journey, looks like it has more balcony rooms available along with more deluxe outsides than our older ship, the Celestyal Crystal or the Celestyal Olympia).
We had one of the Junior Balcony Suites, which was enough room for two people, but would have been cramped with more than that, especially since there was only a small pull-out sofa bed for the third person.
The beds were super comfortable, no one batted an eye when we asked for four extra pillows and another comforter, and our cabin stewards loved helping me perfect my Greek greetings (hello, goodbye, thank you, please, good morning, etc.) each morning as we left our cabin.
Best of all, we got the most amazing view from our large balcony, which had a small table and two chairs on it. We took full advantage, enjoying a glass of wine and any treats we brought back from our shore excursions each day. 
Onboard Extras
There are always extras on a cruise. Sometimes the upsell can get tiring, but if you go in knowing what you want to do and what your budget is for these add ons you will be OK. 
A few extras you will want to plan for include:
Spa treatments: the best deals are when you are in port on each island. The sales pitch after your treatment to buy the products they sell isn't too pushy, which I liked. 
Inclusive drink packages: do the math to make sure you are drinking enough to cover the upgrade to a premium beverage package or if paying as you go makes more sense.
Wine packages: you can get a specialty wine package through the ship's sommelier that can be enjoyed throughout your cruise. These wines tend to be more high end than what you would normally get in the casual dining restaurants onboard.
Specialty dining restaurant: If you are adventurous, book a night when the chef's tasting menu is available.
Theme Nights
Like any cruise or all-inclusive resort, there are theme nights in the dining rooms and deck parties. These can be as simple as dressing up in your finery or only wearing all-white clothing.
These are always OPTIONAL.
You do not have to pack specifically for theme nights if your luggage doesn't allow it. It is definitely fun to do, but sometimes there isn't room in the suitcase for another cocktail dress and heels (actually make those sandals– heels are frowned upon on ships since you could fall over too easily). 
IMPORTANT: Carry Your Ship ID Card With You!
Your ship identity card needs to be with you every time you get on and off the ship. You will be scanned out and then scanned back in.
This is your passport through the islands, as well as into Türkiye, which is a separate country from Greece (you will go through immigration at the Athens airport). 
Find a safe spot in your wallet or purse to keep your card. There is no need to wear it in a lanyard around your neck, which can be easy to snatch as you walk around.
What to pack for your shore excursions
Camera
Phone
Portable charger (find our favorites here)
Ship identification card
Photo ID
Credit cards or euros
Small snacks
Medications you might need throughout the day
Umbrella (this one can withstand the wind!)
Light outer layer
Anything else you will want to stay comfortable off the ship
Aegean Cruise Itinerary with Celestyal Cruises
Now that we have the usual cruise details out of the way, here's a day-by-day breakdown of the stops you will be making on your Celestyal Cruises Idyllic Aegean Cruise.
Athens
Docking in Piraeus
You will begin and end your Aegean cruise in Athens with Celestyal Cruises, which we think is pretty perfect. The port of Piraeus is about a 15-20 minute drive from the Parthenon, which means you can stay directly in town without having to haul your luggage another hour to the port. 
You can set up a transfer directly with Celestyal Cruises, or call a local taxi through the UBER app to get you there. 
Both options are great, but if you are nervous, I would ask Celestyal Cruises to help you book a transfer from the airport to your hotel and then your hotel to the port. 
Arriving a few days early? Check out our guide to the best things to do in Athens as you make your plans to explore the city. 
Shore Excursions through Celestyal Cruises
Athens Monuments and the Acropolis
Classical Athens and its Monuments (no Acropolis)
Athens Monuments- the Acropolis and the New Acropolis Museum
Exploring on your own
Obviously you will want to check out the Acropolis, but there are plenty of other tours you can book around the city. Here's just a few of our favorite tours and ticket packages that can help save you money.
What not to miss
Make a reservation for late evening drinks or dinner at one of the many rooftop bars in Athens that look at the Acropolis. The sunset views are spectacular and something you will never regret doing.
Here are a few rooftop bars we love that you should check out:
What to eat in Athens
I have never had a bad meal in Athens, no matter how hard I try (OK, I don't try that hard, but I've been stuck in places where I didn't have much hope for a good meal… and I was very, very wrong).
From souvlaki to gyros, tzatziki to greek salad, you will find the best of the "Mediterranean Diet" in the capital of Greece
Read more about our favorite Greek Foods and where to find them
Thessaloniki
Docking in Thessaloniki
When you arrive in Thessaloniki, you will be about a 5-minute walk from town.
It's easy to hop off to explore on your own, or you can do a morning tour excursion through the ship, and then depart from your group once it returns to town (just let your tour guide know so they don't think they lost you). 
Celestyal Cruise Shore Excursions
Royal Tombs of Vergina
Land of Alexander the Great
Panoramic Thessaloniki
Exploring on your own
Thessaloniki could take up a full weekend trip in Greece, but if you only have a day to explore on your own, here are a few of the highlights you won't want to miss.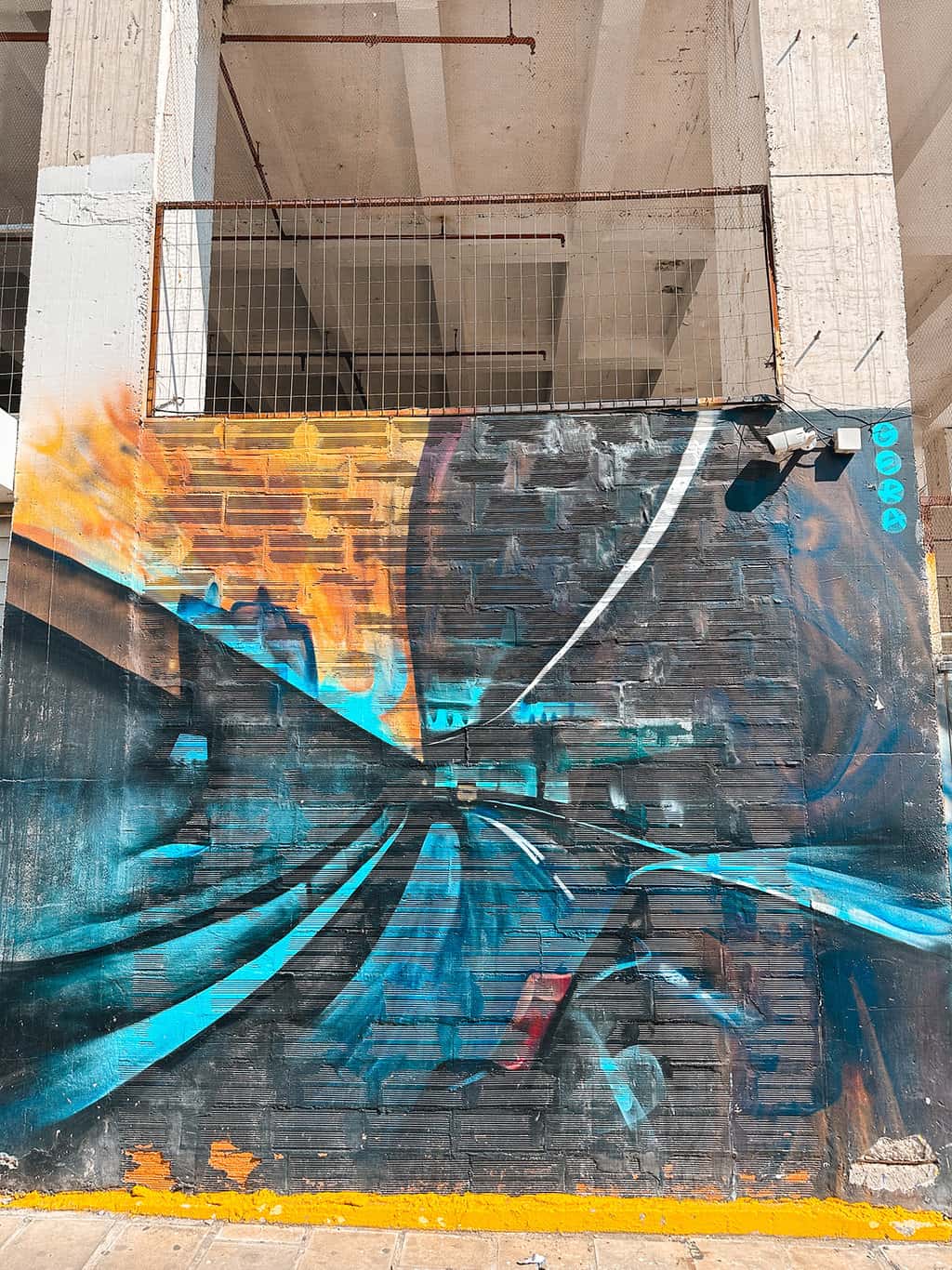 30+ Things to do in Thessaloniki
Heptapyrgion of Thessaloniki (The Castle of Thessaloniki or Yedi Kule)
The Roman Agora (Roman Forum of Thessaloniki)
Ladadika neighborhood
Arch of Galerius
Trigoniou (Chain) Tower
The Rotunda
Acropolis of Thessaloniki
Ano Poli (Old Town)
Aristotelous Square
The White Tower Museum
Grigoris Lambrakis Monument
Bezesteni Ottoman Market
Historic Churches in Thessaloniki

Holy Church of Hagia Sophia
Latomos Monastery – Holy Church of Hosios David
Agios Dimitrios Basilica/ Holy Church of St Demetrius
Vlatadon Monastery
Holy Church of Saint Nicholas Orphanos

Thessaloniki Museums

Archaeological Museum of Thessaloniki
The Jewish Museum
Museum for the Macedonian Struggle
Thessaloniki History Centre
State Museum of Contemporary Art
Folk and Ethnographic Museum
Thessaloniki Olympic Museum
Art Gallery of the Society for Macedonian Studies
War Museum
Teloglion Foundation of Art.

Stroll the waterfront
Walk the old fortress walls from the upper town to the lower town
Try the street food
Eat pastries, especially the local bougatsa
What not to miss
If you enjoy a nice wander, take a walk around the Ladadika neighborhood. Find a restaurant that smells good, order anything and everything off the menu, including a half-liter of house wine, and enjoy the people watching.
What to eat Thessaloniki
Bougatsa is one thing you don't want to skip when you are in Thessaloniki. While there are great bakeries along the water offering pastries like Tsoureki with chestnut cream, baklava, and Galaktoboureko, Thessaloniki is best known for its sweet custard Bougatsa. 
Where do you buy bougatsa? We found a Greek bougatsa at Τερκενλής Αγίας Σοφίας (Αγίας Σοφίας 33 &, Ermou, Thessaloniki 546 23, Greece) and its sister shop, Terkenlis (Tsimiski 30, Thessaloniki 546 36, Greece) just a few blocks off of the waterfront.
When you get to Crete, you can compare the Thessaloniki Bougatsa to the more savory Crete version. There is a very heated debate amongst the staff onboard your Celestyal cruise ship over which city or island has the best, but they won't tell you until you try both.
Kuşadası Turkiye
Docking in Kuşadası
Kuşadası is another port where the ship can pull right up to the dock and you can disembark through the cruise terminal.
Most likely you will be boarding a tour bus to go to Ephesus. If not, you are free to wander the shops in town or find your own transportation to Ephesus.
Efes (also known as Ephesus)
If you only do one shore excursion through Celestyal Cruises, make sure it is a tour of Ephesus in Türkiye.
This massive ancient Greek city is in better shape than ruins you will see in other parts of Greece, including Delos, and it has a whole lot of stories to tell visitors who want to learn about life in ancient Greece.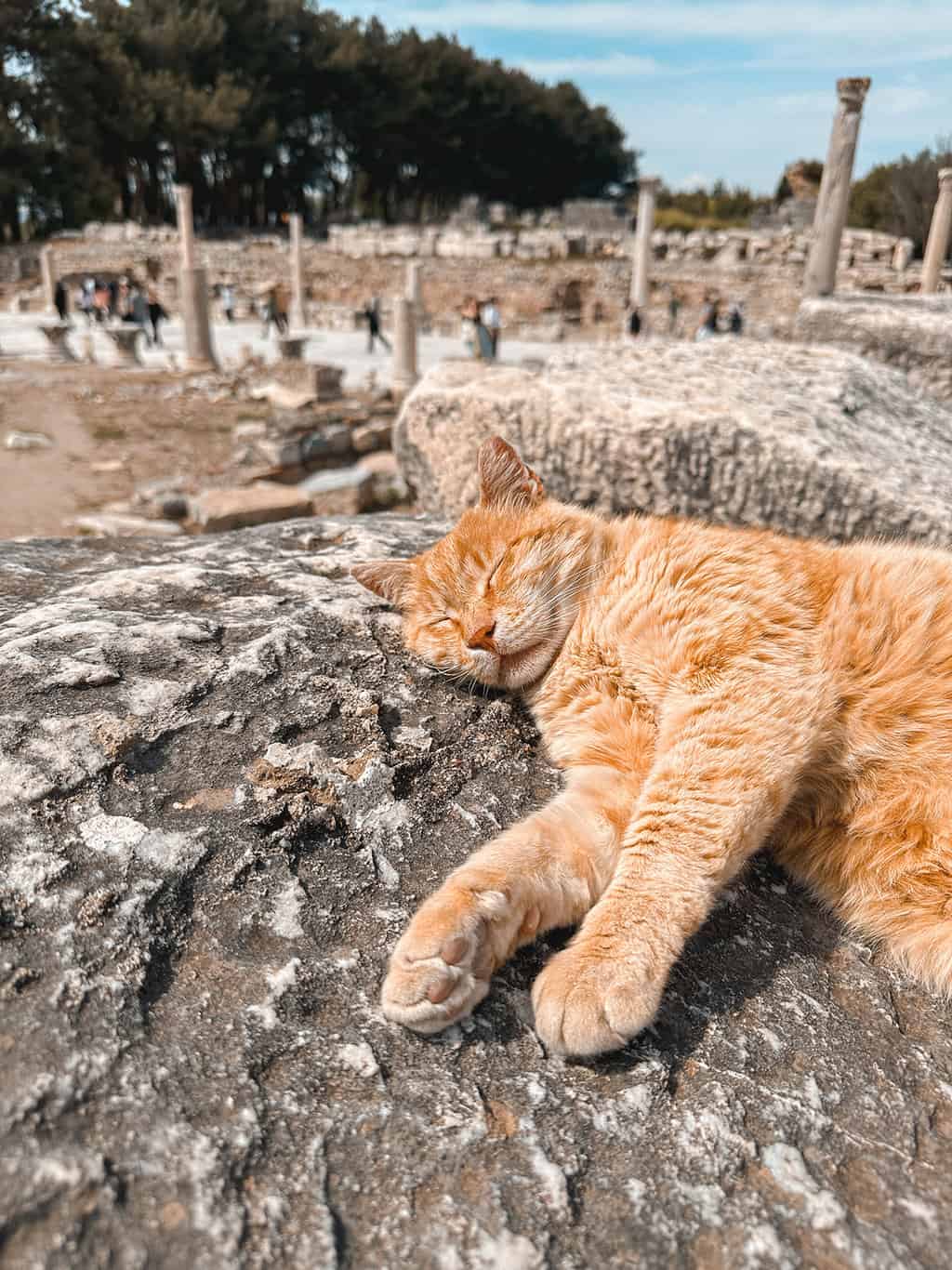 Celestyal Cruises Shore Excursions
Celestyal Cruises offers three different tours through Ephesus, and each will get you access to something different.
Ancient Ephesus and the House of Virgin Mary
Ancient Ephesus through the Ages- Hellenistic Roman
Ancient Ephesus and Terrace Houses (highly recommended!)
Ephesus Terrace Houses
We went on the tour that included a look at the Terrace Houses, which is where the rich citizens of Ephesus lived. They even had indoor plumbing in these houses!
You can still see tile work and mosaics in the floors of the homes, which makes this a must when you visit. 
The terrace houses cost extra for you to visit if you go to Ephesus on your own, but the bus ride to Ephesus, plus entry into the site and the extra tickets for the Terrace Houses are all included in your cruise shore excursion.
Turkish Rug Making
One thing to note on your shore excursion is that you will also go to a Turkish rug shop where you can see the rugs being hand woven. There is also a nice jewelry shop, and a small lunch is provided in the seating area outside. 
We had the best cheese rolls and pistachio baklava EVER at this rug shop, so do not be annoyed by the stop. No one will pressure you to buy, the rug making process is fascinating (and you will better understand why these rugs are so expensive), and the food is incredible. 
Exploring on your own
If you have been to Ephesus and the Ephesus Archaeological Museum, or for some reason you don't want to go (and you should go, even if you have kids with you), then there are a few other things you can do.
12 Things to do in Kuşadası
Ladies Beach
Cappello Beach Club
Long Beach (Uzun Plaj)
Güvercinada (Pigeon Island)
Dilek Peninsula-Büyük Menderes Delta National Park
Kusadasi Castle and Shopping Center
Şirince (known for their wine)
Kusadasi Gazi Begendi Park
Gazibegendi Hill (great sunset views!)
Öküz Mehmed Pasha Caravanserai
Çamlık Railway Museum
Tortuga Pirate Island Theme & Water Park
Adaland Water Park
What not to miss
Since you have already gone to Ephesus, the only thing left to do is wander around town or enjoy a Turkish coffee at one of the cafes along the water.
What to eat
If you see homemade pistachio baklava, buy it and enjoy. This is one of our favorite baklavas, and it's more easily found in Kusadasi than other parts of the Mediterranean region, as it is a Turkish specialty. 
Crete
Docking in Heraklion
Heraklion, the port city on the isle of Crete, is easy to access as the cruise ship can pull right into the dock. You can walk into town from there or hop on your excursion bus to explore.
Many of the excursions will end in town and give you the option of continuing on your own and walking back to the ship, or you can hop back on the bus, which will bring you directly to the cruise ship terminal. 
Celestyal Shore Excursions
Experience the Cretan Countryside and Lifestyle
Knossos Palace and Archaeological Museum
Minoan Palace of Knossos- 1st European Civilization
Exploring on your own
There are a number of tours you can hop on that are operated by local companies, or museum and bus tickets you can grab before arriving on Crete. If you want to see a lot, grab a ticket for the hop-on-hop off sightseeing bus. You will be able to cover a lot of ground and it's cheaper than renting a car.
NOTE: If you opt for a boat or catamaran tour around Crete, please remember to triple check how long the tour will be, as you will need to make sure you are back well before your Celestyal Cruise ship leaves the port.
Tell the tour operator that you are on a cruise and they will make sure you get on the correct tour. 
Things to do in Crete (Heraklion)
Heraklion Archaeological Museum
Rocca a Mare Fortress
Agios Minas (St. Menas)
Natural History Museum of Crete
Historical Museum of Crete
Morosini Fountain
Church of Agios Titos
Knossos Palace
Museum of Ancient Greek Technology
Ammoudara Beach
Venetian Loggia
CRETAquarium Thalassokosmos
Douloufakis Winery
Lyrarakis Winery & Tasting Room
What not to miss
Remember Thessaloniki? You are now in Crete so you need to try the Bougatsa in Crete to see how it compares.
What to eat
Bougatsa is a specialty on Crete, which you won't find anywhere else, at least not in this form. The Crete version is more savory than what you might have had in Thessaloniki, which is why these two parts of Greece are bitter rivals when it comes to who has the best bougatsa pastry.
Santorini
Docking in Fira
As popular as Santorini is, there is no dock for cruise ships to pull up to and unload their passengers on this volcanic island. Instead, you will go by tinder boat to the dock, and then have to either walk, ride a donkey (which we do not endorse- there are issues with how the donkeys are treated), or take the cable car to the top. 
Try to be one of the first passengers off the boat to get to the cable car before the lines get long.
When we were in port, there were five other cruise ships unloading passengers. The only good news was that Celestyal Cruises stayed the longest in port at Santorini, so by dinner most of those other cruises had departed for their next port of call. 
Once you get to the top of the cable car (keep your return ticket handy!), you can wander around Fira, where you will find loads of dining and shopping.
Most people choose to head to Oia or hop on their Santorini excursion through the cruise ship from here though. 
How to get to Oia
From Fira, most people head to Oia, the most iconic town on Santorini (the one with all of the white buildings with blue domed churches).
You can grab a taxi (if you can find one), or head to the bus station (easier to find) and take a bus from Fira to Oia for about €1.60, which I highly recommend.
You can take the same route on your way back to Fira when you are done and want to get back to the ship. Just check the bus schedule to make sure you are on the last one from Oia to Fira or you will need to find a taxi cab.
Celestyal Cruises Shore Excursions
Santorini is one of the more popular stops on a Celestyal Cruises Greek islands cruise, so there are a lot of nice options you can book.
Check out these shore excursions through the cruise line, but always keep in mind that if not enough people sign up for a specific tour, you may have to switch to another tour or explore on your own. 
The Essence of Santorini
Akrotiri Village Excavations
Spectacular Oia Village perched on the Caldera Rim
Cruise to Santorini Islands and Volcanoes
Afternoon Spectacular Oia Village with Sunset
Exploring on your own
It's super easy to explore Santorini for a day on your own. With limited time, pick one or two spots to explore, whether it be Oia and one of the beaches, or a museum or two before you grab a sunset dinner looking over the Caldera.
Things to do in Santorini
Towns and Villages of Santorini

Fira
Oia
Pyrgos
Megalochori
Emporio

Santorini Beaches

Ammoudi Bay
Kamari Beach
Red Beach
White Beach
Moon Beach (Vlychada Beach)
Perivolos and Perissa Beaches (black sand beaches)

Ancient Thira
Caldera Hike from Fira to Oia
Ancient Akrotiri
Hike Skaros Rock
Akrotiri Lighthouse
Open Air Cinema in Kamari
Thirassia Island
Santorini Museums

Akrotiri Archaeological site
Museum of Prehistoric Thera
Santorini Wine Museum
Symposion Music and Mythology Cultural Center
Tomato Museum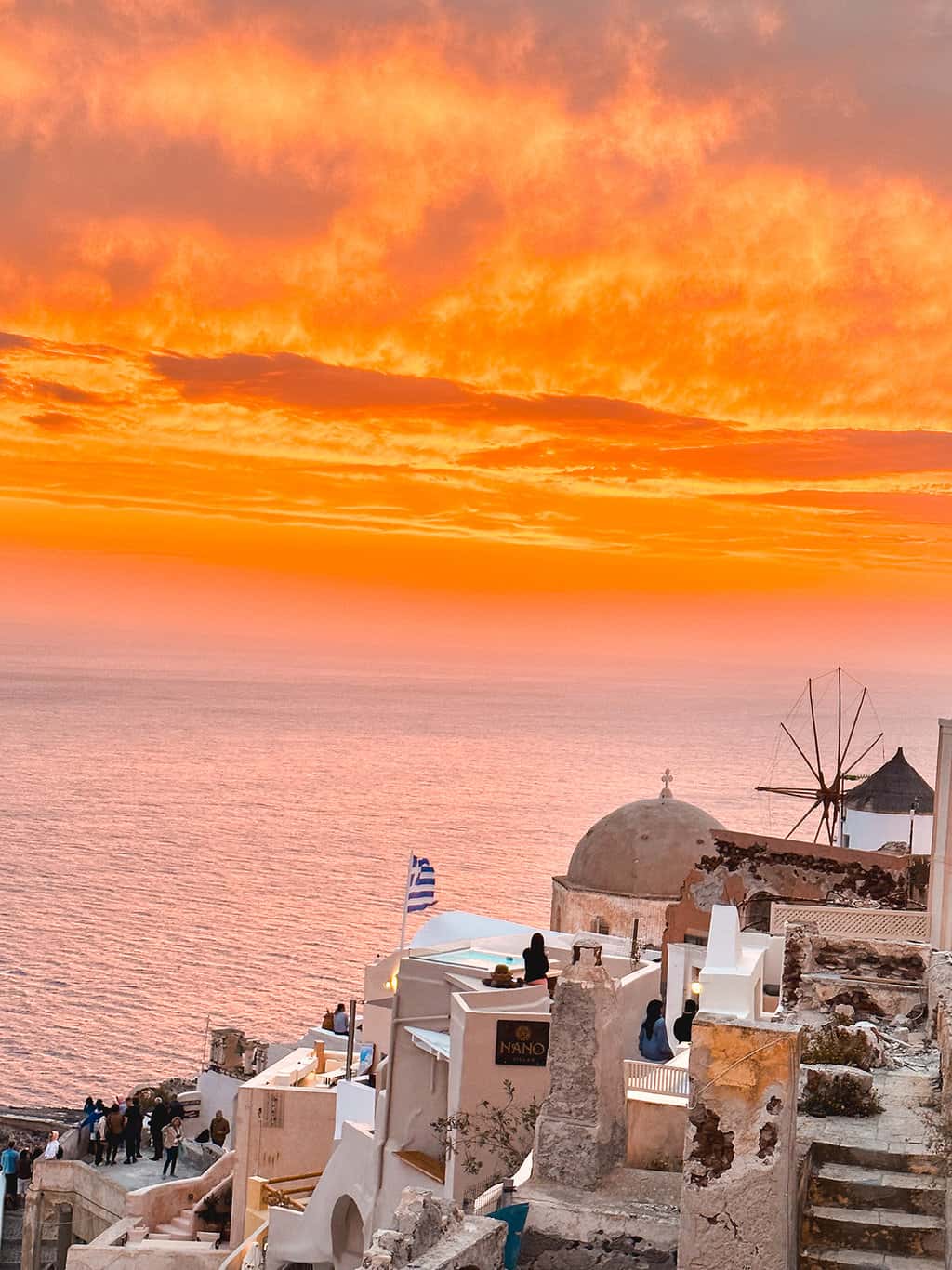 What not to miss
Do not miss the sunset in Oia. The most popular spot is by the blue domed church, and for good reason, but it will be crowded.
Your best bet is to reserve a table at one of the rooftop bars in Oia and specifically ask for a table outside where there is the best view.
What to eat
You will want to eat everything, but one thing you must try is the Santorini white wine. If you like it, pick up a few bottles, as it gets more expensive the farther away from Santorini you travel.
Mykonos
Docking in Mykonos Town
Mykonos, like Crete, is a very easy port to explore, as the ship can pull right to the dock and cruise terminal. You will get off the ship at the old port and walk into town, which only takes 5-10 minutes.
There are loads of restaurants lining the water near the harbor as well as in Little Venice, a neighborhood near the newer pier that has boats to take you out to Delos.
You will stay late into the evening in Mykonos, so you will have plenty of time to take a shore excursion through the ship (there is even a dinner excursion) and then wander on your own.
Celestyal Shore Excursions
Mykonian Countryside Tour with Chora and Little Venice
Delos- Sacred Island & Apollo Sanctuary
Mykonian Dinner
Sacred Delos and Rhenia Island
Exploring on your own
If you want to explore on your own, even after a cruise excursion to the island of Delos, you have a few other tours you can book through locals.
Just like on Crete, if you opt to take a sailing cruise around the island, you must make sure your tour operator knows that you are coming from a cruise ship and what time you need to be back onboard. 
Things to do in Mykonos
Chora (Mykonos Town)
Mykonos Windmills
Paraportiani Church
Little Venice (Alefkandra)
Ano Mera Village
Armenistis Lighthouse
Panagia Paraportiani
Monastery of Panagia Tourliani
Party at Super Paradise Beach Club
Take a tour of the Mykonos Brewing Company
Shop along Matoyianni Street
Mykonos Museums and Galleries

Archeological Museum of Mykonos
The Folklore Museum
Aegean Maritime Museum
Rarity Gallery
Dio Horia Art Gallery

Scuba Dive
Windsurfing beaches

Ftelia beach
Kalafati
Platis Gialos
Ftelia

Mykonos Beaches

Agios Sostis
Agrari Beach
Elia Beach
Fokos Beach
Kalafatis Beach
Kalo Livadi
Kapari Beach
Mersini Beach
Ornos Beach
Paraga
Psarou Beach
Paradise Beach
Island of Delos
The Island of Delos is one of the most popular ancient sites to explore while you are in Mykonos. A short ferry ride will drop you off at the entrance to the site on the island.
This UNESCO World Heritage site is the birthplace of Apollo and Artemis, according to Greek mythology, and was the most sacred of all of the islands in ancient Greece.
The island isn't huge, just over one square mile, so you can easily explore the highlights.
Archaeological Museum of Delos
Terrace of the lions/ Avenue of the lions
House of Cleopatra
Agora of the Competaliasts
Cynthus
Ancient Theatre of Delos
Temple of Isis
House with the Masks
Agora of the Italians
Temple of the Athenians
House of the Dolphins
You will want to save at least an hour to hike up to the Temple of Isis to see the town of Delos from above. It really puts this historic city into perspective.
The hike isn't hard, but you want to have time to take photos, explore the ruins, and even hike farther up the hill for views of the islands surrounding Delos.
What not to miss
Delos is fascinating, but so are the streets of Mykonos on a quiet day. Wander the streets to get a good look at town, do a little shopping, and find a cafe that looks over the water for sunset. 
What to eat
Baked feta from Katerina's Restaurant & Cocktail Bar has to be our favorite meal on Mykonos. It's so good we ate at this restaurant twice during our time on shore- once at lunch after our morning shore excursion to Delos, and then again for sunset at dinner. 
Milos
Docking in Adamantas
Milos is a newer island on the cruise circuit and for that reason you will need to take the Celestyal Cruises ship tender boats (life boats) from your ship over to the island.
This is not as stressful as you think and takes only a few minutes. 
It can be a little rocky getting onboard the life boats, but the crew will hold your hands to make sure you safely get on the life boats from the ship and then again at the dock on the island. 
Celestyal Shore Excursions
There are a number of excursions you can enjoy through Celestyal Cruises excursion desk, but our top picks would be: 
Step Back in Time
Religious Step Back in Time
The Amazing Beaches Tour
Nostalgic Milos Cruise
Exploring on your own
If you are feeling more adventurous, hire a rental car as soon as you get off the boat, right across from the docks (you can prebook a rental car HERE). It will cost you about €60 (sixty euros) for the day plus fuel, so assume €100 max (and that's being very generous with your budget). 
With a car, you can now wander the island at will, hitting up some of our favorite local spots in town, along the beach, and even in the town of Plaka up the hill.
Read more about the best things to do in Milos Greece
What not to miss
The village of Plaka on the top of the hill has magnificent views you won't want to miss. There are also tons of little shops to explore and local artisans to meet.
What to eat
If you have time and a car, or are willing to walk, grab a table at the waterfront restaurant O! Hamas! Tavern on Milos. This was by far the best meal we had on our Greek islands cruise.
The goat cheese comes from the goats behind the restaurant on the family farm.
Grab a few extra friends from the ship if you can. This way you can order a LOT and taste a bit of everything without wasting food.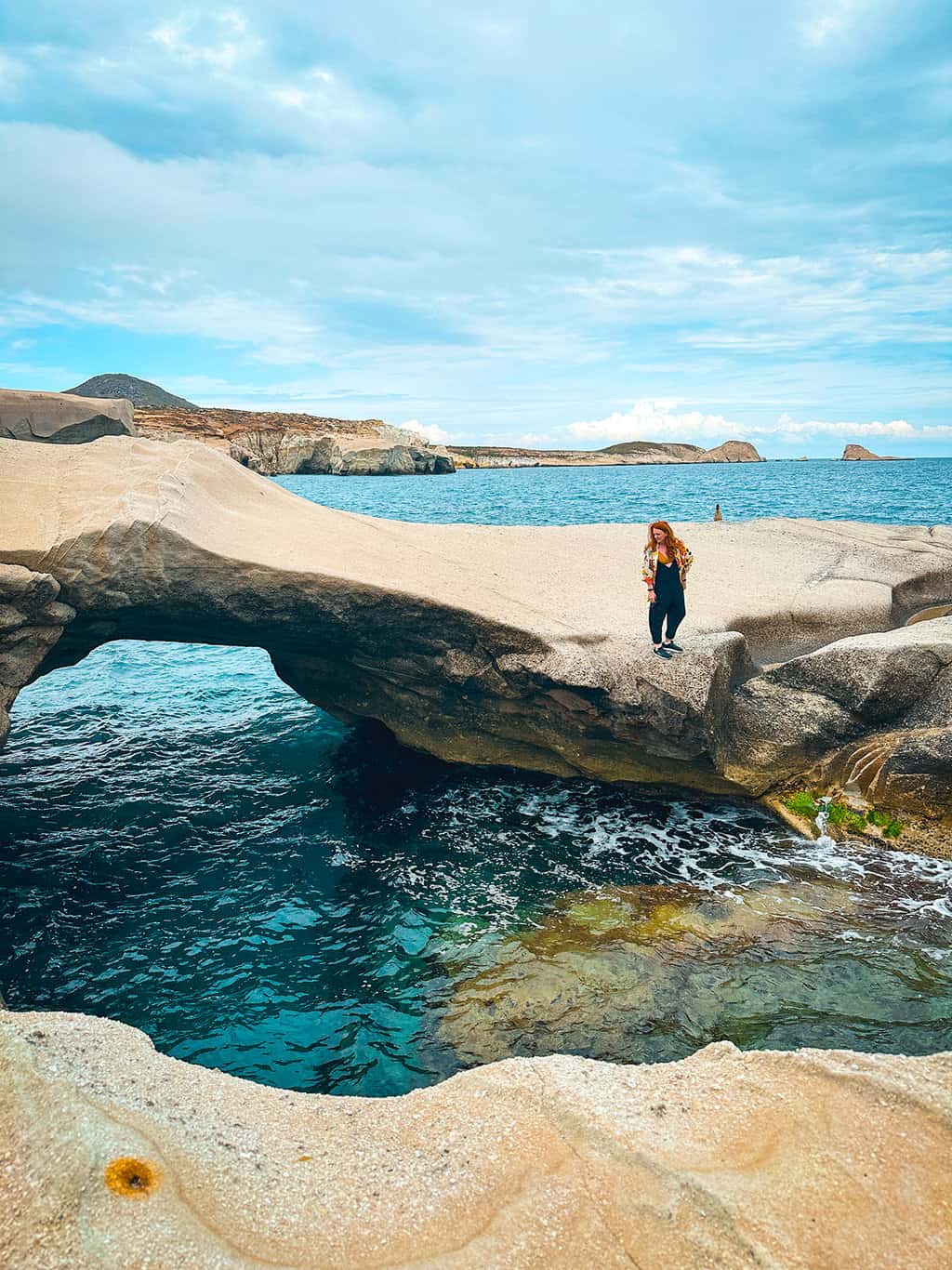 Celestyal Cruises FAQ
Has the Celestyal Crystal been retired?
Yes, it was replaced by a brand new ship, the Celestyal Journey, in Autumn 2023.
What is a Celestyal Cruise Ship?
Celestyal Cruises is a Greek cruise line that says they offer small-ship cruises (to me they are more mid-sized vessels) to Greece and the Greek Islands, Türkiye, Egypt, Israel, Cyprus and Montenegro.
Their ships are designed to offer an intimate and immersive cruise experience, with a focus on cultural and historical destinations, and a unique journey of authentic moments along the way.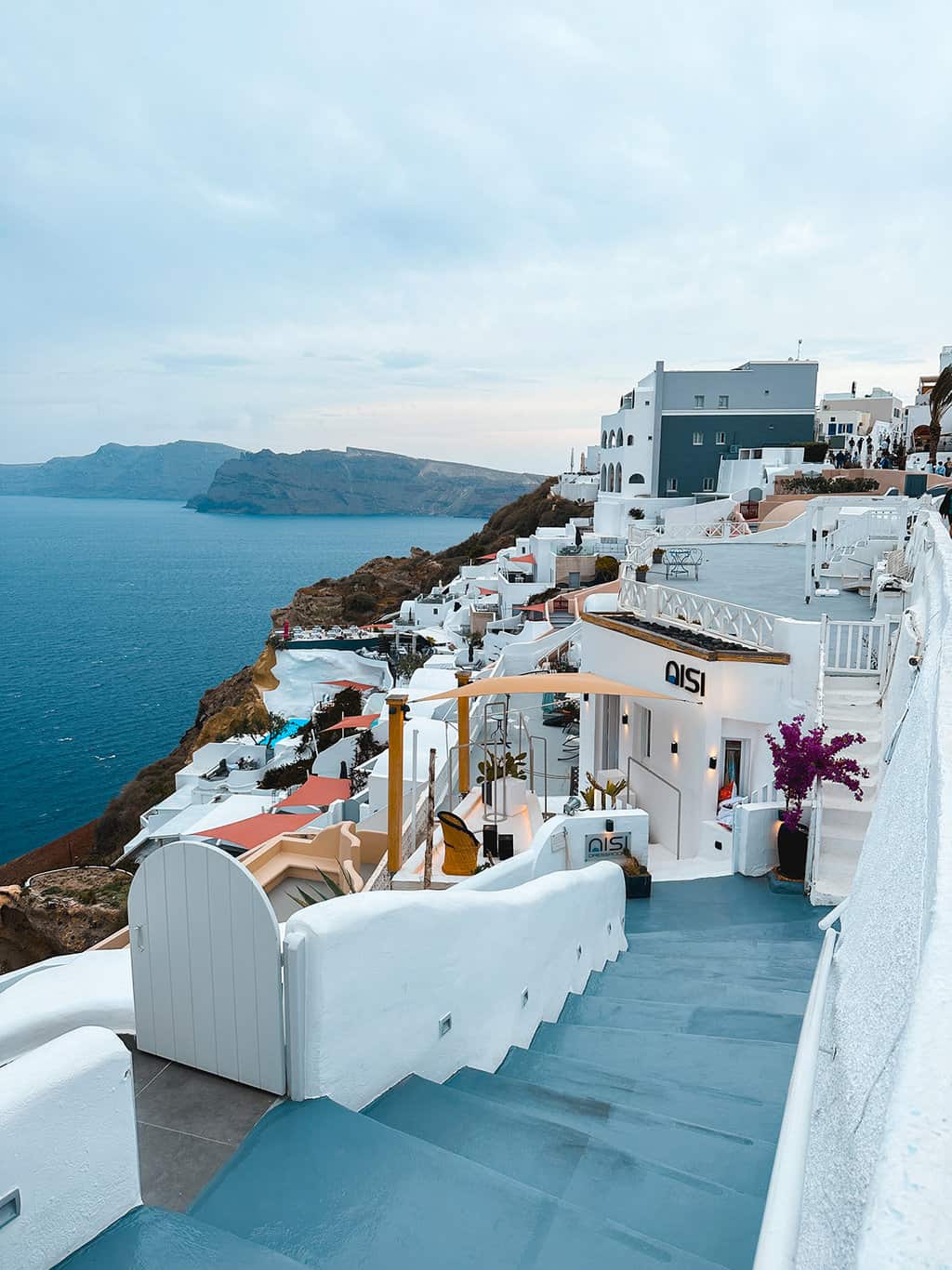 What are the amenities on a Celestyal Cruise Ship?
Celestyal Cruises' ships offer a range of amenities, including multiple dining options, bars and lounges, swimming pool and hot tub, fitness center, spa services, and entertainment options such as live music, shows, and daily activities.
You can also book true cultural immersion shore excursions directly onboard your cruise ship. 
What types of cabins are available on a Celestyal Cruise Ship?
There are a variety of Celestyal Cruises cabin options, including interior, ocean view, balcony, and suite cabins. Each cabin is designed to provide a comfortable and relaxing space for passengers to retreat to after a day of exploring.
How big are the Celestyal Cruises Ships?
I'd call these cozy vessels mid-sized ships. It only takes a short walk to get from one end to another or to get to your cabin deck from any of the restaurants.
Our ship had a maximum occupancy of just over 1000 passengers, but the number of passengers onboard the week we sailed was about 700, which is pretty normal. 
What are the Cruise Rates on Celestyal Cruises?
Cruise rates range from about $500 for a 3-day cruise to at least $2000 per person for 7-day cruises depending on your cruise itinerary.
What is included in the price of Celestyal Cruises?
The price of a Celestyal Cruise typically includes accommodations, meals, select beverages, entertainment, and access to onboard facilities such as the swimming pool and fitness center.
Shore excursions may be an additional cost, but you are generally given a credit for at least one shore excursion while onboard one of their Eastern Mediterranean cruises. 
What destinations does Celestyal Cruise Line visit?
Celestyal Cruises offers a range of itineraries, including cruises to the Greek Islands, Türkiye, Egypt, Israel, and Cyprus. Each itinerary is built to give you lifetime experiences the whole family can enjoy together (or a group of friends like we enjoyed). 
What are the dining options on Celestyal Cruises?
There are several dining options available on a Celestyal Cruise, including the main dining room, buffet, and specialty restaurants.
What is the dress code on Celestyal Cruises?
The dress code on Celestyal Cruises is casual during the day and smart casual in the evenings.
There is usually at least one fancy dress night as well, which is a great night to splurge on the specialty restaurant onboard. Just make sure you make a reservation.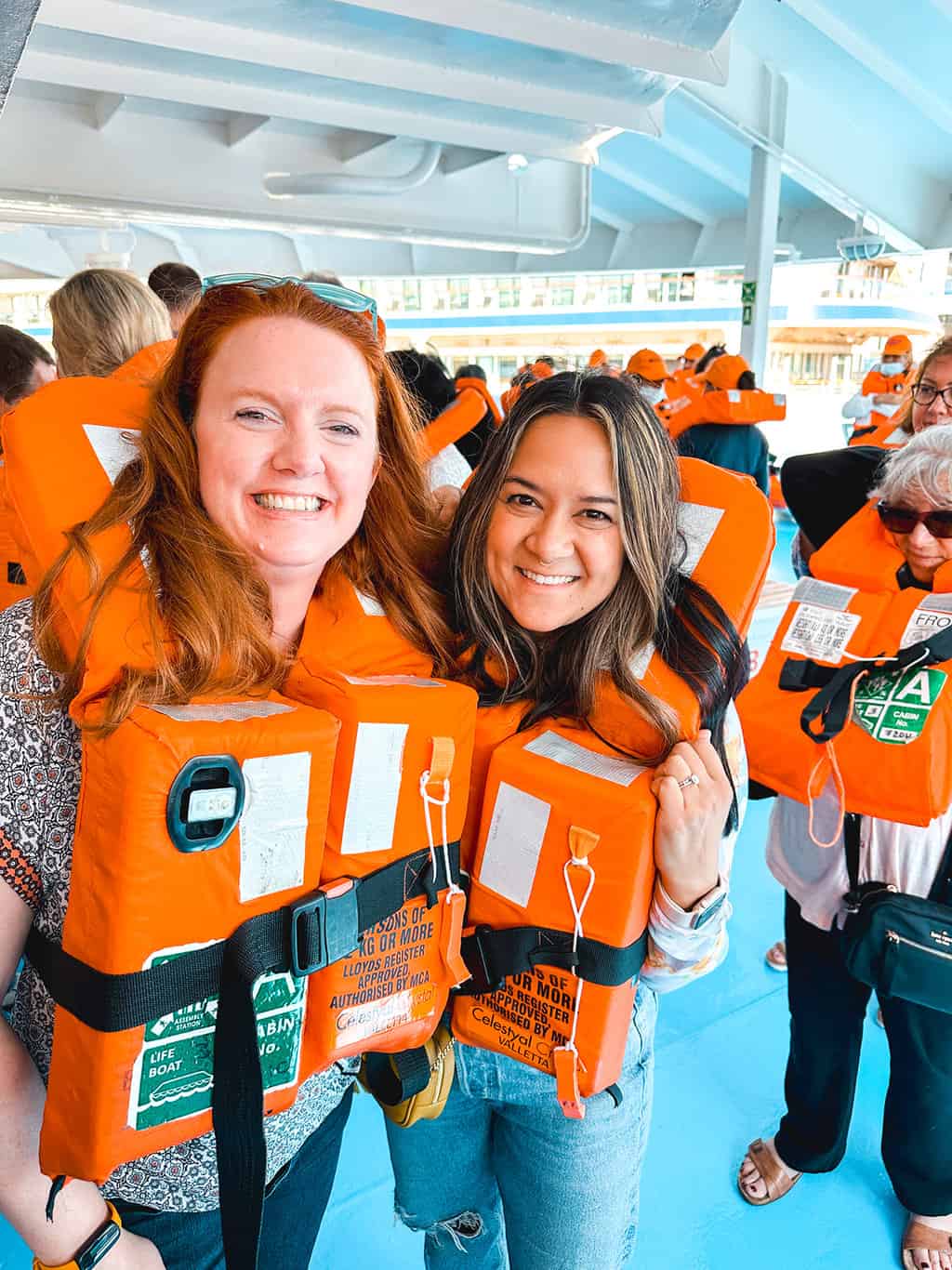 What is the age requirement to sail on Celestyal Cruises?
Guests must be 18 years or older to sail on their own. Those under 18 must be accompanied by an adult.
Is Celestyal Cruises Family Friendly?
Yes, we saw more than one large family (grandparents, parents and kids, plus cousins and aunts and uncles) onboard traveling together on a multigenerational trip.
However, this is not like a Disney Cruise where there are loads of kid activities planned throughout the day. There is a kids club, but it is only open if there are enough children onboard. 
What activities are available on Celestyal Cruises?
Celestyal Cruises offers a variety of onboard activities, including language classes, cooking demos, spa experiences, live entertainment, dance classes, wine tasting, games, and a small casino.
What shore excursions are available on Celestyal Cruises?
Shore excursions vary depending on the itinerary, but may include city tours, archaeological and cultural experiences, and even a few adventure activities.
What is the tipping policy on Celestyal Cruises?
Tips are included in the cruise fare, so there is no need to tip on board. However, if you would like to hand a cash tip to your stewards because of their highly-personalized services, it is always welcome. 
What is the smoking policy on Celestyal Cruises?
Smoking is only allowed in designated areas on board, usually the back deck. You may NOT smoke in your room.
How can I book Celestyal Cruises?
You can book a Celestyal Cruise online through their website or through a trusted travel agent, like our friend Jenn Greene.
Many thanks to Celestyal Cruises for hosting us on the 7-day Idyllic Aegean cruise through the Greek Islands. As always, my opinions are my own. When they aren't you will be the first to know.