According to Merriam-Webster, a memoir is "a written account in which someone describes past experiences; a written account of someone or something that is usually based on personal knowledge of the subject."
A travel book is "a book about traveling to a certain country or region, especially a guidebook. A writer of travel books."
Mesh the two together and you get a travel memoir. Right?
It's a bit more complicated than that, as personal history, where you are visiting, how you interact with a place and how that destination interacts with you all come into play.
When black female authors tackle the travel book genre, it's anything but typical. You won't find the tried and true tale of a woman getting divorced, finding herself and finding love again, like you see in Eat, Pray, Love and countless other tales by white authors who ditched their life or went on vacation.
As black women travel, they may also find love, beautiful scenery and great food, but they also come up against racism, preconceived notions of who they are and who they will be even when they travel.
Travel Books and Memoirs by Black Women
Honestly, it's disheartening to see how many travel books are NOT by women of color out the book shelves.
It took a lot of research just to find these travel memoirs. Is it because black women aren't traveling as much as their white counterparts? Could publishers be ignoring this subset of authors? Or could it be because these women are just having too much fun to bother sharing their story with the world.
While all of these could be true (especially the first two), what you won't find when a black woman writes a travel story is a regular, run of the mill adventure.
These women are digging deep, whether it is to overcome personal adversity, prejudice or history, they are making their mark on the world through travel, and even striking a path that no other has gone before them..
Read most of these books for free on Kindle Unlimited
Hola Morocha! A Black Woman's Adventures In Buenos Aires: Culture Shock
By Jennifer Poe
Publisher : Imported Chocolate; 1st edition (May 11, 2017)
Paperback : 94 pages
Jennifer Poe was ready to put some distance between her and an ex-love, so at age 22, she hopped on a plane to Buenos Aires, Argentina, a land where blacks were the extreme minority (less than 0.4 percent), and she was a novelty to the locals.
Through humor and blunt reality, Poe walks readers through her journey, from learning that when people yelled out "morocha" they weren't calling her a roach, but yelling "Hey, black girl, hey!" to finding her own self-empowerment as a solo female traveler.
If you want some lighthearted travel fun, this is definitely the travel book for you, with a bonus of being set in stunning Argentina.
Kinky Gazpacho: Life, Love & Spain
By Lori L. Tharps
Publisher : Washington Square Press; Reprint edition (May 26, 2009)
Paperback : 240 pages
Spain– a land of openness, beauty and destiny. At least that is what Lori Tharps thought when she first decided to move to Spain during college.
As one of the only black people in her small town outside of Milwaukee, Wisconsin, Tharps thought Spain would be where she found comfort and race didn't matter. Soon, that theory is shattered, as the reality of Spain's relationship with Western Africa and attitude towards "Blackness" wasn't exactly what she expected.
However, just as in Without Reservations and Almost French, our author unexpectedly finds love in Spain.
From racists jokes by her in-laws, not knowing the language all that well and being chased by school kids, Tharps digs into her renewed passion for her new home, how love can conquer all (well, mostly), and where you can really find yourself in the most unexpected places.
A Fly Girl: Travel Tales of an Exotic British Airways Cabin Crew
By Amanda Epe
Publisher : Blossom Books; Revised 2020 edition (November 20, 2014)
Language : English
Paperback : 152 pages
What happens when you are a black woman on a British Airlines flight crew? A whole lot, and Amanda Epe is ready to spill all of the gossip at 35,000 feet.
Dig into what it means to be part of a cabin crew through personal adventures, social structures and political history as Epe wandered the America's, Arabia, Asia and Africa, exploring race, gender, personal additions and sexuality, in an age when self esteem, national identity and aesthetics for women are controlled by an image conscious world.
Get ready for the highs and lows of the jet-set life.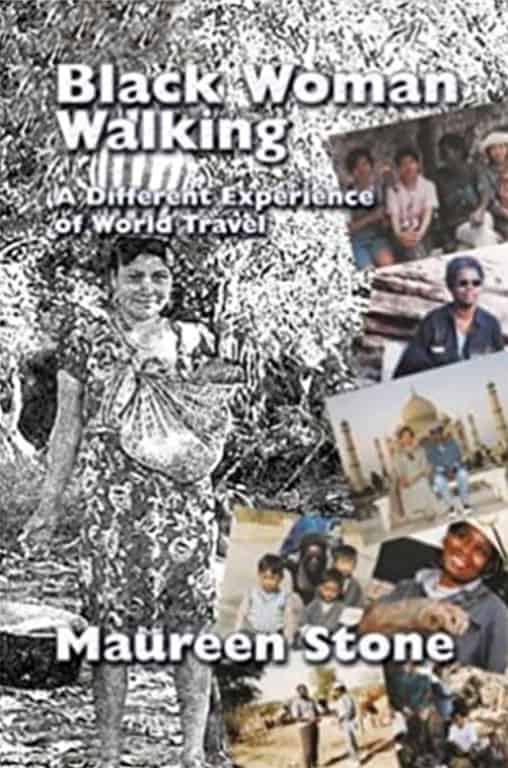 Black Woman Walking: A Different Experience of World Travel
by Maureen Stone
Publisher : Gardners Books (January 31, 2002)
Paperback : 408 pages
Claiming not to be a travel book, or a book about travel, at first the reader might be a bit confused when they pick up Maureen Stone's tale. While at its core, this book is not about travel, it IS a travel book.
Walk and hike around the world with Stone as she looks at the world and places she visits not as a mere traveler looking for adventure, but as a female black sociologist, traveler and hiker.
Stone offers a nice dose of humor through her journey around the world, along with a lot of reality and the issues of today that not everyone is ready to face, but if you look closely, you are sure to find yourself in these pages.
Go Girl!: The Black Woman's Book of Travel and Adventure
edited by Elaine Lee
Publisher : The Eighth Mountain Press (August 1, 1997)
Paperback : 368 pages
Part travel guide, part travelogue and part advice book, Elaine Lee chats with 52 women who contribute their travel stories to her book. Throughout the pages Lee weaves in her own experiences and those of great female authors like Maya Angelou in Africa, Alice Walker in Bali, Gwendolyn Brooks in Russia and Jill Nelson on Martha's Vineyard.
The back of the book as travel tips and advice geared towards black travelers, whether you are looking for a cruise, magazines or more short stories to discover.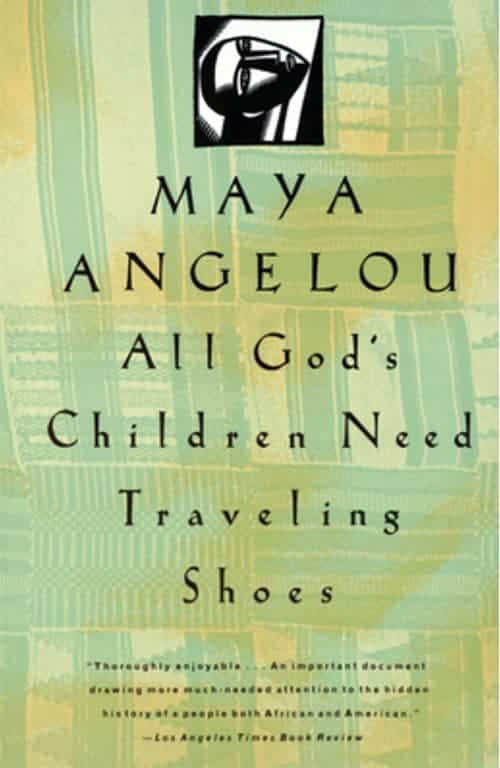 All God's Children Need Traveling Shoes
By Maya Angelou
Publisher : Vintage; Reissue edition (June 4, 1991)
Paperback : 224 pages
Known as one of the greatest literaries in modern history, Maya Angelou has traveled the world. What you may not know is that in 1962 Angelou moved to Ghana as part of a community of "Revolutionist Returnees" inspired by the promise of pan-Africanism.
As part of her autobiography series, it continues after The Heart of A Woman, up until 1965 when her son is in a traumatic car accident.
Like many of Angelou's books, she tackles her history with racism, but when moving to Africa, where the color of her skin isn't an issue. As she takes a journey to find her sense of home, her American-ness rears its head as she tries to assimilate into African culture.
A Stranger in the Village: Two Centuries of African-American Travel Writing
Edited by Farah J. Griffin and Cheryl J. Fish
Language : English
Hardcover : 366 pages
"This book is a long-overdue addition to the genre of travel writing, showing once and for all that African Americans are, and have always been, a global people." –Eugene Holley Jr.
At it's core, this is a compilation of accounts of foreign travel by Black Americans. However, these 47 entries reveal a complex and nonmonolithic African American world-view.
Entries by James Baldwin, Angela Davis, Langston Hughes, W.E.B. Du Bois, Richard Wright, Claude McKay and Booker T. Washington look not only at travel in America, but African-American Motown sounds in Nicaragua and residents of northern Italy and their prejudices against southern Italy.
You will read about MLK Jr.'s trip to India and his experiences with the color of your skin being assets compared with Carl T. Rowan's experience of inverse racism in India.
Robert Campbell's 1859 analysis of African slavery, along with journal entries by African's who survived the Middle Passage comes back to the present as poet June Jordan encounters the exploitation of the black staff at the hotel where she stayed in the Bahamas.
This is a must-read for travelers, historians and activists alike, with lesson everyone can learn, no matter the color of your skin.
Meeting Faith: The Forest Journals of a Black Buddhist Nun
by Faith Adiele
Publisher : W. W. Norton & Company; Illustrated edition (July 17, 2005)
Paperback : 304 pages
If you are searching for a coming-of-age story like no other, than you have found your travel book. Not that many western women choose to become Buddist monks, and even fewer black women go this route.
After Faith Adiele flunked out of Harvard, she left everything behind to battle flying rats, hissing cobras, forest fires and decomposing corpses in Thailand. Oh, and to study to become a Buddhist monk.
Adiele, who was born to a Nordic-American mother and a Nigerian father, demystifies the mystical side of Buddhism. The pages easily turn as she combines her own personal narrative and journal entries to describe her struggles with loneliness, fear, hunger, sexual desire, resistance to the Buddhist worldview and her own rebellious Western ego.
Her begrudging walk into Buddhism went on to make her the first black Buddhist nun. Now if that isn't a story worth reading this year, I don't know what is.
If you love this book, her story continues in The Nigerian-Nordic Girl's Guide to Lady Problems, which draws on the history and treatment of medical ails across cultures and tradition.
Tell My Horse: Voodoo and Life in Haiti and Jamaica
By Zora Neale Hurston
Publisher : Amistad; Illustrated edition (December 30, 2008)
Paperback : 340 pages
Travel back to Jamiaca in the 1930, as Zora Neale Hurston becomes an initiate in the mysteries of VooDoo. This travelogue is glimpse into a mystical world filled with ceremonies, customs and superstitions that you won't find in other books.
Looking for Transwonderland: Travels in Nigeria
By Noo Saro-Wiwa
Publisher : Soft Skull (August 21, 2012)
Paperback : 272 pages
Raised in England, but forced to visit her father in Nigeria while growing up, Noo Sar-Wiwa had no love for her father's country. After her father, an activist, was killed, she decides to go back to the land of her father to find out why he thought his country was worth fighting for.
Saro-Wiwa has a love hate relationship with Nigeria, as she travels from Lagos through the tropical rainforest, ancient palaces and even the Transwonderland Amusement Park. While she travels, she digs into Nigerian Christianity, the country's history of slavery, the corrupting effect of oil, and why the heck Nollywood is such a the huge success.
Many moments she is brought to despair, but she also finds beauty in the land she visited as a child, but comes to terms with as part of her history.
Mandela, Mobutu, and Me: A Newswoman's African Journey
By Lynne Duke
Publisher : Doubleday; 1st edition (January 21, 2003)
Hardcover : 304 pages
Washington Post correspondent Lynne Duke brings the reader through her travels in Africa throughout the 1990s. As the Johannesburg bureau chief, Duke was one of only a few female black American foreign correspondents at the time.
From the Congo to South Africa, Rwanda's genocide to the shores of Mozambique, Duke interviewed presidents, tribal leaders, women, rebels and refugees.
"The nobility of the ordinary African struggles, so often absent from accounts of the continent, is at the heart of Duke's searing story." — back cover description.
Duke's love of the everyday people in Africa shines through as she casts a light on a continent often only reported when disaster strikes, while their resilience is unforgettable as hope and humanity thrive, even in the darkest moments.
Hardly Working: A Travel Memoir of Sorts by Zukiswa Wanner
By Zukiswa Wanner
Publisher: Black Letter Media (March 2nd 2018)
Paperback: 224 pages
Wanting to celebrate the 10-year anniversary of her debut novel, The Madams, Zukiswa Wanner packs up her partner and son to do as many readings as possible in as many countries as she can. Their journey starts off in Africa, and later dips into Europe.
While it is a sharp and often hilarious tale of travel, Wanner is also excited to give "her son an African education that he'll cherish for years to come."
Best of all, Wanner lists other African writers that the reader should pick up, as she celebrates her brothers and sisters making a literary impact on the continent.
Note: it is very hard to find this book in print right now, so if you do find it, grab it!
A Long Way from St. Louie: Travel Memoirs
By Colleen McEllroy
Publisher : Coffee House Press; First Edition (April 1, 1997)
Paperback : 200 pages
Not just one journey, but many await when you pick up Colleen McEllroy's travel memoirs. As a poet and professor, she was no stranger to writing, but began to write a collection of essays and poems, bringing together a spellbinding autobiography steeped in travel through the U.S. and across the globe.
From growing up in St. Louis to a road trip along Route 66, taking a motorcycle across Australia, battling stomach bugs in Mexico and experiencing life as a black university student in a post WWII Germany, make this a book every woman and travel lover should devour.
Stars in the Sky: Stories of the First African American Flight Attendants
by Casey Grant
Publisher : Wasteland Press; Illustrated edition (November 27, 2018)
Paperback : 170 pages
"Stars in the Sky is an honest and entertaining account of integration in the ranks of commercial flight attendants. Casey Grant has done a great service by chronicling yet another victory in our ongoing march toward full civil rights and a level playing field." -U.S. Representative Marcia L. Fudge.
Anyone who flies the "friendly" skies knows that black women are not a majority in the field of aviation, even as flight attendants. While today you might not think anything of this, and that black women simply choose to go into other careers, the idea of blacks working as flight attendants is still relatively new.
Former flight attendant Casey Grant shares her own story as one of the first black flight attendants, as well as the stories of her fellow flight attendants and pilots from the 1920s through the 2000s. From racist remarks to meeting MLK Jr., Ron Ely and Muhammad Ali, you won't be bored reading this travel tell-all.
It is a poignant, but easily accessible, look at the history of blacks in aviation, and why the civil rights movement inched a step forward as black flight attendants and pilots took to the air.
Some moments will make you laugh out loud, while others are a somber reminder of just how far we still have to go for true equality in America.
Flying While Black: A Whistleblower's Story
By Cathy Harris
Publisher : Milligan Books (January 1, 2001)
A true account of what Cathy Harris witnessed as an employee of U.S. Customs and Border Protection, which was merged into the United States Department of Homeland Security.
As a federal whistleblower, she put her job on the line, but couldn't stand back and watch the racial and sexual profiling, especially against black women, any more.
In her own words– " This book will make you aware of the extent of racial and sexual profiling–the blatant mismanagement, abuses of authority, prohibited personnel practices, corruption, nepotism, cronyism, favoritism, and other unethical practices carried out by federal law enforcement officials, what is being done to combat it, and how current attempts at reforms don't go far enough.
Due North: A Collection of Travel Observations, Reflections, And Snapshots Across colors, cultures, and continents
by Lola Akinmade Åkerström
Publisher : Geotraveler Media (May 9, 2017)
Hardcover : 176 pages
I met Lola years ago at a travel blogging conference, and have been tracking her career ever since. As a black woman living and raising a family in Sweden, she has a unique take on Scandinavian life. Best of all, she is an award-winning photographer, so I knew I needed to grab her travel book when it was released.
As a woman with a Nigerian passport, Lola has been pulled over at customs more than a few times. She has multiple stamps, visas and a wanderlust most customs officials just can't understand. Her photos are vibrant and give you a slice of life in the place she is visiting.
With each photo she shares, Lola tells you the story behind it, her insights and feelings shape who she is, as well as how she interacts with the world around her. We can't wait to see where she goes next!
Finding Martha's Vineyard: African Americans at Home on an Island
By Jill Nelson
Publisher : Doubleday; 1st edition (May 17, 2005)
Hardcover : 288 pages
When most people think about Martha's Vineyard, they think about rich, white, preppy families in matching white button down dress shirts in their perfect home with their perfect lives (or is it just me who thinks that?). But there is another side to Martha's Vineyard that many people don't even realize, but has been a summer haven for the Black community for decades.
Jill Nelson grew up summering in Oak Bluffs on Martha's Vineyard, and went on to raise her daughter there in the summers as well.
Nelson's book is part memoir and part history book, giving an "intimate portrait of a place that has provided respite and rejuvenation, community and contemplation for generations of African Americans."
She wraps her own memories around interviews with the owners of Oak Bluffs' famous Gingerbread cottages, historical documents, local recipes, and famous residents including Vernon Jordan, Bebe Moore Campbell and Stephen Carter to tell a well rounded story of the island.
Through the pages, you will immerse yourself into the sights and sound of island life in a way you never expected.
Girl in the Mirror: Three Generations of Black Women in Motion
by Natasha Tarpley
Publisher : Voonderbar! Productions (January 28, 2013)
Paperback : 196 pages
Natasha Tarpley, better known for her children's books I Love My Hair! and Joe-Joe's First Flight, dives into her own family history through this compelling memoir of three generation's migration across time and place.
The central story traces her grandparents migration from Alabama to Chicago, her mother's move to Boston and the author's own trip to Africa.
While telling her family's personal story, she also weaves in other Black American stories, telling the tales of loss, love and displacement that happens as populations move to look for a better life.
Searching for Zion: The Quest for Home in the African Diaspora
By Emily Raboteau
Publisher : Grove Press (February 11, 2014)
Paperback : 320 pages
Emily Raboteau, the biracial daughter of a historian of African-American religion, goes on a search for "home" through Jerusalem, Jamaica, Ethiopia, Ghana and the American South over a span of ten years. Her quest to find herself, brings her face to face with the contradictions of American Zionists and their search for the heavenly "Promise Land" across borders, as well as finding out there Black Jews in the world, including in Israel, the Jewish "Promise Land."
Spurred on by the exodus she learns about from Jews she meets in Jerusalem, she goes out to find the meaning of the Promise Land across borders, cultures and racial divides.
AFRICA, LAND OF MY FATHERS
By Era Bell Thompson
Publisher : Doubleday; 1st edition (January 1, 1954)
Hardcover : 281 pages
Travel across colonized Africa with Era Bell Thompson in 1953, as she takes on an ancestry trip similar to what we see so many people do in Europe today.
In her own words, Thompson wrote: "My African safari was prompted by the same desire that prompts other Americans to return to Europe and Asia to visit their 'Old Country,' or that of their parents or grandparents. I, too, wanted to return to the land of my forefathers, to see if it is as dark and hopeless as it has been painted and to find out how it would receive a prodigal daughter who had not been home for three hundred years.
And I wanted to know what my own reactions would be to my African ancestors."
Richard Wright's Travel Writings: New Reflections
Edited by Virginia Whatley Smith
Publisher : University Press of Mississippi (June 1, 2006)
Paperback : 256 pages
Richard Wright is known as one of the first Black American travel writers. He became an expat in Paris in 1946, traveling to emerging nations coming out of colonialism in the 1950s.
Virginia Whatley Smith, an associate professor of English at the University of Alabama, Birmingham, brings together several essays by scholars exploring Wright's work, and the impact he had on travel journalism. Throughout you will find that "in his hands the genre of travel writing resisted, adapted, or modified the forms and formats practiced by white authors."
Black Faces, White Spaces: Reimagining the Relationship of African Americans to the Great Outdoors
by Carolyn Finney
Publisher : University of North Carolina Press; Illustrated edition (June 1, 2014)
Paperback : 194 pages
One topic that not many people talk about when tackling the reality of racism is the relationship of the Black community with the "great outdoors" and nature. While as a white woman, I take for granted that I can go anywhere, visiting national parks and hiking spots without thought or care, and have been able to do just that for generations.
However, for the black community the outdoors has not been the most hospitable of spaces.
In Carolyn Finney's Black Faces, White Spaces, she digs into why and how racism plays a part in the outdoors more than is being talked about. "Finney argues that the legacies of slavery, Jim Crow, and racial violence have shaped cultural understandings of the "great outdoors" and determined who should and can have access to natural spaces."
Digging through historical moments, political acts, movies, literature and even the after affects of Hurricane Katrina, brings to light a subject that goes beyond global warming in environmental discussions, and to the heart of one of our most deep rooted issues in America– racism and white privilege.
Diary of a Traveling Black Woman: A Guide to International Travel (series)
Published and Written by Traveling Black Women: Kishema Malik, Marilene Shane, Danielle Desir, Adriana Smith, Nadine Duncan, Brittany Edwards, Simone Edwards, Shadeyka Warren and Satarra Johnson-Kidd
Travel guides specifically written for women are far and few between, but travel guides by black women are next to impossible to find. The gals behind the "Dairy of a Traveling Black Woman" want to show the world that you CAN travel as a Black woman to the places you have only read about in story books or seen in movies.
Each travel guide digs into the things to do in the country or city, but also tips for traversing an unfamiliar area specifically as a Black woman. Grab one and see where you can go in the new year.
Books in the series:
Taiwan: An Underrated Paradise
Guatemala: Central America's Hidden Gem
Morocco: Land of the Setting Sun
Trinidad: More Than Just Carnival
Black Girl in Paris
By Shay Youngblood
Publisher : CreateSpace Independent Publishing Platform; 4th edition (March 11, 2013)
Paperback : 256 pages
While this is a fiction novel, it is still an important read. Just as James Baldwin, Langston Hughes and Josephine Baker were drawn to Paris to nurture their creativity, so is Youngblood's heroine, who is out to find "artistic emancipation in the City of Light."
You even get a glimpse of Youngblood's past, as she too worked in Paris as an au pair, artist's model and poet's helper like our heroine.
Hop into the pages as you plan an escape from your own reality as our heroine "heals the wounds of her broken heart, discover her sexual self, and, finally, to wrestle her dreams of becoming a writer into reality."
Don't be surprise if it spurs you to take a long-term trip to Paris, or it becomes your favorite travel book you recommend to all of your friends.