Salt, a bit of seaweed and that crisp sea air mingled together during our lobster cruise along the Portland Coast. We had just begun our weekend to explore the best places to visit in Maine, and it all started right here.
It had been over 25 years since I was in the state of Maine, but the smell was still the same.
I grew up making the trek to New England every summer, visiting Maine at least once as a kid. We'd been to Bar Harbor and Acadia National Park, but I wanted to get my boys, ages 6 and 8, up to the rocky coast that has stuck with me since childhood.
Searching for the Best Places to Visit in Maine
I finally got the chance, but more importantly, I carved out the time to visit Maine again this summer. The flight from Washington, D.C. took less than two hours. I had no more excuses not to go to Maine. We would be in Portland for two nights and then head up to Freeport for one night before flying back home.
It would be a quick trip, but you'll see just how much you can pack in when you spend a long weekend on the coast of southern Maine.

Dive into Maine with Lucky Catch
Rolling along the coast with our captain and crew from Lucky Catch, that famous coastal breeze wacked me square in the face.
The smell of lobster permeated the air as the first lobster cages were hauled up from the bottomless depths of the sea. We wouldn't witness a great catch that afternoon, but according to my kids, they would be expert lobstermen after a 90-minute boat ride regardless.
At least I know they have one career to fall back on later in life.


Making Master Lobstermen
Lucky Catch was great about getting the entire boat involved, both kids and adults. Chum bags needed to be filled, heavy cages needed to be lifted and thrown back into the water, and lobsters needed to be measured.
Shall I tell you about the squeals that ensued when the crabs and seaweed had to get taken out of the cages and thrown back into the water? Oh lets.
It was really more of a screech and it all came from the seagulls flying overhead who knew that lunch was easy pickings off our boat.
There were several kids in the 10 and under crowd on our boat. Naturally, this meant my oldest had made at least five friends within the first 20 minutes of our journey. His little brother, the introvert in our family, joined the crowd as well so he wouldn't miss out on the fun.

Finding a Place to Run at Fort Williams Park
Part of our boat tour took us to the Portland Head Lighthouse, one of the six lighthouses in the area. I saw people hiking around the cliffs. One of the crew told me there was a path that you could safely walk with your kids along the coast in Fort Williams Park.
The boys and I made a beeline for this park, as I knew dinnertime was fast approaching. A hungry monster in the form of my six-year-old son would soon make an appearance if dinner were delayed.
I also knew that my boys needed to run and stretch their legs from being on the boat.

Running off a Cliff at Portland Head Lighthouse
Unfortunately, the lighthouse was closed by the time we arrived, but the park was still open. We were still able to skip, roll and sprint along the path, take photos, and best of all, climb some rocks.
Now, for safety reasons, you do not want to climb the rocks on the beach around the lighthouse, especially during high tide. However, if you go a few minutes away from the lighthouse, there is a path that will take you down to a beach with smaller smooth rocks and big boulders you can climb over.
This was the beach we were after. As I learned in Ireland with kids, anytime I can let my children loose on a rocky beach, they will wear themselves out.

Snoozing down in Cape Elizabeth, Maine
With climbing done, but in no way ready for bed, we headed to Inn by the Sea, the luxury resort we would be staying at just 20 minutes outside of downtown Portland.
This Silver LEED certified ocean resort is comprised of mostly condo-style units, with a handful of standard hotel rooms. Best of all, thirty percent of the property is pet-friendly, so you don't have to leave your fur babies at home.
Our second floor two-bedroom, one-bath unit had a living room/kitchen/dining room combo that lead out to a balcony overlooking the sprawling grass lawn of the inn. If I looked left I could see the ocean. If I looked straight ahead, I could see the pool my kids were dying to go for a dip.
Instead, we headed to Seaglass, the Inn's restaurant, for dinner.


Finding Your Way Around the Inn by the Sea
When it comes to the Inn by the Sea's main facilities, they are pretty easy to navigate. Everything is central to the main building and fans out from there.
If you happen to like animals, don't miss the foster dog in the reception area who is ready and waiting to meet you. We were lucky to see the foster pup onsite get adopted during our stay, which is not a rare occurrence at all for the Inn.
The bar is located on one side and the restaurant on the other just past reception. Walk past the restaurant, through the double doors and view the outside seating area or head to the lawn for a game of corn hole, or to simply relax in an Adirondack chair.
But back to that dinner we were looking for.


Hunting for Seaglass and Babysitters
The Seaglass restaurant at Inn By The Sea serves breakfast, lunch and dinner. Their kid's menu is pretty standard, which was just fine for my boys after a long day of travel and playing. This mama, well, I wanted some fish and veggies.
Yes, I know I was supposed to order lobster, but salmon was on the menu. I had to do it.
Orders made, I noticed other families filing in for dinner. There were a few kids and one baby in the mix.
The female staff was smitten with one little man. He had charmed them all. And then it dawned on me– all of these gals probably babysat on the side.
Our server confirmed she was one of the hotel babysitters, as well as a server at the restaurant. She has worked at a daycare center during the school year, and loved kids. Other staff members happily took on side work through the hotel as well.
This was a huge benefit to staying at the Inn by the Sea. More than one tired parent has craved a quiet meal with their spouse, while their children are sleeping or being entertained at the pool.
I wish my husband had been with us to take advantage of this little perk at the Inn.

Recounting a Day of Blueberries
The kids and I started chatting about what a full day we'd had already as the breadbasket was brought out. Inside was a blue butter. We were baffled. Our server (and hopefully future babysitter!) explained that it was blueberry butter. This set off a round of giggles and a new topic.
Just how many blueberry items had we eaten so far in Maine?
We'd stopped at Duckfat for lunch and enjoyed Maine Blueberry milkshakes. At dinner, I'd caved and let the boys each get a Green Bee Blueberry Dream soda (sweetened with honey instead of sugar- so delicious!). Now we were having blueberry butter. For dessert, we would have blueberry sorbet.
I sensed a theme to our trip beginning to brew… along with those storm clouds on the horizon.

Rain hits Portland Maine with Kids
Waking up to rain on your summer holiday while in Portland with kids is a bit of a drag. There is no sugar coating it. Especially when you are at a gorgeous resort like Inn by the Sea that has an amazing beachfront.
Even worse, your six-year-old still hasn't gotten to swim in the pool and you were supposed to go to a waterpark that morning. Double ouch!
But, as parents, we rally the troops, come up with plan B and move on.
Luckily, Portland has a few great museums, plenty of blueberries for us to continue our "all things blueberry" hunt, and ice cream. Everything is better with ice cream.
Museums, Blueberries and a Tired Baby Boy
We hit up the Portland Museum of Art, the Children's Museum and Theatre of Maine, and I even got to sneak in a bit of shopping in the Old Port.
That's right! After bribing my kids with ice cream from Mount Desert Ice Cream (Blueberry Sour Cream Crumble for the win), I snagged myself a fabulous dress at Waterlily. Take that old man storm cloud!
Ok, but to be honest, by the end of the day, and a sugar crash after too many potato donuts at The Holy Donut (Maine Blueberry and Lemon Blueberry, of course), we needed to veg out at the movies.

It's OK to go to the Movies on Vacation. Really.
My kids have only been to a movie theater twice in their lives. It's a big deal when they get to go. This mama needed to zone out for a bit after opening and closing umbrellas, holding rain jackets, and negotiating with two kids all day. We were going to the movies and that was final.
You can imagine the enormous protest my children put up. Yay right.
Just up Exchange Street there is a theater that caters to all sorts, and on this Thursday night, it was made just for me. We laughed ourselves silly at the latest Pixar film, trying not to fill up on popcorn.
A late dinner at Solo Italiano, where my youngest pretty much fell asleep at the table, ended the night.
Our server was so sweet and didn't even bat an eye. He knew a worn-out mom when he saw one. He rushed over an incredible basil gin cocktail (for me), my oldest was happily fed a heaping bowl of pasta with marinara (he tried to eat my meal too), and my youngest had just enough of his pizza to make it until breakfast.
Exhausted after our full day of indoor exploration, we went back to our cozy Inn by the Sea. We prayed the sun would greet us in the morning, but for now, we were ready to dream about more blueberries.

Sunshine on the Beach
We woke to blue skies and glorious sun. So much so that the outdoor dining area at the inn had dried off enough to eat breakfast outside. The boys ordered (you guessed it) blueberry pancakes.
The beach was calling our name, but we didn't have too much time to play. We took a stroll down the boardwalk through the dunes and came out onto a sandy beach.
Now, for those of you who love northern Maine, you are reading this and thinking I'm crazy, but it's true. Southern Maine has several sandy beaches. The locals just don't like to share that knowledge with outsiders (oops!).
No matter how much I tried to stop them, claiming we had to get going, the boys threw off their shoes and ran into the water, squealing it was cold as they walked in farther.
How do kids handle it? How do they protest something is too cold, but still want more? Not me. I like a nice bath water temperature pool and beach, or I'm out.
With much protesting, my children put their socks and shoes back on. It was time to pack up and head to Freeport.

Moving up the coast to Freeport for the night
Freeport is a quick 20-minute drive north from Portland, Maine, and there is plenty to do in this beautiful town. Book a room at the historic Harraseeket Inn so you can linger, check out the nightlife (it's pretty quiet), and see more of the surrounding area with your kids.
The L.L. Bean campus takes over much of downtown Freeport, while outlet shops fill most of the rest.
Don't let that deter you. L.L. Bean has built a beautiful park that hosts free concerts in the summer. It also has loads of installation art and kid play zones for families to hang out, even if you don't buy a kayak.
I love to shop the outlets, but Freeport also has local shops worth supporting. I found a stunning, and very well priced sundress at Rustic Arrow on Maine Street. Wander around downtown. You never know what you will discover.
The oddest thing we found? An entire shop filled with whoopie pies.
What's with Maine and Whoopie Pies
Now, I am a Philadelphia native. I thought whoopie pies originated in Amish Country PA. While they are a Pennsylvania Dutch tradition, they are also found throughout New England, and Maine in particular has a corner on the market.
The whoopie pie is actually Maine's official state treat. I didn't even know that was a thing.
What's a whoopie pie? For shame! How do you not know this already?
Traditionally, a whoopie pie consists of two rounded pieces of devil's food cake with white cream/frosting in the middle, creating the perfect sandwich of dessert perfection.
In Freeport, there is an entire store dedicated to whoopie pies called Wicked Whoopie Pies. Yes, you can mail order the pies, but they are so much better (and slightly cheaper I hear) at the store.
The pies come in a variety of flavors, including chocolate, vanilla, pumpkin, maple, lemon, red velvet, raspberry, chocolate chip, and our family favorite, mint. You can even buy them frozen, which my kids couldn't resist.

Stalking a Moose
Once again riding on a sugar high (two frozen mint whoopie pies between the three of us really got us going), we were ready for our next adventure. Maine Wildlife Park was our first stop for a quick creature encounter.
This is the best place to get a look at that moose you have been stalking across Maine (or sleeping with via those cute PJs you picked up at Mangy Moose in Freeport).
All of the animals are at the park because they have been injured, orphaned or are too dependent on humans to be released back into the wild. They are furry, feathered, shelled and scaly ambassadors for Maine wildlife you may see around the state and National Parks.
There are ample feeding opportunities, but the one you will hear the most about is the bear feeder.
Go in the morning if you want a chance at this unique treat system. For 50 cents, you can add food pellets into a catapult and launch the batch into the containment area for the bear to find. If you want closer contact, pop into the gift shop if you really must have a bear baby of your own.
I did enjoy finally seeing a moose up close after missing my chance in Canada and other northern states that claim to have these oddball creatures.
A few guests had heard a baby moose was at the park, but the team kept her behind closed doors. They needed to make sure she was healthy and safe before putting her out with the other moose.
TIP: Get to the park early to see more animals moving around their enclosures, especially in summer. The midday heat will force more critters to seek out shade and hide from sight.

Did you know there is a Desert of Maine?
You could spend a full morning at the Maine Wildlife Park, but we still had more weird and wonderful things to see in southern Maine.
I heard there was a desert, something many locals don't even know about. It was time to find out if this oddity was for real.
Spoiler alert. It is!
Rolling onto a dead-end road outside of Freeport, we walked into a gift shop packed with geological nick knacks and Maine swag. We had found the entrance to the Desert of Maine.
We paid our admission fee that would include a guided tour of the desert, as well as access to the nature trails and small barn museum.
Our tour, which consisted of a tram ride pulled by a Jeep, was filled with educational information and a pop quiz, much to my 6-year-old son's dismay. My 8-year-old was over the moon. He's my boy who didn't understand why we needed summer vacation from school. Yes, he's an odd one.
According to our guide, as we rolled over a hill and got our first glimpse of the desert, the Desert of Maine is the eastern most desert in the U.S.
And it wasn't always there.
Over 200 years ago, a farmer left his land to his son. That son, being an idiot, didn't rotate his crops, which sucked all of the nutrients out of the ground. He then switched to sheep farming and never culled his herd. This left the land barren of grass, and a desert appeared.
Witchcraft? Nope.
The land had been a glacial field ions ago, turning into a lake and eventually leaving behind glacial silt. As time went on a forest grew and when settlers came they made it into farmland.
Every other farm around this man's 300 acres did just fine, because they knew practical farming methods. Even today, you can see the old forest and property boundaries. Nature has slowly taken back the desert and there is only about 75 acres left of the desert, the rest reverting back to forest. Scientists predict that in the next 90 years the desert will be completely gone.
You better hurry and get over there to check it out.
After our 30-minute educational tour, which my youngest son did survive and even enjoyed, we were able to get out and explore. The boys hunted for gems in the desert (there are "gems" planted in a specific spot for kids under 12 to discover). Nature trails lead you through the new forest, where you can see wild Maine blueberry bushes too.

Lightning Strikes at Harraseeket Inn
Another full day wrapped with a night swim at Harraseeket Inn, and one of the craziest natural events of our lives. While the boys swam in the indoor pool, and I dozed in a lounge chair, I was violently awakened by a deafening CRACK.
It had rained for about five minutes when we first started swimming, but the storm quickly moved on. The sun was shining, and yet, a rumble of thunder and a bolt of lightning struck right next to the hotel.
The boys jumped out of the pool. Guests enjoying a drink on the patio in front of us leapt to their feet and the tavern staff rushed out.
What had just happened?
Thankfully, no one was hurt, unless you count the power that went out for an hour. The cable TV and Internet went down for the night as well, but what a phenomenon to experience.
The boys jumped back into the pool, giggling that they could now say they had been struck by lightning (no boys, you had not).
That night we chatted with the servers at the Broad Arrow and other diners about our brush with Mother Nature. In this sleepy town, normally the latest act playing the L.L. Bean concert series was the big news of the week. This was big news!
The boys and I took a stroll down Main Street to see the lanterns turn on in the trees around the L.L. Bean campus. We stopped in to say hello to the trout in the store pond and aquarium before bed.
Naturally, we had to grab a blueberry Gelato at Derosier's on the way. Why stop our blueberry hunt now?
An early morning buffet breakfast, which was included in the price of our room, wrapped up our one-night stay in our cozy two-queen bed cottage room at the Inn. After three days exploring southern Maine, it was time to head back to Portland. Oh, and back home to the heat and humidity of Washington, D.C. But first, we had a stop to make.

Wrap it up at Two Lights State Park
As you already know, Portland has a few lighthouses (six to be exact) to explore. We wanted to check out Two Lights State Park. Maybe we'd get to grab a few lobster rolls from the Lobster Shack before we headed out of town too.
One thing to note is that the actual lighthouses and Lobster Shack are not inside the state park. Many people make this mistake and have to turn around at the state park entrance. This does not mean the park is not worth visiting.
Quite the opposite.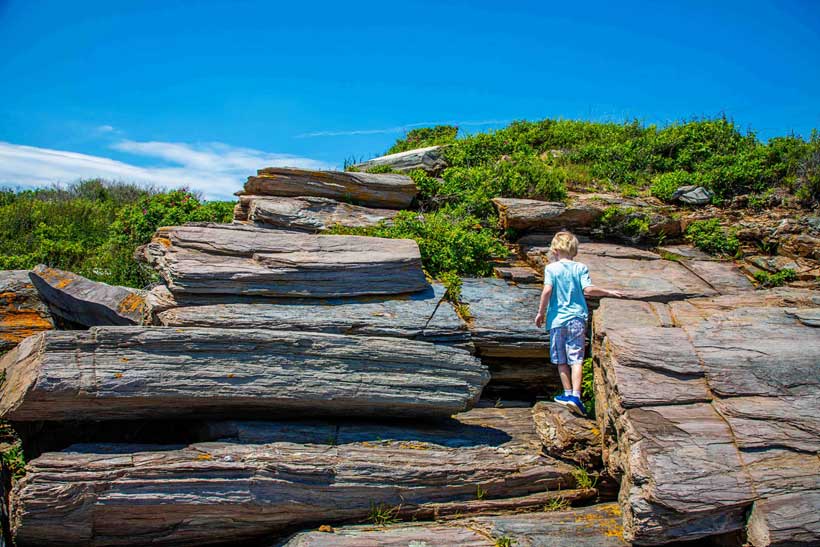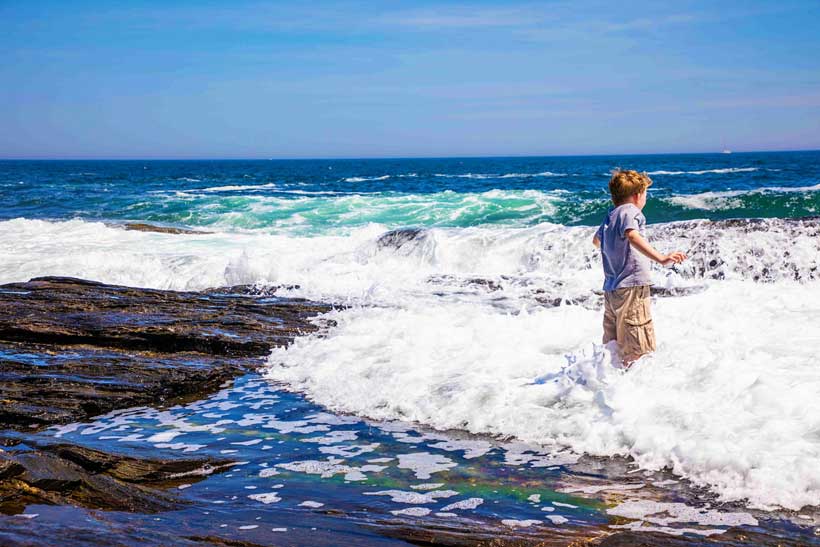 I actually prefer the state park to the lighthouses. For one thing, the parking at the state park is a lot easier. The lighthouses are pretty, but thanks to the popularity of the Lobster Shack, the line to park in the small lot is long. Even getting a lobster roll can be over a 30-minute wait. Plan your time accordingly.
Pack a picnic lunch, or pick up some take out in town to bring into the state park. There is a playground and bathrooms right near the parking lot.
You didn't come here for a playground though. Walk out to the ocean for the rocky beach, and cliff edge trail that brings you along the coast. This is where your kids can do a little rock climbing.
During low tide, you can explore tide pools and even take a dip in some of the larger rock beds. It is worth packing the swimsuits. You know your kids will figure out how to get wet whether you want them to or not.

It's time to plan your trip to Southern Maine
Blueberries, lightening, deserts and lobster fishing—we had made more than a few childhood memories in Maine this summer, ones my boys continue to brag to their friends, even before we had left the Portland Airport.
What am I bragging about to my neighbors about right now as we sweat it out in the Mid-Atlantic? Maine residents were complaining about the heat and humidity while we were there. I think we can all agree that 80 degrees is not hot in the summer. Maine "humidity" is just plain adorable compared to the swamp of D.C.
The food, cocktail mixology, boutique shops, museums, rocky coast, parks, sandy beaches and blueberry extravaganza are what will bring me back to explore again. Should I start planning a trip this fall to add to my list of best places to visit in Maine? I think so. Will you?
If you have been to Maine in the past, it's time to get back to rediscover this northern state. Those who haven't been, stop making excuses. Maine is one of my favorite states. Once you get there, you will find your own reason to love America's "vacationland."
This post is part of a paid partnership with Visit Maine. As always, my opinions are my own. When they aren't you will be the first to know.
This post may contains affiliate links. If you make a purchase after clicking one of those links I will receive a small commission.