It might seem like charming villages like Doolin, Ireland are a dime a dozen across the country. There are many coastal towns in County Clare with pastel-colored cottages and fresh seafood restaurants surrounded by farmland and mountains. But all of the amazing things to do in Doolin and the surrounding areas are exactly what makes it so special.
In Irish culture, Doolin is widely known as the beating heart of traditional Irish music and hosts musicians in its pubs 365 days a year. It's a highlight on the Wild Atlantic Way, an ambitious road trip route stretching along the entire west coast of Ireland.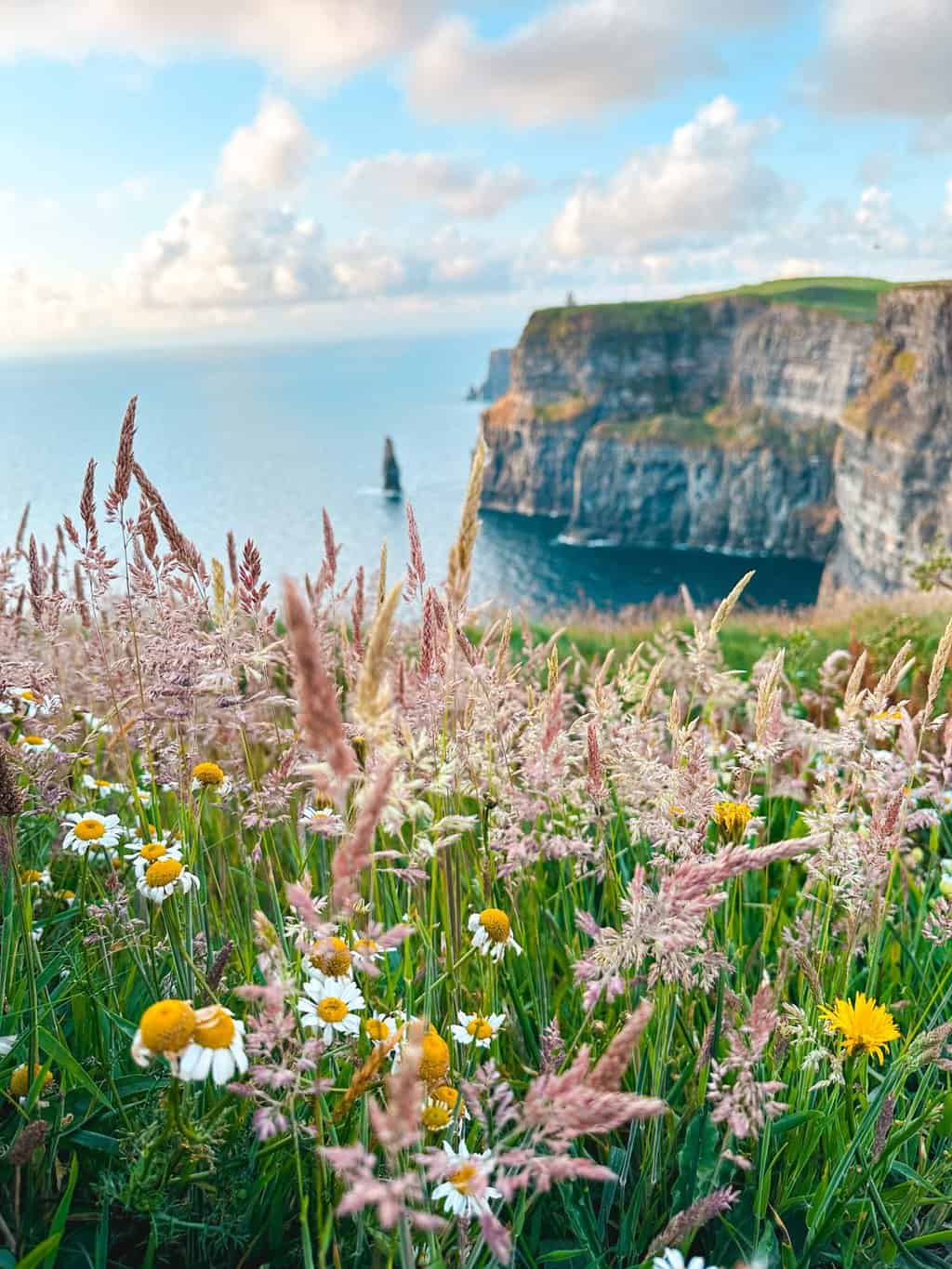 Even better, it's close to areas of spectacular natural beauty like the storied Cliffs of Moher, the Aran Islands, and Burren National Park.
Obviously, you don't want to miss a single one on these Irish sites!
Luckily, we are digging to the best Doolin travel tips you need to know before you visit Doolin, Ireland. Let's look at all of amazing things to do in Doolin, the best Doolin restaurants, and all the best pubs in Doolin to watch live music performances too.
Doolin Ireland Trip Planning Guide
This post contains affiliate links, which means we may earn a small commission from your purchase. This adds NO extra cost to you.
Flying to Ireland?
Looking for the best flights to Ireland? We love to track flights via Expedia.com. Not only do we find great rates, but we earn points to use on future travel too.
You can also keep an eye on GOING deals, which is how we got to Ireland roundtrip from LAX for under $500 each. The free version is good, but the paid subscription will save you way more than the cost per year.
DON'T FORGET YOUR ESIM CARD!
We all love our smartphones, but we don't love those international roaming charges. Even if you have a travel pass, you could max out your service, which is why we always grab an eSIM card to pop into our phones. It's especially great for the kids, as it limits what they can do and how much data they can use, but still allows them to text friends back home.
Check out Airalo, our preferred eSIM card store for the best prices on eSIM cards and international data plans.
NEED A RENTAL CAR?
We use DiscoverCars.com to get the best rates and availability on rental cars. Find your car HERE, along with all of the extras you may need (insurance, car seats, ski racks, etc.)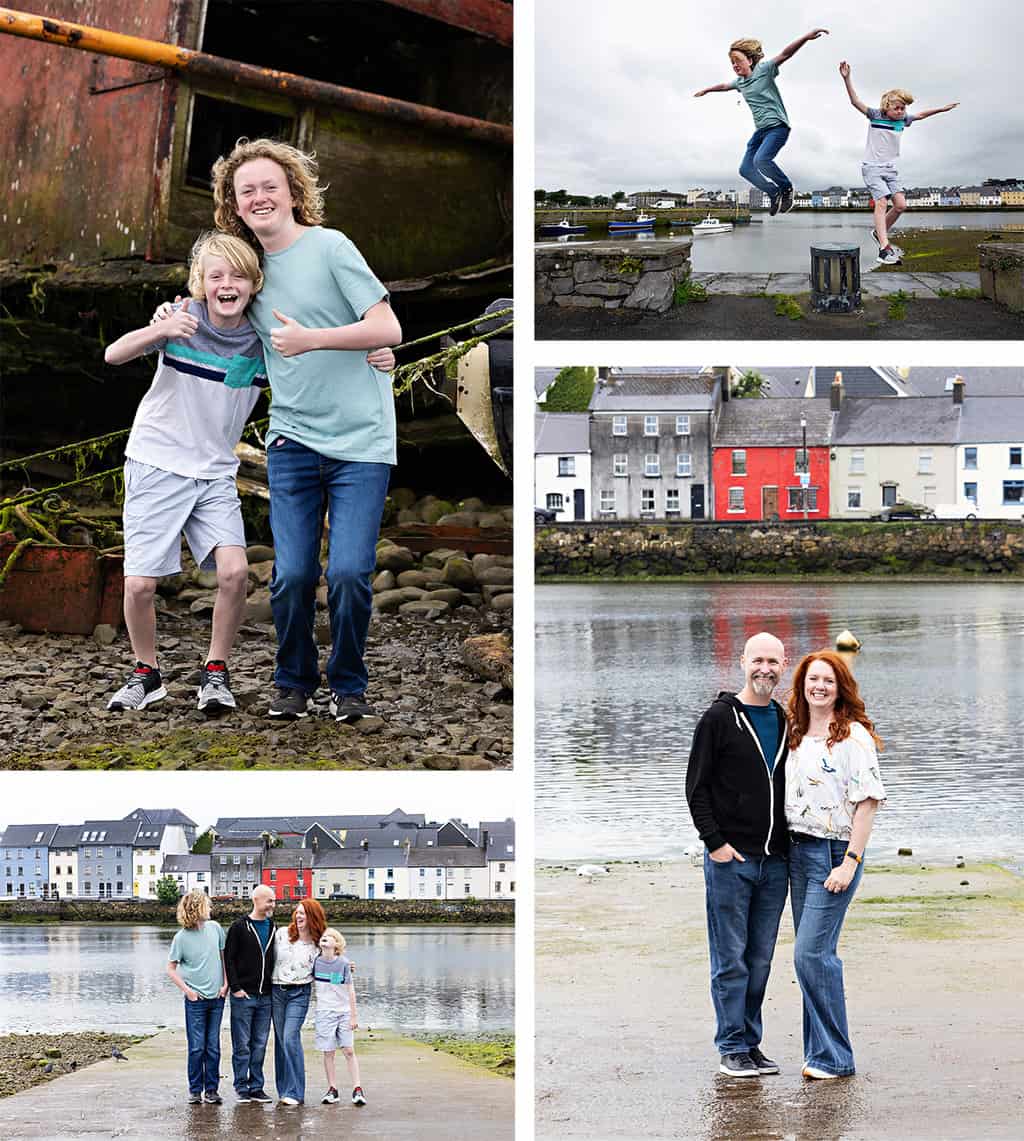 VACATION PHOTOS
Don't forget to book your Flytographer session to capture awesome memories from your trip. We do it as often as we can, even though I'm a photographer. Sometimes, this mom just wants to be in a few photos with her kiddos.
TRAVEL INSURANCE
Do NOT forget to buy travel insurance for your cruise, even if you booked through a travel agent. Things do and will happen and it's cheaper to buy travel insurance ahead of time instead of paying out of pocket later.
Check out Travelex for rates on a single trip or an annual plan that could be right for you if you take more than one or two trips a year. 
Hotels in Doolin
FInding a hotel room in Doolin can be surprisingly difficult, especially if you are slow to book. While there are great hotels in Doolin, like the Hotel Doolin and Doolin Inn, if you are traveling with more than two people, you may want to look into one of the self-catering options found on VRBO.com
Find more Doolin hotels and vacation rentals HERE
How to get to Doolin
Getting to Doolin, Ireland is relatively straightforward, and there are several transportation options available.
How to fly to Doolin
The nearest international airport to Doolin is Shannon Airport (SNN), located approximately 50 kilometers (31 miles) away. Shannon Airport has connections to major cities in Europe, North America, and other parts of the world.
From Shannon Airport, you can rent a car and drive to Doolin, which takes around 1 hour. Alternatively, you can take a taxi or a private transfer to Doolin.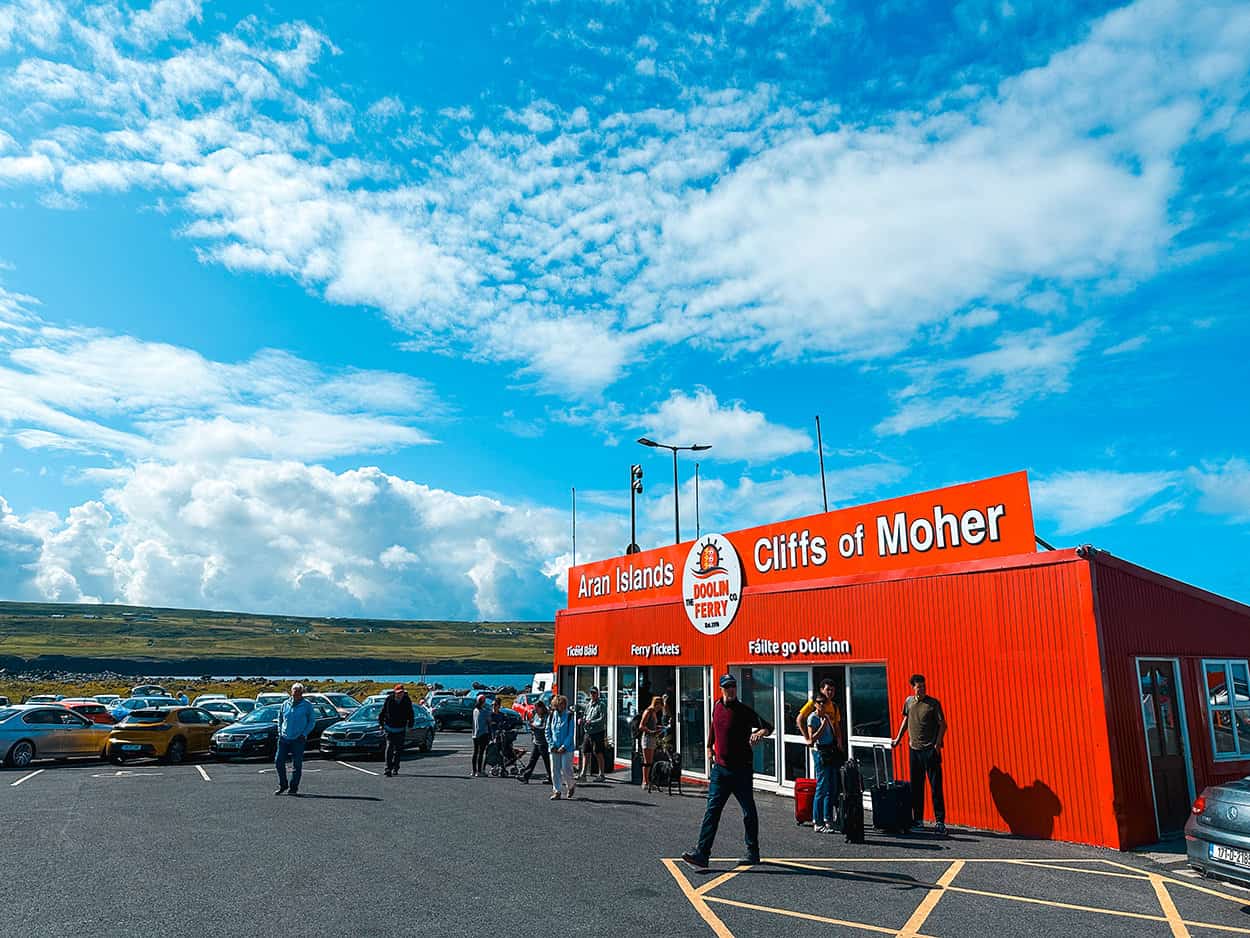 How to get to Doolin By Ferry
If you're traveling from the Aran Islands, you can reach Doolin by ferry. There are regular ferry services operating between Doolin and the Aran Islands, with the journey taking around 30-40 minutes, depending on which island you are on.
Ferries also operate between Doolin and the Cliffs of Moher, providing an opportunity to view the cliffs from the water.
Getting to Doolin By Car
Doolin is well-connected by road, and driving is a great option if you have your own vehicle or if you're renting a car. The village is located off the R478 road, which connects to the N67 and the N85.
If you're driving from Dublin, the journey takes around 3.5 to 4 hours, depending on traffic and the route you take. From Galway, it's approximately a 1.5 to 2-hour drive.
If you are traveling along the Wild Atlantic Way from Dingle, it will take about 3 hours to drive, but there are plenty of stops along the way, including Adare, Tralee and Limerick which can make it a true road trip.
How to take the Bus to Doolin
Several bus services operate to Doolin from different cities and towns in Ireland. Bus Éireann provides direct services to Doolin from Ennis, Galway, and other nearby locations. The bus journey from Galway to Doolin takes around 1.5 to 2 hours.
Definitely check the bus schedules in advance and purchase your tickets when you know when you want to travel.
How to get to Doolin By Train
While there is no direct train station in Doolin, you can take a train to nearby towns and then continue your journey by bus or taxi.
Ennis is the closest train station (and one of the closest town with a large grocery store), and it's served by regular train services from Dublin, Limerick, and other major cities. From Ennis, you can catch a bus or arrange for a taxi to take you to Doolin.
It's worth noting that Doolin is a small village, and the transportation options within the village itself are limited. However, if this is your first time in Doolin, rest assured that most of the main attractions and amenities are within walking distance of the town center, making it easy to explore the village on foot.
Before traveling, it's always advisable to check the latest schedules and availability of transportation services, especially during peak tourist seasons.
History of Doolin Ireland
The history of Doolin, Ireland, stretches back thousands of years, with evidence of human habitation in the area dating back to prehistoric times. Here's a brief overview of the history of Doolin:
Early History
The earliest known inhabitants of the Doolin region were Neolithic farmers who lived in the area around 4000 BCE. They left behind traces of their existence in the form of megalithic tombs and dolmens, such as the Poulnabrone Dolmen, which is one of the most famous and well-preserved examples in Ireland. These ancient structures provide insights into the burial practices and cultural traditions of the early inhabitants.
Medieval Era
During the medieval period, Doolin and the surrounding region were part of the kingdom of Thomond, which was ruled by the O'Brien clan. The O'Briens were a powerful Gaelic Irish family who controlled much of western Ireland. They built several fortifications, including Doonagore Castle, a tower house that overlooks Doolin village. This castle served as a defensive stronghold and a symbol of power during a time of political unrest in Ireland.
Famine and Emigration
Doolin, like much of Ireland, was deeply affected by the Great Famine (1845-1852). The potato blight, which destroyed the main staple crop of the Irish population, led to widespread starvation and mass emigration to America and England. Many people in Doolin lost loved ones and there was a mass decline in population.
Traditional Music Heritage
Despite the difficulties faced by the local population, Doolin has a rich cultural heritage, particularly in traditional Irish music. The village has long been associated with the preservation and promotion of Irish music and is often referred to as the "Home of Irish Music."
Local musicians and music enthusiasts have played a vital role in keeping traditional Irish music alive, and Doolin has become a hub for musicians and visitors looking for one of the best places to have an authentic musical experience.
Don't believe us? Pop into Gus O'Connors any night of the week and watch as the locals and visiting musicians enjoy a jam session together. Anyone is free to join!
Tourism and Development
In the late 20th century, Doolin began to attract tourists who were drawn to its stunning coastal landscapes, the nearby Cliffs of Moher, and its vibrant music scene. This led to the development of tourism infrastructure, including accommodations, restaurants, and entertainment venues, to cater to the increasing number of visitors. However, the village has managed to maintain its charm and authenticity, and the tourism industry has provided economic opportunities for the local community.
Doolin Today
Today, Doolin continues to be a popular destination for visitors from around the world. Its natural beauty, rich cultural heritage, and warm hospitality make it an attractive place to explore the stunning landscapes of County Clare and experience traditional Irish music.
The village remains relatively small and retains its traditional character, with thatched-roof cottages (most turned into shops on the main street) and a sense of community.
The local residents take pride in their heritage and are actively involved in preserving the cultural traditions that make Doolin unique. You will see shopkeepers and locals painting houses and walls to keep their prestine character, but what we love this most is the friendly and warm hospitality that invites us into the fold every time we visit.
So, you can see, Doolin's history is intertwined with the ancient past, medieval times, the impact of the Great Famine, and the evolution of a vibrant tourist destination.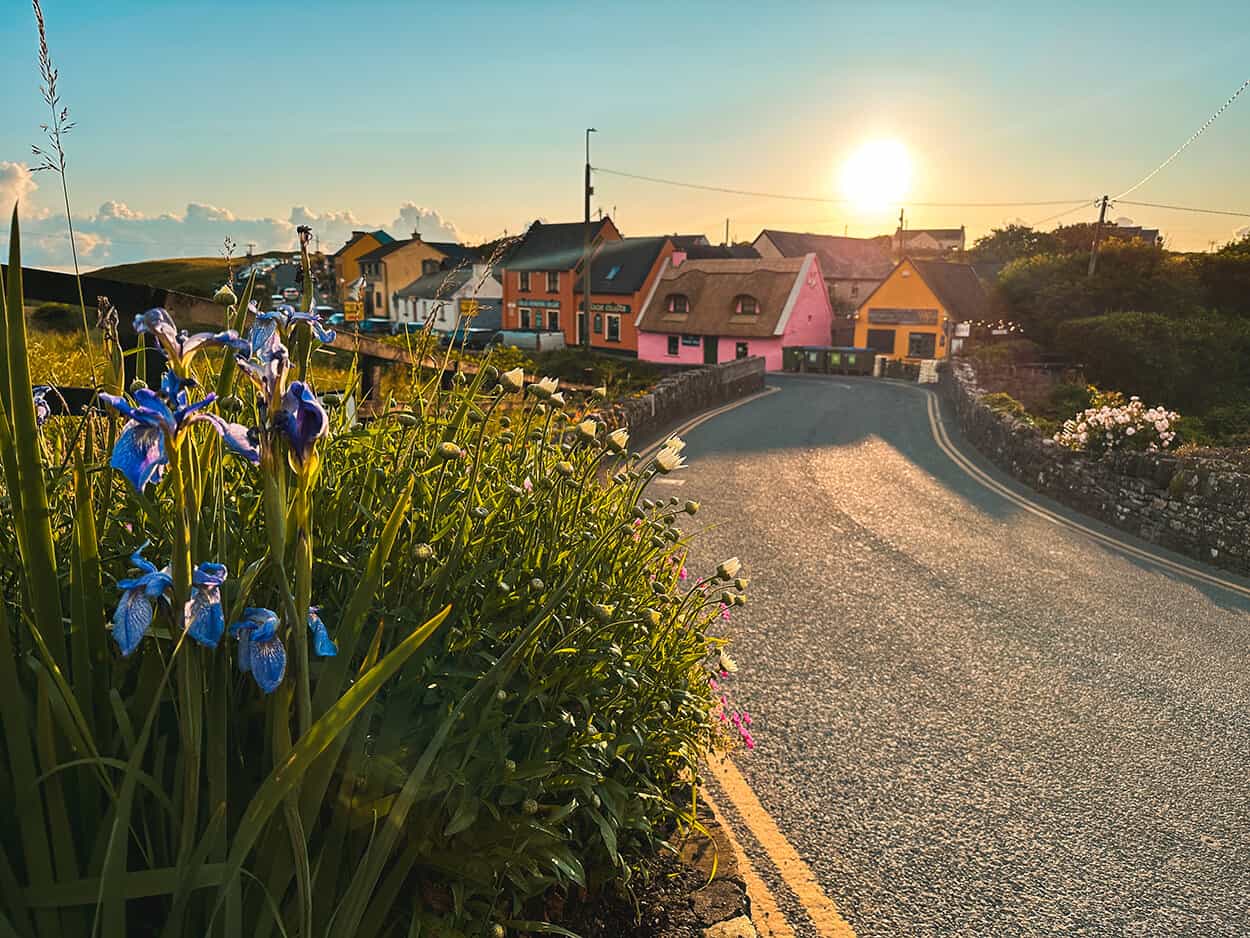 TOP THINGS TO DO IN DOOLIN
DOOLIN VILLAGE
It might surprise you to find out that Doolin village really is very small. Despite its many guesthouses, pubs, and amenities for visitors, it almost entirely revolves around one road called Fisher Street. Nevertheless, Doolin village is a great base for adventures on the Wild Atlantic Way and it even has a tourism office so it could not be more accommodating.
Pop into all of the shops, most selling wool in one form or another, or simply grab a pint and listen to the locals play traditional Irish music in the pubs.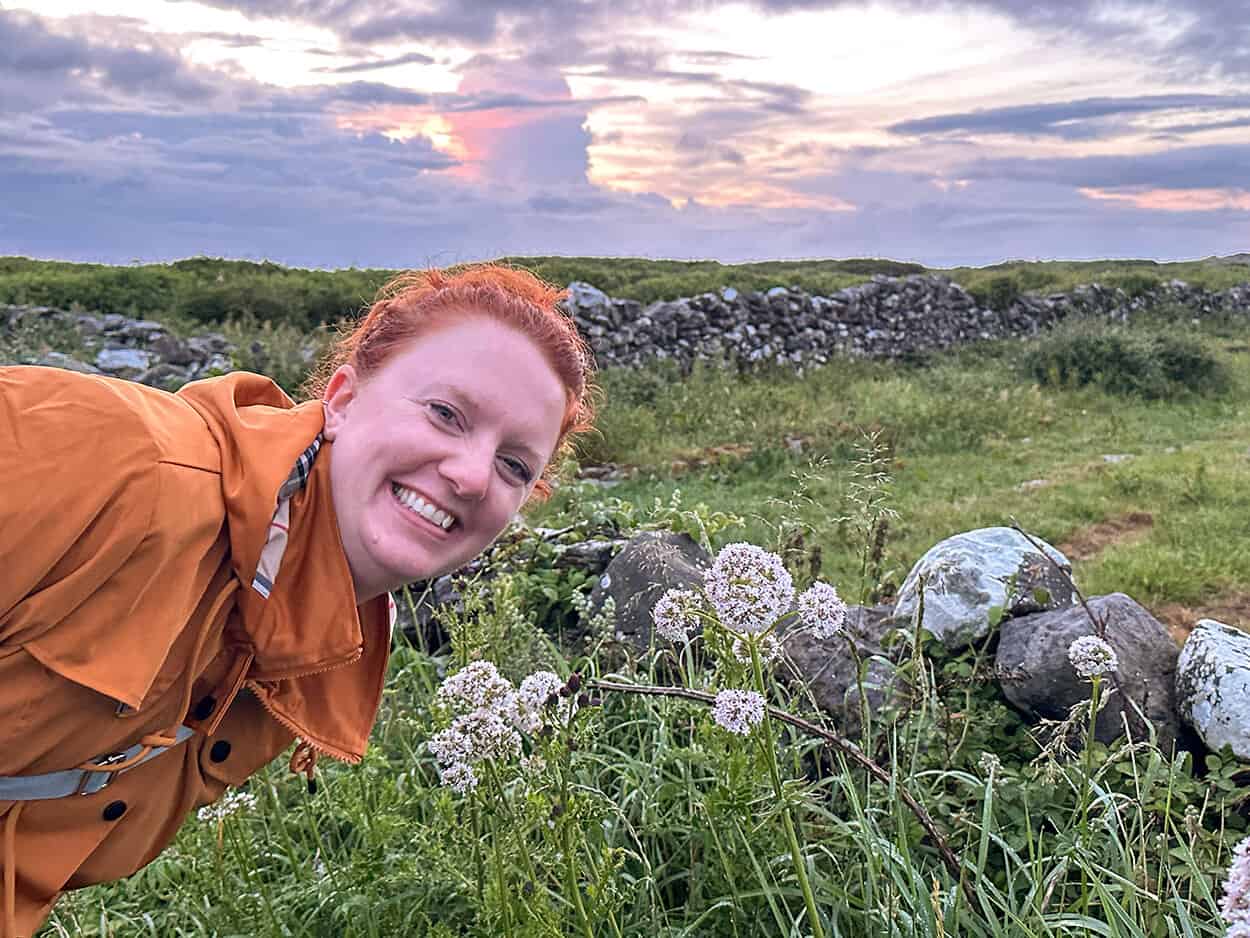 Flytographer Photo Shoot
Need family photos, but want a cute backdrop? Flytographer has plenty of great locations and photographers, including in Doolin that will happily wander with you for 30-90 minutes to capture your family AND your epic vacation in Ireland.
TIP: while looking for a photographer, search in Galway. Most Galway Flytographers will head down to Doolin for a photo shoot.
Book your photo tour HERE.
DOOLIN CLIFF WALK
Let's face it, Doolin is a cute little village but it would welcome half as many visitors if it wasn't close to the most incredible cliffs overlooking the Atlantic Ocean. Even better, you can actually walk to the incredible Cliffs of Moher right from town via the Doolin Cliff Walk.
The Cliffs of Moher cliff walk connects the towns of Doolin and Liscannor in County Clare via this UNESCO World Heritage Site. This entire hiking path is approximately 12.5 miles and takes 4.5 hours to complete. Don't worry! The Doolin Cliff Walk to the Cliffs of Moher is only around one-third of that distance.
There are lots of hikes in Ireland, some easier than others and some offering much better views. This coastal walk is arguably one of the easiest with almost no incline whatsoever with an amazing payoff at the end. You'll be able to take in the Cliffs of Moher from different vantage points if you follow the Doolin Cliff Walk rather than just driving up to the site.
Want to get started in the town of Doolin? Simply walk over the Fisherstreet Bridge out of town, and up the hill to the right. Keep going straight and you will hit the Burren Way and the Cliffs of Moher Walking Trail. It's very hard to miss once you know to go up that hill.
CLIFFS OF MOHER
The main reason anyone visits Doolin, besides the music, is to see the Cliffs of Moher. You could take a day trip from Dublin, Limerick or Galway, but why would you when you can stay the night and see the cliffs more than once?
The best time to visit the Cliffs of Moher is at sunset. If you have good weather, there is no better place to be on a clear day. Not only have the tour buses left and the visitor center closed, but you can have the top of the Cliffs of Moher all to yourself (or mostly).
And the light! Photographers don't take advantage of it enough if you ask me. While you can't fly a drone at the Cliffs of Moher (understandable), you are welcome to stake out a spot to watch the sunset with your tripod as long as you don't block the path. Just make sure you leave before it gets dark. There are hardly any lights (sometimes none) and you don't want to wander OFF the Cliffs, right?
Cliffs of Moher Visitor Centre
The Cliffs of Moher Visitor Centre is the perfect place to learn more about this incredible cliff formation. Head underground into this Hobbit-like, eco-friendly cave design that doesn't distract from the beauty of the Cliffs.
There are two cafes (the Cliffs View Café and Puffins Nest Café), the Shannon Heritage Craft and Gift Store, guided tours available, interactive exhibits, and restrooms all under one earthen mound.
The exhibits include four main themes: Ocean, Rock, Nature and Man. These themes explore the impact of geology, weather and humans on the Cliffs, weaving in local stories and histories to give you a more well-rounded look at this marvel of natural beauty you won't find in any Instagram post.
If this is your first time at the Cliffs, I highly recommend you visit the Visitors Centre (included in the price of your parking) BEFORE you go out to the Cliffs of Moher viewpoints. You definitely want to add this to the list of things to do in Doolin you don't want to miss out on.
Harry Potter and the Cliffs of Moher
If you want a truly different perspective of the Cliffs of Moher, take one of the boat trips to the Cliffs of Moher. If you are a Harry Potter fan like me, a boat tour can also go past the cave entrance that Harry and Dumbledore apparate to when looking for the locket that Voldemort put one of his horcrux in (sorry- spoiler alert!)
While we can't all apparate, you can book one of these tours in the Atlantic Ocean that give you a unique angle of the cliffs or check out this tour of the Cliffs of Moher by boat, which also visits the Aran Islands.
CLIFFS OF MOHER CRUISE
Another fun way to see the cliffs and one of the top things to do in Doolin and the surrounding areas is to take a Cliffs of Moher cruise. You can catch the Doolin Ferry right from Doolin Pier and see them from the sea.
The Cliffs of Moher is an 11-mile-long area of dramatic coastline that you can only gain a glimpse of when standing behind them on dry land. By taking a Cliffs of Moher Cruise via the Doolin Ferry, you also get the luxury of a knowledgeable local guide who can tell you about the geology and folklore of these cliffs.
ARAN ISLANDS
As well as seeing the Cliffs of Moher, you can also travel to the Aran Islands on a Doolin Ferry from Doolin Pier.
The Aran Islands are a group of three islands just off the west coast of County Clare. They are Inishmore (the largest, known as Inis Mór in the Irish language), Inishmaan (known as Inis Meáin), and the smaller Inisheer (Inis Oírr).
Keep an eye on the weather, as rough seas will cancel ferries, and even if it looks like a sunny day, if they can't get you back safely they will cancel your ticket unless you are staying the night. Safety is their top priority, so don't put up a stink if you can't go out on your scheduled day.
These limestone Aran islands are home to lots of historic structures like religious buildings, forts, pubs, old farmhouses, and more. If you had time, I highly recommend you stay overnight on the Aran Islands and return to Doolin the next day.
But if you are only there for the day, look into bike rentals that can get you seeing more of the island during your visit. We had a blast renting electric bikes and wandering the island of Inis Oirr on our last visit.
BURREN NATIONAL PARK
There are six national parks in Ireland and Burren National Park is only a 30-minute drive inland from Doolin. It's much more arid and otherworldly, thanks to its limestone rock landscape, than the lush areas of natural beauty that you'd expect to see in Ireland. Despite appearances, Burren has at least seven fun walking trails that bring you across craggly limestone "pavements" and stone walls, and is home to otters, mink, and lizards.
There are also pretty loughs (lakes) and the remains of ancient structures in Burren National Park too.
Trails within the park to check out include:
Nature Trail (White Route)1.5 km
Knockaunroe Turlough (Orange Route)1.3 km
Mullaghmore Return (Green Route)6.5 km
Mullaghmore Loop (Blue Route)7.5 km
Mullaghmore Traverse (Red Route)6 km
Slieve Carran (Brown Route)2.5 km
Slieve Carran (Yellow Route)2 km
The Burren National Park Information Point
You can pop into the village of Corofin to visit the BUrren National Park information center that has exhibits and park guides who can help you decide where to visit and which trails to take. There is also a shuttle bus from the Information Point to the park if you would rather not drive yourself (check dates and times, as the shuttle is only available during the tourist season).
Poulnabrone Dolmen
The oldest megalithic monument in Ireland (found to date) is locaed inside of the Burren and the second most visited spot in the Burren after the Cliffs of Moher (technically, the cliffs are part of the Burren too as you will notice from the limestone rocks everywhere). Poulnabrone is considered a portal tomb. When archelogists started excavating, they found the remains of 33 people at the site, who were buried, according to burrengeopark.ie, between 5,200 and 5,800 years ago.
The people in the region would most likely have been farmers who worked hard and long hours to survive the landscape in which they lived.
More significant spots in the Burren to explore:
Aillwee Cave
Flaggy Shore
Fanore Beach
Doolin Pier
Lisdoonvarna Spa Wells
Slieve Carran
Carron Polje and Turlough
To see the Poulnabrone, you can hike or you can more easily drive. There are parking spots throughout the Burren, especially close to the sites that draw in the most crowds, like this one surely does every year.
BURREN SCENIC DRIVE
Want to hop in your rental car and take a drive around all the prettiest areas in the Burren region? You can do exactly that if you follow the Burren Scenic Drive. It is a 41-mile circular route that technically starts in Ballyvaughan. It passes through Carran, Kilfenora, Lisdoonvarna, Fanore, and Black Head around Burren National Park before finishing back in Ballyvaughan.
Yes, it passes through Doolin too so you can also start it there. This scenic drive takes in part of the Wild Atlantic Way road trip so you know it's going to have some pretty sights. We've done it and have zero regrets!
DOOLIN CAVE
One of the many things to do in Doolin for families, Doolin Cave is a large, fairly accessible subterranean limestone opening. It has the longest and largest stalactite in Europe measuring almost 24 feet.
You can spend the afternoon taking a guided tour of Doolin Cave and learn all about the history of the cave and cool facts about it.
Do keep in mind that there is only ONE stalactite- granted, it's the largest free-hanging stalactite. This is not a massive cave system with stalactites and stalagmites, like you might have seen in the Shenandoah mountains in the USA, or elsewhere.
Doolin Cave tries to make this a quality outing, but for almost €20 per adult, you might want to spend your money on a ferry ride to the Aran Islands or to see the cave from Harry Potter and the Half Blood Prince (remember when Harry and Dumbledore go to find the horcrox in the cave? Yup, it is at the Cliffs of Moher!)
If you are determined to check this cave off of your Ireland bucket list though, there is a very small pottery display with bowls you can buy, as well as a gift shop and lovely little garden cafe if you are in need of a snack. Kids will also enjoy the farm animals attached to the visitor's center as well.
DOONAGORE CASTLE
Doonagore Castle is a 16th-century abandoned fortress that sits on top of a small hill just outside of Doolin. This castle might be closed to the public, but fortunately, you can see most of the castle by walking around its walls anyway. Walking up the hill to the castle from Doolin town is also worth the hike due to the sweeping sea views you'll be rewarded with once you reach the top.
If you have time, drive or walk up at sunset. Make sure you pull all the way into one of the pull offs behind the castle so you don't block the road, but then get out of your car to watch the colors change over the castle and sea beyond as the sun dips into the Atlantic.
SURF AT LAHINCH BEACH
If you're a keen surfer and you're used to the warm temperatures of surf hotspots like Goa in India or Huntington Beach in California then you might think surfing in Ireland is insanity.
Surfing at Lahinch Beach is actually super popular. You'll have no problems finding a shop to loan you equipment and booking a lesson with a surf school if it's your first attempt.
If the idea of plunging into the cold Atlantic Ocean really doesn't appeal to you, you could try kayaking or simply enjoy a walk along the beach instead.
Want to do more surfing in Ireland? Check out our things to do in Dingle, which includes a stop at Inch Beach, one of the best spots to surf in southern Ireland.
TRADITIONAL IRISH MUSIC PUBS IN DOOLIN
Every village, small town, and city in the Republic of Ireland claims to have the best traditional Irish music pubs and performers. Galway or Dublin can fight between themselves for the best Irish music city, but the best village has to be Doolin.
Not only does Doolin have lots of annual music festivals, but nowhere beats Doolin for its quantity of Irish music pubs and quality of local performers. Ordering a Guinness or whisky in one of those pubs is, hands down, one of the most popular things to do there.
Here are some of the best traditional Irish pubs that are the best for live music in Doolin.
GUS O'CONNOR'S PUB
Smack in the middle of the main street in Doolin, you'll find Gus O'Connor's Pub, an establishment that first opened in 1832. To say we love this pub is an understatement. Everytime we are in Doolin we pop in nightly, whether for the epically delicious Guiness and Beef stew, or just for a bit of music with the locals.
Irish folk musicians and pub goers alike cram behind tables in this sprawling local spot every night (the pub bought up more buildings next door to create little rooms where you can snag a table, but it still feels homey and small), because the atmosphere, food, and company in this traditional pub always makes you feel welcome, if not a little squished, as the music gets going right across from the bar around 9pm every night.
Visiting musicians are welcome to join the locals in their reserved spot. We saw our French waitress from lunch pull out her fiddle to join the gang our last night in Doolin and couldn't have been more impressed with her skills (and being the only female musician playing that night!)
McGANN'S PUB
McGann's is exactly what you think about when you imagine a traditional Irish pub. There are picnic benches outside for rare sunny days and inside is a cozy wooden spot with a stone fireplace and nicknacks on the wall.
They tend to host traditional Irish music 'sessions' which are spontaneous, improvised, and relaxed music performances. Their schedules are sporadic but if you find there isn't one playing that night, you can simply move on to another pub.
McDERMOTT'S PUB
McDermott's Pub is one of the more contemporary watering holes but it still has a casual, laidback vibe. They host Irish music performers nightly after 9:30 pm, but you should turn up earlier to snag a seat as it is a popular place.
FITZ'S PUB
Having recently undergone a huge renovation, Fitz's Pub is one of the more upmarket pubs in Doolin, but it's no less friendly. They're a bit more formal with their Irish music performers and book professionals to play well-known tunes every single night.
As one shopkeeper told us, the music is more "folk music" than a traditional Irish session. We took this as music that many outsiders would recognize and could sing along to.
Keep in mind that this is not your traditional pub decor, like O'Connor's, and if a tour bus rolls through you will only be able to access a very limited menu outdoors.
Things to do in Doolin if it rains
While Doolin is known for its stunning landscapes and outdoor activities, the weather in Ireland can be unpredictable, and rain is not uncommon. However, don't let a little rain dampen your spirits.
Doolin offers several indoor activities and attractions that can be enjoyed even on a rainy day.
Doolin Yoga Studio
If you have been hiking and exploring, your body may yearn for a good stretch. Join Tricia McDonnel as she brings you through a gentle yoga class or a
Core & Conditioning Class (seasonal). She even offers a free weekly class at the Hotel Doolin (check times and availability before you show up).
Drop-in passes are available, so don't miss out on giving your body the stretch it so desperately needs.
Visit the Doolin Cave
Doolin Cave to the Great Stalactite, one of the longest free-hanging stalactites in Europe, and INSIDE. Join a guided tour to learn about the geology and history of the cave.The cave remains at a constant temperature, but can be chilly, so make sure you bring a jacket or sweatshirt.
Discover the Burren Centre
Head to the nearby Burren Centre in Kilfenora, a short drive from Doolin. This interpretive center offers a wealth of information about the unique Burren region, its geology, flora, fauna, and archaeological sites.
Explore interactive exhibits, watch audiovisual presentations, and learn about the rich cultural and natural heritage of the area. The center also houses a gift shop where you can find locally made crafts and products.
Enjoy Live Music in Pubs
Rainy weather creates the perfect atmosphere to cozy up in one of Doolin's traditional Irish pubs and enjoy live music sessions. A few offer daytime music, but most won't have music until the evening.
Explore Local Art Galleries
Doolin and its surrounding area are home to various art galleries showcasing the work of local artists. Visit these galleries to admire local paintings, sculptures, ceramics, and other forms of art. The art reflects the natural beauty and cultural heritage of the region, offering a unique perspective on Doolin and its surroundings.
You may even be able to visit local artists at their studios, so keep an eye out at the galleries to find your favorites and ask if the artists ever offers studio visits.
Sample JJ Corry Irish Whiskey
Learn all about the whiskey making process at the J.J Corry Irish Whiskey Farm, where you will see how they make their whiskey from start to finish and can have a little taste when you are done.
Indulge in Irish Cuisine
Taste traditional dishes like Irish stew, seafood chowder, or a hearty plate of fish and chips will perk up any cold and rainy day. And really, nothing can fix the rainy day blues like a scone and cup of tea.
Attend an Irish Food Tour or Class with Tasting Spoon
I love a good food tour or cooking class, and Tasting Spoon offers both throughout Ireland. The closest food tour to Doolin would be their Goat Cheese Tasting and Goat Farm Tour in Ennistymon, which is an easy drive from Doolin.
Remember, the rain creates gorgeous misty scenery, so even if you can't do the hike you planned today, chances are, you can still get out to enjoy a coastal walk. Just make sure you pack your rain boots and rain coat (we have our favorites listed HERE). Never let the rain stop you from exploring!
GREAT DAY TRIPS FROM DOOLIN
Staying in the town of Doolin already allows you to be in close proximity to some of the best things to do on the Wild Atlantic Way. However, if you wanted to take a day trip to one of the nearby cities on your Irish road trip, here are some great suggestions.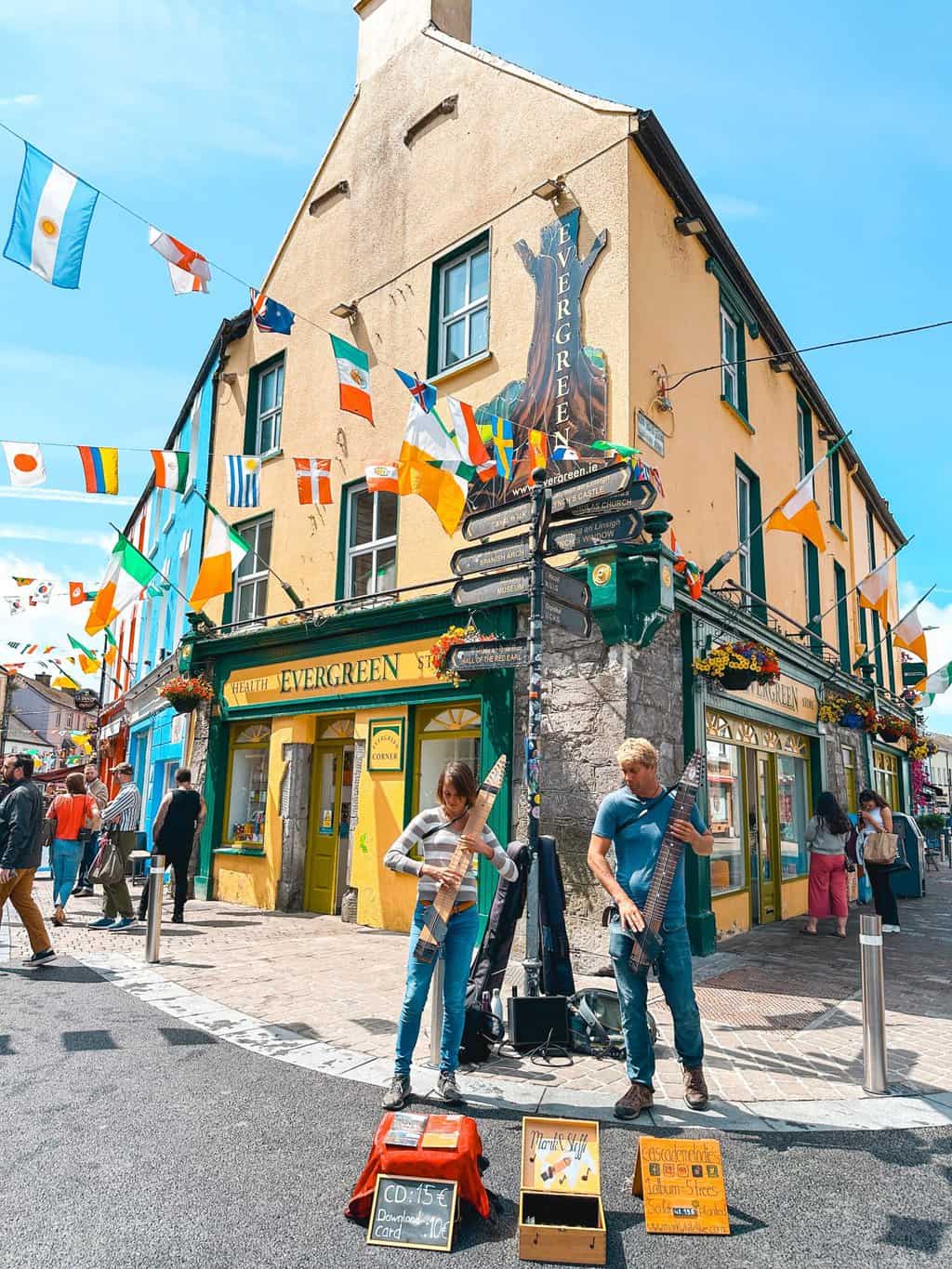 GALWAY
Galway is a port city in County Galway only 90 minutes north of Doolin via the scenic coastal road. It's known for being a welcoming and expressive place thanks to its major annual international arts festival and young student population. Multicolored houses that line the harbor and the lively Latin Quarter also support this point of view of Galway.
It's also a historic city with a long maritime heritage. Join a walking tour of this unique city and you'll soon realize why Galway is so special.
Even better, book a Flytographer photo session to capture your family's memories of your visit to this thriving Irish city. We did one for the first time last year, and despite a little misty rain, had a blast with our photographer. She was also able to steer us towards a great lunch spot after our session was done.
Find more things to do in Galway Ireland
LIMERICK
Limerick is Doolin's closest city to the south within the County Clare boundary. It has the reputation of being quite an industrial city which deters those who want to travel to Ireland purely to road trip through the dramatic countryside.
But Limerick also has a beautiful medieval Old Town on the banks of the River Shannon. It boasts the huge St John's Castle complex, Saint Mary's Cathedral, and the Catherine McAuley country house which are all historic landmarks and would be so interesting to visitors in the area.
On our last visit, we got to see a Gaelic Football match in Limerick, which was a truly unique sporting event for a family who only knows rugby, soccer and American football. To say we were a bit confused by the score is an understatement, but tickets were check (under 25 Euros) and the kids had a blast.
ENNIS
Ennis is the closest large town to Doolin and is only a 40-minute drive away. There are lots of cool historic buildings in Ennis, like Clare Abbey and the Ennis Friary. Like every Irish town, it has friendly traditional pubs and nice city parks. If you visit Ennis, take a walk along the River Fergus's path until you reach the Mill Water Wheel.
ANNUAL EVENTS IN DOOLIN
Doolin might be a small place, but there's still plenty of festivities and events organized every year. They take their Irish heritage very seriously with plenty of folk festivals and a big celebration on St Patrick's Day. Here are some of the top goings on in Doolin and the surrounding area.
Russell Irish Traditional Music Festival (February)
St Patrick's Day (March 17th)
Easter Celebrations (March/April)
Kilfenora Trad Festival (April)
Burren in Bloom (April/May)
Doolin Folk Fest (June)
Culture Night (September)
Burren Christmas Family Fayre (December)
RESTAURANTS IN DOOLIN
For such a small village, it's surprising how many great restaurants are in Doolin. Here are some suggestions for where to order a traditional Irish breakfast and other local dishes.
IRISH BREAKFASTS IN DOOLIN
Doolin Café
Anthony's at Doolin Inn
Gus O'Connor's Pub
LUNCH SPOTS
Russell's Fish Shop
The Ivy Cottage
Stonewall Wood-Fired Pizzeria
The Cheese Press
DINNER RESTAURANTS
Oar Restaurant & Rooms
Anthony's
Glas Restaurant
Riverside Bistro
Gus O'Connors (yes, we would eat there every meal if possible)
SWEET TREATS IN DOOLIN
Doolin Ice Cream
The Puffins Nest Café
Cupán Coffee Shop
The Doolin Deli
Love it? Pin it for Later!
Most Frequently Asked Questions about Doolin Ireland
Where is Doolin located in Ireland?
Doolin is a picturesque village located on the west coast of Ireland in County Clare. It is situated on the Atlantic Ocean and is part of the Wild Atlantic Way, a popular tourist route.
How can I get to Doolin?
Doolin is accessible by various means of transportation. If you're flying, the nearest international airport is Shannon Airport, which is approximately 50 kilometers (31 miles) away. From there, you can hire a car or take a bus to reach Doolin.
Alternatively, you can also fly into Dublin Airport or Cork Airport and then travel to Doolin by car, bus, or train. If you prefer traveling by ferry, there are ferry services that connect Doolin with the Aran Islands and the Cliffs of Moher.
What is Doolin famous for?
Doolin is primarily known for its traditional Irish music, stunning landscapes, and proximity to popular attractions such as the Cliffs of Moher. The village is often referred to as the "Home of Irish Music" due to its vibrant music scene and numerous traditional pubs where you can enjoy live performances.
Doolin is also famous for its traditional thatched-roof cottages, which add to its charm and character. But really, it's known as a launching place to see the Cliffs of Moher, especially if you are not so musically inclined.
What are the must-see attractions in Doolin?
Doolin offers several attractions that are worth visiting. The most famous one is undoubtedly the Cliffs of Moher, a magnificent natural wonder located just a few kilometers away. These dramatic cliffs offer breathtaking views of the Atlantic Ocean and are a popular destination for nature lovers and photographers.
In addition to the cliffs, you can explore the Burren, a unique limestone landscape with gorgeous flora and fauna, plus ancient archaeological sites.
Other attractions include the Aran Islands, which can be reached by ferry from Doolin, and the Doolin Cave, home to the longest free-hanging stalactite in Europe (but honestly, not worth the money).
Is Doolin a good base for exploring the surrounding area?
Absolutely! Doolin is an excellent base for exploring County Clare and the wider region. Its central location makes it convenient for visiting the Cliffs of Moher, the Burren, and the Aran Islands. You can also take day trips to nearby towns and attractions such as Galway City, the Connemara region, Dingle and the Ring of Kerry.
Doolin itself has plenty to offer, including traditional music sessions, scenic walks along the coast, and opportunities for outdoor activities like hiking, cycling, and surfing. Plus, it actually has decent food, which you can't say for all small towns in Ireland.
When is the best time to visit Doolin?
The best time to visit Doolin depends on your preferences. The summer months (June to August) are generally the warmest and most popular, with longer daylight hours and a lively atmosphere. However, this is also the peak tourist season, so expect larger crowds.
If you prefer quieter surroundings, spring (April to May) and autumn (September to October) can be excellent times to visit. The weather may be slightly cooler, but you'll still have a good chance of experiencing pleasant conditions.
It's worth noting that the weather in Ireland can be unpredictable, so it's a good idea to pack layers and be prepared for some rain throughout the year (check out our Ireland Packing List for all seasons).
Can I experience traditional Irish music in Doolin?
Absolutely! Doolin is renowned for its traditional music scene. The village is home to several traditional Irish pubs where you can enjoy live music sessions almost every night of the week. These sessions often feature talented local musicians playing traditional instruments such as the fiddle, tin whistle, bodhrán (a traditional Irish drum), and accordion.
The pubs in Doolin are known for their friendly and welcoming atmosphere, making them great places to experience the vibrant culture of Irish music.
Are there accommodations available in Doolin?
Yes, Doolin offers a range of accommodation options to suit different budgets and preferences. You can find cozy bed and breakfasts, guesthouses, hotels, self-catering cottages, and even campsites in and around the village. It's advisable to book your accommodation in advance, especially during the peak tourist season, to ensure availability. Staying in Doolin gives you the advantage of being close to the attractions and the lively atmosphere of the village.
Can I camp in Doolin?
Yes, Doolin has several campsites, RV and campervan accommodations, some with better views the hotels in town.
What outdoor activities can I enjoy in Doolin?
Doolin and its surrounding area provide plenty of opportunities for outdoor activities. Hiking enthusiasts can explore the scenic coastal trails, including the Cliffs of Moher Coastal Walk, which offers stunning views of the cliffs and the ocean.
The area is also popular for surfing, and there are surf schools where beginners can take lessons and experienced surfers can rent equipment.
Cycling is another great way to explore the region, with bike rentals available in Doolin. A
dditionally, you can enjoy sea kayaking, fishing, and even horseback riding in the beautiful landscapes of Doolin.
Are there places to eat and drink in Doolin?
Despite its small size, Doolin has a good selection of restaurants, cafés, and pubs where you can satisfy your hunger and quench your thirst. The village offers a range of dining options, from traditional Irish pub fare to international cuisine. Seafood is particularly popular in Doolin, with many establishments serving fresh catches from the nearby Atlantic Ocean.
After a day of exploration, you can relax in one of the cozy pubs and enjoy a pint of Guinness or listen to traditional Irish music.
Warning: keep an eye on the time in summer as you will stay out later thanks to sunsets after 9pm. You may miss the dining hour and kitchens do close, so make sure you get some food in time.
Can I visit the Aran Islands from Doolin?
Yes, Doolin is one of the main departure points for visiting the Aran Islands. Inishmore, the largest of the three islands, is the most popular destination and can be reached by ferry from Doolin Pier. The ferry journey takes approximately 30-40 minutes, and there are regular services operating throughout the year, although frequency may vary depending on the season.
The Aran Islands offer a glimpse into traditional Irish island life, with ancient stone forts, stunning landscapes, and a rich cultural heritage.
Ready to plan your Ireland trip? Read This First!
Ireland Trip Tips
Things to do in Ireland
Ireland National Park Guides
Our Favorite Places to Visit in Ireland
Love it? Pin it for Later!