The zombies were out to get me. I was convinced. How could I leave my warm little bed in a Jordan bedouin tent when the hoards were out there? Of all the places to visit in Jordan, why did I decide to sleep in a tent?
I rolled over to see if my bunkmate was still asleep. Her bed was empty. Popping out of my warm down sleeping bag, throwing my shoes on, I sprinted out the door of our tent in the Bedouin camp just outside of Little Petra in Jordan.
"Helen!" I whisper yelled. "Helen?!"
A very blurry-eyed blonde turned on her heels, stomping back in my direction. Thankfully, Helen's brains were still intact. Phew!
"Wait for me. I'm coming too!" I frantically informed her.
Together, we made the arduous trek to the toilet in the camp – all 200 feet down the path from our tent – and back.
We survived. High fives for another zombie-free night.
Travel to Jordan
As you might have already guessed, I have a wild imagination. There are no zombies in Jordan, unless you count the people, like me, getting off a 12-hour flight from the U.S., who try to see more than they should just after arrival at Queen Alia International Airport.
Arriving in Amman, making my way down to Wadi Ram with Experience Jordan, a local tour operator, I'll admit, I was nervous. As an American, we are fed a lot of stories about the Middle East – woman aren't safe; we must stay covered up at all times; everyone hates the Americans; pretend you are Canadian.
Nothing could be further from the truth when you explore all of the places to visit in Jordan. Across much of the Middle East you will find much of the same – a kind, joyful people, who are family-focused, welcoming and happy to meet Americans who care enough about their culture to want to learn more.
Going with the kids? You need to read our guide to

Jordan with kids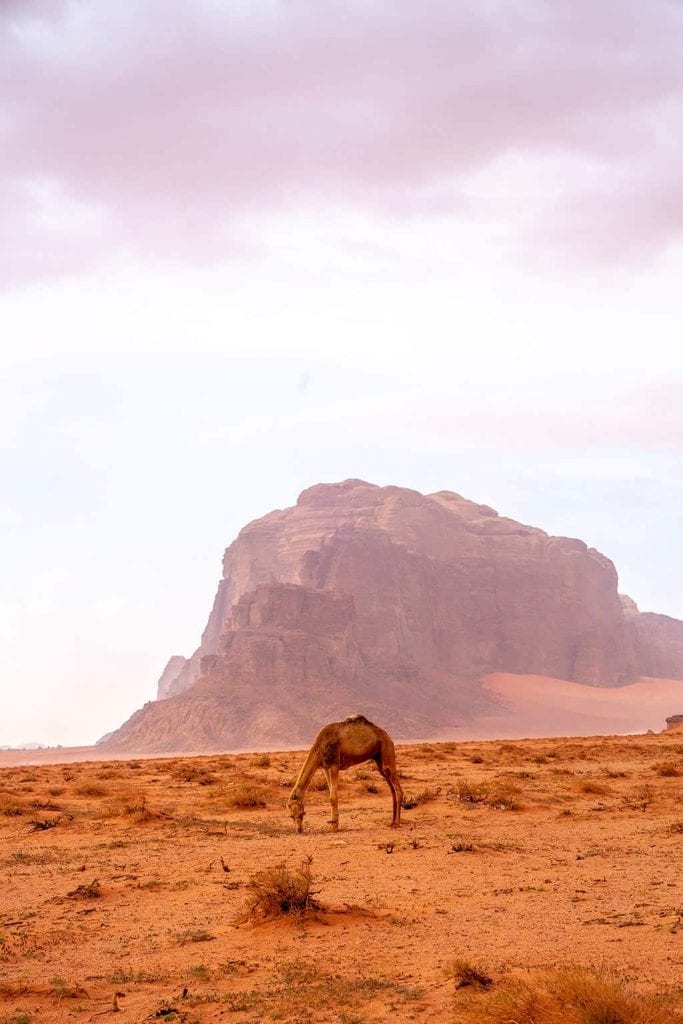 Amman to wadi Rum
I was on a cultural tour, traveling from Amman to Wadi Rum with 11 other travelers excited to dive into the antiquities, historic sites and food of Jordan. We would learn the history of the area, how it became a nation and why so many people love to visit each year.
In case you didn't already know, there is a lot to see between Amman and Petra.
Jerash
North of Amman, the historic city of Jerash is one of the best examples of Roman architecture in the region, with several temples to both Greek and Roman gods, including Artemis, Athena, Zeus, Hera, Apollo, Poseidon, Nemesis, as well as inscriptions to the Nabataean gods, the people who built Petra.
The roman ruins give you good taste of what Roman cities looked like as the Empire expanded out of Italy.
Amman Citadel
In Amman, we visited the Citadel, another historic site in this ancient city filled with temple ruins, a mosque and a museum dedicated to the archeological finds (vases, jewelry, and sculptures) in the area.
The Citadel of Amman sits on one of the city's seven hills. It was a stronghold since the Bronze Age up until the 13th century.
The views of the city are worth the admission price, as you look out over the city catching a glimpse of the kites flying overhead and pigeon training and racing that happens at 3:30pm each afternoon.
Mount Nebo
South of Amman, we visited the bibilcal sites of Mount Nebo, where many believe Moses died.
According to the Bible and many historical texts, Moses wasn't allowed to enter the Holy Land/ Promise Land, so he looked into Israel from atop this mountain. Today, on a clear day you can see the Dead Sea, a body of water well below sea level, and into Israel.
A small museum tells the story of the area and pilgrims who have been traveling to this spot since at least the 4th century when a church was built. Several churches have existed in this space, and today, a new church stands housing ornate floor mosaics, including a small chapel to pray in.
Little Petra
While many visitors don't stop in Little Petra, we would spend a day there, sleeping in a Bedouin camp, learning about community projects like a local school and women's weaving cooperative.
I wasn't thrilled about the idea of camping, but learning how another culture lives and survives together was fascinating as it was so outside my comfort zone (thus the zombie dreams).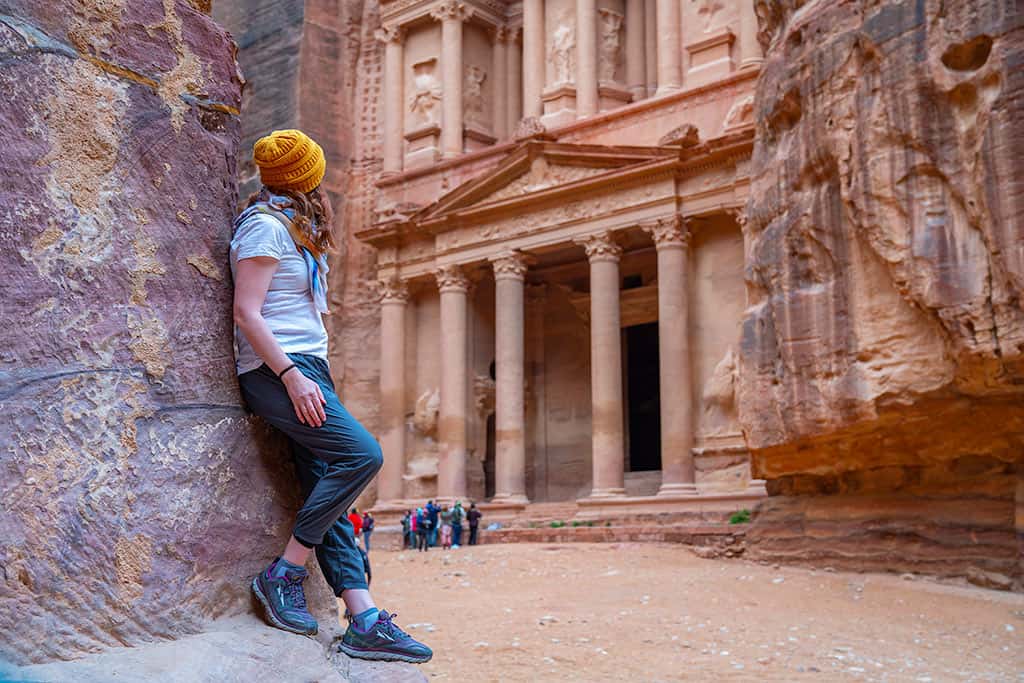 Petra
There is no way I was going to Jordan without seeing Petra, which is located in Wadi Musa. But all I knew from photos and travel shows was the Treasury. I had no idea that this UNESCO World Heritage site was so large.
We could have hiked for days into this city stronghold built by the Nabataean people. Instead, we only had one day to see as much as possible. If that was the case, I had to get moving.
We hiked from the entrance to the Treasury (about 2km or 20 minutes) and up a small hill for views over the site. Knowing we only had one day, we didn't linger like most tourists or turn around. We headed deep into Petra, leaving the crowds behind as we made our way to the Monastery.
While the hike up the steps was exhausting, I'm so glad we made it. Not just for the snacks (yes, there is a tea shop and snack stand) but to see a site that was just as impressive, if not more so, than the Treasury.
One of the biggest regrets for a few in our group, is that they didn't make the climb. Next time, they will know better.
Wadi Rum
While Wadi Rum was a must on my list, being one of the most recognizable deserts in the world, thanks to the many movies it has been featured in, including Lawrence of Arabia, Mission to Mars, Transformers, The Martian, and Star Wars: The Rise of Skywalker, I was nervous.
It meant another tent, which meant more possible zombie attacks.
Thankfully, my tent was closer to the toilet, and those toilets backed up against the sandstone and granite rock that is a hallmark trait of Wadi Rum. It felt a bit more protected. There were also a whole lot more of us, as our group had met up with a biking and hiking group as well.
When I needed to brave the zombies at 1:30am, there were still plenty of travelers chatting, listening to music and enjoying the local Jordanian wine we had brought in.
It had been cold in the desert, even hailing while we drove around in 4x4s, seeing where Lawrence of Arabia's house once stood, and spots where Star Wars: The Rise of Skywalker was filmed. But, camping was worth it to see this vast expanse of desert.
Helen would go on to ride camels back to the entrance our final morning, while I opted for sleeping in and taking the truck. It had been a late night of stargazing after all.
We had survived, my new friend and I, both of us used to more glamorous accommodations. I for one, was ready to bring my family back to discover even more places to visit in Jordan, camping and all, but maybe next time, I'd find a camp with an ensuite port-a-potty or something.
Want to go? Pin it for later!