Close your eyes and imagine a land filled with birch trees, evergreens, crystal clear rivers, turquoise lakes, and mountains soaring into the sky. Hold onto that picture. Now take a breath and know that you are headed to one of the best places in Canada.
This is not a fantasy land; it's Jasper National Park.
If you haven't guessed already, Jasper, as well as much of Alberta Canada, is one of my happy places on this earth. No matter the season, whether the wildflowers are in bloom in the summer, or the birch trees with their golden leaves are littered across the mountains in autumn, and even when a winter wonderland takes over in winter, I love this part of North America.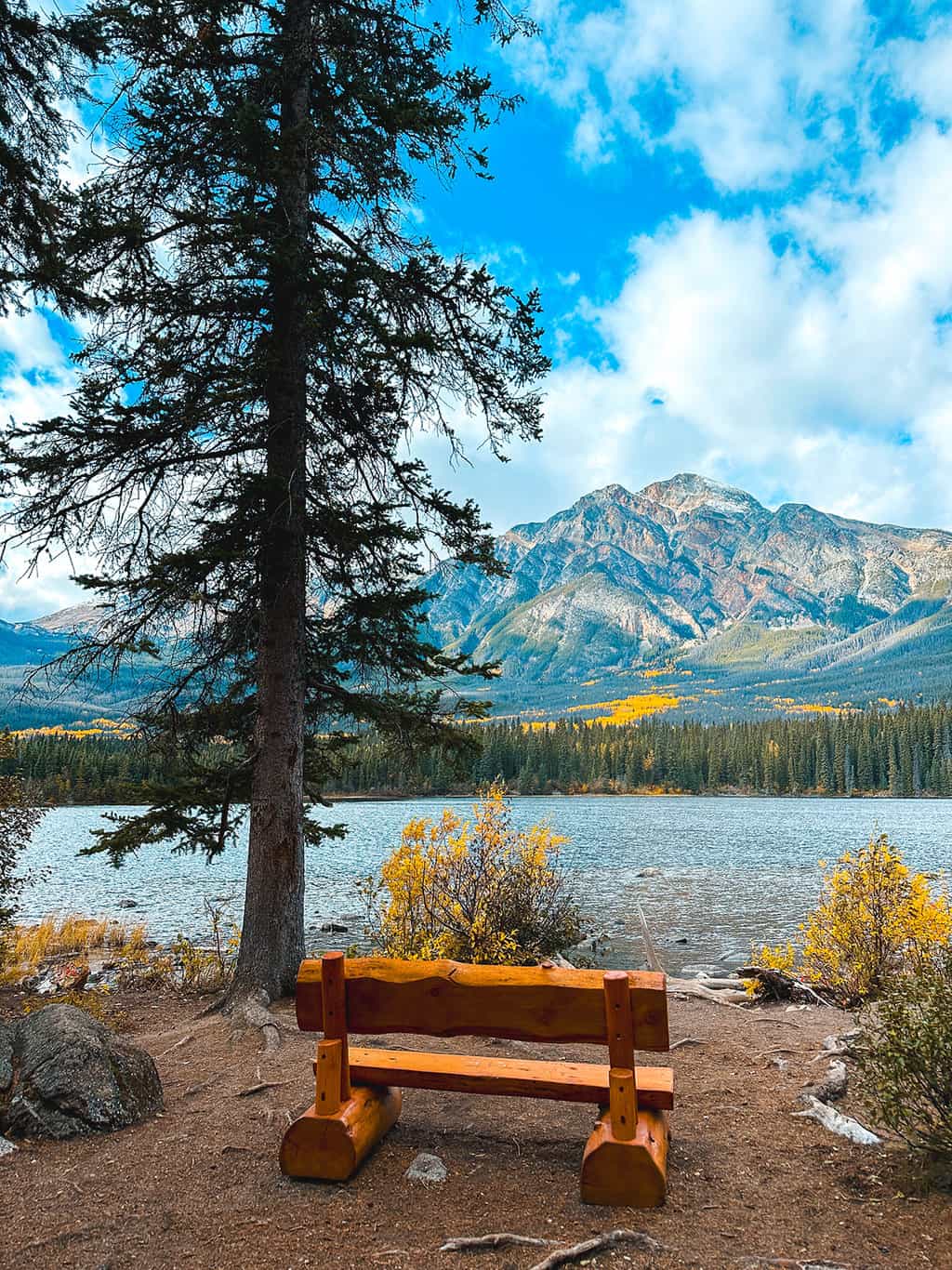 Why 3 Days in Jasper National Park
Now, obviously if I love a place this much, three days isn't actually enough for a Jasper itinerary. However, most people will visit Jasper while also visiting doing a road trip to Banff and Lake Louise to soak in as much of the beautiful lakes and surrounding mountains as possible. You could even tie in a trip to Edmonton or Calgary, but let's not get ahead of ourselves.
Three days will give you enough time to see the highlights of Jasper National Park, but still leave you with more you will want to do on a return trip.
Before we dive into your daily itinerary, let's start planning your trip to Jasper, from flights and rental cars, to the best hotels you will want to book ASAP and tours you will want to take while in the park.
This is the complete guide to spending 3 days in Jasper National Park.
Jasper Alberta Trip Planning Guide
This post contains affiliate links, which means we may earn a small commission from your purchase. This adds NO extra cost to you.
What's the best airport to fly into?
You will want to fly into either Edmonton International Airport (YEG) or Calgary International Airport (YYC), both of which will be the closest airport to Jasper. To find the best flights to Calgary or Edmonton, we love to track flights via Expedia.com. Not only do we find great rates, but we earn points to use on future travel too.
You can also keep an eye on GOING deals, which is how we got to Ireland roundtrip from LAX for under $500 each, and found tickets to Calgary for under $300 from LAX. The free version is good, but the paid subscription will save you way more than the cost of the actual subscription. A flight tracker was just added, so you can keep an eye on prices to some of your favorite locations.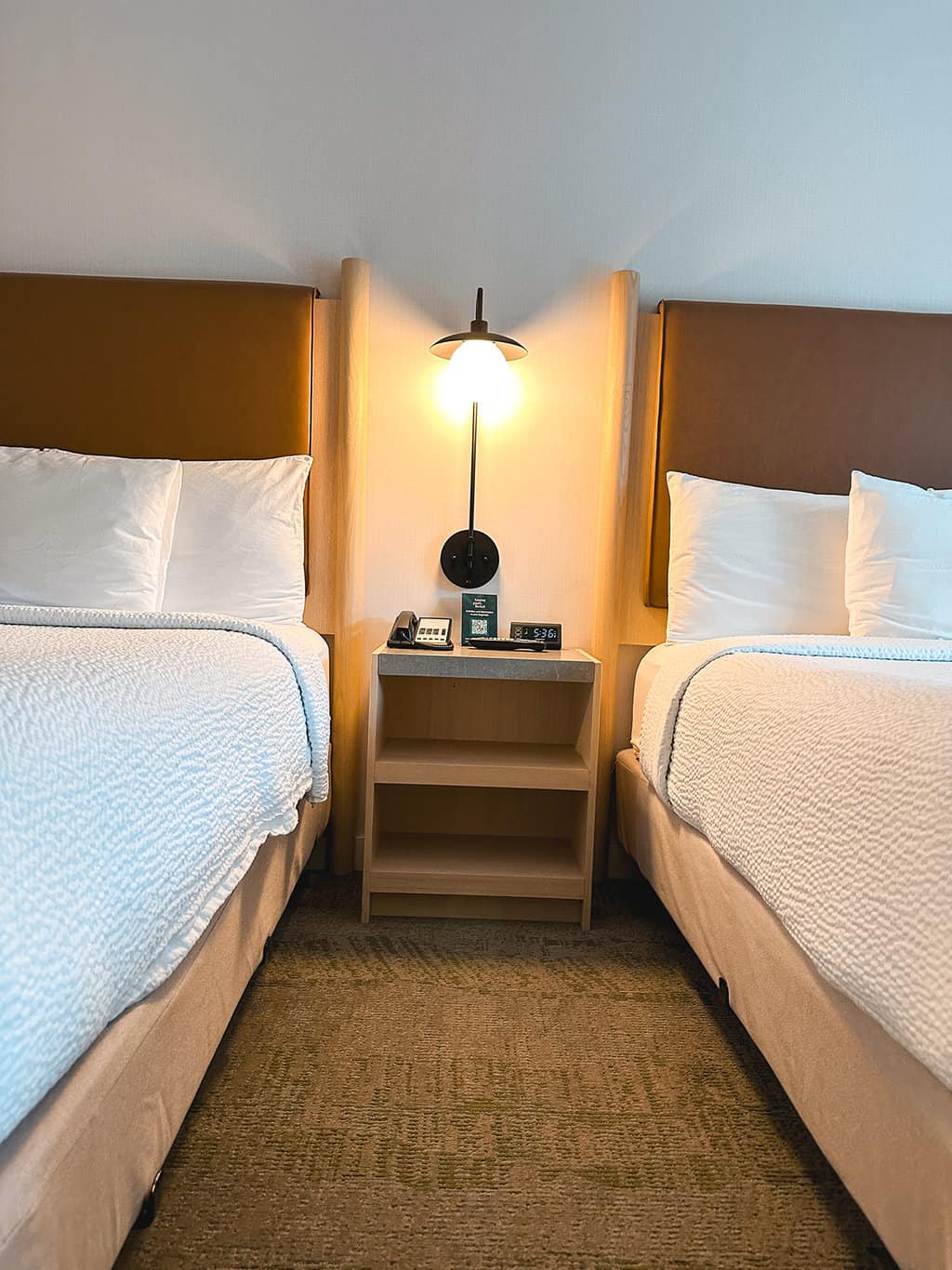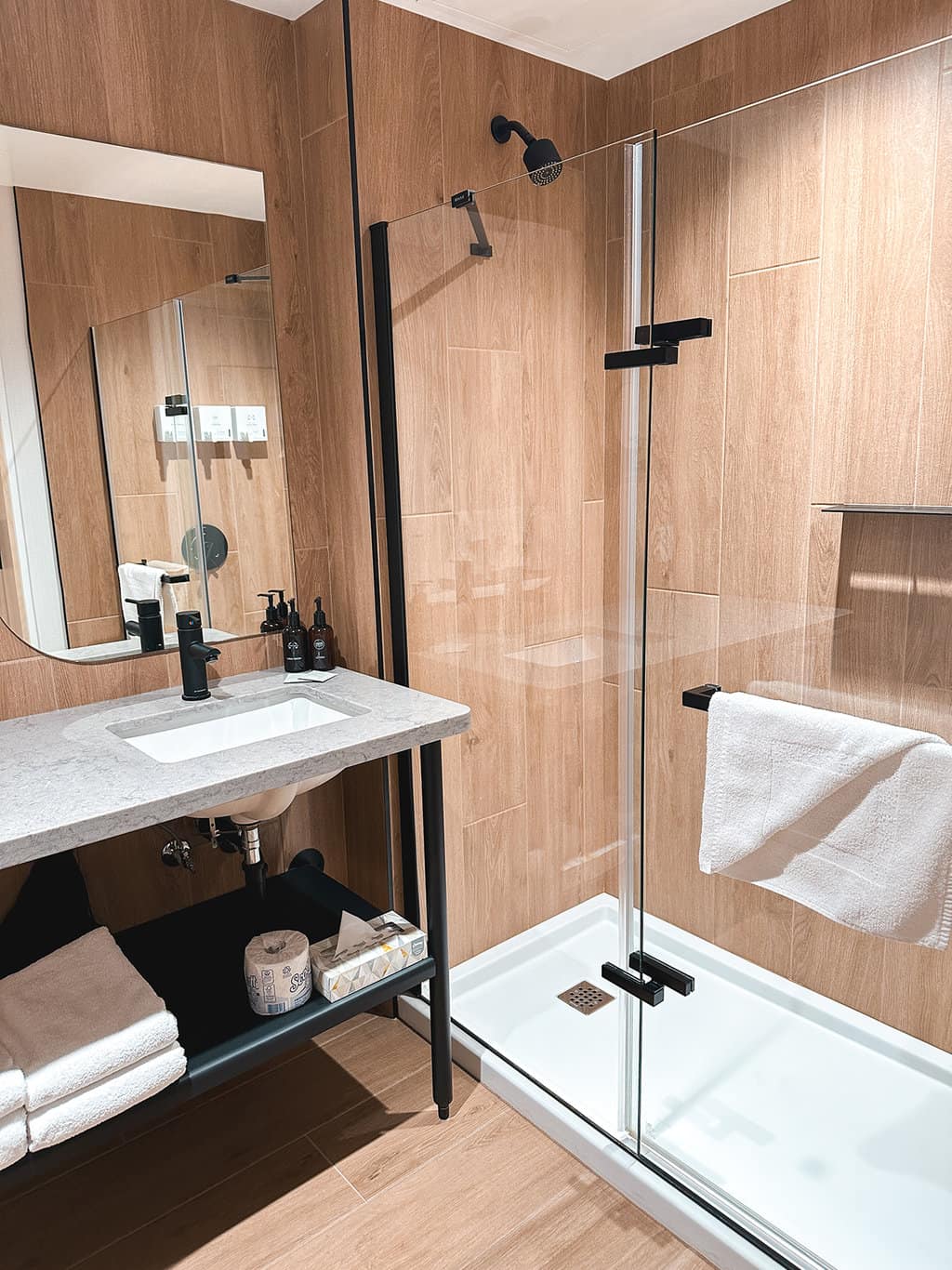 Hotels in Jasper National Park
If you want to stay in Jasper, you need to book your hotel as soon as possible, especially if you are visiting in the summer months.
Due to building restrictions, there is a limited number of hotel rooms in Jasper National Park, which means they will book out more quickly than other towns like Banff or Canmore to the south.
Here are a few of our favorite Jasper National Park hotels that you should book as soon as you know you want to visit.
Find more Jasper hotels HERE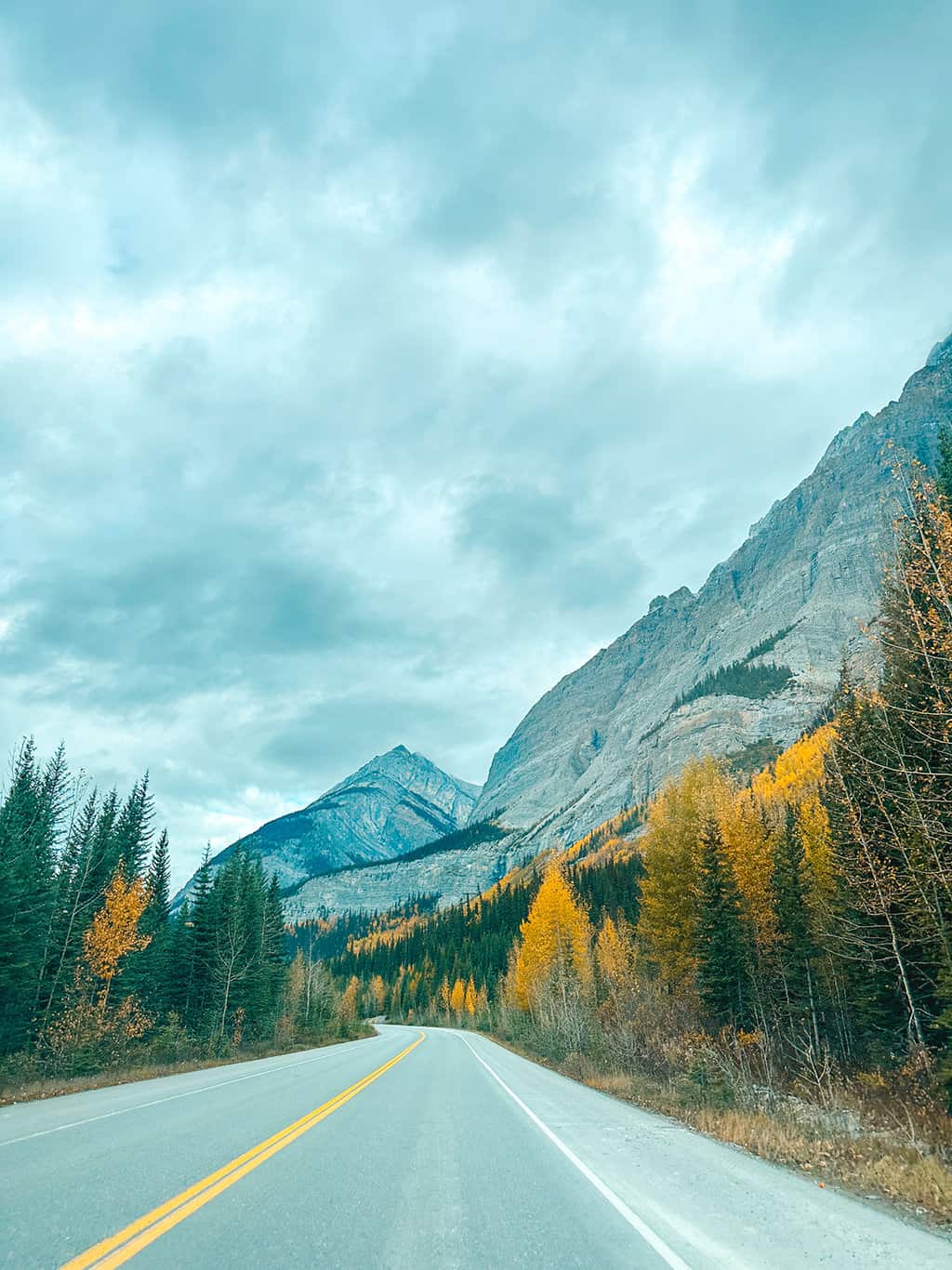 Need a Rental Car?
We use DiscoverCars.com to get the best rates and availability on rental cars. Find your car HERE, along with all of the extras you may need (insurance, car seats, ski racks, etc.)
If you plan to drive to Jasper National Park in winter, consider getting an SUV or other vehicle with 4WD or AWD to stay safe on the roads. You may also want to grab windshield insurance, especially if your home car insurance, credit card or travel insurance doesn't cover windshields. There are a lot of rocks on the road during the winter months to help combat the ice and snow. One chip could cost you $500 or more when you return your rental car.
Travel Insurance
Do NOT forget to buy travel insurance for your trip, even if you booked through a travel agent. Things do and will happen and it's cheaper to buy travel insurance ahead of time instead of paying out of pocket later.
Check out Travelex for rates on a single trip or an annual plan that could be right for you if you take more than one or two trips a year.
Need a SIM card?
We all love our smartphones, but we don't love those international roaming charges. If your current cellphone plan doesn't cover Canada, you could max out your service, which is why we always grab an eSIM card to pop into our phones. It's especially great for the kids, as it limits what they can do and how much data they can use, but still allows them to text friends back home.
Check out Airalo, our preferred eSIM card store for the best prices on eSIM cards and international data plans.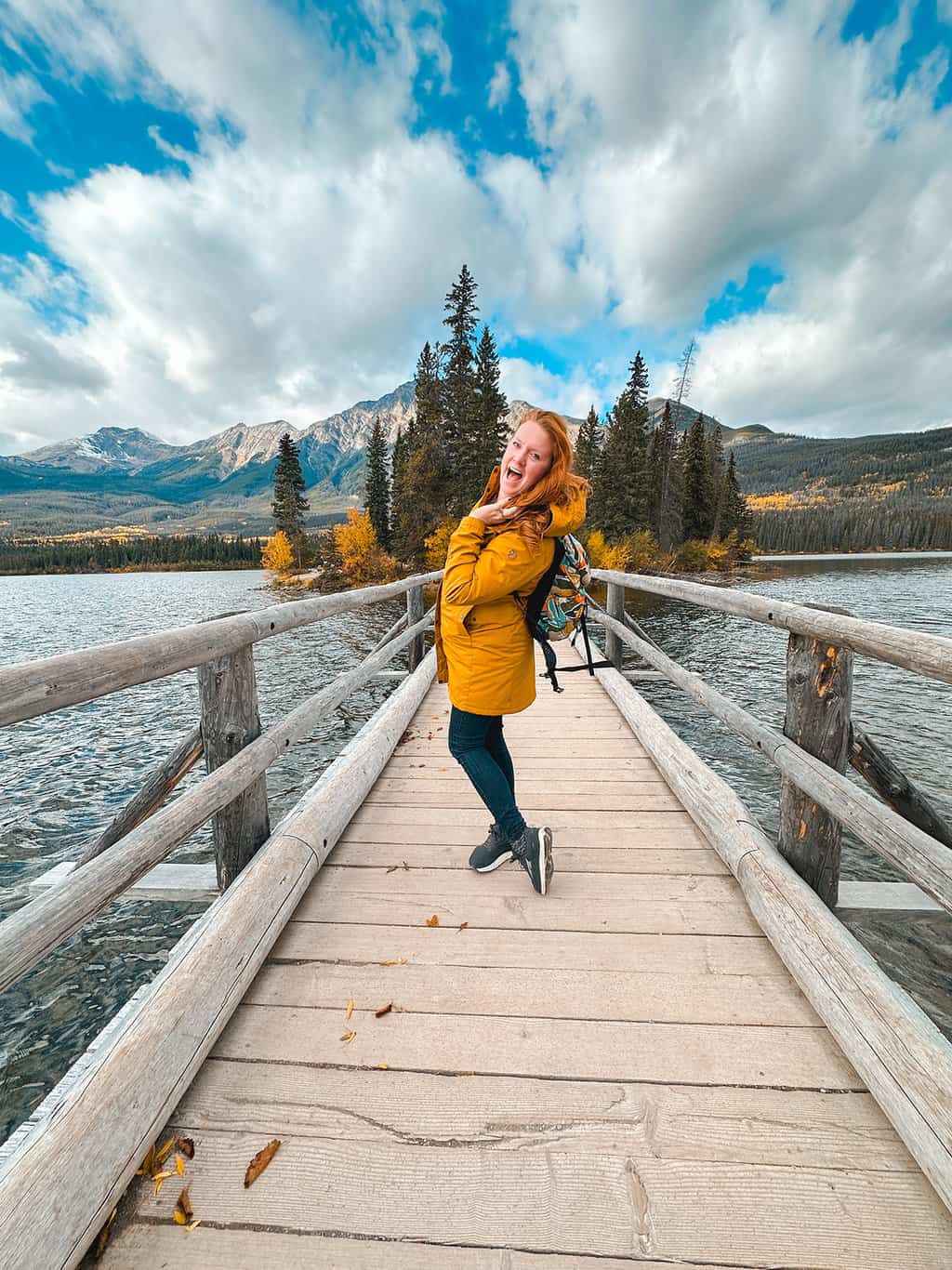 Don't Forget about Your Vacation Photos!
Don't forget to book your Flytographer session to capture awesome memories from your trip. We do it as often as we can. Sometimes, this mom just wants to be in a few photos with her kiddos, or gorgeous shots at sunset.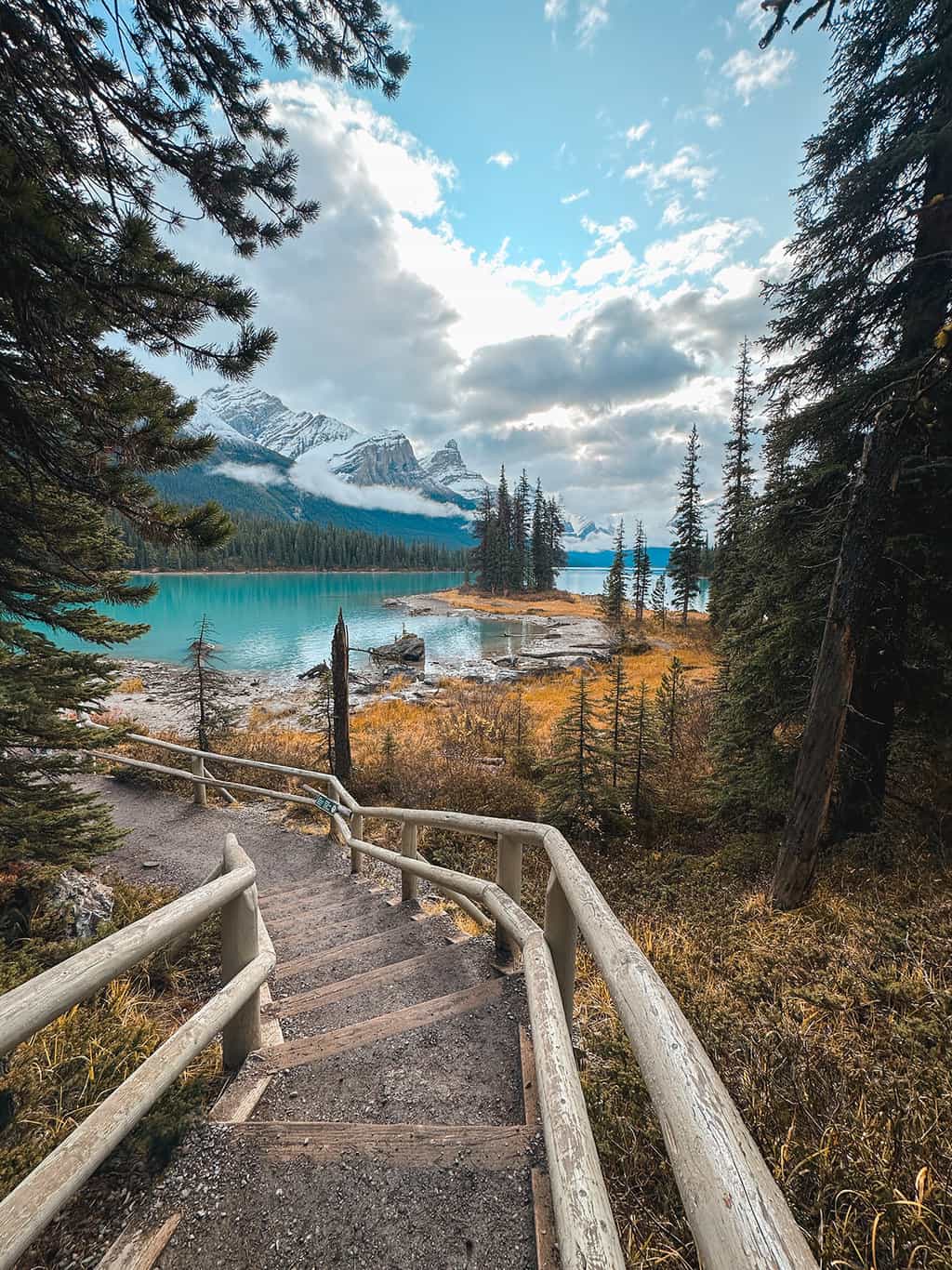 How to get to Jasper National Park
Driving to Jasper National Park
Most visitors choose to drive to Jasper National Park. If you're coming from Edmonton, the approximate driving time is around four hours, and if you're coming from Calgary, it's about a five-hour drive. The main highway leading to Jasper is Highway 16, also known as the Yellowhead Highway.
I highly recommend you drive the Icefields Parkway (Highway 93, which connects to 16) if you are driving from Calgary or Banff. You will see some of the best views in the Canadian Rocky Mountains, and it is one of the most scenic drives in the world. You can also pull off to do a short walk or tackle a new hiking trail to break up the drive.
Travel to Jasper by Air
The closest major airports are in Edmonton (Edmonton International Airport) and Calgary (Calgary International Airport). From these airports, you can rent a car and drive to Jasper, giving you a gorgeous wander through the Canadian Rockies.
If you don't want to drive to Jasper, companies like Brewster Express, on your first day. You can take day tours with local companies from Jasper, meaning you never have to rent a car, but you can still enjoy the scenic drive.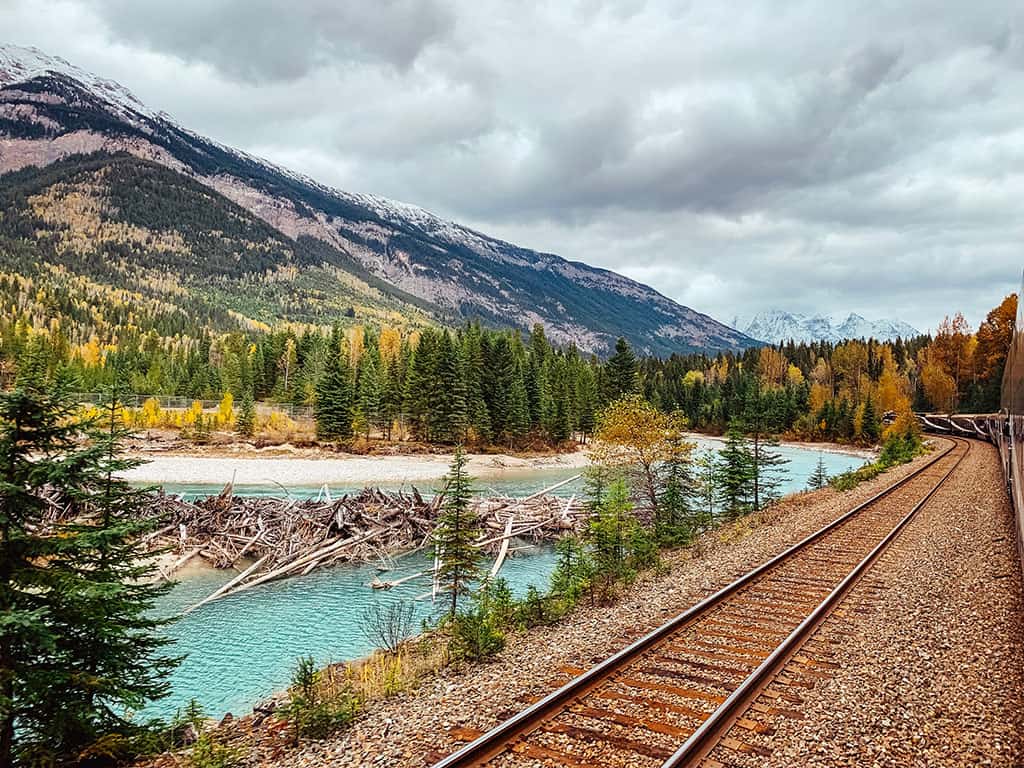 How to Get to Jasper By Train
VIA Rail offers passenger train service to Jasper from various Canadian cities. The train journey provides breathtaking views of the Canadian Rockies and is a unique way to arrive in the park. Once in Jasper, you can rent a car or use local transportation to explore.
If you are looking for a more elevated train experience, book a two-day journey on the Rocky Mountaineer from Vancouver to Jasper. This one-way train will get you to the park, feeding you and keeping you well hydrated along the way. The train staff is great at pointing out wildlife, and you will arrive refreshed, relaxed and ready to explore when you get to the national park.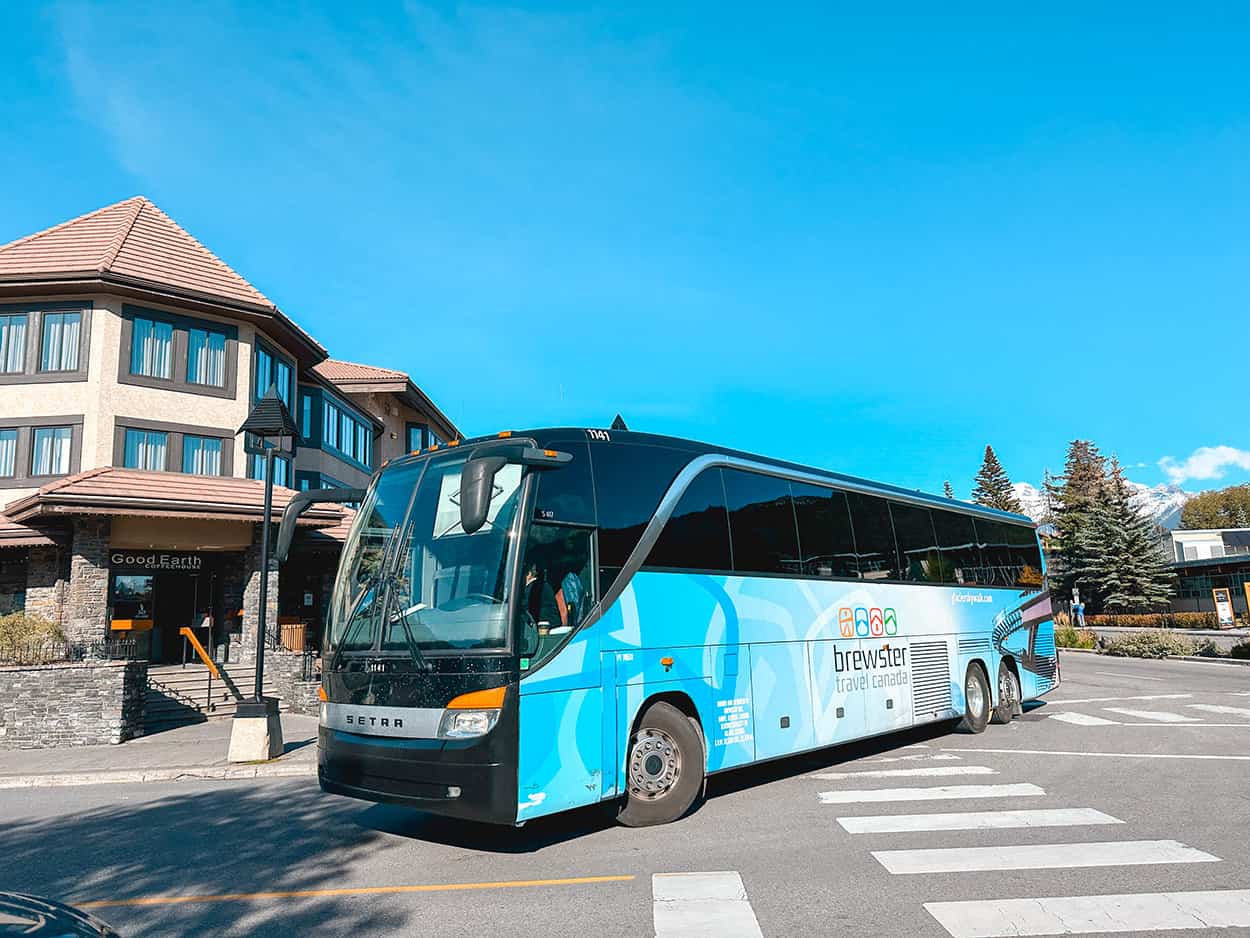 Take the Bus to Jasper
Bus services operate from both Edmonton and Calgary to Jasper. This option is convenient for those who prefer not to drive. Various companies offer scheduled routes to the park, saving you from driving, which is a great option if you are visiting in the winter months and don't want to worry about driving in the snow.
Organized Tour to Jasper National Park
Some travelers opt for organized tours that include transportation to and from Jasper National Park. These tours can be a hassle-free way to explore the area, especially if you prefer guided experiences, or you want to make sure you see a lot in the little bit of time you have available to wander.
Keep in mind that because Jasper National Park is quite a drive from Calgary and Edmonton, most tours will at least be overnight, if not multi-day tours, like this one.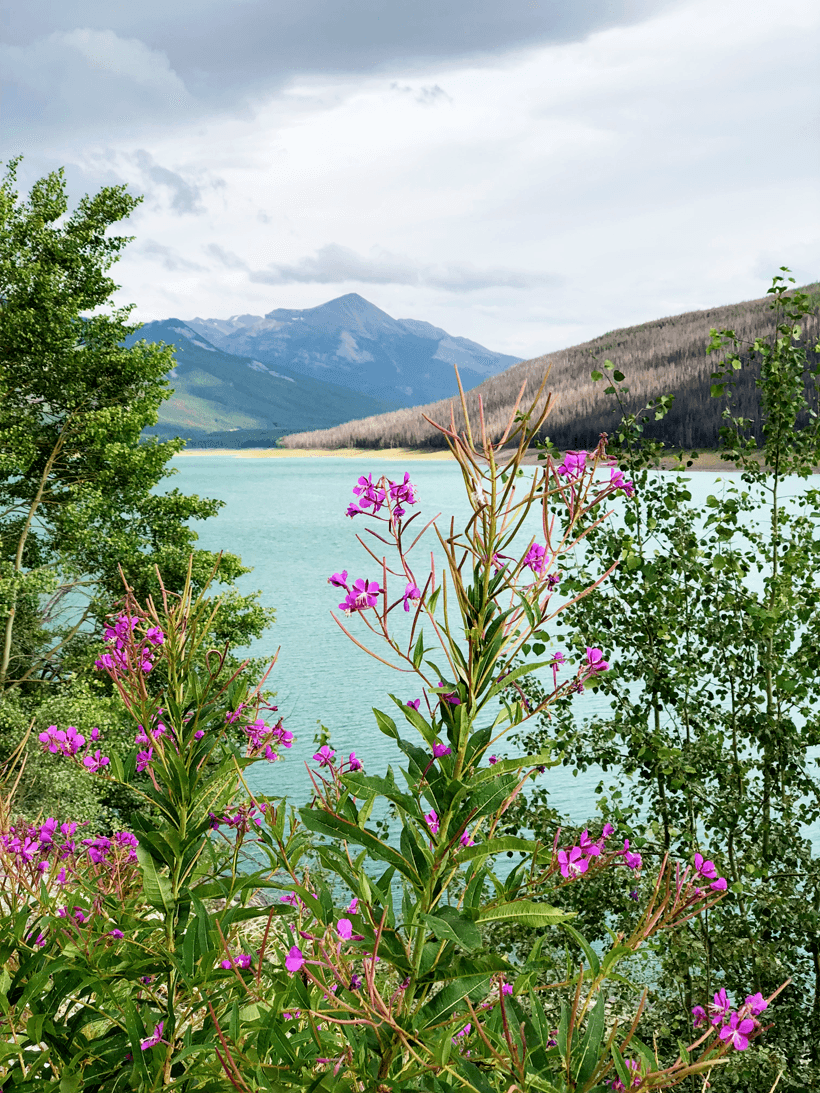 When is the best time to visit Jasper National Park
Summer in Jasper National Park
Summer is the most popular time to visit Jasper National Park, as the weather is warmer and you will see wildflowers at every turn, especially in late July.
Autumn in Jasper National Park
Autumn is my personal favorite, as the birch trees are bright yellow, some of the tour buses are gone, and there are plenty of wildlife sightings.
Winter in Jasper National Park
Winter is perfect for skiing and snowboarding, as well as cross-country skiing and snoeshowing. Marmot Basin is the perfect mountain for anyone looking to get away from the crowds to get some great powder.
Spring in Jasper National Park
Spring is filled with snow melt, although there can be a last minute snow storm. You will encounter more mud and slush though as Jasper shakes off its winter coat and gets ready for summer.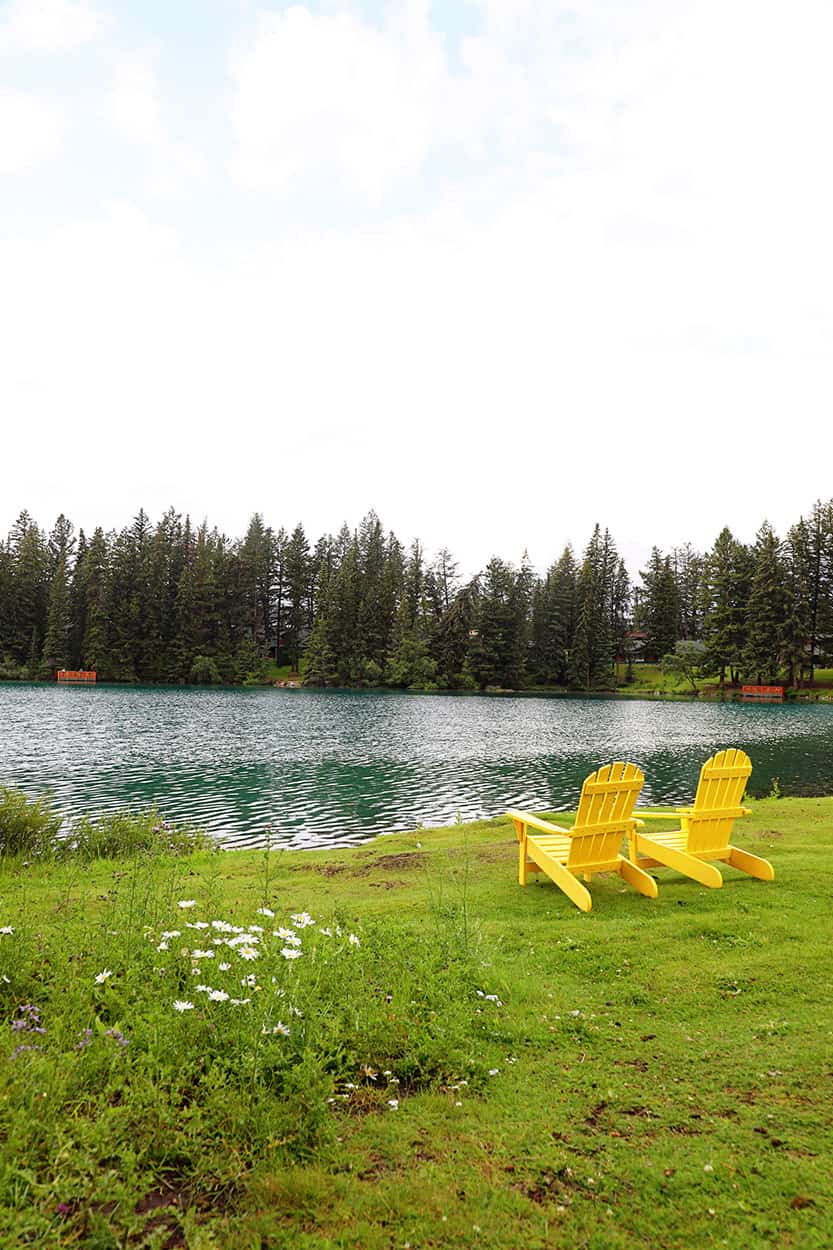 Events in Jasper National Park
Sometimes, you want to plan your trip to Jasper around a specific event. While we think summer and early autumn are worth the trip, there are several annual events you will want to check out if you have the flexibility.
Jasper in January (January)
Jasper Beer & Spirits Festival (February)
Fairmont PJ Party (March)
Devour! The Canadian Rockies Food Film Festival (late March/ early April)
Jasper Canadian Rockies Half Marathon (April)
Jasper Pride Festival (April)
UpLift! Jasper Mural Festival (May)
Gran Fondo Jasper (June)
2023 Banff Jasper Relay (June)
National Indigenous Peoples Day (June)
Canada Day (July)
Parks Day (July)
Jasper Folk Music Festival (September)
Jasper Dark Sky Festival (October)
Christmas in November (November)
Quirky and Fun Facts about Jasper National Park
Time to impress your friends and family with a little Jasper Park knowledge. Here's some fun facts about this Canadian national park that will make your trip even more entertaining.
Largest Dark Sky Preserve
Jasper National Park is the second largest Dark Sky Preserve in the world, making it an ideal place for stargazing and observing celestial wonders. Greater Big Bend International Dark Sky Reserve, spanning Texas and Mexico, is currently holding the title of largest in the world.
Home to the "Athabasca Monster"
A playful local legend tells of a mythical creature known as the "Athabasca Monster" living in the depths of Athabasca River. While not scientifically proven, it adds a touch of mystery to the park.
Natural Ice Bubbles
In winter, certain lakes in Jasper, like Abraham Lake, freeze in a way that traps methane bubbles beneath the ice. These frozen bubbles create a surreal and otherworldly landscape.
Historic Jasper Tramway
The Jasper SkyTram is the highest and longest aerial tramway in Canada, offering stunning views of the park. It's also home to the aptly named "Summit Snackhouse" where you can enjoy a bite to eat with a view.
Miette Hike and Soak
You can hike up to the source of the Miette Hot Springs, where you can literally boil an egg in the hot water flowing from the mountainside.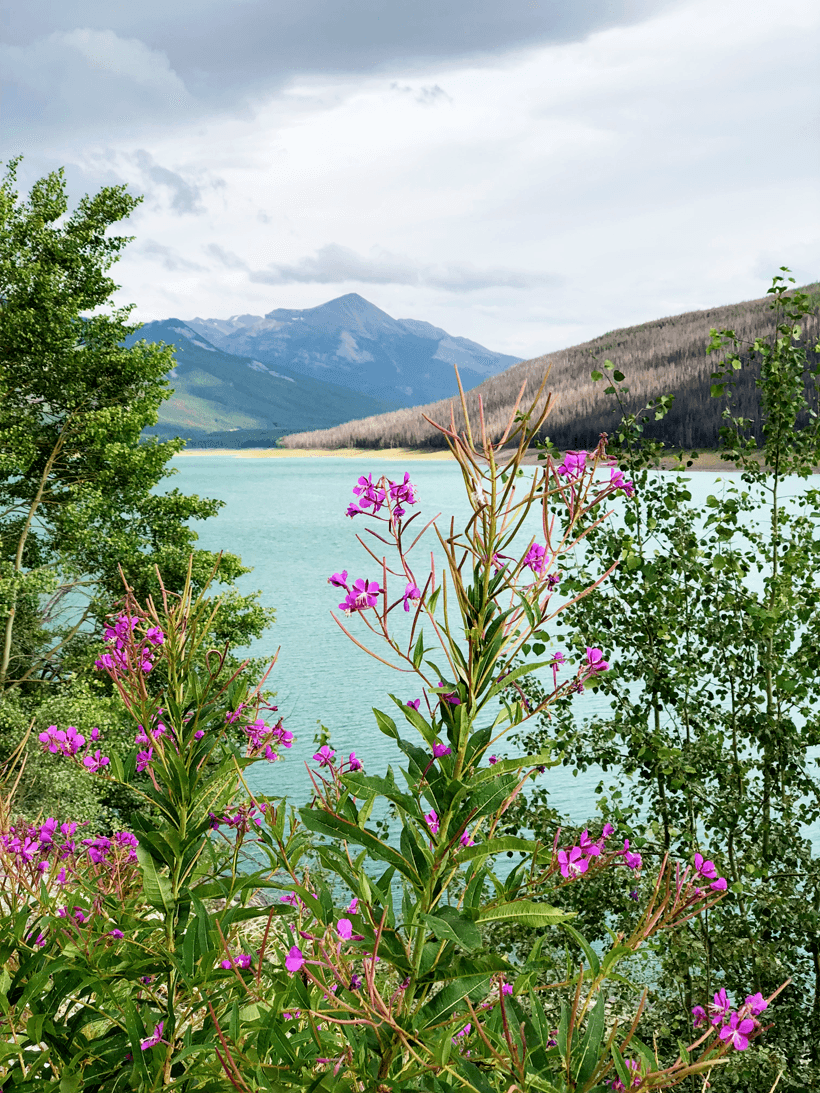 The "Disappearing" Medicine Lake
Medicine Lake seems to disappear in the fall and winter due to an underground river system that drains the lake. In the spring, it reappears as the snow melts. We saw moose here in the fall, which makes it a great spot to stop at various viewpoints in autumn to see if you can catch a glimpse of the local wildlife outside of peak season.
Jasper's Prime Meridian
The park is home to a marker for the Jasper Meridian, a reference point for land surveys in Western Canada.
"Skyline Trail" Boardwalk
In the Skyline Trail, there's a section of the trail called the "Boardwalk" that offers a path through bear country, where bears are known to frequent. Pack your bear spray! Just because there is a "boardwalk" doesn't mean bears will stay off the path.
Ghostly Athabasca Pass
Athabasca Pass, once a crucial fur trade route, has a reputation for being haunted. Early explorers reported eerie encounters, and even today, some hikers claim to hear ghostly voices in the pass.
"Devil's Punch Bowl"
Near the Athabasca Falls, there's a unique geological formation called the "Devil's Punch Bowl." It's a deep cylindrical pothole carved by the powerful forces of water and rocks over time.
"Lone Bison of Jasper"
There's a famous bronze sculpture of a bison in Jasper town. It's known as the "Lone Bison of Jasper" and has become a symbol of the park. It's a quirky and artistic representation of the park's wildlife.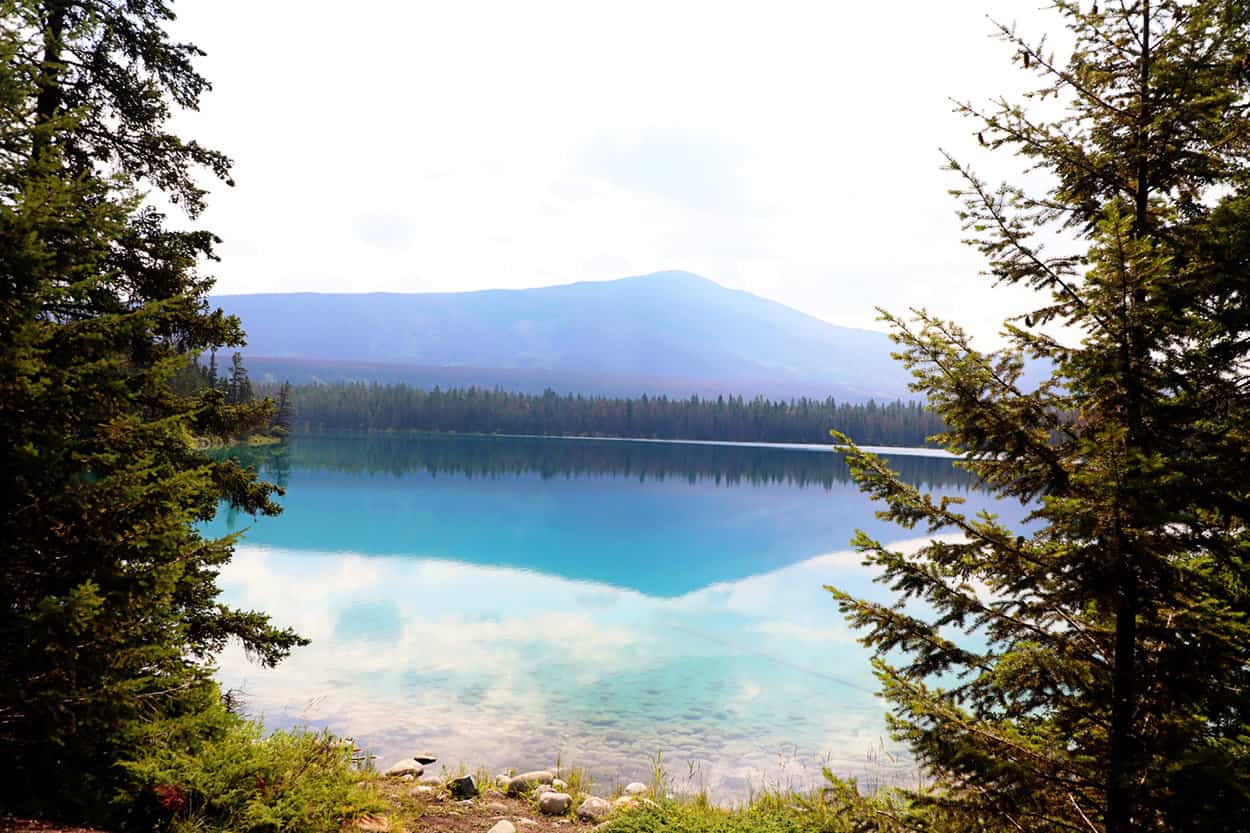 Jasper National Park Itinerary
If you haven't already, book your hotel in Jasper National Park for two nights. You won't want to hop hotels every night, especially if you will be doing any hiking. Being able to come back to your warm room after a long day of adventuring is one luxury you can't afford to skip.
Here are our favorite hotels in Jasper National Park to book.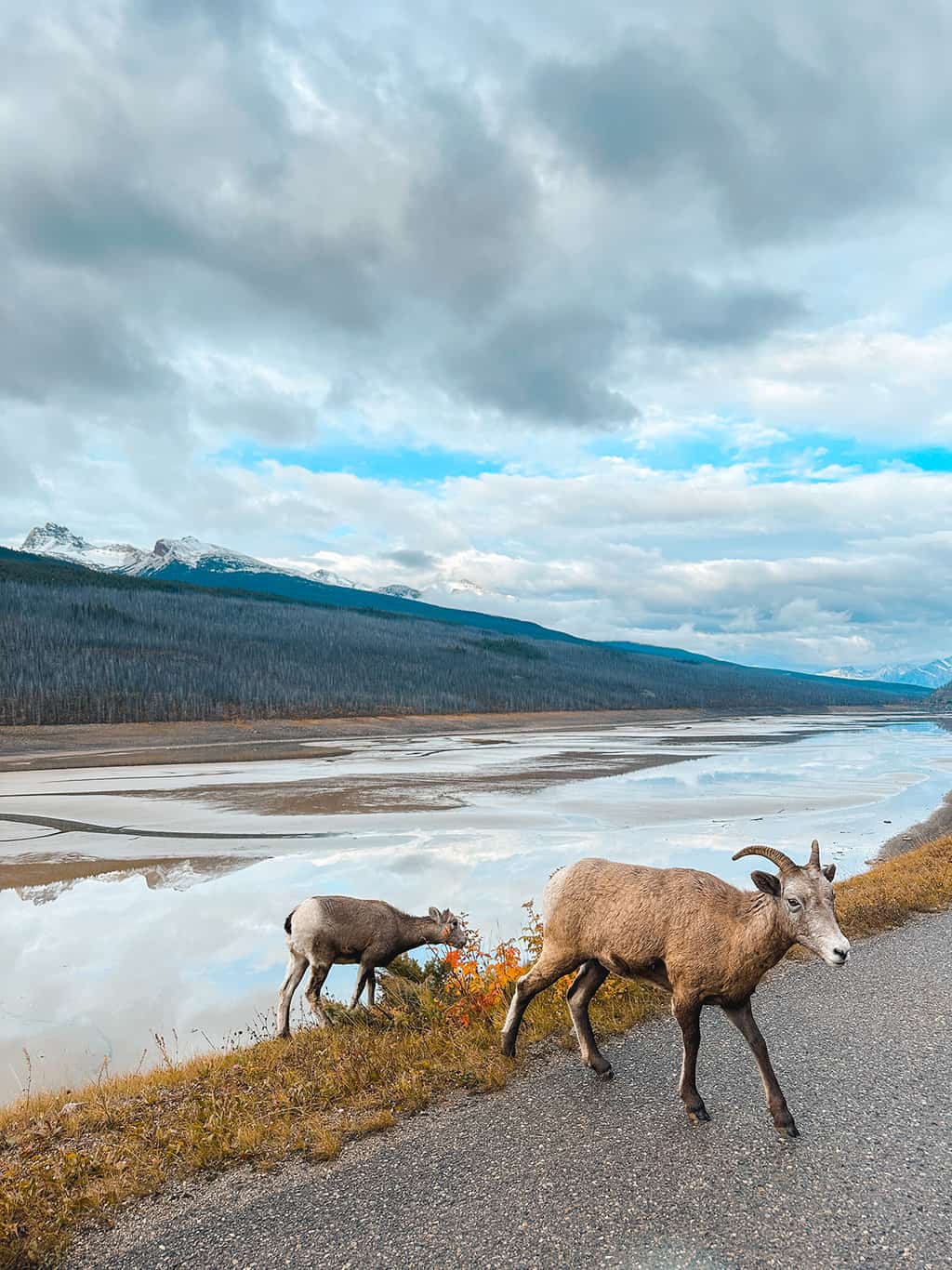 Day 1: Town of Jasper and Pyramid Lake
Whether you have flown into Edmonton and driven to Jasper National Park, are coming from Banff or took the Rocky Mountaineer train from Vancouver to Jasper, you will want to give yourself some time to explore the town of Jasper, as well as the many natural wonders that surround you in this little slice of paradise in the Canadian Rockies.
Start your day with coffee at Sunhouse Cafe on Patricia Street in Jasper. If you are looking for a local pastry, grab a few items from Bear's Paw Bakery to munch on this morning.
As you will notice, there are two main streets with shops and restaurants in Jasper– Patricia Street and Connaught Drive (Route 16A). If you are looking for a more substantial breakfast, you can follow your nose down any of these streets to sit down for breakfast. Jasper's Wafflato, Harvest Food & Drink (brunch only), and Terra (our favorite!) all offer great breakfast options that will fuel you up for your adventure today.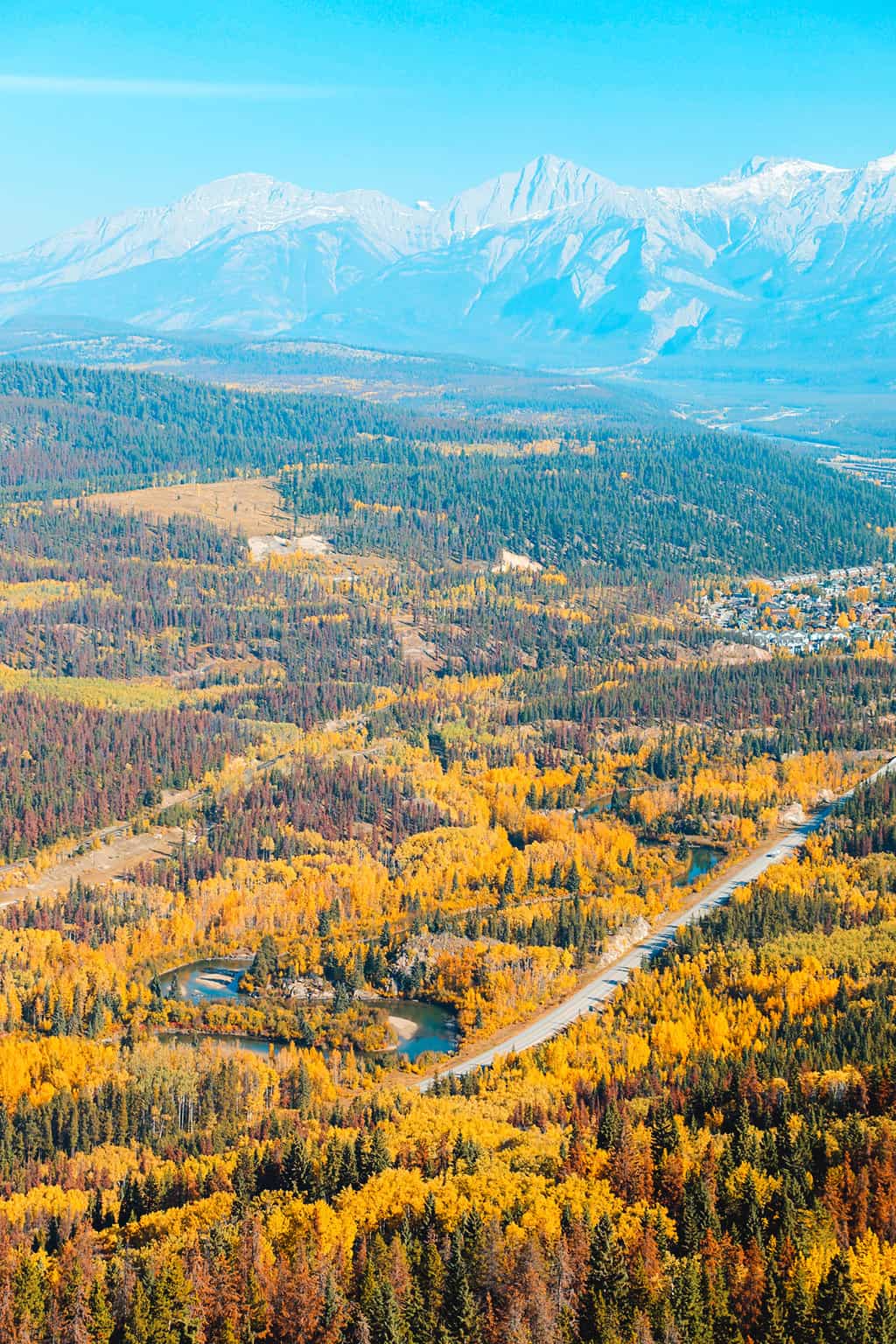 After breakfast, your first stop will be the Jasper Skytram to view six mountain ranges and the town of Jasper (buy your ticket in advance HERE). If you have extra time, you can hike up the 1.4km elevation gain to the summit, but we would rather take the tram up and hike back down (you can also take the tram back down if you aren't up for the journey).
You can pick up a few gifts, a hot beverage and even sit down for a meal at the Upper Station in The Summit Cafe. If you are traveling with kids in Jasper National Park, and you need a bribe, there is ice cream down at the Basecamp Café, along with light snacks and drinks.
Once you have ridden the SkyTram to the Upper Station, you can walk along the interpretive boardwalks, listen for the Hoary Marmot, and take the hiking trails that lead to the summit of Whistlers Mountain for panoramic views of the surrounding mountain ranges.
Before you hike to the summit, check with the staff and look at weather conditions as the winds can be strong and conditions can change when you are wandering the alpine tundra.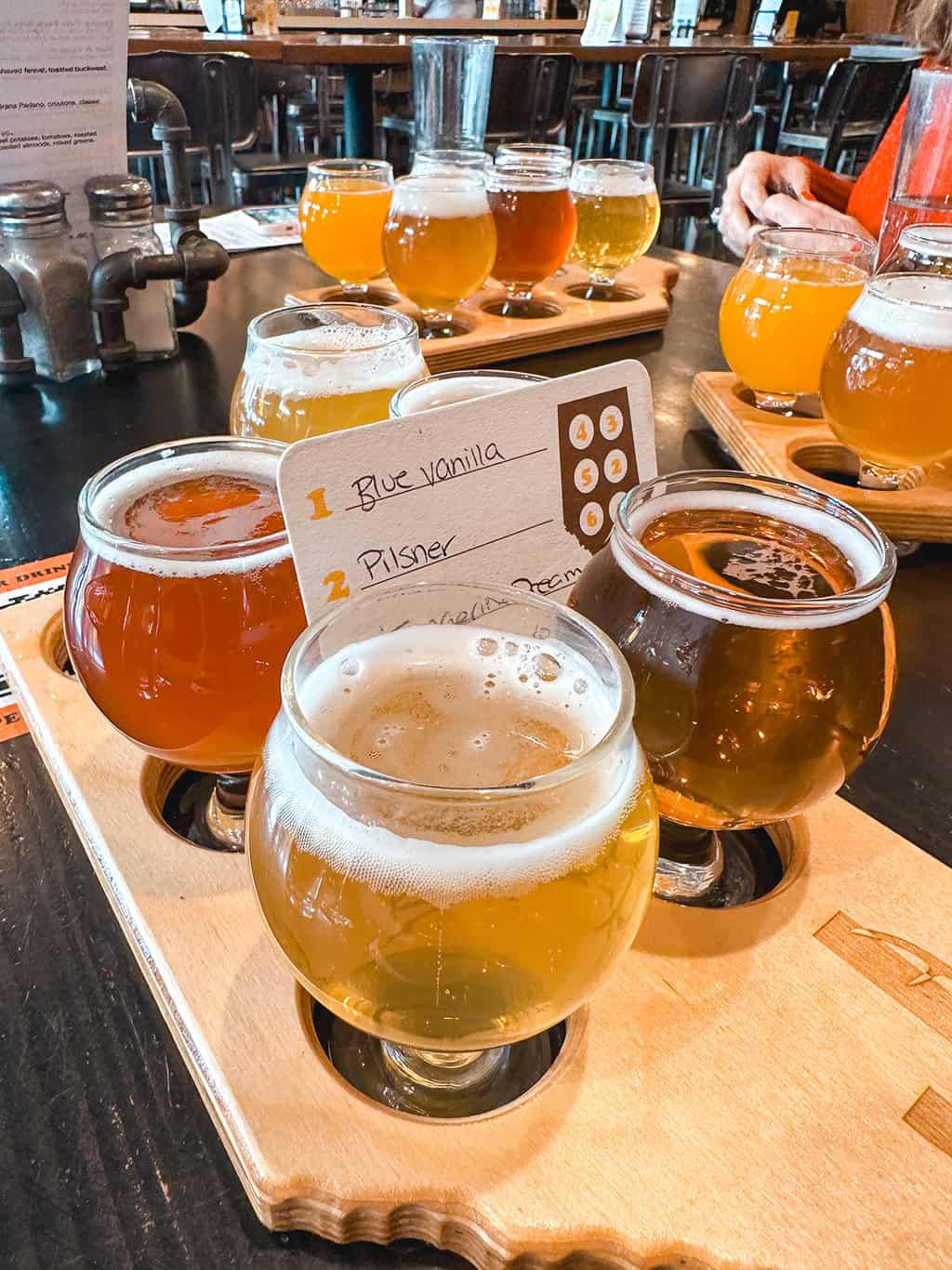 After your hike, you might be hungry. Drive back to town and grab a table at Jasper Brewing Co. They offer a great menu with healthy options, like a halloumi salad, plus burgers, to go with your flight of beer. If you aren't into beer (like me), they have a lovely cocktail menu featuring some Alberta staples like the Caesar (Canadian Bloody Mary) and the Shaft (coffee-based cocktail).
Ease into your afternoon with a walk through downtown Jasper, popping into the museums and shops. You may also want a nap at this point, but if you have energy, you can take one of the hiking trails just outside of town, or walk on the path that runs next to the railroad tracks along 16A.
Here are just a few of the best hikes you can tackle from town, or close to town.
Bighorn Alley Trail
Jasper Discovery Trail
Red Squirrel Trail
Wapiti Trail
Before sunset, at least an hour before dinner, drive up to Pyramid Lake to walk around Pyramid Island, rent a kayak or paddle board to explore the lake by water, or strap on your hiking shoes to hike one of the trails near Pyramid Lake Lodge.
The small island in Pyramid Lake is the perfect spot to slow down, or even see a wedding taking place overlooking the lake and mountains. We saw one on our last trip and it was lovely.
Personally, I'd spend the entire afternoon in this part of Jasper. There are a lot of trails and wildlife viewing opportunities to keep you busy for a few hours.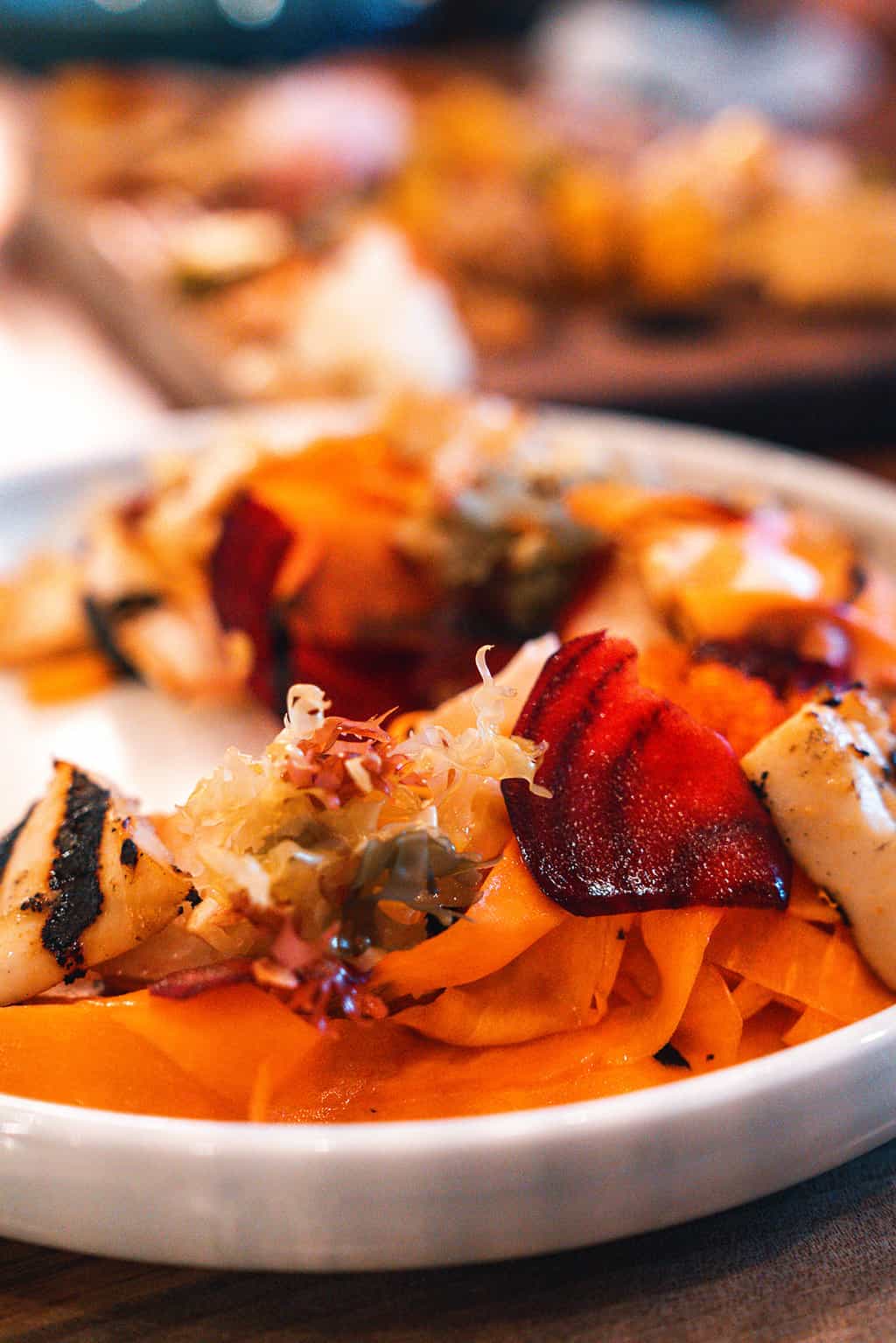 Once you are all tuckered out and the sun begins to set, walk into Aalto at Pyramid Lake Lodge for dinner (reservations are highly recommended). Aalto has one of the best cocktail menus in Jasper National Park, as well as a beautifully balanced menu of fresh vegetables, meat, fish, and dishes that highlight the best of Alberta, Canada.
If you have any allergies or dietary restrictions, the chef and staff are happy to accommodate and make substitutions when possible. For those with a reservation, if you can let the staff know what your allergies are before you arrive, it will help them plan accordingly.
After a cheese board and glass of port or Canadian ice wine, head back to your hotel room for a good night's sleep, as you have a very big day tomorrow.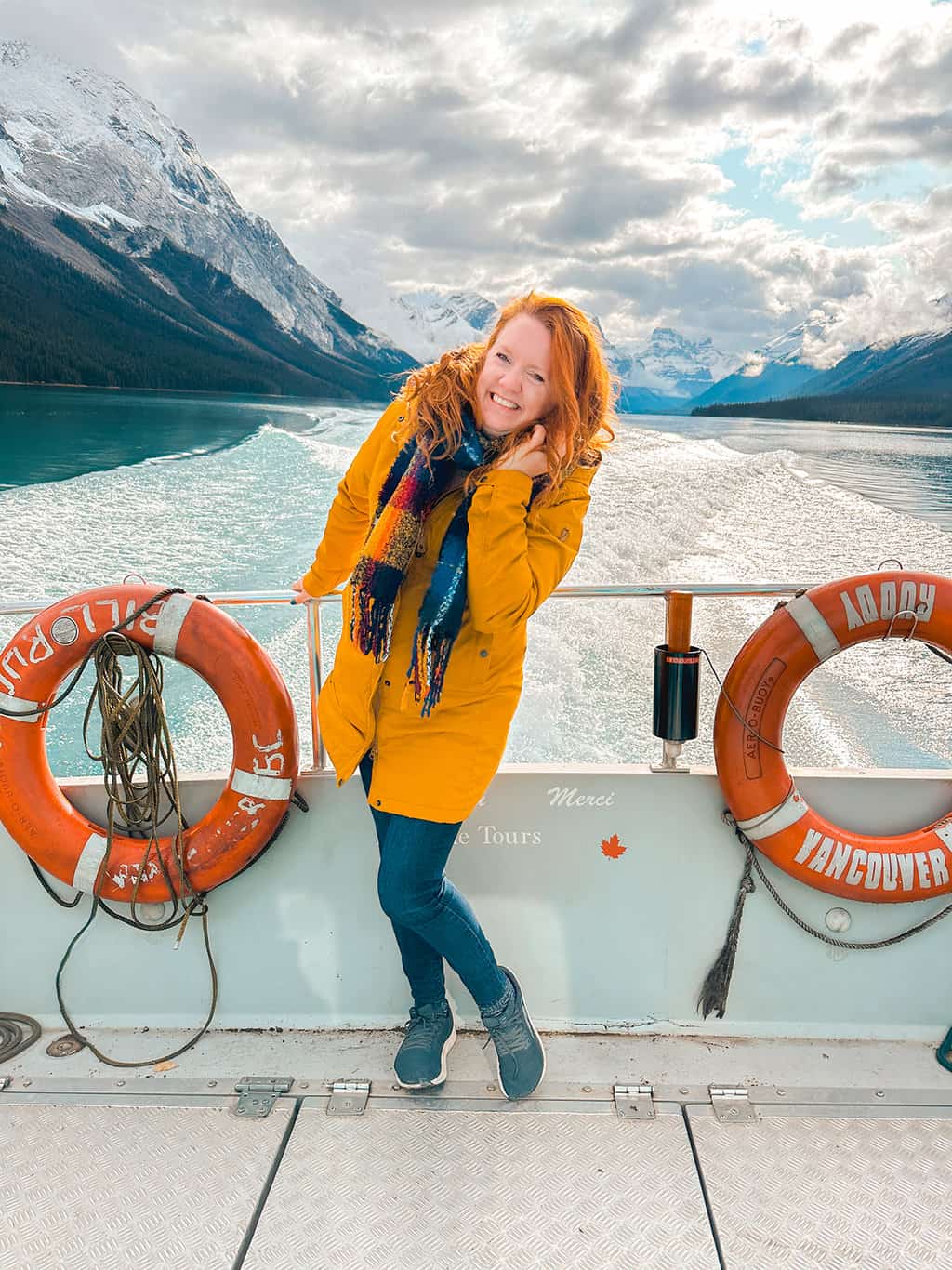 Day 2: Maligne Canyon and Spirit Island
Ready to face a full day of beauty in the Canadian Rockies? Stop at one of the other great coffee shops in Jasper, WickedCup or SnowDome Coffee Bar, for a breakfast on the go.
Hope in your car and drive towards Maligne Lake for a Maligne Lake Cruise to Spirit Island. Try very hard not to stop along the way. I promise you will have time to stop on the way back to Jasper.
Maligne Lake Tour
Book your Maligne Lake cruise tickets ahead of time HERE, so that you aren't disappointed by a sold out boat when you arrive. Summers are very popular, as the Maligne Lake tour is one of the best things to do in Jasper, and the boats do sell out, so a little pre planning can go a long way. You will have a timed departure, so make sure you are there 15 minutes early to check in.
A Maligne Lake tour takes about one hour and 30 minutes, with 15 minutes on land near Spirit Island. You are not allowed to actually step onto Spirit Island, which is actually a small peninsula, as it is sacred land for the indigenous people in the area.
Bring your camera on your boat tour, as Spirit Island is one of the most beautiful places in the world, and one of the most photographed spots in Jasper National Park.
Don't believe us? According to Tourism Jasper, "when artist and explorer Mary Schaffer became the first European to lay eyes on Maligne Lake in 1908, she called it 'the Hall of Gods," adding that "if Lake Louise is a pearl, Maligne is the entire pearl necklace.'"
Kodak also had a photo of Spirit Island up in Grand Central Station showing off their camera film for budding photographers.
The cruise out to Spirit Island can be chilly, so wear a jacket, especially in late spring and early autumn (boats do not run late fall through early spring since the lake freezes). Don't even think about falling into the water, as the warmest the water temperature ever gets is 39.2°F (4°C).
When you get off the boat at Spirit Island, head left towards the lower observation area, always sticking to the trails as the flora and fauna are fragile. Most people head straight up the hill to the overlook, so this will keep you away from a lot of the crowds. You can loop counter clockwise around the trail, going up to get more views before you head back down the steps to the dock.
Your boat captain will sound the horn when it is time to go, so start walking towards the boat. The next group is headed in and deserves time on the island just like you.
Book your Spirit Island cruise on Maligne Lake HERE.
After your lake cruise, you can go into the Waffle Hut for cookies and hot beverages, or into the gift shop where there is a cafeteria-style restaurant. This is perfect if you didn't pack a lunch, but you want to stay in the Maligne Lake area to hike and explore some more before heading back into the town of Jasper.
If you want to wait for lunch, you can start heading back towards Jasper, stopping at Medicine Lake for photos or a hike around the lake. We recently saw three moose– a male, female and calf– at Medicine Lake in early October from a pull off on the side of the lake.
You will notice multiple pull offs and viewpoints as you drive back to Jasper, which you are welcome to safely stop at on your way to Maligne Canyon.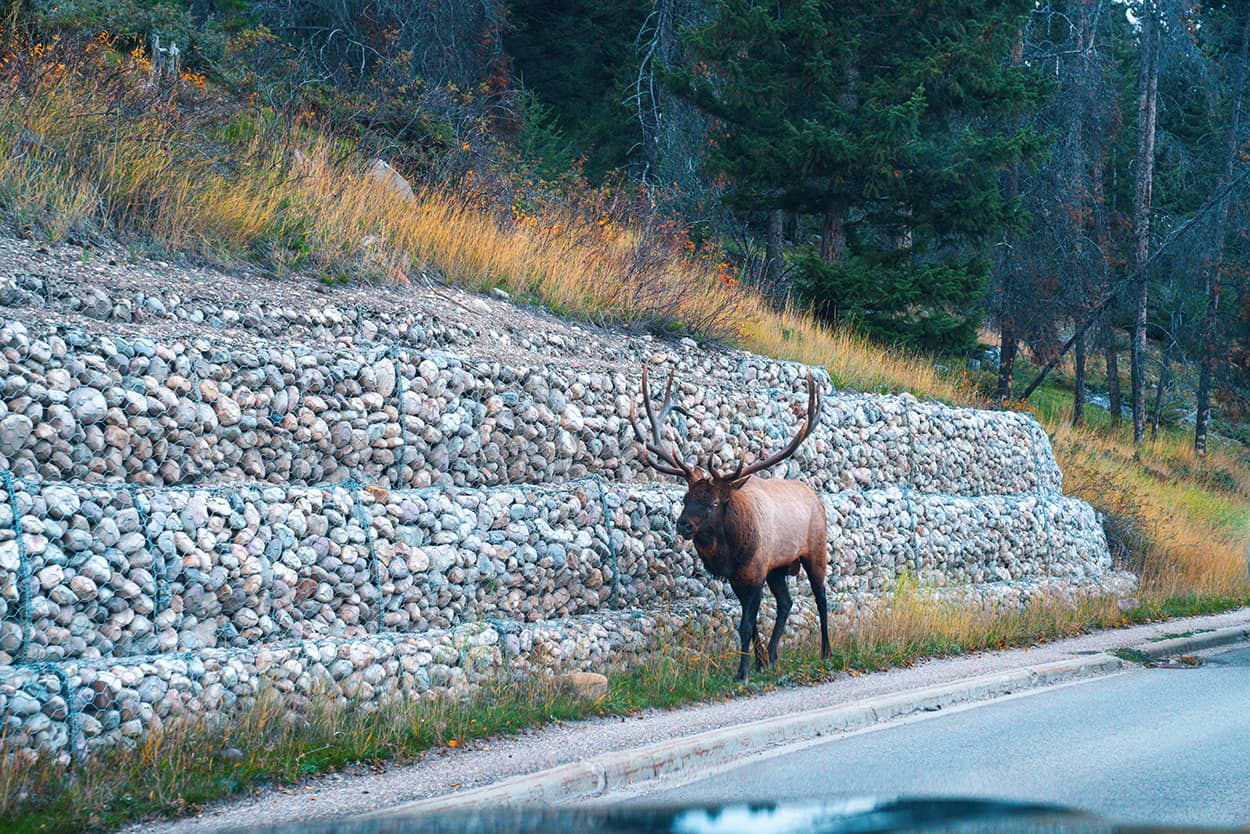 A Note about Wildlife
As usual, if you see wildlife you are welcome to pull over, but please stay in your car and do not run out to get close to any wildlife in the park.
It's one thing to have a mountain goat walk up to your car and start licking your tires (happened twice to us on our last trip), but it's against park regulations to walk up to a bear, moose, elk or other wildlife.
You must keep at least 100 feet from wildlife at all times. This is for your safety and theirs.
Want to see wildlife in Jasper National Park? You can book a morning or evening wildlife viewing tour right here, which will get you close to the animals you want to see in the safest way possible.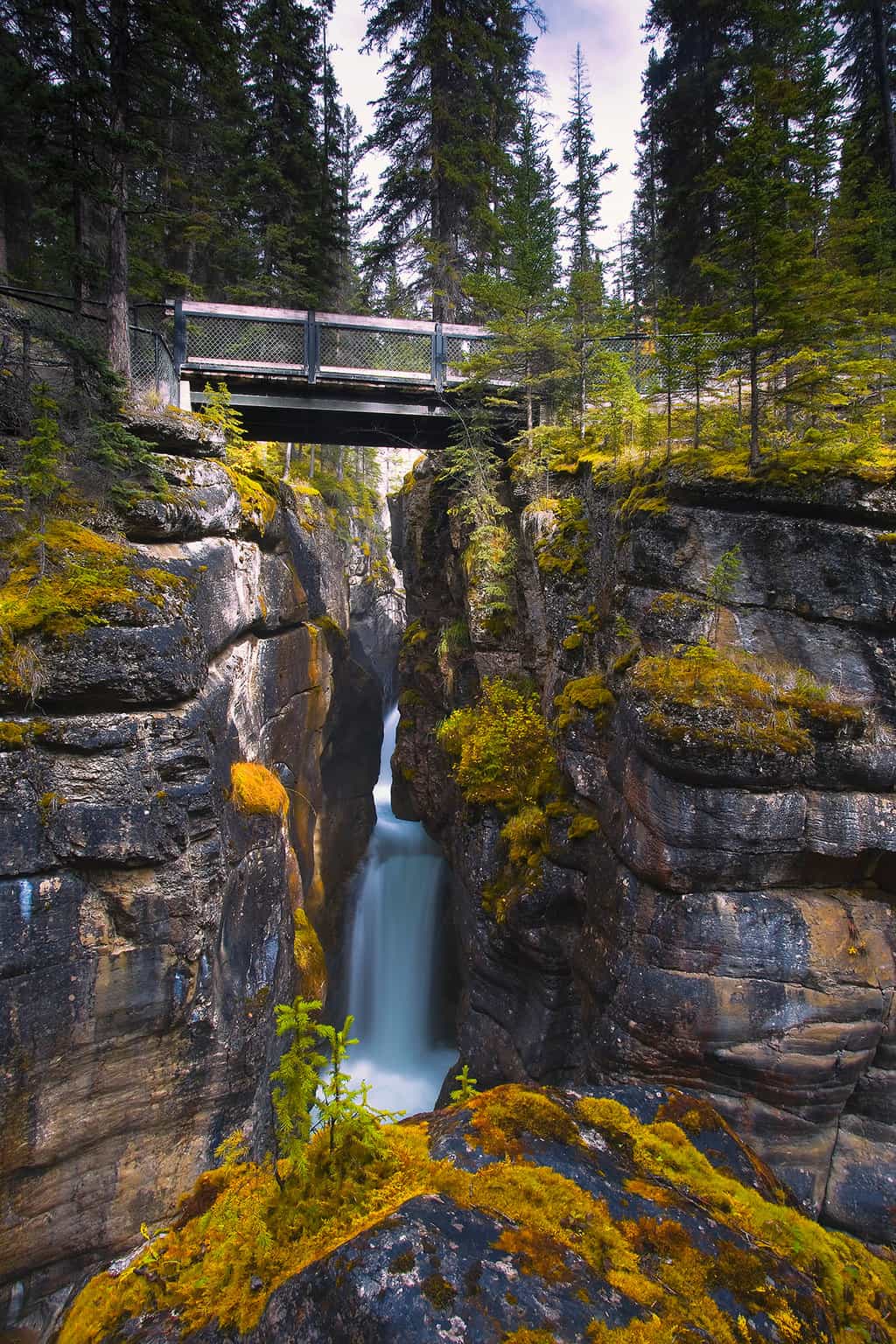 Maligne Canyon
Once you reach Maligne Canyon, the deepest canyon in Jasper with depths of more than 50 meters at certain points, you can start hiking or pop into Maligne Canyon Wilderness Kitchen for lunch (keep in mind that there is a seasonal shutdown in late October through early December).
Now, you can hike the large loop trail, which will take two to four hours to complete, or you can simply hike as far in as you like, turn around and come back. I always set a timer for 30 minutes with my kids. This way if they are cranky and tired, I can tell them we will hike in for 30 and out for 30.
At Maligne Canyon, there are six bridges, so you can decide to hike the first two bridges and then turn around at Second Bridge, the highest point in the canyon.
If you are looking for a guided tour of Maligne Canyon, you can book one HERE.
If you want to continue onto the Third Bridge, you will be treated to the most spectacular waterfall in the canyon.
In the winter months, you can join a guided Icewalk in the canyon, similar to Marble Canyon in British Columbia or Johnston Canyon near Banff.
Check out icewalks in Maligne Canyon HERE.
After your hike (or ice walk), drive back to your hotel in Jasper to freshen up before dinner. You can walk to Terra, located in The Crimson, from most Jasper hotels, which will free you up to have a cocktail, glass of wine or beer with dinner. As the cocktail menu is quite lovely, I'd recommend you walk. Ubers are tough to find in the tiny town of Jasper.
Book a table at Terra in advance, as it is a popular spot in town, especially for elevated dining in Jasper National Park. Plates are easy to share, so order a starter or two (don't miss out on that sourdough bread!), along with a few salads or roasted vegetables before a cutting board of meat or perfectly seasoned salmon heads out for the main course.
Save room for dessert, as the menu does rotate seasonally and the chef is always coming up with something sweet to end your night.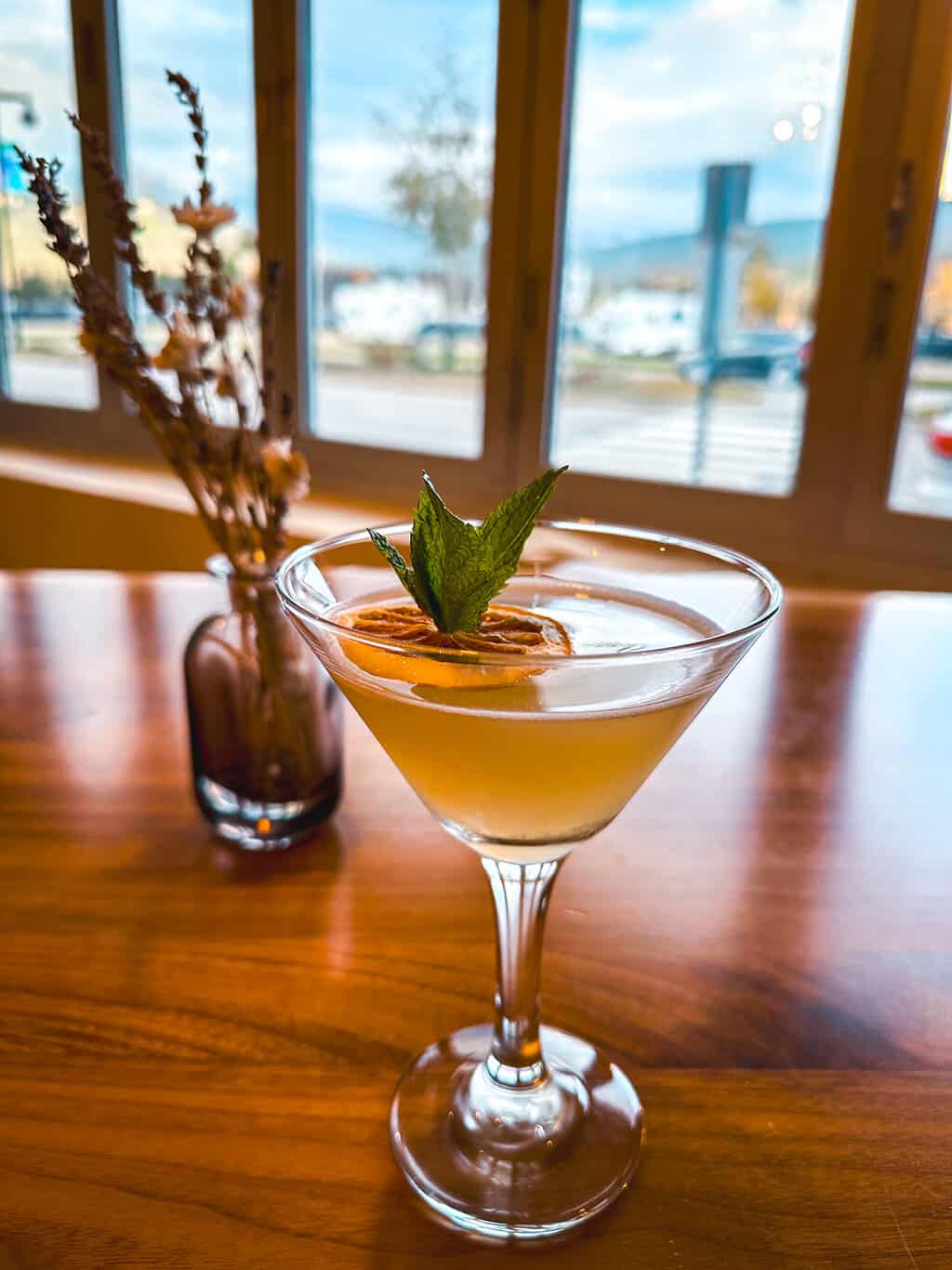 For those looking for a bit of nightlife, you can walk down to the Jasper Brewing Co. or over to the Jasper Planetarium (buy a ticket here) or up the Jasper SkyTram (tickets here) for some stargazing. Miette Hot Springs is also open until 11pm in the summer months.
If you are too tired, don't worry, you will be doing a Jasper Dark Skies program tomorrow night.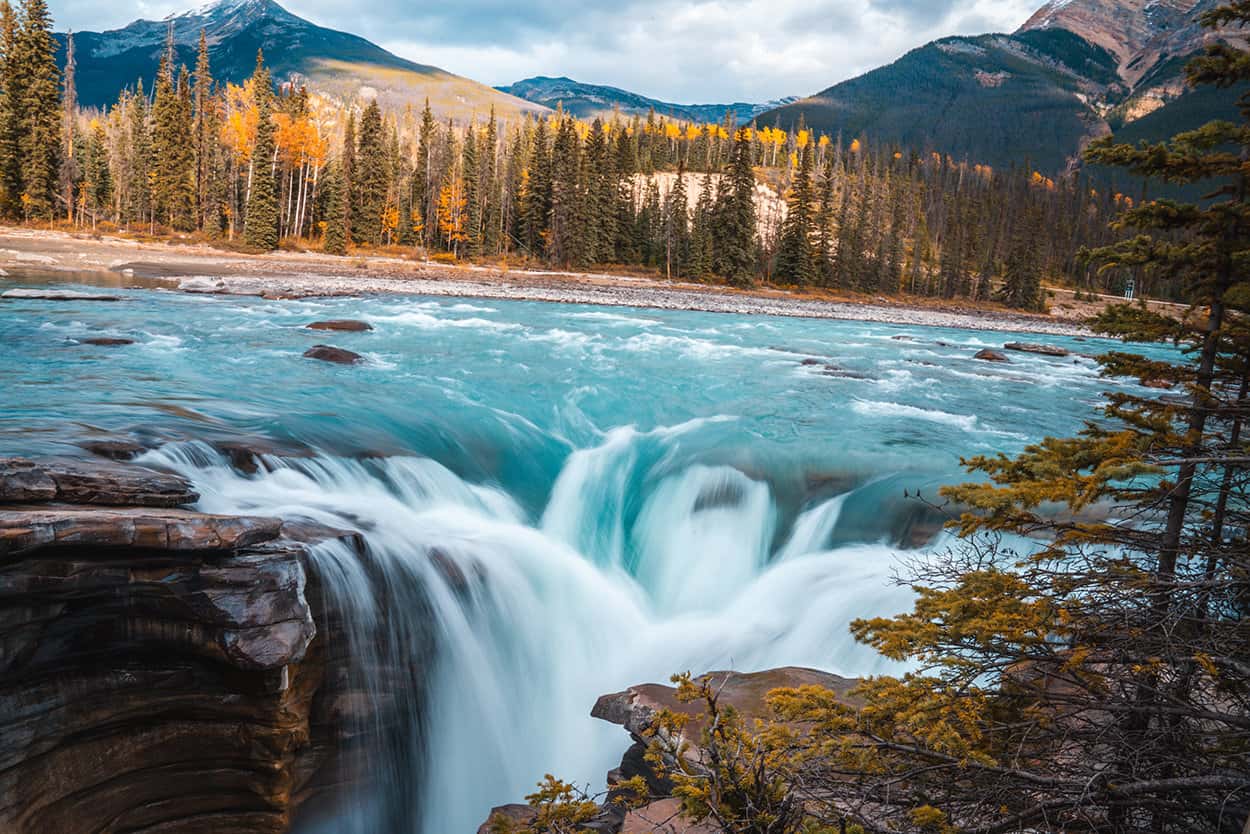 Day 3: Horses, Waterfalls and Stargazing
It's your last day in Jasper, and whether you are headed home or down to Banff National Park along the Icefields Parkway, there are still a few things to do in Jasper that you shouldn't miss.
If you are headed home, I highly recommend you make the 30 minute drive down to Athabasca Falls. This series of waterfalls is one of my happiest places on earth (nope, it's not Disney World), and the exact spot where I fell in love with Alberta Canada.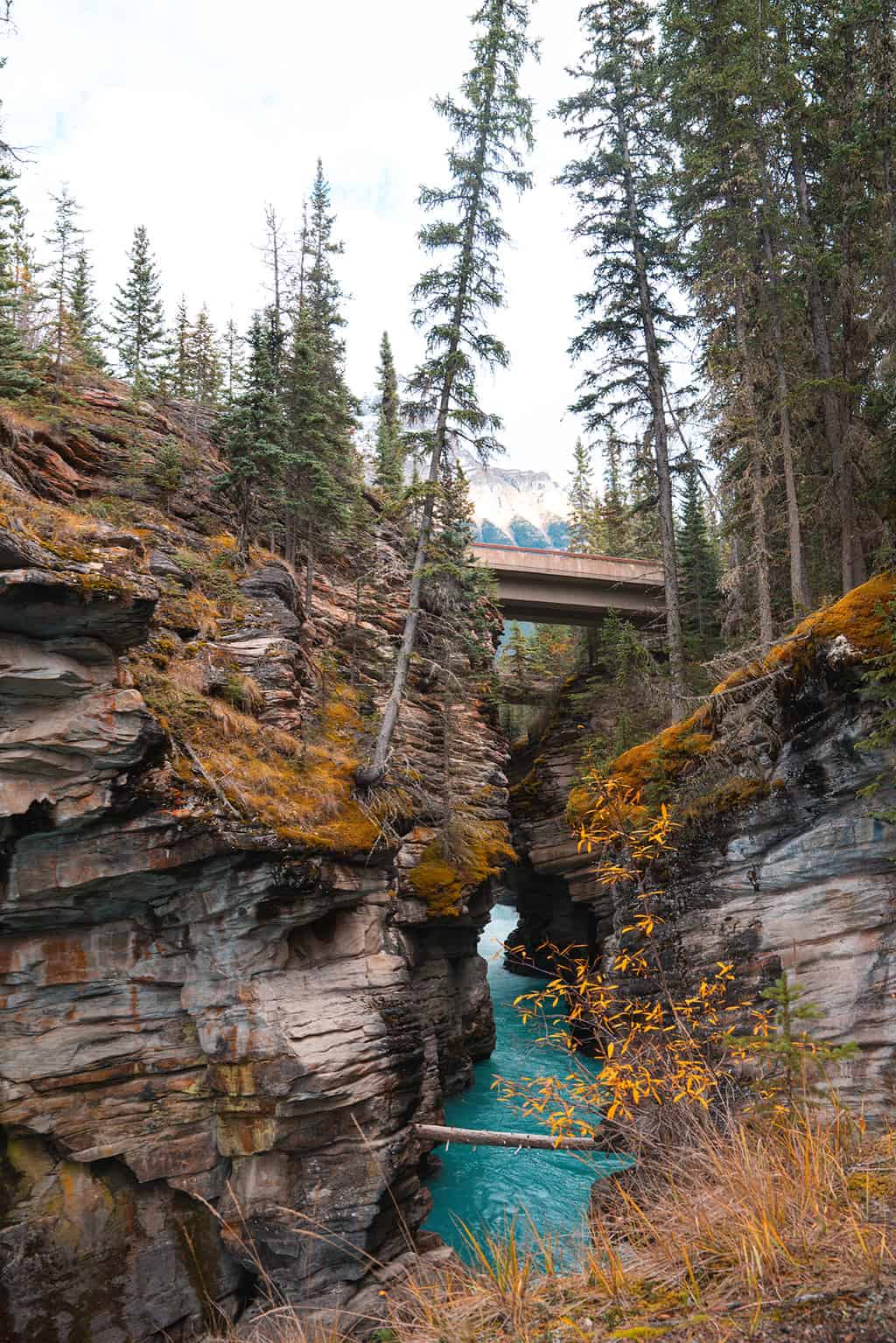 Park in the Athabasca Falls parking lot (there are bathrooms there!), and take a stroll down one of the many maintained paths. You can view both sides of the falls, but don't skip the short hike down to the river below. You will find less people here, as the tour buses don't give guests enough time to see the upper falls and hike down usually.
The water is the most surreal blue, and the calm you will find in this part of the park is something you will want to hold onto when you are back home and in the thick of life's craziness.
If you need another waterfall hike, you can drive a little farther south to Sunwapta Falls, which is a great spot for an early morning hike.
Just remember to bring your bear spray as you might see a black bear or grizzly bear when you hike in Jasper, even when you are just looking for an easy hike with mountain views in the Sunwapta Valley.
NOTE: if you are driving down to Banff or up to Jasper along the Icefields Parkway, this is a very easy stop to make along the way if you don't want to do it as a separate morning excursion.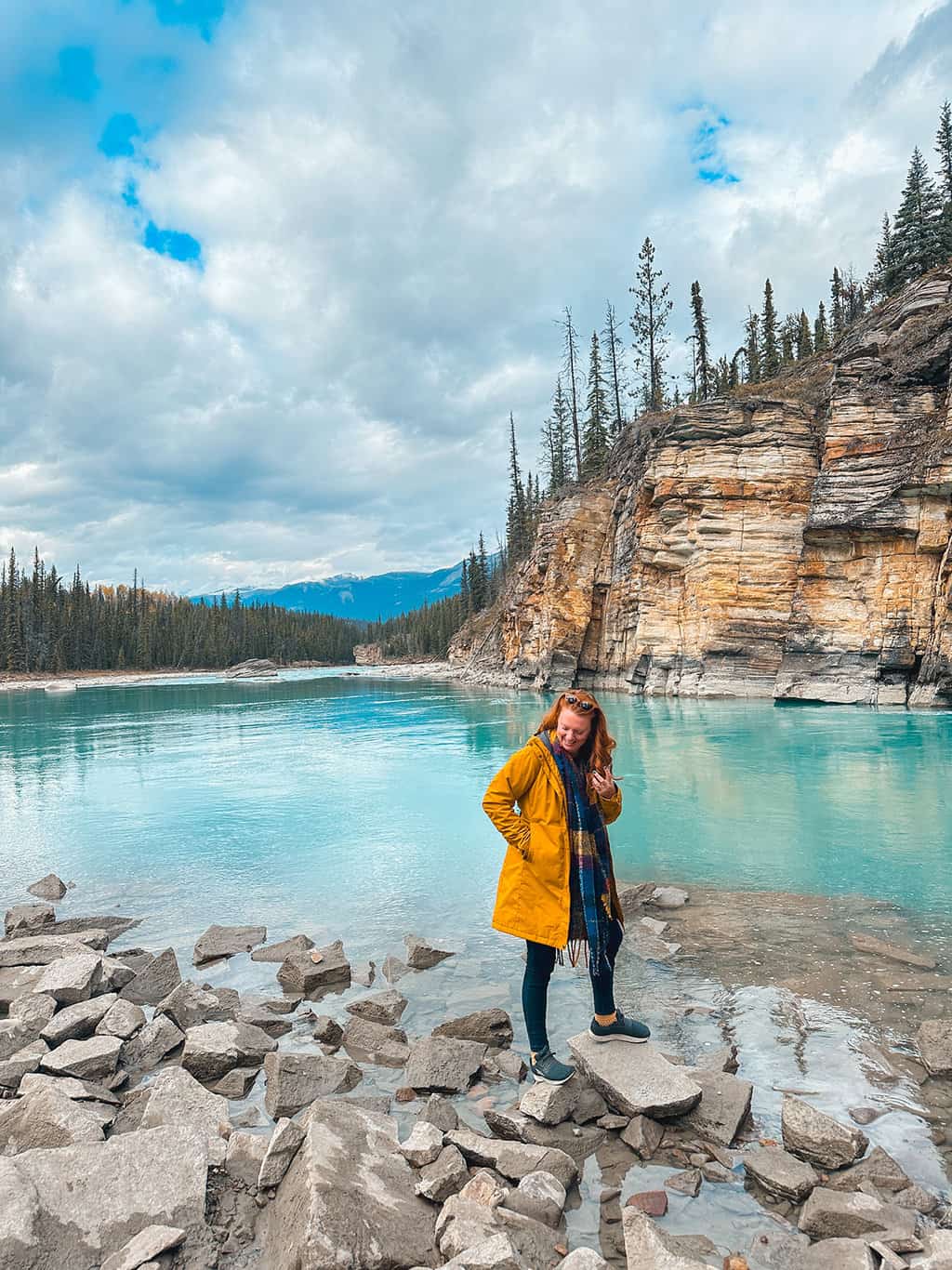 Once you are finished at the falls, or you are saving the falls for later, you can head back into Jasper to the Fairmont Jasper Park Lodge.
Even if you aren't staying at the lodge, you can participate in one of the many activities they have onsite, including horse trail rides, 18-holes on the golf course designed by master golf course architect, Stanley Thompson, and even indulge in the 10,000 square foot spa.
Today, we are going on a trail ride, but you could swap it out for a round of golf or a few hours of pampering too.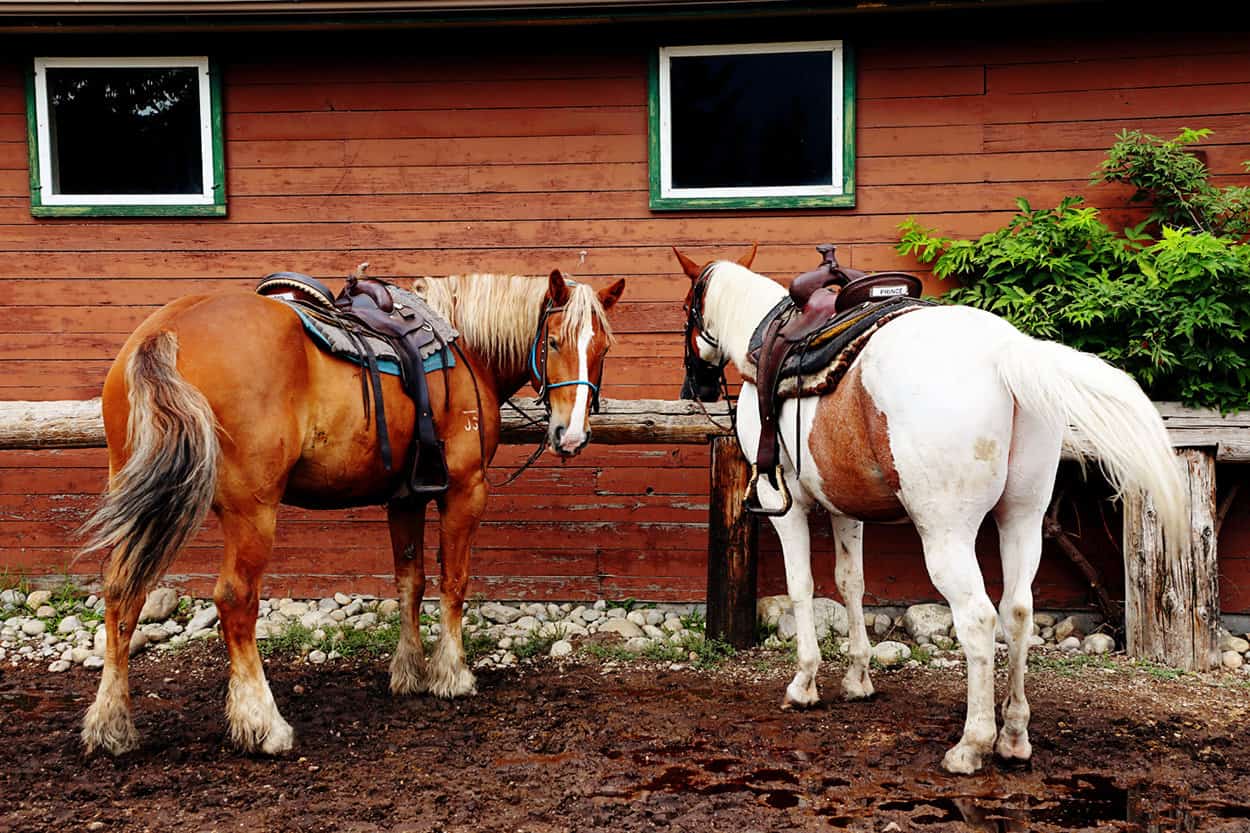 Reserve your horseback ride with Fairmont Stables before you embark on your trip to guarantee you get a spot (at Christmas they offer horse-drawn sleigh rides). You will go through the forest with a knowledgeable guide, along the Athabasca River, and up the hills surrounding the property.
Your guide will tell you about the history of Jasper, why many of the conifers look like they are dead (the mountain pine beetle is a nasty, insatiable critter), and a few local legends and stories from the indigenous people.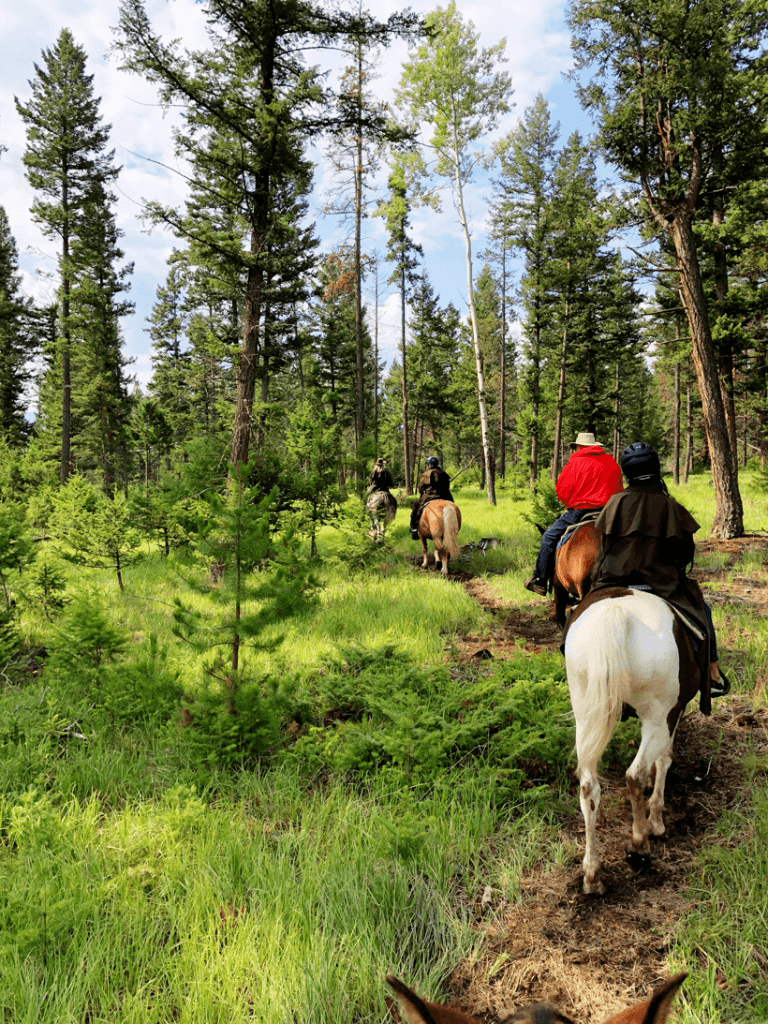 If you still have energy after your horseback ride, you can rent a kayak from The Boathouse to paddle around for a bit. Chances are you are hungry though, so head back into Jasper to enjoy lunch at ALBA Restaurant (Italian) or Something Else Kitchen (Greek).
For the afternoon, book an Open Top Touring trip that will take you to Pyramid Lake, Maligne Lookout, Patricia Lake and the Athabasca River. We love this tour in an old-time vehicle with drivers dressed up in period garb (think 1920s).
Although you might have been to some of these spots already, you will hear the wild and weird tales that made Jasper the town it is today, hear a few ghost stories, and learn more about the local wildlife who prowl the area causing mischief.
After your Open Top tour, head back to your hotel to freshen up. Maybe take a nap or wander the shops in town if you have some downtown.
Get ready for dinner at The Raven Bistro (or other restaurant of your choice), but go early so you have time for cocktails when you head back to the Jasper Park Lodge for a night of stargazing.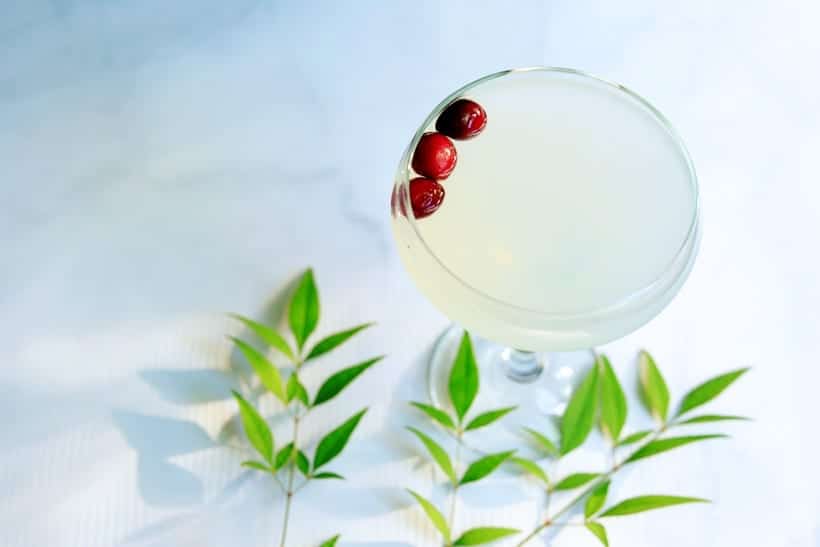 I love to grab a bar stool whenever I'm in Jasper at the Fairmont's Great Hall and Emerald Lounge. I found one of my favorite seasonal cocktails, the Pear Cosmopolitan, years ago and have been making it at home ever since.
Once you are warmed up with your libation of choice (you can also get non-alcoholic beverages, like a hot cocoa), head into the planetarium to begin your Jasper Stargazing experience. This event must be pre booked at the lodge, so grab your spots before you arrive.
Jasper National Park is the world's second largest Dark Sky Preserve, making it the perfect place to learn more about the celestial bodies in the heavens, as well as the indigenous stories surrounding the stars.
Make sure you book your spot HERE before you show up and find out it is sold out.
You will enjoy a presentation by astronomers before you head outside to see the stars with some of the largest, most powerful telescopes in the Canadian Rockies. They usually have a photographer on hand as well to give you tips on capturing the stars with your own camera too.
Your Jasper National Park trip has come to an end. Head back to Calgary or Edmonton to fly home, or drive down to Banff National Park via the Icefields Parkway, stopping at Athabasca Falls, Peyto Lake, and other highlights along the route.
If you are extending your trip, make sure you check out our 24-hour guide to Icefields Parkway for more ideas, along with our 3-Days in Banff National Park itinerary.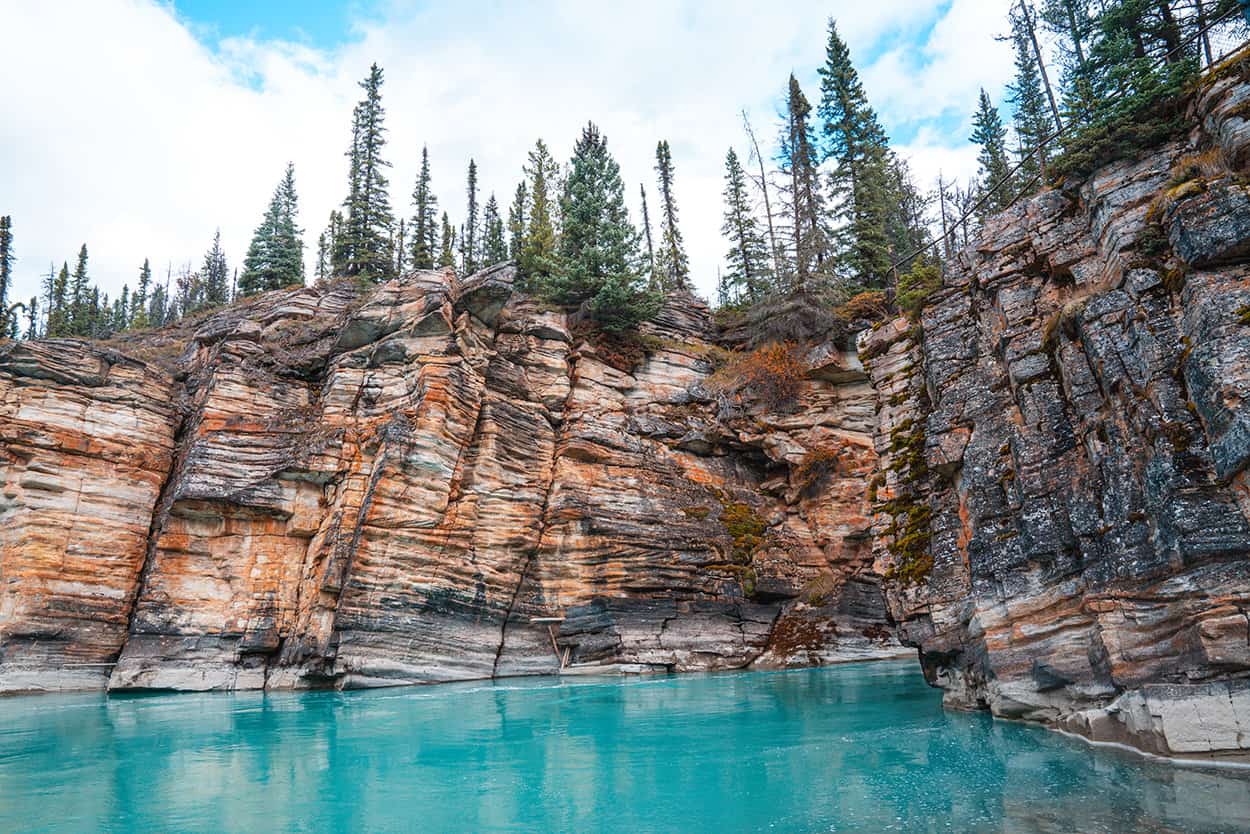 Frequently Asked Questions about Jasper National Park (FAQ)
What's the best time to visit Jasper National Park?
Jasper National Park is stunning year-round, but summer (June to August) offers the warmest weather for outdoor activities, while winter (December to February) is ideal for skiing, snowshoeing, and hikes in the winter wilderness.
How do I get to Jasper National Park?
You can reach Jasper by car from Edmonton (about four hours) or Calgary (about five hours). Alternatively, fly to Edmonton or Calgary and rent a car for the most beautiful and amazing drive into the park.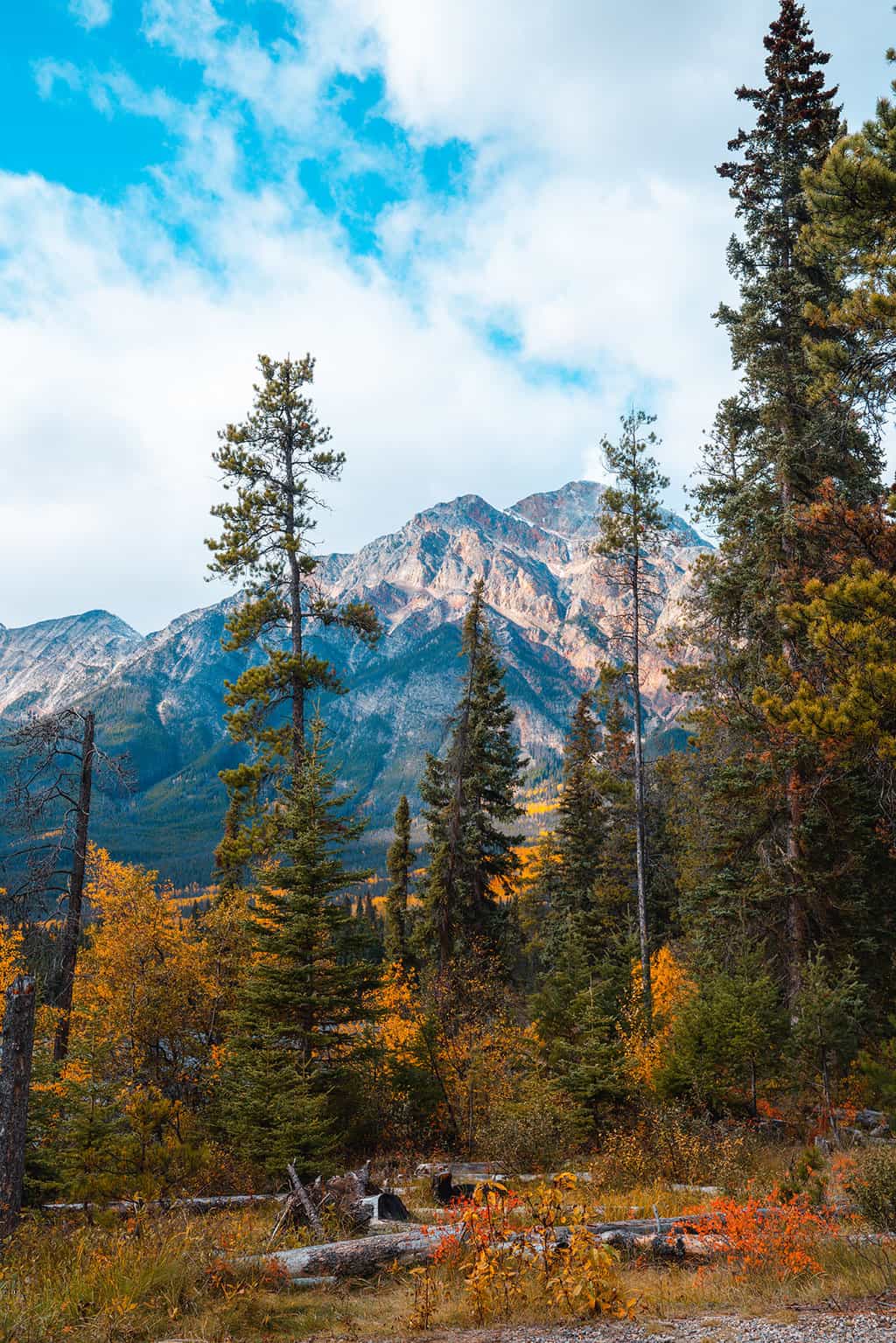 Are there any entrance fees for the park?
Yes, there is an entrance fee to Jasper National Park, which helps support conservation efforts. Fees vary depending on the season and can be found on the Parks Canada website. You can also pick up a Canada Park Pass to hit multiple parks during your trip.
What wildlife can I expect to see in the park?
Jasper is home to a variety of wildlife, including elk, deer, black bears, grizzly bears, wolves, and bighorn sheep. Keep a safe distance and never try to get closer to wildlife once you spot it.
What hiking trails are recommended for beginners?
For beginners, the Valley of the Five Lakes trail and Maligne Canyon Loop offer scenic, easy hikes. Always check trail conditions and closures before heading out.
Can I camp in Jasper National Park?
Yes, there are several campgrounds within the park (see list below). Just be sure to make reservations, especially during the busy summer season.
Wilcox
Whistlers
Whistlers oTENTTiks (canvas tent campground)
Wapiti
Wabasso
Snaring
Overflow (primitive)
Miette
Kerkeslin
Jonas
Icefield (tents only)
Icefields Centre RV (trailers and RVs only)
Honeymoon Lake
Are there any accommodations in Jasper town?
Jasper town offers a range of accommodations, from hotels and lodges to cabins and campgrounds. You should definitely book in advance, especially during peak tourist seasons (like summer) as hotels do sell out.
What's the weather like in Jasper during winter?
Winters in Jasper are cold, with temperatures often dropping well below freezing. Be prepared for snow and pack accordingly for outdoor activities.
Can I see the Northern Lights in Jasper National Park?
Yes, Jasper is a great place to witness the Northern Lights (Aurora Borealis), especially in the fall and winter months. The darker skies away from town are ideal for stargazing.
Check out apps like My Aurora Forecast to track when and where your best chances of seeing the Northern Lights in Jasper will be.
Are there any natural hot springs in the area?
Yes, Miette Hot Springs, located within the park, is a popular spot to relax in natural mineral springs, aka natures hot tub. Check dates and hours, as this site is open seasonally.
What is the best way to explore the Athabasca Glacier?
To experience the Athabasca Glacier up close, you should join a guided tour through Pursuit's Columbia Icefield Glacier Adventure, which includes a stop at the Glacier Skywalk. You can also book a walking tour over the glacier with an experienced guide.
Do NOT attempt to walk on the glacier without a guide, as it is a dangerous and ever changing landscape. People have fallen into fissures and never returned.
Can I bring my pet to Jasper National Park?
Pets are allowed in the park but must be kept on a leash at all times. Check out trail restrictions ahead of time, as dogs might not be allowed in all parts of the park to protect the wildlife.
Are there any restrictions on fishing in Jasper's lakes and rivers?
Fishing is allowed in some areas of the park, but you must get a national park fishing permit and follow all regulations to protect the ecosystem. Fishing without a license will cost you a lot of money by way of a fine from the park rangers.
Is there public transportation within the park?
Jasper offers a public transportation system during the summer months, making it easy to access popular attractions without a car.
What's the best way to stay safe from wildlife encounters?
Carry bear spray, make noise while hiking, and follow all park guidelines for safely coexisting with wildlife. You may see black bears, grizzly bears, elk, mountain goats and moose, but you are not allowed to approach wildlife in the park.
Trying to interact with Jasper wildlife in any way could land you a $25,000 fine.
Are there any restrictions on backcountry camping?
Backcountry camping requires a permit, and there are specific regulations to follow to ensure minimal impact on the environment.
What are some must-see attractions in Jasper National Park?
Don't miss visiting iconic spots like Athabasca Falls, Pyramid Lake Island, Spirit Island on Maligne Lake, and the Jasper SkyTram. We've seen moose on Medicine Lake too, but remember, moose are a rare sighting.
Is it possible to go ice skating or cross-country skiing in the park during winter?
Absolutely! Lake Mildred and Pyramid Lake are popular spots for ice skating, and there are groomed trails for cross-country skiing.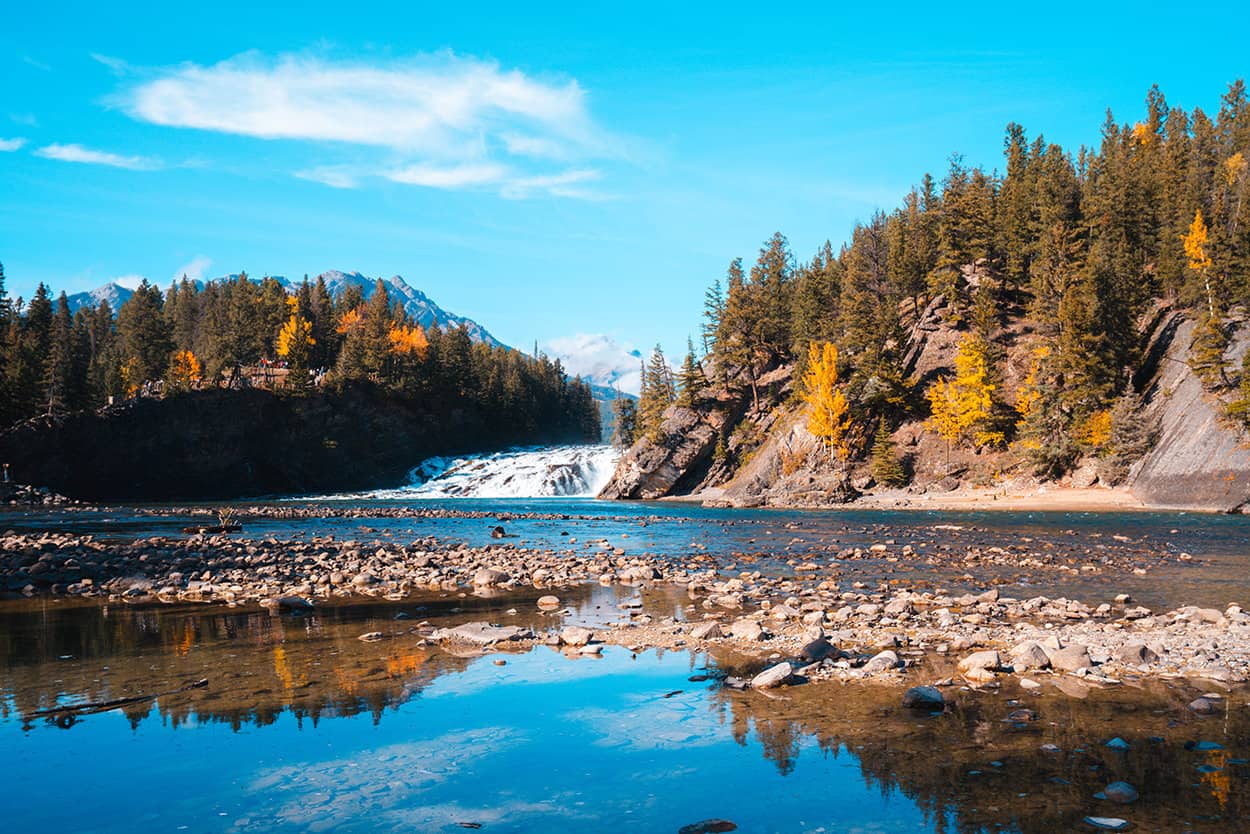 Can I visit other nearby national parks from Jasper?
Yes, you can explore nearby parks like Banff National Park and Yoho National Park, each offering their unique natural beauty. Don't miss a chance to hike around Kananaskis either, as there are some wonderful trails in that area and around the town of Canmore.