I am an avid traveler; the more passport stamps, the better. And then I got pregnant.
My friends said, "You'll never travel again!" "It's all over from here." "Kiss that passport goodbye." Apparently my friends thought flying with a baby would slow me down.
Not exactly inspiring, friends.
Can you travel with a Baby?
I looked into the details of baby travel and learned that in the US, children under 24 months old fly free, as long as they are in your lap. I decided to take full advantage of the lap child rule and started planning our first family trip together.
Maximizing the under 24 month Rule
By the time my daughter hit her 2nd birthday, she had flown on 11 different trips, with a total of 26 different flights of all sizes and flight times. Who says family travel is hard?! Well, we'll get into that later.
We boarded 10 seat puddle hoppers in the Caribbean, 737 overnight international flights to and from Rome, quick hops from Chicago to Atlanta, California, New Orleans, and Denver.
Can anyone say jet lag?
Each flight was unique, whether they were domestic flights or international, and even the repeat trips were different, because of how quickly she aged and changed. I learned a lot about flying with a baby and here's some of what I figured out.
Travel Tips for Flying with a Baby
My first time traveling with an infant, Avi was was 3 months. We headed to Palm Springs, California for a much needed warm up after a bitter cold Chicago winter. We were so nervous leading up to this first trip with our little one.
Treats for Passengers?
I was actually that mom who made small bags of treats with earplugs and a "Hi, it's our first time flying, fingers crossed it doesn't suck for anyone" (turns out our fellow passengers really appreciated the gesture).
Barely able to sit up in my lap, let alone wear a seatbelt, the biggest trick was learning to juggle a nursing baby with a snack tray.
Don't worry, we have tips on how to bottle feed and feed your baby breast milk on a plane.
Flying with a 3-month-old baby
At 3-months-old, Avi nursed on takeoff and landing to reduce cabin pressure in her ears, snoozing for the bulk of the trip, and barely made a peep. It was deceptively easy, and eased my anxieties enough to try more flights in relatively rapid succession.
The frequency of our coming travel helped make it easy and exciting for Avi. She got used to the process and looked forward to our next trips.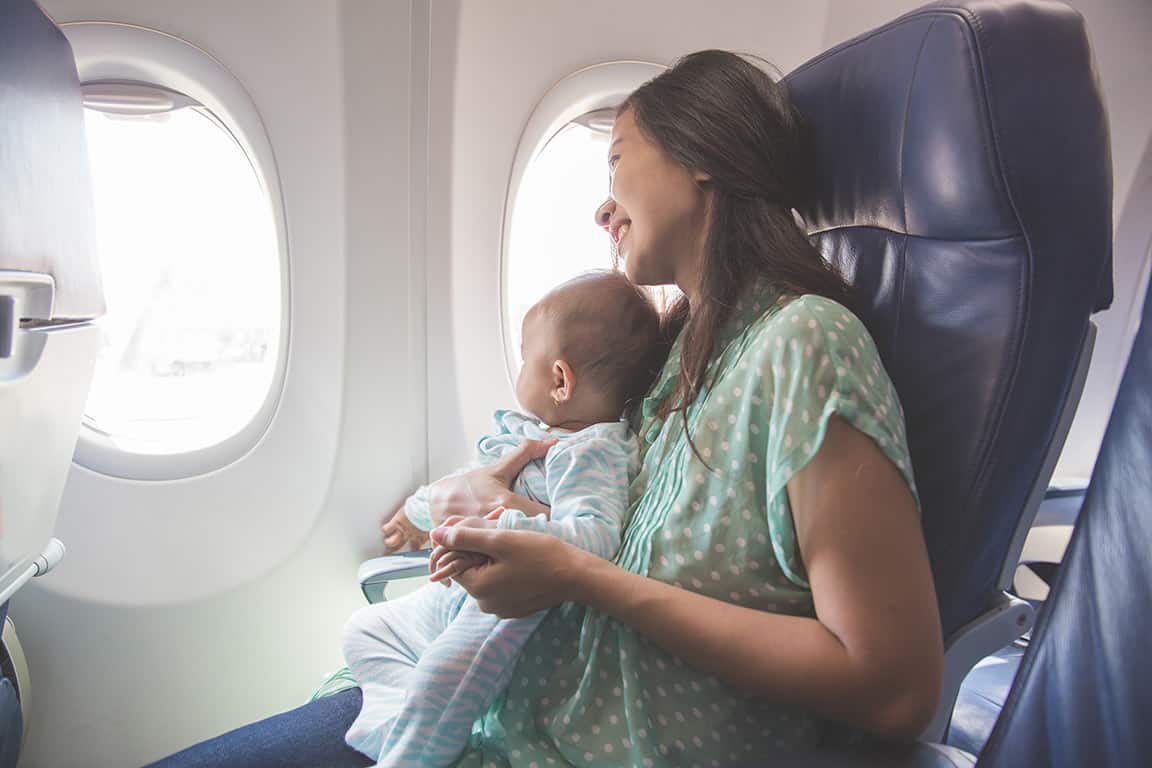 Bring a Change of Clothes for Baby and You
On the return flight from Palm Springs, another baby a few rows ahead of us vomited on take off. I realized there's really nothing worse than sitting in your baby's yuck while flying across a continent.
My advice, pack an extra top for mom/dad (or caretaker), as well as an extra outfit for the baby in your carry on bag. Spare blankets and burp rags are great too.
Prepping INfants for Flying
When our daughter was 5-months-old, we flew from Chicago to Atlanta to visit family. It was early October and we had a nice schedule- departure around 11am and a return flight a few days later around 5pm.
About a week in advance of the flight, we started telling Avi that we were going on an adventure and her eyes would light up, focus on us, seeming to ask us for more information.
"We're going in an airplane!" "We will take the train to the airport, and then go through security, and then get on an airplane!"
She was so overstimulated by the new process, the break from routine, and the interest from those around us. She ended up zonking out on departure, was awake for a short time during the flight, and then zonked again on landing.
Psychological and Emotional Prep
The key we learned at that point was to tell her of upcoming changes, and explain as it was happening. Babies are constantly learning, and by telling them what's happening they feel much more settled and steady.
Any time she was unsure, she would look at us, wide eyed, and our explanations really seemed to soothe her.
By 5 months old, she was also very active and engaged in the scenes around her, which meant that my magazine reading days were over.
Flying with a baby is certainly less quiet, but still a very good idea.
Why Pack Snacks?
At 10-months-old, we took our most grueling trip: a 16 hour travel trip that involved 3 airplanes, 2 continents, lots of delays and a tedious line for customs.
We left the house at 4am for a 7am flight. We woke her slowly, just before departure for the airport, so that she had the least disruption and down time.
Pack food that can last
After checking in our checked bags, we purchased bagels and bananas and filled up water bottles, preparing for a 3-hour flight which would be punctuated by a 2-hour layover. Snacks were planned pre-flight and a layover meal plan established so that when we landed, we could focus on getting a leg stretch, a nice meal and to the next gate in time.
That lunch was clutch, as the rest of the day fell apart.
PLan for Delays with Extra Baby Food
Upon arrival in Belize, it took us 2 hours to get through customs, followed by another 3 hour wait for our puddle hopper to the island. We were running low on snacks and the baby's' energy.
Thankfully, miscellaneous yogurt squeezies, almonds and Lara bars carried us through the night.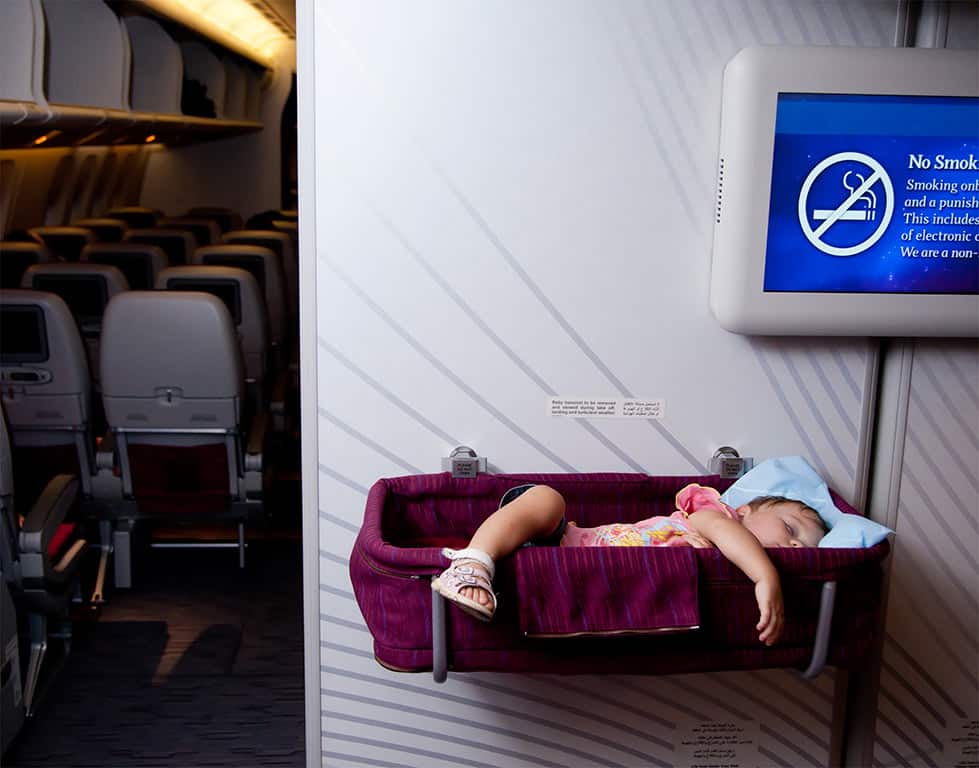 Sleeping on a Plane with Kids
At 15 months, I flew solo to Italy with Avi, who was a developing walker and very interested in the world around her. We packed up the stroller and car seat, and were on our way!
The initial departure flight was delayed 7 hours before canceling at 11pm, and rescheduled for a flight 2 days later (turned out to be delayed about 4 hours).
We were exhausted before we even boarded the plane!
Don't expect an extra seat for Lap Babies
Once we finally boarded, the flight had been oversold, which meant there was no adjacent airplane seat for my daughter. I had fed her a steady stream of snacks in the lobby to manage her energy, but once we took off she was overstimulated and fascinated by everything.
Finding Space for your Sleeping Baby
She insisted that I carry her, so we walked up and down the aisles for about 2 hours until she finally crashed out in my arms. I had brought along extra baby blankets, and laid them on the floor under the seat in front of me, where I laid her down for about an hour while I in turn took a much needed cat nap of my own.
There wasn't much sleep for either of us, and she had a bit of a meltdown upon landing.
I held her close, thankful for the baby carrier as I was also struggling with luggage and a purse. I talked to her quietly through deplaning, customs and baggage claim. When we finally got settled into the car, she CRASHED OUT.
Jet lag is another story, but that flight was about as much as I could handle.
Air Travel Before 2 Years Old
Just before her 2nd birthday, we decided to take one last flight to Sonoma, CA to celebrate our wedding anniversary. This was the flight we realized it's a good thing there's an age limit on lap babies!
By 2-years-old, most kids are super active, busy little bees and squirmy to boot.
Holding 25 lbs of wiggle on your lap for one hour is challenging and extended flights are exponentially so. The management of food, drinks and arm strength are a non-stop struggle.
There is no way I could manage the tray table at my seat with a toddler in my lap. flight attendants walking by every few minutes with plenty of things for a toddler to try and touch.

Packing List for Flying With A Baby
Baby Carrier
Managing luggage, coffee, gate details, tickets and food is complicated enough as a traveler; wear your baby through the airport as long as you can.
My carrier of choice for the first year was the JJ Cole Agility carrier. The carrier goes on like a vest, has no buckles or snaps and looks like a swagged layer over your shirt.
The lack of buckles and snaps means that you can wear it through security screening (some airlines request you remove baby carriers like Ergo and similar on take off and landing). Bonus: the fabric panels can act as a nursing cover too!
Backpacks and Diaper Bags
Get yourself a good backpack or diaper bag that can also act as a day bag for yourself. If your child is keen to hold their own bag, you can always grab one of these kids' backpacks.
A diaper clutch has also been key for us when it came to a diaper change. Never assume the changing tables on an airplane have been cleaned. We pop the clutch, filled with wipes and spare diapers, from one purse or backpack to another.
To bring the stroller or not?
Deciding whether to bring strollers and car seats can be a headache, especially if you and your partner don't agree.
We opted for the stroller on most trips. After lots of experimentation with a variety of styles and brands, we love the City Mini stroller.
The stroller is easy to fold, one-handed steering, durable, and it's also under 20lbs so it can be gate checked. If you don't need the stroller, add it to your check-in luggage pile.
Does your baby need a car seat?
It depends. We took advantage of the "under 24 months flies free" option, but that "free seat" is mom's lap. You can gate check a car seat though. Simply bring it to the gate agent for a tag, leave it at the bottom of the jet way and it will meet you at your location.
However, some airlines introduce car seat requirements depending on class of service. For example, on AlItalia, infants do not fly free in 1st class: they are required to have a paid seat of their own, and for that seat to have an FAA approved car seat snapped into it.
Most airlines will wave the fee for checked carseats if they are needed at your destination. It does not count in your baggage allowance for a flight as it is a child safety seat.
Tip: Be sure to check the taxi car seat laws of your destination, some states require all passengers to be restrained properly regardless of the vehicle. The same goes for booster seats with small children who are out of the car seat with a child restraint system built in.
Window or Aisle?
Sadly, anyone with a lap child can not sit in the exit rows. It makes sense, if you have to worry about your baby, you can't help the flight attendants with the door.
When your baby is not yet mobile, and doesn't need their own seat, you can get away with a window seat. By the time you've got a budding walker on your hands however, the aisle is where it's easiest to facilitate movement on long flights. If you are traveling with another adult (or child paying an adult fare), you can book an aisle and window seat in the same row. Then you just pray the flight is not oversold and you can have the middle seat to stretch out.
The only exception to this is on international flights that offer a bassinet for your baby. Make sure you grab a bulkhead seat in any part of the aisle that you can.
What to wear?
You want easy access to passports, boarding passes, your phone, baby birth certificate if needed, a safe spot to stash the pacifier and a bottle. You also want. tomake sure you have easy access if you plan on breastfeeding on a plane.
Sleek leggings, a simple top and a comfortable jacket with pockets are my uniform of choice when flying with a baby.
What can you bring through TSA security?
When you fly with an infant, you get a pass on expressed breastmilk and formula, and sometimes get a pass on bottled water and juice coming through TSA security (be sure to say it's for the baby's needs).
We always carry a bunch of snacks. Our favorites include pouches, almonds, carrots, grapes, small oranges and crackers.
More Travel with Baby Tips
1. Have a little faith. Trust that you CAN do this; you can hop in the car or on a plane to find adventure and explore new places as a family.
2. Getting out the door is the hardest step. Once you have the kids fed and dressed with their shoes on (why are the shoes the hardest part!?) you can go anywhere.
3. Try new things! Don't be afraid to push the boundaries of what you think you can do with your kids just a little bit. They may surprise you!
4. You are a parent no matter where you go. Just because you are on vacation doesn't mean you stop being a mom or dad. You have that job for life. Now it is up to you to decide what the backdrop of parenthood will be. Will you sit at home, or will you explore the Olympic peninsula and Eiffel Tower while enjoying cuddles and fending off tantrums? Personally I'd pick the latter.
5. Accept that jet lag is inevitable, but you will get through it. Click here to get some tips for dealing
Travel Prep
6. Back up your photos. No seriously. Go do it right now. Save them on an external hard drive, cloud or somewhere other than your computer so you have an extra set. If your computer is lost or stolen while you are traveling, you will be very sad to see those images lost forever.
7. Make copies of your passport and credit cards before you travel. Leave one set in a safe place at home and take the other set with you. Don't forget to stash the extra set you take with you in a different spot than the originals.
8. Let your credit card company and bank know you are traveling overseas before you head out so they don't place a fraud alert on your account (Trust me. This just happened to us… again)
9. Get your passport and/or Nexus card. It may sound simple, but less than a third of Americans have a passport, which greatly limits where you can go and what deals you can take advantage of, especially those just north of the border in Canada.
Packing
10. If you love collecting local art, bring a flat medium size mailing box or a cardboard tube with you to transport your treasures home.
11. Pack at least one bendy straw when traveling with babies and toddlers to enjoy drinks on the go.
12. The 3-3-1 rule for liquids does not include medications, so that bottle of cough syrup or fever reducer for your little ones is fine in your carry-on bag. Just remember to take it out with your other liquids when going through security and check restrictions on countries you may be flying in and out of.
13. Don't toss your packing list after your trip. Save a bit of time and stress by keeping an electronic version of your packing lists for next year's vacation and make minor revisions as needed.
14. Keep small bills in your pocket. While a lot of luggage carrier stations accept credit cards, sometimes the card readers are out of order and you need a few bucks to get a cart, or to tip the curbside assistance service attendant. It's worth it to avoid the stress of lugging your bags all over a large airport while keeping tabs on your family and the departure time.
Gear
15. Pack at least one book your child can stare at for hours, like a kid-friendly comic book.
16. Practice collapsing your stroller. If your stroller has remained in its open position since you bought it three years ago, it may be time for a refresher course on collapsing it. Better at home in the garage instead of in the security line at the airport.
17. Consider clipping a small blanket to each of your kids' backpacks. Sometimes airplanes are as close to freezing as they can get and somehow your row is the only one without a blanket. Or, on shorter flights, not offered at all.
18. Wear a watch when you fly. Sometimes, with your arms full of kids and snacks and distractions for those kids, you just can't search a bag for your cell phone, or the battery has died from hours of Angry Birds. And sometimes clocks aren't visible around the airport.
Booking tickets
19. Check to see if the flight you'd like to purchase offers the ability to make changes. Some airlines' least expensive flights have no possibility to reschedule your flight, even for a fee. So if you need to make a change, for any reason, you have to buy new tickets.
20. Don't forget the phone. Everyone's booking airline tickets online, but if you want extra help sifting through options, don't forget you can call a customer service rep. For example, bulkhead seats fill up fast, so if you want a seat there to take advantage of the bassinets, call the airline and have them check which flights have them available.
21. Bulkhead armrests are fixed, not movable. So if you are hoping to have seats where everyone can stretch out together, book a different row.
At the airport and on the plane
22. Give yourself a little extra time at the airport to account for diaper changes, lines (not every airport has a family line and even if they do, they may take just as long as the regular line), searching bags to make sure the lovies are in the carry-ons, and delays while bags are searched or your hands need to be swabbed (something that is happening to more parents who walk through standard metal detectors with their children, especially if the baby is in a carrier).
23. Some large airports have massive, fully stocked family rooms complete with changing tables, wipes, toys, rides, private rooms for nursing mothers with pillows, and baby food. Be sure to check out your airport web site in advance for any family amenities.
24. Airlines typically allow you to check car seats and strollers at no extra cost. You can do this either at baggage drop or at the gate as you board, if you think you'd like to continue using your stroller through the airport. Check your airline.
25. Considering buying a car seat bag or stroller bag to protect your gear while in transit from dirt, and hopefully a little extra wear and tear. Some airports do offer plastic bags for such items, but not all.
26. Most airlines will offer almost no assistance to passengers whose flights are delayed or cancelled due to weather — even passengers traveling with small children. If you lower your expectations in advance, you will be (slightly) less stressed if you find yourself in this situation.
27. Traveling with a lap child? Aircraft often have extra oxygen masks on only one side, so you may have to move seats once on board so that you and your lap child are on the side with extra masks.
28. Child restraints: Even if you purchase the CARES child restraint system, you may not get to use it. Some airlines may not let you use them. Depending on the seat types, they may not fit. And some seats, with concave backs, may create an uncomfortable position for your child's head.
29. Children's luggage requirements may be different than the accompanying adult. Make sure you read your airline's policies or call customer service.
Love it? Pin it for later!