If you want to visit Connemara National Park, you might think that Galway City is the only place to stay. Actually, the small, picturesque market town of Clifden on the coast of County Galway is much closer, and there are plenty of things to do in Clifden and the surrounding area.
Clifden, Ireland is located on the Wild Atlantic Way, an epic Ireland road trip route that follows the entire western coast, and is the capital of Connemara.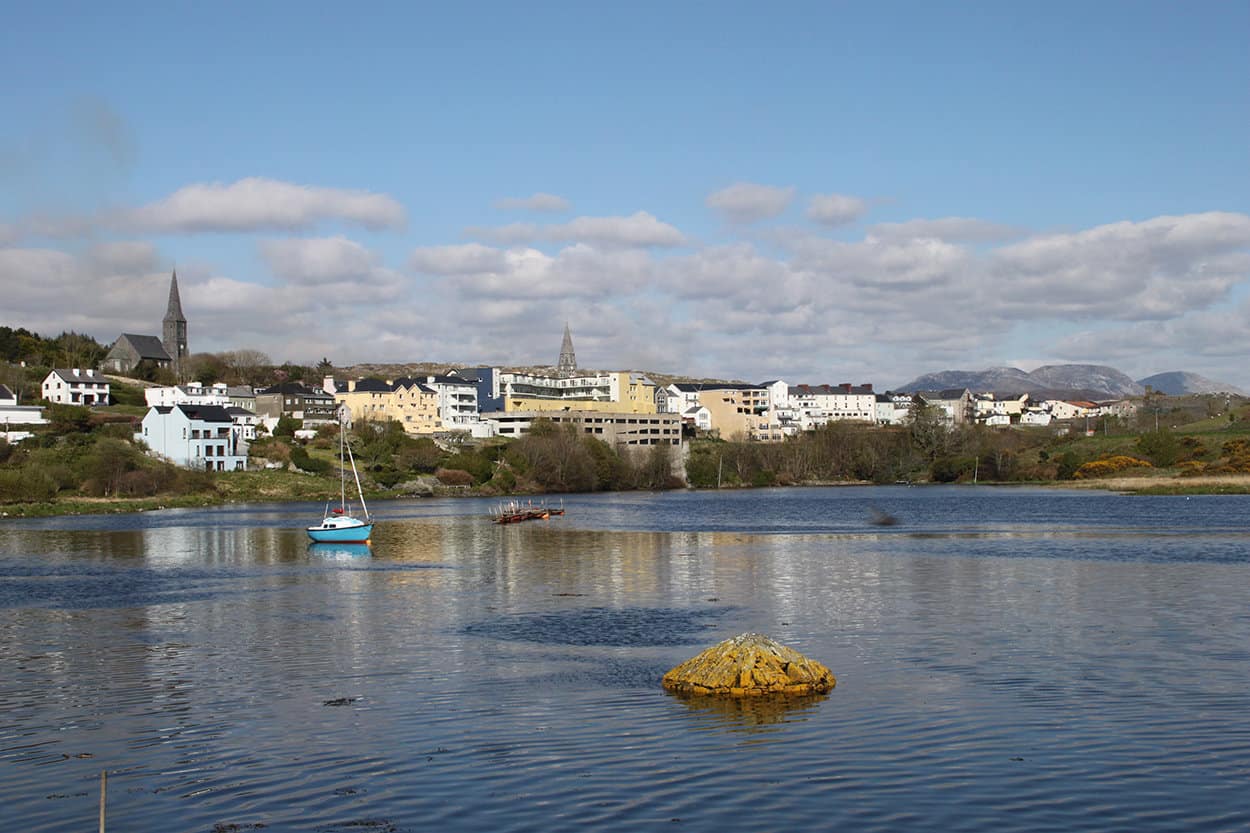 Granted, it doesn't have the same number of pubs, activities, and museums that Galway has, but Clifden town still has historical sites, castles, beaches, and mountains that are more in keeping with a trip in the Irish countryside.
And don't worry, like every town in Ireland, it still has pubs!
Let's dive into exactly what things there are to do in Clifden and the Connemara area on a road trip in the west of Ireland.
Clifden Ireland Trip Guide
Flying to Ireland?
Looking for the best flights to Ireland? We love to track flights via Expedia.com. Not only do we find great rates, but we earn points to use on future travel too.
You can also keep an eye on GOING deals, which is how we got to Ireland roundtrip from LAX for under $500 each. The free version is good, but the paid subscription will save you way more than the cost per year.
DON'T FORGET YOUR ESIM CARD!
We all love our smartphones, but we don't love those international roaming charges. Even if you have a travel pass, you could max out your service, which is why we always grab an eSIM card to pop into our phones. It's especially great for the kids, as it limits what they can do and how much data they can use, but still allows them to text friends back home.
Check out Airalo, our preferred eSIM card store for the best prices on eSIM cards and international data plans.
NEED A RENTAL CAR?
We use DiscoverCars.com to get the best rates and availability on rental cars. Find your car HERE, along with all of the extras you may need (insurance, car seats, ski racks, etc.)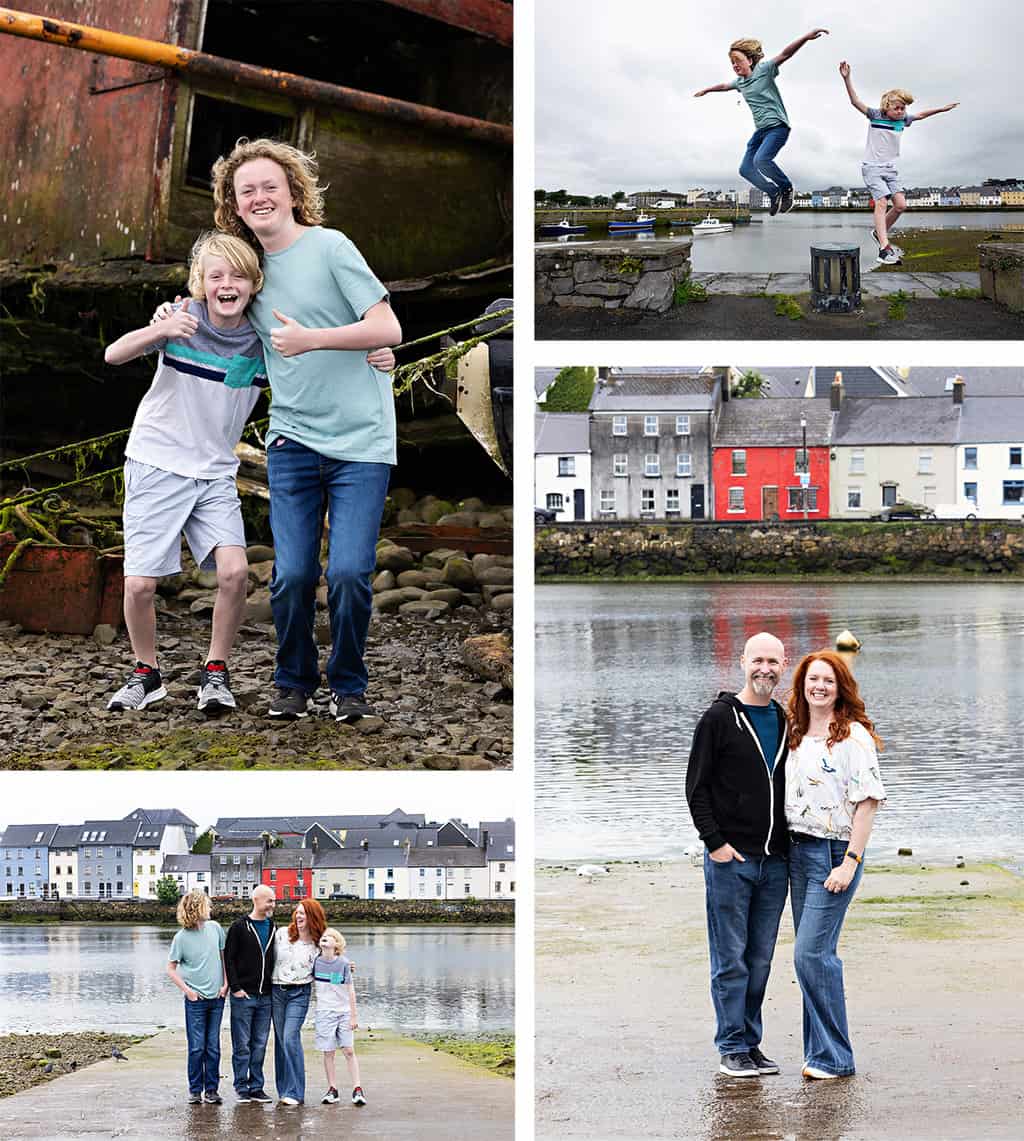 VACATION PHOTOS
Don't forget to book your Flytographer session to capture awesome memories from your trip. We do it as often as we can, even though I'm a photographer. Sometimes, this mom just wants to be in a few photos with her kiddos.
TRAVEL INSURANCE
Do NOT forget to buy travel insurance for your cruise, even if you booked through a travel agent. Things do and will happen and it's cheaper to buy travel insurance ahead of time instead of paying out of pocket later.
Check out Travelex for rates on a single trip or an annual plan that could be right for you if you take more than one or two trips a year. 
Hotels in Clifden Ireland
Need a rental car?
We use DiscoverCars.com to get the best rates and availability on rental cars. Find your car HERE, along with all of the extras you may need (insurance, car seats, ski racks, etc.)
Vacation Photos
Don't forget to book your Flytographer session to capture awesome memories from your trip. We do it as often as we can, even though I'm a photographer. Sometimes, this mom just wants to be in a few photos with her kiddos.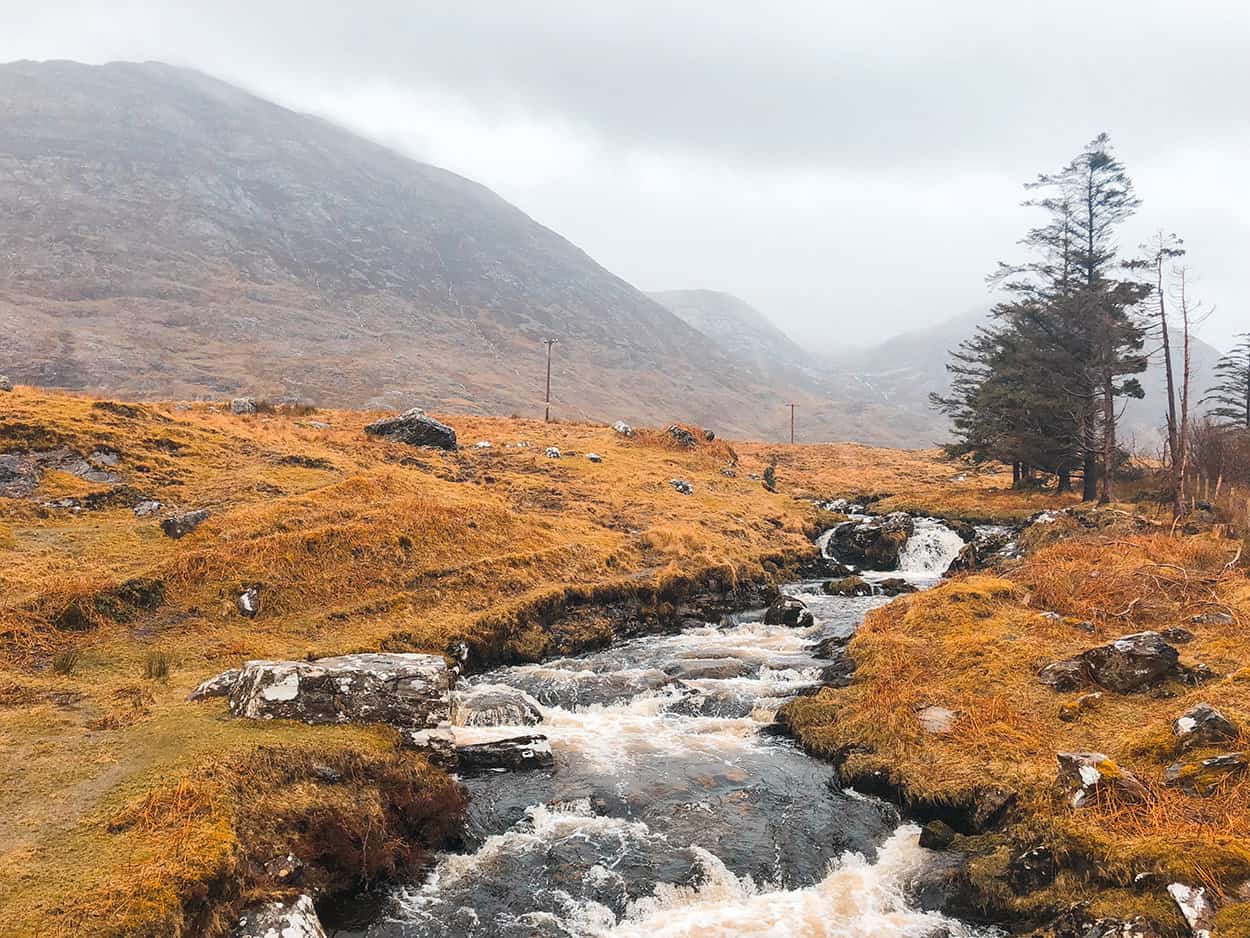 TOP THINGS TO DO IN CLIFDEN
CONNEMARA NATIONAL PARK
Ireland has six national parks and Clifden is only a 15-minute drive from Connemara National Park. This national park boasts 7,000 acres of rolling hills, rivers, small lakes, and walking trails.
If you want to learn more about the history of the area or talk to local guides, visit the Connemara National Park Visitors Center in the town of Letterfrack before going anywhere else. There's also a cafe and small exhibitions about the history of the local area and Connemara heritage.
Best hike in Connemara National Park
Diamond Hill is one of the most popular peaks for novice climbers in Connemara National Park and for good reason. It's close to the visitor's center and the paths are well-trodden and signposted.
Simply follow the 4.5-mile loop of the moderately challenging 1,450 ft hill that most people complete within two to three hours. This includes lots of stops to look at the scenery and a break at the summit, of course.
Read our full guide to Connemara National Park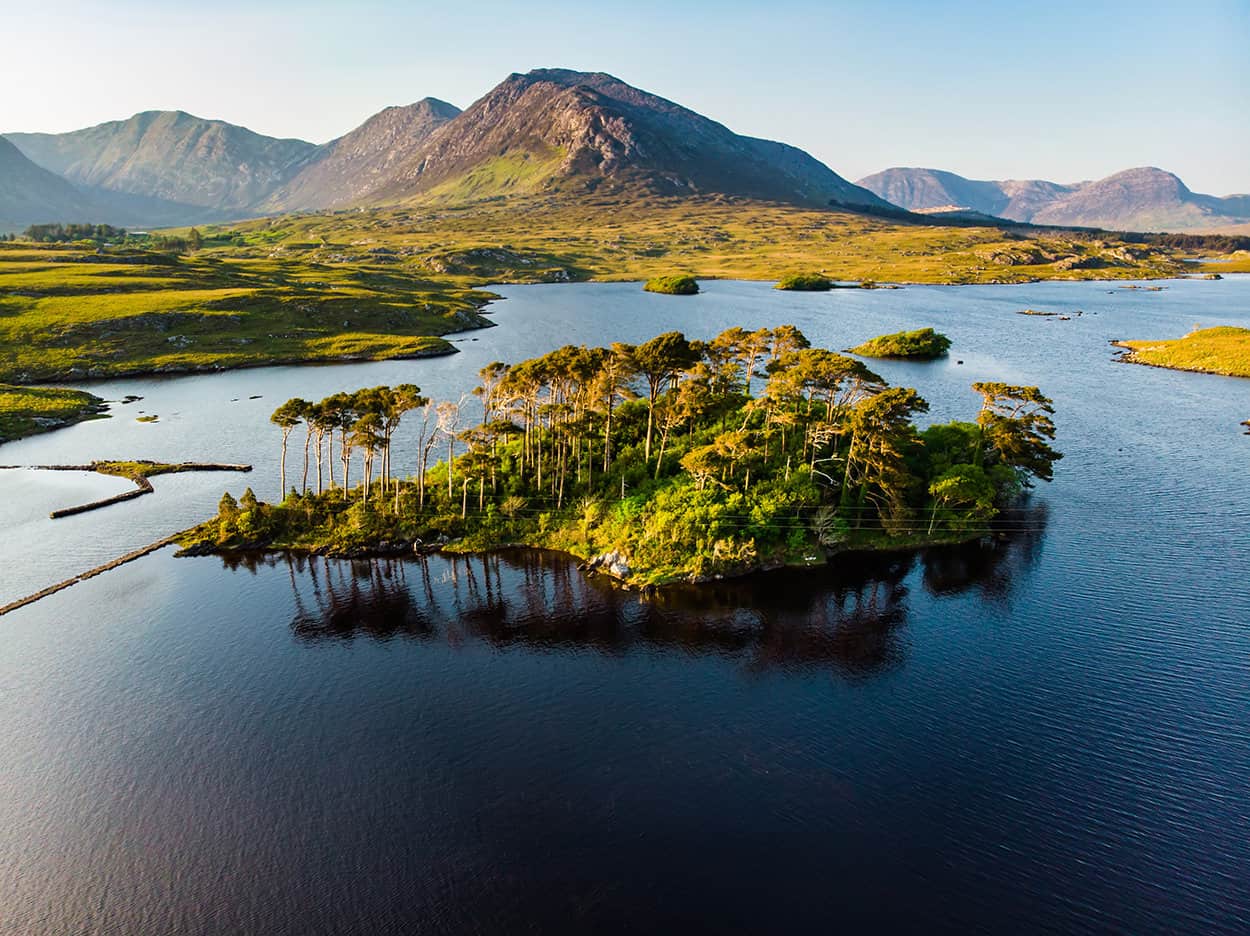 TWELVE BENS MOUNTAINS
Another reason why Diamond Hill is one of the more popular climbs is that it rewards hikers with spectacular views of the Twelve Bens Mountains. But if you want a more challenging climb then you could tackle one or more of the Bens.
'Ben' can mean 'hill' in Irish Gaelic, just as it does in the Scottish Gaelic language. Benbaun is the tallest of the Twelve Bens in Connemara National Park at an elevation of 2,392 ft.
Once you've reached the top of one Ben, you could hike along the ridges to summit another without having to walk all the way back down. Again, pop into the Connemara National Park Visitor's Center for advice before you tackle any hikes.
KYLEMORE ABBEY & VICTORIAN WALLED GARDEN
One of the top things to do in the Connemara region, which doesn't include hiking or any type of outdoor activity, is visiting Kylemore Abbey. It's one of the most popular tourist attractions in Ireland and a highlight for road trippers driving down the Wild Atlantic Way.
Kylemore Abbey dates back to 1868 when it was a castle owned by a wealthy English man. He was forced to sell his property 1920s when it became an abbey for Benedictine nuns who fled Belgium after WWI.
Today, the abbey is still a Benedictine monastery, but there are lots of restored Victorian rooms in the house open for visitors. You can also tour the absolutely beautiful Walled Garden for free and enjoy picturesque views over Pollacapall Lough.
With the church, nearby hills, and visitor's center, you could spend all day at Kylemore Abbey. Oh, and parents, your kids won't be bored to tears here either, so plan on making a stop to soak up a little history and outdoor splendor while you are in the area.
CLIFDEN CASTLE
Only a few minutes' drive from Clifden town, Clifden Castle is a must-visit if you're staying in the area. Built back in 1818 for a wealthy landowner, this castle has a Gothic Revival architectural style that wouldn't look out of place in a supernatural horror movie.
Only a few decades after it was built, Clifden Castle was abandoned. It fell into ruin where it was eventually overtaken by the flora that grew up the walls and over the floors.
This castle might not be the most spectacular castle you'll ever see, but it's worth visiting if you're staying in a hotel or guesthouse nearby. It's located on an accessible public footpath and offers lovely views across the Atlantic Ocean.
MARCONI RADIO STATION
One of the best things to do in Clifden, just off the Wild Atlantic Way, is to take a short walk to Marconi Radio Station. If you're confused that a radio station would be one of the most fun things to do, you need to read up on the history of wireless technology!
Marconi Wireless Telegraphy Station was the first commercial, transatlantic wireless transmission service in the world. It was built in 1907 and eventually closed in 1925, but you can still see the rusted remains of the machinery.
OMEY ISLAND
Clifden Bay in west Connemara also offers some cool travel experiences, like a walk out to Omey Island. This island is a beautiful place that you can only discover on foot during low tide. Yes, just take off your shoes and walk across the sand!
Be warned, it's a 5-mile walk (and a 10-mile round-trip) so it will take 2-3 hours to tackle. Check the tide times before venturing out so you don't get stuck. However, if walking across wet sand for up to six hours in one day isn't feasible for you or something that doesn't sound fun, no sweat! The island is still accessible by car across Clifden Bay too. So, while you may feel stuck if you walk across, as long as you have your shoes handy, you can get back via the bridge.
Omey Island is a peaceful, remote island that looks almost untouched. There isn't a town or anything much to do here except walk around, relax on the beaches, and explore the old ruined churches. It's the best place to slow down and just enjoy the day.
ALCOCK AND BROWN MEMORIAL AND LANDING SITE
John Alcock and Arthur Brown were two aviators from Britain who completed the first transatlantic flight in 1919. They departed from St John's in Canada and landed 72 hours later on a hill outside of Clifden.
Both their landing site and a memorial, not too far from one another, have been commemorated by small monuments. They aren't far from the Marconi Radio Station, either, so visiting all three sites is a great way to spend a couple of hours. Even better, you can add a walk through the Derrygimlagh Bog to your day, which is right near the memorial as well.
SKY ROAD CIRCULAR ROUTE
There are so many smaller road trips you can take off the Wild Atlantic Way. One of the best is the Sky Road Clifden Circular Route. It's only 10-miles road trip, but the Sky Road follows the coastal road around the raw beauty of the Kingston Peninsula with the coast in one direction and hundreds of small loughs on the other.
Taking the Sky Road is a nice detour on your way south to Galway as it starts and ends on the main N59 road.
LIVE MUSIC AT LOWRY'S WHISKEY BAR
You can find cozy Irish pubs performing traditional live music no matter where you are in Ireland and Clifden is no exception. One of the best places to listen to professionals play well-loved folk songs or a group of musicians improvising Irish tunes is Lowry's Whiskey Bar on Market Street. With burgundy leather seats, dark wood panels, and candlelit tables you'll feel right at home.
DOG'S BAY BEACH
County Galway has tons of beautiful beaches but one of the most spectacular is Dog's Bay Beach. Sheltered from the worst of the Atlantic winds in a horseshoe-shaped inlet, Dog's Bay is great for swimmers and beginner windsurfers.
Yes, you'll need to wear a wetsuit (like this one) to keep you warm in the bitterly cold temperatures, but the scenery will be worth the chill.
GREAT DAY TRIPS FROM CLIFDEN
There are lots of things to do in Clifden, Connemara National Park, and other places close by. But if you're staying in Clifden for a long weekend then you may want to travel even further out of the Connemara region and explore a different place on a day trip.
Don't worry, all of these suggestions are less than two hours away.
GALWAY
If you're looking for a taste of Irish city life on your trip, visit Galway. Like Clifden, it's on the coast of Ireland next to the Atlantic Ocean and offers boat tours in the local bay and to nearby islands.
Galway's lively Latin Quarter and Quay Street are the best places for bustling bars and popular restaurants. Visit the City Museum for an injection of culture on your day trip and to learn about the history of Galway and the county.
BALLYCROY NATIONAL PARK
Is Connemara National Park not enough for you and want to check out another one? You can, because the Ballycroy National Park is less than a two-hour drive to the north.
Like Connemara, it has a mountain range as well as small lakes, but it also has thick areas of woodland. If you love wildlife and spotting birds then Ballycroy is a great place to visit for a day.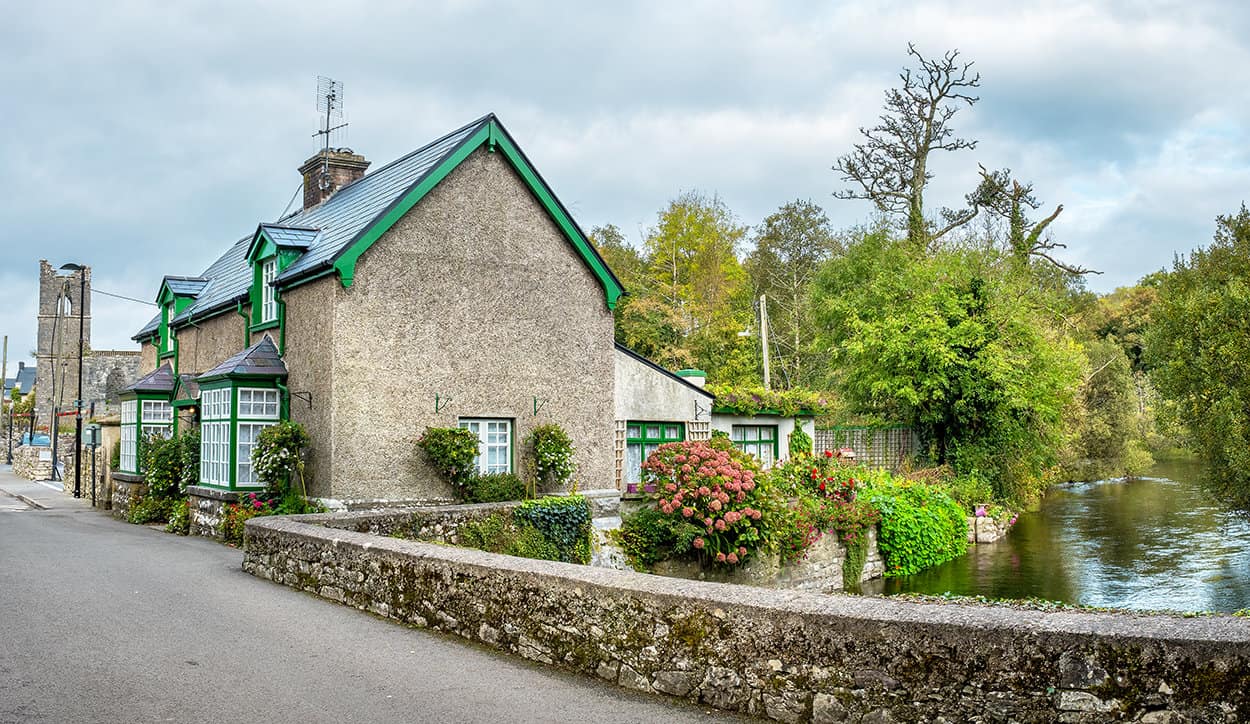 VILLAGE OF CONG
Around an hour's drive inland between the large lakes of Lough Mask and Lough Corrib is the village of Cong in County Mayo. This small, unassuming place receives thousands of visitors every year purely because it was a location in the John Wayne film "The Quiet Man."
If you love the movie (maybe it's even the reason you decided to travel to Ireland!) then you should take a road trip to Cong. There's a Quiet Man Museum which opens every summer and there are even tours.
One of the main reasons why it's still so popular is because, even 70 years after its release, the locations still look exactly as they did in the movie.
ANNUAL EVENTS IN CLIFDEN
You don't have to head to Galway if you love checking out cultural festivals and unique events. Clifden is the largest town in the Connemara region and has plenty to offer year-round.
There are several large events in Clifden you won't want to miss, especially the Clifden Arts Festival, and the Connemara Pony Show, which has been going on for almost 100 years.
Here are some other suggestions for cool events you can attend during your trip.
St Patrick's Day (March 17th)
Easter Celebrations (March/April)
Clifden Traditional Music Festival (April)
The Leeane Walking Festival (April/May)
Connacht Fleadh & Festival (June)
Connemara Pony Show (August)
Clifden Arts Festival (September)
PIN IT AND START PLANNING YOUR EPIC TRIP TO IRELAND
RESTAURANTS IN CLIFDEN
For such a small town, Clifden has lots of great restaurants and cafés serving local dishes and crowd-pleasing favorites that you'll be more familiar with. There are plenty of pubs and cafés that serve traditional Irish breakfasts and so much more.
Here are some suggestions of where to eat and drink in Clifden and the wider Connemara region.
IRISH BREAKFASTS IN CLIFDEN
Off the Square Restaurant
Upstairs Downstairs Cafe
Griffins Bar
Kabo Café
LUNCH SPOTS
Marconi Restaurant
Ravi's Bar and Restaurant
Steam Restaurant
E J King's Bar & Restaurant
DINNER RESTAURANTS
Station House Hotel
Guys Bar Clifden
Mitchell's Restaurant
Mannion's Seafood Bar
SWEET TREATS IN CLIFDEN
Walsh's Bakery
Letterfrack Country Shop
12 Pins Coffee House
The Pink Wagon
IRISH PUBS & BARS IN CLIFDEN
McGrath's Bar
Mullarkey's Bar
Tom King's Bar and Snug
The Lamplight Wines
Clifden Ireland FAQ
Where is Clifden located in Ireland?
Clifden is a town located in the County Galway, on the west coast of Ireland. It is situated on the Connemara Peninsula, known for its stunning landscapes and natural beauty.
How do I get to Clifden?
Clifden is accessible by road, and the N59 national primary road connects the town to Galway City, which is approximately 77 kilometers away.
There are also bus services available from Galway City to Clifden.
If you prefer traveling by air, the closest airports are Shannon Airport and Ireland West Airport Knock, both of which offer connections to major cities in Ireland and beyond.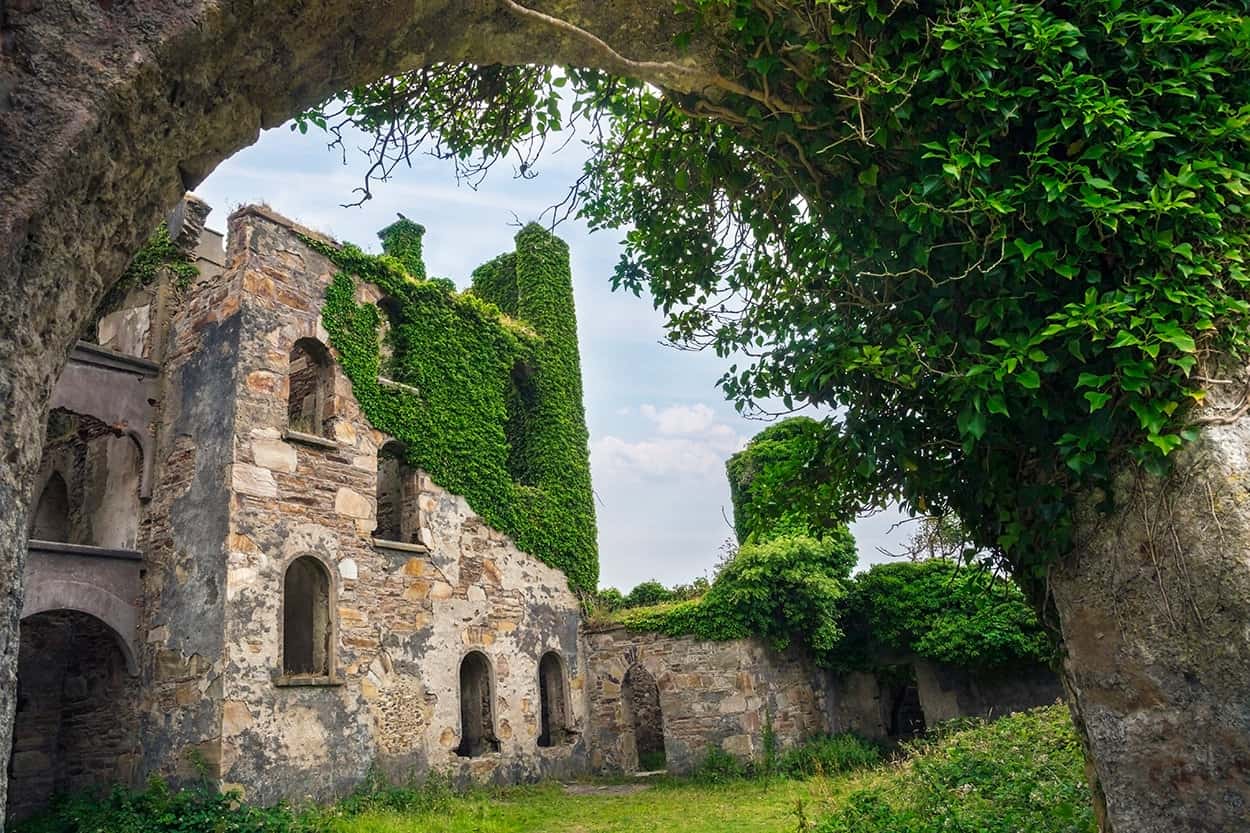 What are some popular attractions in Clifden?
Clifden is known for its scenic beauty and charming surroundings. Some popular attractions include:
Sky Road
This picturesque drive offers breathtaking views of the Atlantic Ocean, Connemara's rugged coastline, and the Twelve Bens mountain range.
Connemara National Park
Located nearby, it provides an opportunity to explore the region's unique flora and fauna while hiking through its beautiful trails.
Clifden Castle
This historic ruin is located just outside the town and offers a glimpse into the area's past.
Alcock and Brown Landing Site
Clifden was the landing site for the first non-stop transatlantic flight in 1919. A monument commemorating this event can be found in the town.
Omey Island
Accessible by foot during low tide, Omey Island offers beautiful sandy beaches, ancient ruins, and peaceful surroundings.
Are there any outdoor activities to do in Clifden?
Absolutely! Clifden and its surrounding areas offer a wide range of outdoor activities. Some popular options include:
Hiking and Walking
The Connemara region is a paradise for hikers and walkers, with its diverse landscapes and scenic trails.
Cycling
The quiet roads and stunning scenery make cycling a popular activity in and around Clifden.
Fishing
Connemara is known for its excellent fishing opportunities, with rivers, lakes, and the Atlantic coastline providing a variety of options for anglers.
Golfing
There are several golf courses in the area, including the Connemara Golf Links, which offers stunning views of the Atlantic Ocean.
Watersports
The Atlantic coast near Clifden is perfect for watersports such as surfing, kayaking, and paddleboarding.
Are there any festivals or events in Clifden?
Yes, Clifden hosts several festivals and events throughout the year. The most notable one is the Clifden Arts Festival, which takes place in September and showcases a wide range of artistic performances, including music, theater, literature, and visual arts.
Other events include the Connemara Pony Show, the Clifden Traditional Music Festival, and various sporting events.
What is the weather like in Clifden?
The weather in Clifden, like the rest of Ireland, can be quite changeable. Summers are generally mild and can range from cool to warm, with temperatures averaging around 15-20 degrees Celsius (59-68 degrees Fahrenheit).
Winters tend to be cool, with temperatures averaging around 5-10 degrees Celsius (41-50 degrees Fahrenheit).
It's always a good idea to pack layers and be prepared for some rain, as rainfall is common throughout the year.
Are there accommodations and dining options in Clifden?
Yes, Clifden offers a range of accommodations, including hotels, guesthouses, bed and breakfasts, and self-catering cottages.
There are also several restaurants, cafes, and pubs where you can enjoy traditional Irish cuisine and local specialties. From seafood to hearty stews, you'll find a variety of options to suit your taste.
Can I explore the surrounding areas from Clifden?
Absolutely! Clifden serves as a great base for exploring the wider Connemara region.
You can visit nearby towns and villages such as Roundstone, Letterfrack, and Leenane. The stunning Kylemore Abbey and Gardens are also within driving distance.
Additionally, you can take day trips to the Aran Islands, located off the coast of Connemara, and experience their unique culture and landscapes.
Is Clifden a family-friendly destination?
Yes, Clifden is an extremely family-friendly destination. The natural beauty of the area provides ample opportunities for outdoor activities for kids of all ages, such as beachcombing, hiking, and exploring.
There are also family-friendly attractions nearby, including Connemara Heritage and History Centre, where you can learn about the local history and traditions.
Oh, and the pubs are a great place to grab a meal with the kids too.
Are there any local traditions or customs to be aware of in Clifden?
Clifden, like the rest of Ireland, has a rich cultural heritage. Locals are known for their friendliness and hospitality.
Traditional Irish music is highly valued in the area, and you may have the opportunity to listen to live sessions in local pubs.
It's always appreciated to respect the local customs and embrace the warm community spirit that Clifden has to offer.
Ready to plan your Ireland trip? Read This First!
Ireland Trip Tips
Things to do in Ireland
Ireland National Park Guides
Our Favorite Places to Visit in Ireland