South Dakota has a lot to see, but not everyone has the time to see it all. If you are making several stops as you drive through, it is easy to detour through Badlands National Park in South Dakota along I-90.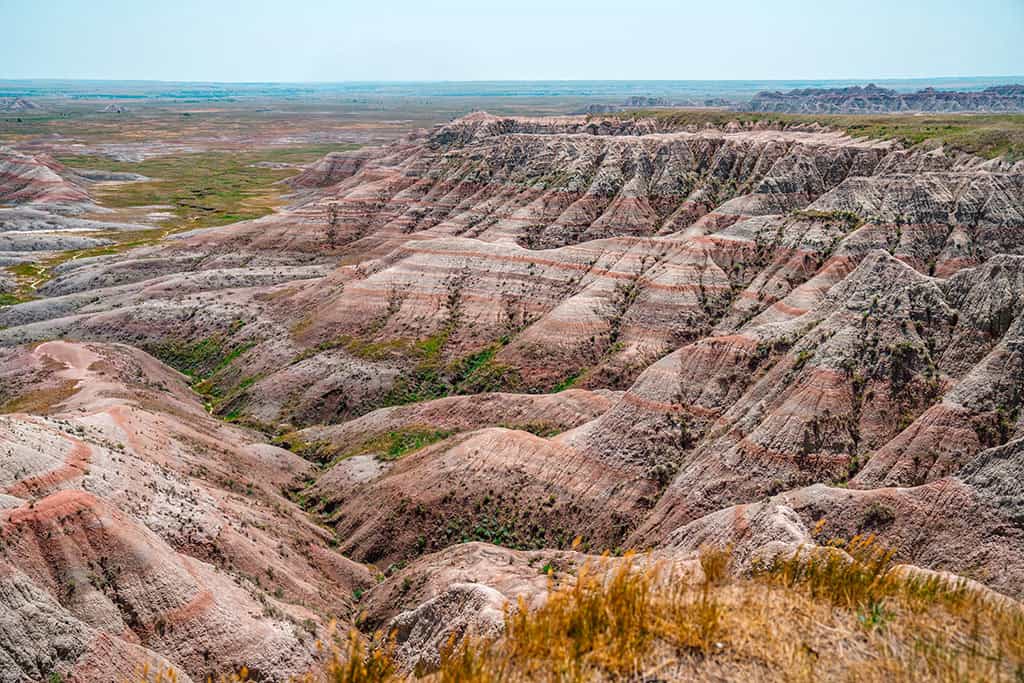 Plan to be in the park for at least four hours. If you can spend the day (drive into the park in the morning, drive out around dinner), you will be able to do a lot more. At 244,000 acres, there is always something to see when you visit Badlands National Park.
Best time to visit Badlands National Park
Anyone who wants to see the brilliant colors of Badlands National Park needs to go early in the morning or later in the afternoon. Unfortunately, midday, when many people are in the park, has some of the worst light.
Spots like Yellow Mounds Overlook spark to life in dawn and dusk light. If you can, get up early to see the sunrise or stay late to see the sunset over the park. You will get better pictures and really appreciate the different layers of the park.
Late spring to early autumn (May- September) is high season in the park, with summer being the most busy. The park is open in winter, but trails are not maintained in winter and icy or snowy conditions can transform the park from charming to treacherous.
Keep an eye on the weather, especially if you will be doing any backcountry hiking. Storms roll across the Dakotas quite quickly, bringing thunder, lightning, hail and raising water levels in spots that may seem dry.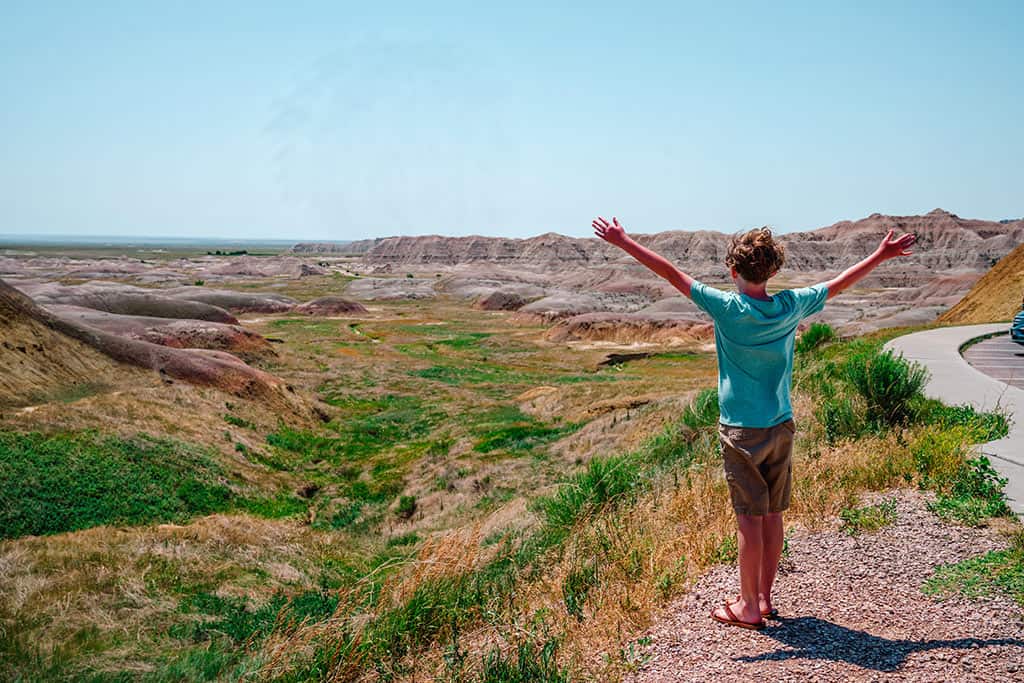 Does and Don'ts of the National park
Do not climb on the buttes. They may seem solid, but they are quite fragile, especially if rain is falling.
Whatever you take in, make sure you take out. Keep our parks clean so your grandkids can enjoy it too.
Do not approach wildlife, especially bison. They are much faster than they look and have killed people in the past. Baby bison are not for your entertainment. A bison mama is very possessive and will protect her calf.
Prairie Dogs are cute, but not pets. You should not feed any animal in the park or try to coax a prairie dog into your car. It sounds weird to say, but it happens. And it is illegal.
Drones are not allowed in any national park. Don't be "that guy" who thinks he can sneak his drone up for a flyover when no one is looking.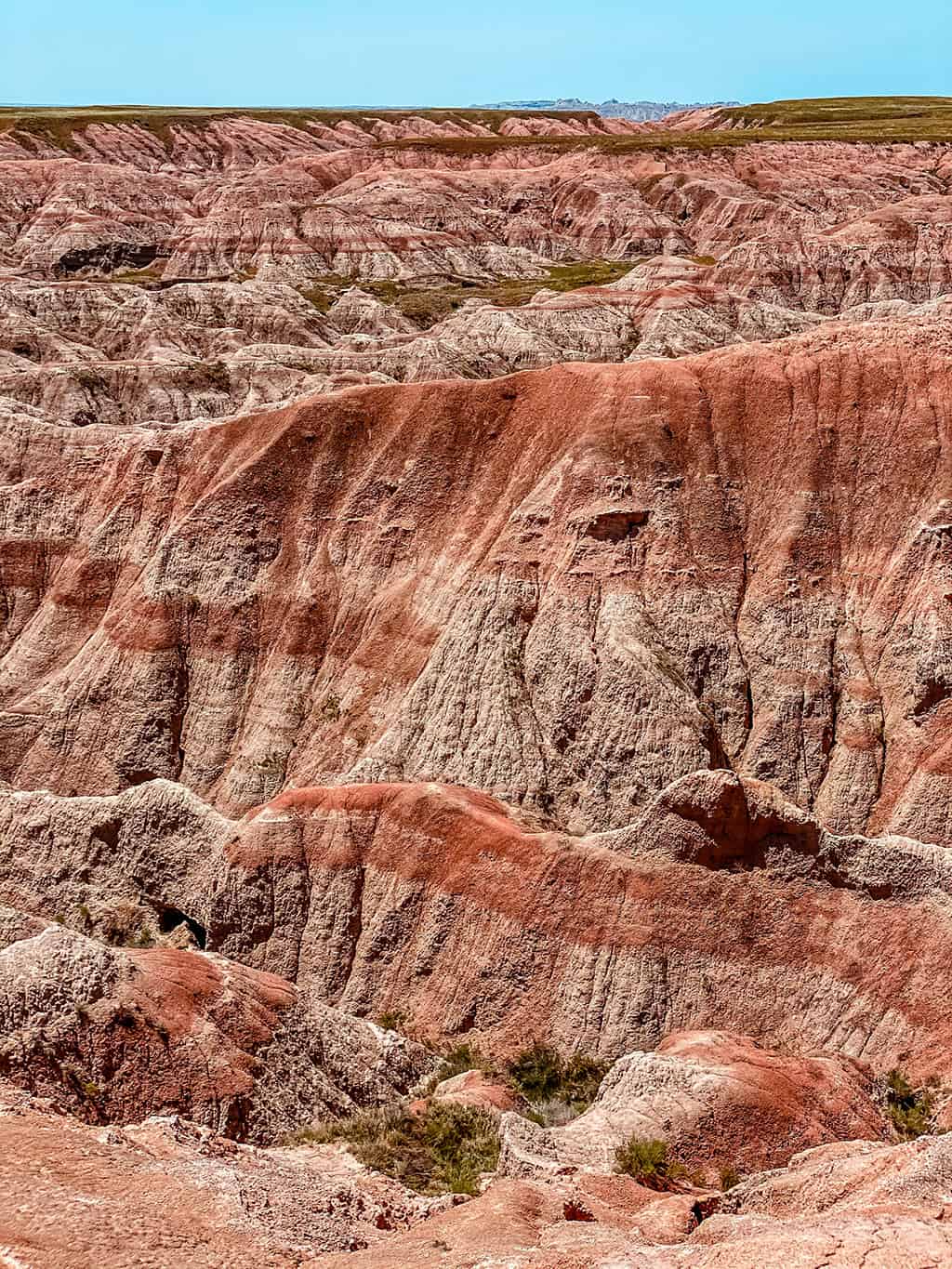 Badlands Packing List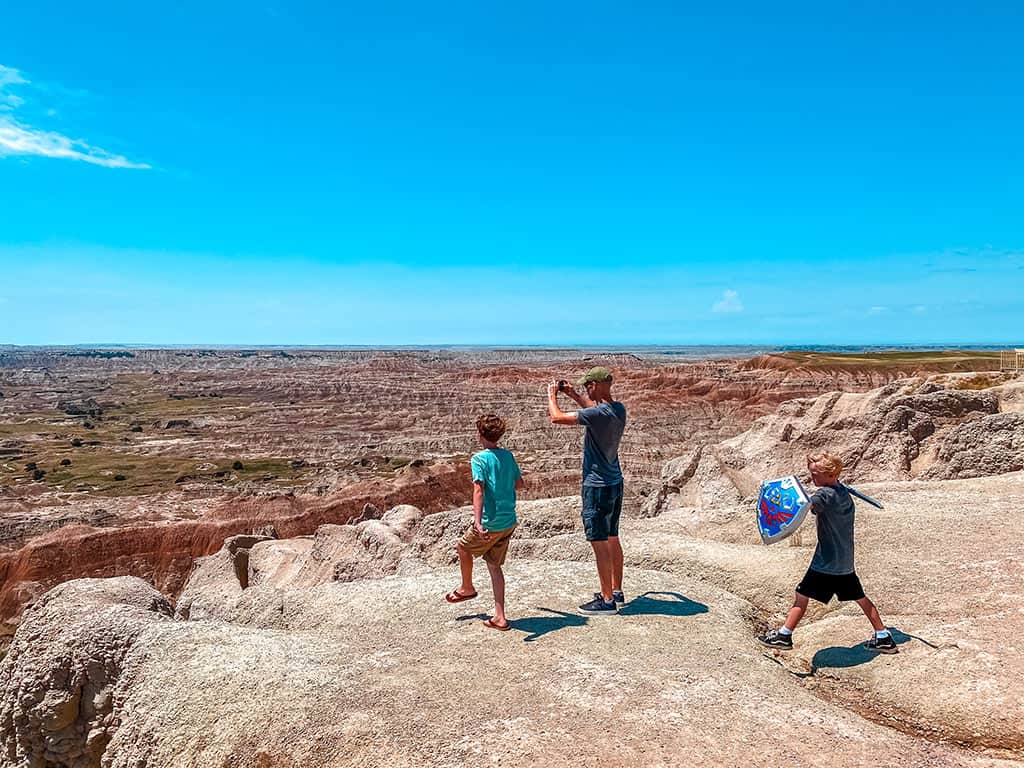 Badlands National Park Hikes
There are several short hikes right around the Ben Reifel Visitor Center. You can also stop at turn offs and viewpoints to hike into the canyons and along the ridge.
Badlands National Park, South Dakota doesn't actually have a "stay on the trail" rule like many other parks. If you feel safe going, you are allowed to go. You just can't hold the park service liable if you fall off a cliff or get lost.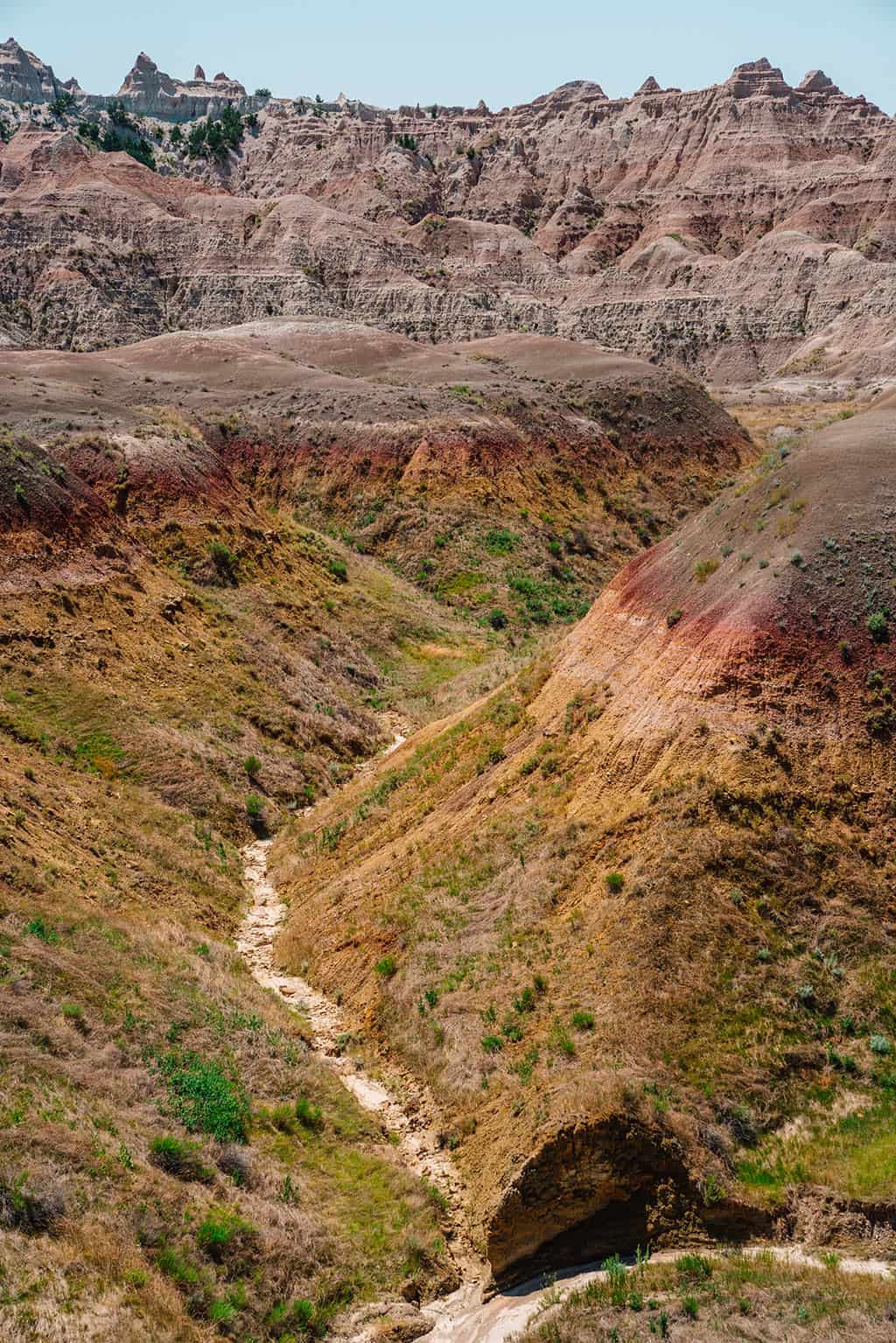 Easy Hikes in Badlands National Park
Many of the easiest hikes in the South Dakota Badlands are along an accessible boardwalk. Those that are not, are still a short stroll to viewpoints. The Badlands loop road makes it easy to stop, hike or just take in the view, whatever your fitness level or how much time you have to spend in the park.
Fossil Exhibit Trail
The Fossil Exhibit Trail is quite possibly the easiest hike in the South Dakota Badlands. It is fully accessible and takes about 20 minutes to wander the fossil replicas of now extinct animals that were found in the area.
Door Trail
Follow the Door trail along the boardwalk to a break in the Badlands Wall, where you will find "the Door." Basically, it's cool views of the Badlands.
Window Trail
The Window Trail is a fun little trail south of the Door Trail with multiple viewpoints into the canyon, including a "window" that looks out into canyon. The trail is less than ¼ mile, but will give your legs a stretch and give you a different view of the park. Stay on the trail at all times.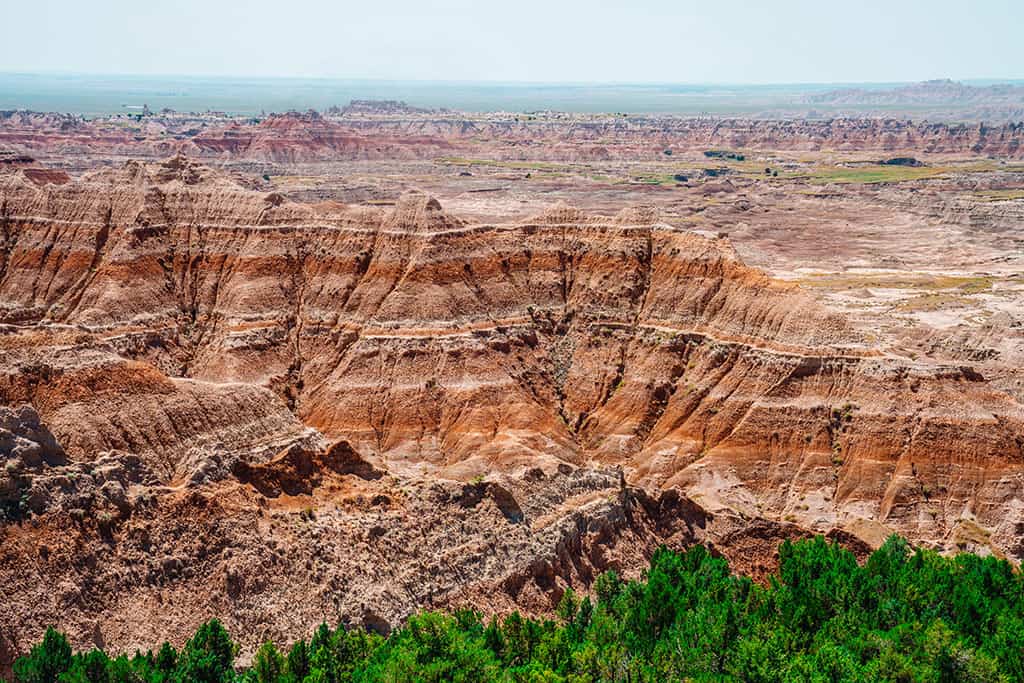 Moderate Hikes in Badlands National Park
Not all moderate hikes have to be long. Some just go up hill a whole lot. Other trails will be short, but connect to longer hikes.
Cliff Shelf Nature Trail
Cliff Shelf Nature Trail is only under moderate because you have to climb some stairs. It is not fully accessible for those with mobility issues.
You wander through a juniper forest as you raise 200 feet in elevation. Wildlife are known to gather at a small pond that is sometimes there if the area has had enough rain or snow melt.
Castle Trail
Castle Trail is the longest in the park, at about 10 miles long. You can start the hike at the Fossil Exhibit Trail or near the Door Trail and Window Trail. The path stays pretty flat. It is not round trip, so you will hit one end and have to turn around to get back to your car.
Medicine Root Trail
Wander through the different grasses of the praire (and a few cactus) as you gaze at the Badlands National Park rock formations in the distance. You can pick up the Medicine Root trail at the intersection of the Castle and Saddle Trails. This trail also connects with the Castle Trail near the Old Northeast Road.
Notch Trail
The Notch Trail is perfect for adventure seekers, but no one who is afraid of heights. There are several drop offs on this 1.5 mile hike. You will depart from the Door/Window Trails parlking lot (go south) wander through a canyon before you climb a ladder and follow the ledge to stunning views of the White River Valley.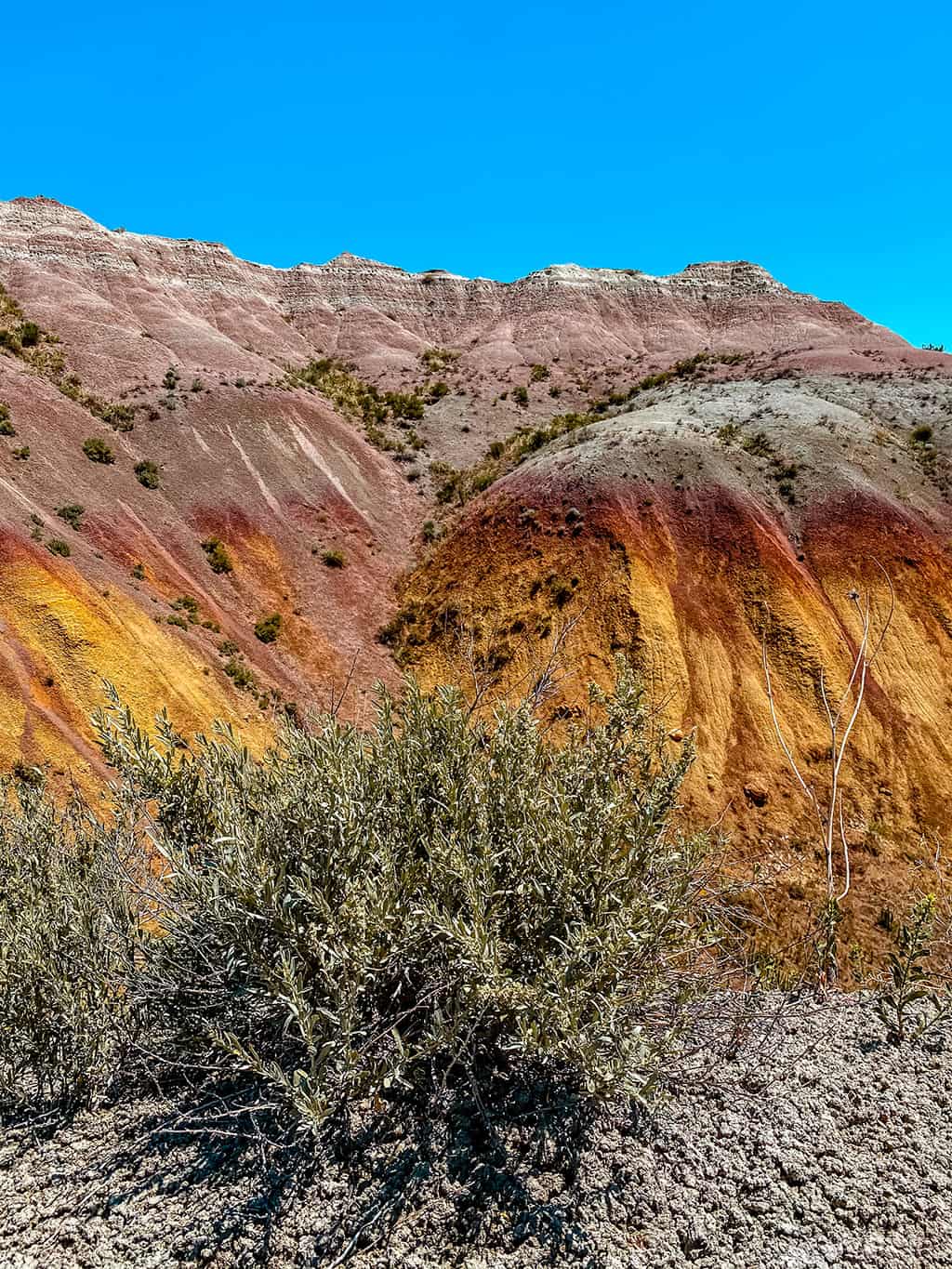 Animals in the park
You may see animals in the park. Remember, this is their home, not yours. Do not approach any wildlife or feed the animals. They are just fine on their own withour your help.
What animals are in Badlands National Park?
Black-tailed prairie dogs
Bison
Bighorn sheep
Black-footed ferrets (rare to see)
Mule deer
Coyotes
Pronghorn (antelope)
Badlands Prairie Dogs
We love prairie dogs and were thrilled to see them in the Badlands after we had seen them in Theodore Roosevelt National Park next to Medora, ND. You can catch a peek at prairie dog villages as you drive through the Badlands National Park, but you will see a ton between the Homestead Overlook and Prairie Wind Overlook.
Remember, prairie dogs are wild animals. Bring your zoom lens to take pictures of these small creatures. Do not approach them or try to pet the prairie dogs. Please don't feed them either.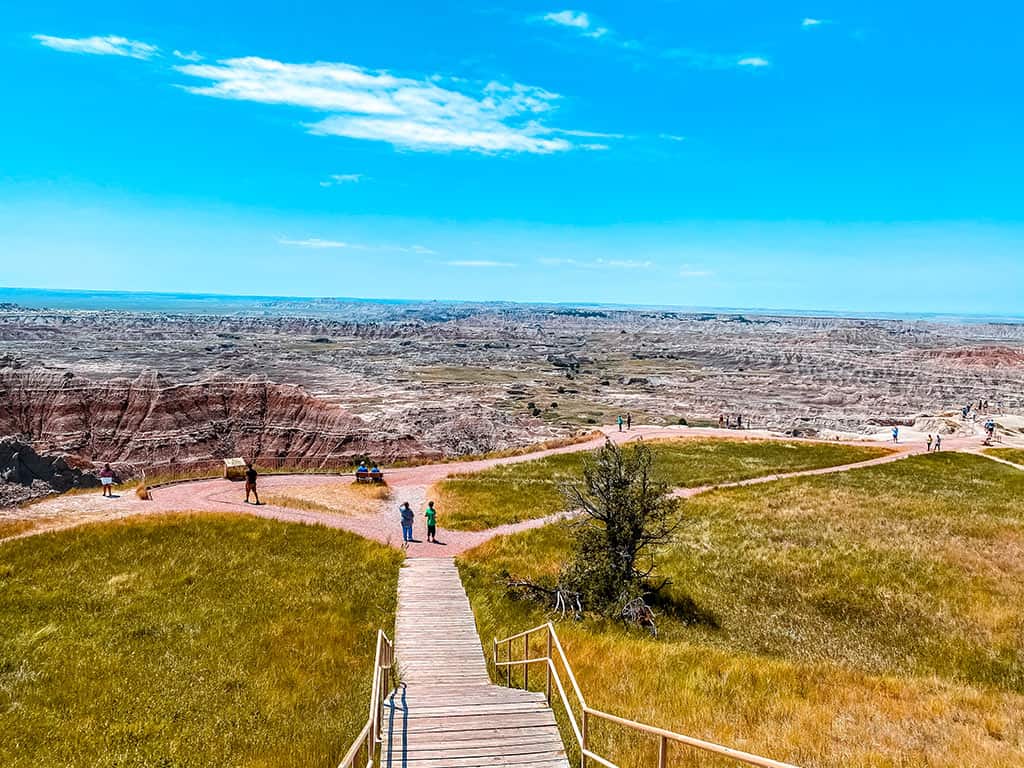 Cell service in Badlands National Park
Cell service is spotty inside of Badlands National Park, depending on if you are driving through the canyon or across the flatlands above the canyon.
Don't be surprised when you don't have any bars on your cell phone. We were more surprised by how often we did.
If you are doing longer hikes through the canyon you can't plan on having mobile phone access, as the pinnacles and spires block the signal. You are on your own and will have to hike out to get a signal and call for help if you need it.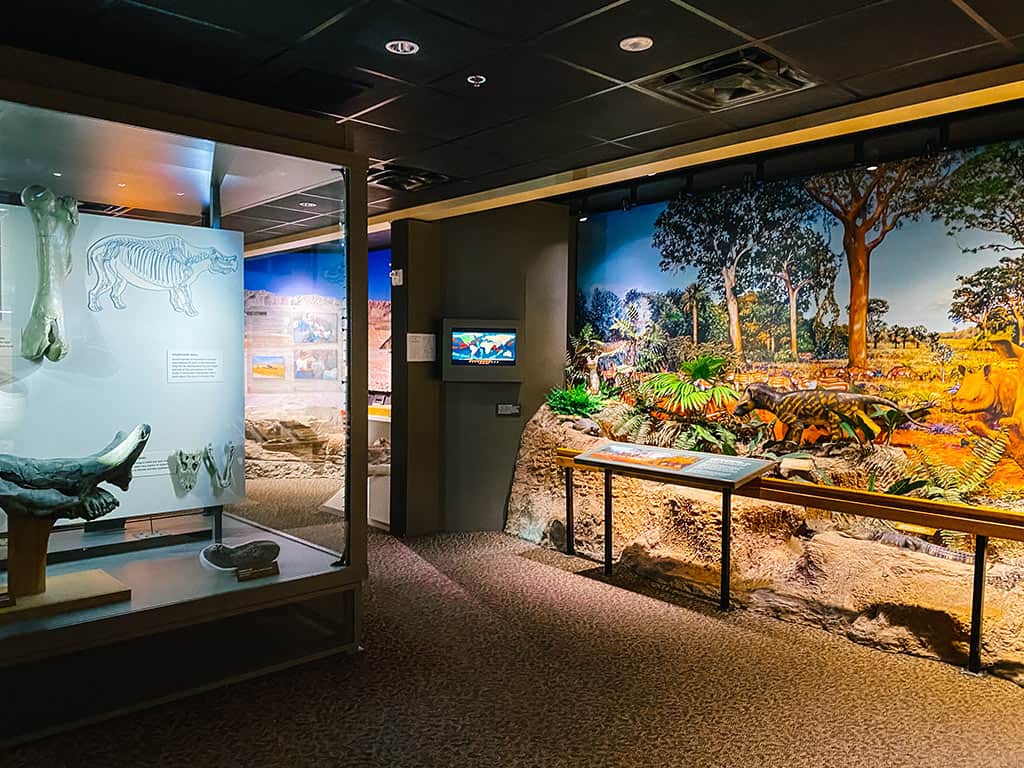 Things to do at the Ben Reifel Visitor Center
There is a nice little museum that talks about the evolution of the Badlands, as well as the fossil beds throughout the park. You can see fossils and learn about the creatures who called this once forest, once ocean landscape home millions of years ago.
You will find a small gift shop within the building before you enter the museum. There are also clean bqathrooms and water filling stations in the air conditioned building.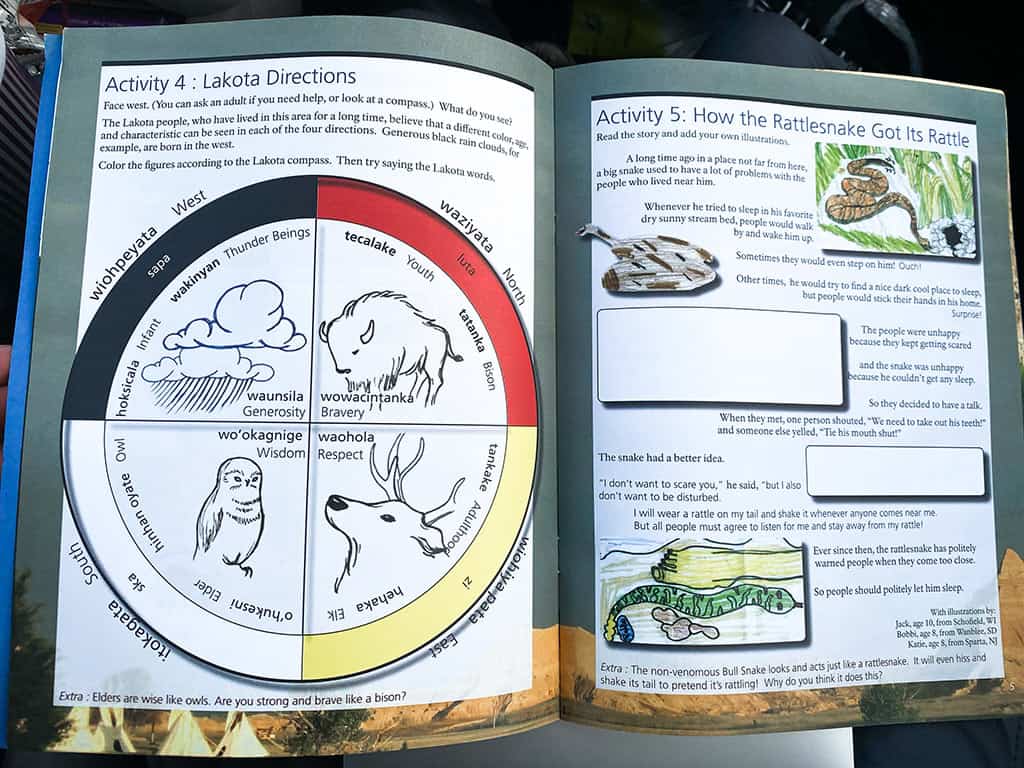 Badlands National Park Junior Ranger Program
Like many national parks, your kids (and even you) can become a National Park Junior Ranger. Pick up an activity booklet at the Ben Reifel Visitor Center. Depending on their age(s), your child will have to complete a number of activities within the book to get their badge.
Sometimes, the park rangers are nice, or conditions require your kids to get their badge when they pick up their booklet. Your kids are on the honor system to complete their booklets.
This is especially helpful if you entered at the Pinnacle entrance (near Wall, SD) and will be departing from the North East Entrance to hop back on I-90.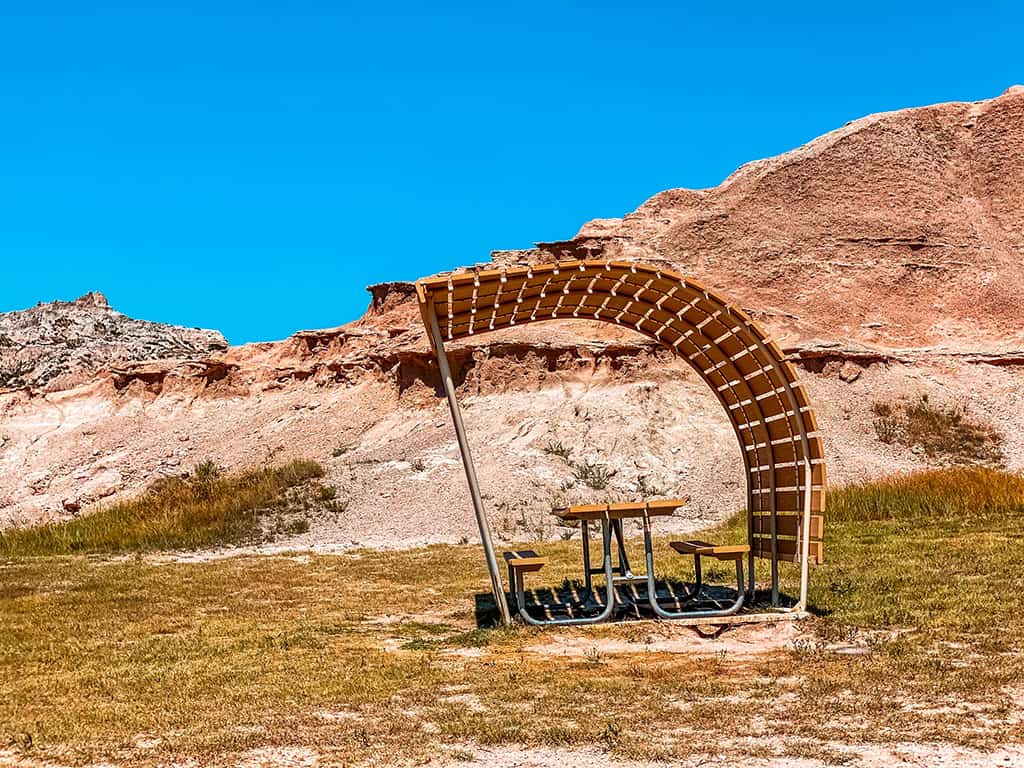 Where to Buy National Park Souvenirs
Ben Reifel Visitor Center
The Ben Reifel Visitor Center has the usual National Park gift shop with a wide selection of books, Junior Ranger badges, mini figures, patches, t-shirts and more.
This is a great spot to load up on postcards, t-shirts and stuffed animals for the kids. All proceeds go back into the park, so even if you spend a dollar more on something you saw at Wall Drug, you can feel good about it.
A picnic area is set up to the left of the entrance, with partially covered picnic tables. The odd C-shape around the table helps to block the winds coming off of the canyon.
Cedar Pass Lodge
Cedar Pass Lodge has a large gift shop and camp store, with the restaurant and campsite check-in behind the building. Clean bathrooms are just to the left of the cashier.
Wander through the adventure-inspired gifts, including toiletry bags, blankets, tea towels, placemats, local jams, Native American jewelry, books and more.
A small camp store is tucked to one side where you can grab new supplies or replenish your stash. There is also a small selection of sandwiches, meats and cheese, plus ice cream if you need some picnic fixings. Best of all (for parents): they stock bread, peanut butter and jelly for your kids who just won't eat anything else.
Camping in Badlands National Park
Visitors are welcome to camp at Cedar Pass Campground, where there are 96 spots available. Book ahead of time to guarantee your spot. RVs are welcome (learn how to rent an RV), but there are limited electrical hookups.
The campground features cold running water, showers, toilets and covered picnic tables. Cedar Pass Lodge is the only restaurant in the area, and also has a small food store to load up your cooler.
1-day Badlands National Park Itinerary
Enter through the Pinnacles or Northeast entrances off of I-90. Make the one way trip to the other entrance (enter Pinnacle, exit Northeast or vice versa). Pick about three hikes to prioritize, while stopping at scenic viewpoints along the way.
Stop for a picnic lunch or sitdown at the Cedar Pass Lodge for lunch. Refill your reusable water bottles before you leave, as you will be drinking a lot more water than you realize, especially in the summer months.
Continue on your journey, finishing up with a few more stops and hikes as time permits.
Try to arrive early in the morning to catch the sun across the Badlands. Sunset is also stunning, but in the summer the sun sets very late. You may not have the time to sit around until almost 9pm to watch the sunset.
If you have the time, as you enter or exit Badlands National park from the eastern entrance, you can stop in to visit the Minuteman Missile National Historic Site, just north of I-90 on route 240. Built in 1999, this historic monument illustrates the history and significance of the Cold War, the arms race, and intercontinental ballistic missile development in the U.S. It is also home to the last remaining Minuteman II ICBM system.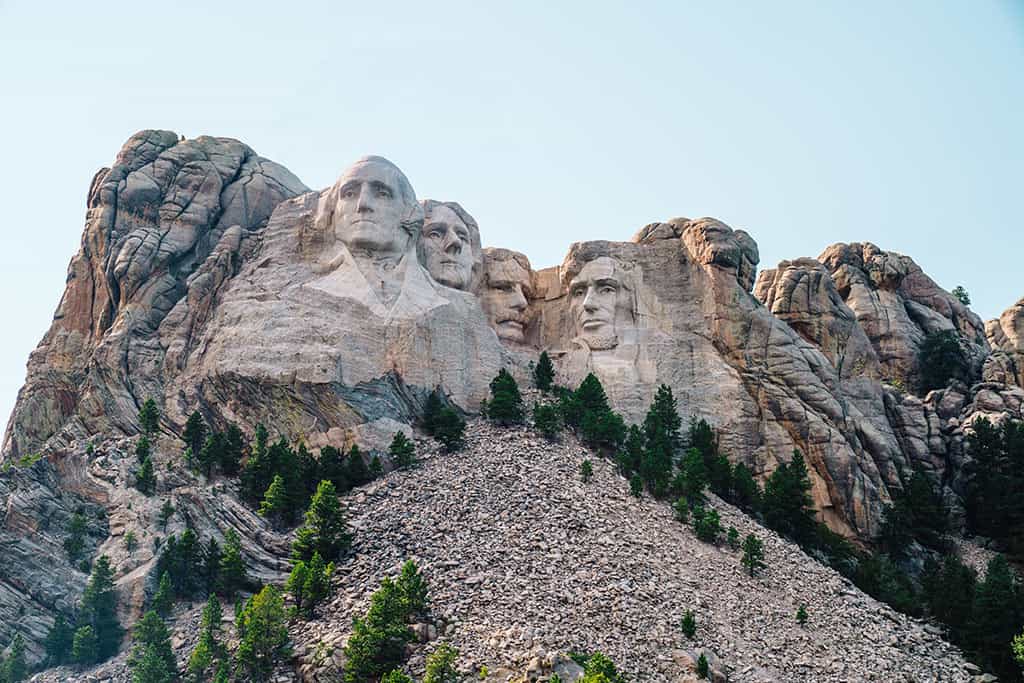 Badlands to Mount Rushmore
Since you are in the area, you might as well go see Mount Rushmore. You don't need a lot of time, unless you plan on hiking around the park and into the Black Hills National Forest (I highly recommend the latter).
From the west, you can hit Mount Rushmore first and then drive to the South Dakota Badlands, staying in Rapid City for the night.
If you care coming in from the east, you can easily drive from the Badlands to Mount Rushmore for the day in about an hour and a half.
Distance from Rapid City to Badlands National Park
Many people set up camp in Rapid City to explore Badlands National Park. Since the distance from Rapid City to Badlands National Park is only about 62 miles (just under an hours drive), it makes sense if you want more restaurants and activity options.
When sleeping in Rapid City, you can also explore Custer State Park, visit Mount Rushmore and Black Hills National Forest. Not everyone likes to change hotels every night, so we found that Rapid City was a great in between spot to see all of the nature in western South Dakota.
Hotels near Badlands National Park
Your best bet for Badlands hotels will be in Rapid City, SD. You will only be about an hour west of the park and have way more hotel options.
There are loads of restaurants, breweries, shops to restock your snack supply and ice cream to bribe the kids with when needed. Plan some time to wander the city, explore the parks and Journey Museum if you have the time.
Rapid City Hotels are a bit weird about charging to use their pool, so we avoided those spots. We found a few hotels that do not have an added pool fee, and still have a waterslide for the kids to enjoy.
Alex Johnson Hotel Rapid City
As part of the Curio Collection by Hilton, the Alex Johnson Hotel is one of the more boutique hotels you will find in Rapid City, SD. They have a great bar on the top floor, and 143 cozy rooms to book.
One thing to note- the train runs through downtown, so you may be able to hear the train whistle and guard rails go down at night as the train cruises through Rapid City, SD.
Oh, and the hotel is haunted. Just ask about Alex Johnson, Vice President of the Chicago and Northwestern Railroad, the Lady in White and a little girl who wander this hotel. No wonder the hotel is on the National Register of Historic Places.
Tru by Hilton Hotel Rapid City Rushmore
Tru Hotel is just off the highway, but less than a 10-minute drive to downtown. There are loads of chain stores close by, but you will want to go into town for dinner and to explore the local shops and history of the city.
The rooms are comfortable and the staff is very welcoming. There are board games to borrow, a pool table and work stations in the lobby. Best of all for kids, there is free access to the hotel's indoor pool with a waterslide. Make sure you plan time for the kids to unwind while you are there.
Parking is also free, unlike hotels you will find right downtown.
Hampton Inn and Suites Rapid City Rushmore
Right next to Tru by Hilton, you will find a Hampton Inn and Suites. In fact, the two hotels are connected in the hallways. It's a little odd, but certainly adds more room options into the mix.
Hampton Inn and Suites is an old standby for family travelers. Check prices between the two hotels before you book, as one may be cheaper than another on any given day.
Rapid City Restaurants
At first, you may not think Rapid City has much going on in the way of food as you drive along the highway, but take a harder look. Chefs are cooking up some of the best cuisine in the Midwest, without all of the fuss you will find on the coasts.
Tally's (breakfast)
Open all day, but we loved Tally's for breakfast. Order Cinnamon French Toast with a sidecar (eggs and bacon or sausage). The coffee is OK, but does the job. Your kids will love the hot cocoa with whipped cream on top too.
Essence of Coffee
If you need a speciality coffee or better than Starbucks, you pop into Essence of Coffee to get caffeinated before you drive to the Badlands.
Kol (Dinner)
Grab a pizza with generic or eclectic toppings, a massive salad, fresh meats and fish or the tasty pork belly sandwich with truffle fries and your stomach will thank you. This modern eatery is family friendly, while still having good cocktails and a nice local beer selection.
Armadillo (Ice Cream)
Locals wait all year for this ice cream shop to open up for a couple months each summer. The line can be long, especially after dinner, so be prepared to wait.
LovE It? Pin it for later!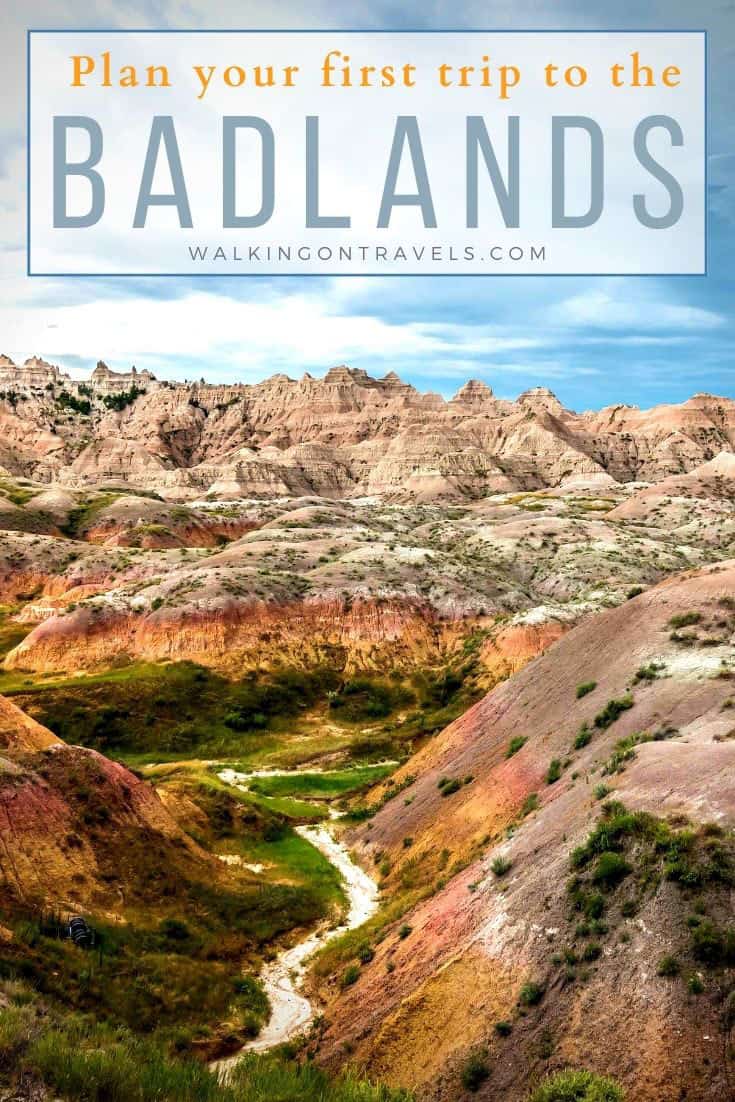 Badlands destination guide
Hotels near the badlands
Cedar Pass Lodge: Unique accommodations within the park. Features include free parking and internet. Pets are welcome.
Best Western Plains Motel: Family friendly hotel with a pool, free breakfast, and free Wi-Fi.
Travelodge by Wyndham Wall: Located 10 miles from The Badlands, this hotel comes with Free Wi-Fi, parking, and an onsite pool.
Looking for more? Search for the best hotels around The Badlands on Booking.com.
Airbnbs near the Badlands