When dreaming of a trip to North Dakota, must people plan a visit to Theodore Roosevelt National Park. While there are three sections of this park- South Unit, North Unit and Elkhorn Ranch Unit- most visitors set up camp in Medora, ND just outside of the South Unit of the this United States National Park.
There are loads of hiking trails, scenic drives, animal sightings, prairie dog towns to stroll past, and horseback riding to enjoy as you wander through Roosevelt Park.
We spent four days exploring Medora, ND and the national park, but we could easily spend a week or two in the western part of North Dakota.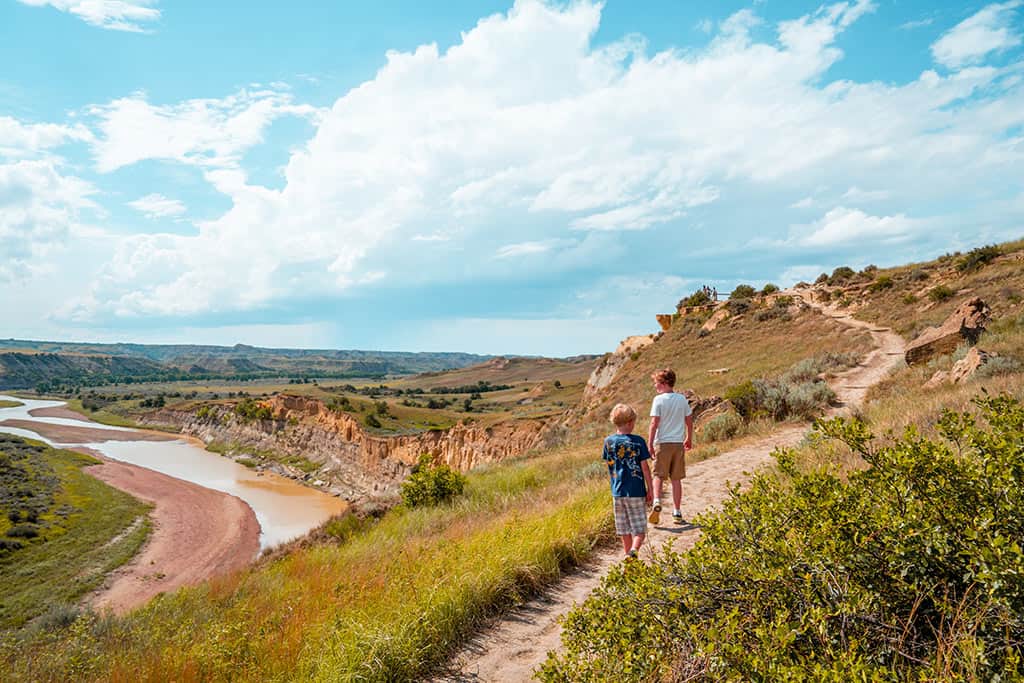 Best time to visit Theodore Roosevelt National Park
May through October are when most people visit Theodore Roosevelt National Park. Ranger-led programs are offered daily from June through mid-September when the weather is warm and travelers are wandering around North Dakota.
Things to do in Theodore Roosevelt National Park
There are several programs in the park, including the Junior Ranger Program. Plan your trip around these things to do in Theodore Roosevelt National Park when you are building out your North Dakota road trip itinerary.
Annual Bird Walk: first weekend in June
Teddy Bear Picnics
Guided ranger hikes
Geology talks
Tours of Roosevelt's Maltese Cross Cabin
Drive the 36-mile park loop
Become a Junior Ranger
Go on a horse trail ride with Medora Riding Stables outside of town or at Peaceful Valley Ranch in the park
Hike in the Petrified Forest (if you have been to the Petrified Forest in AZ you will LOVE this one)
Watch the sunset from Wind Canyon
Day trip to Fort Union Trading Post National Historic Site and Knife River Indian Villages National Historic Site
Tips for exploring TR National Park
Check with park staff to find out about closures, trail conditions, animal locations and the best hikes for your fitness level.
Pack plenty of water as it gets very hot during the day.
Watch your step and be careful of slick mud, loose stones and steep drop offs.
Bring a map and compass so you don't get lost.
Cell phone reception isn't always available, so have a back up plan to get back to your car and off the trail before dark.
What to Pack for hiking in Roosevelt National Park
Extra water
Snacks
Treats to bribe kids to keep moving (Ring Pops work for my boys)
Sturdy sneakers or hiking shoes (these are the ones I wear)
Small trash bag to hold your trash and pick up litter along the way (we pack these).
Sunscreen and hat
Breathable clothing for daytime hikes.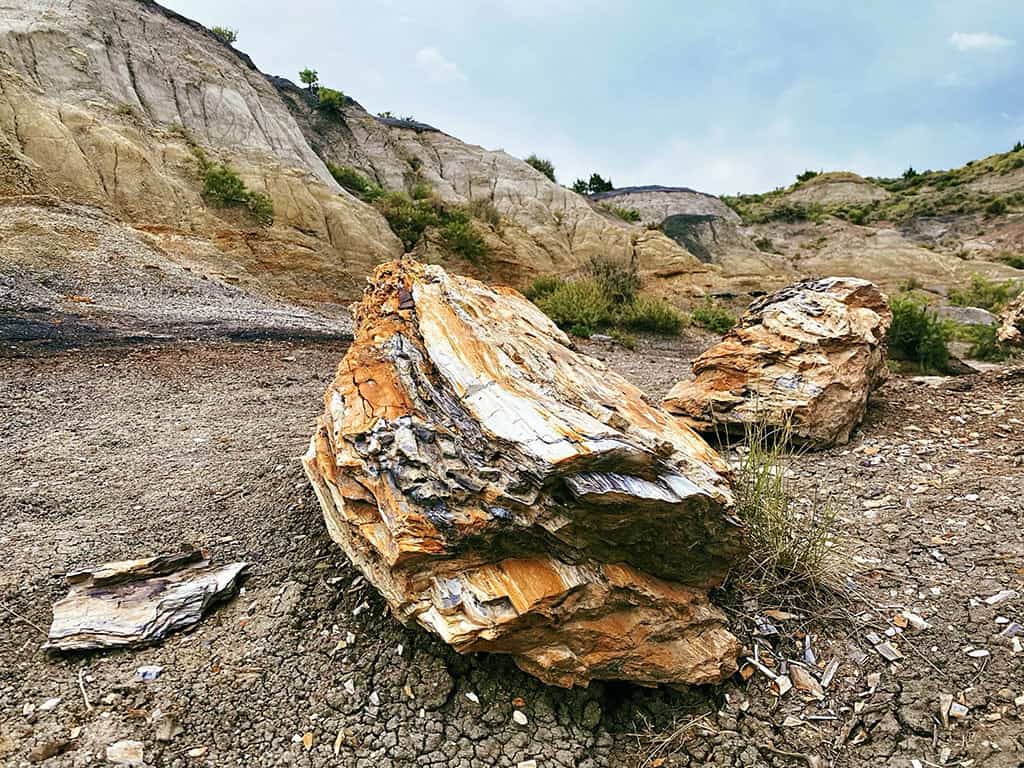 Best Hikes in Teddy Roosevelt National Park
We were more than a little surprised by Theodore Roosevelt National Park hiking option with kids. There are several short trails, and a few long trails that kids can do to add a bit of adventure into your day.
Petrified Forest
If you are looking for a diverse landscape, you need to check out our favorite hike in Theodore Roosevelt National Park. The Petrified Forest Trail brings you across a prairie where wild horses and bison roam, down into an old forest filled with petrified tree stumps and logs.
What is petrified wood? Basically it's wood that has fossilized over millions of years turning it into rock that still looks like timber. Even the woodchips are now rocks.
Pack plenty of water and a few snacks. Plan on spending at least 2-3 hours hiking in and out of the canyon where the majority of the forest resides. When the path splits, go left to the northern section of the petrified forest. It is a bit more compact with great views of the valley and plenty of trees, hoodoos and bizarre rock formations to explore.
Painted Canyon
I'm not sure our boys will ever trust our hiking estimates again, but they did actually enjoy our 5-mile hike through the Painted Canyon. Ring Pops at the turn around point might have helped.
While you could do a 1-mile loop down to the bottom of the canyon and back up (very steep, no stairs), we decided to go down and wander another few miles across the canyon to see the really big hills and buttes.
Definitely do this hike early in the morning, as the sun gets hot in the summer and there is no shade. You could do it later in the afternoon, but make sure you are out by dark so you can find the trail back up. There are also wild animals in the park that you don't want to bump into at night.
To see the Painted Canyon in all her colorful glory, go to the lookout at the Painted Canyon Visitors Center above the ridge for sunrise or sunset. It's on the way into Medora, ND from the east, so you can't miss it. Orange, purple and red colors come alive in the canyon, something you won't see midday.
Wind Canyon Trail
The Wind Canyon Trail is a short loop that brings you to a lookout over the Little Missouri River. The views are gorgeous, and it's a great spot to enjoy a hiking snack.
It is also the best spot to see the sunset or simply stretch your legs. Keep an eye on little ones as the trail is literally along a cliff with a very steep drop off.
Buck Hill
Stop at the Buck Hill trail for views of the canyon and valley below. You can stick to the parking area to get a view, but the better spot to really see panoramic views of the national park is up a steep set of stairs to the left of the parking entrance from the main road.
My youngest loved climbing around all of the boulders, while we enjoyed the views. There are a few short trails along the top, but we opted to just sit on a rock and have a granola bar and some water.
We spotted a huge herd of buffalo in the distance, which kept us busy counting as well.
Coal Vein Trail
For an easy trail through tall grasses, where natural history comes alive, head over to the Coal Vein Trail. This was our boys favorite, as it was short enough for them to not start whining, but long enough to climb some hills and see rock formations.
You will also learn how an underground coal vein caught fire, forever changing the landscape of this part of the park. The fire created black lines in the rock you will definitely want to check out.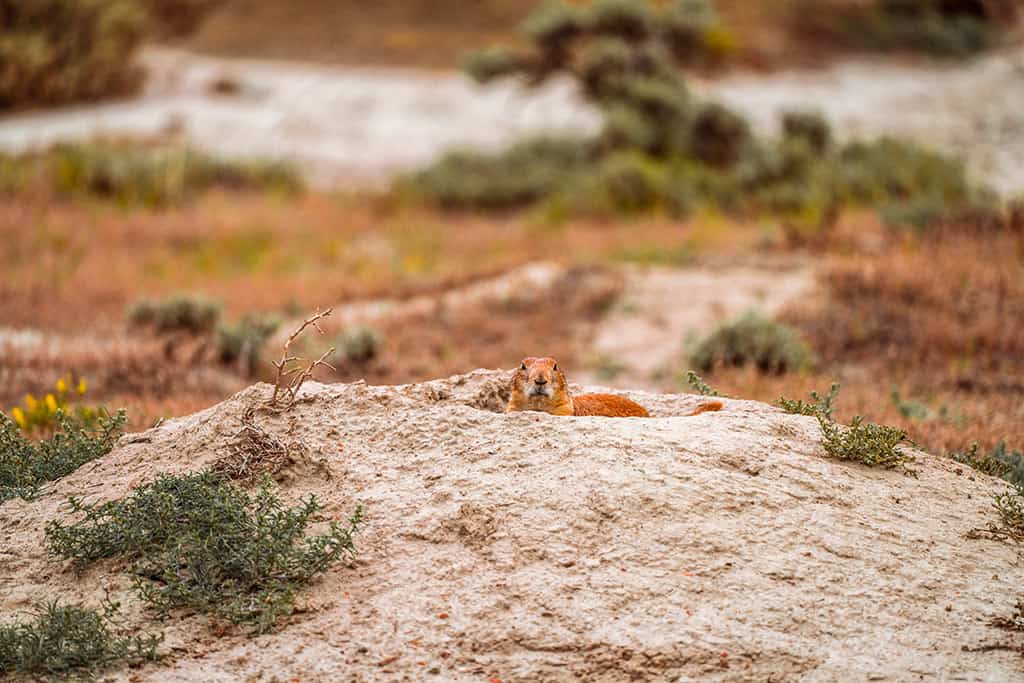 Old NE Entrance
If you love prairie dogs, and who doesn't, then the Old NE Entrance is the place for your to hike.
Very close to the parking turn off, you will find loads of prairie dogs, hearing them before you see them. Some are braver than others, staying by their holes to eat while the "guard" prairie dog gives you the evil eye and yells at you (via chirps and whistles) the entire time you are in their town.
Do not approach or touch the prairie dogs. They are wild animals.
Yes, they are super cute and you will want to snuggle them or feed them. Don't do either. Prairie dogs thrive just fine on their own and human intervention will only harm them, not help them.
Wildlife you may see in Roosevelt National Park
Please, always remember that the national parks are the animals' home, not yours. They do not need you to feed them, as they get all they need off the land.
Never approach wildlife. They can turn on you in a heart beat. Bison may look slow, but they can turn on a dime and do serious damage, even kill you, with one hit.
And as always, you are not allowed to hunt bison, as well as deer, elk and any other animal in the park. Like Sullys Hill National Game Preserve near Devils' Lake, these animals are not up for grabs.
Prairie Dogs
Elk
Bison
White-tale and mule Deer
Hawks plus 186 types of birds who live or pass through the park
Feral Horses
Pronghorn
Snakes
Lizards
Best Place to Watch the Sunset
Can you go to a National Park and not see the sunset? We think not. Whenever we are in the national park with kids, we make them stay up late, even when they were babies, so we could see the sunset over the natural beauty all around us.
While Wind Canyon is the top spot for sunset viewing, there are at least four spots worth getting to before the sun hits the horizon.
Wind Canyon Overlook: As the most photographed spot in the park, Wind Canyon really comes alive when the sun begins to set as the golden hour light hits the Little Missouri River.
3 Boicourt Trail: Stop at this overlook as the sun begins to set to see the colors of the Badlands start to pop with brilliant orange, red and yellow.
Petrified Forest: Our favorite spot in the park, with plenty of places to catch the sunset above the canyon or through a window in the terrain looking west.
Buck Hill: As the highest point in the park, you are guaranteed panoramic views of the North Dakota Badlands as the sunsets.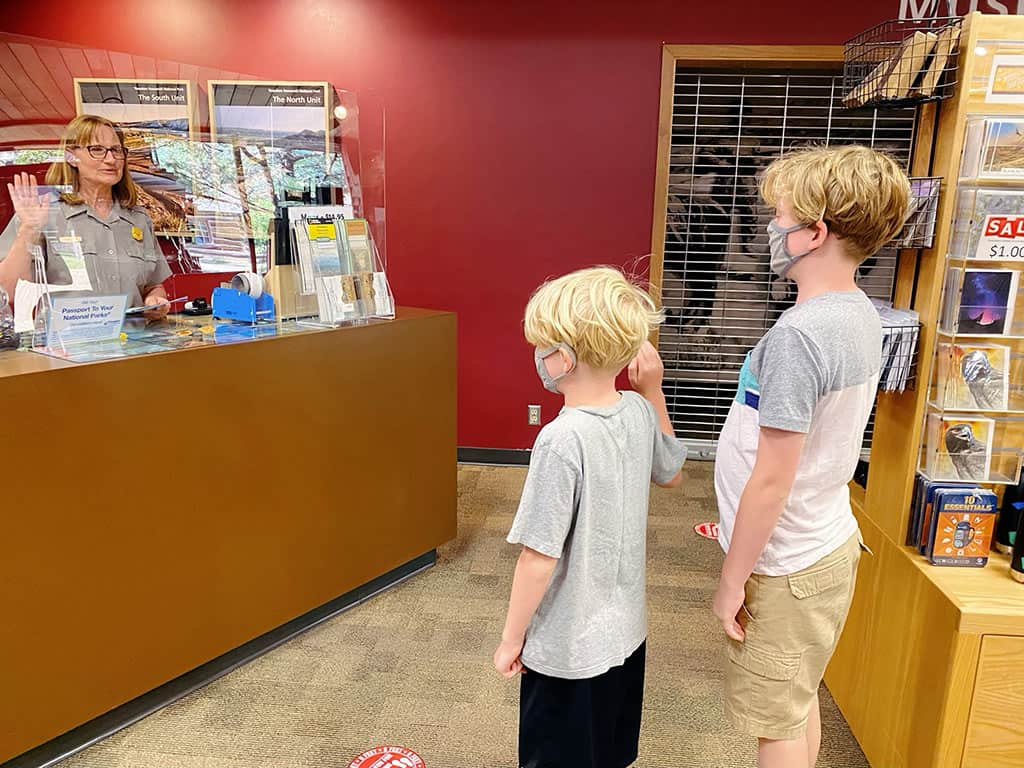 Why do the Junior Ranger Program?
Believe it or not, the first park my kids ever did the Junior Ranger program was at Theodore Roosevelt National Park. Despite the number of parks we have visited in the past, including Yosemite, Zion with Kids, Great Smoky Mountains, Shenandoah, Grand Canyon, Bryce Canyon, etc., they just never had the interest.
Maybe it was their age, but the North Dakota Badlands was where they decided to become official Junior Rangers.
If you aren't familiar with the National Parks Junior Ranger program, it's quite simple. Pick up a booklet at the visitor's center, complete a set number of activities, bring it back to the visitor's center for a park ranger to check, and you are then sworn in as a Junior Ranger.
And yes, adults can become Junior Rangers too.
Roosevelt National Park Junior Ranger Program
In the Theodore Roosevelt National Park Junior Ranger booklet, the kids had the option of writing about their favorite hike and drawing a picture, listing things they found on a hike, what a prairie is, where animals belong in the ND Badlands landscape, animal sounds they hear, drawing a prairie dog town, and more.
We did most of the activities during dinner while we waiting for our food. This helped our family reflect on what we had seen and done throughout the day, as well as reiterate the importance of the U.S.A. National Park system.
Once we finished our first Junior Ranger program, my youngest was hooked. He went on to do the South Dakota Badlands Junior Ranger program, and now he's begging us to head back to Shenandoah National Park so he can do the program there as well.
My favorite part of the Theodore Roosevelt National Park Junior Ranger program? Hearing my boys recite the Junior Ranger Pledge.
Junior Ranger Pledge
I am a Junior Ranger.
I'll protect this park from danger.
I will not pick the plants.
I won't step on the ants.
No animals will get my food.
And I won't litter 'cause it's rude.
My job is never done.
This ranger life is fun.
As a Junior Ranger, I promise to teach others about what I learned today, explore other parks and historic sites, and help preserve and protect these places so future generations can enjoy them.
Theodore Roosevelt National Park Itinerary
Whether you are here for a day or a week, there are plenty of things to do in Theodore Roosevelt National Park. Our itinerary packs in a lot of hikes, but make sure you spend time in the town of Medora, North Dakota, as well as the North Dakota State parks that are an easy drive from the national park.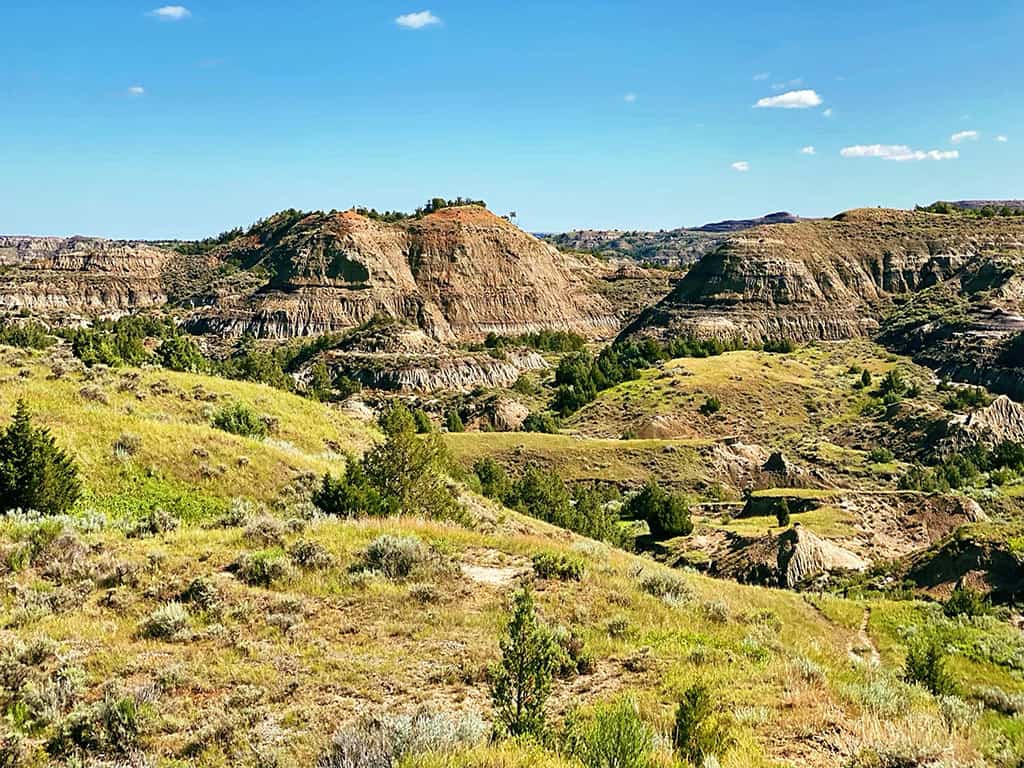 Day 1:
Pick up your National Park pass
Ask for a Junior Ranger booklet (you don't even need to be a kid to have one)
Drive part of the 36-mile look, stopping at Wind Canyon Trail
If you have all day, you can drive to the Old East Entrance. Depending on road closures, you may have to turn around. If not, you can complete the rest of the loop drive.
Day 2:
Hike through the Petrified Forest in the morning or later in the afternoon
Reward yourself with a Huckleberry ice cream from the Fudge & Ice Cream Depot
Spend the rest of your time in Medora, ND resting up and enjoying the activities available.
Sunset at Wind Canyon
Day 3:
Complete the rest of the loop drive, stopping for hikes and overlooks along the way.
After 3pm (in summer), hike down along the Painted Canyon Nature Trail to see the canyon colors really pop.
Sunset at the Painted Canyon Overlook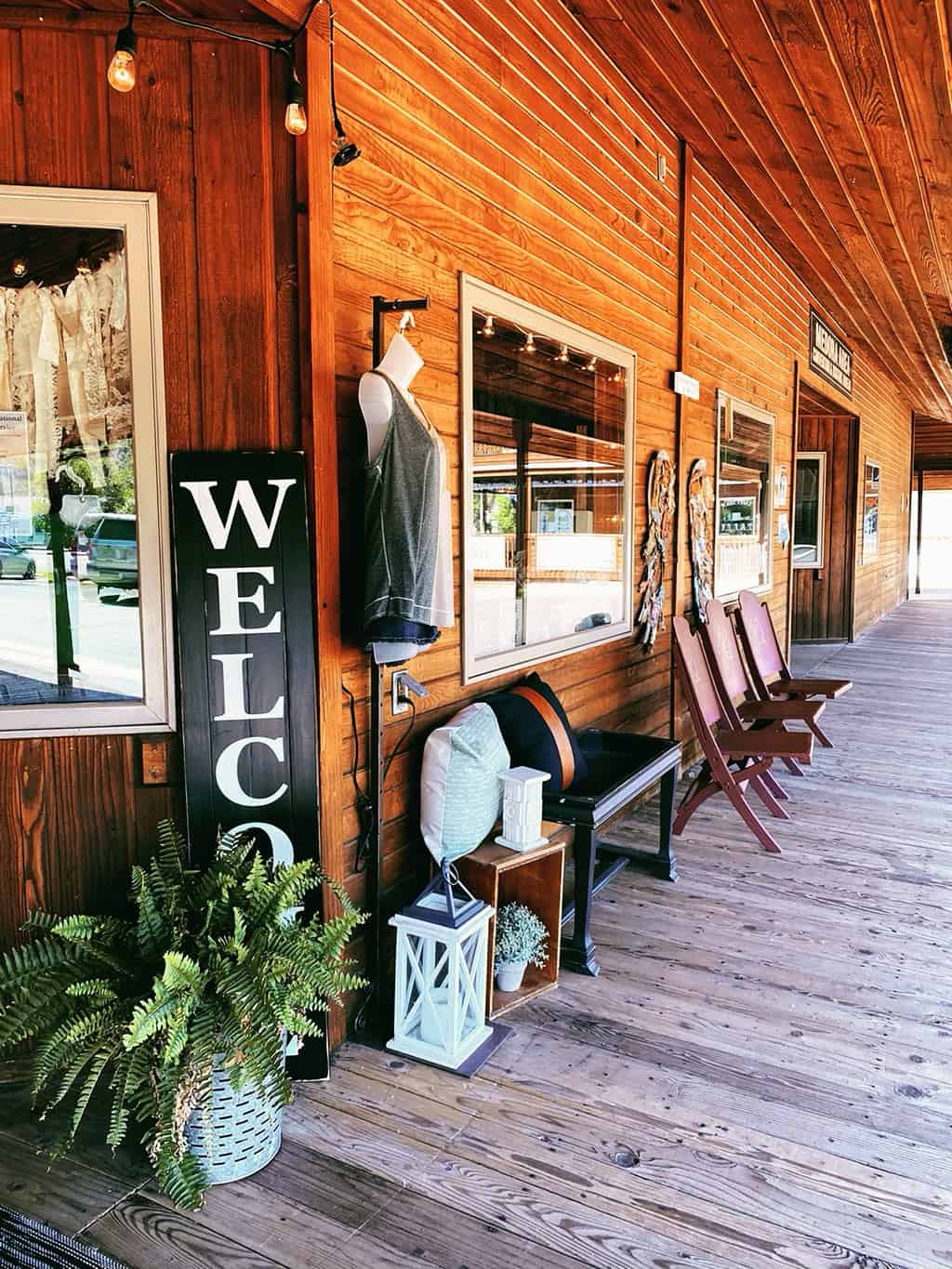 Theodore Roosevelt National Park Lodging
Similar to Zion National Park, Theodore Roosevelt National butts up right against a town making lodging a breeze to book. Just make sure you book in advance during high season to get the room or camping spot you want.
You can choose from tent camping, RV campsites, Medora hotels and even Airbnbs nearby. Just remember, summer is high season, so book as far in advance as possible.
Camping
What better way to get close to nature, and save a little money on lodging, than to park your RV or pitch a tent at one of Theodore Roosevelt National Park's campgrounds? There are also campgrounds in Medora, ND you can book that are just a short walk into the park.
Cottonwood
Stay right inside the South Unit of Theodore Roosevelt National Park (the North Unit has the Juniper campground). RVs can fit in a few sites, but for the most part, this is primitive camping with toilets.
Red Trail Camp Grounds
Located right next to Elkhorn Quarters and an easy walk into town, Red Trail offers sites for RVs and tent camping. Cable tv and Wi-Fi are available, as well as restrooms with showers.
Medora Campground
Pretty much as close as you can get to Theodore Roosevelt National Park without actually being in the park. Bathrooms and showers are available for guests, there is free Wi-Fi and dogs are welcome.
Learn more about your camping options in our Medora, ND guide
Medora North Dakota Hotels
Looking for a Medora, ND hotel? Check out the following!
Elkhorn Quarters- Family rooms + a pool
Amble Inn- Quiet lodge rooms with free Wi-Fi
AmericInn & Suites Medora By Wyndham- Family rooms + free breakfast
Looking for more North Dakota hotels? Search for a great deal on Booking.com!
Medora ND Airbnb
Sometimes, you just need a little extra space, need to save money or have a large group you are traveling with in Medora, ND. In that case, you will want to rent a house or cabin. Here are a few close to town:
Medora's Little Red House
Chateau Suite
Maltese Ranch Cabin
Condo w/Deck
Medora Condo
Need more options? Search all Medora, ND Airbnbs in the map below.
Need a rental car? Check out the best rates on the car you need over on RentalCars.com for your North Dakota trip
Want to go? Pin it to help you plan!