Killarney, Ireland is one of those quintessential Irish country towns with cobblestone streets, brightly-colored cozy pubs, and churches that seem too large for the local population. It's a popular tourist destination on any Ring of Kerry road trip, but the national park and lakes of Killarney draw people to this part of County Kerry.
Killarney National Park was Ireland's first national park, established almost 100 years ago in 1932. Amongst the many things to do in Killarney National Park you will find stunning natural landscapes and attractions which include lakes, mountains, waterfalls, historic houses, beautiful bridges, and ancient castles.
The town of Killarney in County Kerry is an essential stop on any Ireland road trip. Let's dig into the best things to do Killarney, both inside of the park and in Killarney town, along with the great Killarney restaurants, hotels and even some travel tips and ideas for epic day trips through the surrounding area..
Killarney Trip Guide
This post contains affiliate links, which means we may earn a small commission from your purchase. This adds NO extra cost to you.
FLYING TO IRELAND?
Looking for the best flights to Ireland? We love to track flights via Expedia.com. Not only do we find great rates, but we earn points to use on future travel too.
You can also keep an eye on GOING deals, which is how we got to Ireland roundtrip from LAX for under $500 each. The free version is good, but the paid subscription will save you way
Travel Insurance
Do NOT forget to buy travel insurance for your cruise, even if you booked through a travel agent. Things do and will happen and it's cheaper to buy travel insurance ahead of time instead of paying out of pocket later.
Check out Travelex for rates on a single trip or an annual plan that could be right for you if you take more than one or two trips a year.
DON'T FORGET YOUR SIM CARD!
We all love our smartphones, but we don't love those international roaming charges. Even if you have a travel pass, you could max out your service, which is why we always grab an eSIM card to pop into our phones. It's especially great for the kids, as it limits what they can do and how much data they can use, but still allows them to text friends back home.
Check out Airalo, our preferred eSIM card store for the best prices on eSIM cards and international data plans.
BEST HOTELS IN KILLARNEY
southwestern part Ireland. You'll be close to all the best restaurants, pubs, and a stone's throw from the national park.
KILLARNEY PARK HOTEL
Address: Town Centre, East Ave, Killarney, Co. Kerry, V93 CF30, Ireland
The Killarney town center is an excellent choice for your base when you travel to the
Killarney Park Hotel is a 5-star hotel right in the center of town, which feels more like a luxurious country estate than a hotel. There are swimming pools, hot tubs, great food, and everything you need for a premium hotel experience in Ireland..
THE LAKE HOTEL
Address: Lake Shore, Muckross Rd, Castlelough, Killarney, Co. Kerry, Ireland
If you'd prefer to stay closer to Killarney National Park and would love to wake up to a view of Lough Leane, stay at The Lake Hotel. This sprawling 4-star estate has unrivaled views and offers a little more solitude.
HOTEL KILLARNEY
Address: Cork Road, Ballyspillane, Killarney, Co. Kerry, V93 FX00, Ireland
Driving through County Kerry on a budget or don't have time for spa treatments or hot tubs? Hotel Killarney is on the outskirts of the town close to the Ring of Kerry Road. It's a comfortable, 3-star experience and offers tons of amenities for kids too.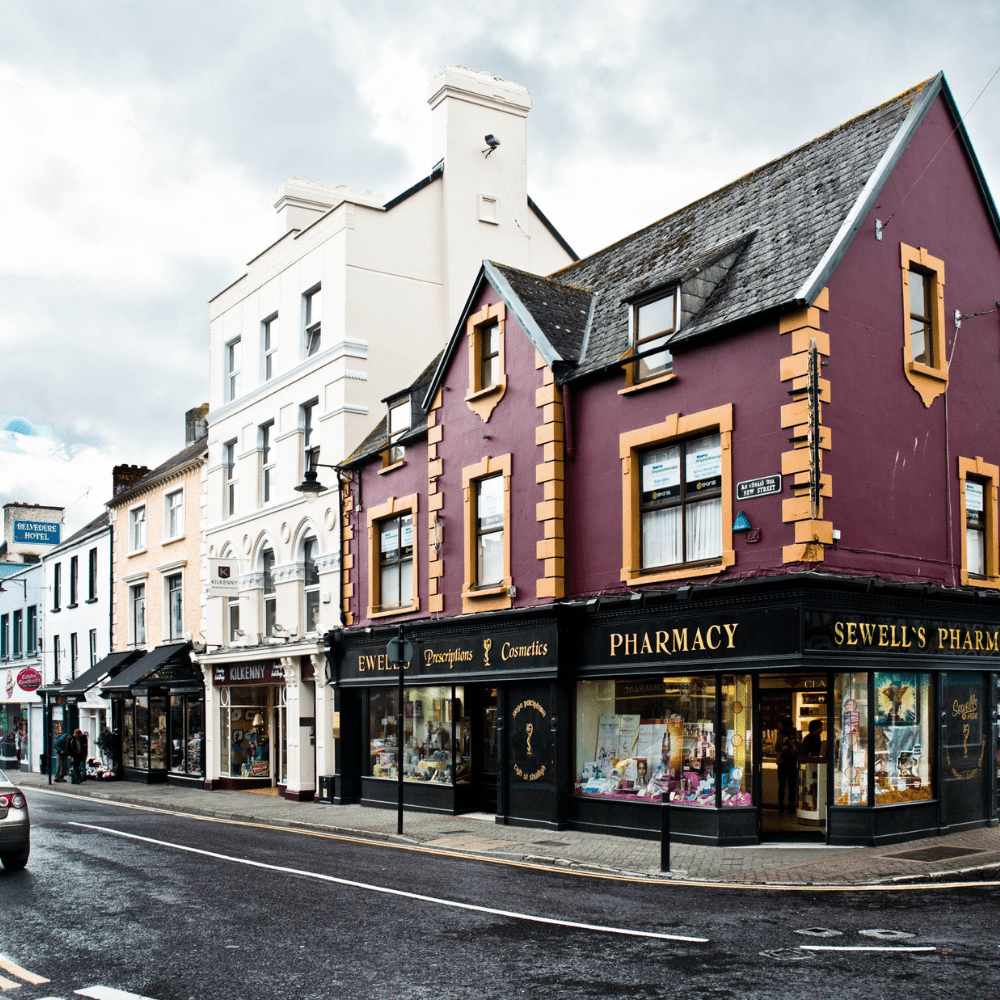 More Killarney Hotels that will fit your budget
Find the best rates and availability on more hotels in Killarney HERE.
NEED A RENTAL CAR?
We use DiscoverCars.com to get the best rates and availability on rental cars. Find your car HERE, along with all of the extras you may need (insurance, car seats, ski racks, etc.)
VACATION PHOTOS
Don't forget to book your Flytographer session to capture awesome memories from your trip. We do it as often as we can, even though I'm a photographer. Sometimes, this mom just wants to be in a few photos with her kiddos.
How to get to Killarney
To get to Killarney, Ireland, you have several transportation options depending on where you begin your journey.
By Air
If you're traveling from outside of Ireland, the closest airport to Killarney is Kerry Airport (Farranfore Airport), located approximately 15 kilometers (9 miles) northeast of Killarney. From Kerry Airport, you can take a taxi, rent a car, or use public transportation to reach Killarney.
As this is a smaller airport, if you are coming from out of Ireland or the UK, Shannon Airport and Dublin Airport will be the best place to fly into on internatioal flights.
By Train
Killarney has a train station with regular connections to major cities in Ireland. If you're coming from Dublin, you can take a train from Heuston Station to Killarney.
The journey takes around 3 to 4 hours, and the train offers scenic views of the Irish countryside.
Check the Irish Rail website for schedules and ticket information.
By Bus
Bus Eireann operates a comprehensive network of buses throughout Ireland, including routes to Killarney.
You can check their website or use online travel platforms to find the most suitable bus connection from your starting point.
The main bus station in Killarney is located in the town center, making it easy to walk to your hotel in Killarney town right from the train station.
By Car
If you prefer the flexibility of driving, you can rent a car and travel to Killarney. Major roads leading to Killarney include the N22 from Cork, the N21 from Limerick, and the N72 from Tralee.
Remember to drive on the left side of the road in Ireland.
Once you arrive in Killarney, you can explore the town's charming streets, visit attractions like Killarney National Park, Ross Castle, or take a tour of the famous Ring of Kerry.
Personally, I'd rent a car in Ireland or hire a private driver. Both give you more flexibiliy and you are able to see a whole lot more of Ireland than you would think possible in one trip.
Check out our 10-Day Ireland Itineary: Wild Atlantic Way Southwest Road Trip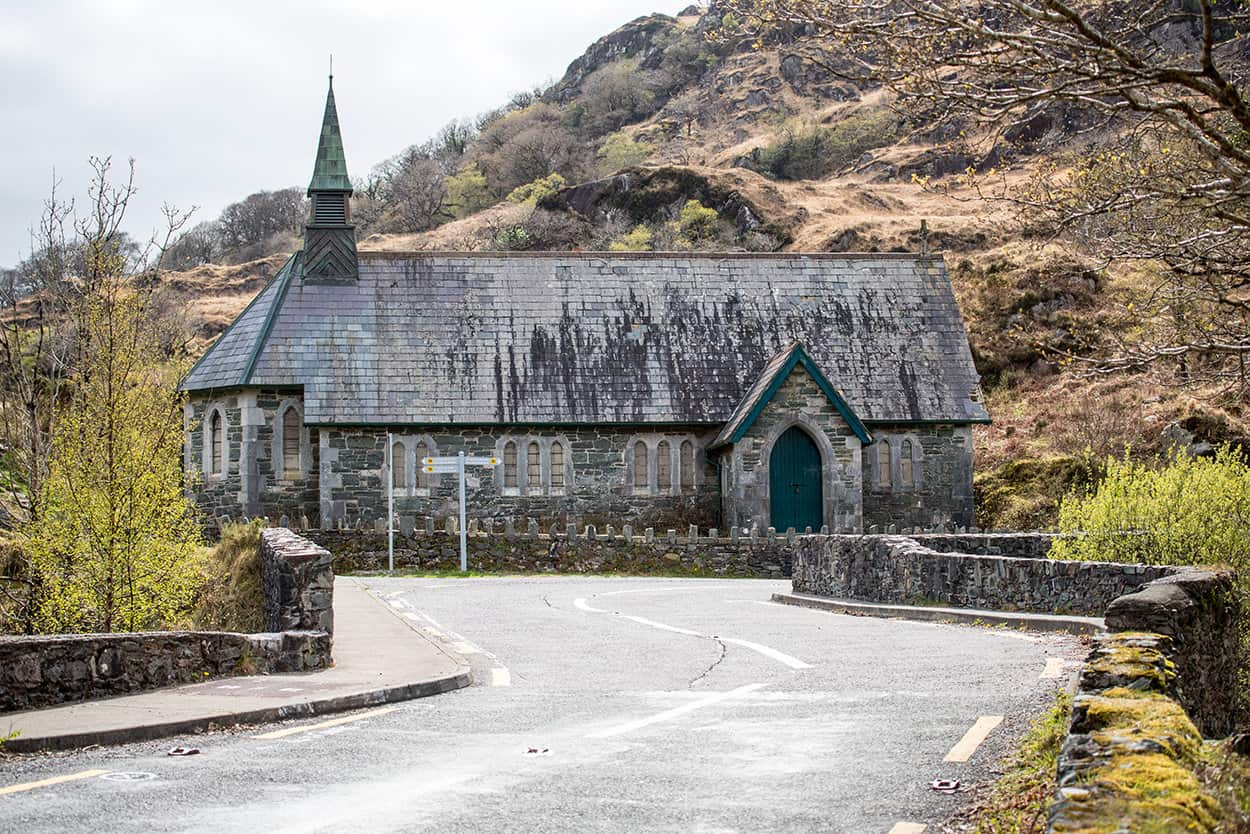 A Brief History of Killarney Ireland
Early History and Celtic Settlements
The earliest known history of Killarney traces back to the Celtic period, when the area was inhabited by the Gaelic tribe known as the Tuatha Dé Danann. They established settlements and lived in the region around 4,000 years ago.
Medieval Era
During the medieval period, Killarney was part of the Kingdom of Kerry, which was ruled by the O'Donoghue clan. The O'Donoghue Mór was the chief of the clan and had a stronghold near Ross Castle.
The castle, built in the 15th century, still stands as a prominent landmark right outside of town.
Religious Influence
Christianity arrived in Killarney in the 6th century with the establishment of monastic settlements. St. Finian the Leper founded a monastery in Aghadoe, which became an important religious center.
Over time, numerous churches and religious sites were built in and around Killarney to create spaces for the Catholic population to celebrate and worship.
The Plantation and Cromwellian Period
In the 17th century, during the Plantation era, English settlers arrived in the region.
Following the Irish Rebellion of 1641, Oliver Cromwell's forces arrived and took control of Killarney in 1652. The town and its surrounding lands were confiscated and distributed among English soldiers and settlers. As you can imagine, this wasn't a popular time to be an Englishman living in Ireland.
Tourism and Development
The 18th and 19th centuries marked the beginning of Killarney's emergence as a popular tourist destination. The picturesque landscapes, including Killarney National Park, attracted visitors from all over Ireland and beyond. The town experienced significant development, with the construction of hotels, roads, and amenities to accommodate the growing number of tourists.
The Victorian Era
During the Victorian era, Killarney saw further development and became a fashionable destination for the upper classes. The arrival of the railway in the mid-19th century improved accessibility and led to an increase in tourism. Many grand Victorian mansions and hotels were built to house the wealthy coming to the region, which you can still see today.
Independence and Modern Times
Killarney, like the rest of Ireland, experienced the struggle for independence in the early 20th century. The town played its part in the fight for Irish freedom, and its residents actively participated in the movement.
Ireland gained independence in 1922, and Killarney has since developed into a thriving town, focusing on tourism, hospitality, and preserving its natural beauty.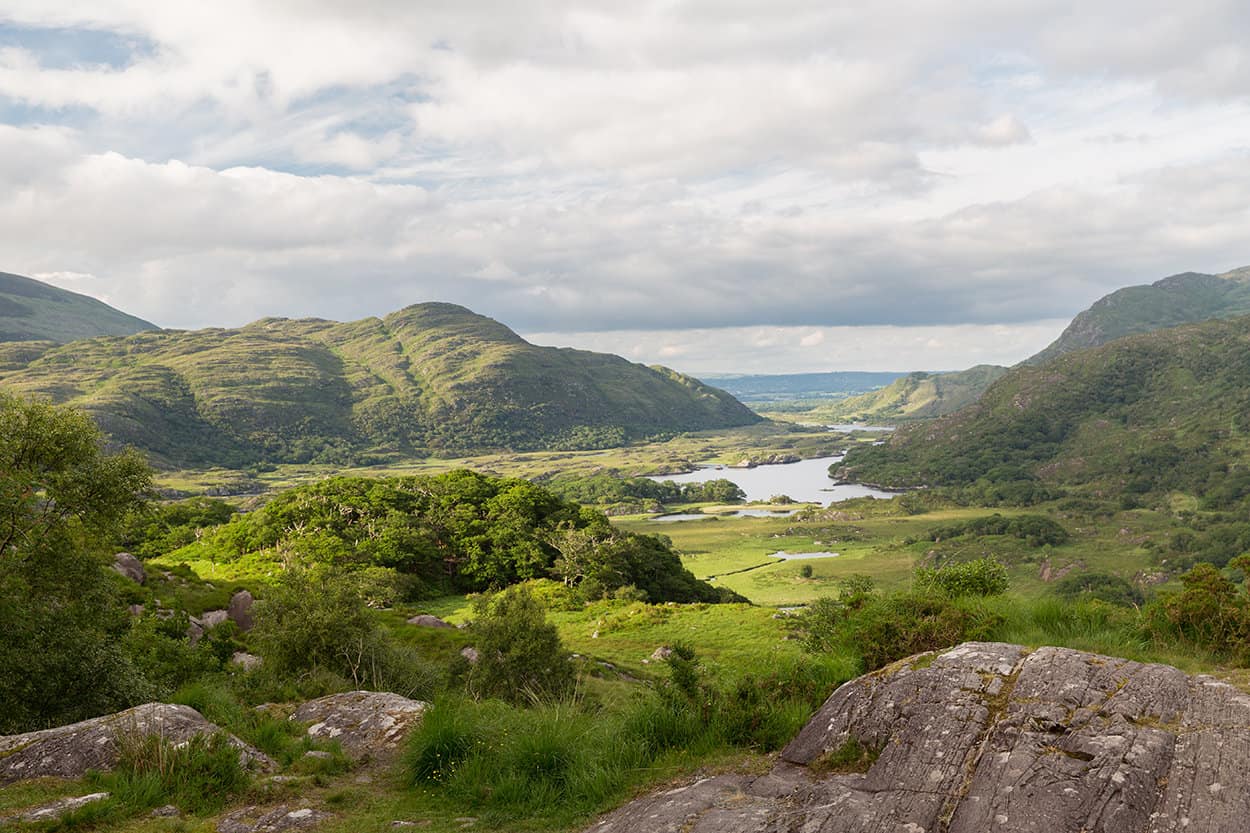 TOP THINGS TO DO IN KILLARNEY NATIONAL PARK
Killarney National Park
You could spend a week hiking and exploring Killarney National Park, the surrounding area and the beautiful lakes of the region, and still not see it all. The entrance to the park is a short drive from town, and one of the best places to get back into nature. The spectacular scenery features a number of hiking trails, historic sites and lakes to explore.
Check out our guide to spending a full day in Killarney National Park before you drive the Ring of Kerry.
As part of the Kerry Biosphere Reserve, one of two in Ireland, and designated a UNESCO Biosphere Reserve, the park is a great place to see wildlife and the local flowers and plants that the area is trying to protect.
Mountain climbers will also love tackling the highest mountain in Killarney National Park– Mangerton Mountain (837 m), with Purple Mountain coming in a close second at 826m.
ROSS CASTLE
Killarney National Park was Ireland's first national park for several reasons. There is an abundance of things to do here and by far one of the most popular is Ross Castle on Ross Island.
Built by Irish clan chieftains as a fortress, Ross Castle dates all the way back to the 15th century so it's unfortunately fallen to ruin. It's still a striking building and its tower is almost completely intact.
The grounds in and around the castle are totally free to wander and this is where most boat tours that you can book to sail around Lough Leane depart from.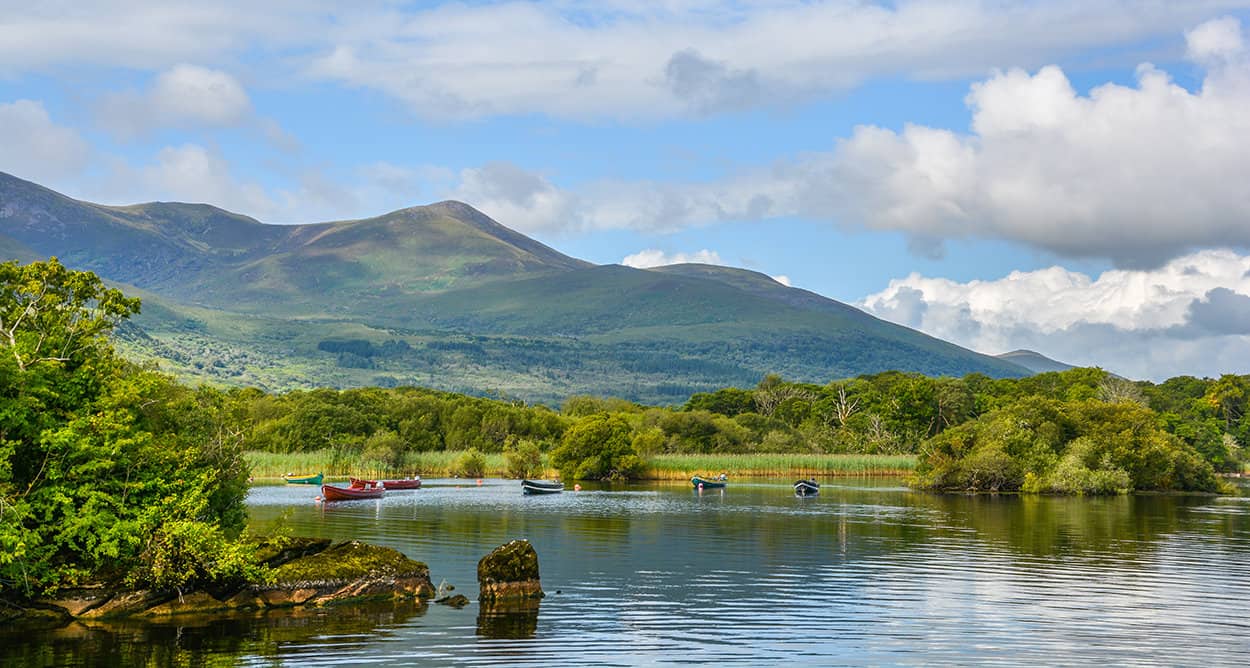 LOUGH LEANE
Speaking of Lough Leane, it's the largest of the three Killarney Lakes (the others being Muckross Lake and Upper Lake) in Killarney National Park.
'Lough' simply means lake in Irish Gaelic and it's pronounced 'lock,' which is exactly the same as loch, the Scottish word for lake.
You can see the lake from the summit of most, if not all the mountains, in the park. It always seems peaceful and serene whenever we visit.
There are several islands in Lough Leane that you can sail around, whether that's on a group boat trip, fishing trip, by kayak, or by canoe.
Several hiking trails follow the banks of the Killarney Lakes so you will no doubt spend much of your time gazing over this lough.
Cross your fingers for dry weather!
INNISFALLEN ISLAND & Innisfallen Abbey
One island that you can, and should, dock your kayak and visit on Lough Leane is Innisfallen Island. This picturesque island is home to Innisfallen Abbey, a ruined structure that dates all the way back to the 10th century.
But the history of people living on this island dates even further back to the 6th century.
Most of Innisfallen Island is surrounded by thick woodland. Pair that with the fact that you have to sail across the lakes yourself to get there, you'll feel like a real adventurer.
MUCKROSS HOUSE
Within the borders of the national park, there is a small town called Muckross with two buildings that are absolutely worth adding to your Killarney itinerary. One is an abbey, but the first is a house built during the 19th century.
Muckross House was built by a wealthy family called the Herberts on the shores of Muckross Lake. They almost bankrupted themselves designing this stately home that would later host a visit from Queen Victoria in 1861.
Today, Muckross House is still a beautifully grand estate surrounded by the mountains of the national park. You can go inside the house if you book a guided tour and for a small extra fee you can see the working farms on the Muckross House estate too. Don't miss a wander through the gardens on the grounds to see the manicured lawns and flower beds.
Take a stroll down to Muckross Lake, just a short distance from the house, which gives you a unique experience to step into the shoes of those who came before you and called this house their home.
Dinis Cottage
Make time for a stop at Dinis Cottage for tea. This former hunting lodge was built for the Herberts, the family who owned Muckross House.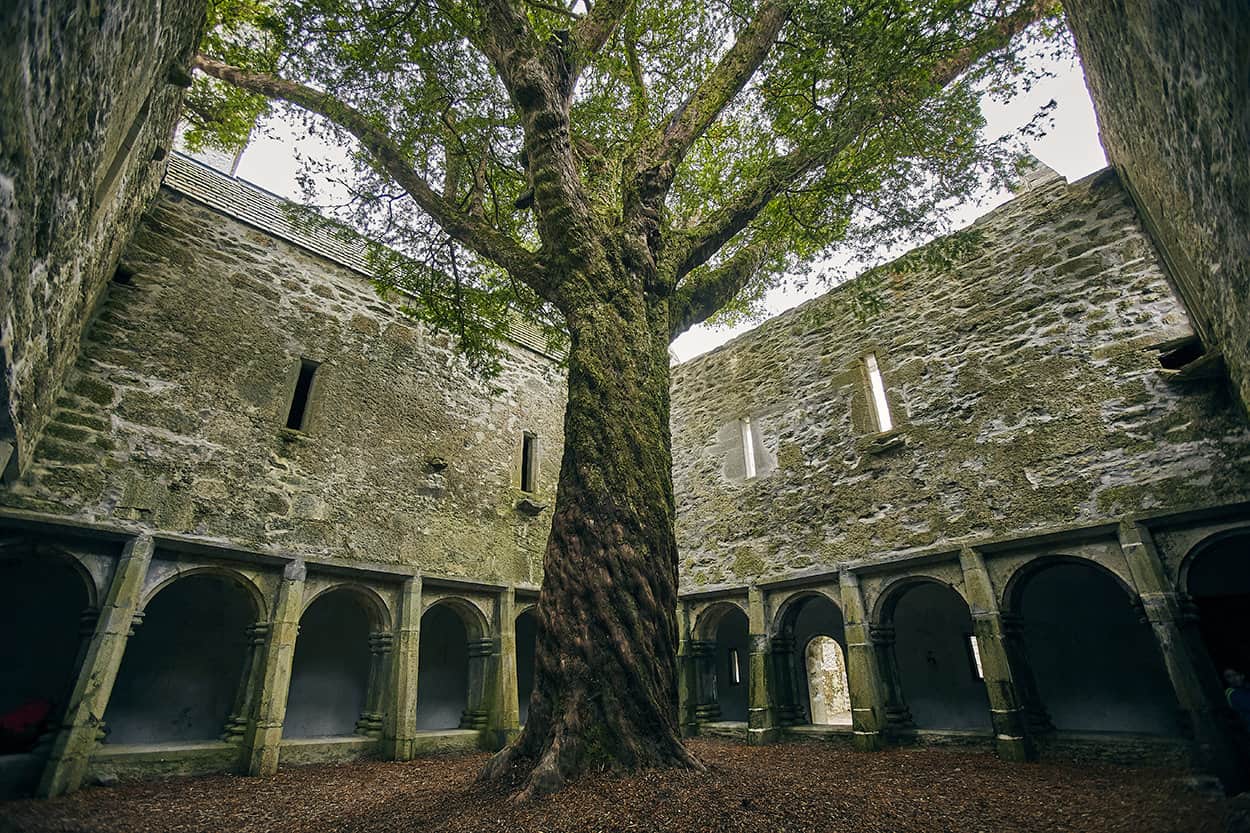 MUCKROSS ABBEY
First established around the same time as Ross Castle in the 15th century, Muckross Abbey had been rebuilt time and again before it became the shell that's there today.
Muckross Abbey was a Franciscan friary since it was founded in 1448, and although the abbey has fallen to ruins, there are still plenty of Celtic crosses, headstones, and even a tree growing in the courtyard.
The abbey is free to visit, making the ruins of Muckross Abbey one hundred percent worth your time. You can even take a jaunting car ride from the parking lot to see more spectacular views along the shores of Lough Leane.
Lakes of Killarney
One of the most popular things to do in Killarney is take a boat ride on one of the many lakes near town. There are three Killarney lakes, including Lough Leane (Lower Lake), Muckross Lake and Upper Lake, and each has their own secrets to share.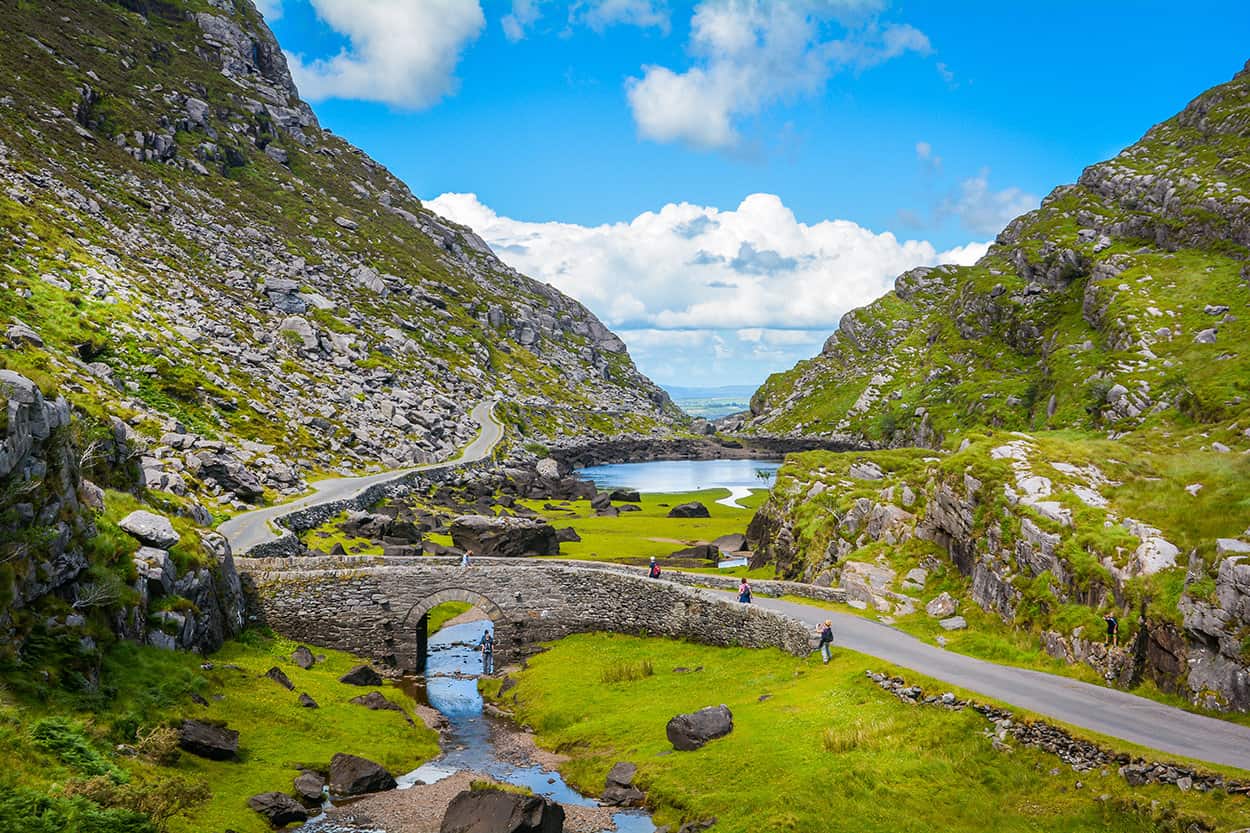 GAP OF DUNLOE
Driving along a narrow mountain pass or two in the Irish countryside is a rite of passage for any road tripper. Just me, they're are unavoidable!
Luckily, these roads tend to offer the most exceptional views you can get without having to exert yourself by climbing thousands of feet up a mountain.
The Gap of Dunloe is a narrow mountain pass on the edge of the national park next to Cushvalley Lake, the Old Weir Bridge, and Augher Lake. It offers those who dare to drive along the most dramatic scenery you might ever see in your life.
Hopefully, you don't get caught in an Irish traffic jam (farmers moving cattle and sheep across a road).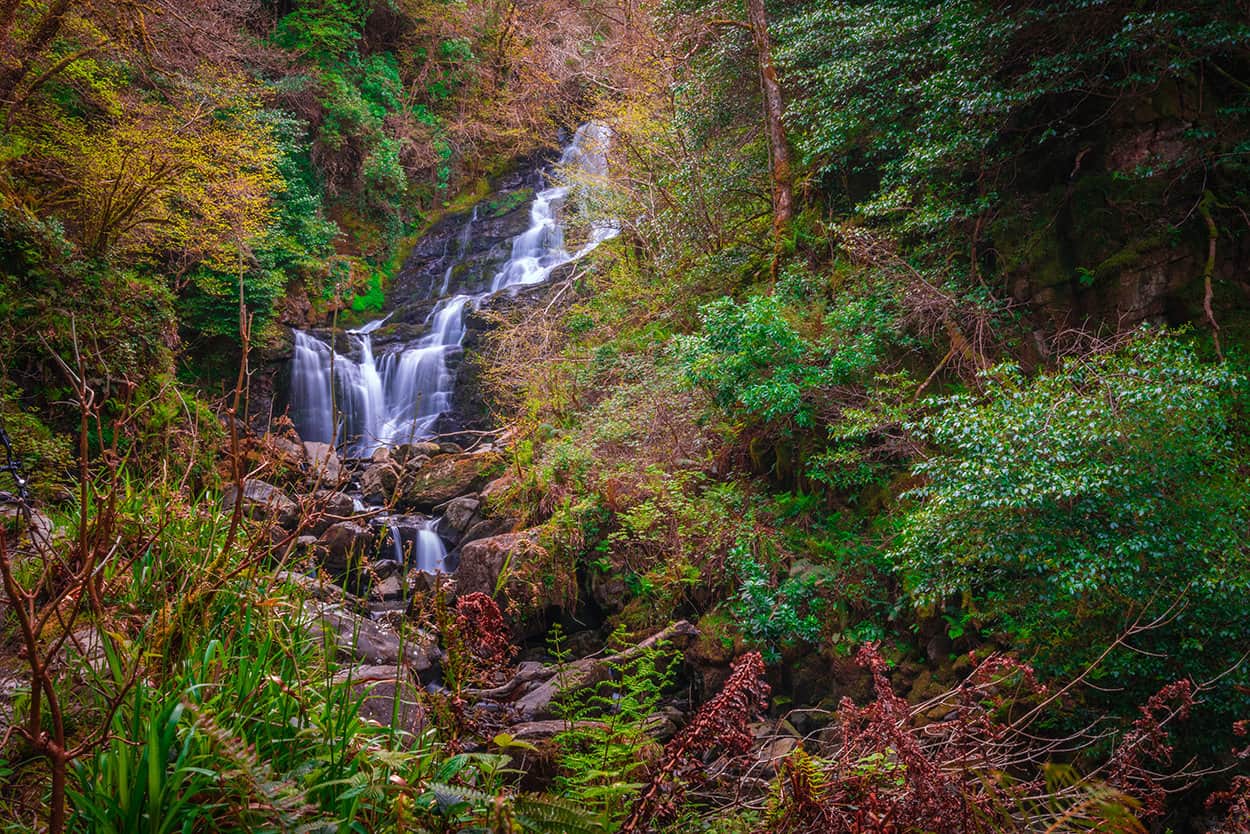 TORC WATERFALL
At 65 feet, the Torc Waterfall is one of the most spectacular waterfalls in Killarney National Park. There are some easy hiking trails to the waterfall, which also offer views across Lough Leanne.
Unfortunately, the water at Torc Waterfall is a bit too cold to swim in no matter what time of year you visit.
My boys always loved wandering down this path when they were little. The waterfall trails are a wonderful place to let your kids stretch their legs and let their little imaginations wander across a magical land filled with green and mist.
TORC MOUNTAIN
Next to Torc Waterfall is Torc Mountain, a not-too-challenging 1,755-foot climb with views across Muckross Lake. Due to its position directly south of Killarney National Park's two biggest lakes, it arguably offers the best views of any mountain in the park.
Traditional JAUNTING CAR TOURS in Killarney
Short on time and want to explore as much of Killarney National Park as you can? Enjoy one of the top fun things to do in Killarney by taking a jaunting car tour (you can call it a jaunting cart or jaunting car– both are correct right) through Killarney National Park.
Book a day tour with Jaunting Car Tours!
You might call them stagecoaches or carriages, but the Irish call these traditional carts Jaunting Cars. They're horse-drawn and you can travel all over the park with your friendly guide and driver.
You can also add a boat tour of the lakes to your jaunting car trip so you get the full experience.
Here are a few of our favorite jaunting car tours in Killarney:
'LADIES VIEW' OF KILLARNEY
Close to Upper Lake on your Ring of Kerry road trip route is a scenic viewpoint called "Ladies View." This name dates all the way back to the Queen's visit to Killarney where Queen Victoria's ladies-in-waiting admired the view.
It does have a wonderful view of Derrycunnihy Falls and the lake. Pull over, strecth your legs and take a few photos before you move onto your next stop.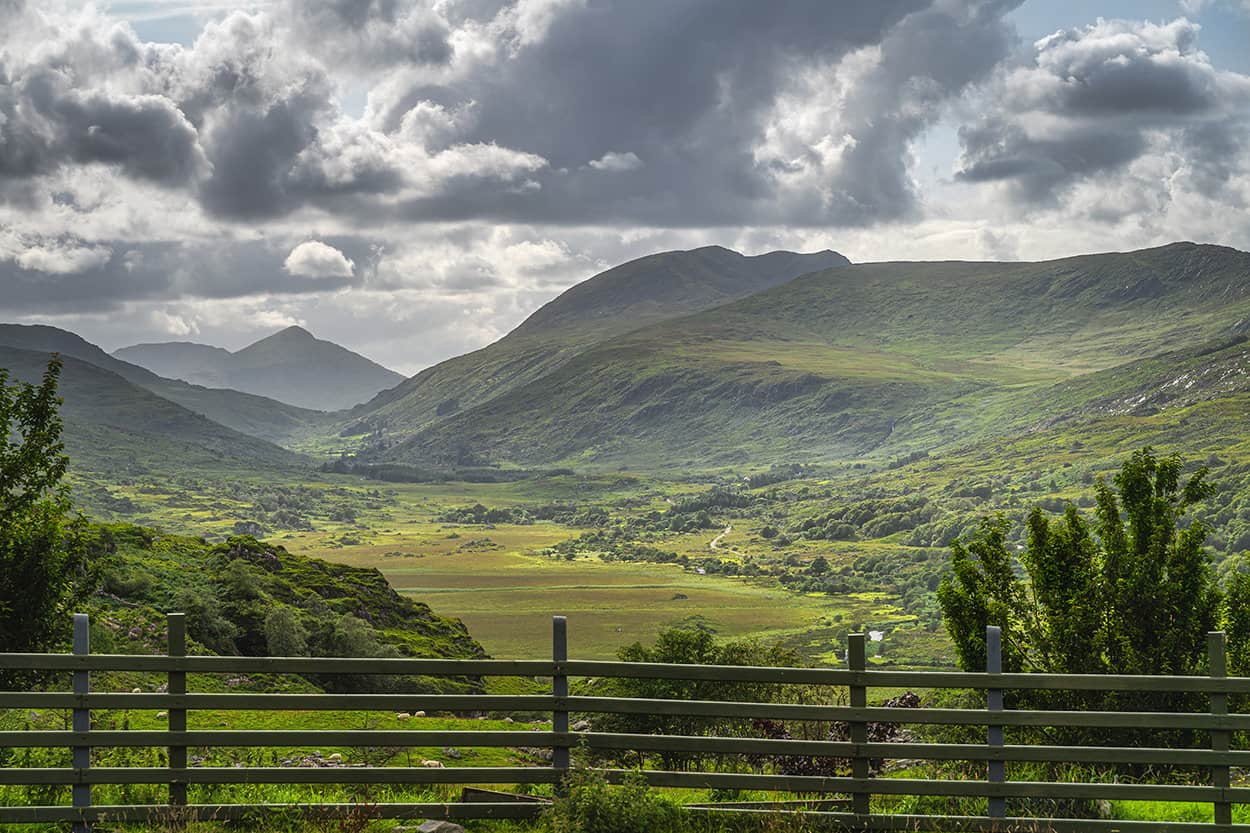 Moll's Gap
Moll's Gap is another great spot to stop to enjoy the views. There is also a small cafe and gift shop you can enjoy, especially if you need a break on a rainy day that promises a hot cup of tea or hot chocolate.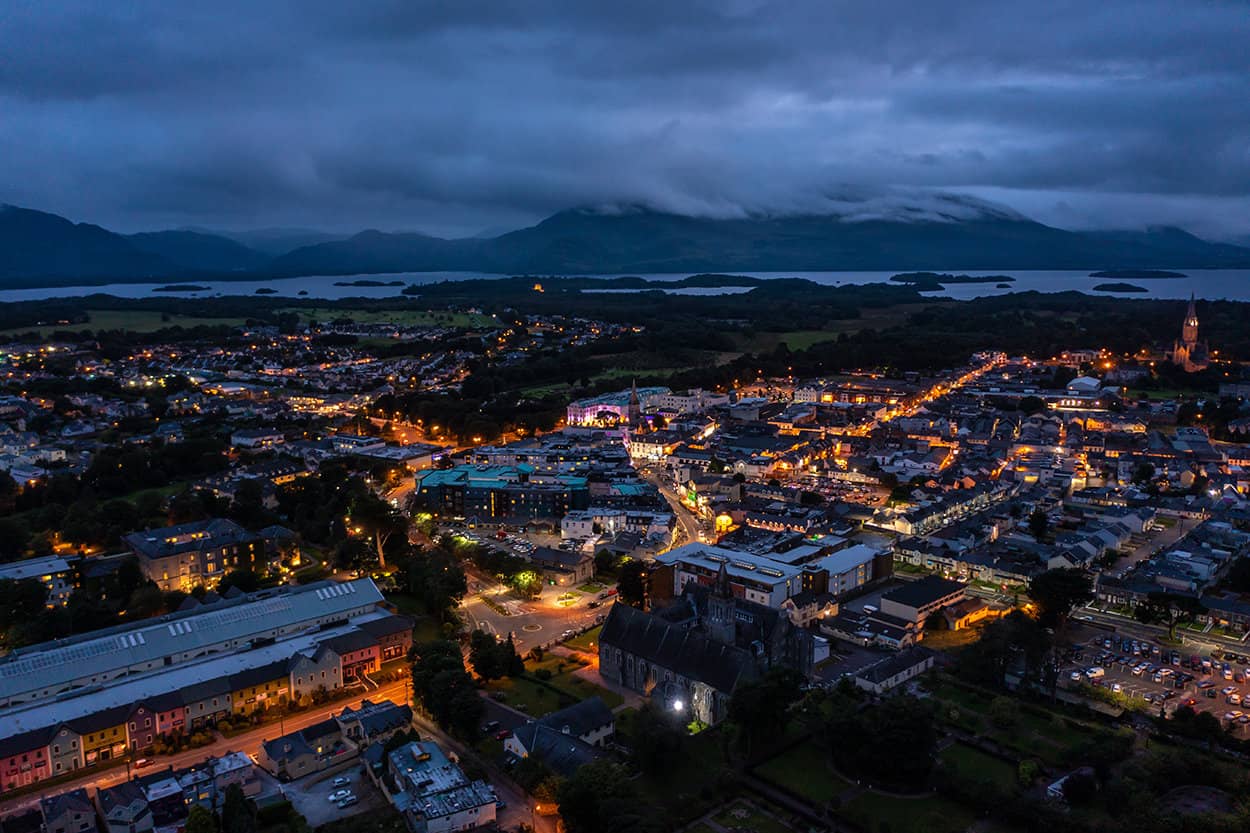 TOP THINGS TO DO IN KILLARNEY TOWN
KILLARNEY BREWING COMPANY
Ireland might be better known for whiskey distilleries and Guinness, but there are some producers of excellent Irish craft beer too. The Killarney Brewing Company was founded in 2013 and is not only popular in County Kerry but known across the country too.
Their large brewhouse in Killarney has a taproom as well as a restaurant serving Napoli-style pizza and flights of their own beer so you can try a few different types.
If you traveled to Killarney with checked luggage, stop by their shop to pick up some small cases of beer to take home with you (just make sure you can actually transport them as cans and other combustables might not do well in an unpressurized bag.
ST MARY'S CATHEDRAL
Although St Mary's Cathedral is relatively modern by European standards (it was built in 1855), it's absolutely worth stopping by when you're in Killarney town. It has a Gothic revival architectural style and sits right on the edge of the national park so the landscape is beautiful too.
KILLARNEY HOUSE AND GARDENS
One of the best things to do in Killarney is to visit the Killarney House and Gardens, particularly if you're visiting in the summer. Once owned by the upper-class Earls of Kenmare in the 18th century, the house fell into ruin until it was restored and reopened in 2016.
It's one of the town's most popular attractions because the interiors of the house feel like a Victorian time capsule. The gardens are also well-maintained and you can even spot deer 'mowing' the lawn if you're lucky.
Killarney Indoor Activities for a Rainy Day
If you didn't know already, it rains a lot in Ireland. You will want to make sure you have a few things to do in Killarney in the rain. Why? Because sometimes being constantly wet isn't fun and you need a few minutes to warm up and dry off.
Muckross Estate
Muckross Traditional Farms
Kate Kearney's Cottage
Ruins of muckross abbey
Dinis Cottage
Knockreer House
Just because it's raining that doesn't mean you can't go outside. In fact, if you plan a trip to Ireland and wait for it to stop raining, you may never leave your hotel.
Check out our favorite rain gear in our Ireland Packing Guide for the whole family.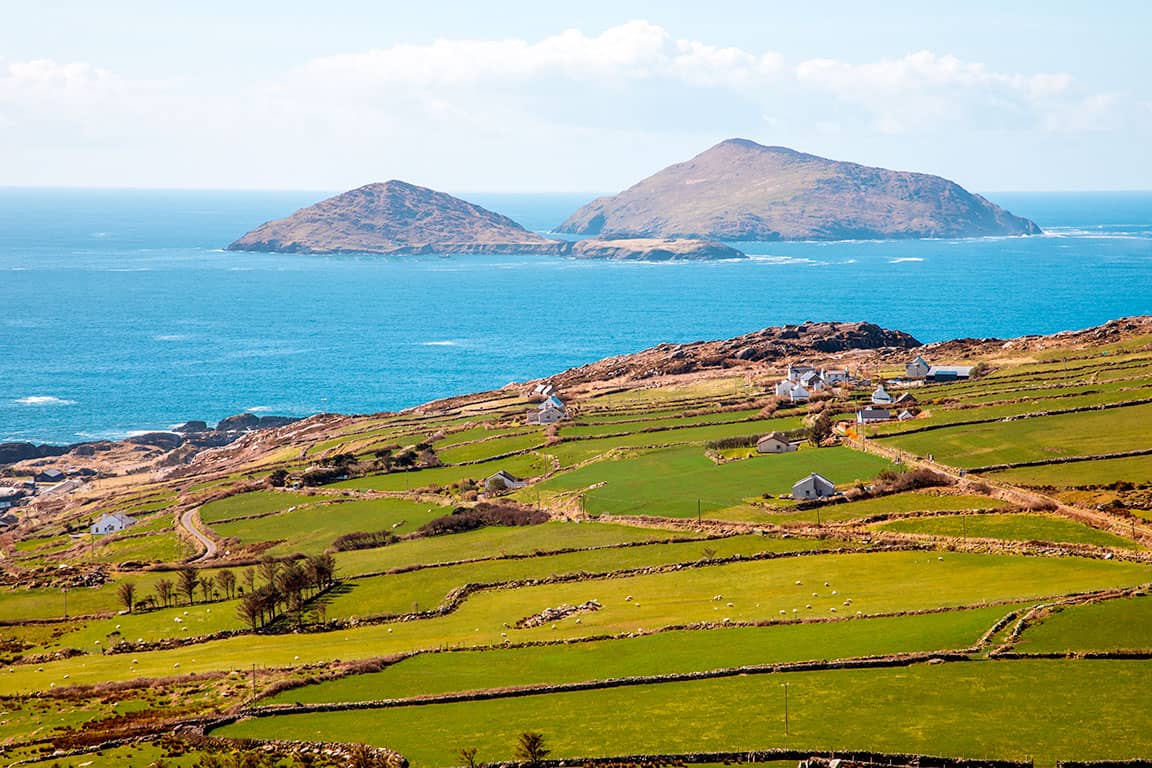 GREAT DAY TRIPS FROM KILLARNEY
While there are many things to do in Killarney National Park and the town, you can easily expand your trip by visiting other cool spots on a day trip. These are some suggestions for other places to travel to in County Kerry.
RING OF KERRY
If you're visiting Killarney, chances are you're already venturing on the Ring of Kerry! But if not, you should definitely consider driving along this scenic road trip route.
The Ring of Kerry is a 111-mile circular route around the highlights of the Iveragh Peninsula in County Kerry. It would only take about three hours and 30 minutes to drive with no stops, so it's totally doable as a day trip.
Although, if you have the time, you should book a couple more days in Ireland so you can spend more time exploring other charming towns on this route, like Beaufort, Killorglin, Glenbeigh, and Cahersiveen.
Read our full Ring of Kerry Road Trip Guide
SLEA HEAD DRIVE
The Dingle Peninsula is another beautiful part of the county. Witness all of the most incredible coastal views that Dingle has to offer by driving the Slea Head Route. This is a 30-mile circular route that allows you to visit windswept beaches, rugged cliffs, and adorable towns like Dingle and Coumeenoole.
Since it's only 30 miles, it's ideal for a day trip from Killarney.
READ the best things to do in Dingle Ireland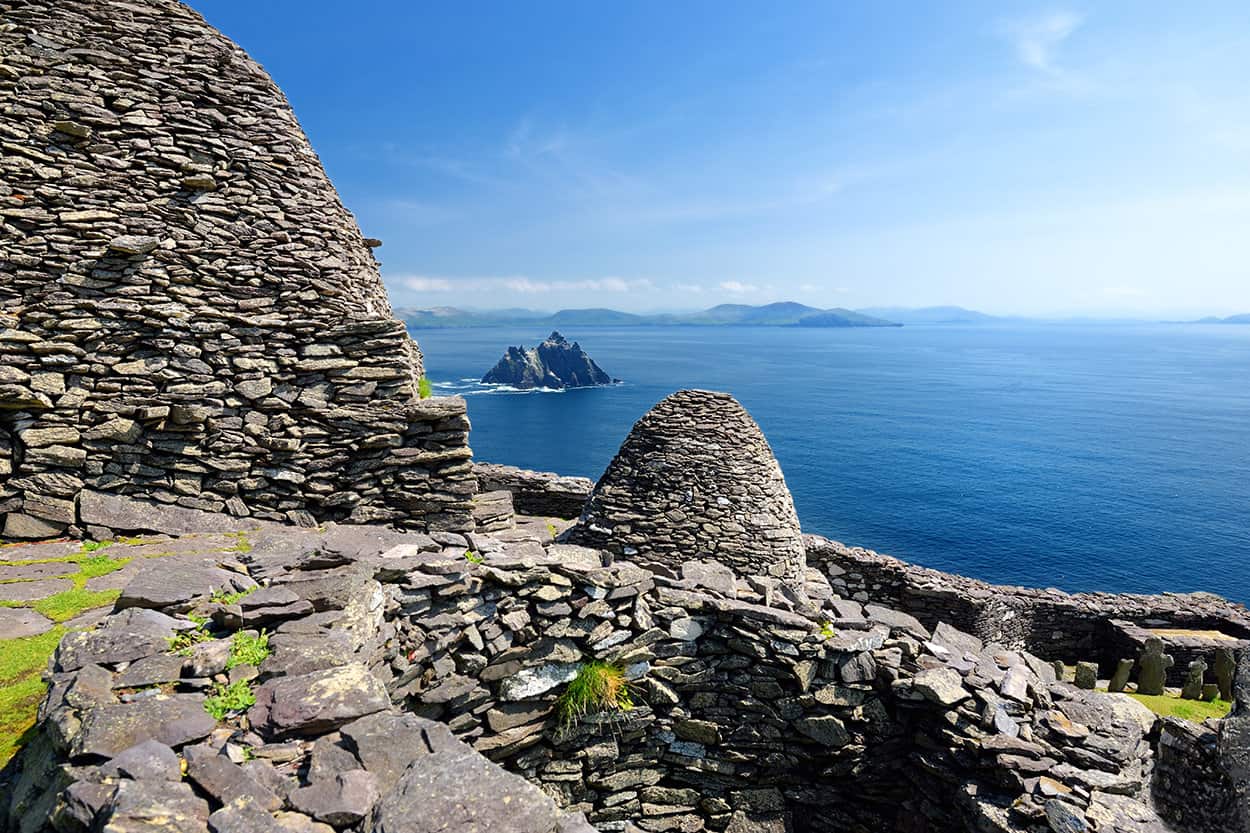 SKELLIG ISLANDS
One of the most epic day trips you can take in Ireland is to the Skellig Islands. The islands are a UNESCO World Heritage Site because of the medieval monasteries that have miraculously survived sea storms and modern development.
They're also great places to travel to in late spring for the puffins, and if you're a Star Wars fan, Skellig Michael (the largest island) appeared in "The Last Jedi" as Luke Skywalker's beehive building hideout.
ANNUAL EVENTS IN KILLARNEY
As you'd expect, Killarney goes all out to celebrate Ireland's patron saint on St Patrick's Day. But you might be surprised to see that Killarney celebrates July 4th, which recognizes the ties between Ireland and the United States.
Many of Killarney's other festivals and celebrations have Celtic origins. Here's a list of some you may like to attend.
The Gathering (February)
Wander Wild Festival (March)
St Patrick's Day (March 17th)
Easter Celebrations (March/April)
Killarney Races (May – October)
Killarney BeerFest (May)
Ireland BikeFest (June)
July 4th Festival (July)
Puck Fair (August)
Storytelling and Folk Festival (November)
RESTAURANTS IN KILLARNEY
Killarney town might be small, but it has lots of great casual and fine dining restaurants. Whether you're looking for traditional Irish pubs, a fried Irish breakfast, lamb stew, Irish brown bread, seafood, or fish and chips, here are some great recommendations.
You definitely won't go hungry in Killarney!
IRISH BREAKFASTS IN KILLARNEY
Curious Cat Café
The Shire Bar & Cafe
Café Du Parc
Noelle's Cafe
LUNCH SPOTS
Manna Cafe & Bistro
Failte Restaurant
Quinlan's Seafood Bar
Porterhouse Restaurant
DINNER RESTAURANTS
Murphy Brownes Restaurant
Bricín Restaurant and Boxty House
The Mad Monk by Quinlans
Kitty O'Se's Seafood and Grill
SWEET TREATS IN KILLARNEY
Murphy's Ice Cream
Celtic Donuts & Ice Cream Parlour
Lir Cafe
Petit Delice Bakery
TRADITIONAL PUBS IN KILLARNEY
John M. Reidy
Murphy's Bar
The Laurels
Courtney's Bar
FAQ Killarney Ireland
Where is Killarney located?
Killarney is a town located in County Kerry, in the southwestern part of Ireland. It is nestled on the northeastern shore of Lough Leane and surrounded by the beautiful landscapes of Killarney National Park.
What is the best time to visit Killarney?
Killarney is a year-round destination, but the most popular time to visit is during the summer months (June to August) when the weather is generally mild, and the countryside is lush, vibrant and full of wildflowers.
However, spring (April to May) and autumn (September to October) also offer pleasant weather and fewer crowds. You might be surprised just how much sun you will get in the shoulder season in Ireland.
How do I get to Killarney?
You can reach Killarney by air, train, bus, or car. Kerry Airport is the closest airport, and from there, you can take a taxi or use public transportation to reach Killarney.
Killarney has a train station with connections to major cities in Ireland, and Bus Eireann operates bus services to Killarney.
If you prefer driving, there are well-connected roads leading to Killarney.
Learn How to Rent a Car in Ireland and how to drive in Ireland as a foreigner
What are the must-visit attractions in Killarney?
Killarney offers a range of attractions to explore. Some must-visit places include Killarney National Park, where you can find Muckross House and Gardens, Ross Castle, and Torc Waterfall.
Additionally, the Ring of Kerry, a scenic drive that takes you through stunning coastal and mountain landscapes, is pretty much the most popular thing to do in all of County Kerry.
Are there any outdoor activities in Killarney?
Absolutely! Killarney is known for its outdoor activities.
You can go hiking or biking in Killarney National Park, take a boat trip on the lakes, enjoy fishing, or play golf on one of the excellent courses in the area.
Horseback riding, kayaking, and guided nature walks are also available.
What events or festivals take place in Killarney?
Killarney hosts several events and festivals throughout the year. The Killarney Summerfest, held in July, features live music, street entertainment, and a fun fair.
The Killarney Folkfest, in February, celebrates traditional Irish music and culture.
The Killarney Festival of Music and Food, and the St. Patrick's Day Parade are also popular events.
Where can I find accommodation in Killarney?
Killarney offers a wide range of accommodation options to suit different budgets and preferences. You can find luxury hotels, cozy guesthouses, bed and breakfasts, self-catering cottages, vacation home rentals, house swaps, and even camping sites. The town center and the areas surrounding Killarney National Park have the most options.
Is it possible to explore the Ring of Kerry from Killarney?
Yes, absolutely! Killarney is the perfect starting point for exploring the Ring of Kerry. The scenic drive takes you through picturesque coastal villages, stunning mountain scenery, and breathtaking viewpoints.
You can either drive the route yourself or join a guided tour. Here are a few guided tours that we recommend.
Are there any traditional Irish pubs in Killarney?
Killarney has a lively pub scene where you can experience traditional Irish music and enjoy a pint of Guinness. Some popular pubs in the town include The Laurels, The Danny Mann Pub, and Murphy's Bar. These establishments often have live music sessions and a friendly atmosphere.
What are some nearby attractions that I can visit from Killarney?
From Killarney, you can explore other nearby attractions such as the Gap of Dunloe, a stunning mountain pass; the city of Limerick for a Gaelic football match; the Dingle Peninsula, known for its dramatic coastal landscapes; the town of Tralee, which hosts the Rose of Tralee festival; and the town of Adare, known for their thatched roof cottages.
Additionally, the Skellig Islands, a UNESCO World Heritage Site, are accessible by boat.