Driving down the highway, swaths of yellow came into view. Was it sunflowers? Mustard seed? No, these were the canola oil fields of Edmonton Alberta.
It's a lucky day when you are in Edmonton and these massive yellow fields are in bloom, but we are just as happy to see snow across the plains provinces of Canada. You see, Edmonton, won't let a little weather stop it from enjoying what Mother Nature has to offer. After all, when you live in Canada, you can't let a little snow get in your way. The same goes when you visit. If you only have 24-hours in the city, you need to make the most of your time.
Welcome to Edmonton Alberta!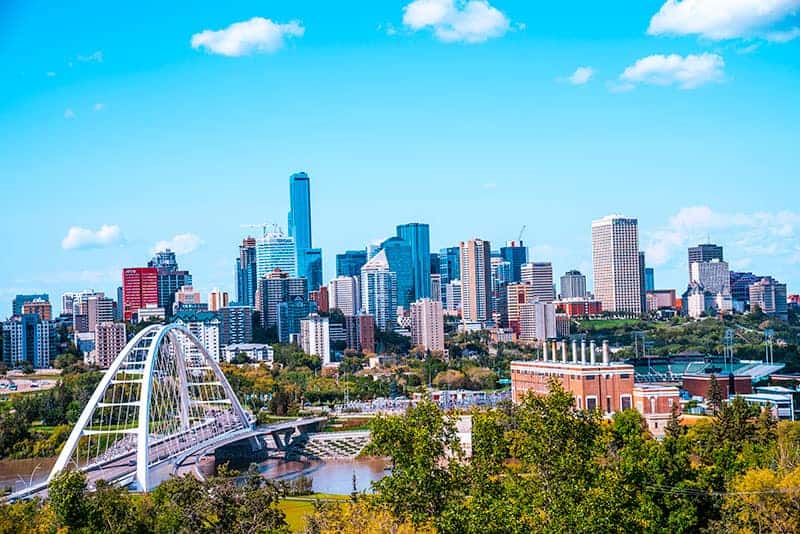 As the second-largest city, and the capital of Alberta, Edmonton isn't one to hibernate no matter the weather. This festival city, with its warm summers and cold winters, has embraced the arts during the Fringe festival, literature during the Shakespeare festival, and all things winter during Ice on Whyte. It's an urban oasis filled with funky neighborhoods emerging from its fur trading past, rich foods that will rival most kitchens in New York City, and shopping that will make American's think everything is on discount thanks to a favorable exchange rate.
Edmonton Weather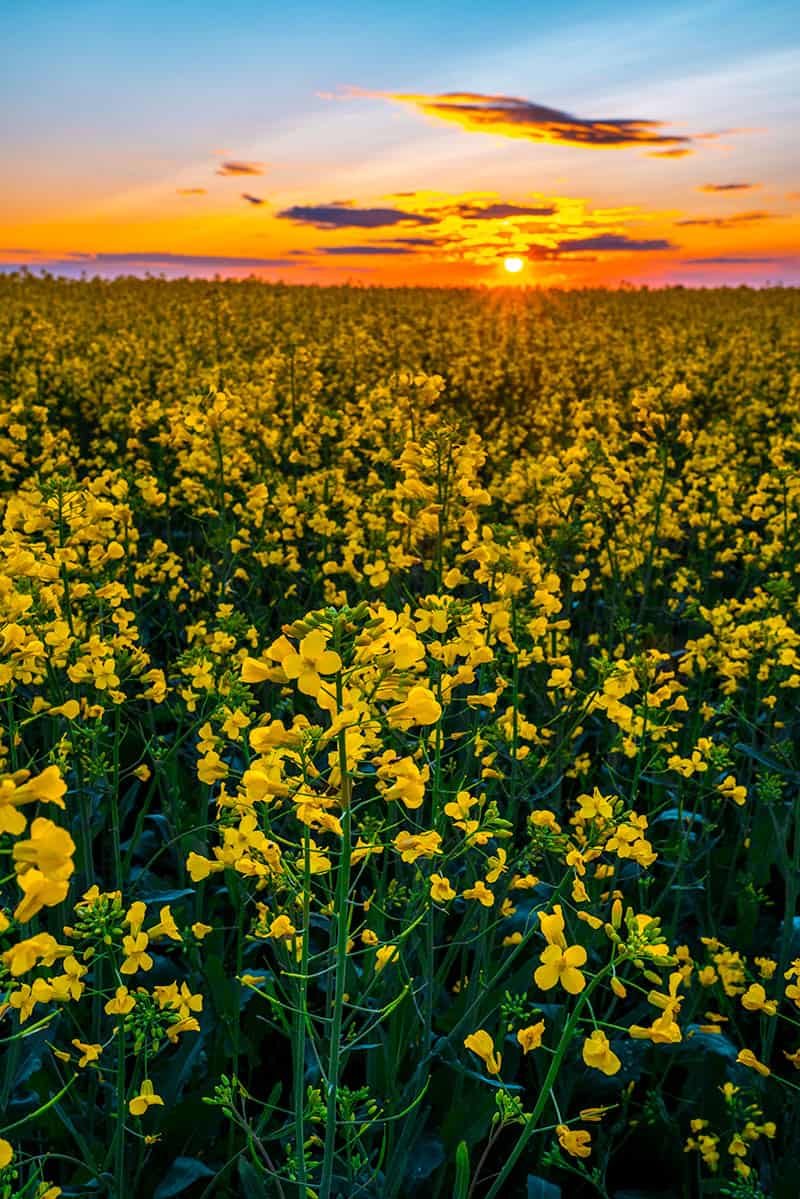 The local spirit of Edmonton comes out in full force each summer, as windows are open wide in restaurants, shop doors are left open to welcome you in, and everyone stays out late to watch the sunset after 10pm. There is a joy that resonates across the metropolitan landscape when layers are shed and neighbors come out to say hello. When you visit, you should feel free to do the same.
Want more National Park info? Read our Jasper National Park guide.
Summer temperatures average in the low 70s, but have been known to get into the 80s thanks to global warming. Nights are cooler, in the 50s, requiring travelers to pack a light jacket at the very least.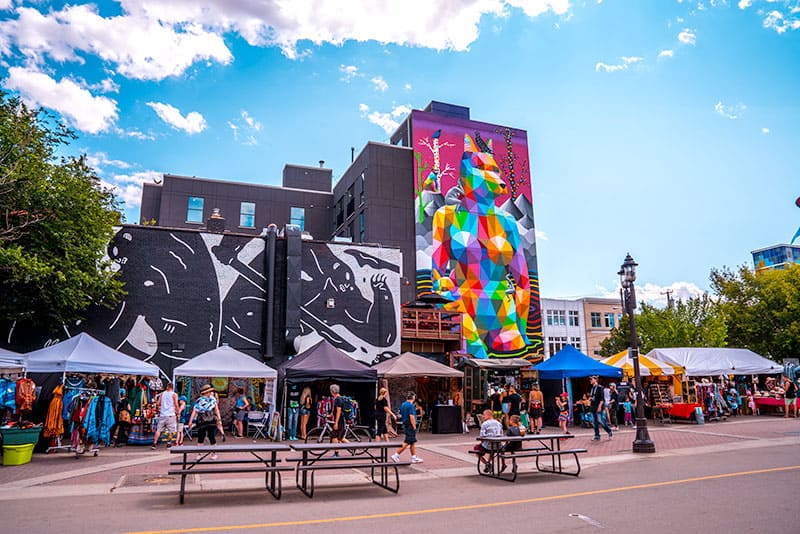 Winters are just as welcoming, but quite a bit colder. While doors won't be propped open, bar stools and tables are ready for you to settle into, have a chat and meet your neighbor as you all stay warm together. Lows in the 20s, with nighttime temperatures dipping into the single digits have been known to happen. Layers and ski gear are encouraged, especially with Jasper National Park and Marmot Basin just a just four hours away.
Extending your stay after the National Parks
During a recent visit to Edmonton, I finally got the chance to dive into the city to wander and find out what makes this place tick. I've flown in and out on my way to Jasper National Park and Banff National Park plenty of times. One winter, I even stayed overnight, but didn't have time to linger. This trip, I was going to get out of the hotel and find out why people would want to hang out in the city for a day or more before heading into the parks or home after riding the Rocky Mountaineer.
Riding the Rocky Mountaineer too? Don't skip town too quickly!
Why go to Edmonton Alberta?
Edmonton is the capital of Alberta, which makes it worth a visit just to see the seat of government, if that is your thing. However, there are so many things to do in Edmonton that you might not dive into politics at all when during your visit.
West Edmonton Mall is the largest indoor mall in North America, but when we only have one day, we choose to skip the city-sized shopping experience to stay local.
One Day Itinerary in Edmonton
Breakfast at Pip. Do not skip the French toast!
Morning shopping and mural huntingin Old Strathcona
Lunch at Situation Brewery with a little beer tasting on the side
Take the High Level Bridge Streetcar to Downtown
Explore the Edmonton museums
Pre-dinner cocktails at Clementine
Dinner at Uccellino for robust, yet light, Italian fair
Sunset at the Muttart Conservatory, take a stroll along the river or in paddle around Elk Island to end the day
Things to do in Edmonton Canada
There is no shortage of things to do in Edmonton. In fact, if you get bored, you really never left your hotel room. This northern capital city in Alberta, Canada has plenty of provincial politics, local artists, big-city quality food and festivals that shouldn't be overlooked. Whether you are visiting in spring, summer, fall or winter, you are sure to find some fun, and even a little warmth in one of our favorite Canadian cities.
Edmonton City Centre and Beyond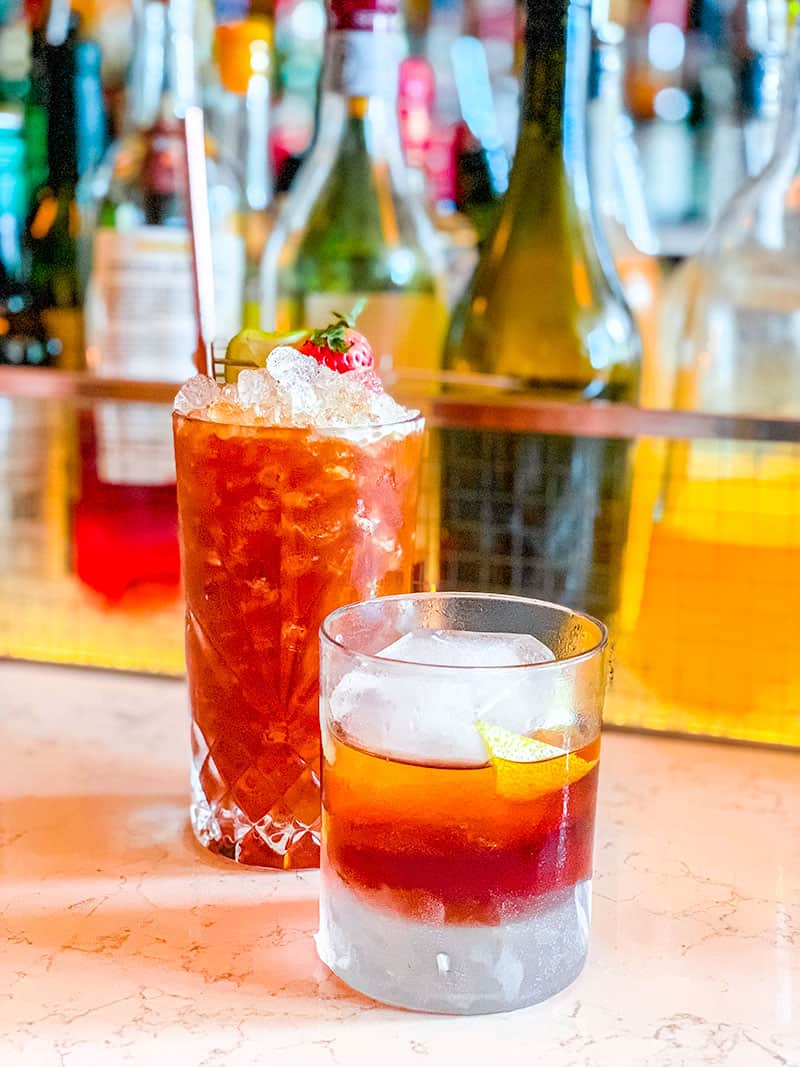 Neighborhoods are where you will want to spend most of your time. This is where the local scene food, pastries and shops are coming to life. The mural art scene in Old Strathcona and 124th Street is thriving, putting the city of Edmonton on the public art map.
Urban parklands, including the River Valley, Rundle Park and Victoria Park, make it easy to get out year round, if you are willing to brave the cold. Multiple running and bike paths connect neighborhoods, creating an interconnected way to get around without the need for a car. Just watch those hills. They can be a killer on your thighs.
Explore the river in Edmonton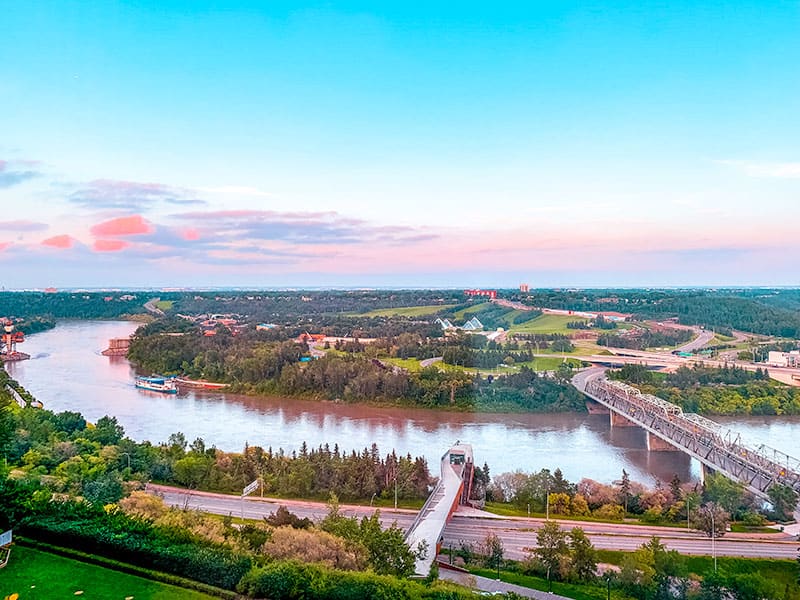 The river divides the city of Edmonton into two halves. Chances are you will criss cross the river several times throughout your stay, but don't skip actually getting on the river. In the summer months, you can paddle around, hang out at Accidental Beach, and ride along the bike paths. Or you can simply enjoy a leisurely float. You just have to know how and where to do it.
Explore Edmonton's River Valley Parks
Rent a bike to ride along the river.
Float along the river with Haskin Canoe
Take a sunset paddle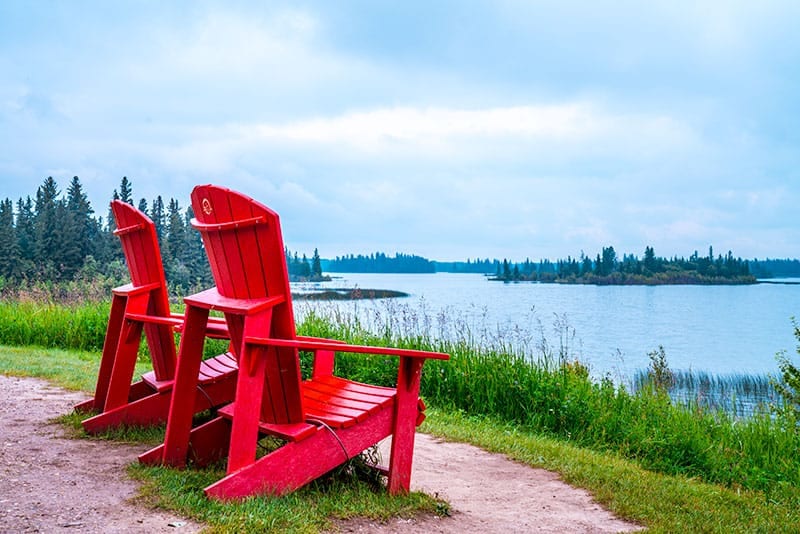 For those looking to see the sunset over the city, you can hop in a Voyageur Canoe with Haskin Canoe to paddle from Laurier Park to Capilano Park. Tours run about two to three hours and start around 6pm depending on the month. As you may know, the sun doesn't set until about 10pm at the height of summer, so be prepared to stay up late in July if you want to be on the water for sunset.
You can also enjoy the sunset at Elk Island National Park. Experience the quiet lake waters with the full moon overhead and more stars than any city girl could count. Listen for loons and the splash of a beaver. You may hear the grunt of the local bison herds, or even a moose if you are very lucky. Bring your binoculars to scan the shoreline and catch birds in their nests or in inflight.
Accidental Beach
Edmonton has no proper beach. Thanks to construction of the Tawatinâ LRT bridge, an accidental beach appeared along the North Saskatchewan River near the Cloverdale neighborhood in 2017. An existing sandbar emerged as the water levels went down, creating the perfect spot for Edmonton natives to play and soak up the summer sun.
Every year the beach isn't guaranteed to reemerge. Don't be surprised if you don't see it. Accidental Beach is dependent on the river flow and water levels.
If you are lucky enough to experience Accidental Beach though, be aware that there are a few safety precautions you should take.
Check for open hours BEFORE you go to the beach. It may not be open.
The beach is only accessible for a short time while the river is low.
Swimming is not recommended. The river runs swiftly and can take you away with it.
There are no lifeguards on duty.
If you picnic, remove all trash that you bring in.
The city provides port-a-potties and trash cans. Use them.
Fires are not allowed on the beach.
Dogs on a leash are allowed on the beach, but please clean up after them.
Alcohol is not permitted on the beach or in any city park.
Explore Old Strathcona
Old Strathcona is by and large our favorite neighborhood to hang out in while staying in Edmonton, Alberta. Not only is it home to Pip, one of the best breakfast spots in Edmonton, as well as the Strathcona Spirits Distillery, but it is where you will find more than a few festivals as well.
If you are in town in July, make sure you pop in for the Edmonton International Street Performers Festival. Kids and adults will love seeing acts along 83rd Ave NW and beyond.
There are plenty of local spots to grab a bite, but we love to do a bit of shopping in Edmonton's heritage district. From avant guard to boho chic, goth to swing favorites, there is something for everyone at the shops of Old Strathcona. For American shoppers, just remember, the exchange rate is in our favor, so if you see a sale, it's an even bigger discount for you after the exchange rate kicks in.
If you are staying for more than a day or two, make sure you load up at the Old Strathcona Farmers Market on Saturdays from 8am to 3pm. Products are brought in from all of the area farms, of which there are plenty. Produce, meat, seafood, flowers, coffee, specialty foods, plus arts and crafts are all on sale throughout the year. It might be worth planning your trip around. When you've had enough, walk around the corner to the streetcar to head downtown to the museums.
Check out the Edmonton Museum and Attraction scene
Edmonton museums aren't a dime a dozen and they don't come in spades. While there are plenty to keep you busy, if you only have a day to explore, you want to visit the best.
Royal Alberta Museum
For those who love archaeology, indigenous studies, geology, botany, zoology, and the history of Western Canada, the Royal Alberta Museum in Edmonton is the place for you. More than two million objects make up the museum's collection to tell the story of Alberta. While not all are on display at one time, rotating and permanent exhibits give you a good idea of how the province has evolved over time.
Temporary exhibits include the history of the Vikings in Canada, remembering the first World War, live demonstrations, and the story of Black pioneers across Canada. The museum is located in the Downtown/Boyle Street neighborhoods, an easy walk from the Art Gallery if you are trying to see both museums in one day.
Art Gallery of Alberta
One of the most unique buildings in town, the modern exterior of the Art Gallery of Alberta is worth walking by, if not entering. Past exhibits, many of which support Alberta artists, include works by painter Marigold Santos, photographer Manny Hall, and a perspective of work by Indigenous artists and how skateboarding/snowboarding and art intersect.
Kids as well as strollers are welcome at the gallery. Regular, family-friendly programming is offered, but BMO World of Creativity is always on if you are looking for some hands-on, interactive spaces for the kids to explore.
Alberta Legislative Building
Yes, you can get into Canadian politics, even if you aren't Canadian. Known as "The Ledge" by locals, the building opened in 1913 for the Legislative Assembly and the Executive Council to meet. Heritage Interpreters welcome visitors 362 days per year to tour the building and learn about the province's legislative process, as well as the art and architecture of the building. All tours are free and last approximately 45 minutes.
Muttart Conservatory
Anyone who loves a good horticultural greenhouse, will want to visit the Muttart Conservatory. These pyramid-shaped biodomes are home to 700 species of plants in three-climate regulated biomes. Arid, temperate and tropical flora and fauna thrive throughout the year. It's the perfect spot to warm up even in the winter months when Alberta is in the grip of Mother Nature's cold and grey blanket.
Headed to Calgary too? Read our Calgary Canada guide
There is a nice loop trail just under a kilometer that goes around the pyramids featuring local wildflowers. Dogs are welcome and it is great for kids to run around if they have energy to spare before you enter the greenhouses. If you need a bite, you can pop into Cullina's in the lobby of Muttart.
Ride the High Level Bridge Streetcar
Great views? Check! Cheap date that dives into the history of Edmonton? Check! Highest river crossing streetcar in the world? Check, check!
It's not everyday that you can say you did something that is the biggest, tallest, highest, greatest, and the High Level Bridge Streetcar in Edmonton is probably the easiest to do, especially if you are in Edmonton with kids. Little ones will think they are taking the train. Parents will know they are getting from Downtown Edmonton to Old Strathcona, all while sneaking in a little learning.
Each streetcar comes from a different part of the world. The volunteers running the trolleys are more than happy to tell you the history of the car you are riding, as well as facts about the journey across this 100-year-old High Level Bridge. Just be prepared to wait. The cars only hold so many people, so you may have to wait for one or two cars if the line is long during festivals.
Tour Edmonton Street Art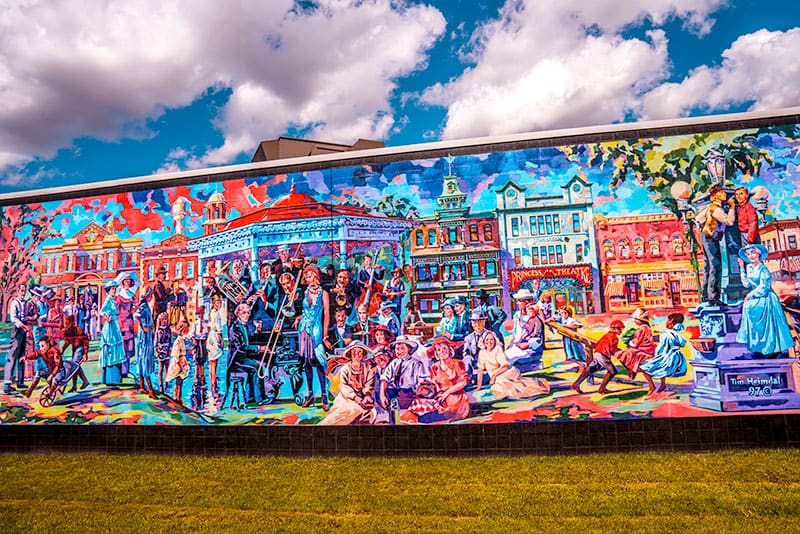 Edmonton is a mecca of murals and street art. In fact, one local has made it her mission to document them all, including just beautifully colored walls, on her site Linda-Hoang.com. There are almost 50 murals around Whyte Avenue, downtown and along 124th street right now thanks to Rust Magic International Street Mural Festival, which was launched in 2016. At least twenty more are expected to go up by the end of the year.
While the idea behind Rust Magic is to mentor young artists and get them a space to put up their work, it is also putting Edmonton on the mural art map. Many pieces are in alleyways and parking lots, which can be frustrating for visitors at times. Many want to get their picture with the mural, but the most important thing to remember is that these are works of art and self expression. Edmonton's public art is filling up empty walls with new beauty by local and international artists, like its Canadian counterparts in Vancouver, Calgary, and Toronto.
Can you find them all? Not sure where to start? Go find Curious George in Old Strathcona.
Elk Island National Park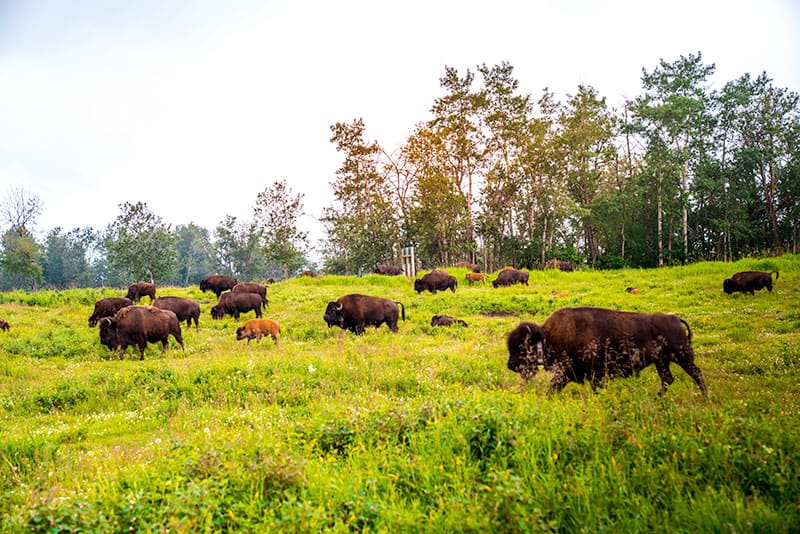 Have you ever wanted to see a bison up close? Just 45 minutes outside of Edmonton you can see two of the last pure plains and wood bison herds left in the world. What does "pure" means? Within these herds there hasn't been any cross breeding. The bison are free from disease and closely monitored to maintain their health and population.
Spring and summer are when you are most likely to see calves wandering with their mamas. This also means the mothers will be much more territorial, so keep your distance. You should always stay 100 feet from wild animals, but giving mom a little extra space never hurts.
Other animals you might see in the park include moose, mule deer, elk, wolves, coyotes, white-tailed deer, black beer, beavers and over 250 species of birds. While this may seem like a lot of animals, you are most likely to see bison and birds. The rest of the animals like to hide out. This is a very large park for them to roam.
Ask the Elk Island National Park park rangers at the visitor center where they have seen animals wondering lately if you want to make sure you see creatures during your visit. They will always have the intel.
Get more information on the park here.
Get a Taste of Edmonton Restaurants
Edmonton's food scene continues to grow with every passing year. While Pip is our favorite breakfast spot (book a reservation in this tiny Old Strathcona restaurant), there are several other places you should make sure you enjoy while in town. Beer lovers will need to take a sip at Situation Brewery, but cocktail connoisseurs should head to Clementine for libations.
For a truly heavenly meal, you go to Uccellino for fresh pasta and Italian food. They call it simple; we call it perfectly balanced flavors hitting our palette. A glass of prosecco is the perfect start to every meal here, and make sure you listen to (and order) the specials.
If you are in the mood for more Asian flavors, hop over to Baijiu by the stadium. Bring a few friends to share plates, sip cocktails and groove to the old-school hip-hop beats bursting out of the speakers. We didn't have it confirmed, but we are pretty sure only models work here too. They hire the sweetest staff, and all are stunning.
Eat all of the Edmonton Pastries
We aren't ones to say no to pastries, and neither should you. Here are just a few of the top shops in Edmonton you won't want to skimp on when it comes to calories.
Duchess Bakeshop: We can't say no to macarons, and why would we? Get a half dozen to sample with your best friends, along with a cup of coffee as you sip and savor every morsel.
La Boule Patisserie & Bakery Inc.: This is where eclairs, tiny cheesecakes and the cutest cakes hope they are born. Never have we seen anything that looks this beautiful AND tastes just as good. Enjoy with a cappuccino, but make sure you sit and stay for a while. You deserve to pretend you are in Paris for at least five minutes.
Hazeldean Bakery: Grab the apple fritters and sticky buns in the morning before they sell out. And they will!
Sugared & Spiced Baked Goods: Hidden in an alleyway off of Whyte Ave, this locally run shop is whipping up decadently high cakes, meringues (our fav!), dense chocolate brownies, and cinnamon buns with a bourbon glaze. Good thing you will be doing a lot of shopping (AKA walking) after this trip to the pastry shop. It means you can eat more calories!
Experience one of Edmonton's many festivals
Edmonton is a city of festivals. They don't stop with just one, but host several throughout the year. The city is best known for the International Fringe Festival, but that doesn't mean the other events aren't worth checking out.
The International Street Performers Festival will make you appreciate the art that goes into getting in front of an unknown crowd every day, just to put your hat out to earn a little cash. These talented men and women come from across the world to perform and get noticed. Some are better than others, but those who stand out will certainly draw a huge crowd.
More festivals we would fly up to experience:
Edmonton International Street Performers Festival (July)
Edmonton International Fringe Festival (August)
Edmonton International Film Festival (September and October)
Boardwalk Ice on Whyte (January and February)
Explore 124th Street
Duchess Bakery put 124th Street on the map, but the growing art and boutique shopping scene is what has kept this neighborhood alive. It continues to thrive as galleries move in, showing off local and international artists you have yet to discover. Grab a macaron and a cup of tea at Duchess Bakery before taking a stroll along 124th street, popping into the shops and galleries, and stumbling upon murals that might not be on any map.
TIP: Don't miss Canada's oldest Gallery Walk happening twice a year, which is free and open to the public.
Tastings at Strathcona Spirits Distillery
Love gin, vodka and fine, small-batch liquors? Well then you need to pop into Strathcona Spirits Distillery, the oldest distillery in Edmonton. At just over two years old, it may seem like a baby, but thanks to liquor laws, this truly is a historic spot for more than one reason.
Started in an old radiator parts repair shop, the distillery was once an underground club. The owner started playing shows with friends, which soon turned into a cult following of sorts. The city got wind of this activity and shut them down. Soon after, Alberta changed the liquor producing laws so that small batch distilleries could begin producing and distributing liquor. No longer were spirits considered "moonshine" in these parts. Craft brewers had some competition as gin, vodka and whiskey connoisseurs entered the fray.
Strathcona Spirits regularly produces barrel-aged gin, Badlands Berry Gin (our favorite!), as well as a single grain vodka. Their first whiskey will be coming out of the cask in June 2020 and we can't wait.
Not sure what to do with these fine liquors? The Midnight Cocktail Club of Edmonton regularly challenges bartenders to get creative with what the local distilleries are putting out. Recipes of what has been created are up on the Strathcona Spirits website.
Farm to Table dinner at the Old Red Barn by Kitchen by Brad
Edmonton is farm country, despite it looking like a city. Go 10 minutes outside of the city and you are in the fields of Alberta. What better way to celebrate this cultivated culture than with a true farm to table dinner? While we city folks understand the concept of getting our food from a farm, actually sitting on a farm where most of the food was produced, or brought in from neighboring farms, takes on a whole new meaning.
Melissa and Matt Schur from the Old Red Barn teamed up with Chef Brad from KITCHEN to put on summer family dinners. City folk and area residents all come out to experience this unique meal with a few equine friends hanging out in the distance (or sometimes right next to you). Chef Brad puts his own spin on this simple, yet impactful menu that combines local ingredients to show off the best Alberta, and specifically Edmonton, has to offer. As always with Chef Brad, there is a little Ukranian flair to the dishes, which resonates throughout his kitchen and cuisine.
Local wine is brought in to complement each course. After all, British Columbia, right next to Alberta, is making some of the finest wines in North America (or so we like to think).
Want to attend a dinner? Check for the next date here!
Take the gloves off at an Edmonton Oilers Game
Hockey fans, and yes, even people like us who have no idea what is going on in the game, will enjoy an Edmonton Oilers game as if they are locals. Rogers Place, the massive arena where the Oilers play, can seat 18,500 and you will feel the force of the Oiler fans at every game.
And don't get these Edmonton hockey fans started on Wayne Gretsky. The city took home the Stanley Cup three times while "The Great One" played with the Oilers from 1979-1988. You can even get your photo taken with a statue of the man outside the arena.
View the Outdoor Neon Museum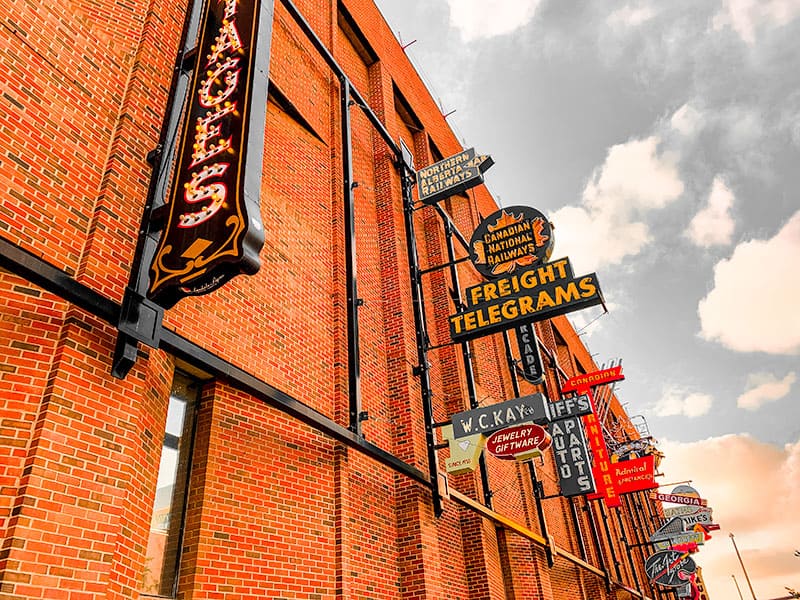 The 4th Street Promenade is where those in the know go to see the neon signs of old that have been salvaged and restored. The volunteers from the City of Edmonton Heritage Planning have at least 20 signs on display, with the goal of 30 being part of the collection.
These signs tell the story of old Edmonton, each with a plaque explaining the story of the business it represented. As neon goes out of fashion thanks to the expense and lack of artists working with the material, this type of museum is all the more important.
The Outdoor Neon Museum is right around the corner from Rogers Place where the Edmonton Oilers play. It adds a bit of nighttime flair to the neighborhood, even on a blustery night in January. Best of all, the museum is completely outdoors, and free year round.
Catch the Northern Lights … if you are lucky!
Once upon a time, we stayed up until the wee hours of the morning in Jasper trying to see the Northern Lights. Unfortunately, the Aurora Borealis skipped us to put on a show over Edmonton instead. Never have I wanted to be in a city more than that moment.
While you may think the Edmonton Aurora Borealis would be weak, there is a dark sky preserve just 40 minutes outside of the city in Elk Island National Park. Keep an eye on your Aurora Borealis tracker app. Head into the park, making your way towards the Beaver Hills Dark Sky Preserve in the park. The Bison Loop is a great spot to see the North Lights and not as populated as the Astotin Lake Recreation Area where most visitors will go to park their cars and wait.
Other spots to view the Edmonton Aurora Borealis and night sky include the RASC Observatory at TELUS World of Science. The observatory is free, making it the perfect spot for families to explore, especially during the winter nights when the sun sets earlier. It is hard to push bedtime when you have little ones who also love to star gaze.
The University of Alberta also opens up its observatory to the public on Thursday evenings. While we can't promise the Northern Lights will be dancing, it never hurts to swing by, talk to the astronomers and learn more about the night sky.
Looking for a Hotel in Edmonton? Check out the following!
This post is part of a paid partnership with Edmonton Tourism. As always, my opinions are my own. When they aren't you will be the first to know. This post contains affiliate links.