Let's get this straight- you have made a fabulous decision to spend 3 days in Banff, and this Banff itinerary is going to show you the best Banff National Park has to offer. You will see waterfalls, hike on a glacier, get a little pampering at the spa, eat world-class cuisine, catch a glimpse of the local wildlife, and find your own bliss when you visit Canada's first national park and the Rocky Mountains.
What's in your Banff Itinerary?
Day 1: Open Top tour, gardens, afternoon tea, waterfall hike, gondola ride, and dinner with a sunset view.
Day 2: Icefields Parkway, Columbia Icefield, Columbia Icefield Skywalk, helicopter ride, and the spa.
Day 3: Canyon hike, lake cruise, shopping, museums and a distillery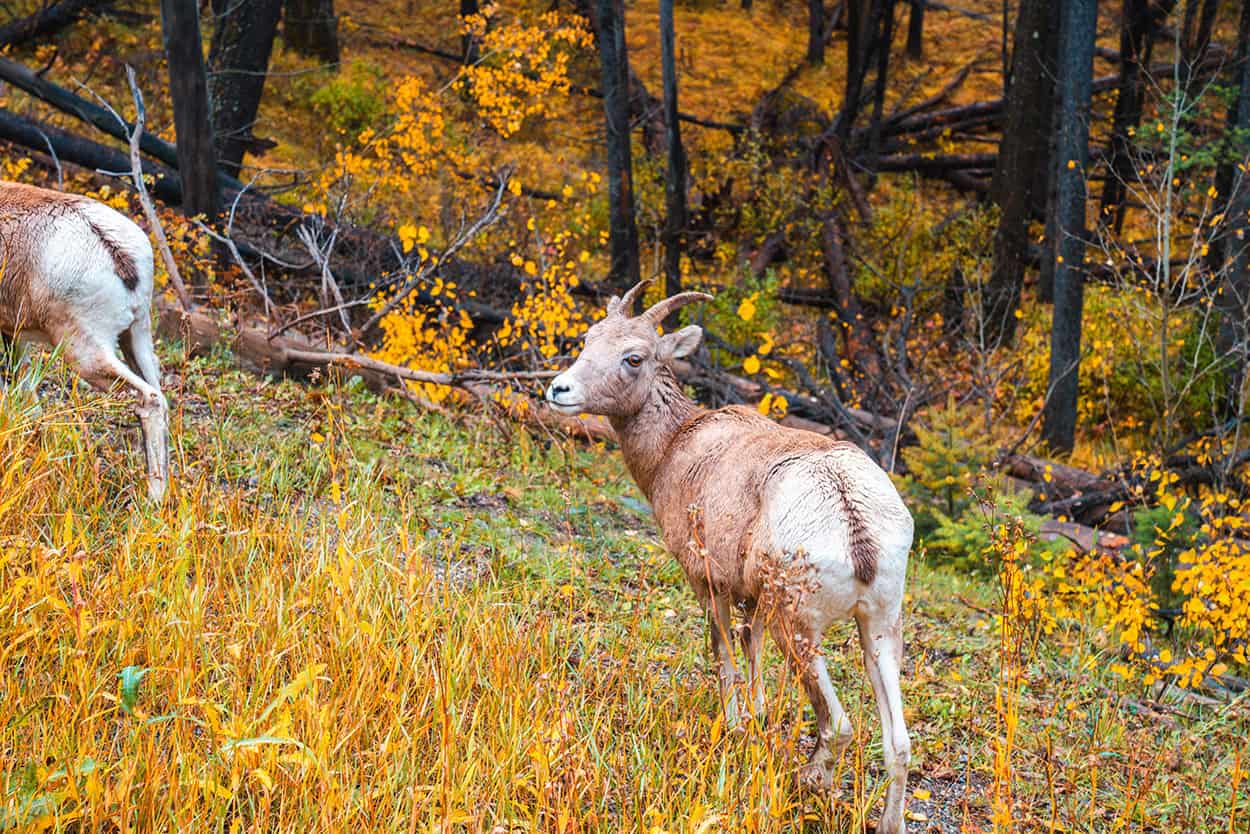 Why Visit Banff National Park?
Pulling into the small Canadian town of Banff in Banff National Park is one of the most magical moments you will have in your life. Surrounded by mountains with a river flowing through it, close to turquoise, glacier-fed lakes, and filled with delicious food and beautiful hotels, you may wonder why you have never planned a Banff itinerary before, and why you don't come more often.
Each and every time I visit Banff I wonder about all of these things. I have toyed with moving, as it's a great place to live, but I like to drive or fly to snow, not live in it for six or more months of the year. As much as I love the Lake Louise Ski Resort, I just don't ski that often the older I get.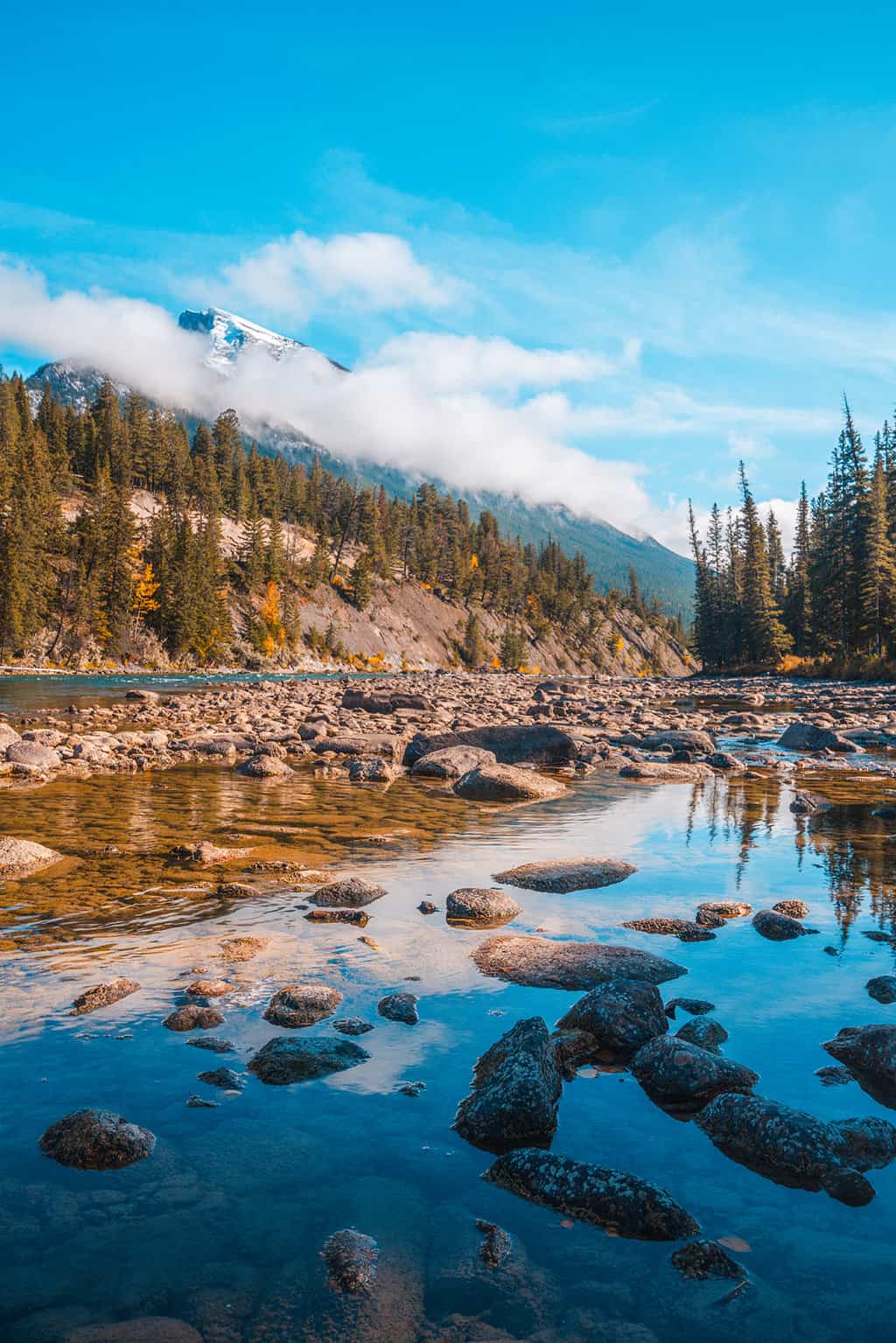 I also wonder if the magic would start to fade if I lived here. Probably not, as I have friends in the area who swear they will never leave, but still, one has to wonder if this much beauty can be absorbed in one lifetime.
Enough of the poetic ramblings, you are here for 3 days in Banff, so let's jump into exactly what you should expect, how much time you will actually want to spend in each spot, where to eat, sleep and hike when you are in Canada's first national Park.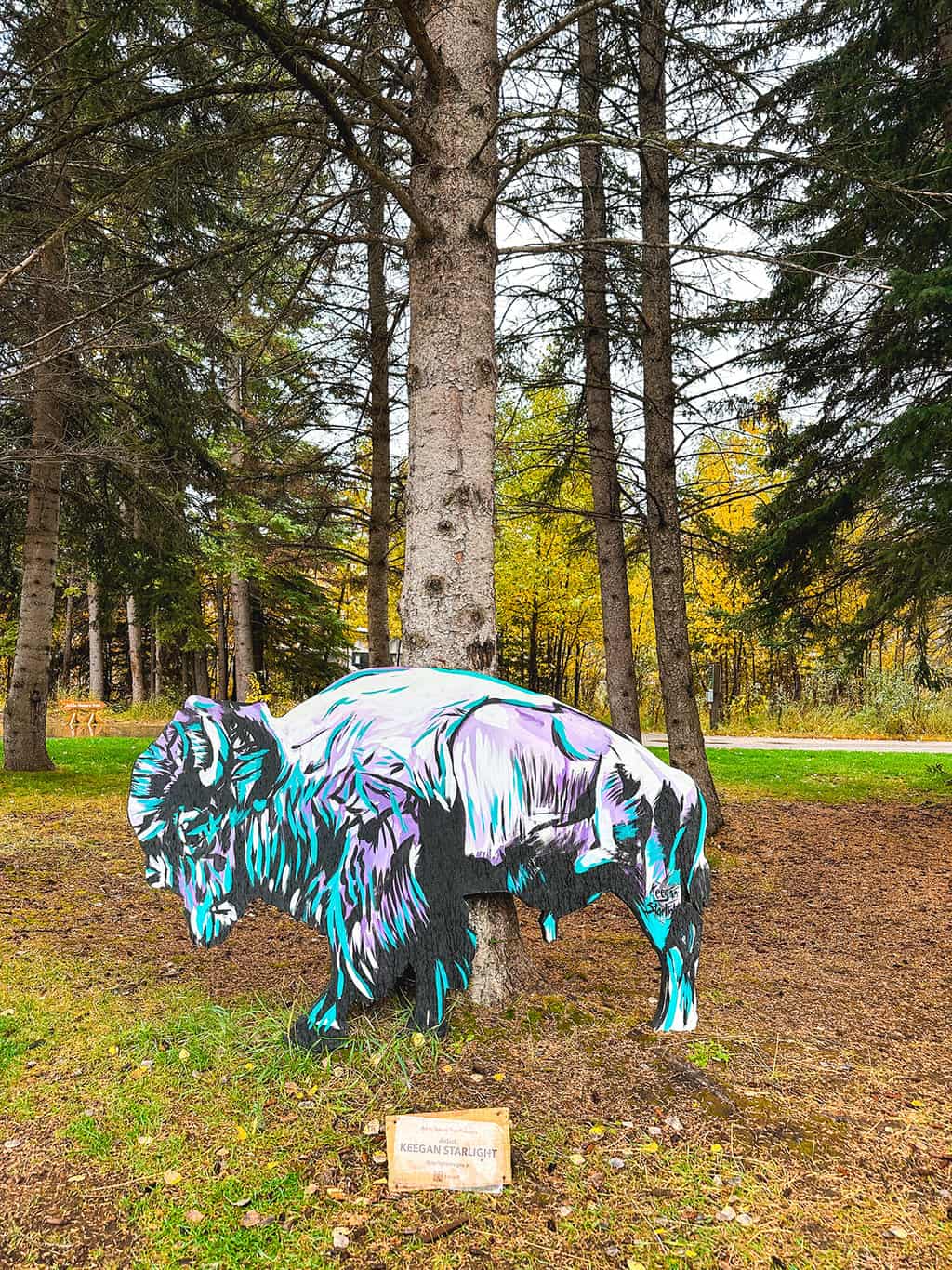 How much time should you spend in Banff?
You could easily spend a week in Banff hiking, kayaking, rock climbing, skiing, snowboarding, ice climbing, or just being a bum at your lodge.
Three days is the minimum I would spend in Banff. You can certainly take a day tour from Calgary and see a lot, or even base yourself in Canmore to explore Banff National Park, but staying in the town of Banff allows you to do the best things in the park, without having to drive even more. If it's your first time to Banff, you will definitely want to stay in town, as one of my favorite things about Banff is that it gets quieter as the sun begins to set and the tour buses leave.
If you have more than a long weekend, consider spending more time or combining your stay in Banff with a drive on the Icefields Parkway up to Jasper National Park (check out our Jasper itinerary), which is one of the best seven-day itinerary in Alberta Canada.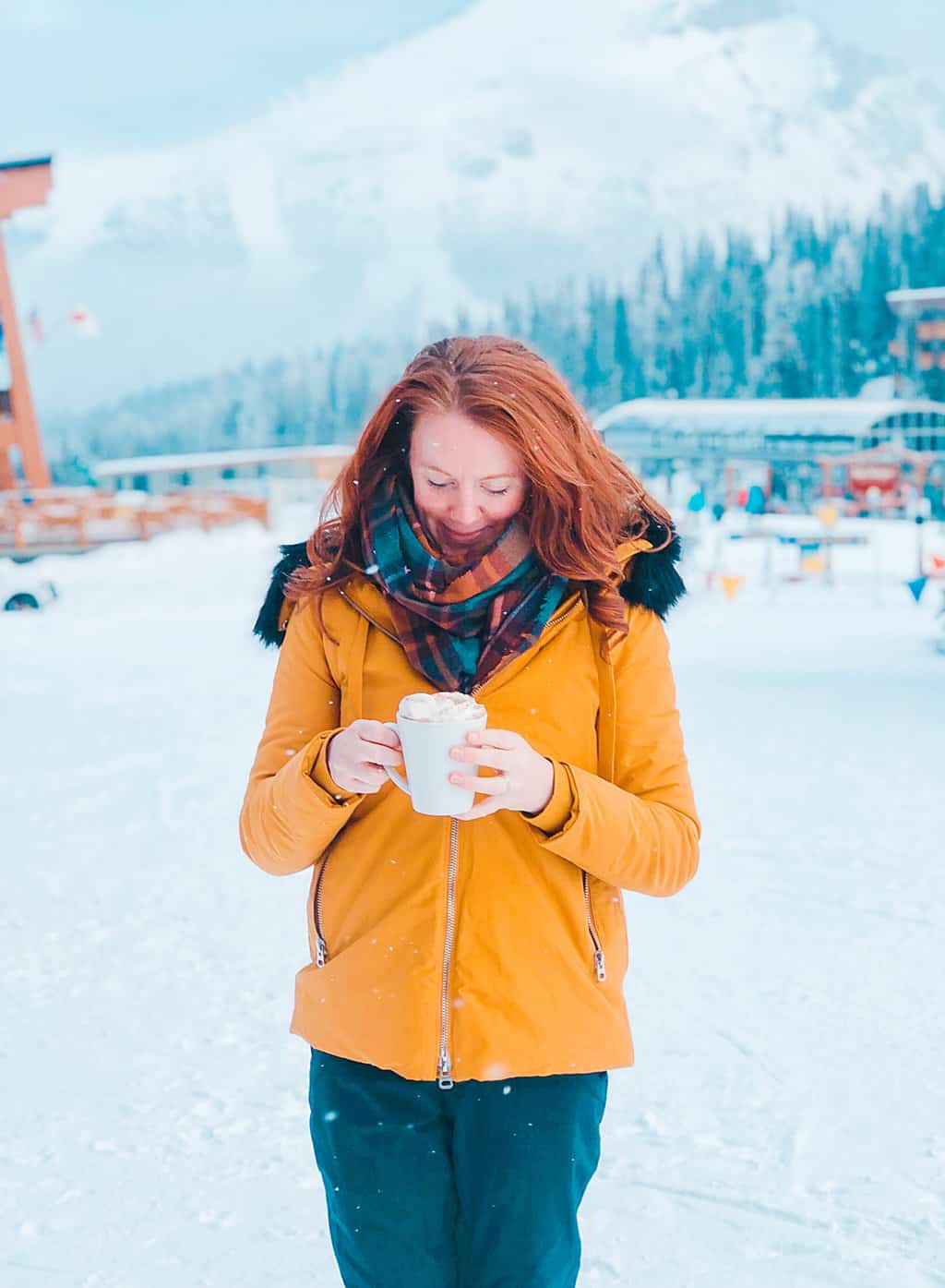 When is the best time to visit Banff National Park
Winter in Banff is cold and snowy, which makes it perfect for ice climbing Johnston Canyon, skiing Mt. Norquay, Lake Louise or Banff Sunshine Village (known as the SkiBig3 mountains). The town is quieter in the winter with mostly ski bums hanging out in town after a day on the slopes.
Spring is mud season. As the snow begins to melt, you can still do some skiing, but hiking could be a bit damp, although no less amazing. The lakes will start to thaw, creating ice chunks or a weird phenomenon called "Candlestick Ice," where the lake ice turns into shards as you paddle through the water.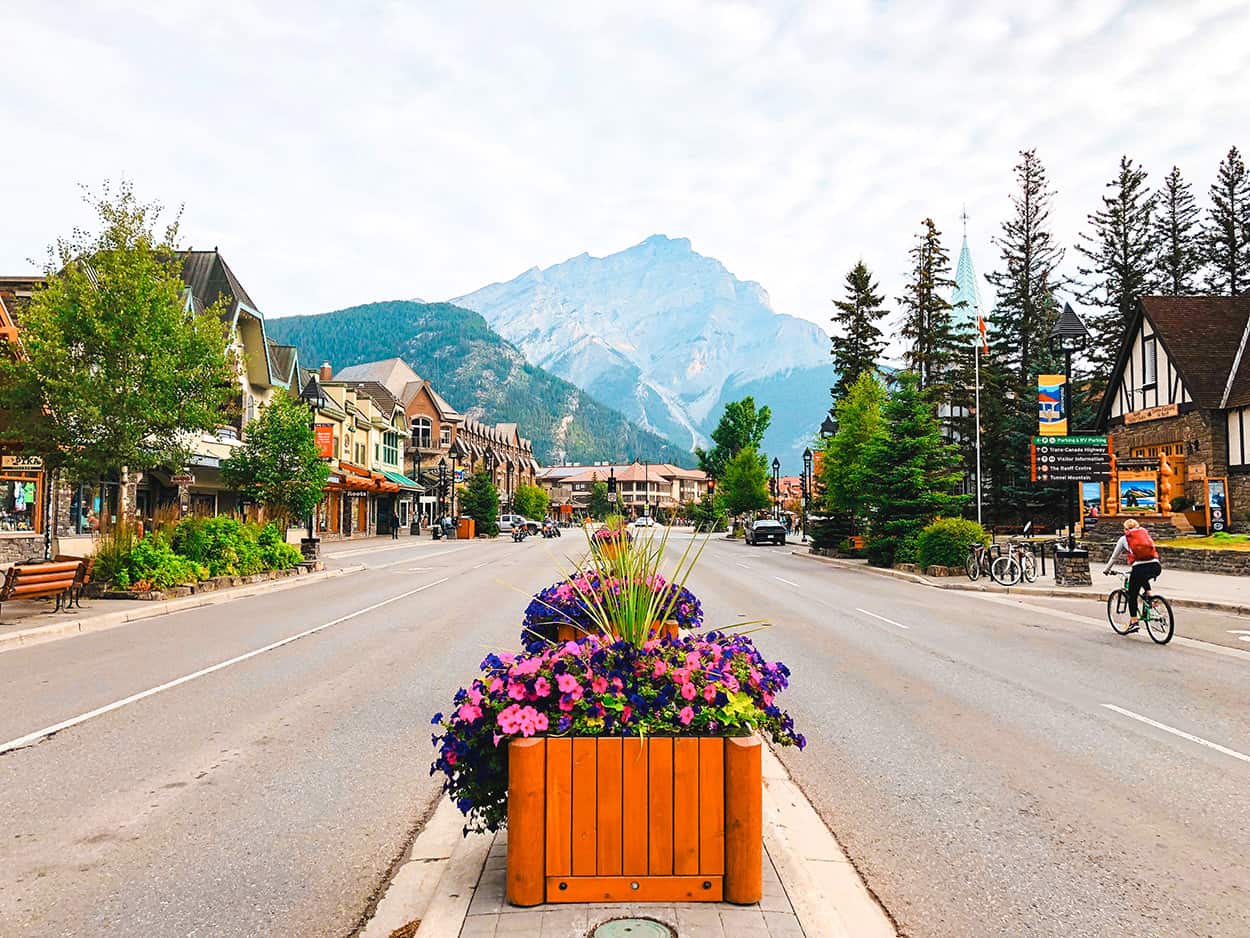 Summer is the most popular time of year to visit Banff National Park. The weather is warmer, the lakes aren't frozen, the hiking trails aren't as muddy and the wildflowers have taken over the mountains and valleys.
Autumn is the best time to visit Banff (and my personal favorite), especially in late September and early October when the birch trees are yellow and spilling across the mountains and along the Icefields Parkway. Most attractions are open until early October, but the mass number of tour buses will start to slow down by now.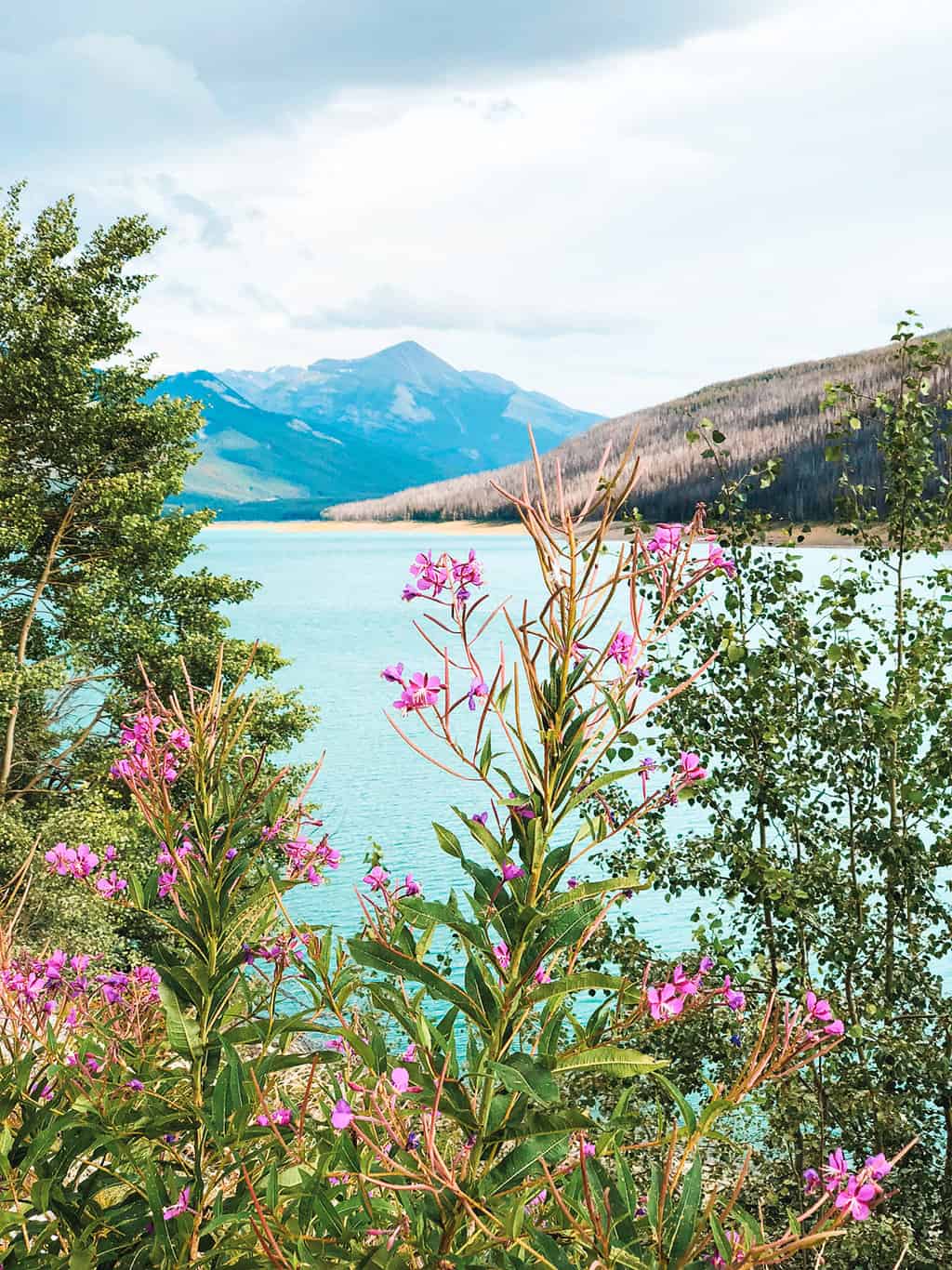 Do I need a Parks Canada Pass?
Yes, the town of Banff is in Banff National Park, so you will need to buy a pass online or at one of the park ranger booths that will greet you on the way in. Make sure you have your park pass displayed at all times or you will be fined.
You can buy an annual Parks Canada Discovery Pass, which covers a number of national parks in Canada, or a seasonal admission pass to one park. Day passes are also available.
Keep in mind that Canadian national parks charge by the person, not by the vehicle like many U.S. National Park. The good news is that kids under 17 are free at all national parks in Canada. If you plan on staying for multiple days or hitting a few parks in one or more trips, the annual Parks Canada Discovery Pass is your best option.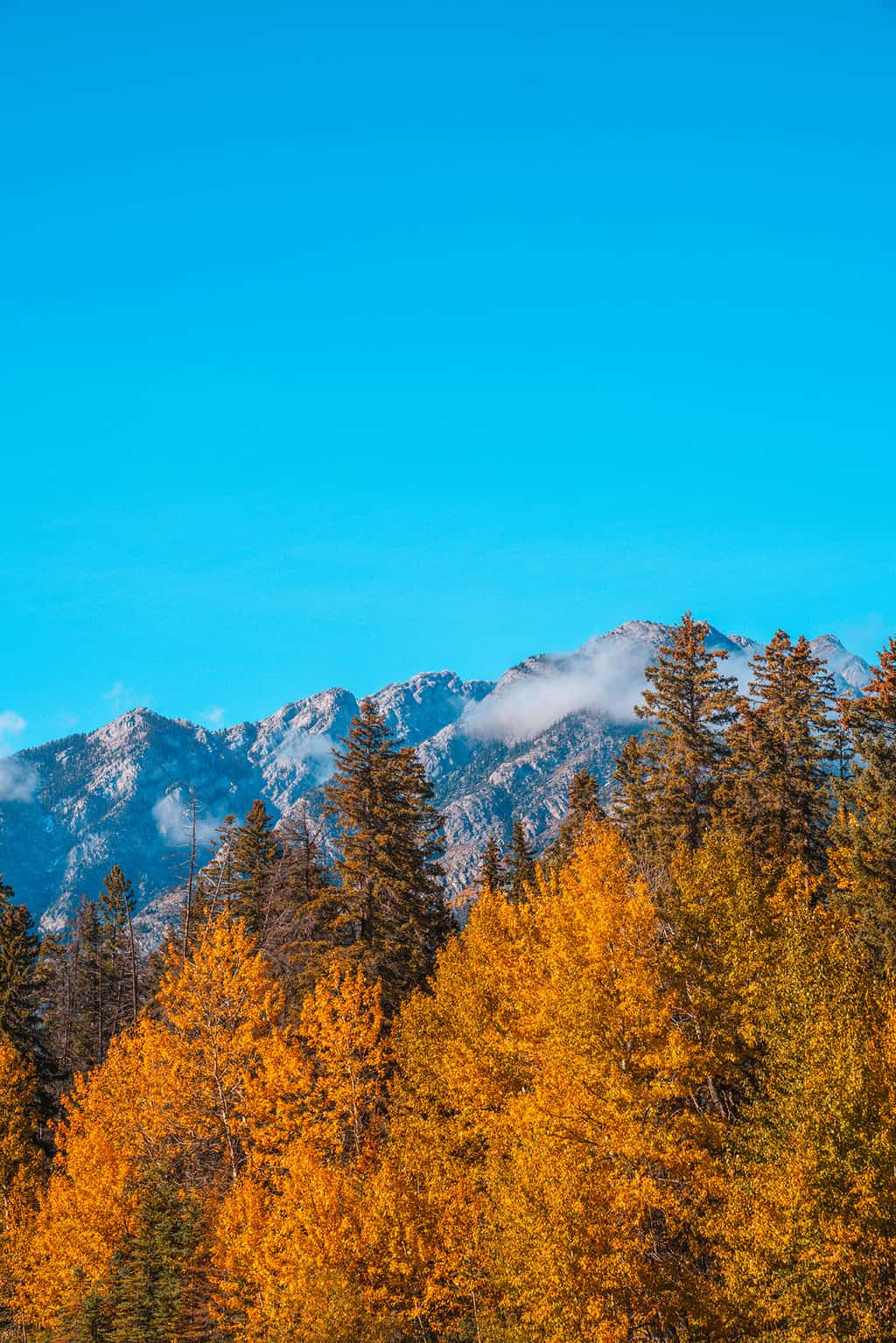 What's the weather like in Banff Alberta?
Banff is classified as a subarctic climate, and in the winter you can really feel it. Temperatures in Banff from November through March can be as low as 7°F (it's been known to go lower). Summers are the warmest, with temperatures in the 70s. Spring and fall you will see cold nights with moderate days in the 50s and 60s.
Is Banff Dry or Humid?
No matter what anyone tells you, Banff is dry. You won't find much humidity here, especially if you live in a more humid climate.
If you are coming from sea level, you will have an elevation gain of 4,537 feet (1,383 meters) in the town of Banff. Some people do experience altitude sickness, but not a ton.
Drink a lot of water and always have water on you, even if you are only taking a short hike. Long days in the car exploring the area also require water. There are enough rest stops if you have to use the bathroom, so keep drinking your water even on the first day of your trip so you don't become dehydrated.
A quick rule of thumb- if you have dry lips, you need to hydrate more.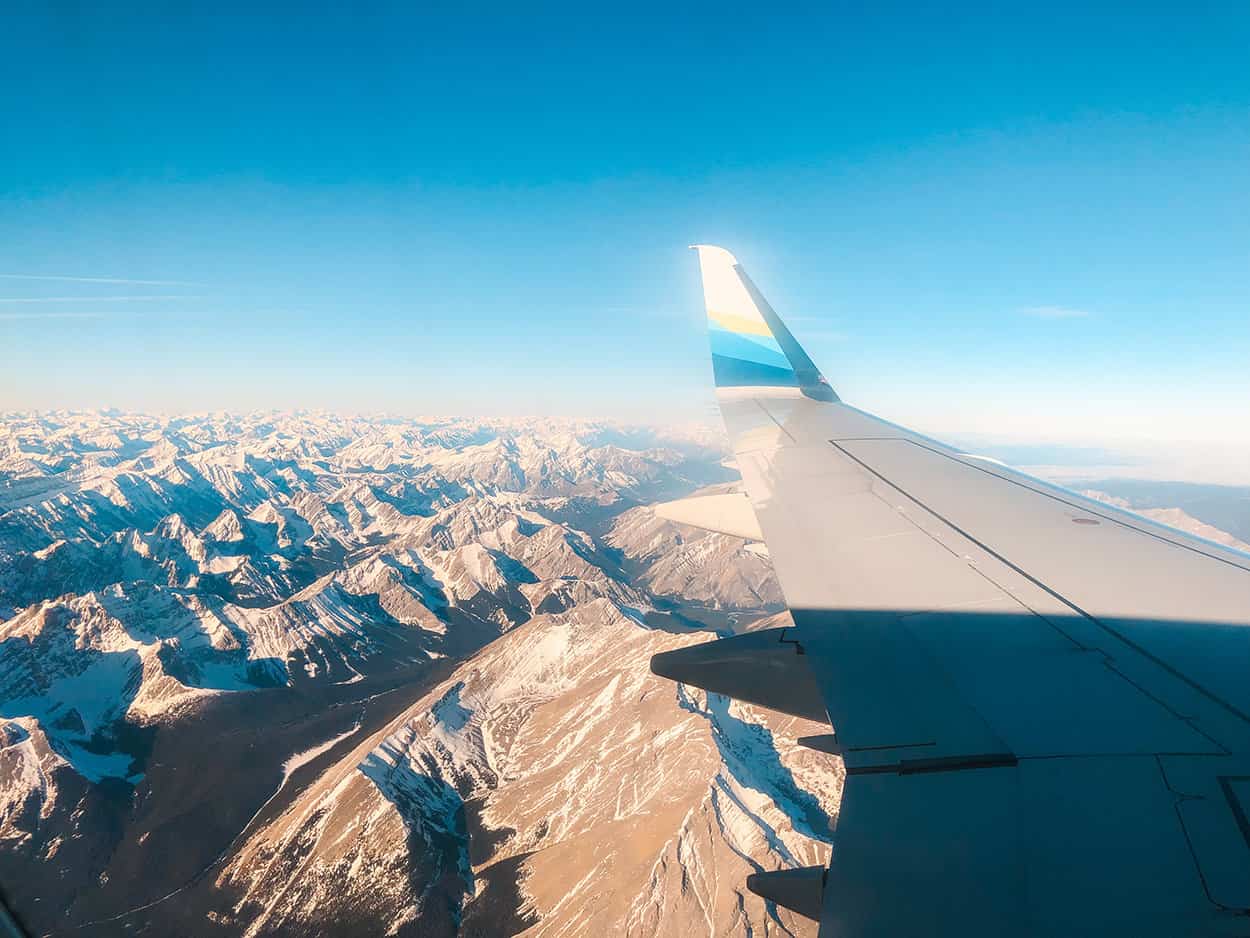 Banff Alberta Trip Planning Guide
This post contains affiliate links, which means we may earn a small commission from your purchase. This adds NO extra cost to you.
Now that you know the weather and when to go, let's dig into the nitty gritty of your Banff itinerary. From flights to hotels, travel insurance and a rental car, chances are you have a few logistics to sort out as you plan 3 days in Banff.
Flying into Banff?
The easiest airport to fly into when you want to get to Banff is in Calgary. There is a small airport in Banff (Banff Airport (YBA)), but it's mainly used by the park service these days.
To find the best flights to Calgary International Airport (YYC), the closest airport to Banff, we love to track flights via Expedia.com. Not only do we find great rates, but we earn points to use on future travel too.
You can also keep an eye on GOING deals, which is how we got to Ireland roundtrip from LAX for under $500 each, and found tickets to Calgary for under $300 from LAX. The free version is good, but the paid subscription will save you way more than the cost of the actual subscription. A flight tracker was just added, so you can keep an eye on prices to some of your favorite locations.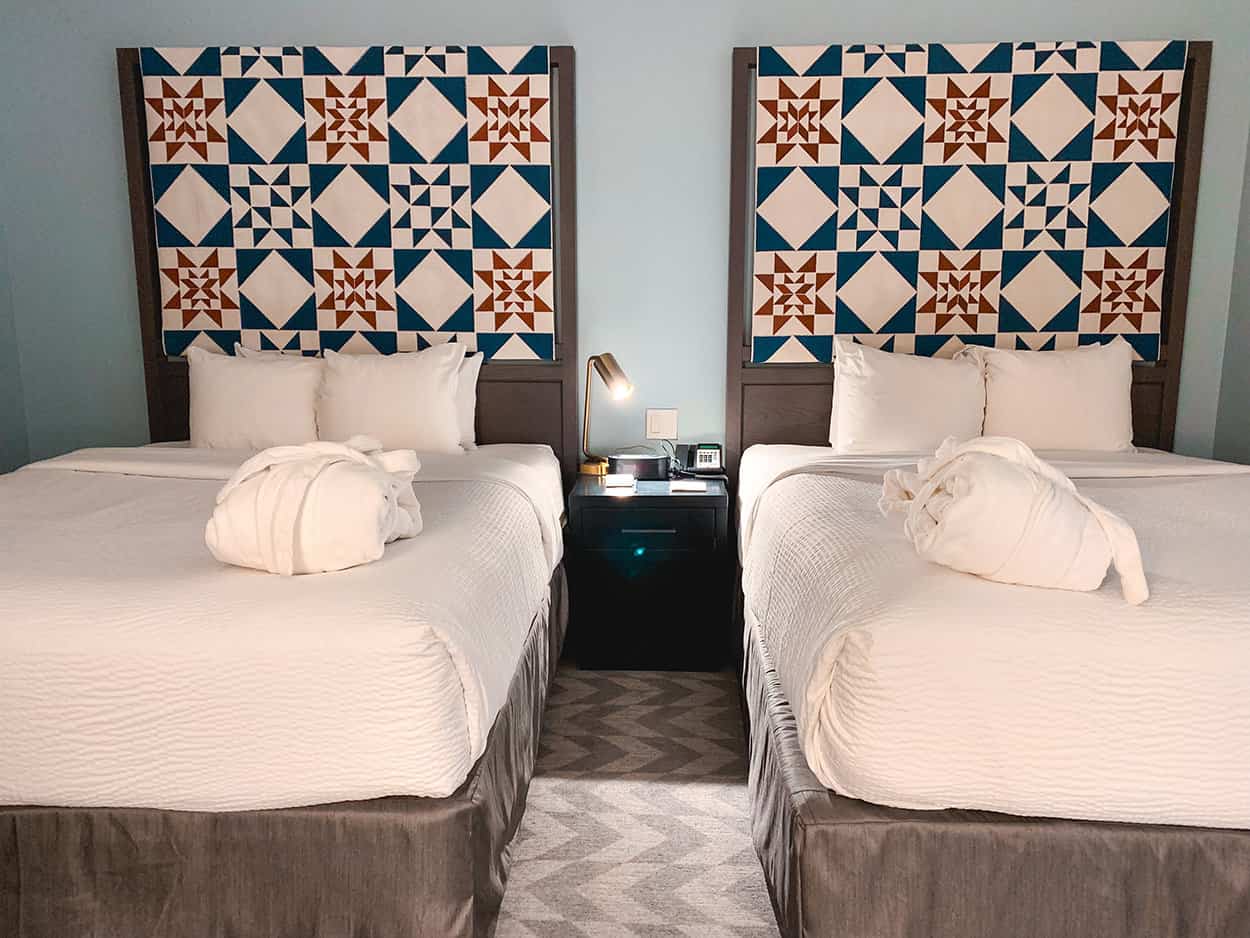 Hotels in Banff National Park
Here are a few of my favorite Banff hotels that you should book as soon as you know you want to visit. Although Banff doesn't book out as fast as Jasper, your desired hotel can sell out, especially in the summer when more tour groups and the Rocky Mountaineer train are rolling through.
Find more Banff hotels HERE
Need a Rental Car?
We use DiscoverCars.com to get the best rates and availability on rental cars. Find your car HERE, along with all of the extras you may need (insurance, car seats, ski racks, etc.)
If you plan to drive to Banff National Park in winter, consider getting an SUV or other vehicle with 4WD or AWD, especially if you aren't used to driving in snowy conditions.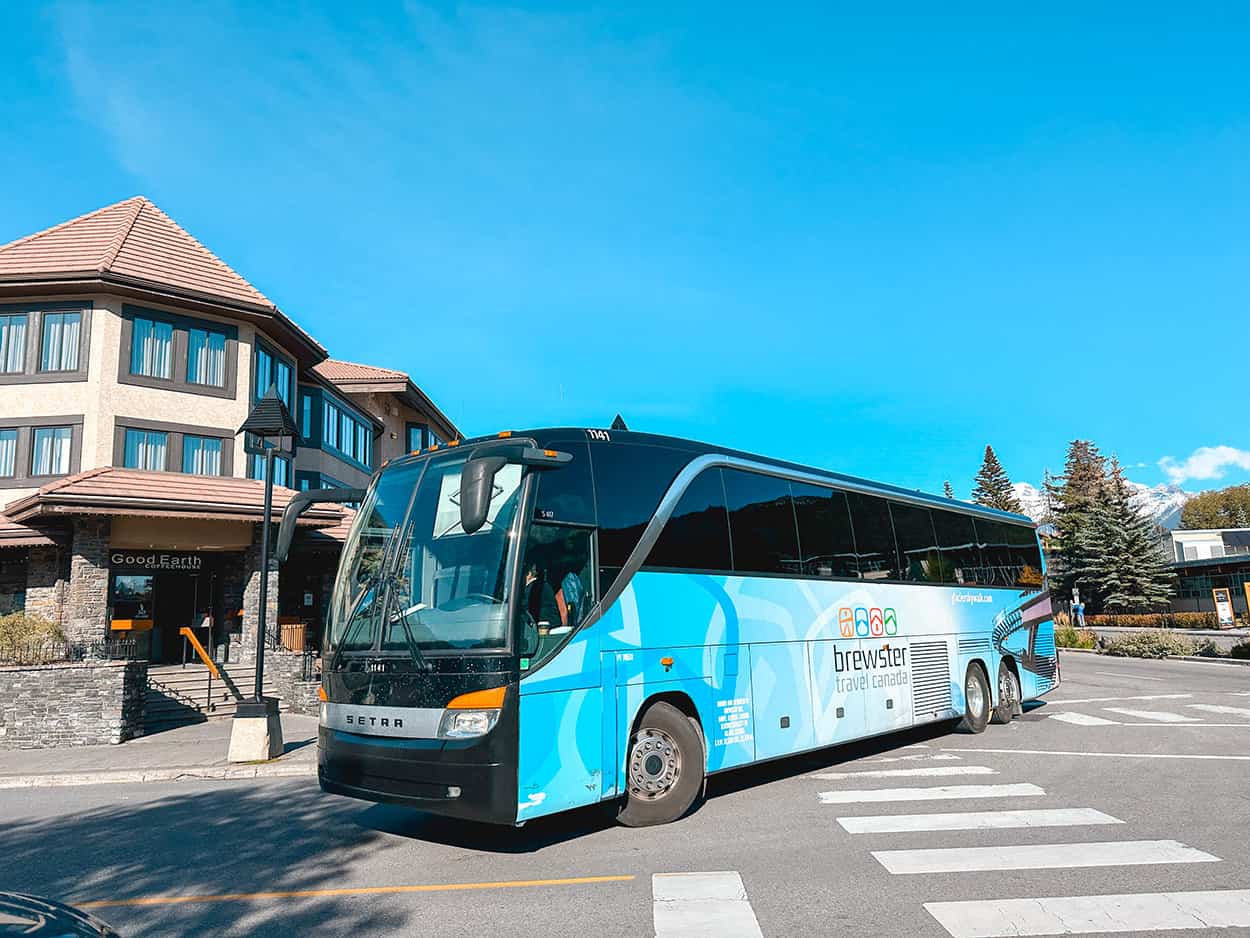 More Ways to get to Banff
Shuttle Services
Several shuttle services operate between Calgary Airport and Banff. The Brewster Express is probably the easiest airport transfer, and one I book whenever I don't need a rental car in Banff. They have multiple departures throughout the day, so just pick the one that matches your airplane arrival time.
Give yourself some wiggle room in case of flight delays though. If you arrive on time or early, you can still go to the Brewster Express desk and see if there is space on an earlier shuttle to Banff. You can book your airport transfer here.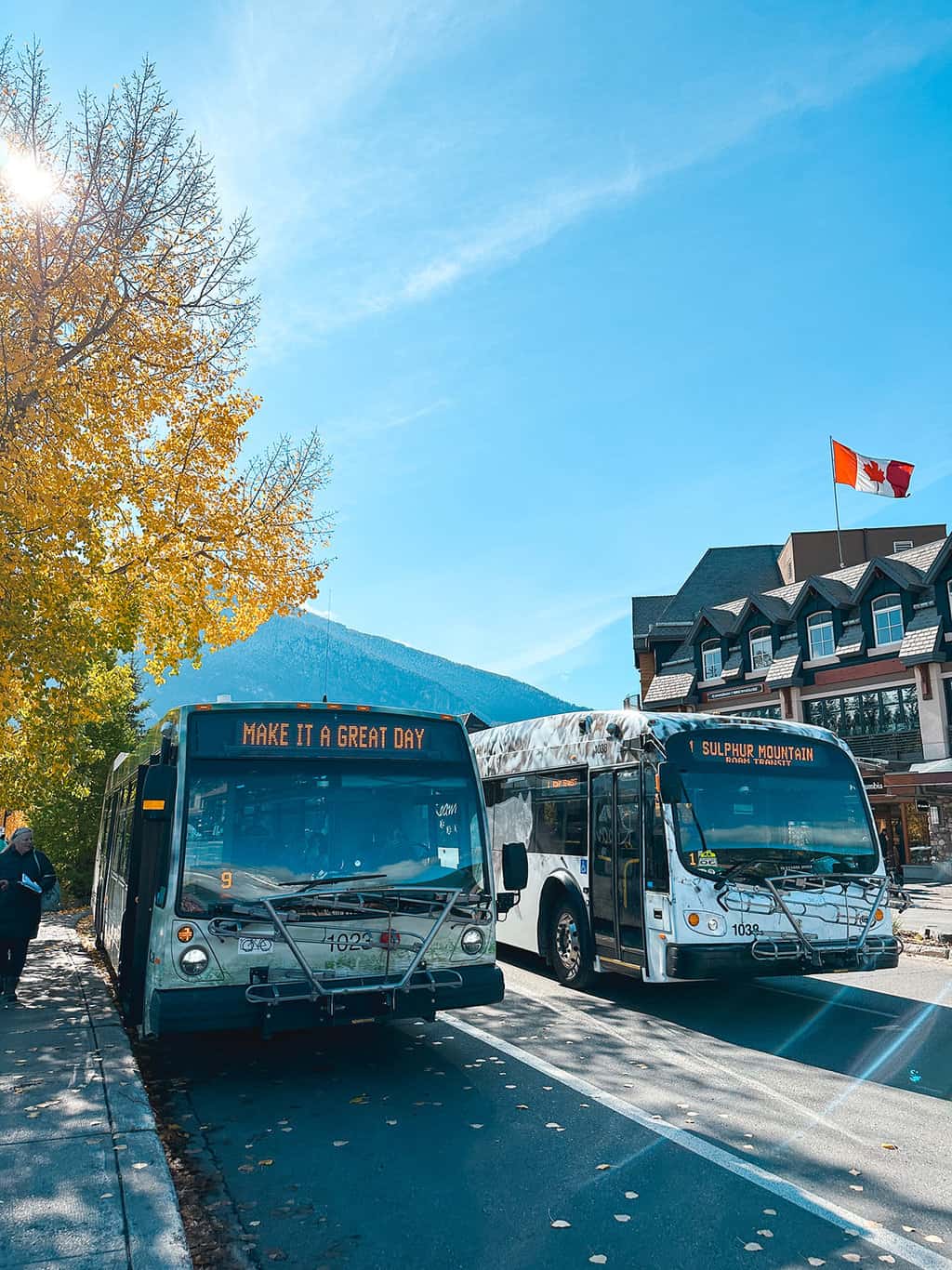 Public Transportation and Bus Services
You can take a combination of public transportation, including the Calgary Transit C-Train to downtown Calgary and then a regional bus service like Brewster Express to Banff. This option is more budget-friendly but may take longer. If you are flying in, don't even bother. Just take the Brewster Express by booking your seat here.
Private Transfers
Some companies offer private transfer services, which can be convenient if you have a larger group or just don't want to be in a crowd.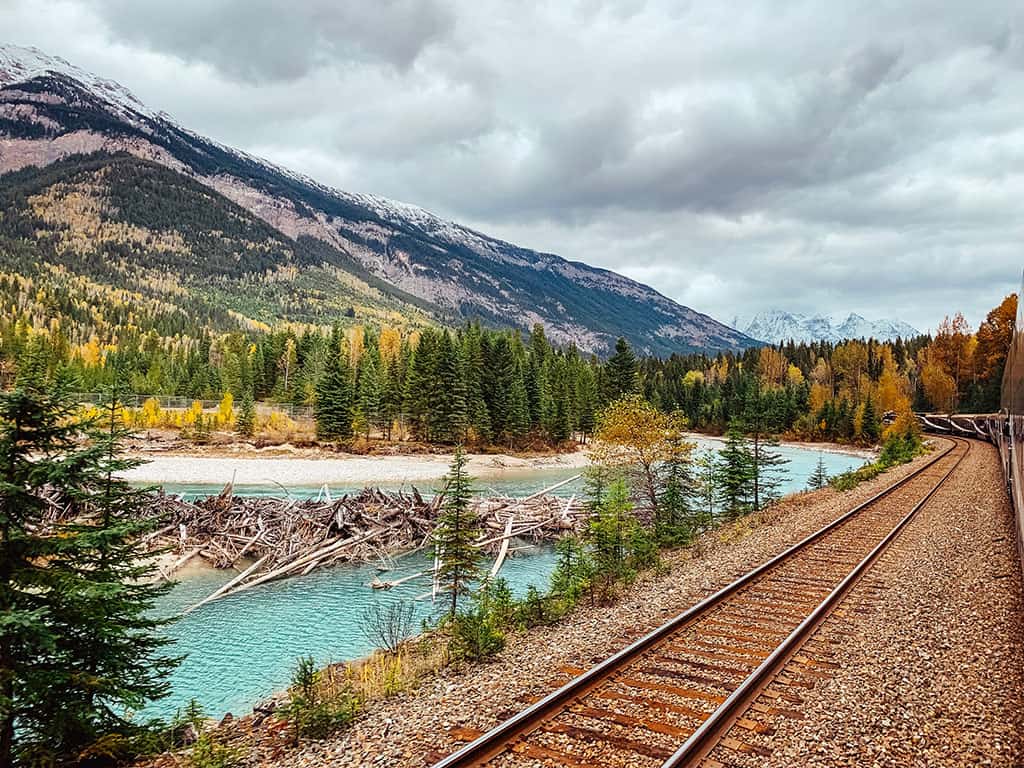 Take the Train to Banff
While there isn't a direct VIA rail train to Banff, you can take a VIA Rail train from Calgary to Jasper, Alberta, and then continue by shuttle or car to Banff.
Alternatively, you can book a trip on the Rocky Mountaineer from Vancouver to Banff. This two-day journey brings you through some of the most beautiful parts of British Columbia and Alberta Canada, before leaving you in the town of Banff to explore with a group or on your own.
Travel Insurance
Do NOT forget to buy travel insurance for your trip, even if you booked through a travel agent.
Things do and will happen and it's cheaper to buy travel insurance ahead of time instead of paying out of pocket later.
Check out Travelex for rates on a single trip or an annual plan that could be right for you if you take more than one or two trips a year.
Need a SIM card?
We all love our smartphones, but we don't love those international roaming charges. If your cell phone service doesn't include Canada, you could max out plan, which can cost you hundreds of dollars if you love to use data. It's especially great for the kids, as it limits what they can do and how much data they can use, but still allows them to text friends back home.
Check out Airalo, our preferred eSIM card store for the best prices on eSIM cards and international data plans.
Tours and Activities in Banff to Book
If you want to start booking your activities in advance, you can check out some of our favorites from Get Your Guide below. I'll also be diving into specific tours I have taken that you will want to book ahead of time in the detailed, day-to-day itinerary below.
What to pack for your trip to Banff
Clothing
Layered Clothing: Banff's weather can change rapidly, so pack a variety of layers, including T-shirts, long-sleeve shirts, sweaters, and a waterproof jacket, like this one.
Warm Outerwear: A warm winter coat (this is the yellow one I wear), gloves, and a hat if you plan to visit in the colder months.
Comfortable Hiking Boots: Sturdy, waterproof hiking boots, like these, with good traction for exploring the trails.
Rain Gear: A lightweight, waterproof rain jacket or poncho for unexpected showers.
Swimwear: If you plan to take a dip in the lakes or visit hot springs.
Comfortable Pants: Lightweight, breathable pants for hiking, and a pair of casual pants for evenings.
Socks: Several pairs of moisture-wicking socks suitable for hiking. I love my Smartwool socks cause it keeps my toes nice and warm.
Gear and Accessories:
Backpack: A comfortable daypack for carrying essentials during hikes.
Reusable Water Bottle: To stay hydrated while on the trails. We carry these Hydroflasks everywhere because my kids love ice and cold water.
Sun Protection: Sunglasses, sunscreen, and a wide-brimmed hat to shield yourself from the sun.
Camera: Capture the stunning scenery, but don't forget extra memory cards and batteries. Check out my favorite camera gear.
Chargers: Chargers for your electronic devices, and consider a portable power bank.
Outdoor Equipment:
Hiking Gear: Maps, compass, and a GPS device if you plan to venture into remote areas.
Trekking Poles: For added stability and support during hikes, like these. Keep in mind that some airports won't let you carry on hiking poles; you will need to check them.
Personal Items:
Toiletries: Toothbrush, toothpaste, soap, shampoo, and any personal medications.
First Aid Kit: Basic supplies, including bandages, antiseptic, and pain relievers. I have this smaller first aid kit in our daypack.
Identification: Passport, driver's license, and any necessary travel documents.
Miscellaneous
Cash and Cards: Credit/debit cards and some cash for small purchases or places that may not accept cards. Remember, Canada is NOT the United States. They have their own money, so U.S. currency won't work here. You can easily access cash via ATM when you arrive at the airport and in the town of Banff though.
Insect Repellent: Especially if you're visiting during mosquito season.
Travel Pillow and Earplugs: If you're staying in town along Banff Avenue, and especially if your room is street facing, you may hear a bit of noise at night. I use this sound machine, which blocks out all sounds that may keep me up at night. If you'd rather have earbuds, check out these sleep buds, which I always have on hand when traveling with a group. Sadly Bose topped making their Sleep Buds, but these are pretty close.
Reusable Shopping Bag: You have to pay for bags in Canada, so bring your own tiny, reusable bag (I carry one similar to THIS) to carry snacks, random purchases, and even dirty laundry.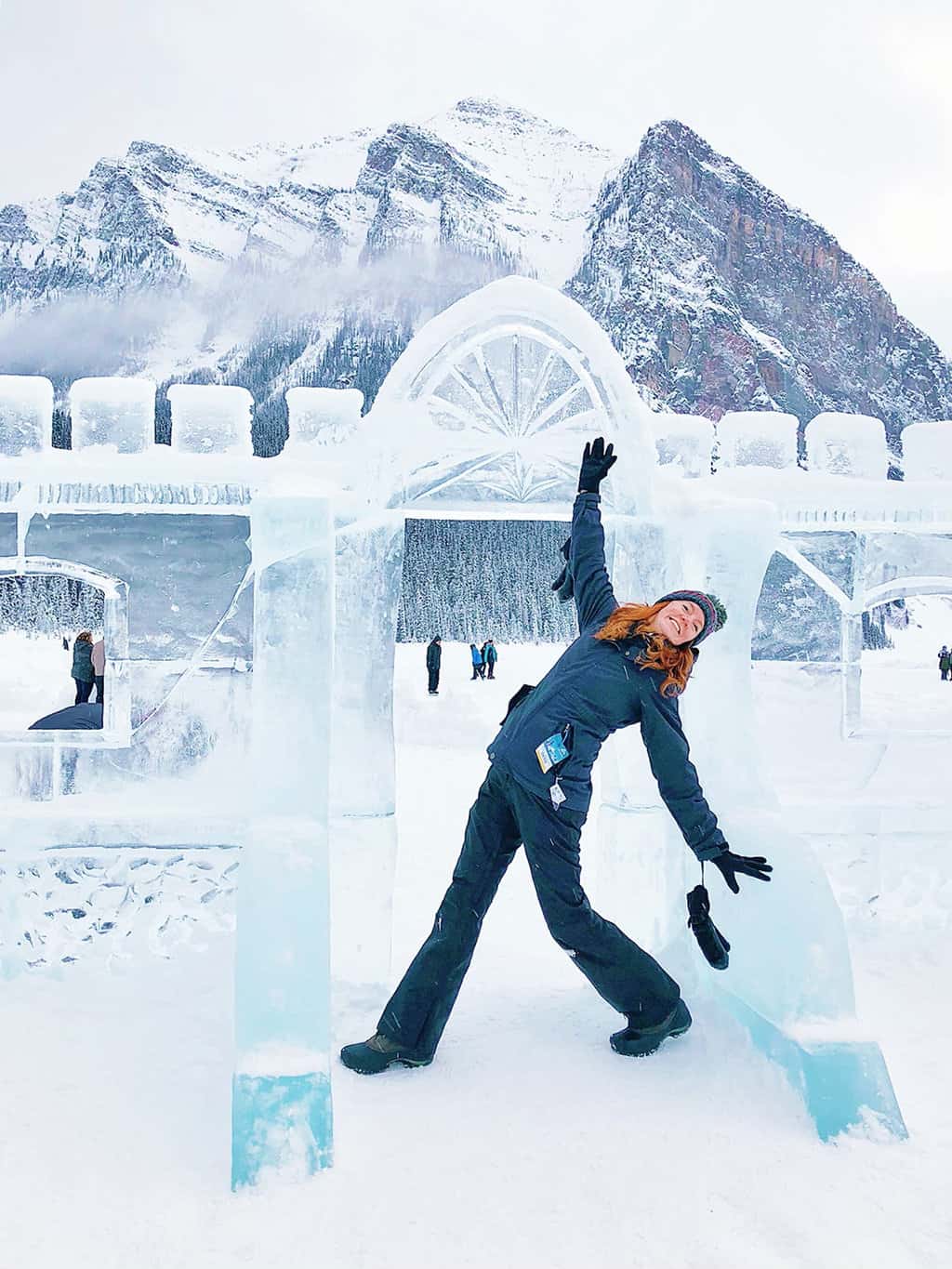 Events in Banff National Park
SnowDays Winter Festival (January)
Lake Louise to Banff Loppet & Relay (January)
Mountain Madness Relay Race (February)
Curling Day in Canada (February)
Homegrown Art Show Open House (March)
Made with Love Banff Food and Cocktail Festival (April)
Banff Marathon (June)
National Indigenous Peoples Day (June)
Canada Day (July)
Melissa's Road Race (September)
National Day for Truth and Reconciliation (September 30)
Banff Pride (October)
The Great Pumpkin Walk & Community Fire (October)
Halloween (October)
Banff Centre Mountain Film and Book Festival (late October/early November)
Banff Christmas Market (November-December)
Whyte Christmas (December)
New Year's Eve (December)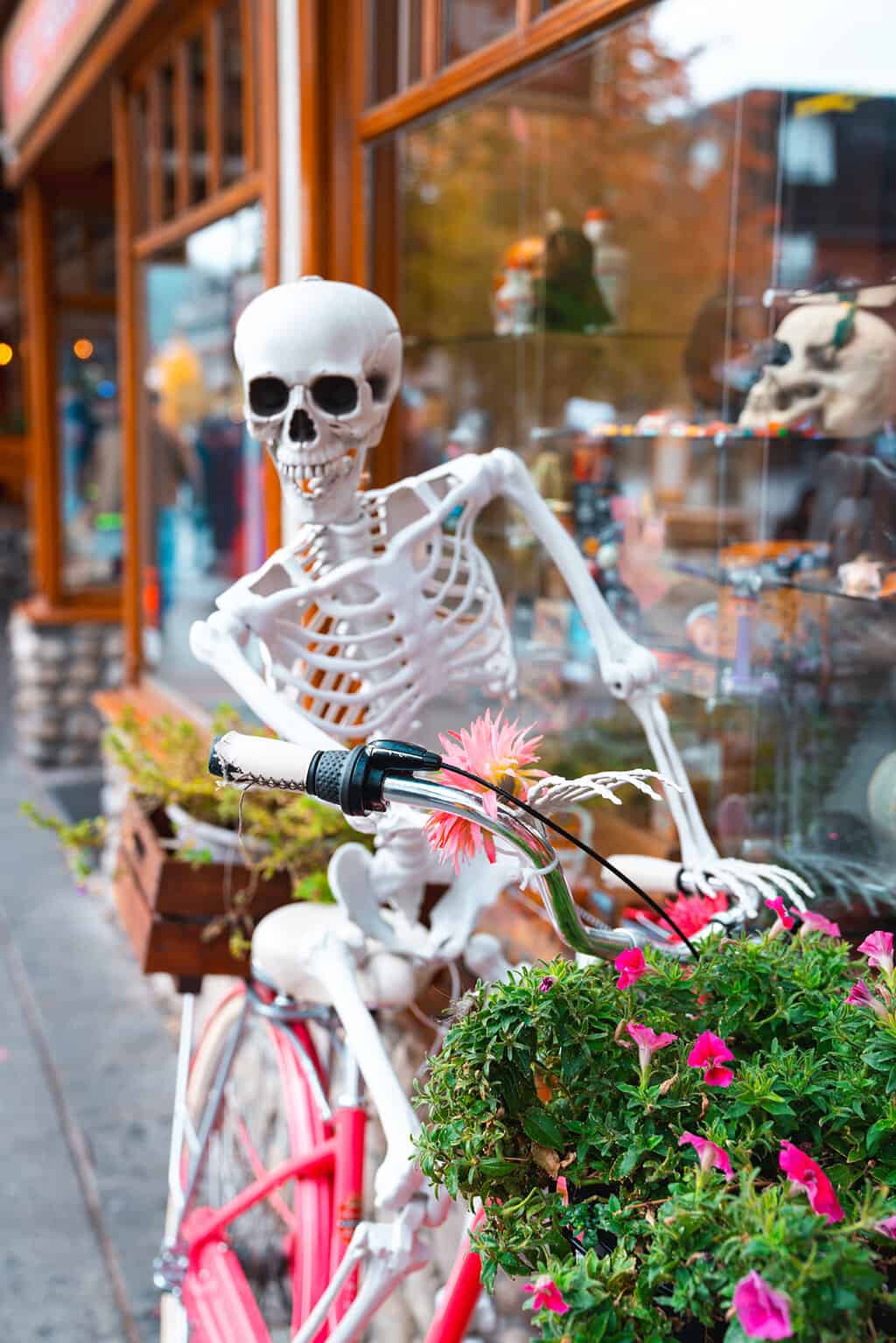 3-Days in Banff National Park Itinerary
Since most people visit Banff National Park in the summer months, along with the shoulder season (fall and spring), I'll keep this itinerary to the less wintery sports. You can read all about skiing the mountains of Banff in our guide to SkiBig3, the three main ski resorts in Banff National Park.
Since you are only in Banff for two or three nights, don't do any hotel hopping. Pick one hotel to stay in for your entire stay. Trust me, packing and moving hotels every night is exhausting and not conducive to a relaxing or enjoyable trip.
Here's where I recommend based on my past trips: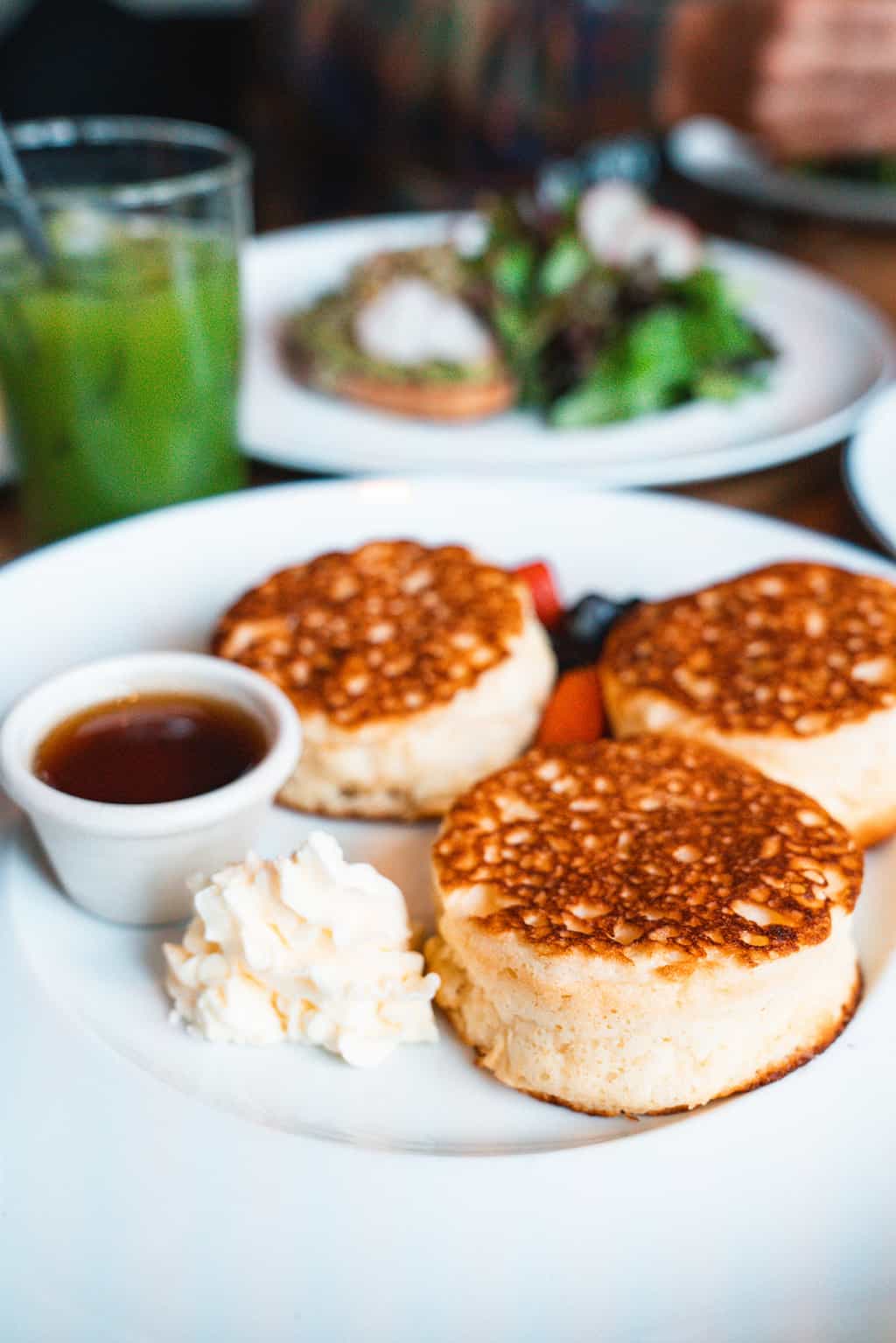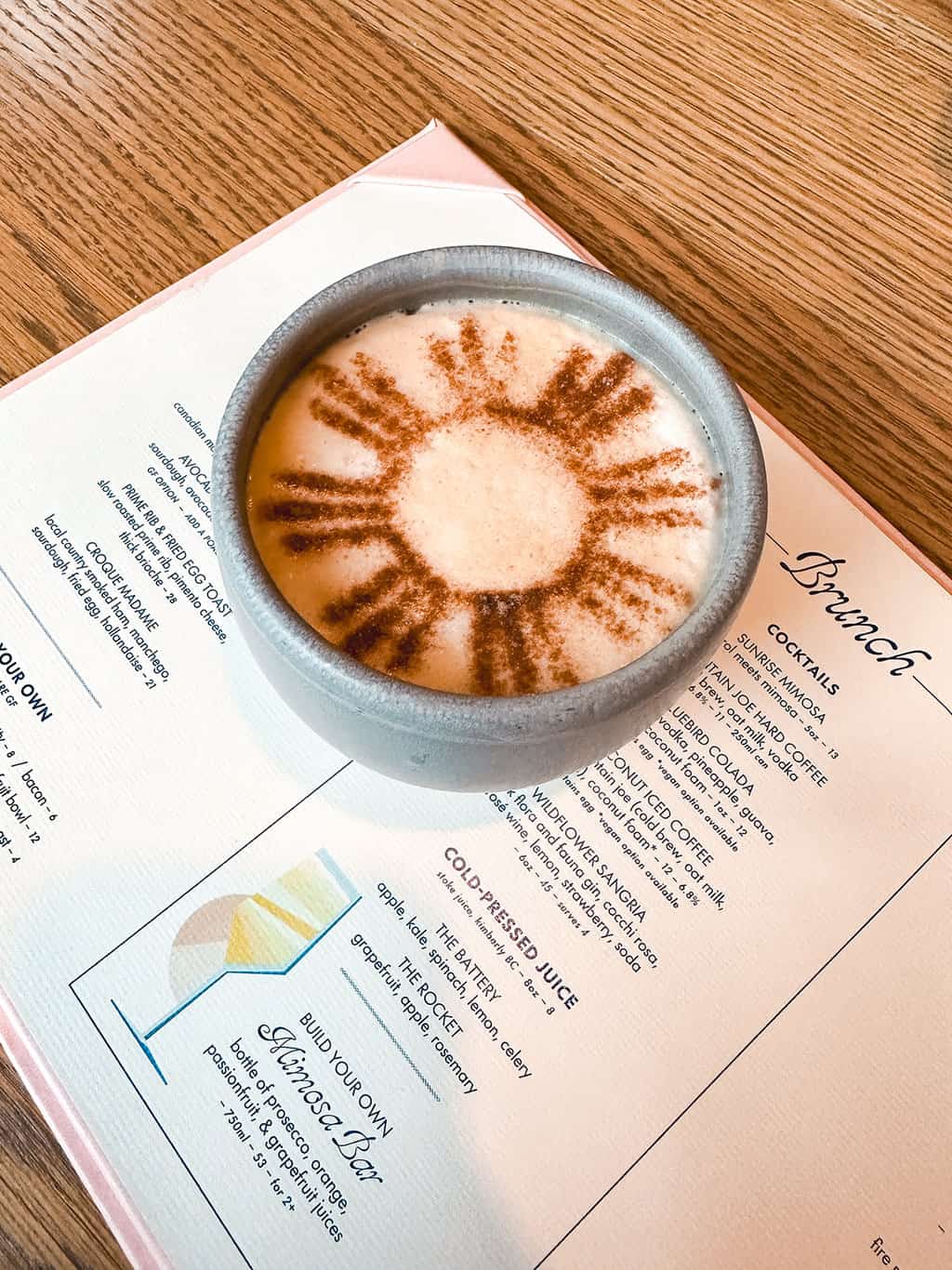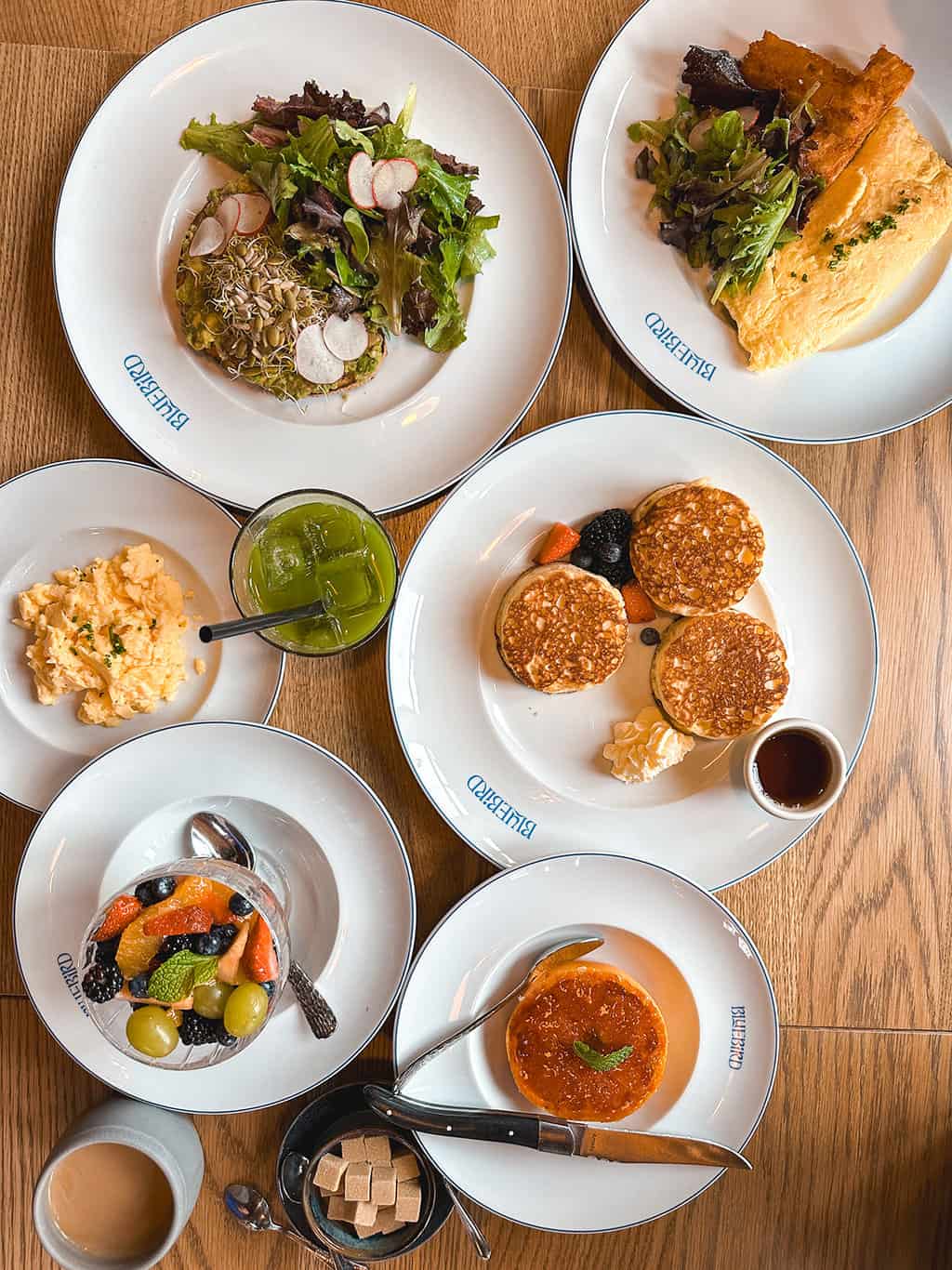 Day 1: Town of Banff
Welcome to Banff, one of my favorite towns in the world. Why? You are about to find out. Say good morning to the mountains and walk over to Bluebird for breakfast. Now, I know it says Bluebird Wood-fired Steakhouse & Patio when you look it up online, but I promise you, they serve breakfast from 8:30am-2:30pm daily. Go as soon as they open, so you can still make your first tour of the day.
The Classic French Omelet and Souffle Pancakes are a definite must. If you need a little fruit in the morning, have no fear– last time I was there my fruit bowl had zero honeydew melon in it, the cantaloupe was actually ripe, and it was overflowing with berries.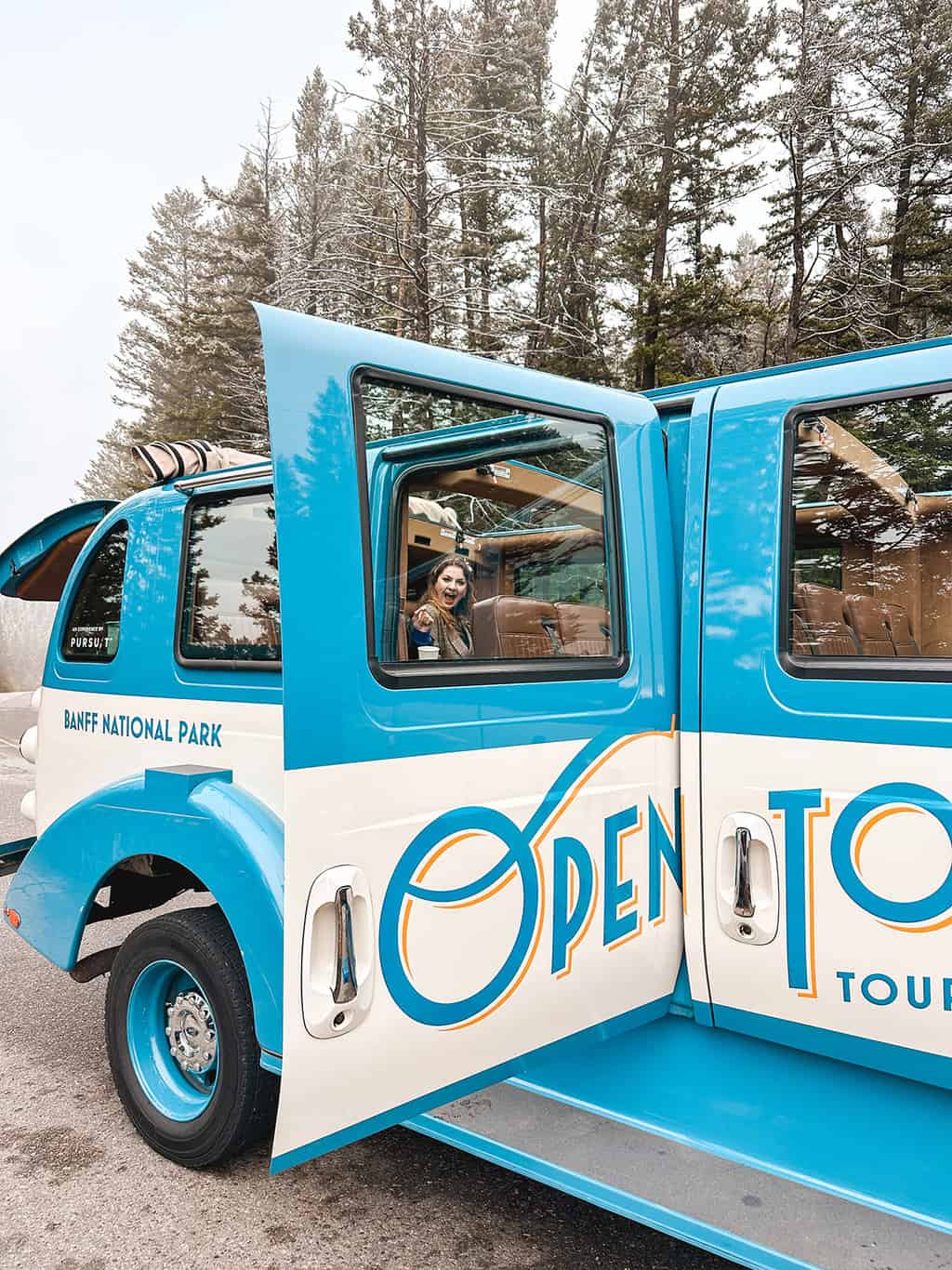 Open Top Touring in Banff
After breakfast, walk over to the Mount Royal Hotel for your 90-minute Open Top Touring ride up to Mount Norquay and around Tunnel Mountain. This retro-style vehicle is a fun way for everyone, including kids, to get to know the history of Banff, while also seeing an overview of the town of Banff and surrounding mountains.
The open top allows you to pop your head out (when the vehicle is stopped) to snap photos of wildlife and the scenery around you. The vehicle does stop at an overlook on the way up to Mount Norquay, so you can get out for photos, and on a chilly morning, they serve hot chocolate too.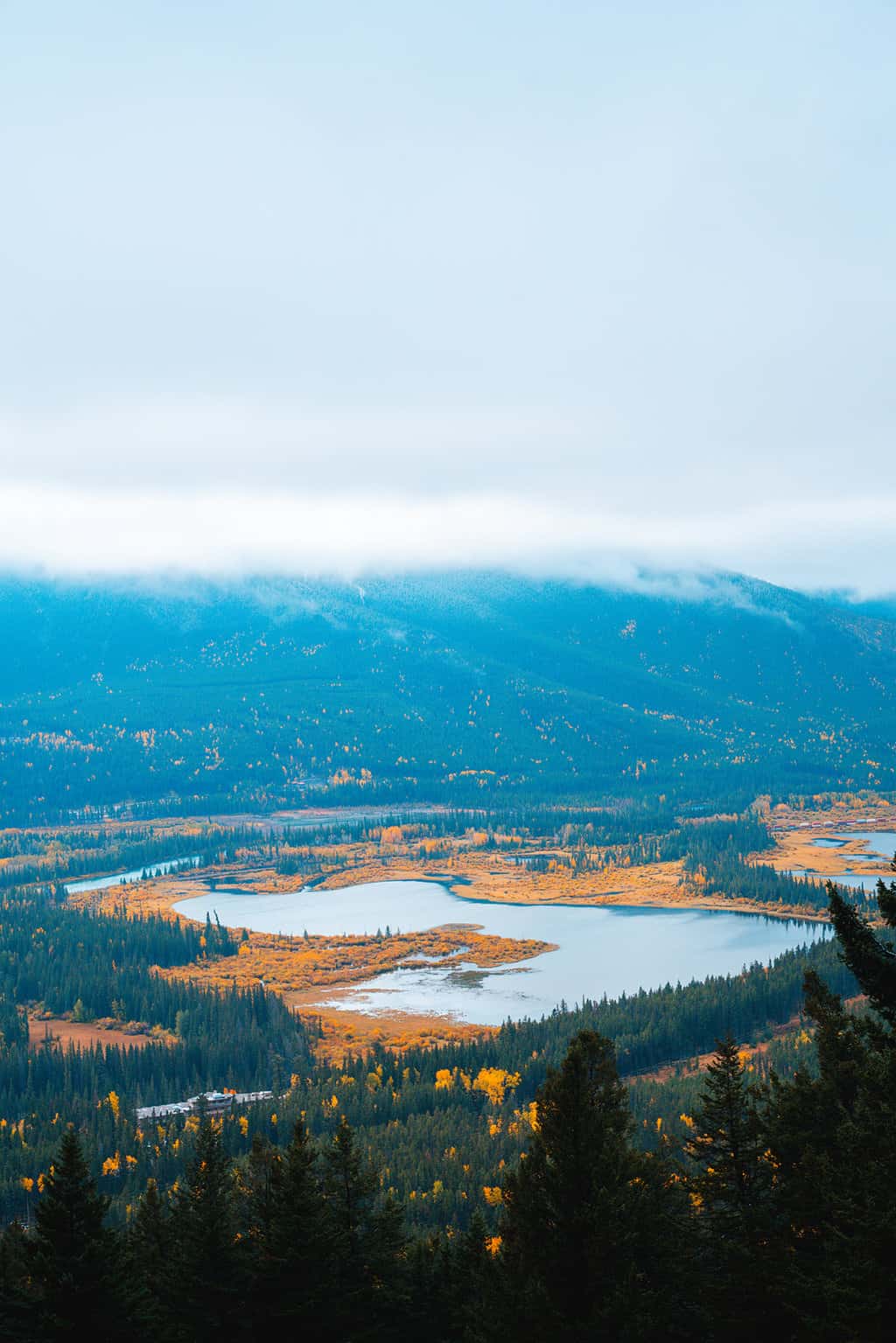 Speaking of chilly- yes, the top is open even when the temperatures are cold, but there are blankets for everyone. Just make sure you dress appropriately, as it can be brisk as you go up the mountain.
Snuggle in with your friends and family, as you are told the history of Banff, why the Fairmont Banff Springs is haunted, and a few other spooky tales and love stories. Don't worry, if you are traveling with kids the ghost stories aren't too much for them to handle. Everything is very G rated.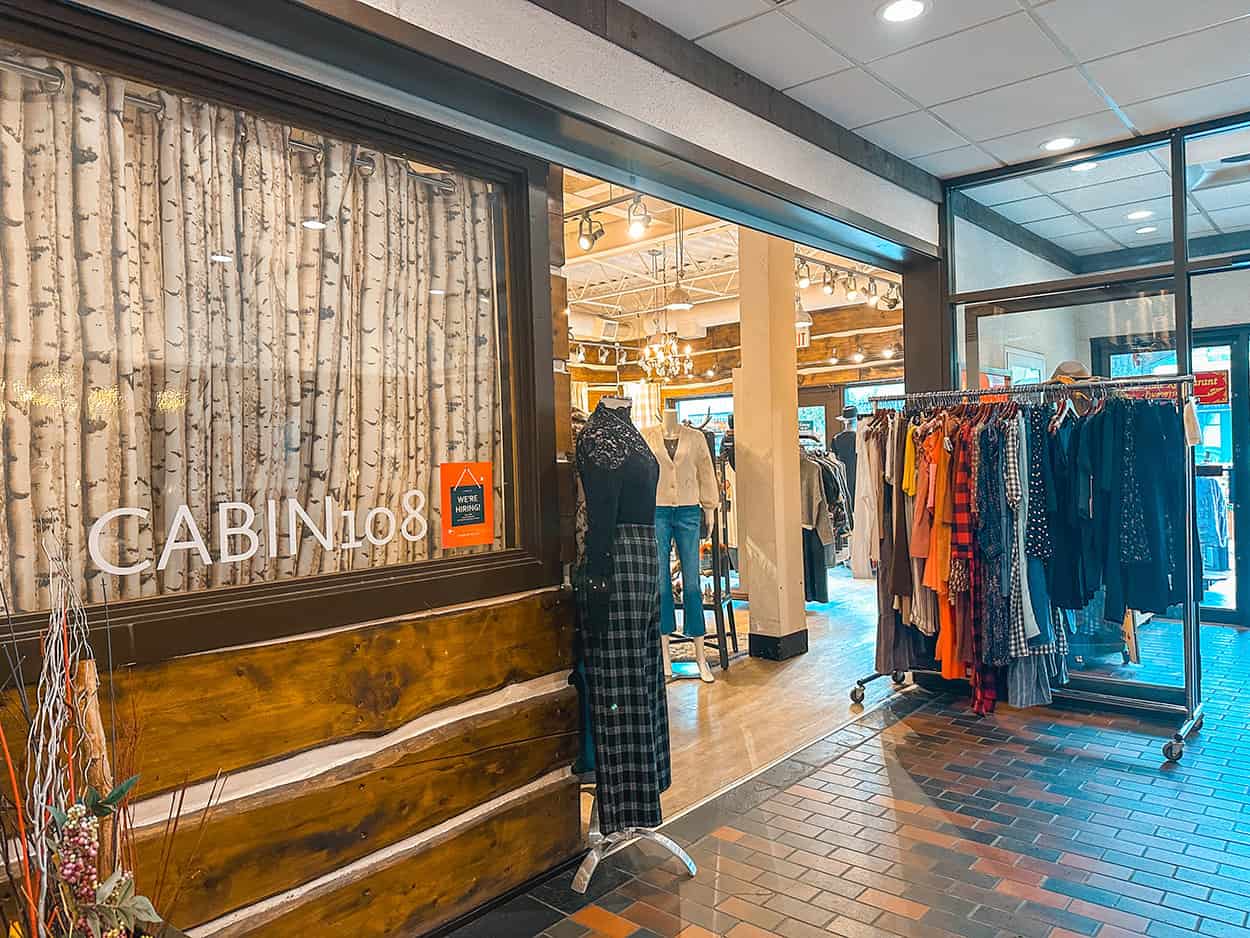 Shopping in Banff
Your ride will end just where it began– at the Mount Royal Hotel on Banff Avenue downtown. This is the perfect excuse to do a little shopping in Banff. I love Cabin 108, a women's clothing boutique that always sells the latest styles that will stay in style for years to come (no fast fashion at this locally-owned Banff store!).
UNLTD Boardshop is another great spot for all of your summer and snow gear needs. I always find a cute hat, socks on sale, and even ski jackets, plus anything skateboard or snowboard related in the shop. Off-season sales are great in Banff too, so try to shop the opposite season you are visiting.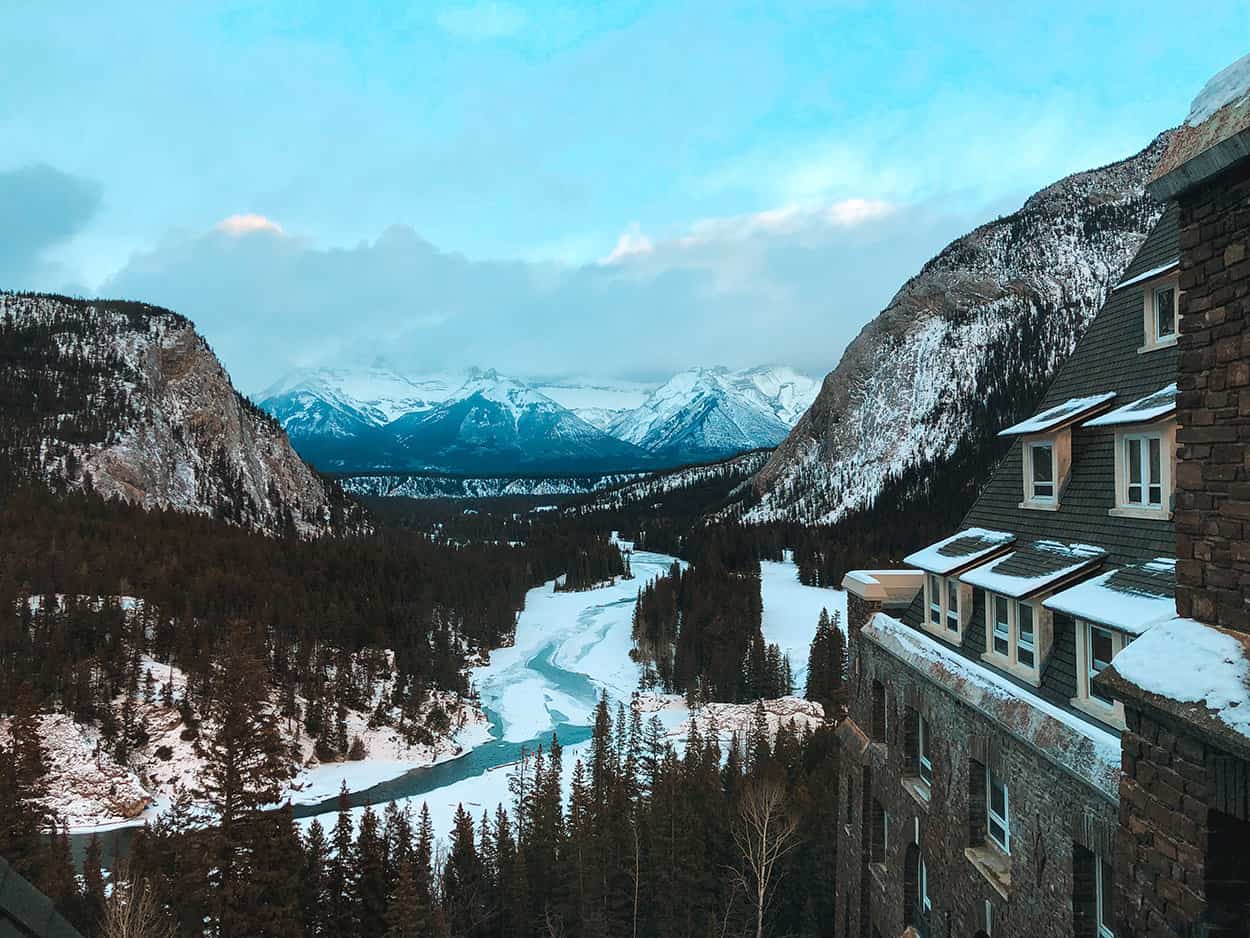 Fairmont Banff Springs
If you aren't loaded down with shopping bags, start walking up to the Fairmont Banff Springs hotel. If you are laden with bags, drop them at your hotel first. This is an uphill climb and you will want your arms free.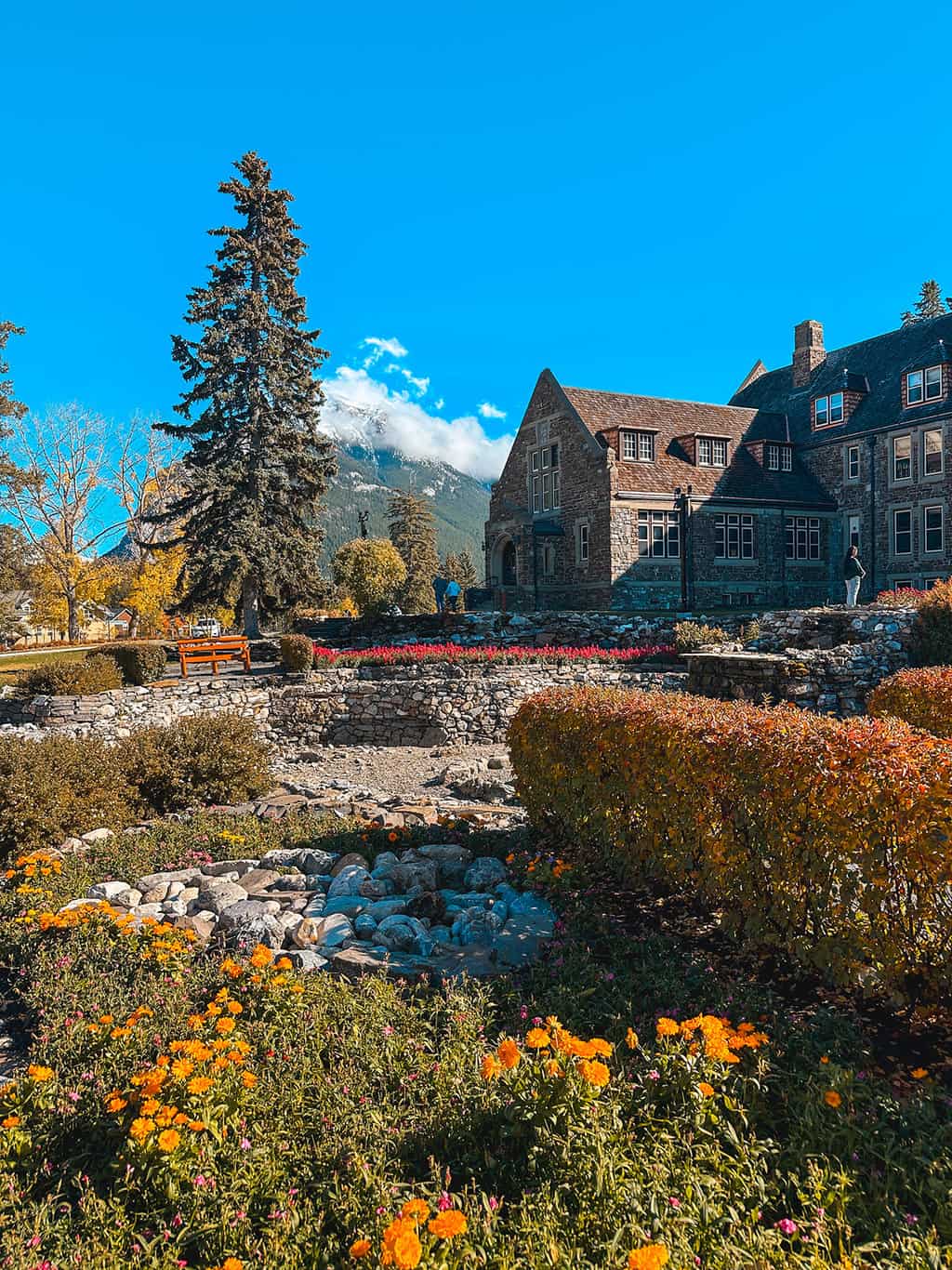 As you walk down Banff Avenue, pop into the Cascade of Time Garden to see what is in bloom. I've seen this town garden in every season, and it never disappoints, although the summer months are when you will see the pond filled and the most flowers.
Continue your walk up to the Fairmont Banff Springs. You can also take the Route 1 bus if you are too tired to walk. Either way, the journey will be worth it.
Book an Afternoon Tea at Fairmont Banff Springs hotel's Rundle Bar to enjoy beautiful views of the mountains, and the Fairmont's signature tea service. You won't need lunch after you indulge in one of our favorite high-tea services in Canada.
The Fairmont just does it right, serving fluffy scones, delicate tea sandwiches, sumptuous pastries, and of course, a diverse selection of Lot 35 tea blends created just for the Fairmont properties.
This isn't your grandmother's tea though. Instead of a three-tier plate service, you can expect your tea in a modern, geometric metal servicing display. Get our your cameras because this is one gorgeous afternoon tea!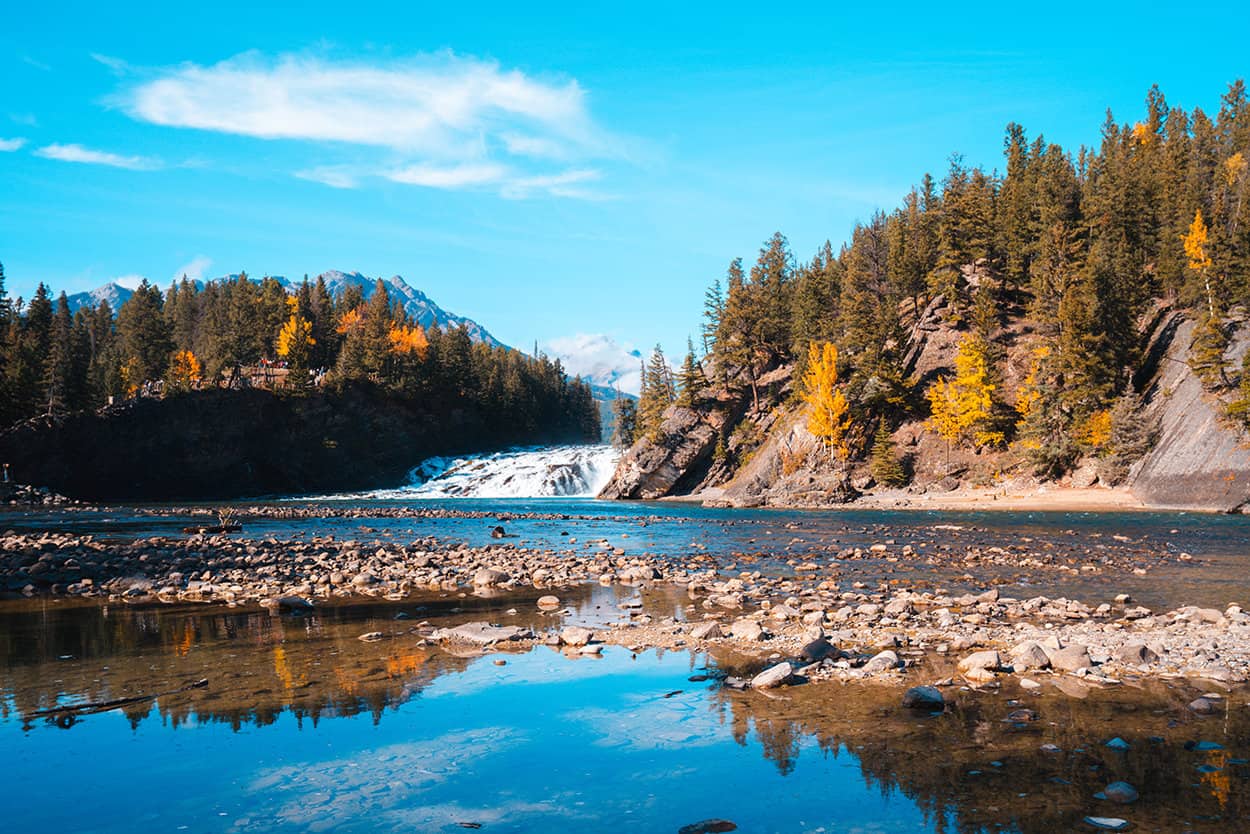 Bow Falls
Once you are full from afternoon tea delights, it's time to get active again. Take the trail down to Bow Falls to wander the shoreline and then back up the multiple staircases to the river-side trail back to town. This is a beautiful, and easy, hike for most, and the perfect way to get back into nature, which let's be honest, is why you are really in Banff National Park.
From the Fairmont, and if the road is open, you can take Spray Road to River Avenue down to Bow Falls (take a left out of the main entrance of the hotel), and then the river trail back into town.
If the road is not open, you can ask the concierge at Banff Springs if there is an alternate route or if you will have to take a right out of the main entrance of the hotel down Spray Road and then connect to Bow Falls Avenue that drops into River Avenue.
For those who drove to the Banff Springs hotel, you can drive back the way you came and then turn right into the parking lot at the Bow Falls Viewpoint along the Bow River.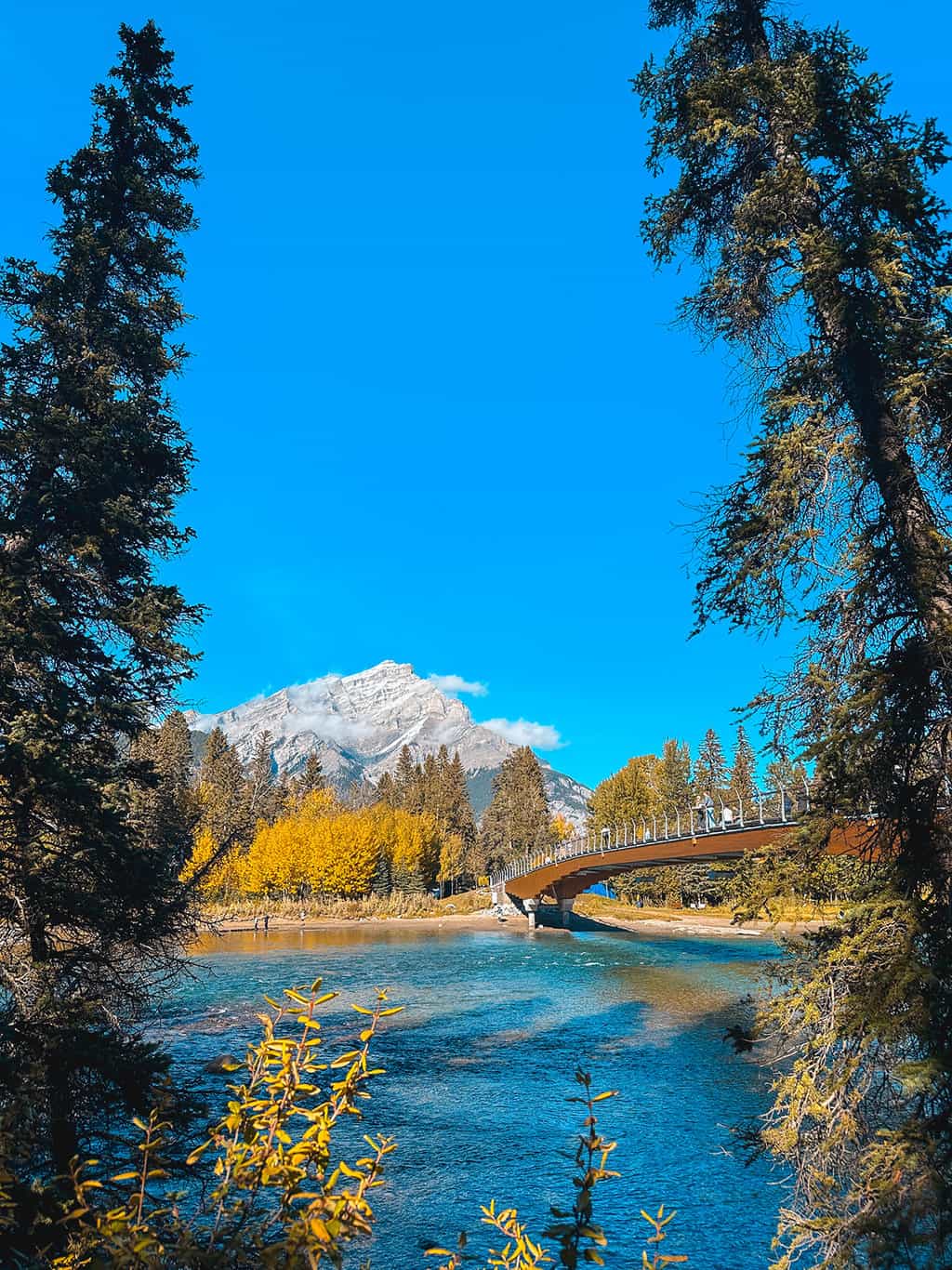 Plan on the hike from the falls back to town for about an hour. While it's a five minute drive to town, and not a particularly long hike, you will want to stop, take photos and view the mountains from every angle.
You can cross the Banff Pedestrian Bridge and head into town via the Bow River Trail (there are signs everywhere to help you stay on course), or you can continue to follow the river and pop into town via Bow River Bridge on Banff Avenue.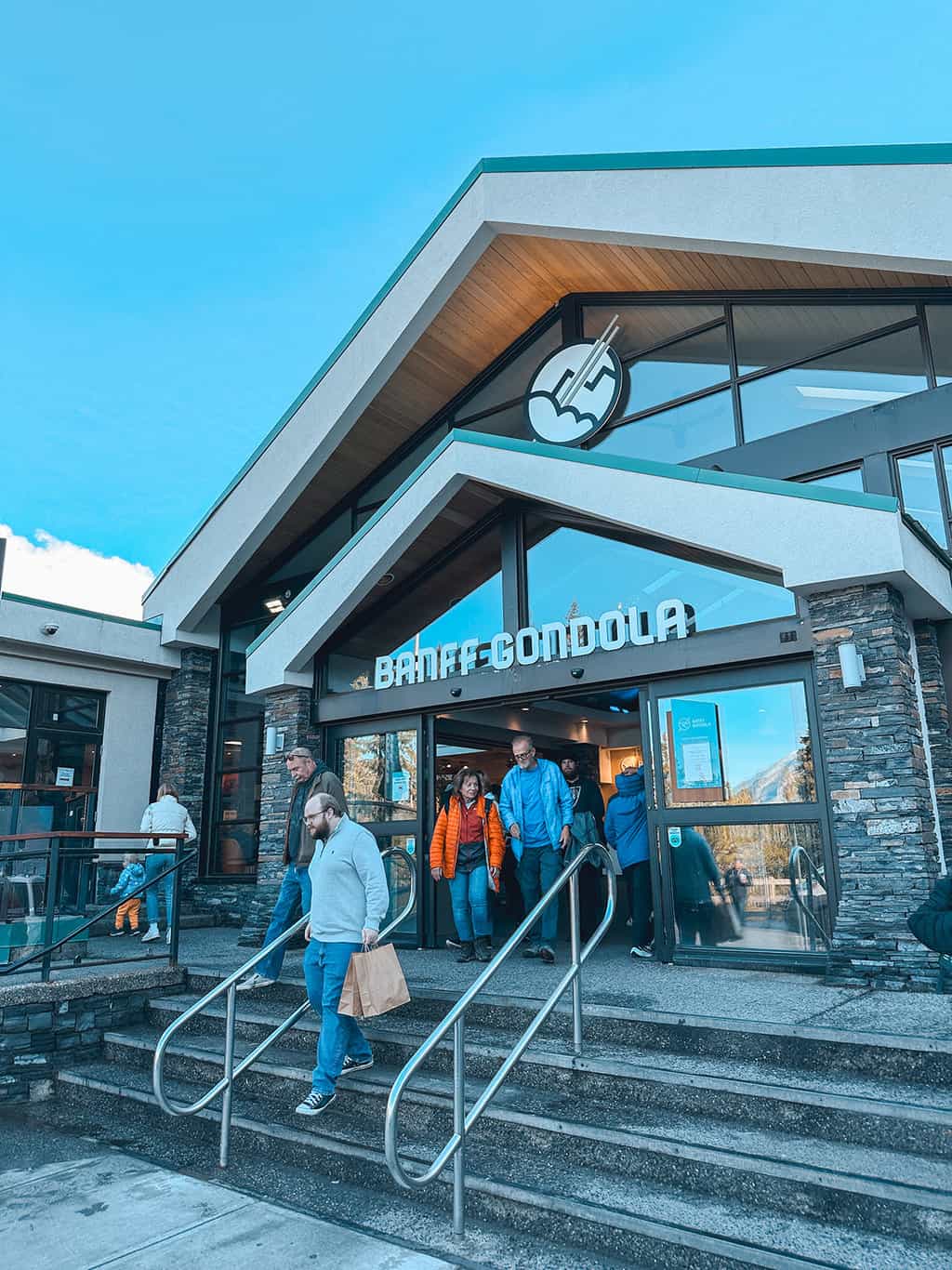 Banff Gondola
Once you are back to your hotel, take a little time to freshen up before you drive out to the Banff Gondola. The drive is only about 10 minutes from most hotels in Banff, but parking can be tricky. Grab the first spot you see if things are looking crowded, and give yourself a little bit of a time cushion if you have to wait for a spot.
If you haven't already bought your Banff Gondola tickets, book them HERE. The ride up Sulphur Mountain in a gondola is one of my favorites (Jasper Skytram is up there too), especially just before sunset. You can see the Sulphur Mountain hiking trail as you go up the gondola, giving you just a taste of the alpine trail you could have hiked up, or could hike down another day.
Once you reach the top, head out to the lookouts, which are stationed on every floor of the Banff Gondola Experience building. Take in the views of the town of Banff and the Bow River below, as well as six mountain ranges, which can be seen from the summit, and even Mount Rundle.
Take a walk out on the boardwalk to the Cosmic Ray Station and Sanson's Peak, where you can learn more about Banff National Park, the first national park in Canada.
No matter what you do, make sure you are somewhere to view the sunset as it dips below the mountains. This could be from Sanson's Peak, on a viewing deck back by the discovery center, or as you sip a cocktail at Sky Bistro.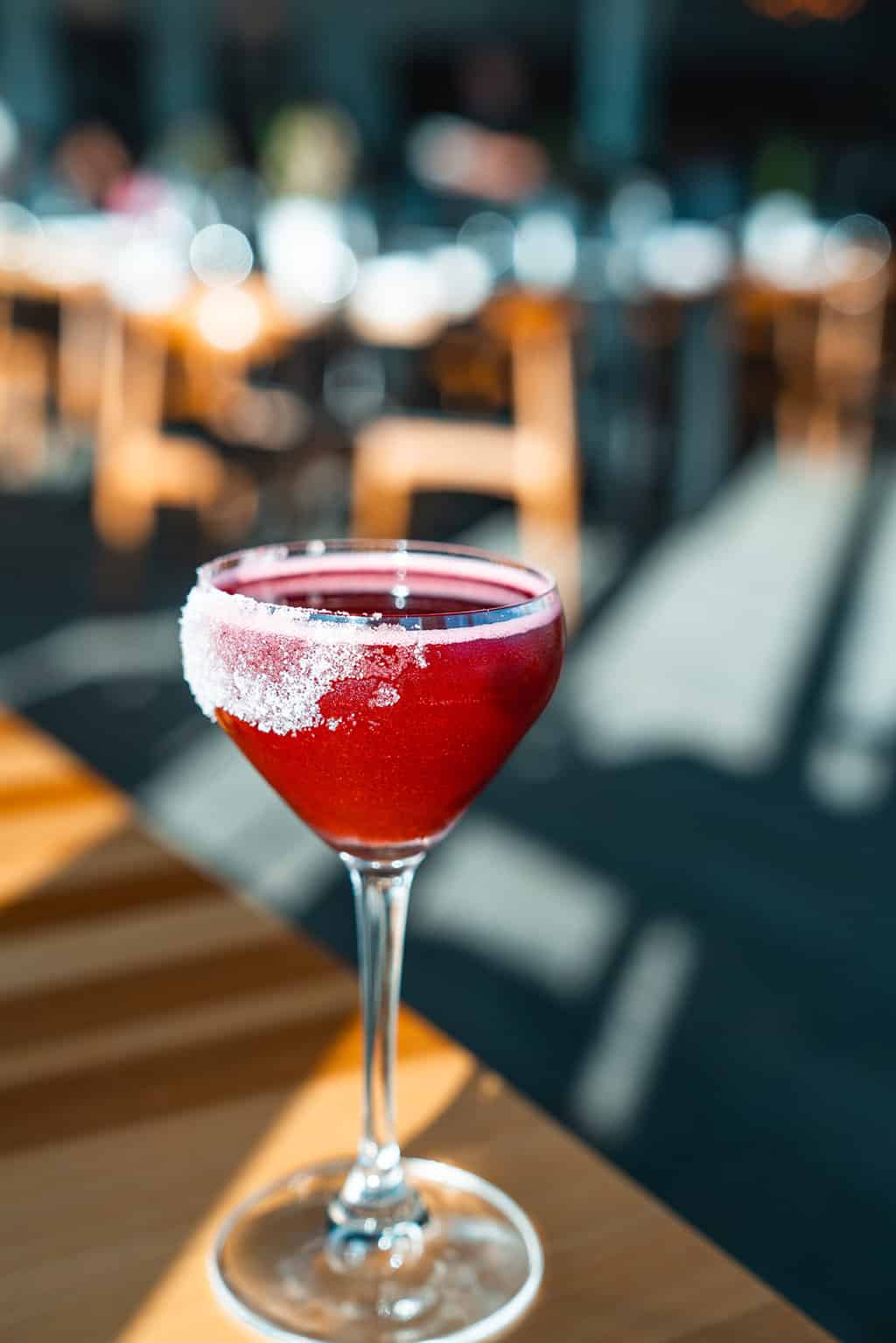 Sky Bistro
Speaking of cocktails, once you have enjoyed the sunset over the Canadian Rockies, make your way into Sky Bistro for dinner and cocktails. Make a reservation if you are visiting late spring through early fall, as they book up. The last time I was up there in early October the restaurant was packed and people were waiting for tables.
The menu at Sky Bistro always tries to highlight the flavors of the season. Even the cocktails will change over from summer to fall and winter to spring. There is also a wine sommelier on staff who can help you pick the perfect wine pairing for your meal. If the chef is making risotto, order it. You will also want the short ribs, and even the fish is divine.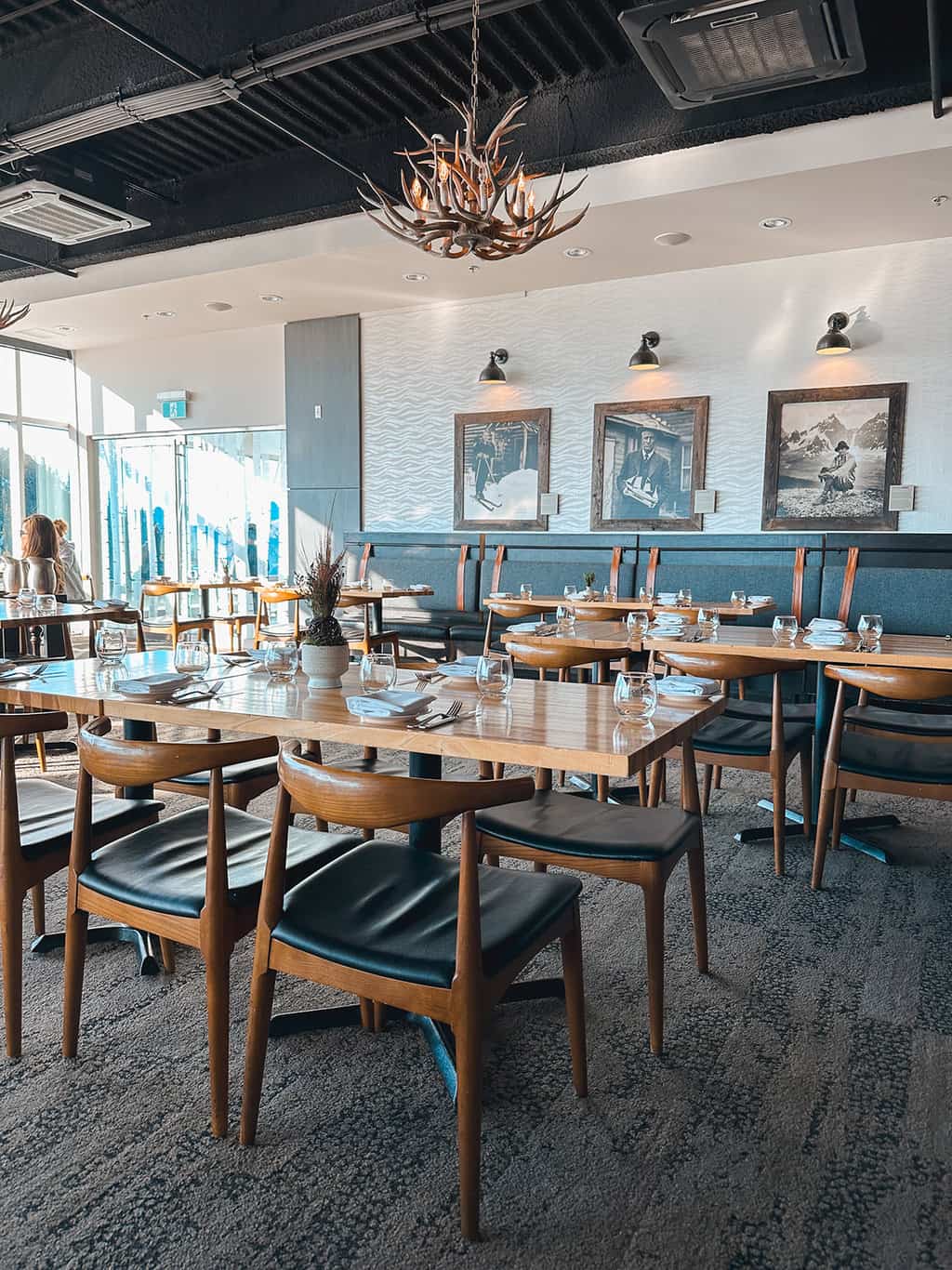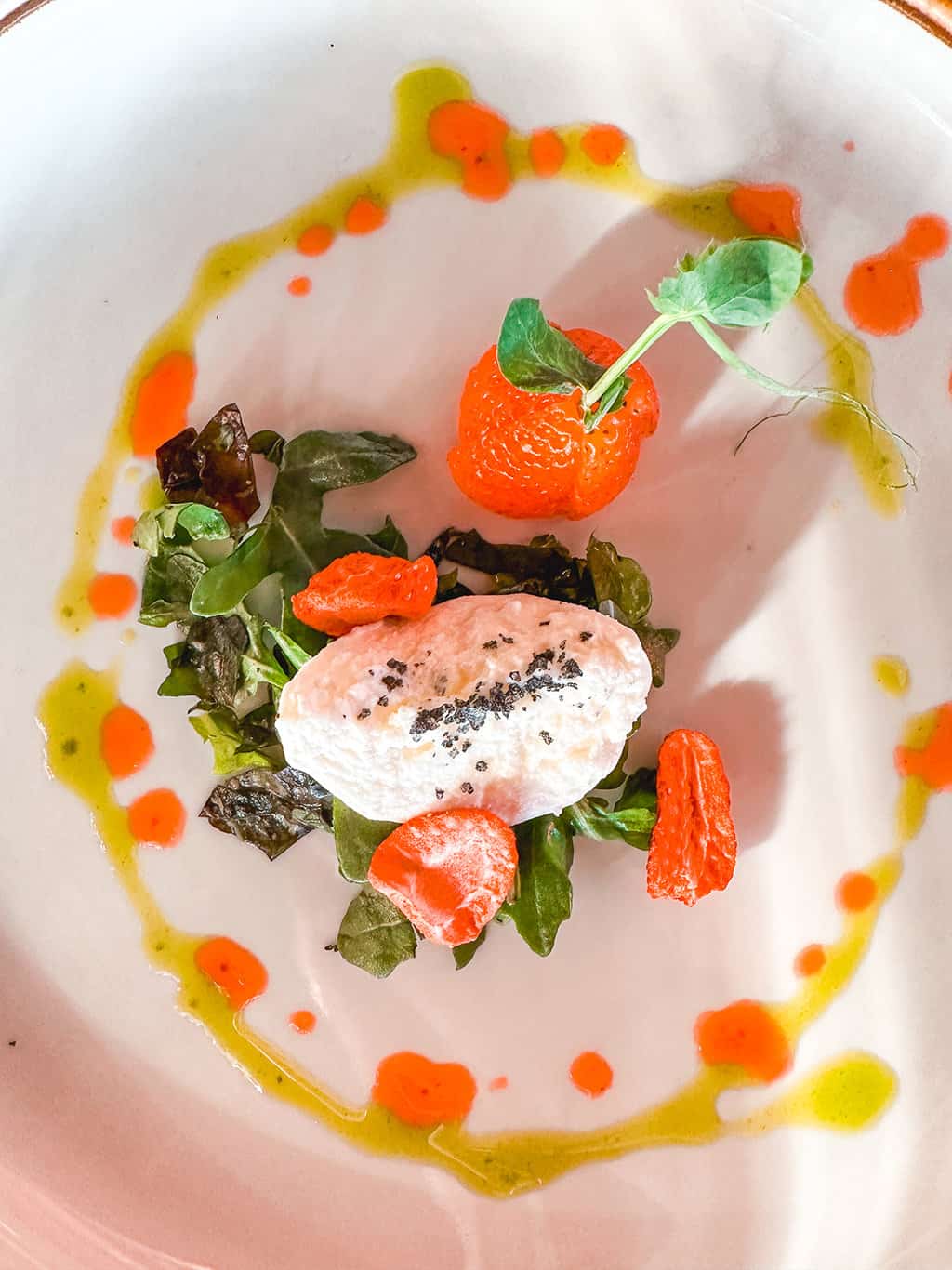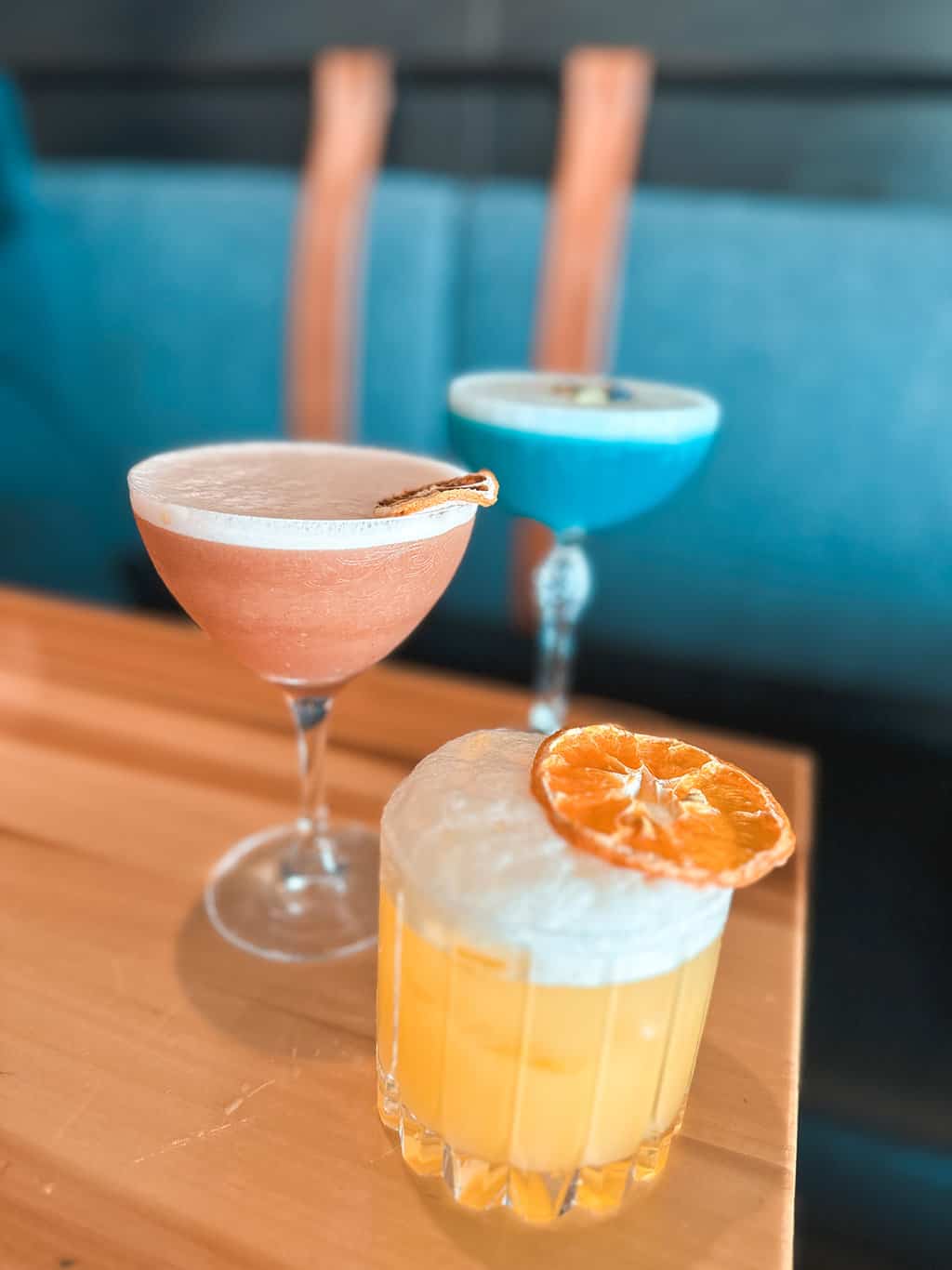 Sit and savor your meal, but keep in mind that the last gondola leaves 10 minutes before closing, so keep an eye on the time. Don't worry though, no one is going to leave you stranded at the top of the mountain.
Late night in Banff
It's been a long, adventure-filled day and you have an even bigger day tomorrow. I recommend you go back to your hotel, take a hot shower and be ready to get up and out in the morning. If you really want to go out though, pop into Hello Sunshine for an after dinner drink.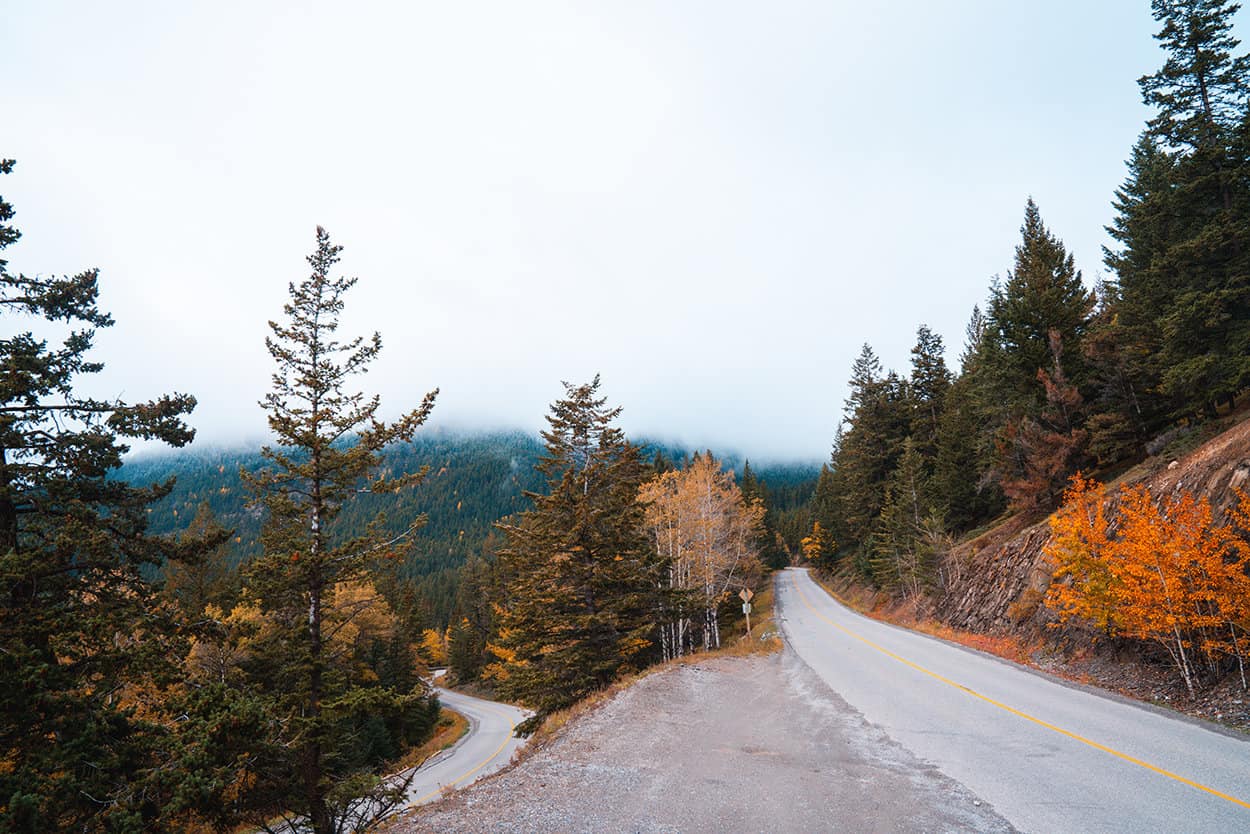 Day 1 Recommended Tours to Book
Day 1 Restaurant Reservations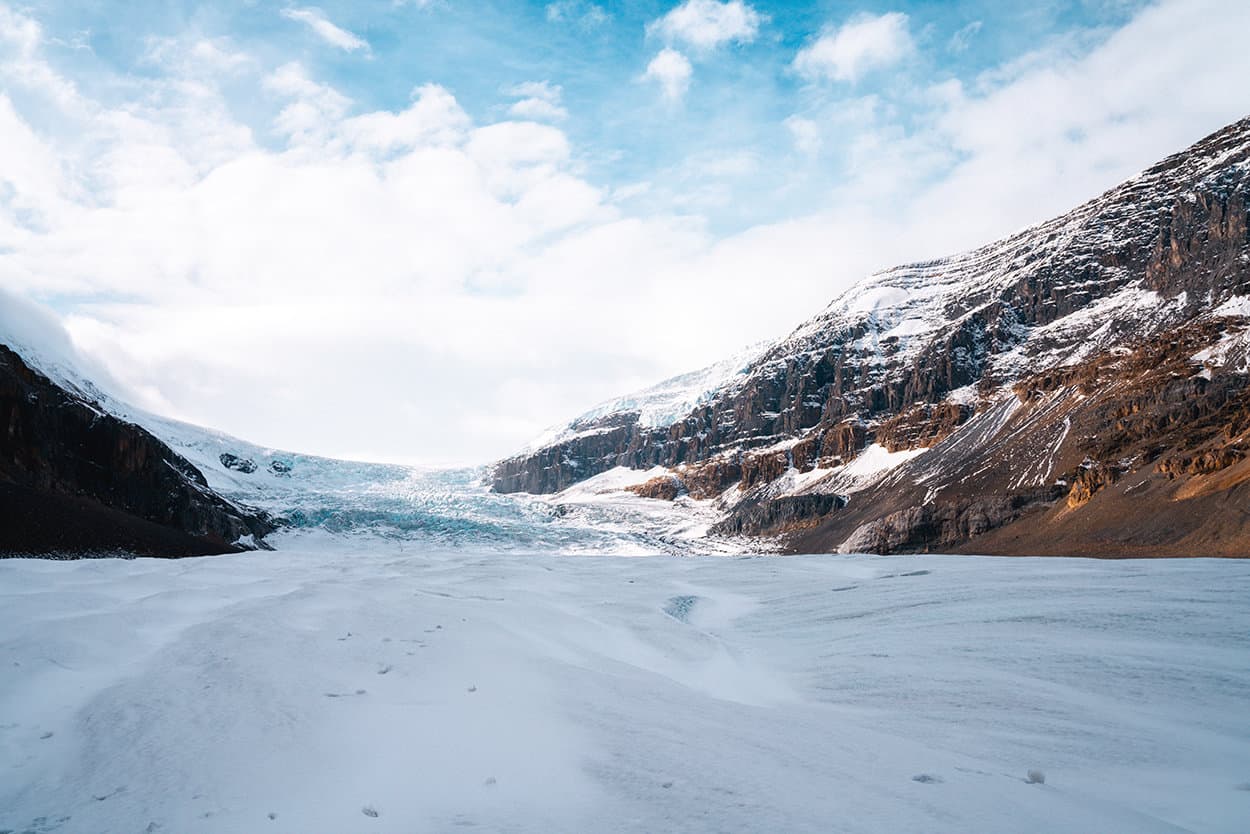 Day 2: Columbia Icefield
NOTE: if you are going to Jasper National Park on our 3-day Jasper itinerary, you can move Day 2 of this itinerary to Day 3 since you will be driving up the Icefields Parkway to get to Jasper anyway.
Today is an early start. I'm sorry, but I promise it will be worth it. You will see glacial lakes, some of the most beautiful places in Canada, and road trip where many only dream of seeing in person one day.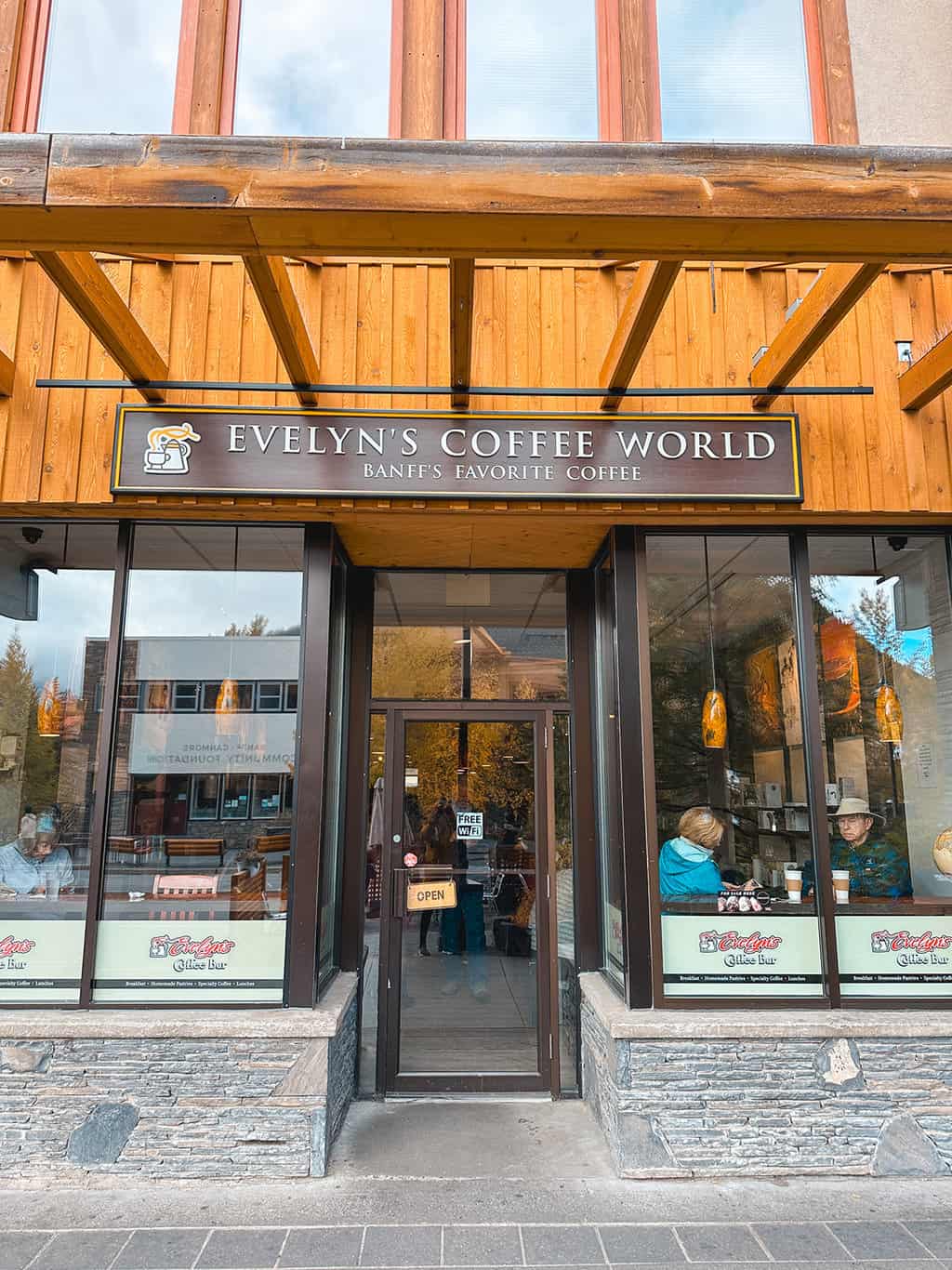 Take a short walk from your hotel to pick up a quick breakfast at Evelyn's Coffee World before you head out of Banff to the Icefields Parkway, which is the most beautiful scenic drive (or at least one of the top 10), in the world. This coffee shop is the perfect place to start your day and has the best homemade blueberry coffee cake in North America (just my opinion, but I do love a good coffee cake).
You can also grab coffee at Wild Flour (great sandwiches if you need a picnic lunch) or White Bark. All three coffee shops are right in Banff town and easy to pop in and out of so you can get on the road when you have an early morning.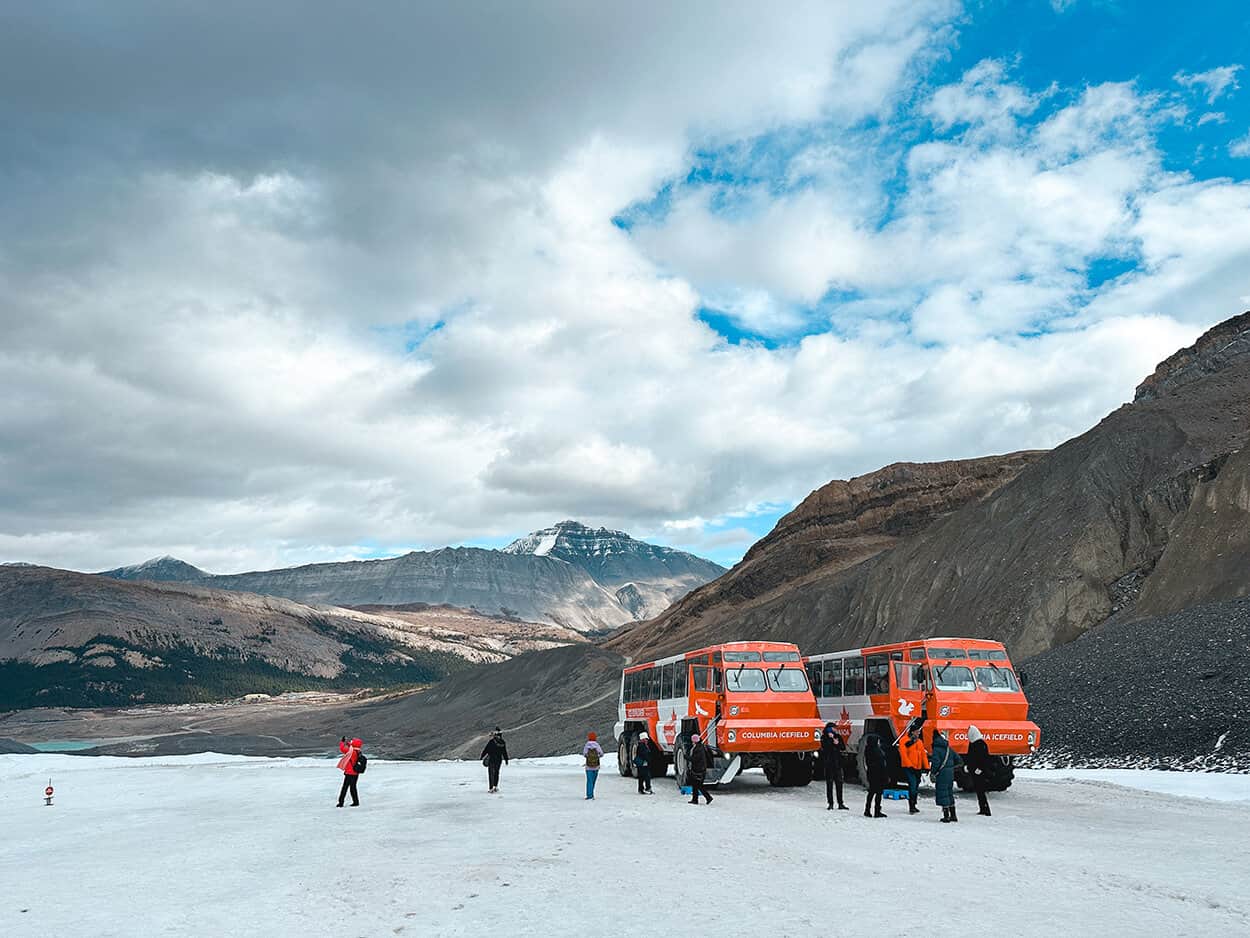 Icefields Parkway
Just a warning, it's going to be a long day of driving as we head deeper into Banff National Park. The good news? The Icefields Parkway has some of the best wildlife sightings, so keep an eye out for black bear, grizzly bear, mountain goats and elk.
Where are you going? You are driving up to the Columbia Icefield and Glacier Skywalk, two of the most popular things to do in Banff, and one of the best places to actually get up close and personal with a glacier.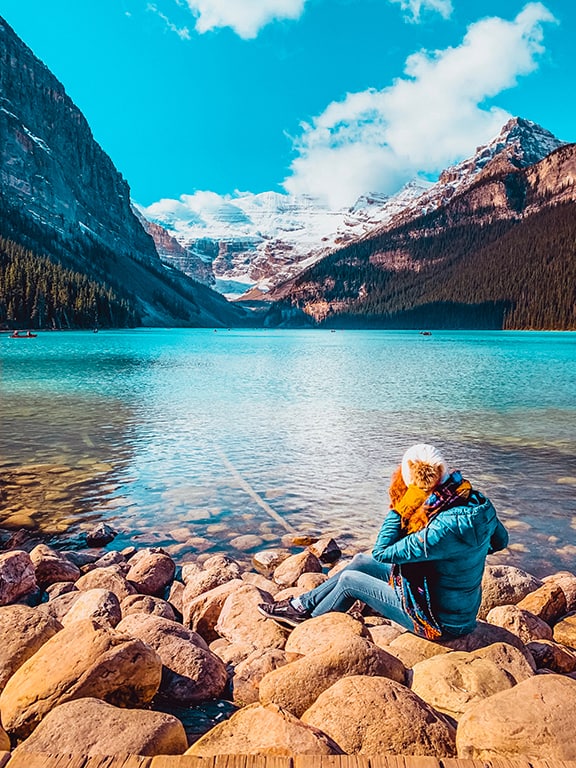 Lake Louise
But first stop can be at the Fairmont Lake Louise to see the best views of one of Alberta's turquoise lakes, aptly named Lake Louise. It's a favorite place for many people to stay, as well as visit for a few hours.
There are hiking trails around the lake and up to one of the old tea houses, the Lake Agnes Tea House, in the Canadian rocky mountains.
If you didn't have time to grab breakfast, you can dine in one of their restaurants, or grab something from the cafe to take with you. You can also stop in Lake Louise on your way back if you want a little more time to hike, check out nearby Lake Moraine, and canoe around the lakes. Lake Louise and Lake Moraine are just a short drive from each other down Moraine Lake Road.
I prefer to stop on the way back, as you need timed tickets for the Columbia Icefield, and then you can leisurely make your way back, unless you are on a helicopter, but I'll get to that in a bit.
TIP: If you have more time during your trip you can bike the 1A, also known as the Bow Valley Parkway, from Banff to Lake Louise. It's closed to cars throughout the year (check opening and closing dates each season), making it easy bike on a major road without car traffic.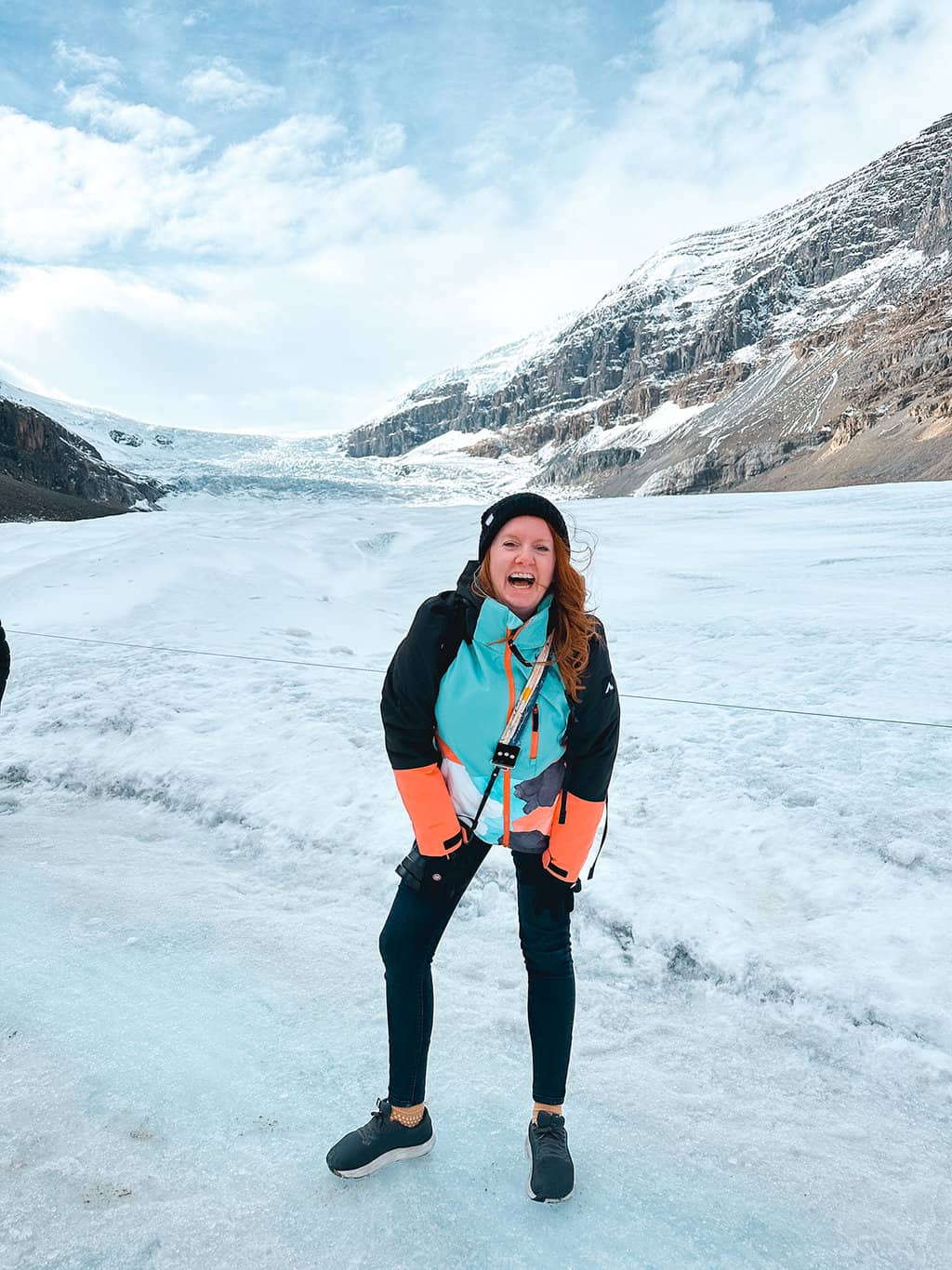 Columbia Icefield
You will need to buy tickets to access Athabasca Glacier in the Columbia Icefield, which can be purchased HERE. Most people choose to take the ice crawler out on a guided experience. This is the safest way to view the glacier and walk on it too.
If you want to hike on the glacier, you will need to book a guided hike (like this one). Never attempt to hike out onto the glacier by yourself. It is a volatile landscape that you can not only damage, but fissures open all of the time, and can swallow you up, never to be seen or heard from again.
There is a nice hiking trail out to the glacial lakes that have formed as the glacier melts (thanks a lot climate change!) that will get you to the base of the glacier, but please don't go any farther.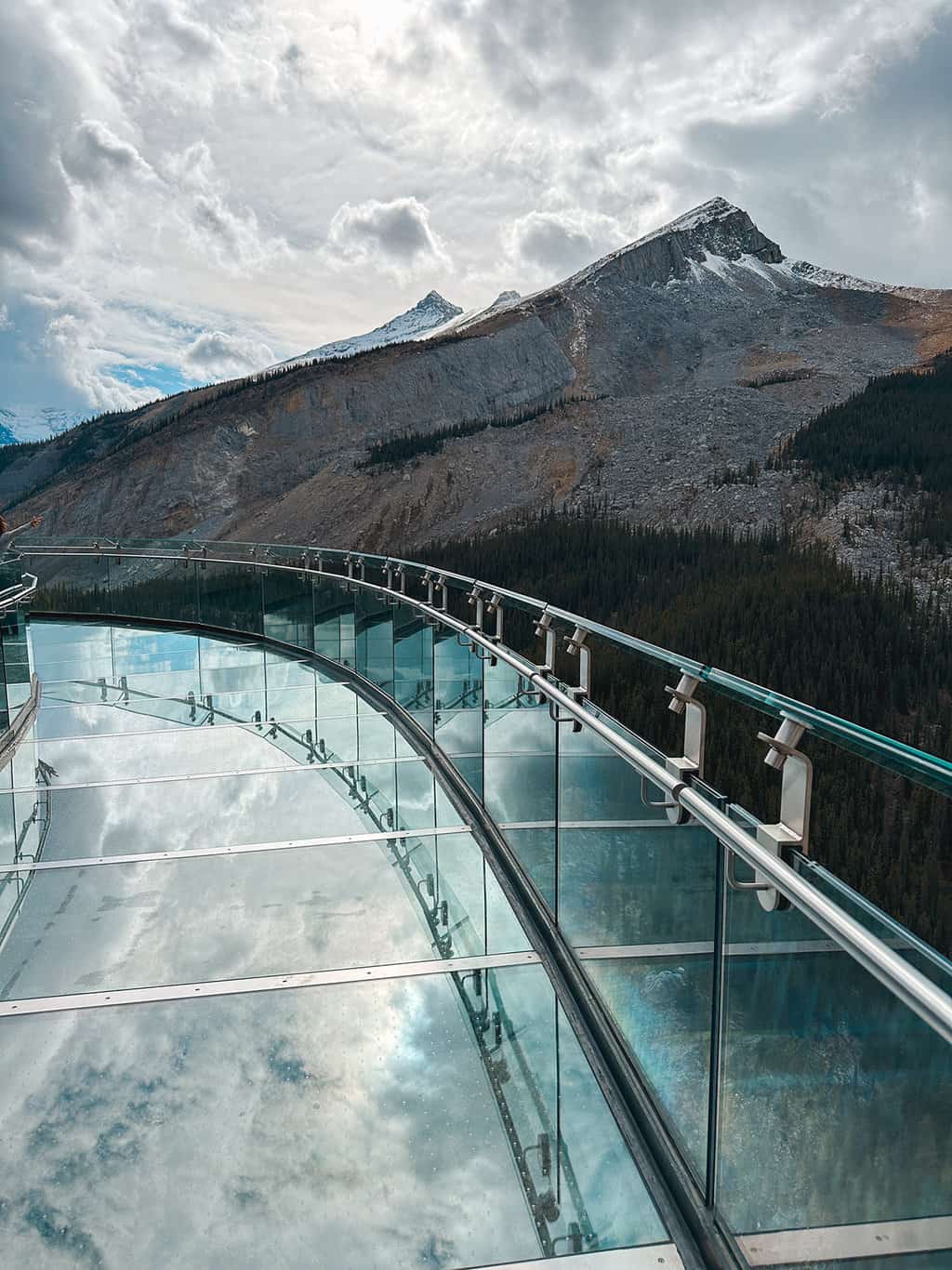 For those who only want to do the Glacier Skywalk, you can pick up tickets in advance here, but the combo ticket of the Columbia Icefield and Glacier Skywalk is a better deal, and a more exciting experience.
Your Columbia Icefield adventure starts by taking a bus across the street and up a hill to the ice crawlers, where you will board these vehicles who can take on tough terrain to access the Athabasca Glacier. Dress warmly, as the glacier is cold (it's literally ice people), however, thanks to Pursuit's new ice crawlers, you will be cozy and warm in the vehicles before and after you arrive.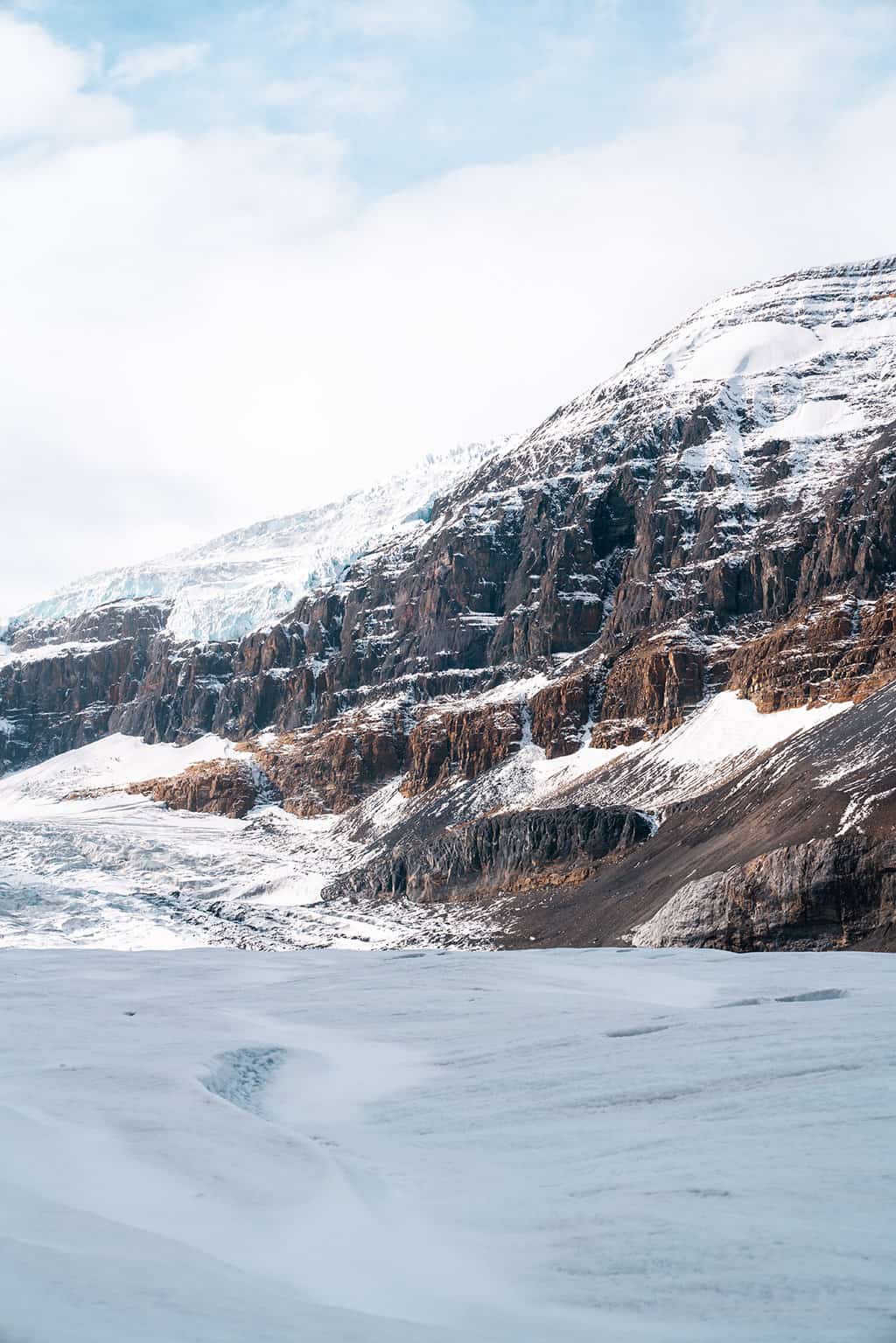 You are only given 30 minutes to explore the glacier before you have to get back into your all-terrain vehicle and head to the Glacier Skywalk. This may sound short, but it is plenty of time. You will be getting cold by this point, and if you are traveling with kids in Banff, they will start to get into mischief by now.
Just don't forget to bring a reusable water bottle so you can fill up on glacier water. Usually there is a little river of defrosted water that the guides will allow you to sip from, although sometimes it's completely frozen over.
Once your glacier walk is finished, the ice crawler will bring you back down to the bus, which will then take you to the Glacier Skywalk.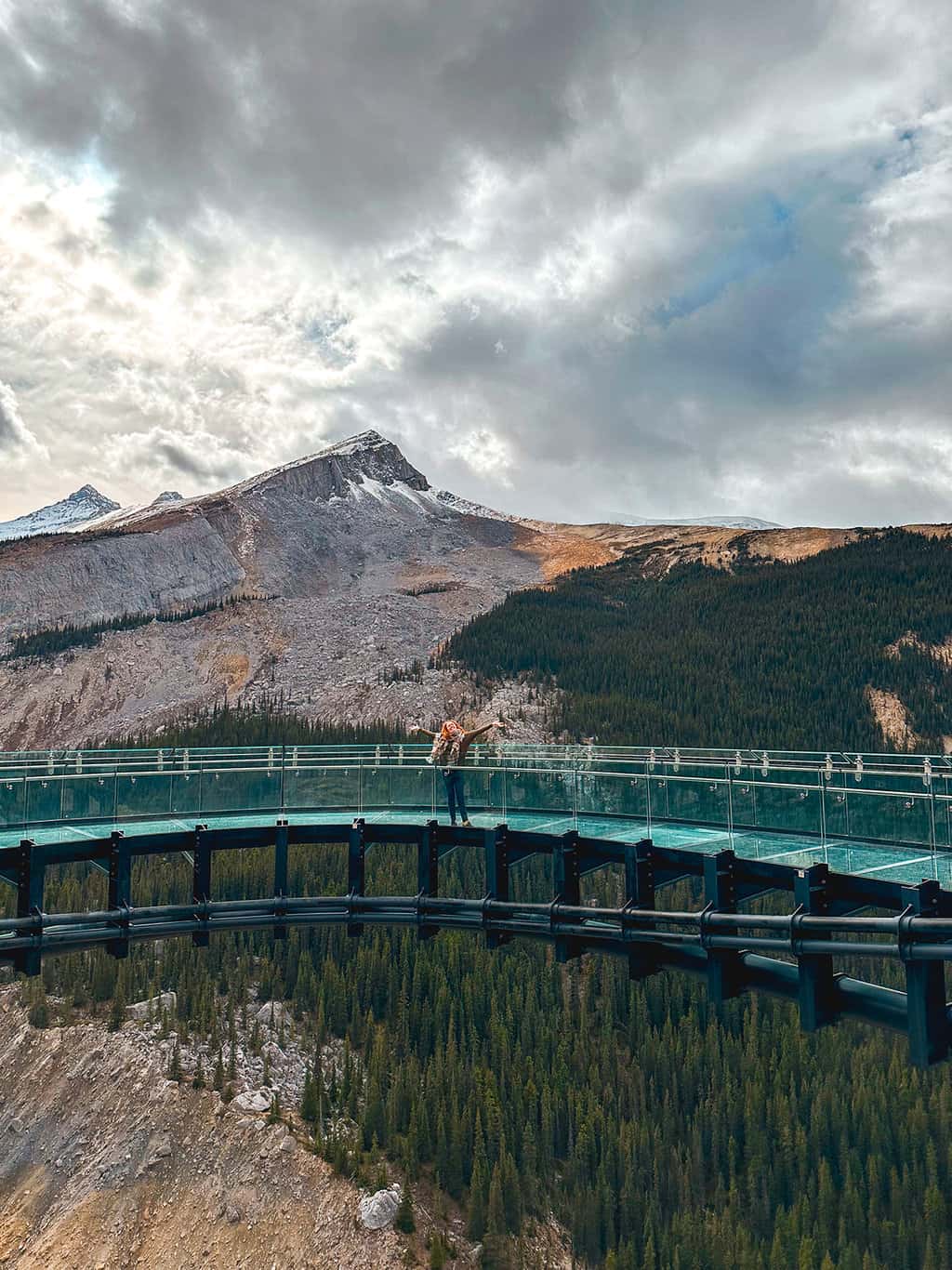 Glacier Skywalk
Here's a hot tip– everyone will pile out of the bus when you arrive at the Glacier Skywalk. You will need to show your tickets to enter, but that takes about a minute.
Everyone will rush to the skywalk to get photos. Within 10 minutes most people are back on the bus headed back to the Glacier View Lodge. This is your moment to get photos on the skywalk with no one else in them.
Take your photos, videos, whatever, but be aware that another bus is on the way, and there may be a few other stragglers trying to get their own photos.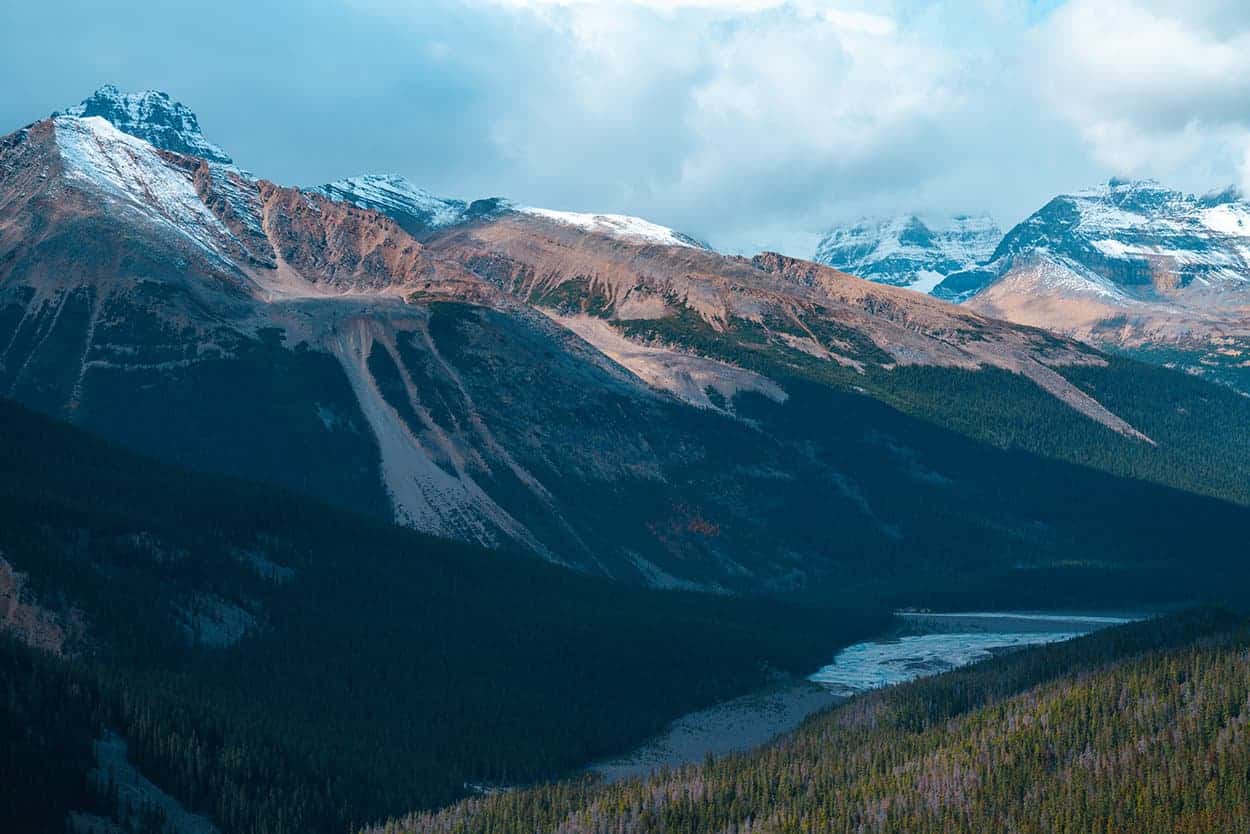 While you wait for the crowds to clear out, you can walk on this glass-bottom catwalk over the canyon, learn more about how the area was shaped by glaciers, and even see a few waterfalls from the viewpoints along the walk to the Skywalk.
You are allowed as much time as you like to explore the views. When you are ready to leave, just head back to the exit where you will see people lined up to get back on the bus.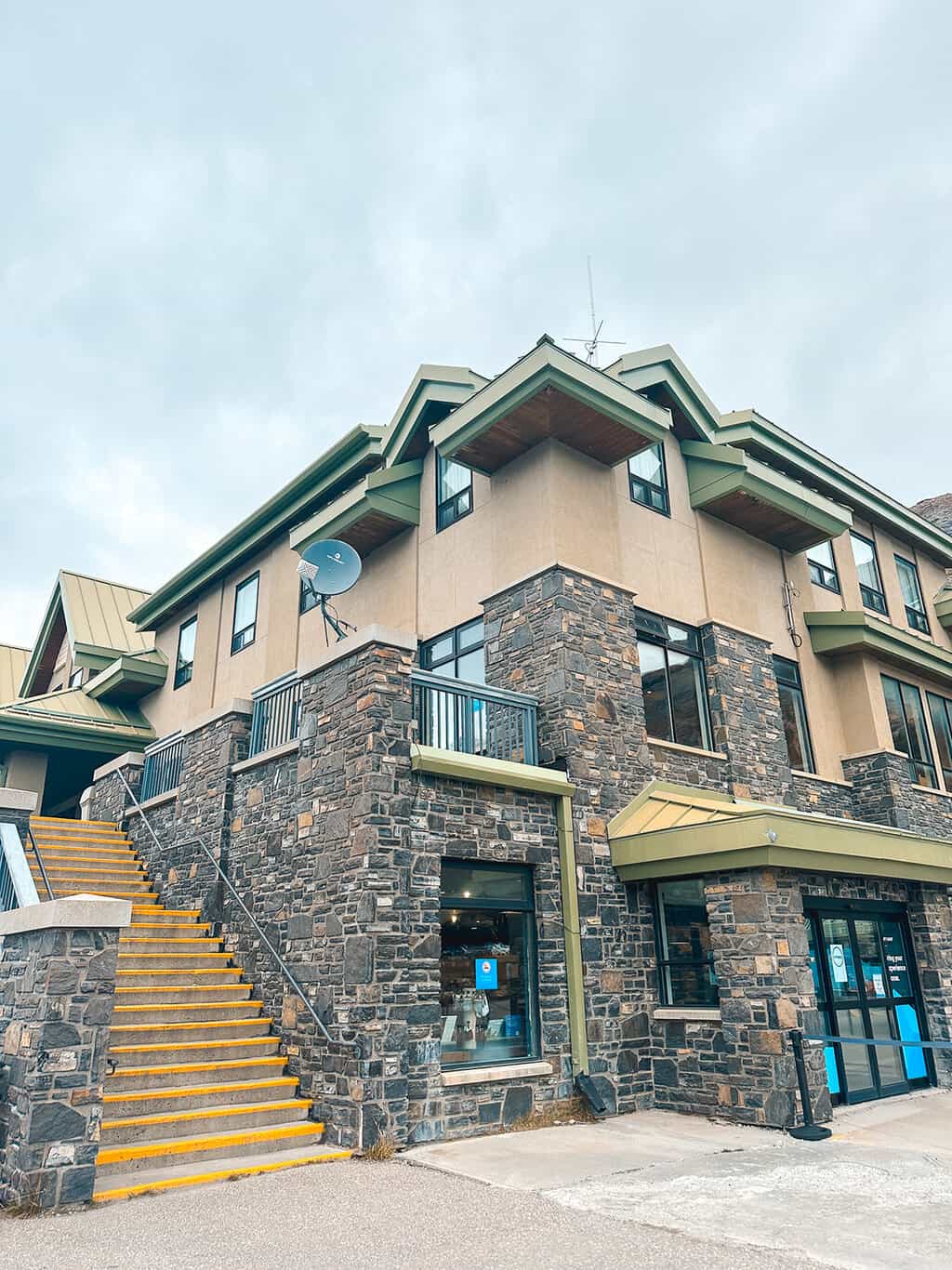 The bus will take you back to Glacier View Lodge where you parked. You can either have lunch or get back in your car to explore on your own for a bit more.
If you don't want to eat at the Glacier View Lodge restaurants– Altitude (sit-down service) and Chalet (cafeteria style)– this is a great time to head back to Lake Louise to eat at the Fairmont, or you could go on an extra special excursion you won't find on any other list.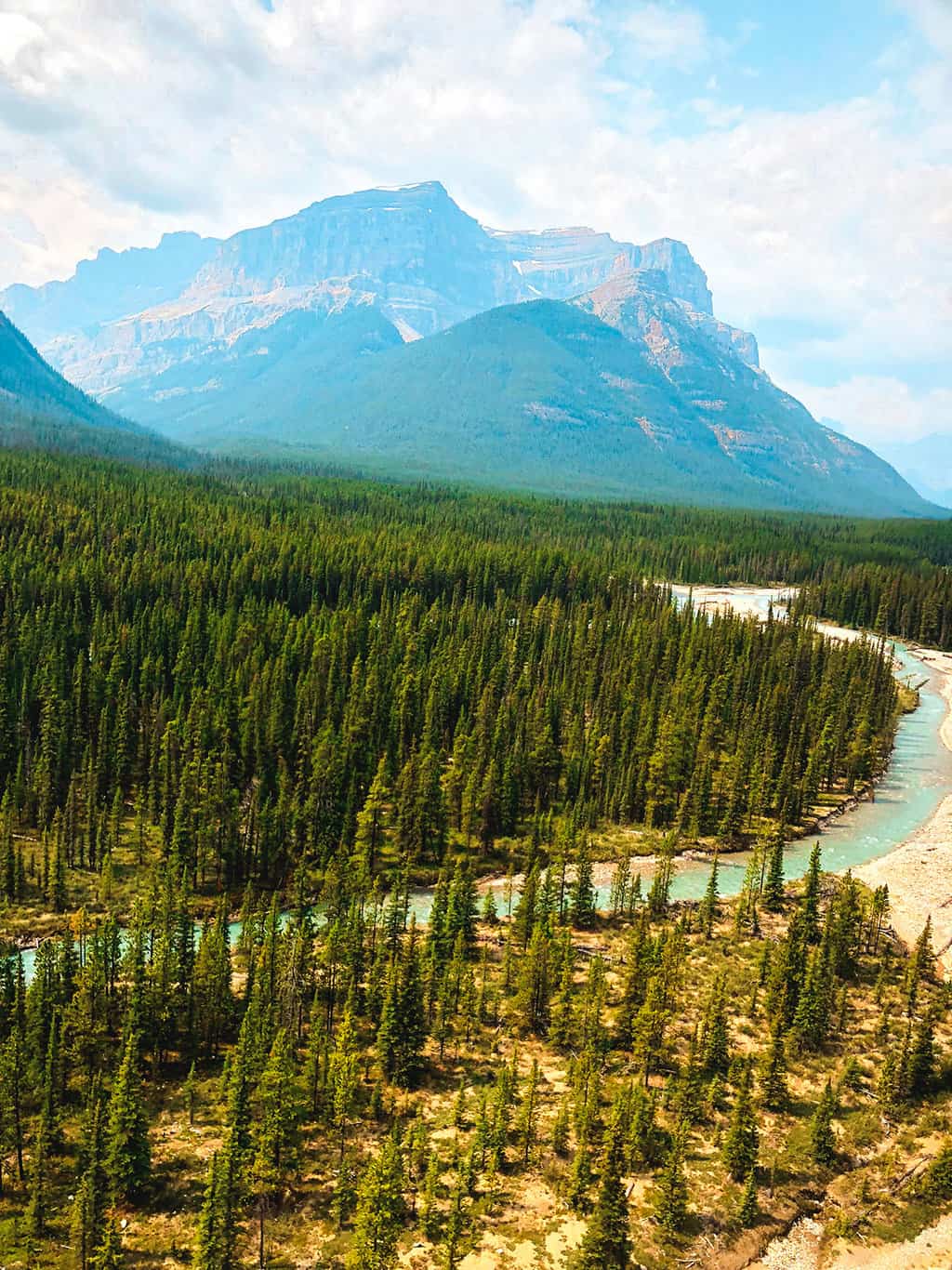 Rockies Heli Canada
A few years ago I had the opportunity to go on a helicopter ride, which included a picnic lunch and landing by a waterfall with Rockies Heli Canada (this is the tour I booked). Years later I'm still telling people about this tour. It's worth the expense to fly over the Wilson Icefield and Columbia Icefield, glacier-fed blue lakes, across the mountains, and land by the Cline River to hike to Twin Falls waterfalls, a spot that most people have to hike for hours to access.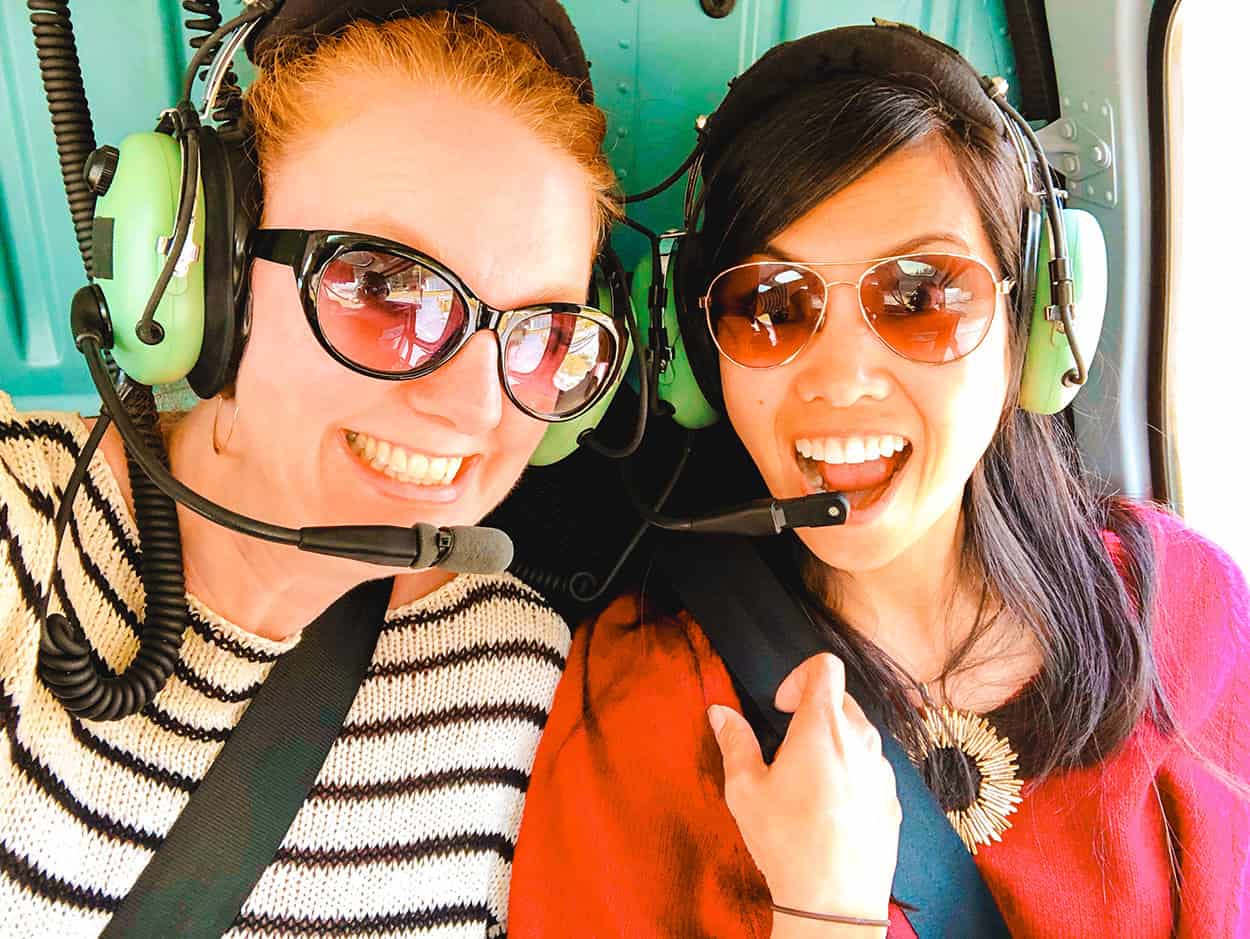 I forced my friend Gen to do the helicopter tour over the Canadian Rocky Mountains with me, and although she was very nervous and afraid of heights, she still says it was one of the most incredible experiences of her life.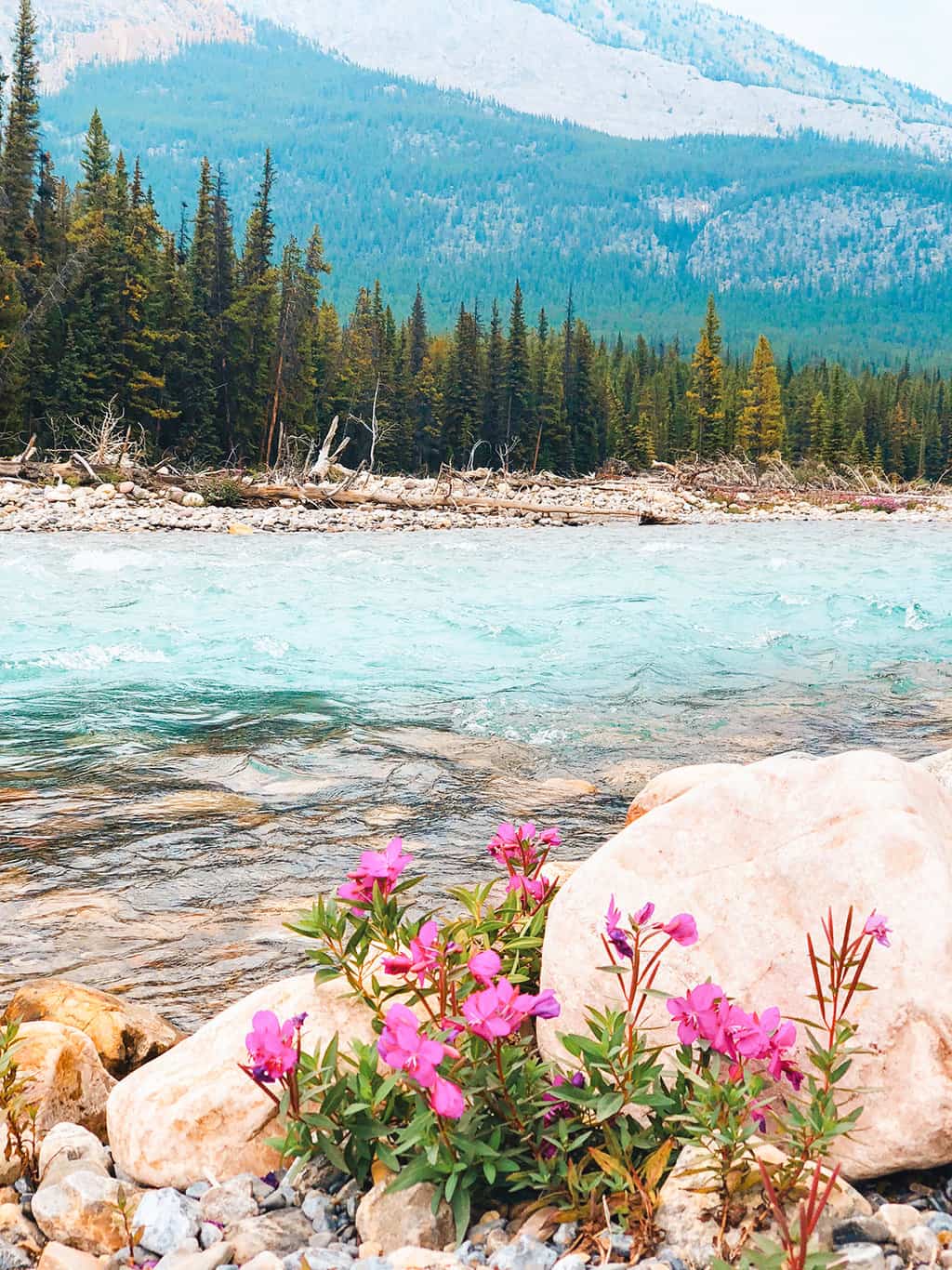 This is a great adventure to do on your way back to Banff, as you drive on Route 93 (Icefields Parkway) south to Route 11 and then cut in for about 27 miles (43km) on Route 11. In total, it will take an hour to get to the helicopter pad from the Columbia Icefield.
The tour is about two hours, which includes the landing and waterfall hike. schedule your Banff helicopter tour for early afternoon and you will still have plenty of time to stop at Lake Louise and Peyto Lake before it gets dark.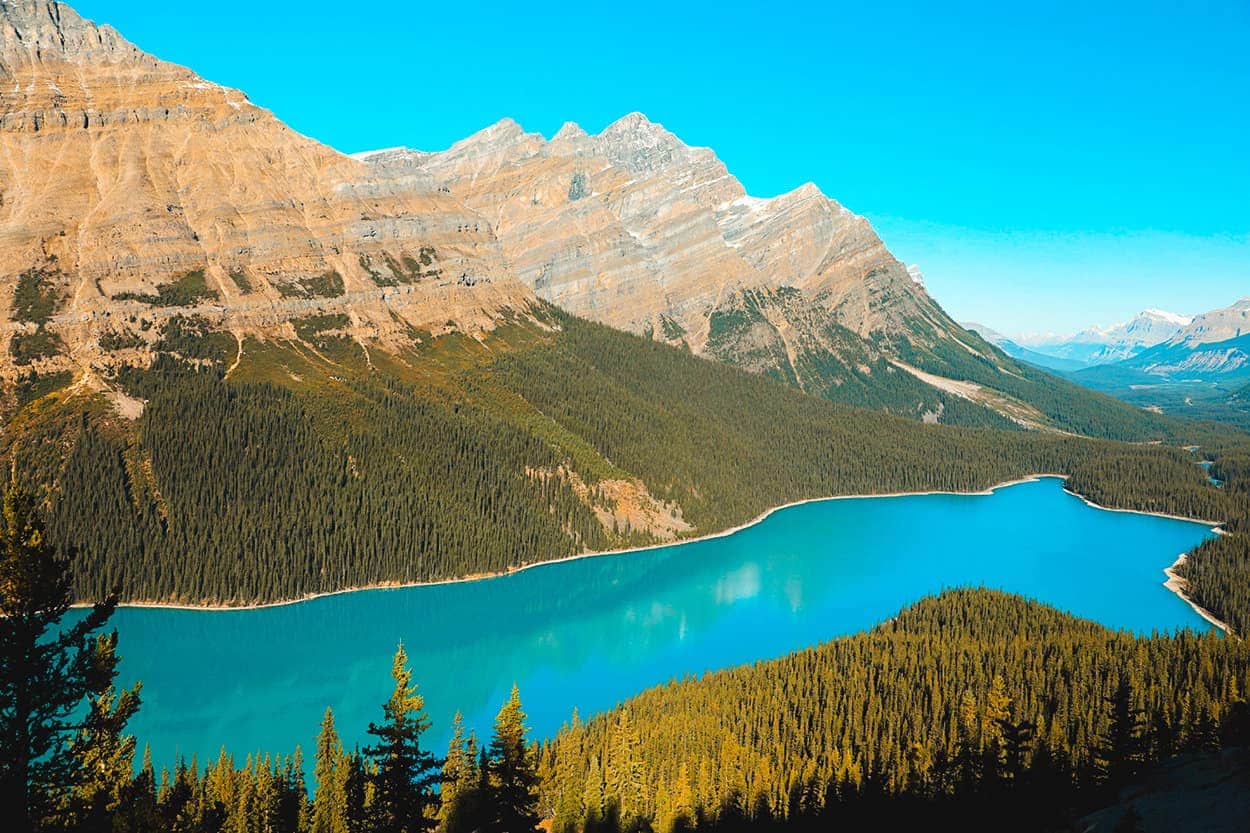 Peyto Lake
On your way back from the Columbia Icefield or your Rockies Heli Canada flight, you can stop at Peyto Lake, one of the most photographed lakes you will see from Banff National Park. There is a nice overlook so you can get your photos of this insanely blue lake, and you can do some hiking in the area as well.
Most people run out to the lookout, grab a photo and move along to the next destination, while others like to linger. You might only have enough time to take a few photos if you want to go to Lake Louise too, so plan your time carefully so you can explore the surrounding area.
Once you are finished with your helicopter tour of the glaciers, hiking on a glacier, getting a better view of mountains and waterfalls from above, make your way back to Banff. You should get back just in time for dinner.
Take a few minutes to refresh at your hotel, maybe shower, change your clothes since you have been out adventuring all day.
Brazen
Walk over to Brazen in the Mount Royal Hotel for an experiential dinner with a chef who likes to push the boundaries of what you would expect from Canadian cuisine. It is called "Brazen" after all.
Brazen might have my favorite cocktail menu in town, the Mount Royal, but you will have to try one for yourself. There is always a bartenders special, usually with a seasonal theme, so ask what it is before you commit.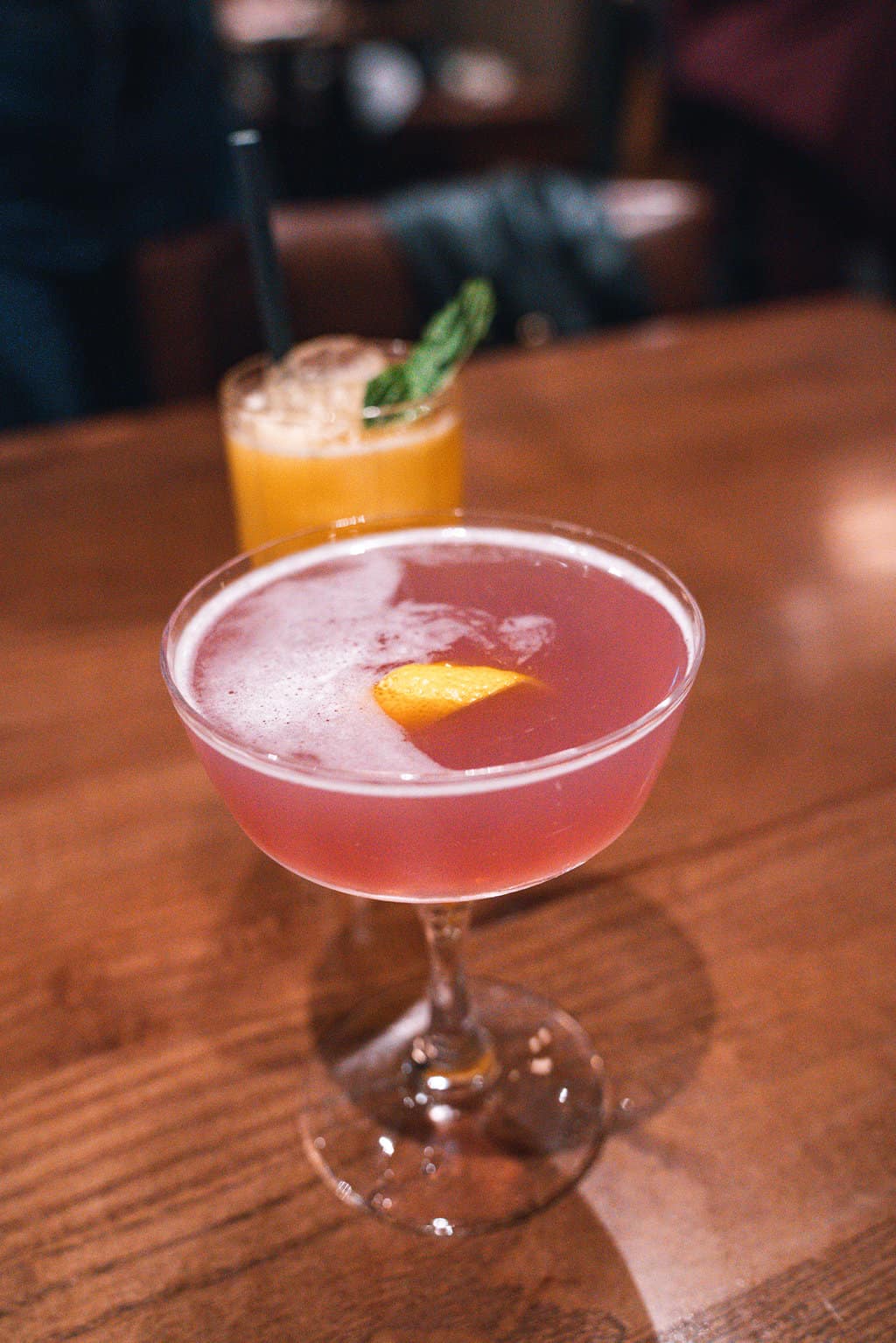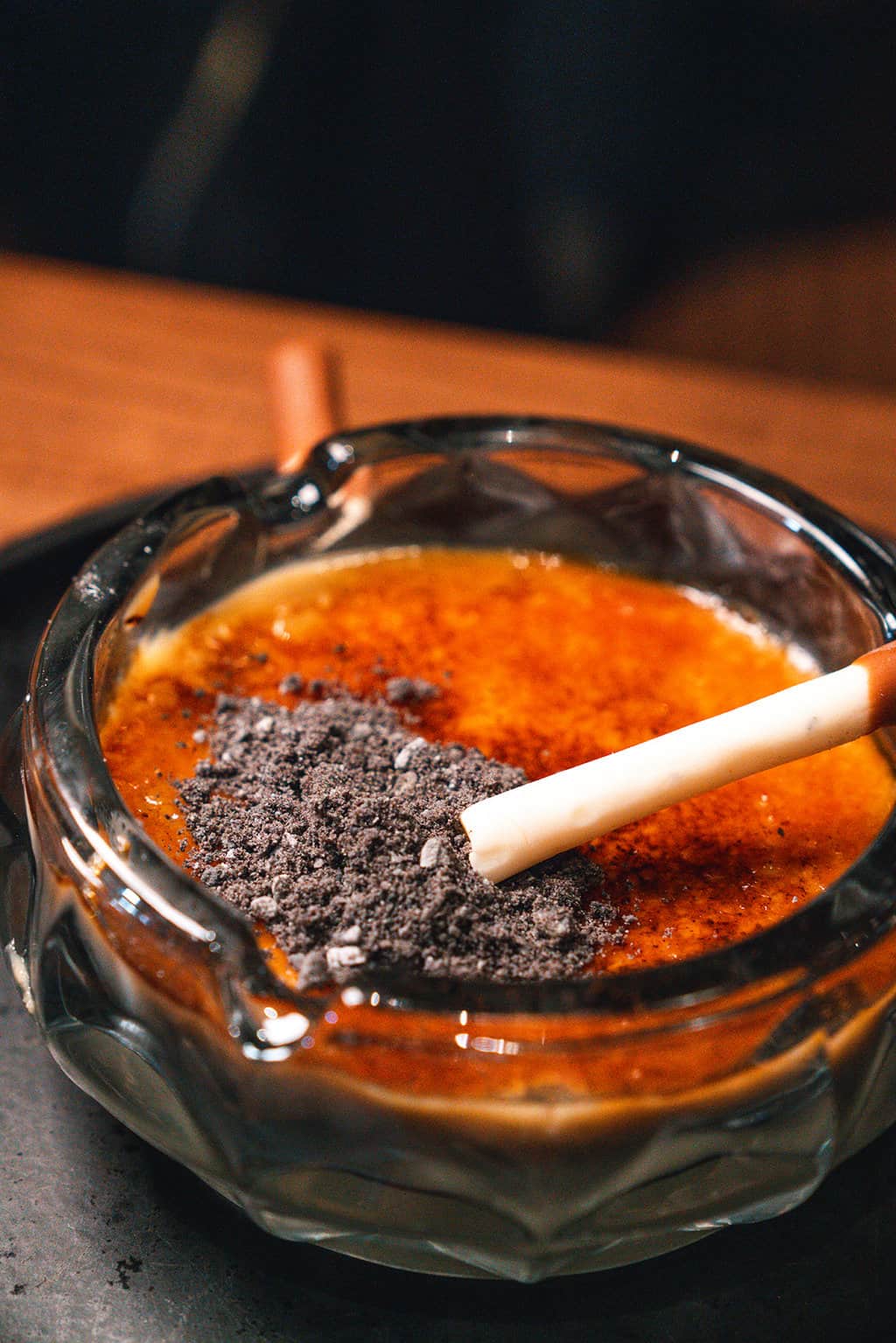 Food is served family style and meant to be shared. Order a few appetizers, vegetables and proteins. The truffle potatoes are a crowd favorite and I was told it will never leave the menu. The ginger beef was one of my favorites, and they add a little fire to your dish when they deliver it to the table.
In fact, there are a few menu items they like to light on fire or smoke at your table, including the cocktails. The performance aspect of the meal makes this restaurant a highlight for many, and entertaining for the kids if you bring them to Banff.
Fairmont Spa at Fairmont Banff Springs
It's been another long day, especially if you took the helicopter tour of Banff. You may want to just head back to your hotel and to bed. I promise tomorrow will be slower paced.
However, if your body needs a little zen healing, book a session in the Fairmont Banff Spring spa to soak in the indoor heated mineral pool, waterfall treatments whirlpools or outdoor pool. They say the minerals found in the local waters release the toxins from your body and can provide healing to your aching muscles. I've been a few times and always turn into a marshmallow after 30 minutes.
Alternately, you could go up to Banff Upper Hot Springs, the highest operating hot springs in Canada. While not as luxurious, the price is a bit more affordable, especially if you are traveling as a family in Banff. Entrance is first come, first serve, and tickets can only be bought onsite.
Day 2 Recommended Tours to Book
Day 2 Restaurant Reservations
Day 2 Drive times
Banff to Columbia Icefield: 2 hours
Banff to Lake Louise: 38 minutes
Lake Louise to Columbia Icefield: 1 hour and 33 minutes
Day 3: Johnston Canyon and Lake Minnewanka
Today, you can roll out of bed and wait for a table at Tooloulous, one of the most popular breakfast places in Banff. If you get there early enough you won't have to wait, but chances are you are sleeping in.
Touloulous is known for their creole food, and breakfast certainly has many creole inspired dishes, but I find it to be more like an American diner in the wee hours. You can load up on pancakes, 10+ different types of French toast, eggs cooked in anyway you like, and other breakfast goodies before you head out on your first hike of the day.
Canadians love their eggs benedict and Touloulous has more than 10 on the menu, so if that is your jam, order away.
Before you drive out of Banff, pick up snacks or a few sandwiches from Wild Flour to take with you, so you can have a picnic lunch after your hike, or you can head back to town for lunch at Farm & Fire in the Elk + Avenue Hotel.
Johnston Canyon
Your first hike today will be in one of Alberta's many canyons. Johnston Canyon is stunning year round, and a popular place to ice climb in the winter. Since there may not be snow on the ground when you arrive, strap on your hiking shoes and get ready to explore.
The canyon has two trails, the upper falls trail and the lower falls trail. Each is easy enough for kids to tackle, but the lower falls trail takes about an hour to hike, while the upper falls trail will take about two hours. Both are in and back hiking trails; they are not loop trails.
You will hike on iron catwalks bolted into the canyon walls. The most impressive plunge waterfall is one of the first major attractions in Johnston Canyon to greet you, but there is still much more to see so keep walking.
Enjoy a snack as you go, or you can head back to the parking area to drive back to Banff for lunch before your lake cruise on Banff's largest lake.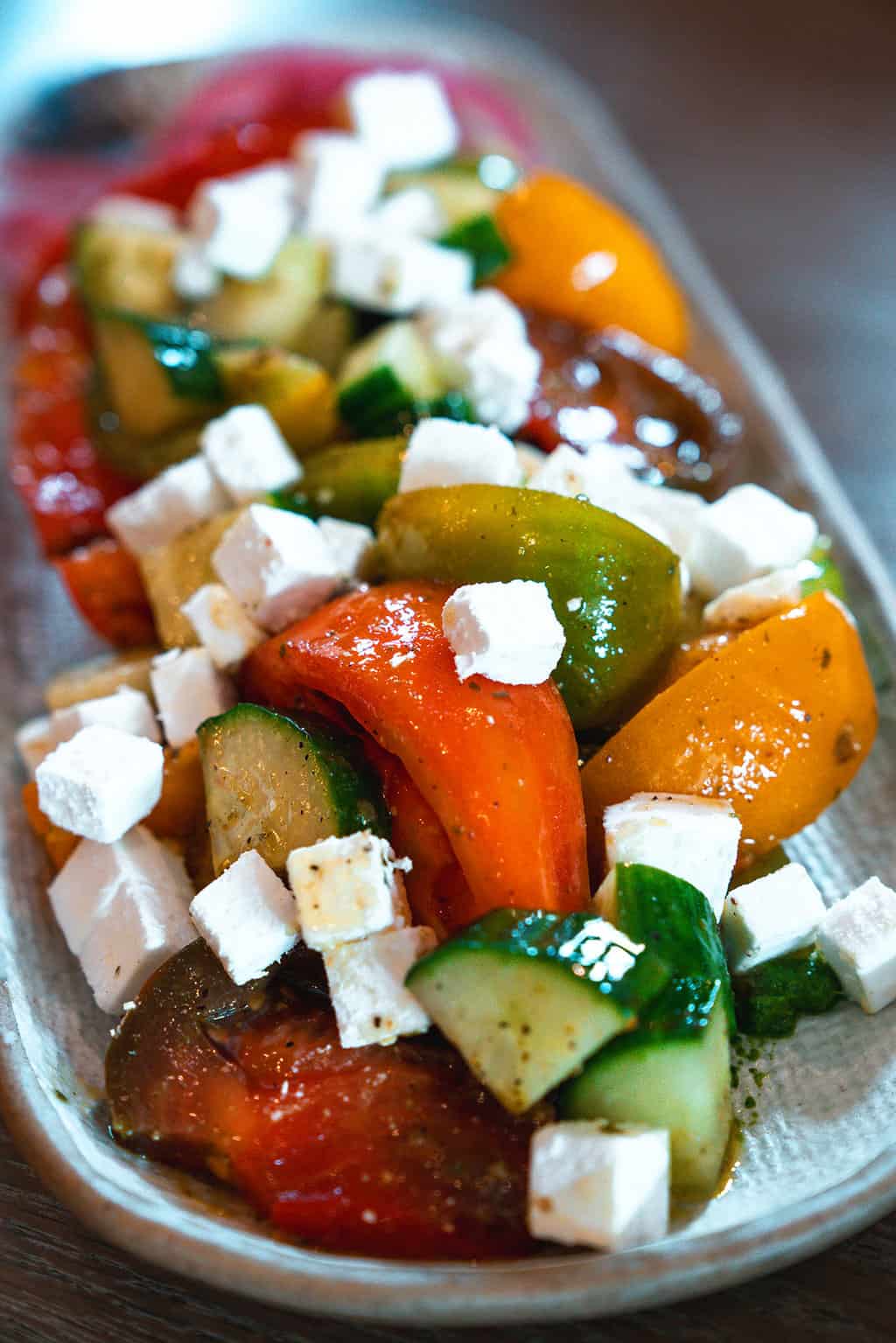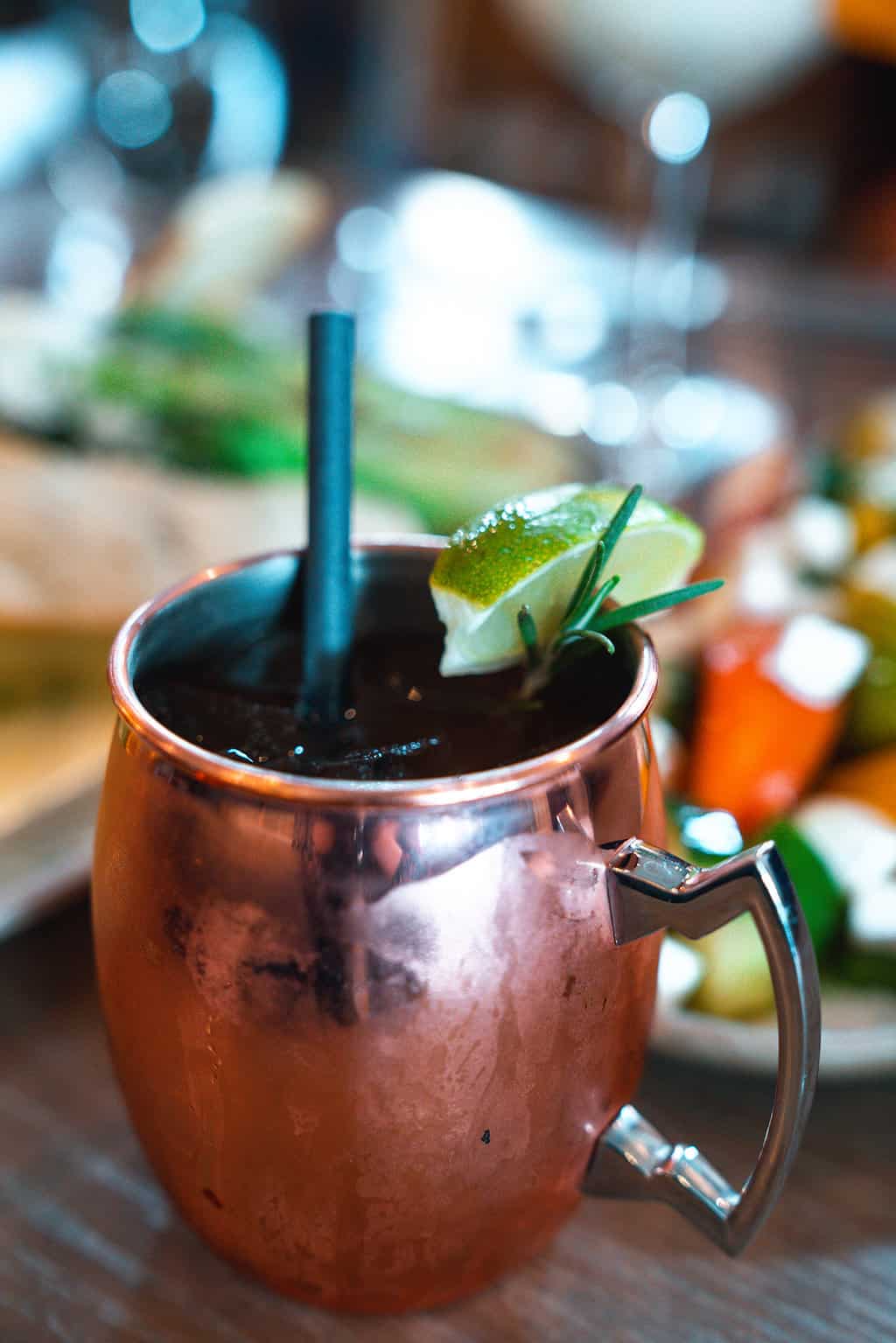 Farm & Fire
If you head back to Banff, you will want to grab a table at Farm & Fire, located on Banff Avenue. The restaurant offers a beautiful brunch menu filled with fresh salads, bowls, sandwiches, and brunch staples like eggs, French toast and avocado toast. Sadly, their wood-oven pizzas are only available on the dinner menu.
If you do want pizza, you can switch today's lunch and dinner restaurants. Both are open and happy to feed you.
Lake Minnewanka
After lunch, drive 15 minutes out to Lake Minnewanka for some time on the water and to learn more about the history of Banff, which spans thousands of years.
You have a few options at the lake– you can book a Lake Minnewanka Cruise HERE, rent boats to get to paddle yourself around the water, or you can hike the lakeshore trail to Stewart Canyon, seeing the beauty of the area, which has been home to the indigenous First Nations people for more than 14,000.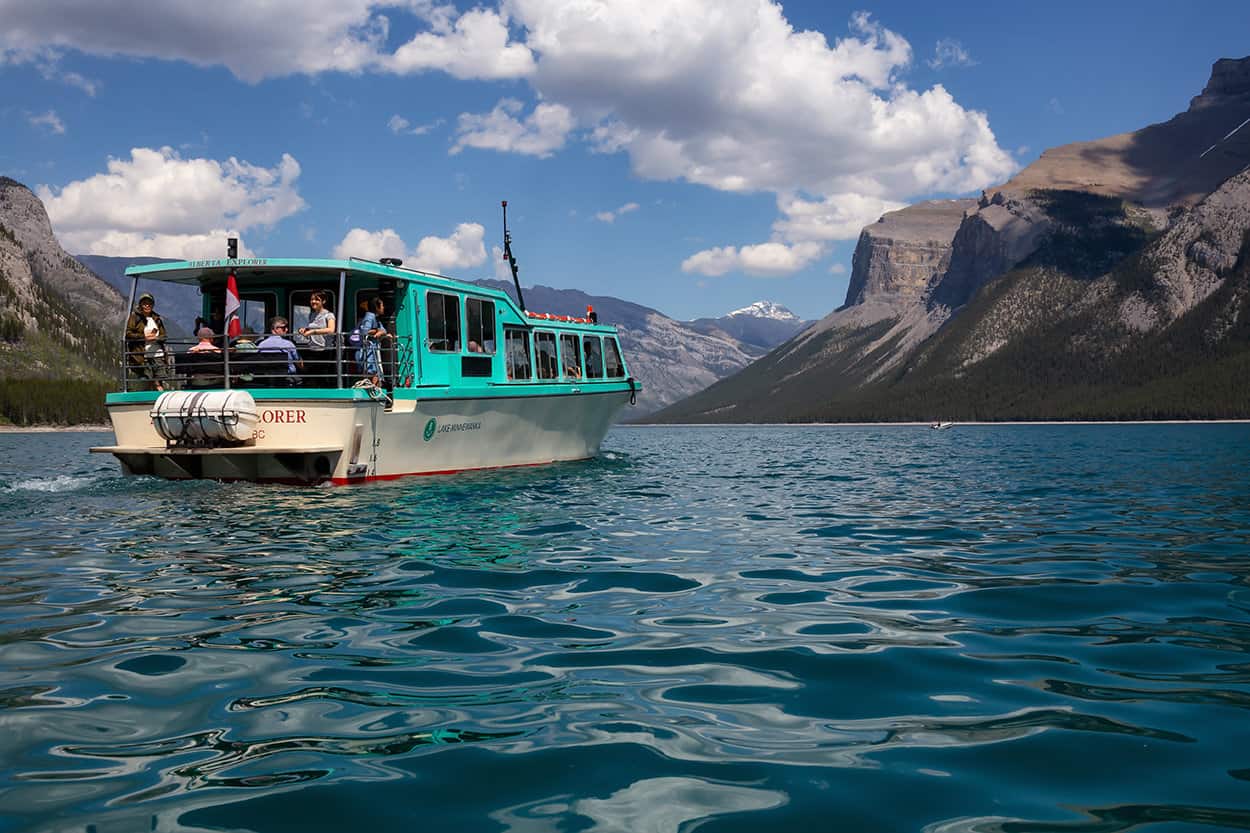 If you are taking the lake cruise, make sure you arrive with plenty of time to park (it can get crowded) and to check in at least 15 minutes before your cruise. There is also a bus from Banff to the lake if you don't want to drive, and it will make sure you arrive on time for your tour.
If you didn't go back to Banff for lunch, you can grab a picnic or snacks at Black Anchor Snack Shop on the lakeshore.
For those who have already been to Jasper National Park or are planning on spending 3-days in Jasper, you may already be familiar with the Maligne Lake cruise to Spirit Island. While Lake Minnewanka doesn't have Spirit Island, it is known to the Stoney Nakoda First Nations people as Minn-waki or "Lake of the Spirits."
Your cruise captain and guide will share tales about the area while you sit cozy in the boat's heated interior, and point out multiple archeological site where artifacts dating back 14,000 years have been found.
The best way to explore Lake Minnewanka, the largest glacial lake in Banff, is to go on your cruise (grab tickets here if you haven't already), and then hike the shoreline trail to get a taste for the area by both land and sea. Just make sure you plan this excursion in advance, as it does get crowded during high season, especially during peak times of the day.
A third option when you want to explore the lake is to take the round trip bus ride, Roam bus #6 – Lake Minnewanka, and wander the Lake Minnewanka Loop. You will see Lake Minnewanka, Two Jack Lake, Cascade Ponds, and Stewart Canyon trail, plus still have time to take the boat ride around the lake.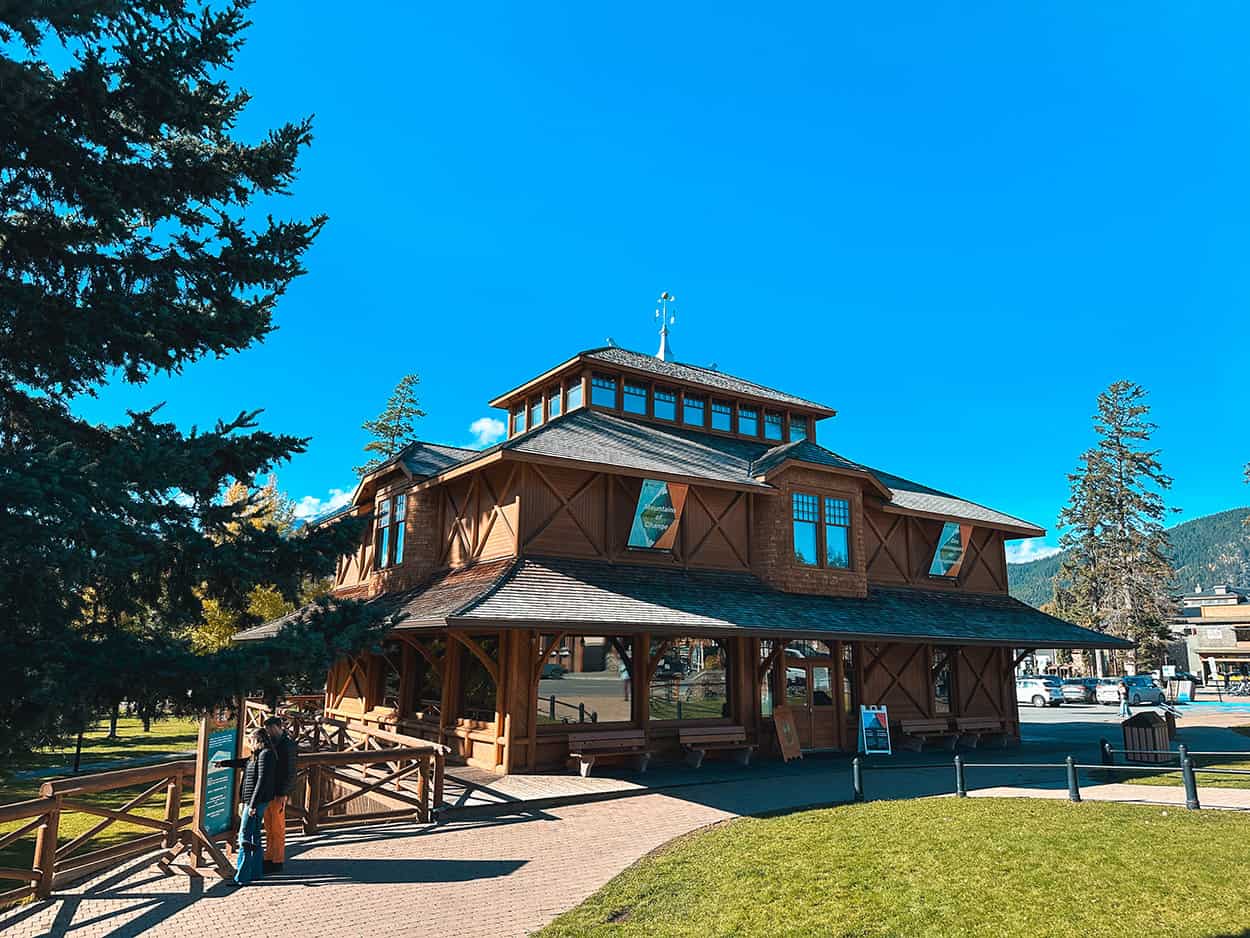 Museums in Banff
Once your explorations are done, head back to Banff for a nap, shopping, or to check out a museum you might have missed. If your hotel has a hot tub, it's the perfect time to throw on your swimsuit and enjoy a leisurely soak before dinner.
Banff museums to check out
Banff Park Museum National Historic Site
Buffalo Nations Museum
Whyte Museum of the Canadian Rockies
Historic Luxton Home Museum
Park Distillery
Once your stomach starts to growl and you are looking for dinner, walk over to the Park Distillery, which makes one of my favorite gins- the Park Alpine Dry Gin. The distillery recently released their Park Flora and Fauna gin, but I haven't gotten a chance to try it yet. I hear it is quite nice though if you like a more botanical gin, which I do.
The distillery also makes vodka and rye, which they weave effortlessly into their cocktail menu at the Park Distillery restaurant.
Like many restaurants in Banff, Park Distillery's restaurant menu is meant to be shared. Whether you just came in from a hike or skiing Banff Sunshine Village, you will be able to load up on steak, rotisseries chicken, ribs, burgers, truffle fries, and cornbread. Don't worry, there are plenty of salads and even a vegan option if you have any dietary restrictions.
Day 3 Recommended Tours to Book
Day 3 Restaurant Reservations
Day 3 Drive times
Banff to Johnston Canyon: 30 minutes
Johnston Canyon to Lake Minnewanka: 30 minutes
Lake Minnewanka Cruise to Banff: 15 minutes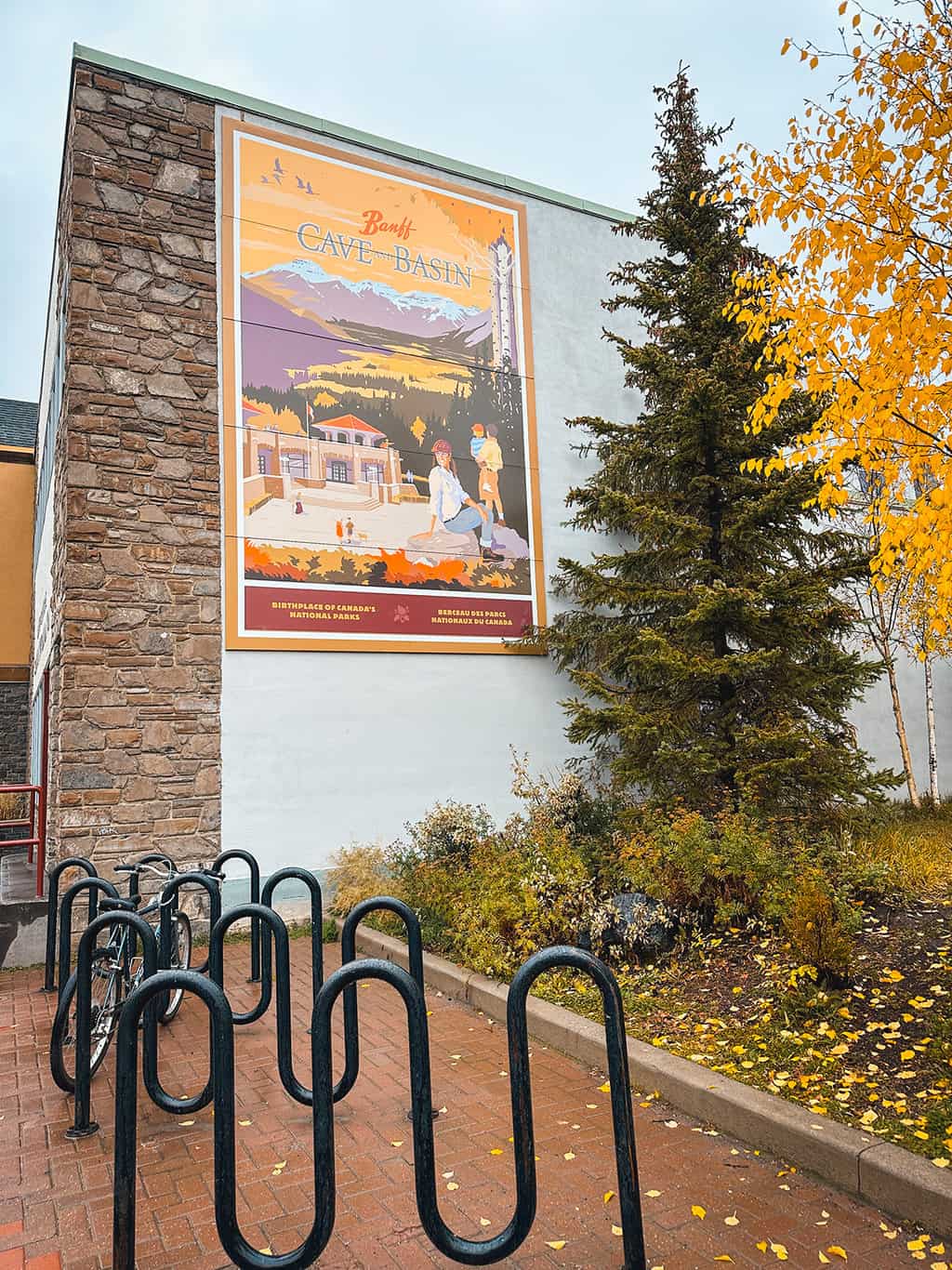 Your 3-day Banff itinerary is now done. You can head out to enjoy one of the many local bars, try your hand at bowling, hit the spa again, or simply collapse into a food coma back in your hotel.
There aren't a lot of late night bars in Banff, but if you want to stay out, check out Hello Sunshine, a local favorite a friend of mine often hangs out at late.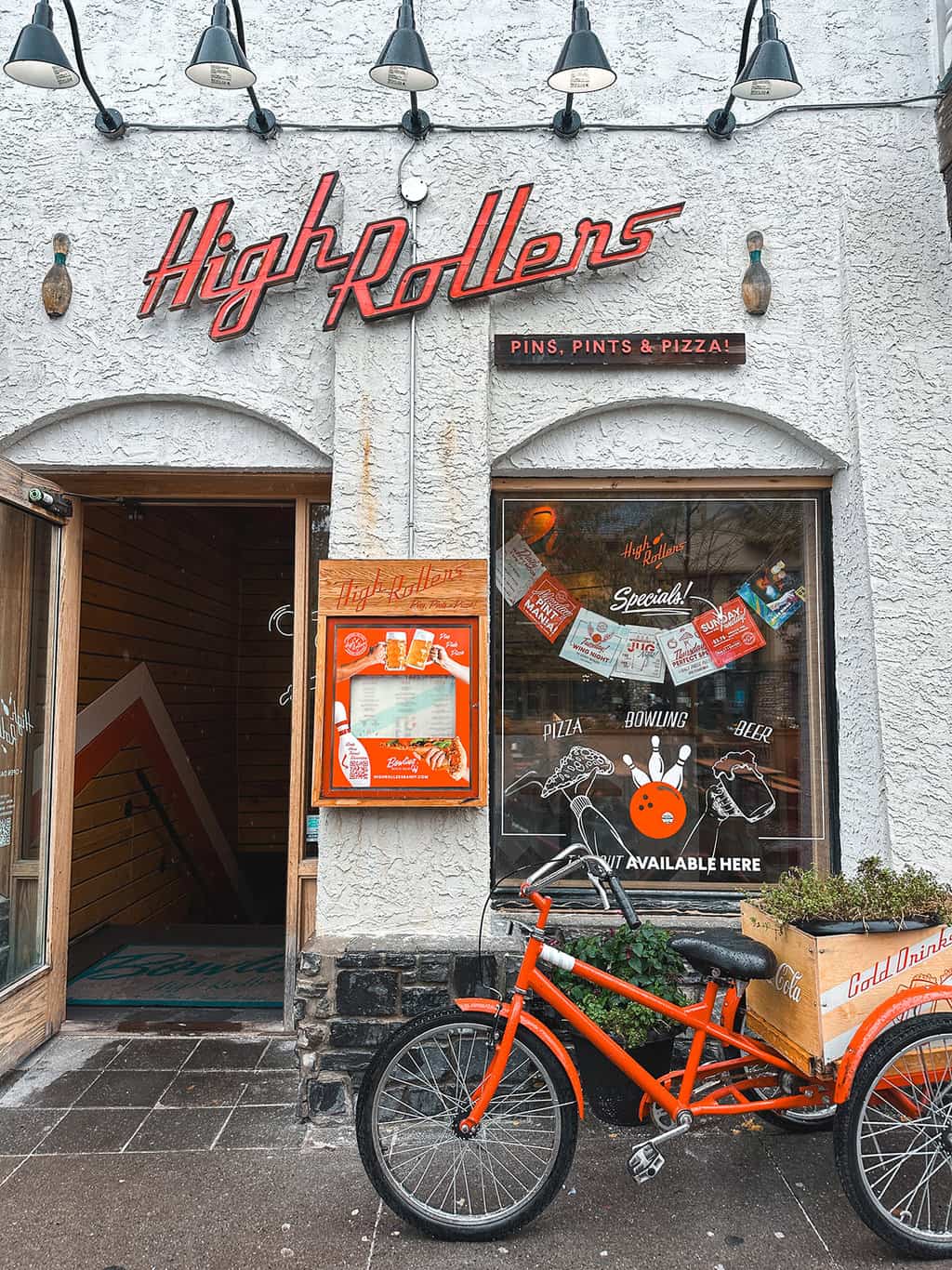 Things to do in Banff at Night
If you still have energy, there are few things you can do in Banff at night to fill your time each night, meet a few of the locals, and unwind after a long day of wandering the national park.
Banff Ghost Walk (book tickets in advance HERE
Banff: Evening Wildlife Safari Guided Tour (Book your Discover Banff tour HERE)
Enjoy a night of stargazing at Lake Minnewanka
Try out 10-pin bowling at High Rollers' on Banff Avenue
Check out an event at the Banff Centre for Arts and Creativity
Learn more about the cocktail culture at a Banff bar or sip a local beer at one of the breweries in town.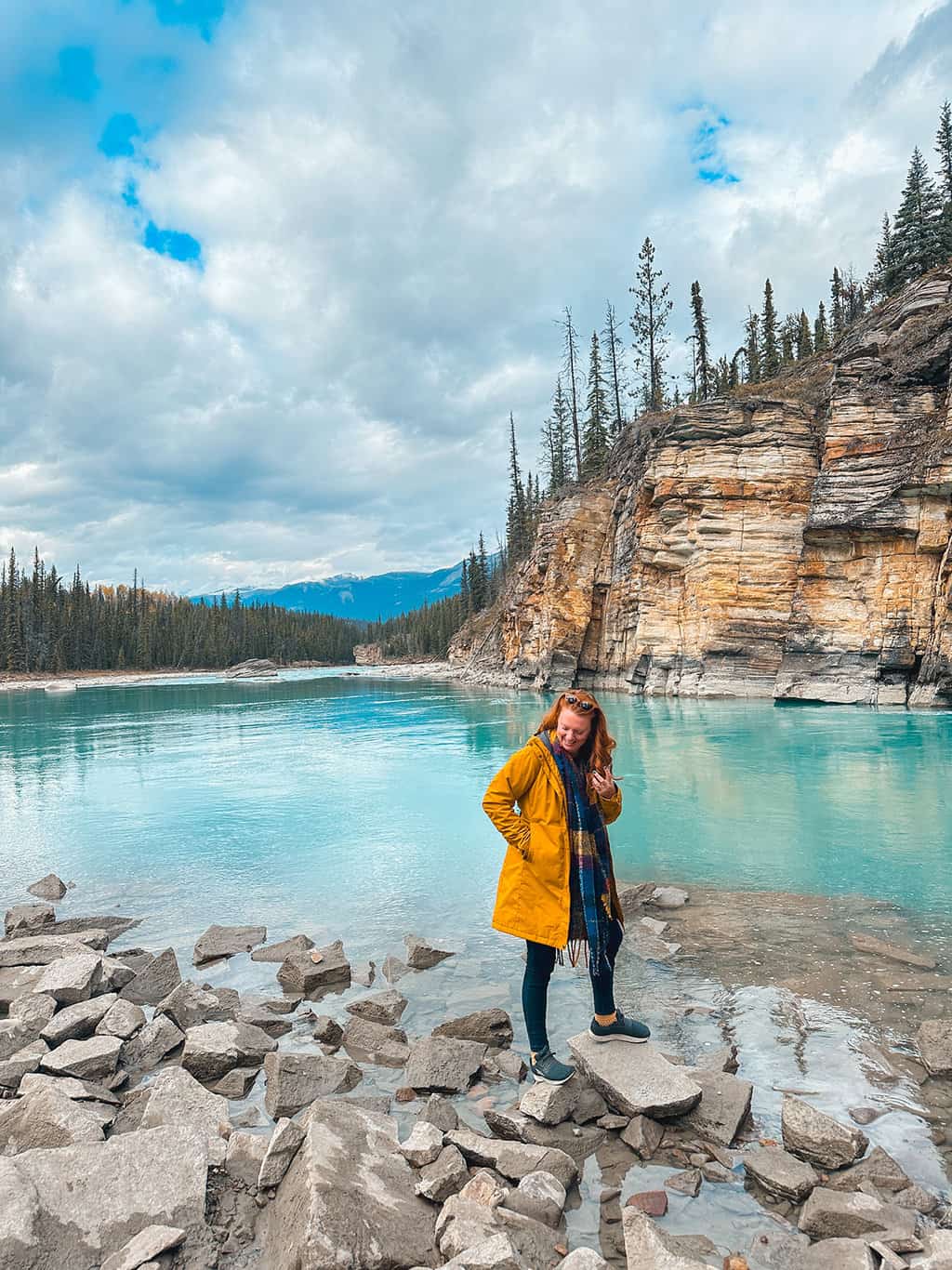 What's next after your 3 days in Banff?
Check out our Jasper itinerary filled with 3 days worth of adventure in Jasper National Park and Alberta Canada. It's the perfect adddition to any trip to Banff if you have the extra vacation days.
If you want to explore more of Canada, we've got your covered there too.
Frequently Asked Questions about Banff National Park (FAQ)
What is Banff known for?
Banff is renowned for its stunning natural beauty, majestic mountains, pristine lakes, and abundant amount of wildlife.
When is the best time to visit Banff?
The best time to visit Banff depends on your tolerance for the cold and what you want to do. Summer offers warm weather and outdoor activities, while winter is perfect for skiing, snowboarding, snowshoeing, ice climbing and ice skating.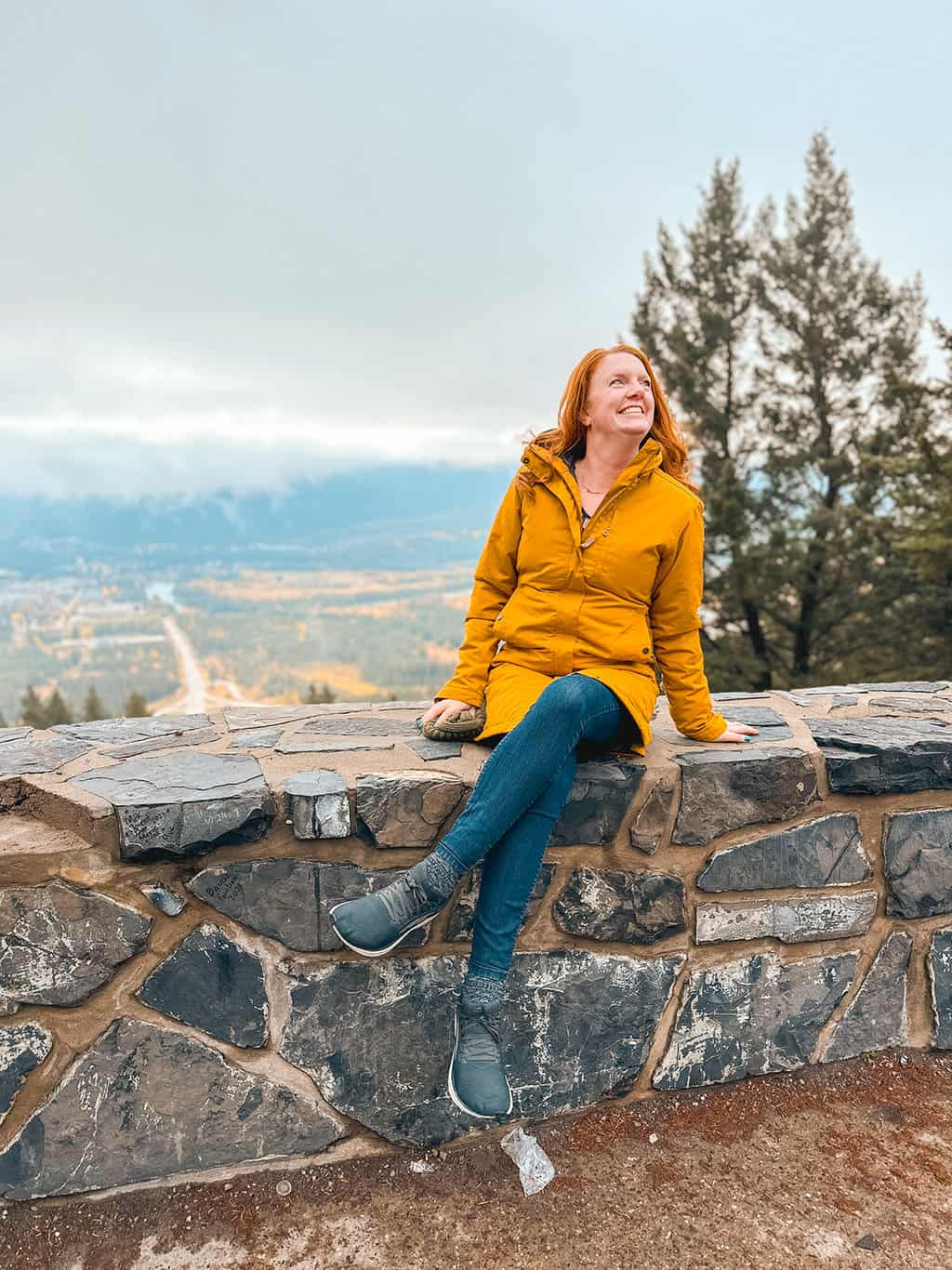 What are the must-see attractions in Banff?
Some must-see attractions in Banff include Lake Louise, Moraine Lake, Sulphur Mountain, Banff Gondola, Lake Minnewanka and Johnston Canyon.
How can I get to Banff?
You can fly into Calgary International Airport and then driving or taking a the Brewster Express to Banff, which is about a 1.5 to 2-hour drive away.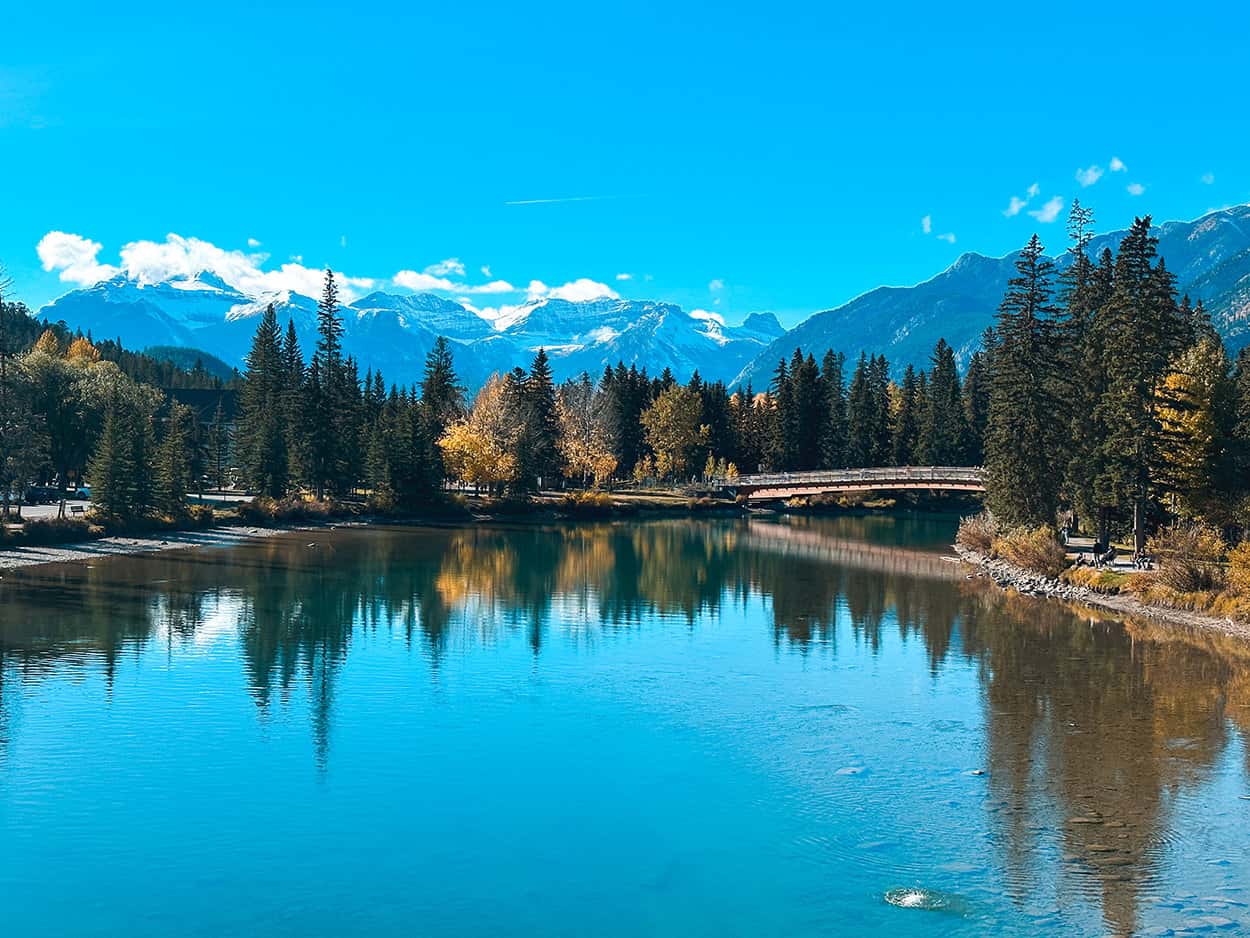 What are the best hiking trails in Banff?
Popular hiking trails in Banff include the Plain of Six Glaciers, Sentinel Pass, and the Sulphur Mountain Trail.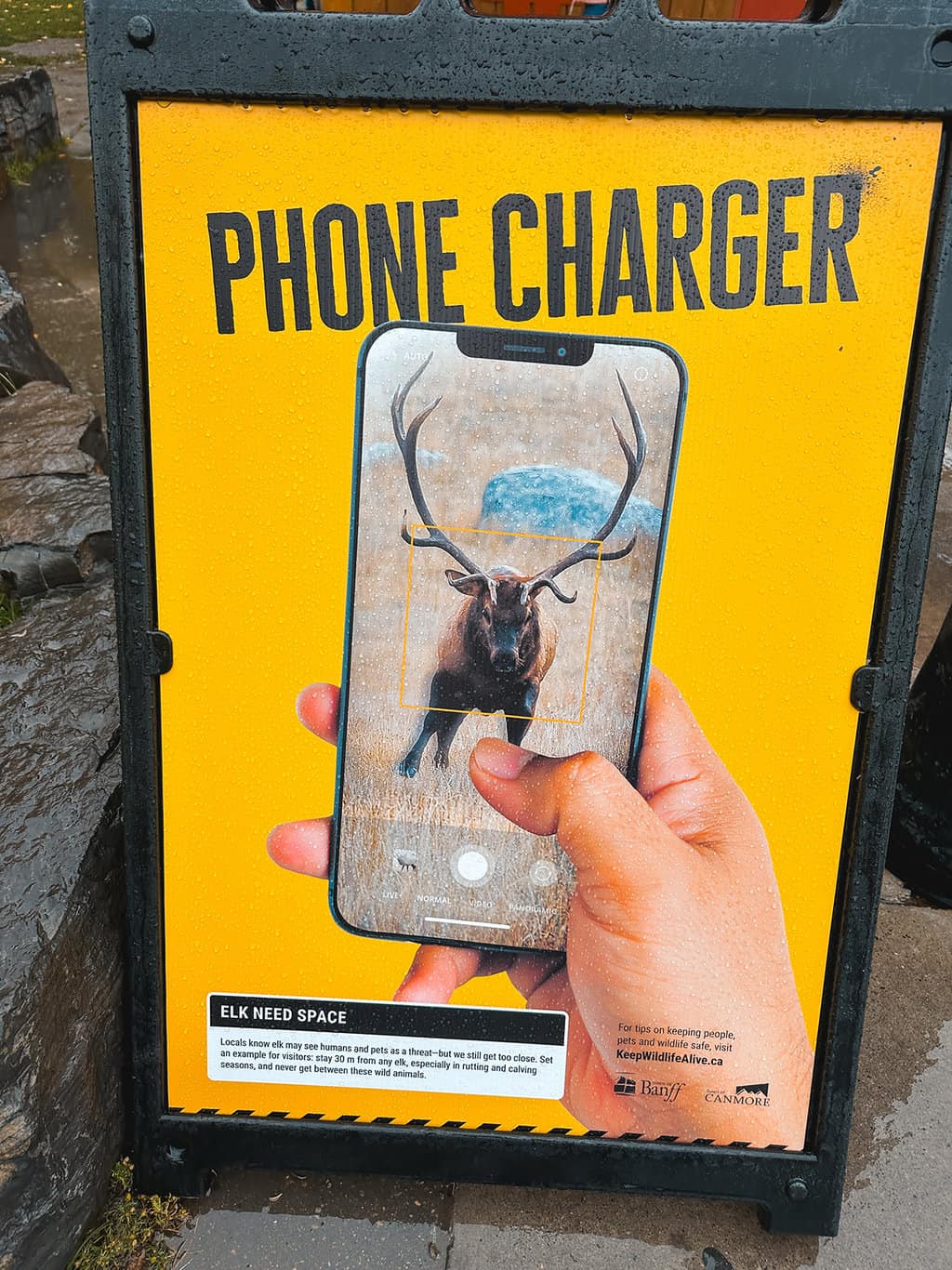 Are there any wildlife viewing opportunities in Banff?
You bet! You can spot wildlife like elk, bighorn sheep, black bears, and even grizzly bears in Banff National Park. Just remember to never, ever approach a wild animal and to hike with bear spray.
Is it necessary to make hotel reservations in advance?
YES! During peak tourist seasons, you should definitely book hotel rooms, cabins and vacation rentals in Banff in advance.
Can I swim in the lakes in Banff?
Yes, you can swim in some of the lakes, but the water is cold, especially in the early summer months.
What winter activities are available in Banff?
Winter activities in Banff include skiing, snowboarding, ice skating, ice climbing, and snowshoeing.
Lake Louise hosts "Ice Magic," a fun ice carving contest and winter festival. Bring your ice skates as the lake freezes and the Fairmont Lake Louise carves out an ice rink, curling area, ice bar and more fun things to do in Lake Louise in winter.
Banff also hosts a fantastic SnowDays Festival each winter with ice sculptures, snow sculptures, play zones, and more.
Are there any hot springs in Banff?
Yes, the Banff Upper Hot Springs is a popular spot to relax in natural hot springs while enjoying mountain views. The Fairmont Banff Springs also has a heated mineral pool in their spa, which you can access for a fee.
Can I see the Northern Lights in Banff?
Banff occasionally offers opportunities to witness the Northern Lights, especially during the winter months. You have a better chance up in Jasper National Park though, as it is a dark sky preserve.
Are there any restrictions on camping in Banff National Park?
Yes, camping in Banff National Park is regulated, and you will need to make reservations at designated campgrounds.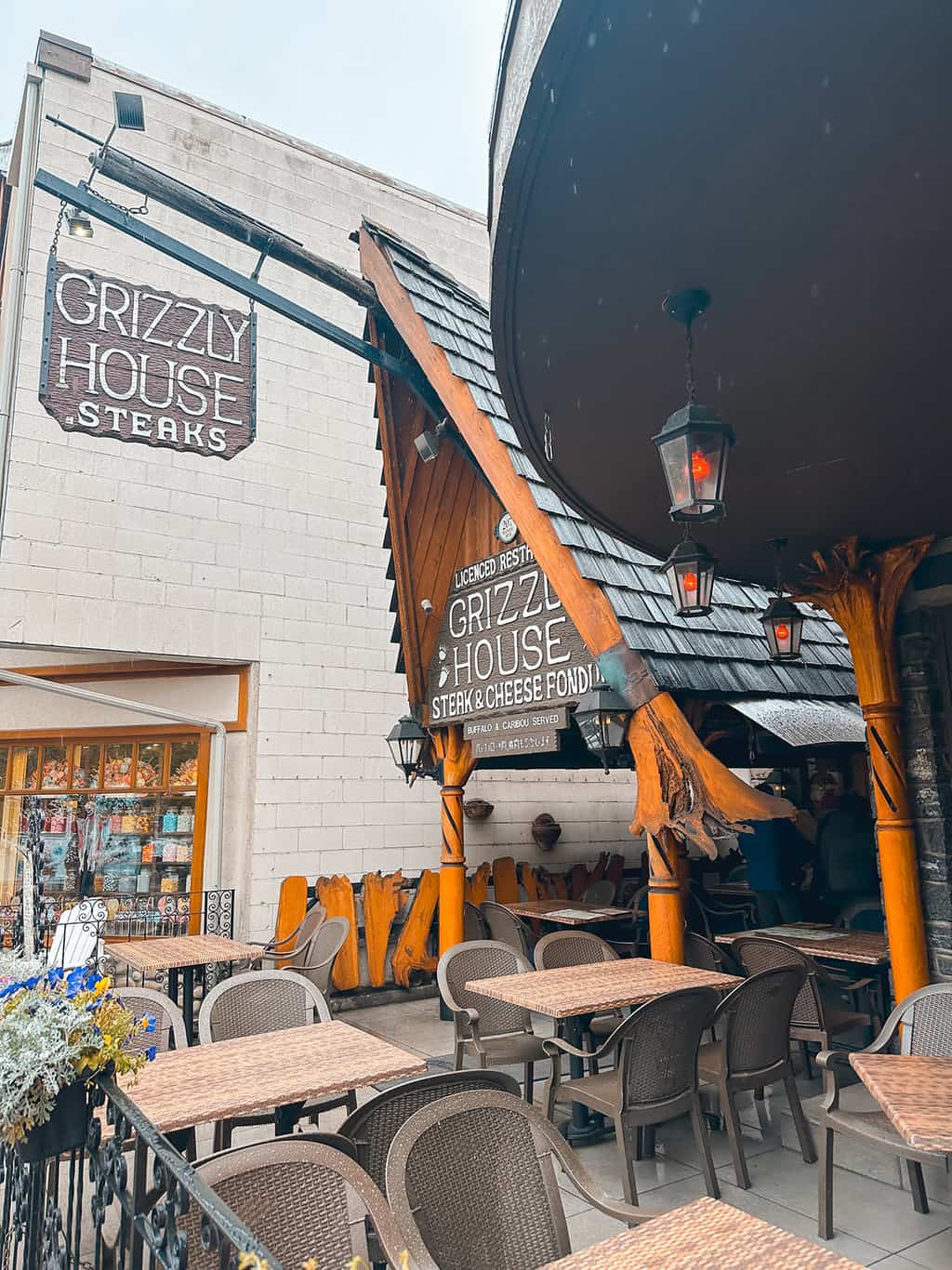 What are the dining options in Banff?
Banff has a variety of restaurants and cafes offering a range of cuisines, from Canadian to international flavors. Our favorites include Park Distillery, Farm & Fire, Brazen and The Grizzly House (the latter is more for fun than high cuisine).
Are there any special events or festivals in Banff?
Banff hosts events throughout the year, including the Banff Mountain Film Festival and Banff Craft Beer Festival.
Can I rent outdoor gear in Banff?
Yes, there are many rental shops in Banff where you can rent outdoor gear for activities like hiking, skiing, and biking.
Is Banff safe for solo travelers?
Banff is generally safe for solo travelers, but as always, be aware of your surroundings, carry bear spray when you hike, and don't wander into any dark alleys alone.
What is the altitude of Banff?
Banff is at an elevation of approximately 1,463 meters (4,800 feet) above sea level.
How do I purchase a Canada park pass for Banff National Park?
You can purchase a park pass at park entrances, visitor centers, or online in advance.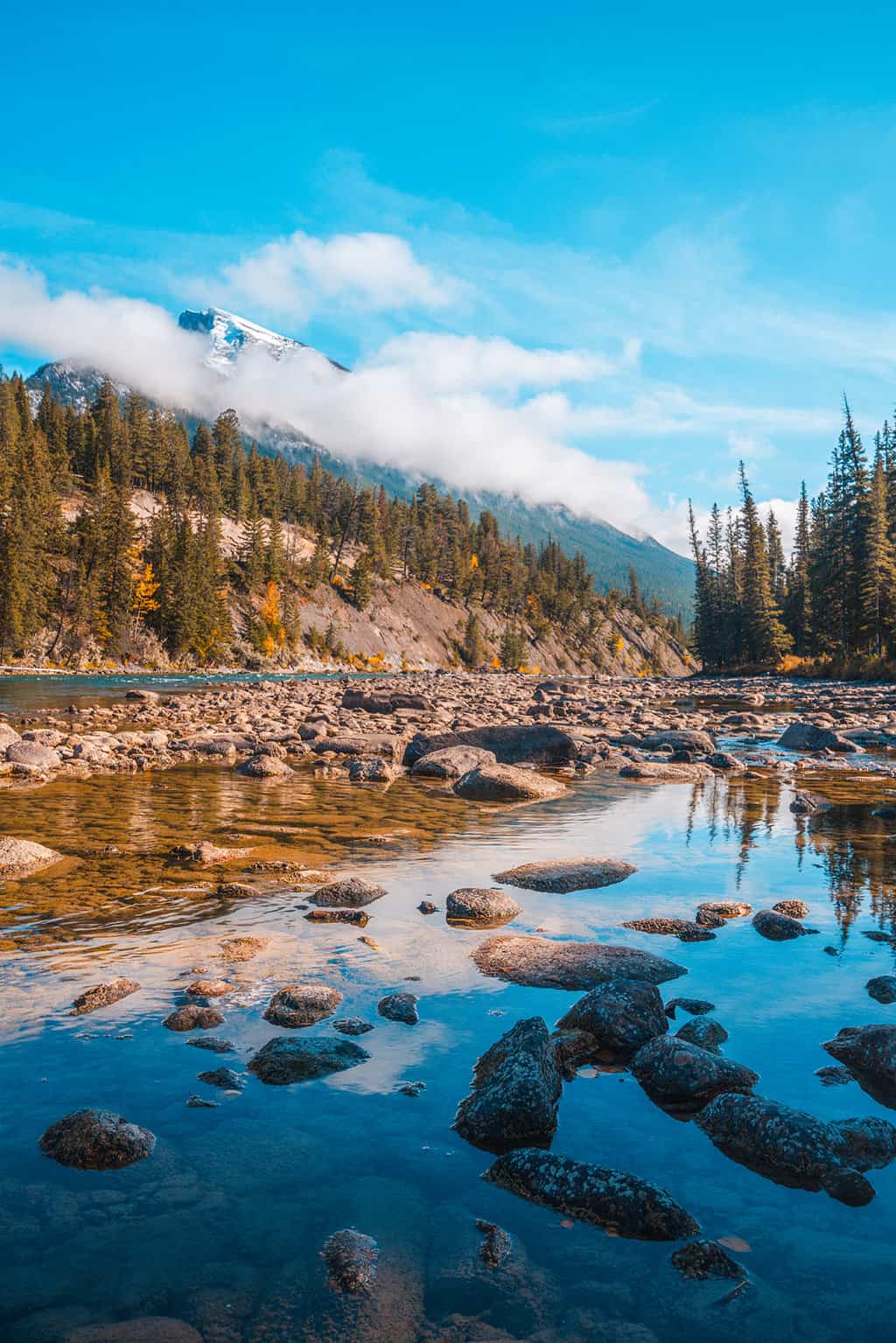 What is the weather like in Banff during different seasons?
Banff experiences a range of weather, from warm summers to cold winters. Check the forecast before your trip, as it could be a warm autumn or the first snow could come in early October.
Can I see the Columbia Icefield while in Banff?
Yes, the Columbia Icefield is located about two hours away, and can be visited on a day trip from Banff. There are a number of day tours and shuttle bus options you can take to get to the Icefield from main street in Banff.