ALberta's Best Cities
Alberta Itineraries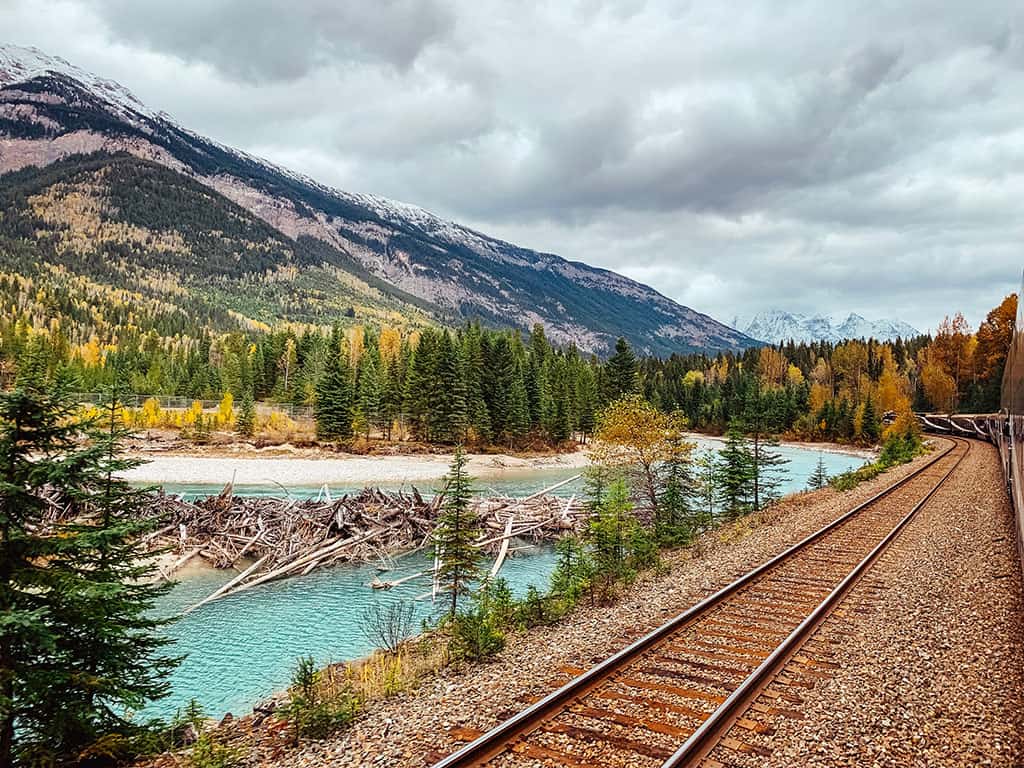 Rocky MOuntaineer Train
Winter Travel and Skiing in Alberta
Alberta National Parks
Essential Alberta
Our Favorite Hotels in Alberta
This post contains affiliate links, which means we may earn a small commission from your purchase. This adds NO extra cost to you.
Banff
Find more Banff hotels HERE.
Calgary
Find more Calgary hotels HERE.
Edmonton
Find more Edmonton hotels HERE.
Jasper
Find more Jasper National Park hotels HERE.
Kananaskis
Find more Kananaskis hotels HERE.
Lake Louise
Find more Lake Louise hotels HERE.
Find more hotels in Alberta Canada HERE or search the interactive map below.
Alberta Canada Travel FAQ
What are some must-visit destinations in Alberta?
Alberta boasts stunning destinations like Banff, Jasper, Lake Louise, and Calgary.
When is the best time to visit Alberta for outdoor activities?
Summer (June to August) is ideal for hiking, biking, and exploring national parks, while winter (December to March) is perfect for skiing and snowboarding.
What is the weather like in Alberta?
Alberta experiences diverse weather, from cold winters with snow to warm summers with mild temperatures.
Do I need a visa to visit Alberta as a tourist?
It depends on your nationality. Check with the Canadian government's official website for visa requirements.
Can I see the Northern Lights in Alberta?
Yes, Alberta's northern regions offer excellent opportunities to witness the Aurora Borealis, especially during winter.
What are some popular outdoor activities in Alberta?
You can enjoy hiking, camping, skiing, snowboarding, wildlife viewing, and canoeing in Alberta's beautiful natural landscapes.
Are there any must-try foods in Alberta?
Alberta is known for its beef, so don't miss trying Alberta beef steaks. Also, sample bison and local specialties.
Is it safe to drink tap water in Alberta?
Yes, tap water in Alberta is generally safe for drinking.
What is the legal drinking age in Alberta?
The legal drinking age in Alberta is 18.
Can I use my mobile phone from another country in Alberta?
Most international mobile phones will work in Alberta, but check with your provider for roaming charges.
Are there any special driving rules in Alberta?
Drive on the right side of the road, and remember to follow speed limits and road signs.
Is it possible to see wildlife in Alberta's national parks?
Yes, Alberta's national parks are home to diverse wildlife, including bears, elk, and bighorn sheep.
What are some family-friendly attractions in Alberta?
Consider visiting the Calgary Zoo, Telus Spark Science Centre, and the Royal Tyrrell Museum.
Are there any UNESCO World Heritage Sites in Alberta?
Yes, Alberta has several, including Banff and Jasper National Parks.
What is the currency used in Alberta?
The currency used in Alberta is the Canadian Dollar (CAD).
Can I go camping in Alberta's national parks?
Yes, you can camp in many of Alberta's national parks, but reservations are recommended.
Are there any unique festivals in Alberta?
Alberta hosts various festivals, such as the Calgary Stampede and the Banff Mountain Film Festival.
What are the top shopping areas in Alberta?
Explore shopping districts in cities like Calgary and Edmonton for a wide range of stores and boutiques.
Can I visit the Alberta Badlands?
Yes, the Alberta Badlands are famous for their unique landscapes and dinosaur fossils.
What should I pack for a trip to Alberta?
Depending on the season, pack appropriate clothing, hiking gear, and essential items like sunscreen and insect repellent.