Grab the entire family and head out to experience the best things to do in Long Beach this Christmas, along with Christmas in Seal Beach when you are in search of some incredible holiday fun. These two towns along the Pacific Coast Highway are filled with so much holiday cheer you won't have enough time to enjoy it all.
We've compiled a list of all of the fun things to do in Long Beach during the holidays, but there is always more fun to find in California.
Reminder: please double check times and dates of all events, as each is subject to change.
Christmas in Long Beach
Annual Long Beach Christmas Parade
Head to the Belmont Shores neighborhood in Long Beach for their 38th annual parade. The parade route will go along East Second Street and is one of the biggest parades in Long Beach. There will be over 100 entries for your family to enjoy, and of course, there will be an appearance by Santa.
Long Beach Christmas Tree Lighting
Jump into the holidays with Long Beach's annual tree lighting ceremony. The entire family can listen to live music, enjoy food, watch fireworks, and take photos at their selfie station. There will be over half a million twinkling lights on their tree, and the ceremony will start around 6 pm.
Naples Island Boat Parade
Join the Long Beach Yacht Club for a boat parade, with this year's theme being "Sleighs on the Bay". You can watch boats parade past you, all beautifully decorated for the holiday season. The parade starts at 5 pm when the Street will be closed, so there is more than enough room for all to enjoy.
Annual Tamales Festival
The Long Beach International Tamales Festive is back with holiday-inspired food featuring tamales from different regions. Find dishes prepared by various Latin cultures, including drinks and tequilas. There will be live music, art workshops for kids, performances, and more.
Toledo Walk Tamales Party
For a true neighborhood experience, pop over the the Tamales Holiday Party on Toledo Walk, part of the Historic Craftsman Village neighborhood. Neighbors usually gather the Saturday before Christmas. Tamales, hot chocolate, churros and more are available for purchase at a nominal price (offsets the price of ingredients).
Long Beach Parade of 1,000 Lights
Enjoy the 31st Annual Parade of lights with the theme of "Sand, Surf, and Santa." The route goes along Shoreline Marina and towards Island White for viewers to witness. The parade usually begins at 7 pm on the first Wednesday in December.
Long Beach Holiday Markets
Long Beach host a slew of holiday markets throughout the season. These markets are perfect to pop over to, shop, and eat delicious food while you're out and about.
Small Business Saturday on Fourth
Fourth Street is filled with businesses that are diverse and independent. You can shop for gifts, sit down and enjoy a nice meal, or grab drinks with friends. It's the perfect spot to hit for small business Saturday to help support the local community and their businesses.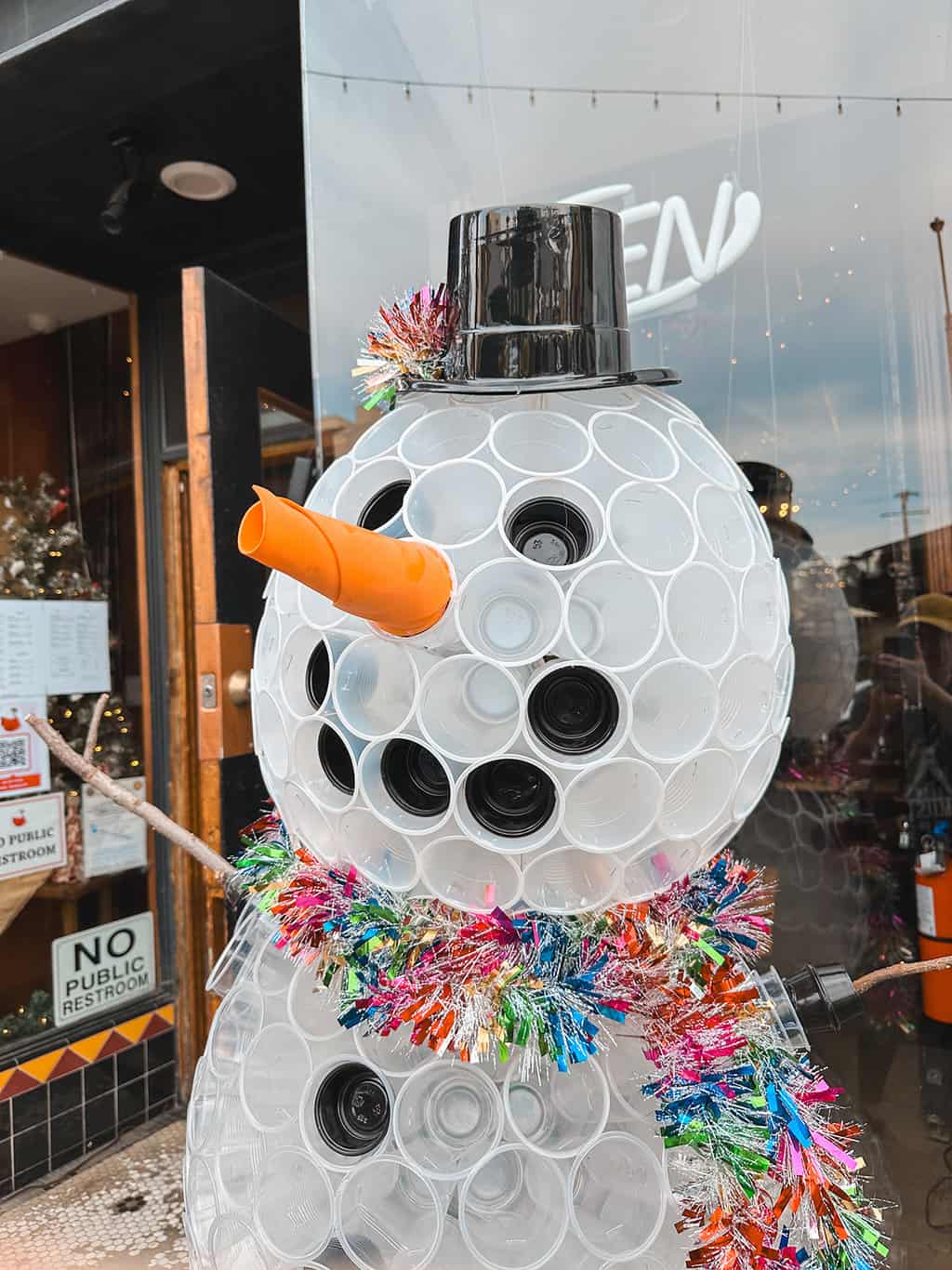 Holidays on Fourth
Fourth Street in Long Beach also holds a very special holiday market on the second Saturday in December from 11 am to 4 pm. There are plenty of games for the kids, artists, makers and craftsmen and women ready to help you shop for everyone on your list. Many of the resident shops open up their sidewalks and even inside of their businesses to other sellers, giving smaller businesses a place to get noticed.
One you are done shopping, pop into The Social List for holiday themed beverages and the best chicken pot pie on the planet.
Keep in mind that while 4th Street between Cherry and Junipero are the main hub, farther down towards Redondo and Termino there are several businesses and vendors set up on the sidewalks as well.
Long Beach Antique Market
For a nominal entrance fee, you can head into Long Beach's Antique Market for special gifts and unique shopping experiences. They offer over 20 acres of collectable home decor, vintage clothing and jewelry boutiques, perfect for the holiday.
Uptown Village Market
Find unique gifts and products at the Uptown Village Market. The market is the perfect place to find artists and creators who hand-create fantastic goods. The expo will have a large shopping area, refreshments, and live music.
Willow Field Studio Garden Market
The Willow Field Studio Garden Market is an annual backyard popup that allows you to shop and support local markets throughout Long Beach. You can enjoy jewelry, apothecary, vintage goods, and handcrafted leather goods, all perfect for the holiday season. Be sure to grab some sweet treats while browsing this great market.
Weekend Night Market
As the organizers say, Thursday kicks off the weekend, so why not stroll through the Promenade to support 40+ unique, local vendors selling food, art, crafts and more. Say hooray, because dogs are allowed at this market and it is a family-friendly event.
Mosaic Holiday Stroll
A spinoff of the Thursday Night Market, this Mosaic Holiday Stroll includes live music, a snow play area, s'mores, hot chocolate, holiday ornament crafts, Christmas food specials, caroling, games, and photo props.
Christmas Performances in Long Beach CA
The Nutcracker Long Beach Ballet
Nothing screams the holidays more than the Nutcracker Ballet. You can witness the show at the Long Beach Convention and Entertainment Center the last two weekends in December. Show times vary, so head to their website for tickets and showtimes.
Need some help getting the kids excited about the show? Read our guide to taking kids to the Nutcracker Ballet.
A Christmas Carol
The Long Beach Playhouse will perform a classic favorite, A Christmas Carol. Come watch Charles Dickens' classic come to life with your whole family. Most shows are at 8 pm, but they don offer a few at 2 pm for those with younger kids. Check their website for hours and tickets.
A Black Long Beach Christmas
A Black Long Beach Christmas will offer live gospel music and a Christmas concert to enjoy. The show will have two performances, with numerous guests sharing the stage. Tickets for the event are $10 and can be bought online.
A Child's Christmas in Wales
Enjoy A Child's Christmas in Wales and learn about the childhood of Dylan Thomas and his Christmas experiences in Wales. Tickets are on sale through their website, with shows ranging in time from 8 pm or 2 pm.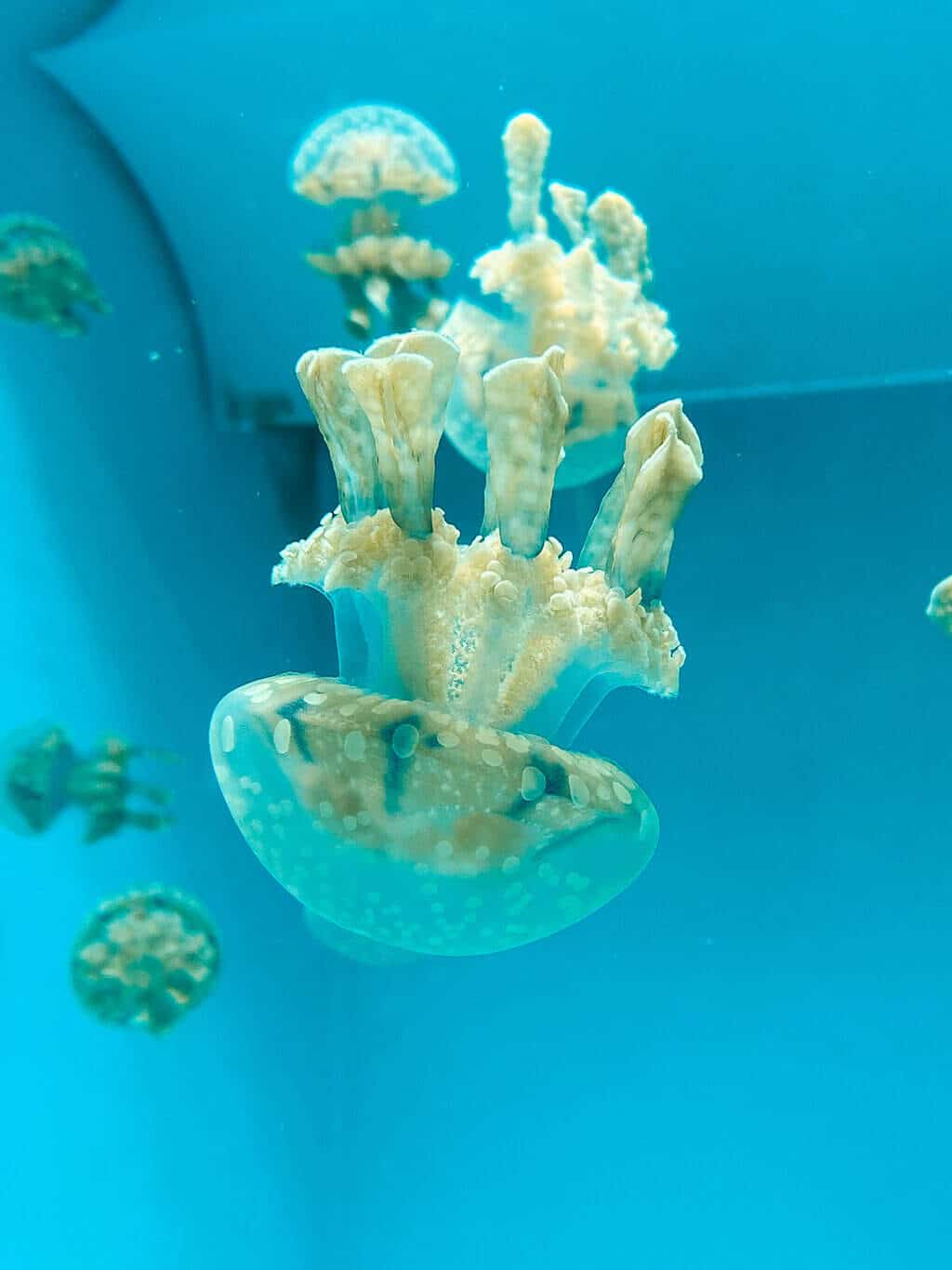 Aquarium of the Pacific
The Aquarium of the Pacific holds its annual holiday festivities. Enjoy holiday decor, shopping, snowfall in the Great Hall, and a Santa Diver; all included in your general admission ticket.
On the weekends, Santa will also appear for photos, and there will be real snow in the play area on the front lawn. Tickets to the aquarium can be bought online.
Annual Christmas Light Display Contest
The Deforest Park Neighborhood will host their annual Christmas Light Display Contest. Neighbors are encouraged to decorate their homes and enter the contest by mid-December.
You can enter by email and include your name, address, phone number, and a photo of your decorations. More information can be found on their website.
Long Beach Trolley Waterfront Tour of Lights
In December, you can board a classic cable-car trolley and enjoy a waterfront tour that shows the best lights and displays around. There will be a floating Christmas tree on Alamitos Bay, and you'll see the beautiful Naples Island. The tour is 30 minutes long and ranges from $25 to $35 per person. Tickets can be bought on their website.=
Holiday Open House at Rancho Los Alamitos Historic Ranch and Gardens
Everyone is welcome to check it the Holiday open house at Rancho Los Alamitos Historic Ranch and Gardens. You can tour the Ranch House and see the decorations for their annual Christmas Eve party. There will be live music and refreshments.
2nd & PCH Holiday Events
2nd and PCH has a slew of holiday events that's perfect for the entire family to celebrate.
Letters to Santa
All ages are welcome to send a letter to Santa. Drop your note off at the teal mailbox near Kaiji and Ample Hill Creamery, and you might receive a response from the North Pole.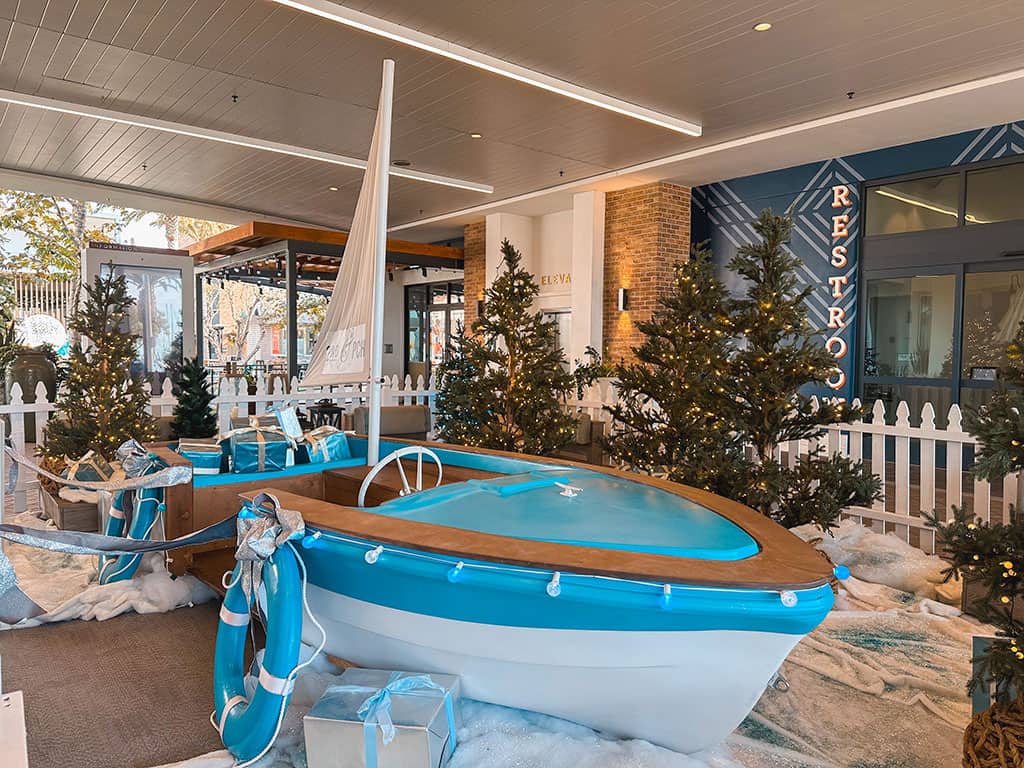 Selfie with Santa
Dress in your holiday best for a selfie with Santa near Marina Dr and Ample Hills Creamery. Check their website for his hours since Santa enjoys numerous cookie breaks.
Paws and Claus
Even your four-legged pal is welcome to meet Santa. Santa will be near Caffee Luxxe and The Italian Homemade Company, and pets must sit on his lap or stand/sit by him on a leash.
Breakfast with Santa
Santa will visit two of his favorite restaurants for your opportunity to have breakfast with him. Check out Active Culture Cafe or Noble Bird Rotisserie for a meet and greet with Santa. This ticketed event can be purchased on the 2nd and PCH website.
Festival of Trees at The Pike Outlets
Head to the Pike Outlets to witness their beautifully decorated trees and determine your favorite. Numerous charities decorated the trees in the area, and you can vote for your favorite. The charity with the most votes will win $1,000, with second place winning $500.
Long Beach Christmas Regatta
Start the holiday season right with a Christmas Regatta. Over 450 entries happen yearly for this race, where all rowers are welcome to join the fun. Head out to Marine Stadium to witness all the fun this year.
Annual Long Beach Parol Lantern Festival
Join in the Filipino holiday tradition and history of making parols. This star-shaped lantern is made from paper and bamboo and symbolizes hope and finding the light in the darkness. The festival will have live music, dancing, food, and local vendors.
Daisy Lane Parade
The Annual Daisy Parade is back to help get everyone into the holiday spirit. The parade will take place down Daisy Lane with various fun floats and lights that everyone can enjoy. Make sure to get your seat early.
Long Beach Landyachtz Skate & Explore Cruise
Start the holidays right with a skate and explore cruise with Landyachyz. Grab your skateboards to sail along with family and friends. There will also be mini-games and prizes in the Junipero Beach Parking lot. All skill levels and ages are welcome.
Christmas Cruise of Lights
The Christmas Cruise of Lights helps support the Youth Music Program for the Philharmonic Society of Orange County. Grab tickets and enjoy a cruise around Long Beach s you enjoy beautiful holiday lights. Tickets need to be purchased seven days in advance online.
Operation Holiday Hearts Pack and Act Day
Help seniors in need get into the holiday spirit this year. Pop over to the Pack and Act day, where you can help pack gifts and make handmade cards. Low-income seniors can receive personal car packages and items that bring them joy with your help.
Winter in Willmore at Drake Park
This is the 11th year of Winter in Willmore. This family-free event includes tons of fun, like tobogganing down a snow hill, free art classes, face painting, live entertainment, and more. Bring your family to Drake Park from noon to 4 pm for all the fun.
Downtown Long Beach Holiday Stroll
Explore downtown with this holiday stroll. The stroll begins at Terrace Plaza, where you can see over 500,000 lights through the plaza. You can find the map on their website for an estimated 45 minutes for the, which is narrated in some areas.
Santa Hat Scavenger Hunt
Hidden around Terrace Plaza are 12 Santa Hats. It's your job to take a self with at least three different hats and create a combined post on Instagram using #LBSantaSearch to be entered into the contact. There are up to $500 in prizes waiting to be claimed.
SoCal Corgi Nation Christmas Parade
Belmont Shore is home to the Corgi Nation Christmas Parade. Its a great way to get into the holiday season and witness these cute dogs in their holiday gear.
Kayaking with Christmas Lights
Get this holiday season outdoors and take a kayaking light with the family. You must know how to kayak to participate in the event and know how to swim. You can get tickets for the event online for $30, and you can find essential details there as well.
Harbor Lights Cruise of Newport Beach
This 75-minute cruise will feature gondolas and canoes lit by Japanese lanterns. You'll get a great view of boats, estates, docks and more on the cruise, plus they encourage you to wear a wacky Christmas sweater. Warm clothes are recommended.
Sleighs on the Bay Holiday Cruise of Lights
Settle into a winter wonderland with a gondola getaway at the Sleighs on the Bay. You'll cruise through the canal of Long Beach and see glitter houses decorated with Christmas lights. The experience is like nothing you've seen before, and your family will love it.
Miracle at the Ordinaire
Long Beach's first cocktail pip-up is returning to The Ordinaire. Make reservations for this incredible holiday event where you can experience stunning holiday decor and killer drinks. Experience fun drinks like a Christmapolian, and drinks poured over real snowballs.
Christmas in Seal Beach CA
Seal Beach Holiday Spectacular
The Shops at Rossmoor is having a special visit from Santa Claus. You can celebrate the season from 11 am to 1 pm with photos, holiday crafts, face painting, balloon art, story time with Mrs. Claus and more! You can enjoy special performances and bring an unwrapped gift for a chance to win a $100 gift card to The Shops at Rossmoor. Check their website for hours on special events.
Seal Beach Christmas Parade
The first Friday of December is the perfect time to go to Seal Beach for its annual Christmas Parade. The parade runs from the Seal Beach Pier and all along Main Street. Their theme is "Christmas Under the Sea", so you'll be surprised with some incredible fun floats and attractions. Make sure to bring a blanket while you watch this parade.
Seal Beach Christmas Tree Lighting
Eisenhower Park is home to Seal Beach's annual tree lighting ceremony. The tradition includes real snow, an ice rink, music, sledding, hot cocoa, and of course, a visit from Santa. Gather the entire family and head to the park for an incredible event that will get everyone into the holiday spirit.
There is a ton to do during the holidays, and your whole family will have a lot of holiday spirit after attending a few events.
LOOKING FOR MORE CHRISTMAS EVENTS IN CALIFORNIA?