During Christmas, Monterey is filled with holiday-themed events that take place in November through the New Year. These events can leave you feeling the holiday spirit or get you a little more ready for the winter and those "colder times" that are upon us on the Central Coast.
To kick off your holiday season in California let's dig into the best things to do in Monterey at Christmas this year. From tree lightings on The Wharf, Cannery Row and Del Monte Center, the annual Brighten the Harbor Holiday Lighted Boat Parade, Christmas in the Adobes , and ice skating on the bay, you will have plenty to do when you visit (and especially if you are local).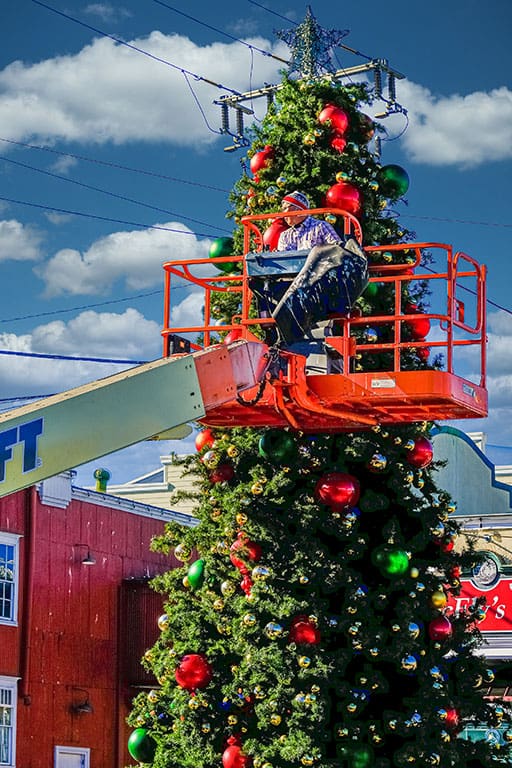 Holiday Tree Lighting at Del Monte Center
Address: 1410 Del Monte Center, Monterey, CA 93940
Date: The weekend prior to Thanksgiving
Right before Thanksgiving, you can head out to the Del Monte Center and join Santa and Mrs. Claus to light the Holiday Tree. The Monterey Christmas tree is located right by Macy's and includes live entertainment, cookies, and hot chocolate.
If you're feeling generous, you can bring three canned goods to donate to the Monterey County Food Bank and be entered to win a Del Monte Shopping gift card.
Cannery Row Holiday Tree Lighting
Address: Cannery Row in the New Monterey section
Date: Friday after Thanksgiving
Every year after Thanksgiving, your family can head down to Cannery Row to kick off their annual tree lighting tradition. Their ceremony will feature live music and, of course, an appearance from Santa.
12:00 p.m. – 5:00 p.m. – Take a FREE Red Engine Ride around Cannery Row
2:00 p.m. – 5:00 p.m. – Balloon Artists
3:30 p.m. – 5:30 p.m. – Christmas Carolers
5:45 p.m. – 6:00 p.m. – Tree Lighting in Steinbeck Plaza
6:00 p.m. – 9:00 p.m. – Visit Santa Claus in his house in Steinbeck Plaza (bring a camera to take a free photo!)
Annual Christmas on the Wharf
Address: Old Fisherman's Wharf, 1 Old Fisherman's Wharf, Monterey, CA 93940
Dates: Begins the first weekend of December
Beginning the first weekend in December, Old Fisherman's Wharf will hold Christmas festivities that include holiday musical choirs, caroling, holiday lights and decorations, a 23-foot Christmas tree, and more.
You can bring the entire family down to meet Santa and snap a photo, and every weekend they will hold different events to keep the locals and tourists loving their time on the wharf.
Depending on what weekend you go, you can visit their website to see what events occur.
Annual Brighten the Harbor Holiday Lighted Boat Parade
Address: 1 Old Fisherman's Wharf, Monterey, CA
Date: First Weekend of December, 5:15 PM – 7:30 PM
If you're looking for a fun parade, especially if you have kids who love boats and Christmas lights, head out to Old Fisherman's Wharf to marvel at the annual lighted boat parade. The Monterey boat parade will sail through the harbor giving off spectacular views, and you can even book a special boat trip with Princess Monterey Whale Watch or Discovery Whale Watch.
Besides watching the parade, you can stroll around The Wharf to shop, eat, and take beautiful photos of the holiday decor.
Ice Skating by the Bay
Address: Custom House Plaza, behind the Portola Hotel & Spa,
Dates: weekend before Thanksgiving through the New Year
Nothing beats grabbing a pair of skates and gliding across the ice. In fact, Ice Skating by the Bay is one of the top Christmas events in the Bay Area. This seasonal ice-skating rink is in Custom House Plaza, where you can enjoy this fantastic winter sport right along the Monterey coastline.
The rink is open Monday through Saturday, 11-10 pm and Sunday, 12-8 pm. There is a skate rental fee of $3, and tickets are $13 for adults and $11 for children 12 and under.
Downtown Monterey Tree Lighting Celebration
Address: Colton Hall, 570 Pacific St, Monterey, CA 93940
Date: First Friday in December, 5pm-6pm
This community tree lighting celebration is right on the front lawns of Colton Hall, from 5-6 pm. The event features local carols, candles, cookies, hot cider, and music by local bands.
The Downtown Monterey Tree Lighting Celebration is free, and the City of Monterey welcomes anyone out to join them in getting the holidays started.
Christmas in the Adobes
Address: Historic Old Monterey (Various venues around Monterey, CA)
Date: Second weekend in December, 5:00 PM to 9:00 PM
Head out to Monterey's historic adobes that have been decorated for the winter season. Each entrance is lit with candle luminaries, and guests will be greeted by living history portrayers and festive music.
Over a dozen adobes will be featured for this event, and their doors will be open from 5 pm to 9 pm.
You can buy tickets for the event at Pacific House or the Custom House, or online via the link above. Check out their website to also see which adobes are being featured this year.
More things to do in Monterey at Christmas
Tree Lighting at Colton Hall Lawn
The Nutcracker at the Sunset Center in Carmel
Stillwell Holiday Fun in the Park at Caledonia Park
Christmas Eve Cioppino & Carolers
First Night in Monterey
Address: 542 Archer St, Monterey, CA 93940
Date: 3pm on December 31st
Every year the community in Monterey gathers downtown on New Year's Eve to celebrate an exciting, imaginative, and uplifting cultural event. This celebration starts at 3 pm and goes until midnight, where the community can watch performances that range from classical performances to hip-hop or jazz dancing.
Guest will also be able to view local artwork that was created year-round in outreach programs. This event is affordable and alcohol-free. If you have kids, bring them out at 5:30pm to enjoy a Twilight Procession (an early ringing in of the New Year).
Monterey is filled with fun and family-friendly events that your entire family can enjoy during the holiday season. The best part is that a lot of these Monterey Christmas events are free and take place right along the coast, so you can have a stunning view while enjoying your holidays outdoors.
Additional reporting by Keryn Means
More things to do in California this Christmas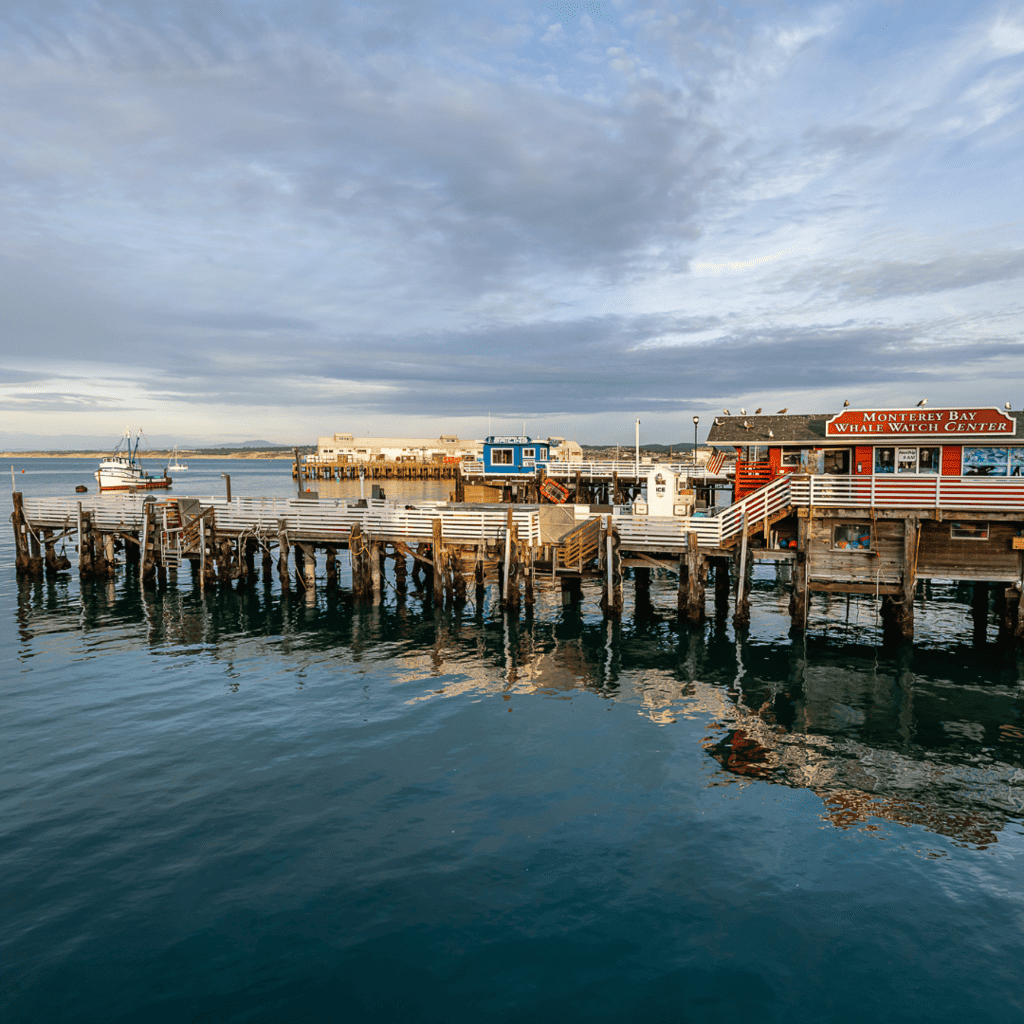 Need a hotel in Monterey CA?
Check out our favorite spots to stay during the holidays!
Find more Monterey hotels HERE or use the interactive map below to find hotels and Monterey vacation rentals to fit your travel needs.