Westport, Ireland is a small, charming town in County Mayo and a highlight along the Wild Atlantic Way, a road trip route extending along the rugged west coast of Ireland, passing through some of the most beautiful towns in the Emerald Isle.
However, it doesn't get the same amount of love as other places to the south, like Galway or Killarney. It's a shame really, because there are tons of fun things to do in Westport.
Why visit Westport Ireland?
Westport is known for, if anything, its close proximity to Ballycroy National Park, one of six national parks in Ireland. It's also a great base before exploring Achill Island, the biggest of all the islands in Ireland.
The town also boasts castles, plenty of diverse outdoor activities, and a strong historical connection to pirates.
You'll have no problems finding a traditional pub to sit in with a pint of Guinness or local cider, and listen to live Irish music while you visit.
Let's dive in to everything you need to know about the best things to do in the city centre and a short drive from town, Westport restaurants worth visiting, and day trips you can take from Westport town.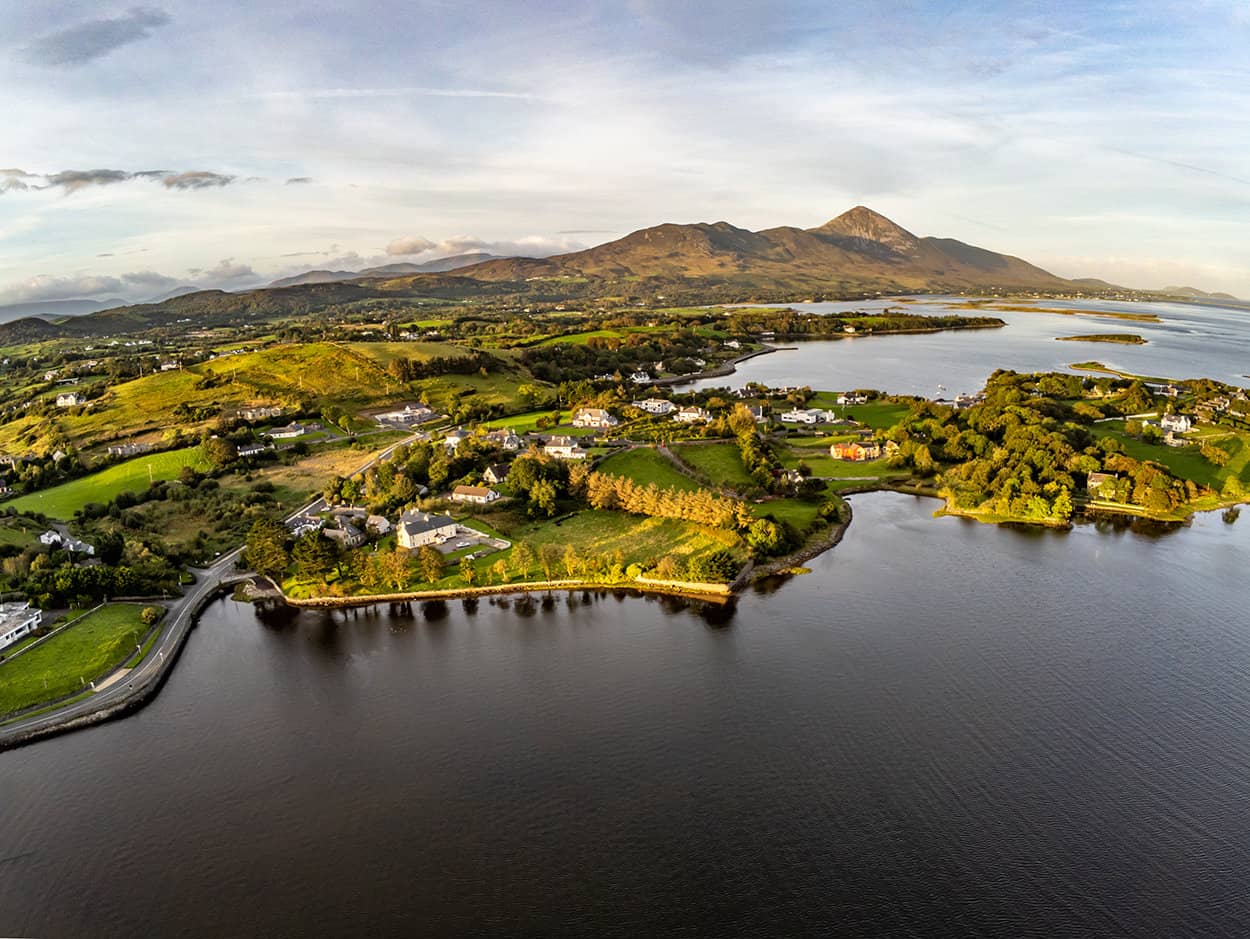 Westport Trip Planning Guide
This post contains affiliate links, which means we may earn a small commission from your purchase. This adds NO extra cost to you.
Flying to Ireland?
Looking for the best flights to Ireland? We love to track flights via Expedia.com. Not only do we find great rates, but we earn points to use on future travel too.
You can also keep an eye on GOING deals, which is how we got to Ireland roundtrip from LAX for under $500 each. The free version is good, but the paid subscription will save you way more than the cost per year.
DON'T FORGET YOUR ESIM CARD!
We all love our smartphones, but we don't love those international roaming charges. Even if you have a travel pass, you could max out your service, which is why we always grab an eSIM card to pop into our phones. It's especially great for the kids, as it limits what they can do and how much data they can use, but still allows them to text friends back home.
Check out Airalo, our preferred eSIM card store for the best prices on eSIM cards and international data plans.
NEED A RENTAL CAR?
We use DiscoverCars.com to get the best rates and availability on rental cars. Find your car HERE, along with all of the extras you may need (insurance, car seats, ski racks, etc.)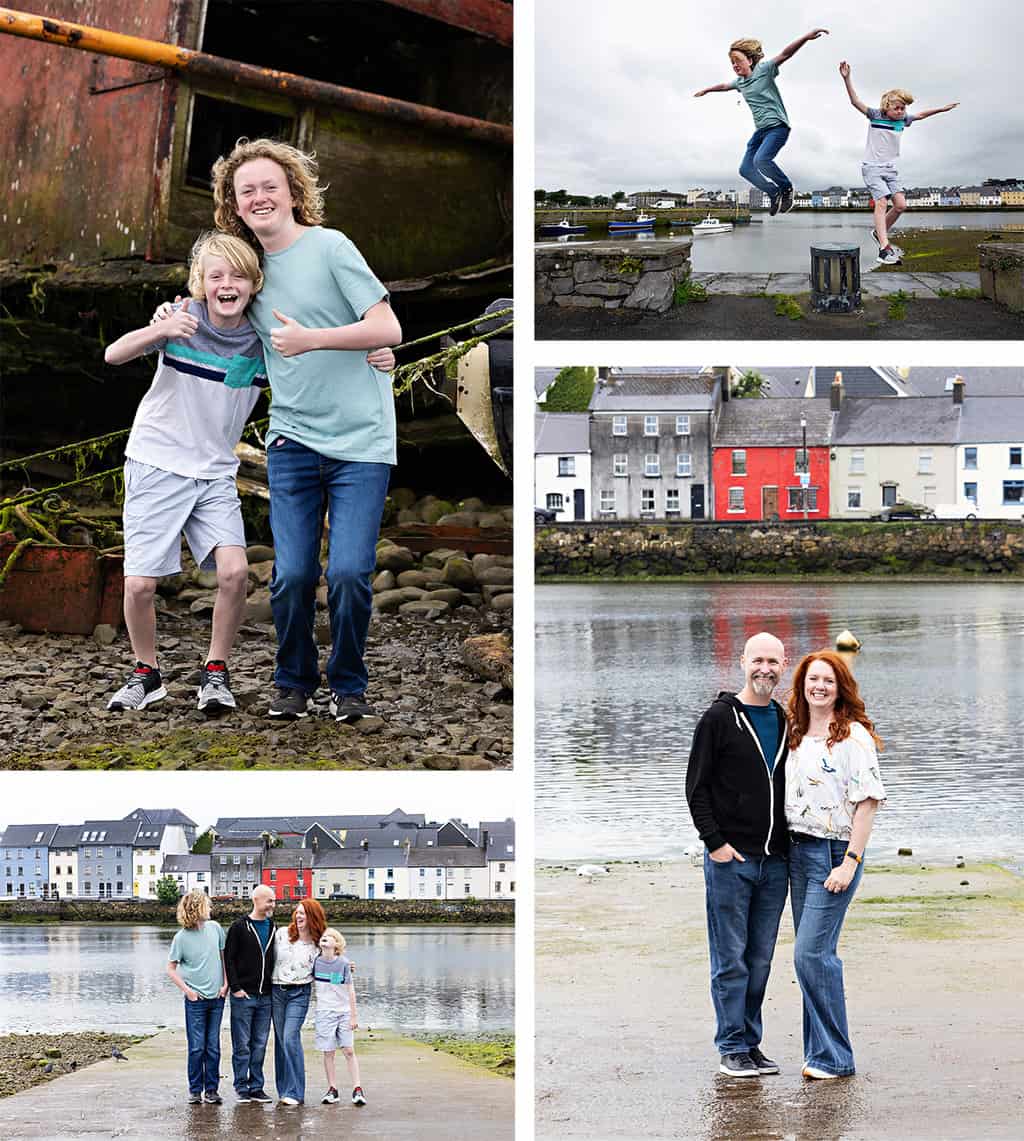 VACATION PHOTOS
Don't forget to book your Flytographer session to capture awesome memories from your trip. We do it as often as we can, even though I'm a photographer. Sometimes, this mom just wants to be in a few photos with her kiddos.
TRAVEL INSURANCE
Do NOT forget to buy travel insurance for your cruise, even if you booked through a travel agent. Things do and will happen and it's cheaper to buy travel insurance ahead of time instead of paying out of pocket later.
Check out Travelex for rates on a single trip or an annual plan that could be right for you if you take more than one or two trips a year. 
Hotels in Westport Ireland
Need a rental car?
We use DiscoverCars.com to get the best rates and availability on rental cars. Find your car HERE, along with all of the extras you may need (insurance, car seats, ski racks, etc.)
Vacation Photos
Don't forget to book your Flytographer session to capture awesome memories from your trip. We do it as often as we can, even though I'm a photographer. Sometimes, this mom just wants to be in a few photos with her kiddos.
TOP THINGS TO DO IN WESTPORT Ireland
WESTPORT HOUSE AND GARDENS
One of the very best things to do in Westport is to visit the Westport House and Gardens. It's located right on the Carrowbeg River which runs through town. The estate is just gorgeous, especially in summer.
Westport House is a Georgian- style house (late 18th century) with well-appointed period rooms that you can explore and beautifully manicured gardens. You can also hire pedalos (little pedal-operated boats) from the house to sail along the river, walk through the woods, and check out the aviary.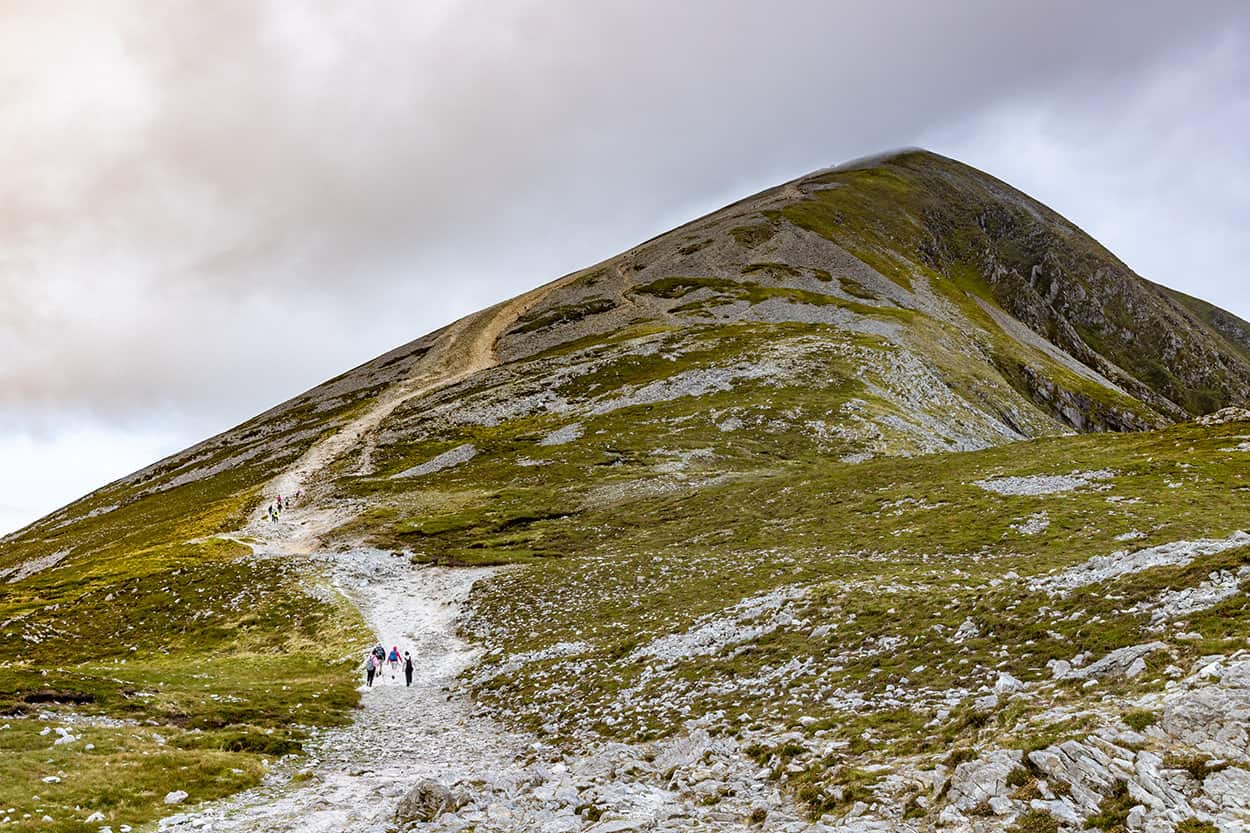 CROAGH PATRICK MOUNTAIN
Locals and tourists alike climb Croagh Patrick Mountain in County Mayo for one of two reasons: the challenging and for the small church on the hill.
Standing at 2,510 feet, Croagh Patrick is nowhere near the highest mountain in Ireland, but it can be extremely challenging. Advanced hikers love the challenge of this incredibly steep hill with lots of loose debris that requires a bit of scrambling.
Second, Catholics climb Croagh Patrick because it's a place of pilgrimage. There is a small, yet well-maintained chapel at the summit and the mountain is considered the most holy in the country. Regardless of your faith, the mountain offers a beautiful view across the west coast. Just make sure you have good hiking shoes or boots, and are in good shape before you climb.
GREAT WESTERN GREENWAY
The first of its kind in Ireland, the Great Western Greenway is a 26-mile cycle and walking path through County Mayo from Westport to Achill. It was built on a former railway and is totally separate from roads where cars can drive.
Some Ireland travel tips for the Great Western Greenway is to hire bikes in Westport (there are plenty of shops in the town centre), rather than walk. On a bike, you'll be able to complete the entire Great Western Greenway path instead of just a small section.
Even if you're not an avid cycler, you can relax knowing there will be no cars whatsoever to hinder your journey.
BALLYCROY NATIONAL PARK
Westport's closest national park is the Ballycroy National Park, just 45 minutes north along the Wild Atlantic Way route. It has easy walking paths with beautiful views, walking trails, and plenty of chances to spot birds like red grouse, swans, and skylarks.
There's a huge visitor's center where you can ask guides for updated information about closed paths or the best routes to tackle, especially if you are hiking with kids or have any mobility issues.
There are very few tall peaks in this area, so it's ideal for leisurely hikers.
PIRATE ADVENTURE PARK
Looking for things to do in Westport with kids? Look no further than the Pirate Adventure Park. This modest theme park in the middle of town has a log flume, a swinging ship, and lots of other pirate-themed rides for kids of all ages to enjoy.
The theme of the Pirate Adventure Park stems all the way back to the 16th century. Grace O'Malley was a pirate who was almost written out of Irish history, but modern historians have unearthed more information.
She was born in Westport as the daughter of an Irish chieftain who defended his post at Clew Bay. She grew up to be the Pirate Queen of Ireland, defied English rule time and again, and is still a symbol of the country.
For very good reasons, she is the reason behind the Pirate Adventure Park of Westport! Not only does it have fun rides, but the adventure park is also surrounded by lots of green open space, perfect for kids of all ages, and adults in search of some fun.
LIVE MUSIC AT THE PORTERHOUSE PUB
Every village, town, and city in Ireland has centuries-old pubs with live music every night of the week. Some book professional folk musicians to play old favorites, while others host 'sessions' where skilled players sit around a table and improvise tunes together.
One of the best places to listen to live music in Westport is the Porterhouse Pub on Bridge Street (Bridge St, Cahernamart, Westport, Co. Mayo, Ireland). It's a spacious pub with lots of space to pull up a chair, and has even won awards for its quality of traditional Irish music performances.
WESTPORT TOWN HALL THEATRE
An alternative to spending your evenings in the pub during your trip to Westport is to check out the performance schedule at Westport Town Hall Theatre. This recently renovated, community-driven space hosts performances of all kinds from plays to operas, but mainly Irish folk music and dance.
WESTPORT GOLF CLUB
If you wanted to play golf during your Irish vacation, Westport Gold Club would be the place to do it. It's a highly-rated course that locals and tourists both love, plus it's inexpensive to rent equipment and play for the day. Granted, the strong west coastal winds at the Westport Golf Club make aiming a little trickier, but that's part of the fun!
WESTPORT CRUISES ON CLEW BAY
You cannot visit Westport without booking a ticket on a boat trip with Westport Cruises and sailing on Clew Bay. Boat guides will be able to tell you all about the history of the bay (yes, you'll be able to learn more about the Pirate Queen). Y
ou can sail around the small islands in Clew Bay, which could include Inisheany, Inishgowla, Carraigeen-na-Francach and Inishoo, and admire the whole coastline from a different perspective.
You could also sail as far out as Clare Island. Granted, it makes much more sense to drive a little south down the coast to Louisburgh as the ferry from there to the island only takes 20 minutes, and includes epic coastal views.
On Clare Island, there is a ruined abbey, an old signal tower, and a cool lighthouse as well as lots of walking trails.
ROCKFLEET CASTLE
Interested in visiting more places connected to the Pirate Queen? She was quite the real estate investor and a ton of castles during her reign.
While the castle she was born in (Belclare Castle) no longer exists, Rockfleet Castle where she died is still there. It's only a 20-minute drive north of Westport and is based in a very peaceful, and remote part of County Mayo.
MULRANNY BEACH
Blue Flag beaches in Ireland meet high quality and environmental standards, and Mulranny Beach has this certification. Although it's about a 30-minute drive north of Westport, it's worth the travel time.
This beach has diverse terrain with soft white sand, rocks, marshes, and grassy dunes. At low tide, you can walk along the Mulranny Causeway (an old railway line, now a wooden path) from one side of the beach to the other.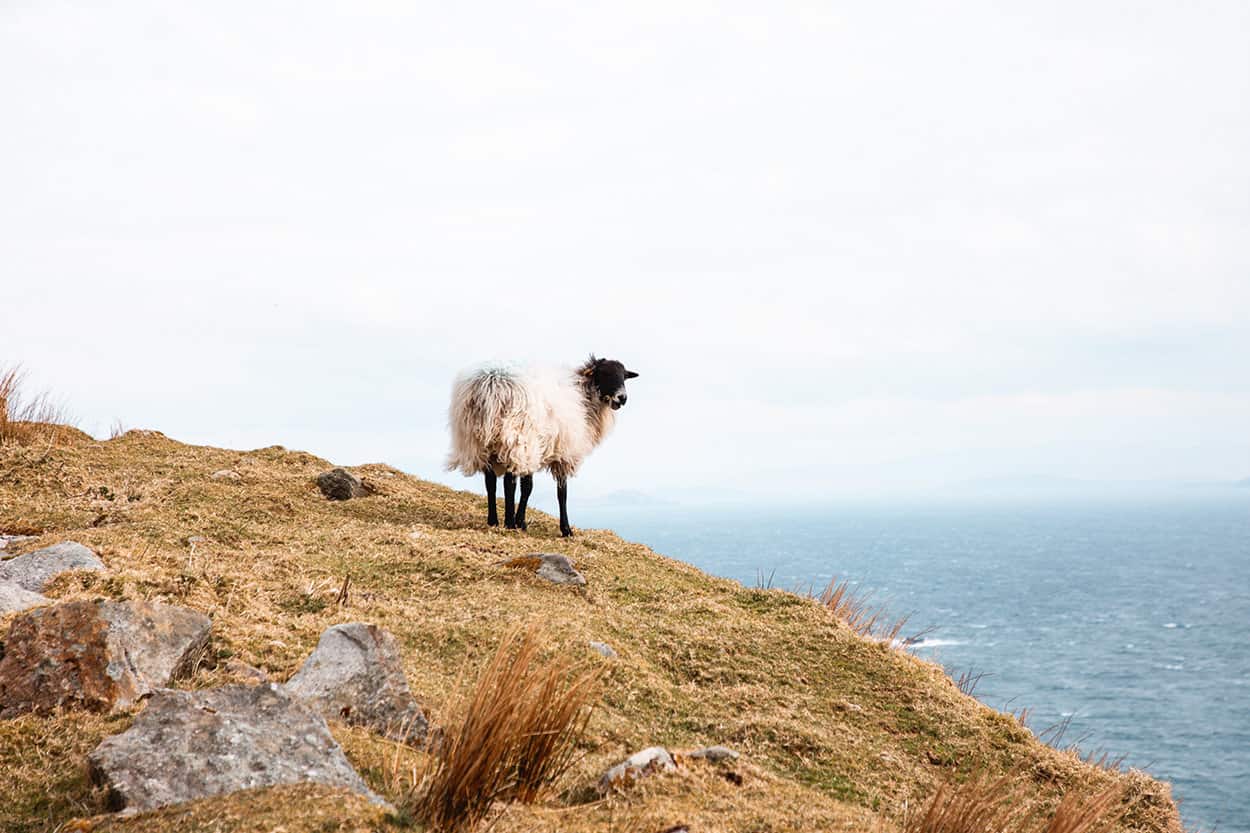 GREAT DAY TRIPS FROM WESTPORT
Westport town is quite a small place. Though there are lots of interesting places in Westport and elsewhere in County Mayo, it'll be fun to explore other parts of Ireland on your trip too.
Northern Ireland might be a little too far away, but all of our suggestions are a 90-minute (or less) drive away from Westport. Here is your Ireland travel guide to day trips from Westport.
ACHILL ISLAND
Only a one-hour drive from Westport town, Achill Island is the largest Irish island and it's on the Wild Atlantic Way route. Achill is a remote and rugged island full of peak bogs (essential for smokey whiskeys), pristine Blue Flag beaches, and the odd local pub and guesthouse or two.
Its west coast winds are perfect if you want to try water sports, like surfing or windsurfing. But you'll need to hire or bring a good wetsuit to protect you from the cold Irish water temperatures on Achill Island. Keem and Keel Beaches are two of the best that you should check out, and a favorite for families looking to escape the crowds.
GALWAY
Galway is one of the most vibrant, musical cities in Ireland, and it's just a 90-minute drive south along the Wild Atlantic Way from Westport, Ireland.
Spend your day walking up and down the cobblestone streets of the Latin Quarter listening to the music pouring out of the pubs and busy restaurants. Hop on a boat tour of Galway Bay and check out the City Museum if you want to learn more about the history of the place.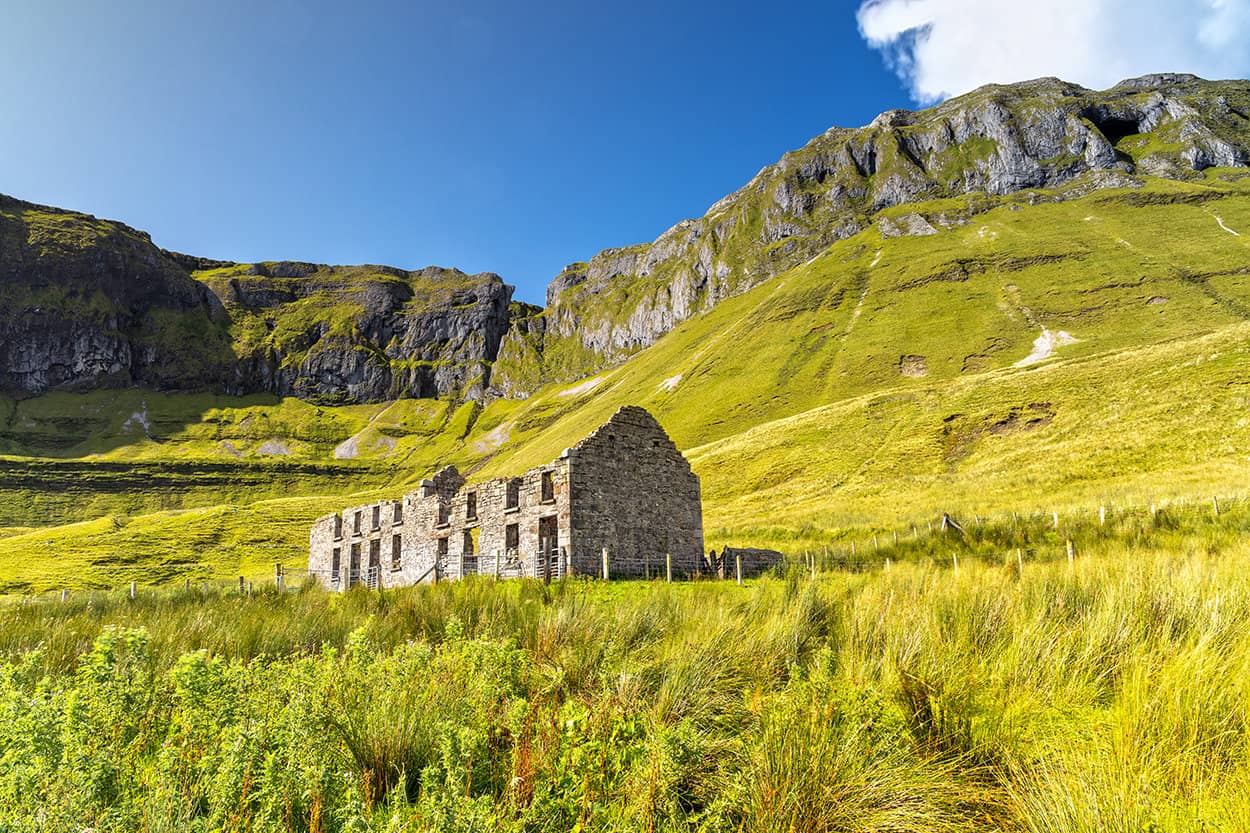 SLIGO
While Galway is 90 minutes from Westport to the south, and Sligo is an underrated town around 90 minutes to the north. As the birthplace and home of poet W.B. Yeats, this place has a strong and proud literary heritage (as well as ties to our ancestral family).
Modern architecture and abbeys, castles, and ancient tombs coexist harmoniously in Sligo. Check out the County Museum which has artifacts from every era from the Stone Age to the present day.
VILLAGE OF CONG
Located between the large lakes of Lough Mask and Lough Corrib, Cong is a village also in County Mayo, Ireland, and takes just 45 minutes to travel to from Westport by road.
Why should you travel to this remote village? Well, it's one of the main locations in the classic John Wayne movie "The Quiet Man."
Cong welcomes literally thousands of visitors every year, many from North America, seeking the places featured in this 70-year-old movie. Miraculously, many of the original places still exist so it's a must-visit if you're a movie fan. There's a museum open in the summer and walking tours available around the village too.
PIN IT AND START PLANNING YOUR EPIC TRIP TO IRELAND
ANNUAL EVENTS IN WESTPORT
Aside from St Patrick's Day when everyone in Ireland celebrates their patron saint, there are many other festivals and celebrations in Westport and the surrounding area.
Here are some of our favorites to check out if you are traveling through County Mayo.
St Patrick's Day (March 17th)
Easter Celebrations (March/April)
Achill Island Film Festival (May)
Westport Folk & Bluegrass Festival (June)
Ballina Salmon Festival (July)
Clare Island Folk Festival (September)
Westival Music & Arts Festival (October)
Mayo Dark Sky Festival (November)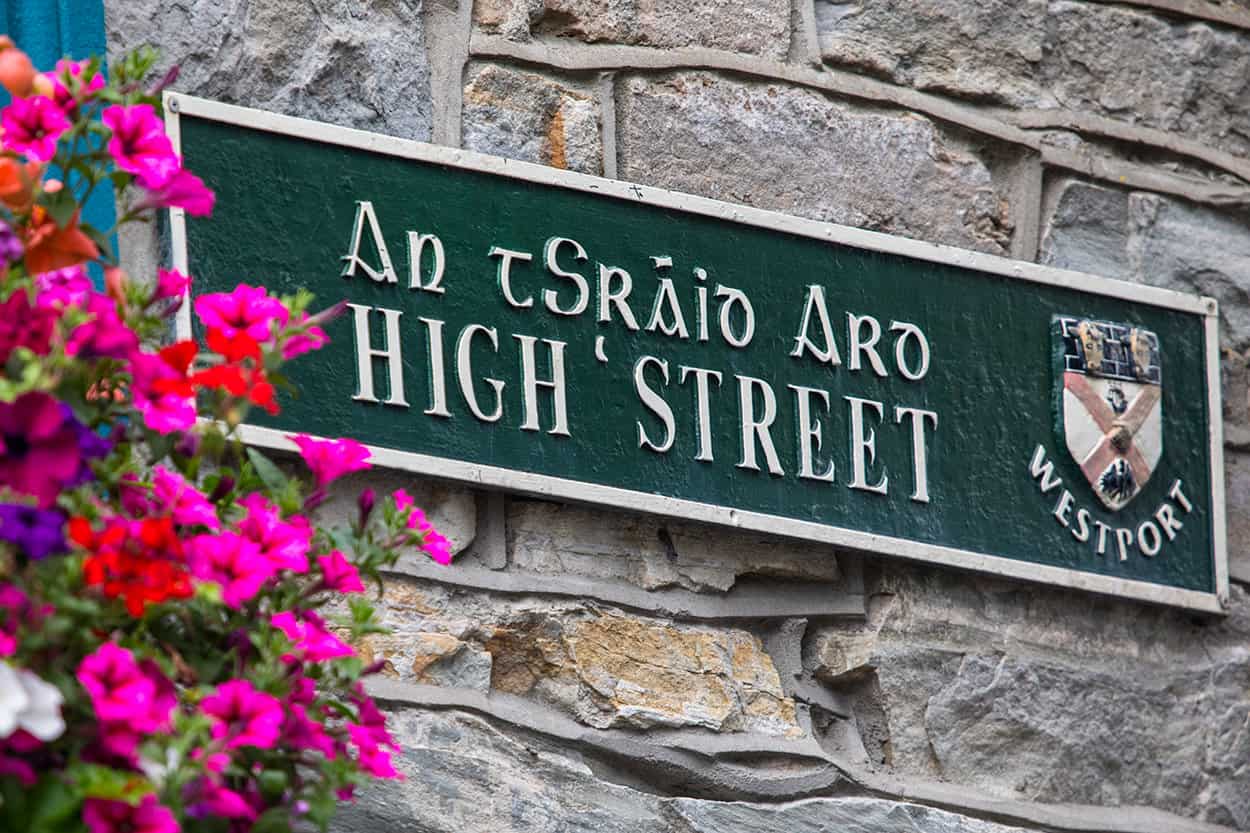 RESTAURANTS IN WESTPORT
Westport might be a small town, but it has more than enough restaurants and bars so that you won't have to eat at the same place twice during your trip. There are plenty of cafes serving traditional Irish fried breakfasts, upmarket seafood restaurants, and cafes for a midday pick-me-up. Here are some recommendations of the best places to try out.
IRISH BREAKFASTS IN WESTPORT
This Must Be The Place
Gavin's Cafe
Tina's Bistro
Servd
LUNCH SPOTS
McHugh's Cafe
Danolla's Takeaway
Arno's Bistro
Maddens
DINNER RESTAURANTS
The Creel Restaurant
The Pantry and Corkscrew Restaurant
Coveys Gastrobar
Friends Bistro
SWEET TREATS IN WESTPORT
Krēm Gelateria & Cafe
The Harbour Store
Becca's Bakery
Marlene's Chocolate Haven
IRISH BARS & PUBS IN WESTPORT
McGing's Bar
Blouser's Pub
MJ Hobans Pub
Matt Molloy's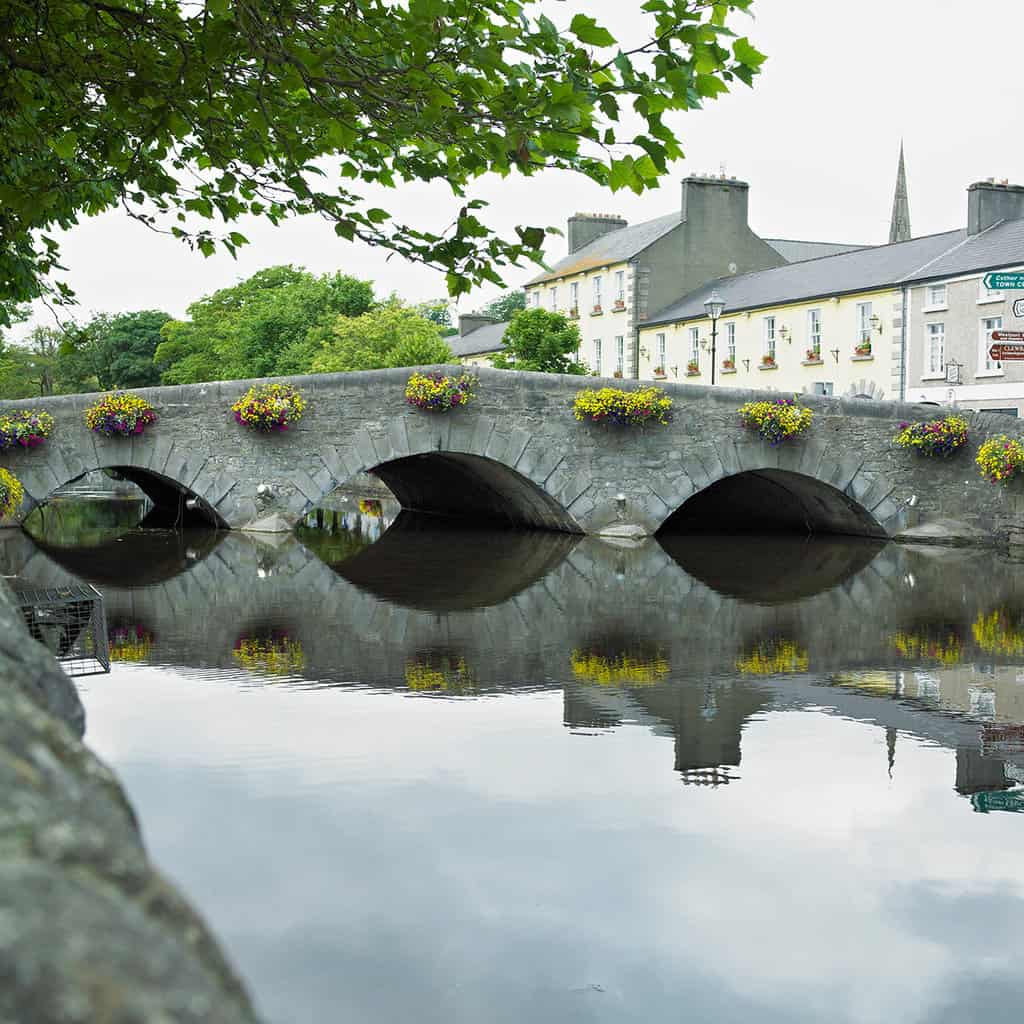 Westport Ireland FAQ
Where is Westport located in Ireland?
Westport is a charming town located in County Mayo on the west coast of Ireland. It is situated at the southeastern corner of Clew Bay, near the Atlantic Ocean.
How do I get to Westport?
There are several ways to reach Westport. If you're traveling by air, the closest airport is Ireland West Airport Knock, which is about a 45-minute drive away. Alternatively, you can fly into Dublin Airport and take a train or bus to Westport. If you prefer traveling by train, there are regular services to Westport from Dublin and other major cities in Ireland.
What is the best time to visit Westport?
Westport is a year-round destination, but the best time to visit is during the summer months (June to August) when the weather is generally mild and there are many outdoor activities and festivals taking place. Spring (April and May) and autumn (September and October) can also be a great time to visit, as the town is less crowded, and you can enjoy the beautiful landscapes.
What are the top attractions in Westport?
Westport offers a range of attractions for visitors. Some of the top attractions include Westport House and Gardens, a historic manor house with beautiful gardens; Croagh Patrick, a holy mountain where pilgrims climb to the summit; Clew Bay and its islands, which are great for boat trips and water activities; and the Great Western Greenway, a scenic walking and cycling trail.
Are there any outdoor activities in Westport?
Yes, Westport is known for its outdoor activities. You can explore the stunning landscapes of Connemara National Park, go hiking or biking in the nearby mountains, take a boat trip to Clare Island or Inishturk, or enjoy water sports such as kayaking or surfing along the coast.
What cultural events take place in Westport?
Westport hosts several cultural events throughout the year. The Westport Arts Festival, held in October, showcases a variety of artistic performances and exhibitions. The Westport Music Festival, usually held in June, features live music from local and international artists. The Westport Seafood Festival, held in September, celebrates the town's culinary heritage with delicious seafood dishes.
Are there any historical sites in Westport?
Yes, Westport has a rich historical heritage. Westport House, built in the 18th century, is a notable historic site and is open to the public. The Clew Bay Archaeological Trail takes you through ancient ruins, ring forts, and burial sites, providing insights into the region's history. The National Museum of Ireland – Country Life, located just outside Westport, showcases Ireland's rural history and traditions.
Is Westport a family-friendly destination?
Absolutely! Westport is a great destination for families. There are many family-friendly activities such as visiting Westport House and Gardens, taking a cruise around Clew Bay, exploring the Pirate Adventure Park, or enjoying a day at the beaches in nearby Mulranny or Bertra.
Are there any famous festivals in Westport?
Yes, Westport is renowned for its festivals. The Westport Festival of Music and Food, formerly held in Westport House, attracted well-known international artists and offered a variety of food stalls. Other notable festivals include the Westport Folk and Bluegrass Festival, the Westport Sea Angling Festival, and the Westport Christmas Market.
Can you recommend any restaurants in Westport?
Westport has a vibrant food scene with a wide range of restaurants, cafes, and pubs. Some popular options include The Idle Wall, a seafood restaurant; An Port Mór, offering Irish cuisine with a contemporary twist; and The Pantry and Corkscrew, a cozy cafe serving delicious homemade food. The town also has a variety of international cuisines, including Italian, Indian, and Mexican.
What are the nearby attractions worth visiting?
There are several attractions near Westport that are worth visiting. These include Achill Island, the largest island in Ireland, known for its stunning beaches and dramatic landscapes; Kylemore Abbey, a beautiful neo-Gothic castle and monastery; and the picturesque village of Cong, where the classic movie "The Quiet Man" was filmed.
Is Westport a good base for exploring County Mayo?
Yes, Westport is an excellent base for exploring County Mayo. Its central location allows for easy access to many of the county's attractions, such as Achill Island, Connemara, the Ceide Fields, and the stunning Wild Atlantic Way coastal route.
Are there accommodations available in Westport?
Yes, Westport offers a range of accommodations to suit different budgets and preferences. There are luxurious hotels, cozy bed and breakfasts, guesthouses, self-catering apartments, and even camping options. It's advisable to book in advance, especially during the peak tourist season.
Is Westport accessible for people with disabilities?
Westport is committed to providing accessibility for all visitors. Many accommodations, restaurants, and attractions have facilities for people with disabilities. However, it's recommended to check with specific venues in advance to ensure they meet your accessibility needs.
What is the nightlife like in Westport?
Westport has a vibrant nightlife scene with numerous pubs, bars, and live music venues. Matt Molloy's, owned by the flutist of The Chieftains, is a popular pub known for its traditional Irish music sessions. The Porterhouse Bar and The Clock Tavern are also great options for enjoying a pint and live music.
Is it possible to take day trips from Westport?
Yes, Westport is a great starting point for day trips to nearby attractions. You can visit the stunning Connemara region, take a ferry to the nearby islands, explore the beautiful town of Westport, or venture further afield to places like Galway or Sligo.
Are there any scenic drives near Westport?
Yes, there are several scenic drives near Westport that offer breathtaking views of the surrounding landscapes. The Atlantic Drive on Achill Island, the Delphi Valley Loop, and the Sheeffry Pass Loop are just a few examples of the picturesque drives you can enjoy in the area.
Can I rent a car in Westport?
Yes, there are car rental services available in Westport, allowing you the freedom to explore the area at your own pace. Several well-known car rental companies operate in the town and at nearby airports.
Is Westport a safe place to visit?
Westport is generally considered a safe place to visit. Like any destination, it's always advisable to take common-sense precautions and be aware of your surroundings. The local authorities and tourism organizations work hard to ensure the safety and well-being of visitors.
What should I pack for a trip to Westport?
It's recommended to pack layers, as the weather in Ireland can be changeable. Be sure to bring a waterproof jacket, comfortable walking shoes, and a good pair of binoculars if you're interested in bird-watching or wildlife spotting. Don't forget to pack a power adapter for your electronic devices, as Ireland uses Type G sockets.
Can I use public transportation to explore Westport?
Yes, there are public transportation options available in Westport. The town has a bus station with regular services to nearby towns and cities. There is also a train station with connections to Dublin and other major cities. Additionally, taxis are readily available for local transportation.