Austin is a very kid-friendly town with lots of outdoor activities as well as some fun museums, thriving music scene and a gigantic university campus. It is a city of many festivals, and chances are good that something will be going on when you visit.
Where to stay in Austin, TX
Most of Austin's main family-friendly attractions are located near the University of Texas, in downtown Austin and just south of Lady Bird Lake.
University of Texas or Lady Bird Lake?
The distance from UT to the lake is around three miles, so if you stay near one of these areas, you could use the Capitol Metro bus system or even bike to many places if your family is active. Otherwise, you will need a rental car or plan to take taxis or Uber around town.
Hotels in Austin, TX
There is an ever-growing number of hotels in the downtown/South Austin area, and you'll have options with chains including Omni, Doubletree, JW Marriott, Four Seasons and Hampton Inn, as well as boutique places like Hotel Ella near the university. Any downtown hotel would be walking distance to the Lady Bird Lake hike-and bike trail.
Hotel San Jose
If you want to splurge on a local treasure, the Hotel San Jose on South Congress is a real treat, and kids will enjoy the tiny but perfect pool.
Best Family-friendly hotels in Austin, TX
Austin Airbnbs
If you are more interested in renting a house or apartment, definitely consider Airbnb. Because of the festival scene, Austin has an extraordinary number of rentals in prime spots all over town, including the super-hip area just east of downtown.
Check out a few of our favorite Austin Airbnb properties:
What to Pack for a Trip to Austin
Austin is a very casual town, and pretty much anything goes. For many local moms, "dressing up" means exchanging flip flops for flat sandals with straps.
Comfortable shoes for walking
Stroller for wandering around town
Because summer starts in late April and goes through the end of September, it is often hot, so pack plenty of shorts, a swimsuit and sunscreen. Bring snow cone money.
Best Austin Restaurants with Kids
While Austin's food scene is definitely "maturing" and there are some truly awesome restaurants, there is plenty of basic fare for kids and parents to love.
Make a reservation!
If reservations are possible, make one! Otherwise, you could have a long wait or leave hungry.
Austin Food trucks
Look left or right and you'll probably see a food truck park. These are great, because you can get a lobster roll while your kid has (another) burger.
Breakfast and Coffee
Jo's Coffee
Jo's Coffee at 1300 South Congress Ave. is great for coffee, pastries, people watching, and perusing their awesome bulletin board.
Quackenbush
If you're staying near UT, check out Quackenbush's at 411 E. 43rd. It's been around since you were a kid.
Julio's
If you're more in the mood for migas or huevos rancheros, Julio's is right next door to Quack's at 4230 Duval. It's old school and muy delicioso.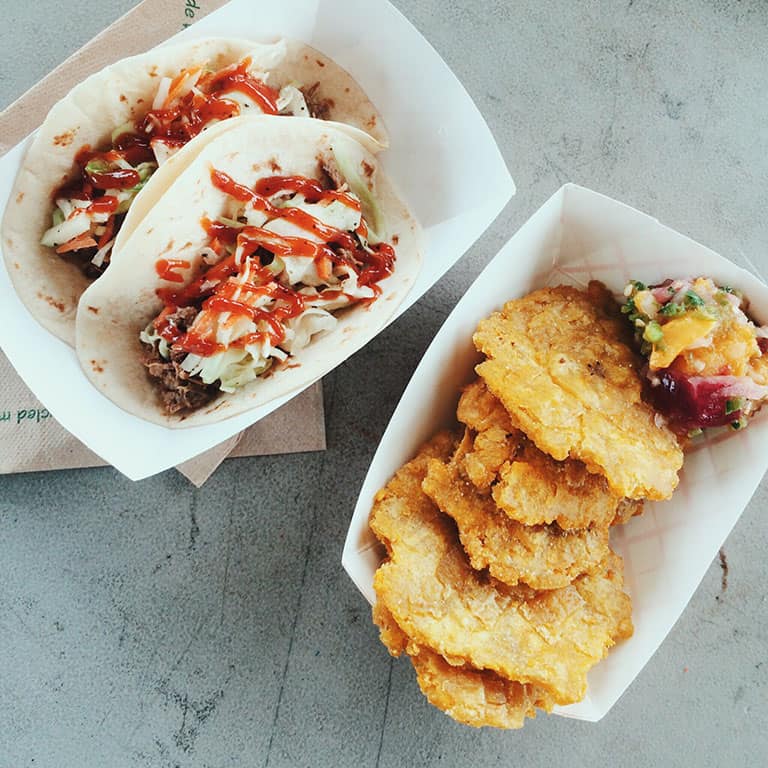 Tacos in Austin
There are literally too many amazing taco places to mention, so I recommend you start with Mando Rayo's awesome and exhaustive blog, Taco Journalism, or check the best tacos in Austin on A Taste of Koko, which is dedicated to all of the best food in Austin, Texas.
Tacos kids will love
Among my favorites are Curra's and Taco Deli. I've never met a kid who didn't love Torchy's either, and they have locations all over town.
Austin Brunch, lunch and dinner
Contigo
For a more upscale, but kid-friendly meal on an awesome patio, try Contigo in east Austin.
ABGB
ABGB at 1305 W. Oltorf offers the trifecta of live (early) music, cold beer and terrific pizza, salads and sandwiches—all in a very kid-friendly setting with lots of outdoor tables.
Enoteca
Enoteca on South Congress has really fabulous, reasonably priced Italian food and an awesome kid's menu, including a gluten-free pasta option.
Big Top Candy Shop
You can wander around SoCo before or after your meal, with promises of a stop at Big Top Candy Shop just up the block. If you happen to be there on the first Thursday of the month, all the better.

Things to do in Austin

with kids

One of our favorite things about Austin with kids is that there are so many activities that get us outside and into nature. From swimming holes to public parks, kayaking on the lake, sculpture gardens and hiking, there is little reason to head indoors.

Of course, there are the museums and theaters, so I'll guess you could pop inside on a rainy day.
Austin Events
If you happen to be in Austin during one of the biggies—Austin City Limits Music Festival or SXSW—you'll find a very crowded but lively central core with plenty of fun geared toward (or at least reasonably appropriate for) families.
Barton Springs Pool and Zilker Park
Located in Zilker Park, Barton Springs pool is a beautiful and very cold natural spring. Carve out some time to splash around and get in some people watching.
What to bring to the springs
Bring goggles so the kids can look for fish and turtles. Just outside the gates to the spring, there's a little train that loops through the park, a huge play scape and the best lemonade on the planet.
Fees and hours
Free entry until 8:00pm. If you come on a summer day, expect a full parking lot, and don't forget your hacky sack.
More lakes in Austin for kids
For those looking for more water fun check out Lake Austin over by the Curtain Theatre and Pennybacker Bridge.
Lady Bird Lake
Rent a canoe or kayak with little ones or a stand-up paddleboard with bigger kids when you visit Lady Bird Lake.
Where to find boat rentals on the lake
There are several rental places along the lake, and there happens to be a snow cone stand at The Rowing Dock.
Biking at Lady Bird Lake
The lake trail is also a great place to ride bikes or just wander around.
The University of Texas
It's fun to wander around this sprawling campus, and there are many varied activities on a daily basis.
Blanton Museum Exhibits
The Blanton Museum always pulls together cool exhibits from its astounding collection, and it's worth checking out on a hot or rainy day.
Bullock Texas State History Museum
If you're into history or Texana, you might want to check out the Bullock Texas State History Museum (they always have some cool kid-centric exhibits) in combination with a tour of the Texas Capitol building just a few blocks up the road.
Don't miss the cannons in front of the museum
If your kids get a tiny bit bored in the rotunda, they can always climb on the cannons out front!
Barton Creek Greenbelt
This 7.2 mile trail wanders from Barton Springs, through south Austin and turns west. It's a fabulous place to climb on rocks, look for frogs and experience a taste of the wild in the middle of town.
Drought conditions on the Greenbelt
If you're lucky, the creek will be full and flowing, but odds are good if Austin is in a drought that the creek bed will be dry.
Trails at Barton Creek
There are multiple entrances along the trail, but the easiest to find is right at Barton Springs. Bring plenty of water and snacks, and wear comfy shoes.
Blue Hole
This pretty park an hour's drive away in Wimberley is the best watering hole around for kids who can swim reasonably well. Bring a picnic and blanket.
Hamilton Pool
If you are looking for a truly stunning swimming hole, head out to Hamilton Pool in 23 miles west of Austin (about a 45 minute drive). Most people think they are looking at a cenote in Mexico when photos pop up in their social media feed, but it's definitely in the United States.
Other local places in Austin kids love
BookPeople
The Thinkery
Terra Toys
Toy Joy
Amy's Ice Cream
P. Terry's Burger Stand
Mayfield Park
The rooftop of Whole Foods on 5th Street
The playground at Central Market and Alamo Draft House.
Pin it and Start Planning
Jill Coody Smits is the author of Paris When It Giggles: A Realistic Travel Guide for Adventurous Parents, as well as the writer of many articles, blog posts, op-eds and essays. She's currently researching the next destination to be featured in the "Realistic Travel Guide for Adventurous Parents" series. She lives in Austin with her husband, daughter and two four-footed sons.
Images by Jill Coody Smits, Twenty20 and DepositPhoto.