Philadelphia food isn't just relegated to cheesesteaks, soft pretzels and hoagies anymore. There are amazing restaurants popping up in this city's neighborhoods every year, but one staple will always remain a Philadelphia favorite—the Reading Terminal Market. This market can date its' origins back to the late 1600s, and is located across the street from the Pennsylvania Convention Center, on the edge of Center City and Chinatown. Lunchtime gets busy; get there early if you want to leisurely browse with your kids. No one will look at you funny if you saddle up to a counter for a roast pork sandwich at ten o'clock in the morning, or if you order a cannoli (or 12) for breakfast.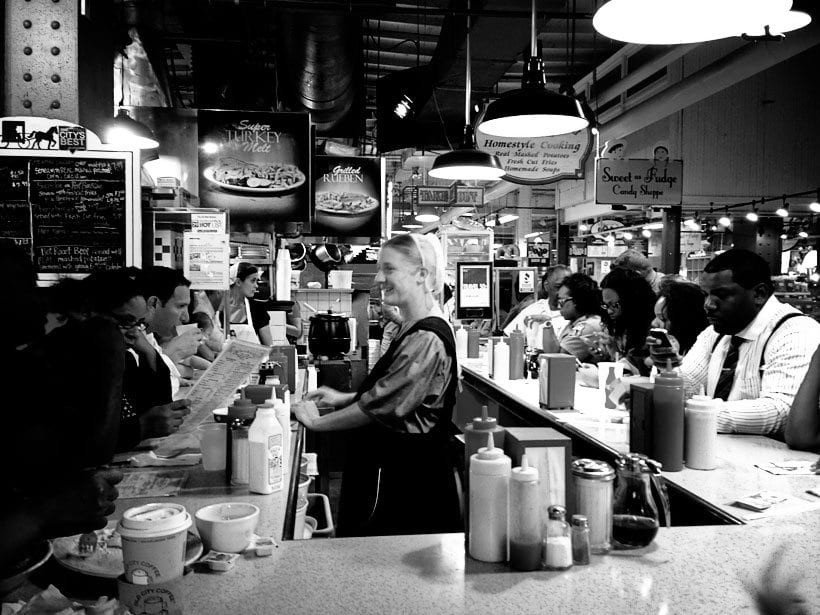 Reading Terminal Market Tips
Bring cash- not all shops take credit cards
Grab a map
Take your time to browse
If you are visiting with friends or family, share treats so you can eat more

WHERE TO EAT IN READING TERMINAL MARKET
Bassetts Ice Cream: Traditional flavors are easy to come by, but when an ice cream counter is serving up Banana, English Toffee Crunch, Egg Nog, Guatemalan Ripple and Matcha ice cream, you know you have stumbled across something special. Don't worry, they still have your standards, like vanilla, chocolate and strawberry, but maybe it's time to push out of your comfort zone a bit.
Beiler's Donuts and Salad: When the menu consists of homemade donuts, coffee, salads and pickles, you really have to stop and wonder what genius thought of that perfect sweet/salty, healthy/horrible for you combo. The apple glazed fritters and maple bacon donuts are always a favorite, but you may want to pick up a few (dozen) to decide for yourself, because the mocha crème may be your bite of choice.
Beiler's Bakery: Yes, Beiler's has donuts, but they also have whoopie pies, which are an Amish country favorite. Homemade cinnamon buns, cakes, pies, cookies, cupcakes, and breads are always worth a browse, but any line you see at this bakery will be for the donuts. Stay strong. They are that good.
Dienner's Bar-B-Q Chicken: The classic rotisserie-style wings are at the top of the list for most people visiting this spot, but the smoked wings should not be ignored. The special meal deals make it easy to try the chicken at an affordable price.
DiNic's Roast Pork: There are only two ways to order at DiNic's and it isn't "wit or witout wiz." The roast pork sandwich should be ordered with broccoli rabe. You can get it with or without provolone. That's your only option. Make sure you tell them what you want on your roast pork sandwich though or it may just come as a pile of meat on a roll.
Dutch Eating Place: Pancake breakfast or chicken pot pie for lunch are a win no matter when you visit. The sticky buns (comes as pecan, raisin or both) and cinnamon raisin bread are also a must.
Famous 4th Street Cookie Company: Cookies, cookies and more cookies. Grab one or a dozen of your favorites. A sampling of flavors– chocolate chip, peanut butter, white chocolate macadamia nut, oatmeal raisin, sugar, butter almond, chocolate pecan, and Snickerdoodles.
Four Seasons Juice Bar: Pick a juice, any fresh juice. Enjoy! Or maybe you want a smoothie. Ask for a menu so you can browse the combos. Not every suggestion the staff gives may fit your palette; feel free to ask for your own original combo of fruits and veggies.
Hershel's East Side Deli: If you love a good Reuben sandwich, Hershel's has it. The meat is piled high, and you don't just have to have pastrami on your sandwich. You can have brisket too. If Reubens aren't your thing, you can grab a massive tuna or turkey sandwich as well.
Iovine Brothers Produce: If you are looking for a healthier bite, load up on some fresh produce at this stand that has such a beautiful array of colors, you may find yourself picking up fruits and veggies you have never tried before.
Little Thai Market: Locals will tell you to get the salmon red curry over rice dish, but the yellow chicken curry and vegetable red curry are great options as well. You may have to wait in line for a bit, but you will walk away with more than enough food for lunch, and some leftovers for dinner.
Termini Brothers Bakery: Ask anyone what you should eat in Reading Terminal Market and the chocolate chip cannoli is what he or she will tell you. Your kids will want the brightly colored cookies and cupcakes, but you want the cannoli. Trust me.
The Tubby Olive: Sample almost all of the olive oils and vinegars in the shop before you load up. Chose wisely, as some of those oils go a long way.
Valley Shepherd Creamery: Cheese lovers can expect a few samples and some of the most amazing cheese in the city. Make sure you pick up the house-made mozzarella and smoked sheep's cheese.

Beiler's at Reading Terminal Market via Shutterstock.com